The Power-5 teams had some of the most dominant players during the 2019 season that we have ever seen. While we've outlined the full all-conference teams this week, it's time to take a look at the Players of the Year in each of the Power 5 conferences.

Utilizing our play-by-play grading on every player during every game, here are the best players, regardless of position, from each of the five Power 5 conferences:
Atlantic Coast Conference:
Trevor Lawrence, QB, Clemson
Lawrence rebounded nicely from a lackluster start of the 2019 campaign to finish the year as the nation's highest-graded quarterback since Week 8. He hasn't thrown an interception since an ugly quarter against Louisville, while he's tossed at least three touchdowns in each of his past seven games. Lawrence has looked more and more like the odds-on favorite to win the Heisman that he was to enter the year. He's essentially secured his place as the first overall pick in the 2021 NFL Draft.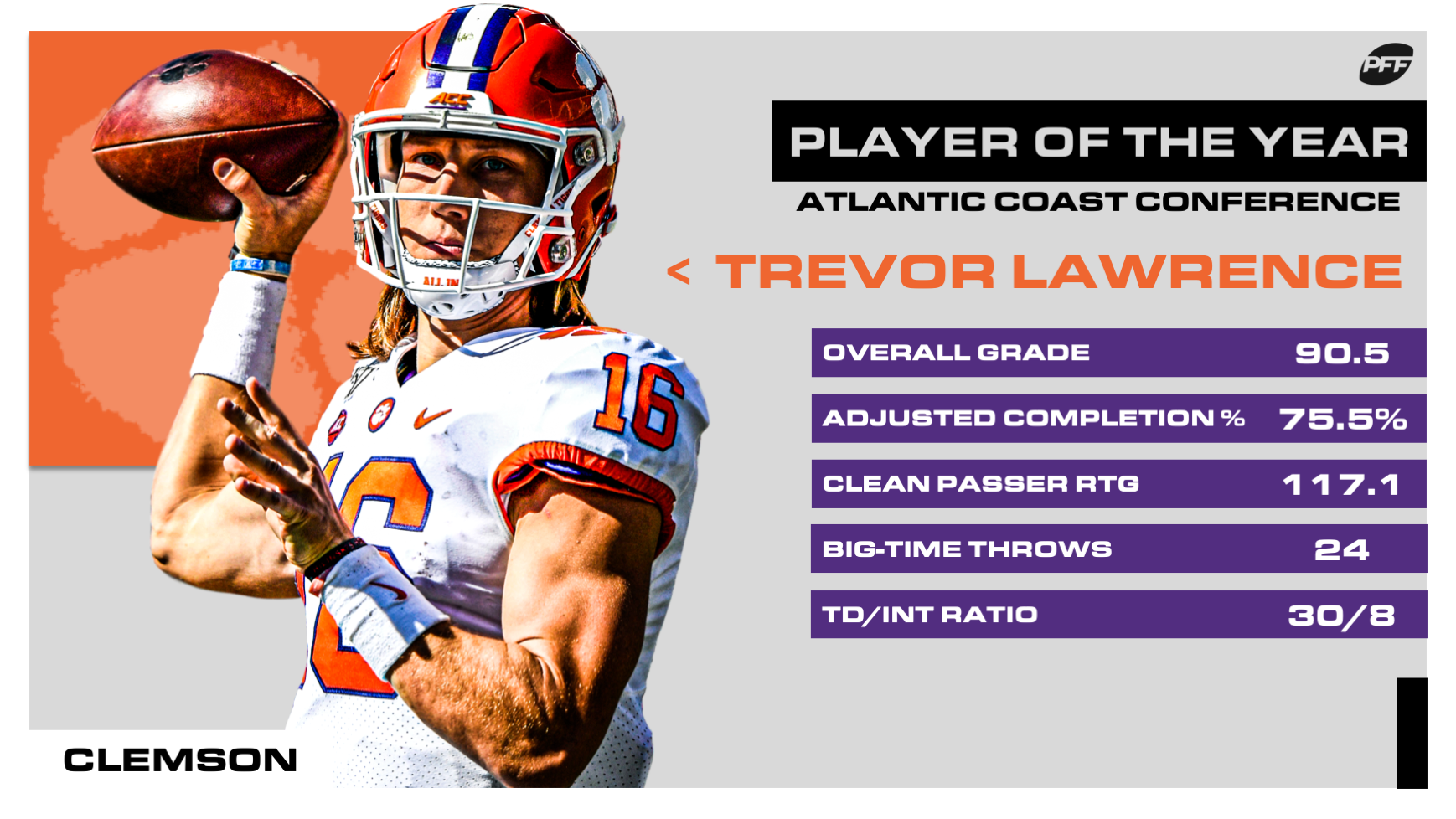 What separates Lawrence from the rest of the ACC players and even the rest of the players in the nation, was his ability to read and diagnose pressure both on and off the field. He has been the center of attention since his days in high school, handling media pressure just the same as he had to deal with pressure inside the pocket. While that seemed to affect him early on this season, he quietly finished as one of the nation's best when under duress in the pocket.
He is a great game grade away from surpassing even his gaudy PFF overall grades from a year ago and putting forth his second-straight season with a 90.5-plus grade.
Big Ten Conference:
Chase Young, Edge, Ohio State
Young was the nation's most dominant player regardless of position whenever he stepped on the field in 2019. No player has ever done the kind of things that Young was able to accomplish in the regular season, finishing the year as the highest-graded defensive player that we've ever graded in our six years. His 97.0 overall grade is the highest grade of any player on either side of the ball this year, and his 97.1 pass-rushing grade is clear of anyone else that we've ever graded.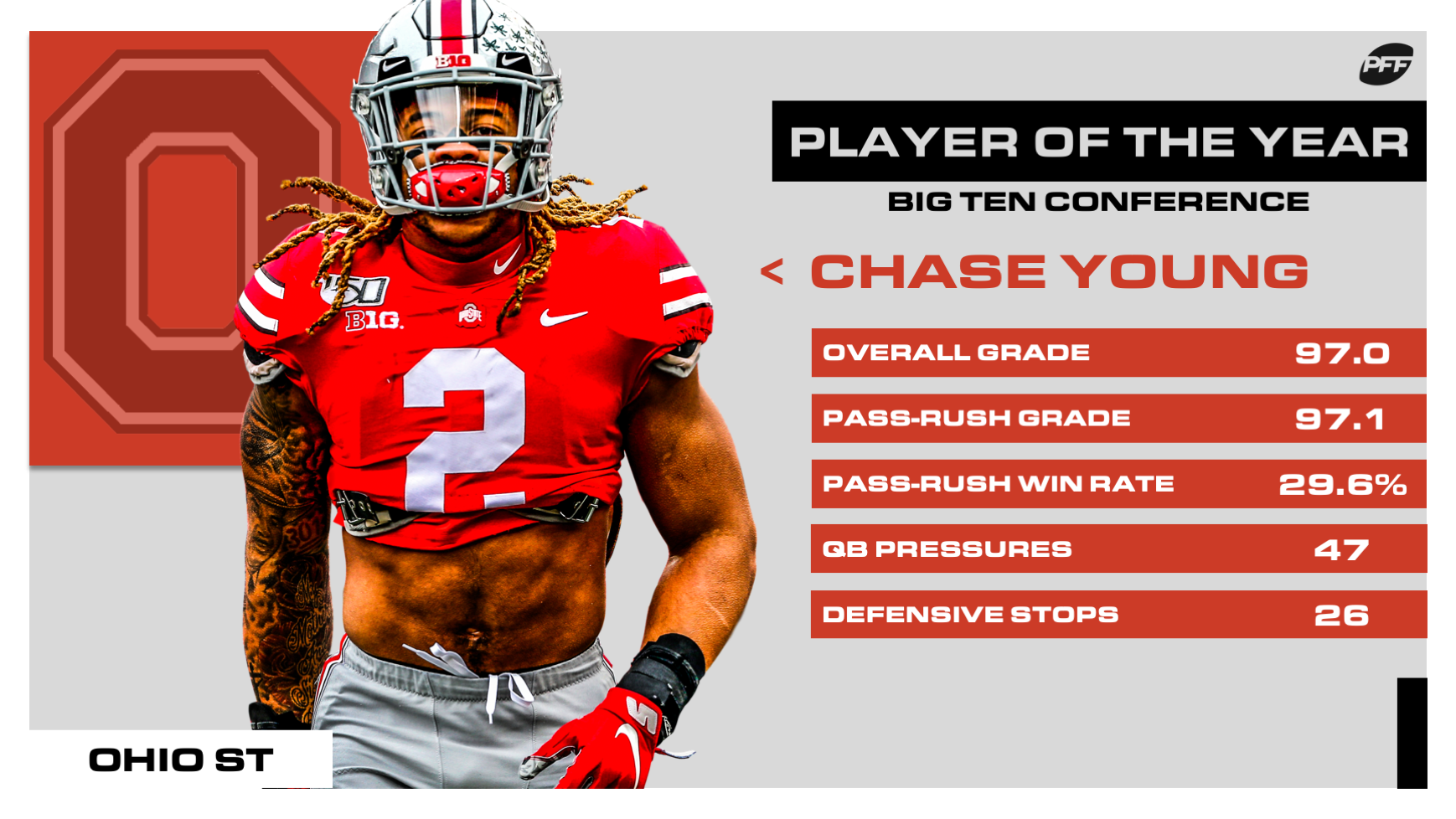 He brought in 47 total pressures on just 242 pass-rushes, including 18 sacks, four QB hits and another 25 hurries. He led the nation's edge defenders by forcing six total fumbles and recorded another eight stops in the run game to round out his skill set. However, his pass-rushing is so far clear and above the rest of the country that there is no catching him. Young obtained Heisman Trophy consideration for good reason, and though he likely won't win it, he certainly was deserving of the notion of being the first defensive player since 1998 to win the prestigious award.
For the season, Young won 29.6% of his pass-rush attempts and that comes with the knowledge that every offense schemed against him and put forth specific game plans in an effort to stop him. In fact, those schemes worked so well that Young had another 27 pass-rush snaps that he beat his defender but the opposing quarterback threw a pass with such a speed that it was too quick for Young to even register a pressure — he was that good this year.
Big 12 Conference:
Ceedee Lamb, WR, Oklahoma
Arguably the best receiver when he was on the field, Lamb made plays that only he could make look so routine, grabbing contested catches just as easily as he broke multiple tackles after the catch. He's an all-around receiver with a terrific route tree and speed to burn, and he made use of all of those skills. He may have been schemed open more often than not in the Oklahoma offense, but he certainly made the most of those situations just the same.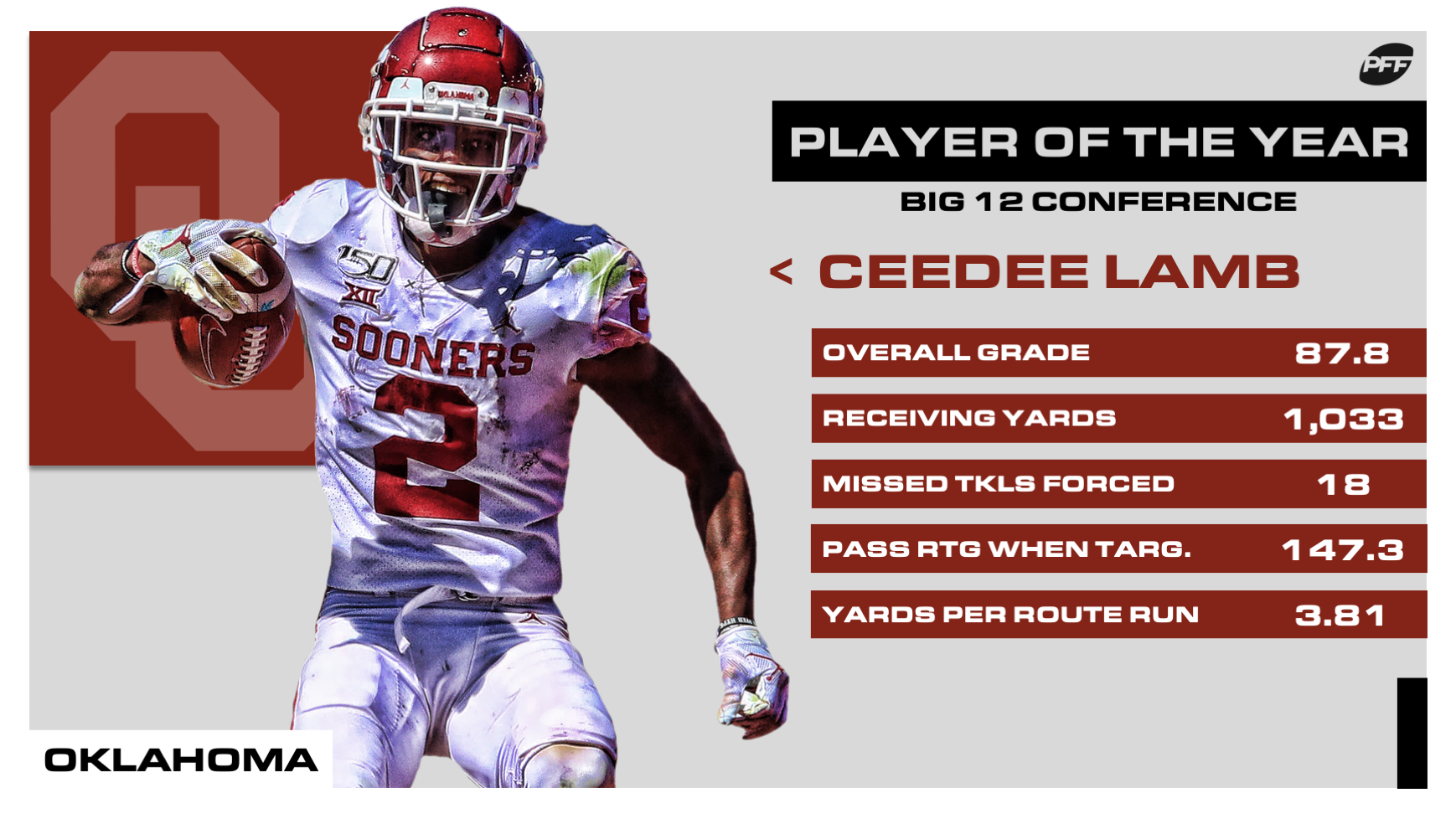 Lamb averaged an insane 11.1 yards after the catch and forced a total of 18 missed tackles after the catch. His hands were remarkably smooth in 2019 as well, dropping just two of the 52 catchable passes thrown his way, and he sports an incredibly-high 147.3 passer rating on targets. All Lamb does is convert, and he's come up his biggest on the biggest of stages for the Sooners.
Southeastern Conference:
Joe Burrow, QB, LSU
Burrow was the nation's best player at the most important position in all of team sports. He led all quarterbacks in overall and in passing grade by a comfortable margin as he dominated in every game. He was the nation's most accurate quarterback on non-screen passes, a real indication of how well a quarterback can throw to receivers downfield. When clumping his passes on throws targeted at least 10 yards downfield, you can see where Burrow's real bread and butter was during the 2019 regular season.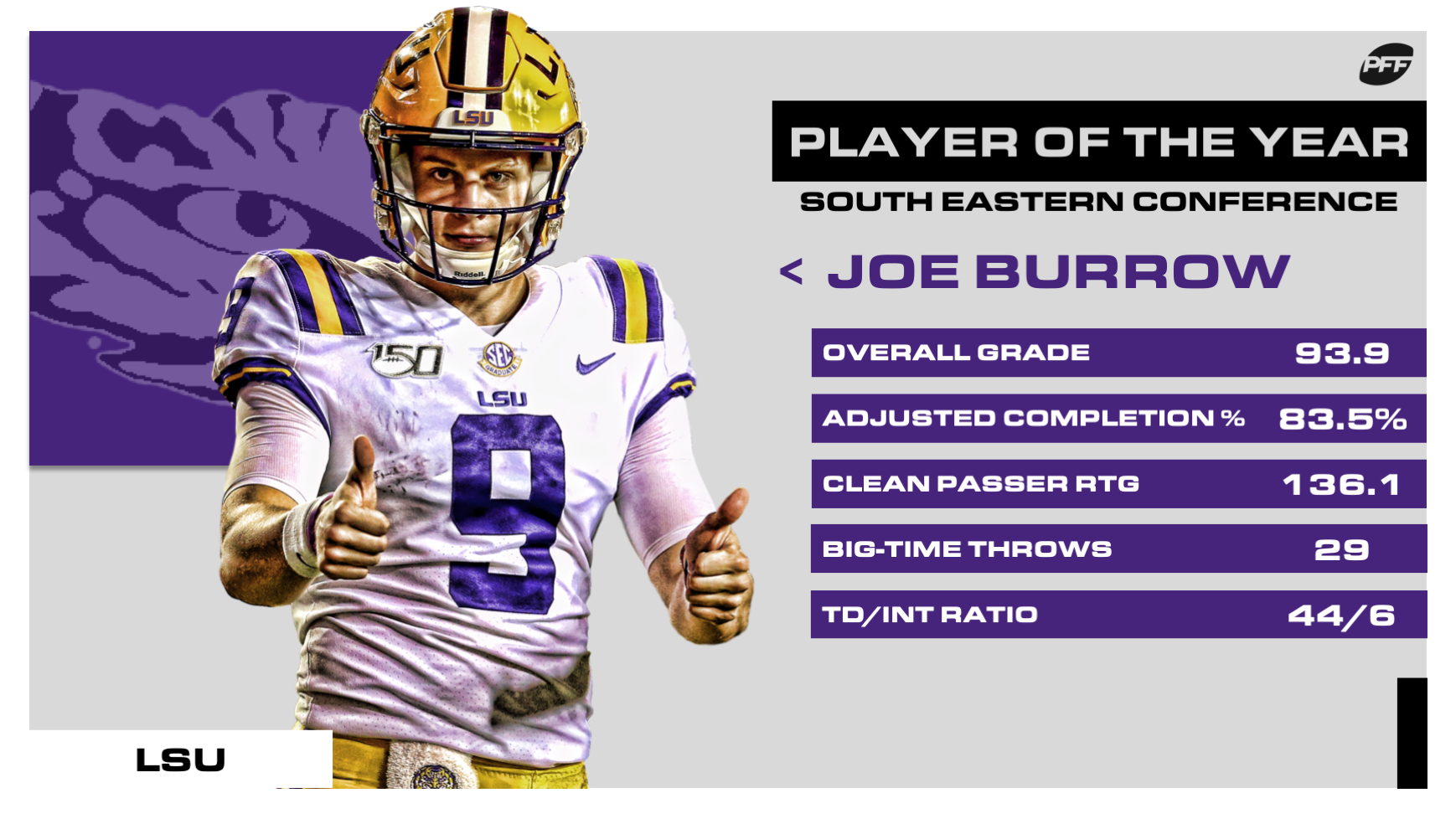 He completed 101-of-152 pass attempts targeted at least 10 yards downfield for 2,474 passing yards, 31 touchdowns and just six interceptions. His 29 big-time throws were second-most among all quarterbacks, and he led all quarterbacks with at least 100 of those attempts 10+ yards downfield with a ridiculous 69.1% adjusted completion percentage. He threw receivers open and limited even those contested-catch, 50-50 opportunities with relative ease, as he's taken the Tigers to new heights in 2019.
The Heisman Trophy is his. The honor of being the first overall pick in the 2020 NFL Draft is his. The college football world is his.
Pac-12 Conference:
Penei Sewell, LT, Oregon
Perhaps the best tackle prospect to come about since Eric Fisher went first in the 2013 NFL Draft, Sewell has dominated since his first snaps on the field in Eugene. He's on pace to break the record for the highest grade we've ever given to an offensive tackle and is setting records with his pass-blocking and run-blocking grades in the process. In pass protection alone, Sewell stands tall over his peers.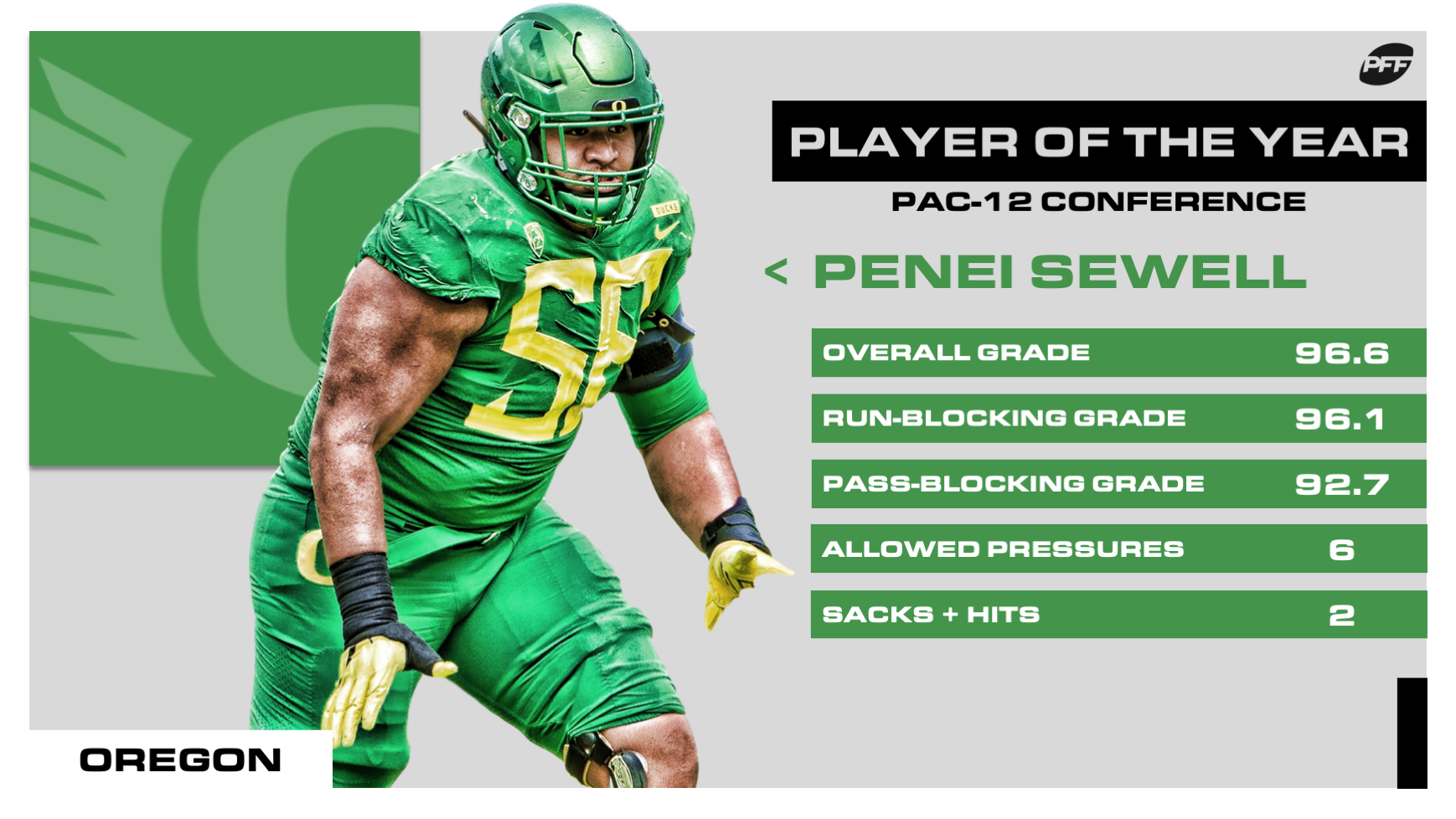 In 2019, Sewell has taken 420 reps in pass protection and allowed just six total pressures, giving up pressure on just 1.4% of his pass-blocking snaps, an absurd rate. Looking at it a bit further, Sewell only lost seven total reps as a pass protector, as he lost just one more time on a rep where pressure was not recorded. He was truly the nation's best tackle, and this comes a year removed from finishing the 2018 season as the highest-graded true freshman at the position that we've ever graded.
In the run game, Sewell was also in a class of his own. He led the country with a ridiculous 96.1 run-blocking grade as he routinely paved the way for big gaps and even took on two blocking assignments on a single play with ease. The sky is the limit for this talented sophomore.