New Ohio State Buckeyes quarterback C.J. Stroud entered the 2021 season facing plenty of pressure.
He had the impossible task of replacing Justin Fields, who is one of the best players PFF College has graded since its inception in 2014. Fields was the most valuable college player — regardless of position — in the 2019 and 2020 seasons combined, according to PFF's Wins Above Average (WAA) metric. He also was a key piece in the Buckeyes ranking second to only Alabama in passing efficiency among FBS programs over that span.
Elite, special, rare — the list goes on for words to describe the player Stroud had to effectively replace.

---
Click here for more PFF tools:
Fantasy Draft Kit | PFF Betting Dashboard | PFF Fantasy Rankings
PFF Fantasy Projections | NFL Premium Stats | Win Totals Tracker
---
Given the talent littered throughout Ohio State's roster and the team's success as of late, Stroud faces sky-high national title and even Heisman expectations in Year 1. The Buckeyes entered Week 1 with the third-best odds of winning the College Football Playoff, and Stroud was a top-five favorite for the Heisman Trophy, according to DraftKings Sportsbook.
Keep in mind that the world had yet to see Stroud take a dropback at the collegiate level. He was the No. 3-ranked quarterback recruit and a top-50 player overall in the 2020 class, behind Alabama's Bryce Young and Clemson's D.J. Uiagalalei.
By all accounts, these were lofty expectations for Stroud. If he were to hit that "elite" threshold in 2021, it would place him among the outliers. Only three Power Five quarterbacks have earned a 90.0-plus passing grade in their first year in a starting job as an underclassman since 2014, one of which is the player Stroud is trying to replace.
Power Five QBs to play at an "elite" level within first two seasons | Since 2014
| | | | | | | |
| --- | --- | --- | --- | --- | --- | --- |
| Player | Team | Nat. Recruit Rank | Player Experience | Season | Passing Grade | Total Dropbacks |
| Spencer Rattler* | Oklahoma | 11th | Year 2 | 2020 | 92.5 | 398 |
| Justin Fields* | Ohio State | 2nd | Year 2 | 2019 | 92.4 | 430 |
| Mason Rudolph | Oklahoma State | 269th | Year 2 | 2015 | 91.9 | 496 |
| Sam Howell | North Carolina | 93rd | Year 2 | 2020 | 91.5 | 447 |
| Justin Herbert  | Oregon | 659th | Year 2 | 2017 | 91.1 | 245 |
| Tua Tagovailoa  | Alabama | 32nd | Year 2 | 2018 | 90.8 | 402 |
| Trevor Lawrence* | Clemson | 1st | Year 1 | 2018 | 90.6 | 441 |
| Charlie Brewer | Baylor | 827th | Year 2 | 2018 | 90.0 | 493 |
* = QB entered said season with zero career starts at the collegiate level
The table above was from an article I wrote earlier last month about setting expectations for not only Stroud but also Bryce Young and D.J. Uiagalelei. The main takeaway was this: It would be a rare scenario if Young, Uiagalelei and Stroud all ended up at a Heisman or championship-leading level right away. It's more likely that at least one of those players underwhelms and needs help from their respective team to win a national title.
And Stroud didn't help his case against Minnesota on Friday night.
The new Ohio State starter flashed his big arm and mobility at the position, but he also displayed suspect accuracy on tight-window throws. He finished the night in Minneapolis with more negatively graded throws than positively graded ones. That's something Fields never did in a game for the Buckeyes. Stroud ended up throwing a quarterback-fault incompletion on 27.3% of his attempts, not including several other catchable but inaccurate throws. For reference, that's more than 10 percentage points higher than Fields' worst game of 2020 and over 15 percentage points higher than Fields' career average.
Stroud did make a couple of impressive big-time throws in the second half, helping him record a 74.1 passing grade upon first review. A few blown coverages by Minnesota resulted in open receivers, big plays and a more impressive box score for Stroud, but regardless, he did improve a little as the game went on.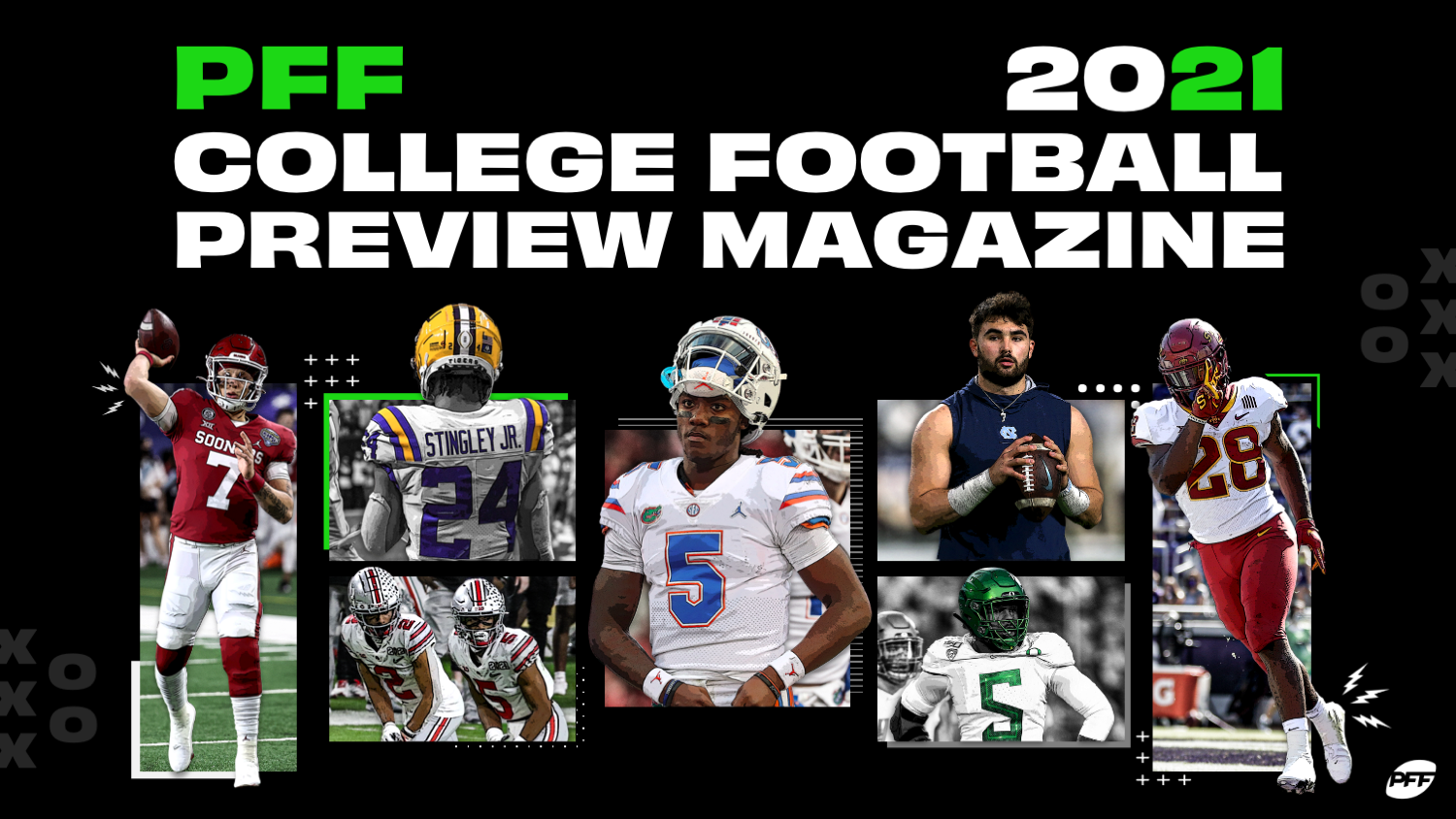 At the end of the day, though, Stroud still finished with a positively graded throw rate that was lower than any of Fields' performances as the Buckeyes' starter. His ball placement on plays that required him to get the ball out quickly was a bit erratic. On throws that were within three seconds of the snap, Stroud earned a 50.6 passing grade (over eight grading points lower than Fields' career-low mark in a single game, for what it's worth).
This type of roller-coaster performance can get Ohio State past the Minnesotas of the college football world, but it won't be as easy against top-tier units on the team's slate, such as Oregon and Indiana.
Stroud's lackluster start against Minnesota on Friday night isn't going to define his career. Nerves in his first career start on the road in a conference affair are certainly a factor. He still boasts that high ceiling everyone in Columbus is betting on.
So, while it's still too early to definitively declare the type of quarterback Stroud will be for the Buckeyes in 2021, he didn't give them any indications he'll be able to match Fields' performances in 2019 and 2020. And again, if he ended up doing just that, it'd be an outlier of a situation. Highly regarded five- and four-star recruits have struggled early in their careers more often than maybe most expect: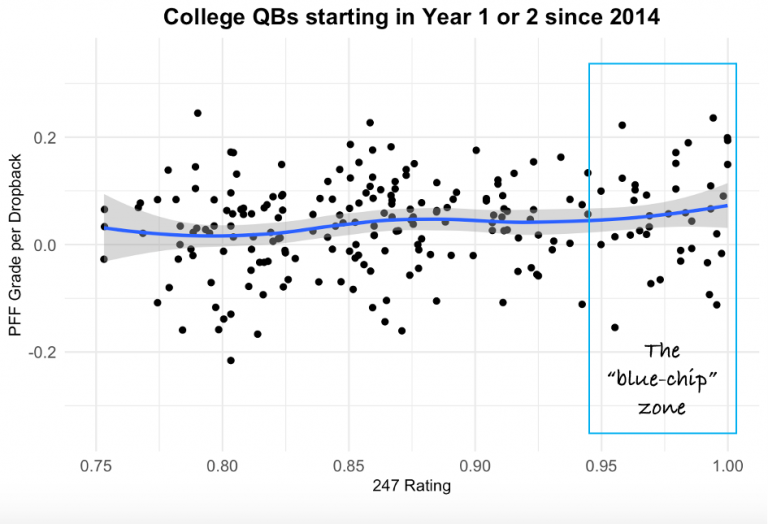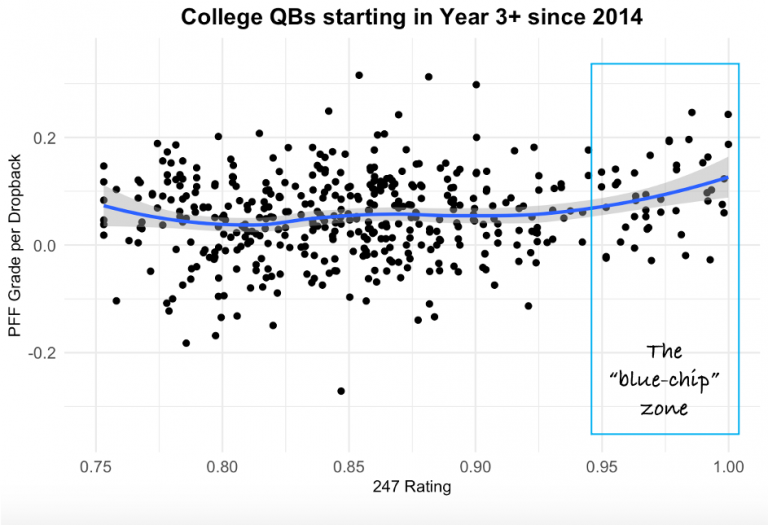 It was only one game, but it was an outing that revealed the possibility of a season that falls well short of the lofty expectations set for redshirt freshman C.J. Stroud.