Alabama's Bryce Young, Clemson's D.J. Uiagalelei and Ohio State's C.J. Stroud first arrived at their college campuses just over a year and a half ago. All three quarterbacks were top-50 ranked recruits nationally, according to 247Sports, and came with sky-high, long-term expectations.
Each young signal-caller seemed set to learn behind a future first-round quarterback and log as many practice reps as possible in the spring of 2020. Instead, the COVID-19 pandemic threw a wrench in the machine, and the three quarterbacks — who ranked No. 1, No. 2 and No. 3 in their recruiting class at the position — proceeded to combine for two starts in their first year of college football. Uiagaelei was responsible for both of those because of the injury to Trevor Lawrence, Young only got reps in mop-up duty and Stroud didn't even throw a pass.
Now, each of those three blue-chip recruits are set to take over their program's starting job in the 2021 season.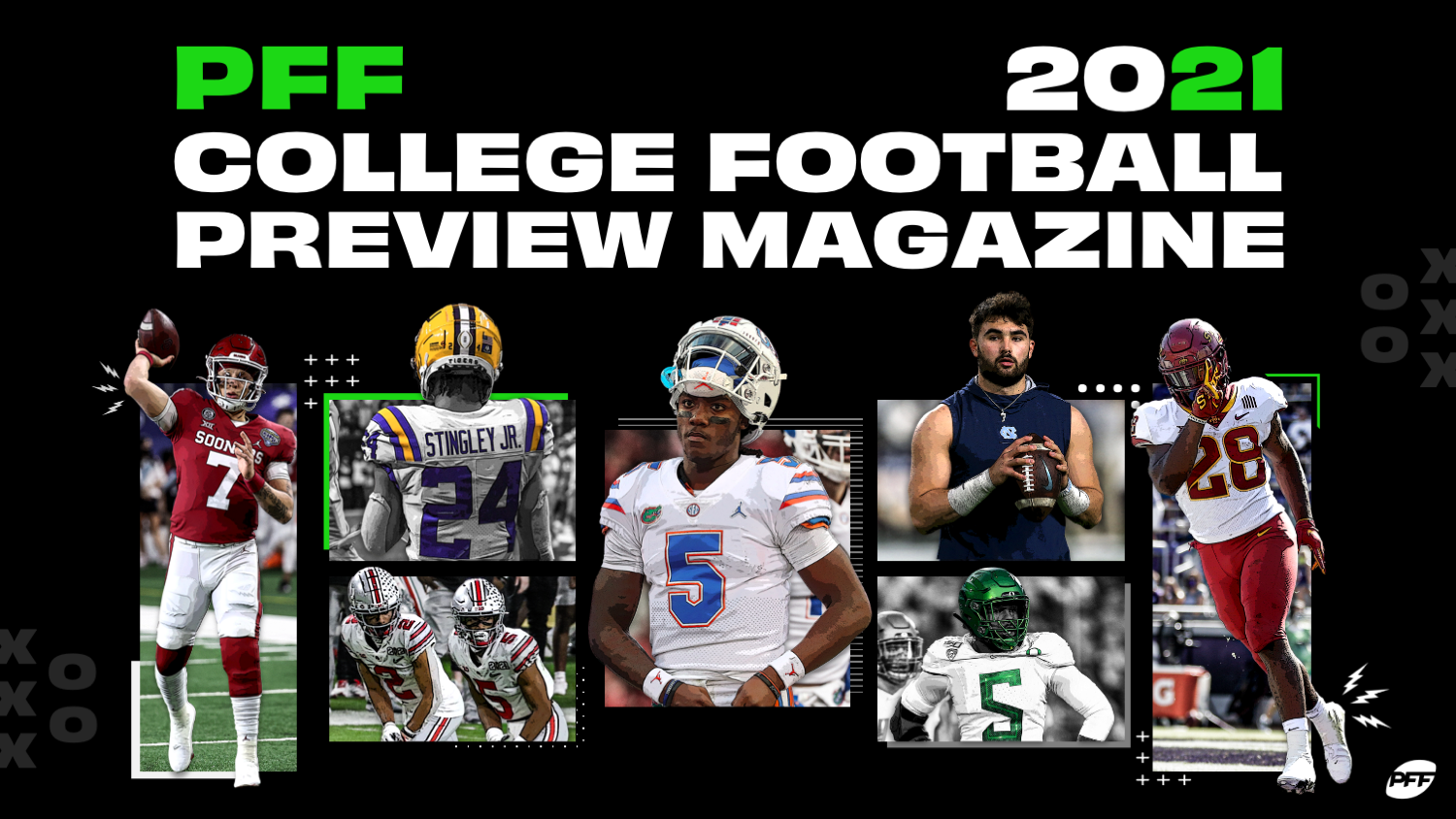 Young will have his work cut out trying to stave off major offensive regression within the Crimson Tide's passing offense. The group said goodbye to Mac Jones, Heisman-winning receiver DeVonta Smith and playcaller Steve Sarkisian, who were all instrumental in lighting the fuse for the offensive explosion we saw last year, when the Crimson Tide produced the highest single-season successful pass play rate of the PFF College era.
As for Uiagalelei and Stroud, they'll each be vying to replace a quarterback who just cemented his standing as one of the best of the PFF College era.
These young signal-callers might be entering only their second year, and they may have little to no significant playing time at the collegiate level, but all three are among the top five Heisman favorites for the 2021 season. Along with that, their teams are currently the top three favorites to win the College Football Playoff. 
It's safe to say these three quarterbacks — who aren't even allowed to order a drink at a bar yet — shoulder incredibly lofty expectations.
The situation they will each be heading into can only work in their favor. Alabama, Clemson and Ohio State have rosters that are stacked to the brim with championship-winning talent. The only question is, can they produce at a championship level right away?
Many across the college football landscape and in the betting markets seem to think so, but a situation where all three ended up reaching the expectations would be an outlier, to say the least. The mean PFF grade per dropback for a first-time starting quarterback in his first two years at the collegiate level is nearly half that of a quarterback with either one year of starting experience or two years of learning behind an established starter. 
Subscribe to
Looking at all the quarterbacks since the 2014 recruiting class who have started within their first two years, only eight have produced a passing grade at or above 90.0. Of those eight, only three did it with zero career starts prior to the season.
QBs to produce at an "elite" level within their first two years in college football since 2014
Player
(Team)

Nat. Recruit Rank
Player Experience
Season
Passing Grade
Total Dropbacks

Spencer Rattler*
(Oklahoma)

11th
Year 2
2020
92.5
398
Justin Fields*
(Ohio State)
2nd
Year 2
2019
92.4
430

Mason Rudolph
(Oklahoma St)

269th

Year 2

2015

91.9

496

Sam Howell


(North Carolina)

93rd

Year 2

2020

91.5

447

Justin Herbert
(Oregon)

659th

Year 2

2017

91.1

245

Tua Tagovailoa


(Alabama)

32nd

Year 2

2018

90.8

402

Trevor Lawrence*
(Clemson)
1st
Year 1
2018
90.6
441
Charlie Brewer


(Baylor)

827th

Year 2

2018

90.0

493
* = QB entered season with zero career starts at the collegiate level
Among the blue-chip recruits who start within their first two years — whether they started in Year 1 or both Year 1 and 2 — the story remains the same as the broader picture. There may be some highly-regarded recruits who pan out right away, such as Rattler, Fields and Lawrence, but those don't come around often.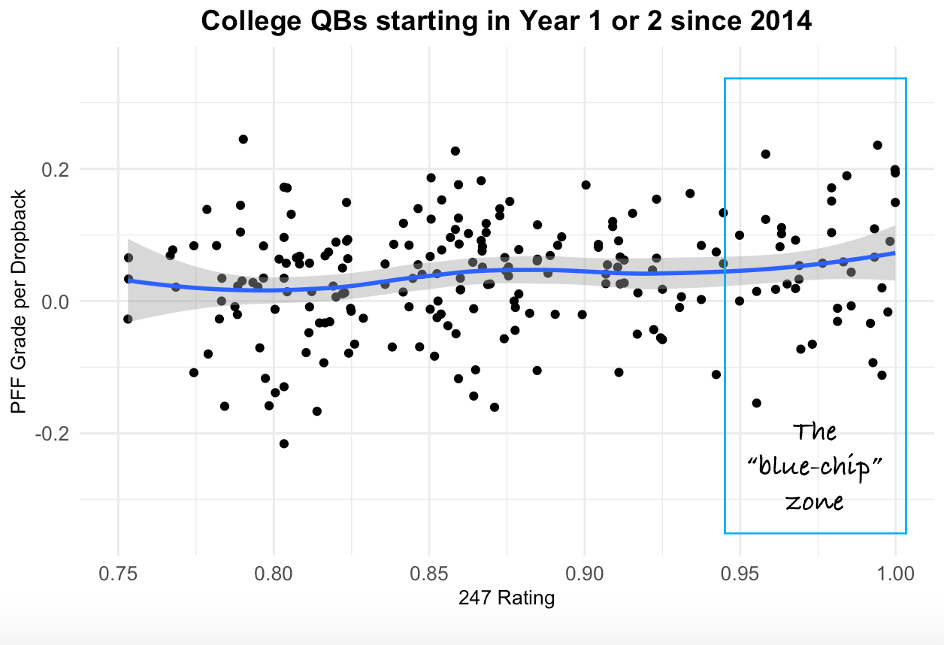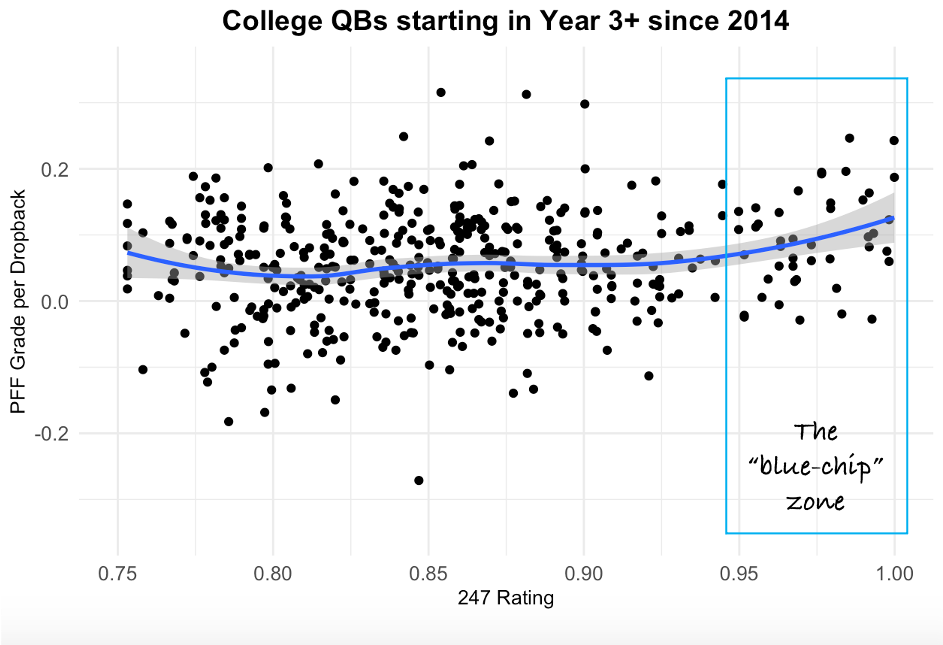 Going even deeper and honing in on just the top three-ranked quarterback recruits doesn't change much, either. There has always been one instance in the PFF College era of one of the top three-ranked quarterback recruits not producing at an elite or even high-quality level:
CAREER PASSING GRADES FOR 247SPORTS' TOP 3 QB RECRUITS
2014 Class
| | | | |
| --- | --- | --- | --- |
| Pos. Rank | Player, Team(s) | Career DBs | Passing Grade |
| 1 | Kyle Allen, Texas A&M/Houston | 646 | 59.1 |
| 2 | Deshaun Watson, Clemson | 1,347 | 90.5 |
| 3 | Will Grier, Florida/West Virginia | 1,064 | 91.6 |
2015 Class
| | | | |
| --- | --- | --- | --- |
| 1 | Josh Rosen, UCLA | 1,256 | 84.9 |
| 2 | Blake Barnett, Alabama/ASU/USF | 539 | 76.3 |
| 3 | Kyler Murray, Texas A&M/Oklahoma | 601 | 91.6 |
2016 Class
| | | | |
| --- | --- | --- | --- |
| 1 | Shea Patterson, Ole Miss/Michigan | 1,260 | 81.4 |
| 2 | Jacob Eason, Georgia/Washington | 851 | 73.2 |
| 3 | KJ Costello, Stanford/Mississippi St | 1,106 | 74.4 |
2017 Class
| | | | |
| --- | --- | --- | --- |
| 1 | Davis Mills, Stanford | 491 | 77.3 |
| 2 | Hunter Johnson, Clemson/NW | 160 | 51.3 |
| 3 | Tua Tagovailoa, Alabama | 753 | 91.8 |
2018 Class
| | | | |
| --- | --- | --- | --- |
| 1 | Trevor Lawrence, Clemson | 1,245 | 91.8 |
| 2 | Justin Fields, Georgia/Ohio State | 769 | 93.6 |
| 3 | JT Daniels, USC/Georgia | 562 | 69.1 |
2019 Class
| | | | |
| --- | --- | --- | --- |
| 1 | Spencer Rattler, Oklahoma | 383 | 92.6 |
| 2 | Bo Nix, Auburn | 833 | 66.2 |
| 3 | Jayden Daniels, ASU | 546 | 67.0 |
This is not to say that either Young, Uiagalelei or Stroud is guaranteed to fall flat in 2021; each of the three players could hit or even exceed expectations for this season. Trends can be broken and outliers can pop up. At the same time, volatile or underwhelming output within this group is a greater possibility than the wide belief. 
They have a wide range of outcomes. 
There's too much unknown with these three newly implemented starting quarterbacks to confidently project who will fall short of expectations. But here is what we do know about each quarterback, starting with the one who has raked in close to a seven-figure paycheck thanks to the new NIL ruling.
No quarterback is under more pressure for the 2021 season. Alabama hasn't generated negative expected points added (EPA) per play in a single game since the 2018-19 national title game, and it's on Young to make sure that streak doesn't die.
Young didn't make a single start last season as a true freshman, but he did get to see the field in garbage time. The results were a mixed bag — he got through progressions and flashed a good arm while also showing an impressive ability to extend plays and make throws when knocked off rhythm. At the same time, Young's shaky decision-making was shaky, which resulted in three turnover-worthy plays and seven sacks across 31 dropbacks. Don't glean too much from that small sample, as mistakes like that are to be expected in the first reps of a true freshman, but it's still not something anyone wants to see in closing time.
Young has all the tools to develop into a quality quarterback for the Crimson Tide. The ceiling is high, but can he reach that sooner rather than later and come close to matching the week-after-week consistency that Mac Jones enjoyed last season? Those are the million dollar questions. 
Uiagalelei has already shown glimpses of the kind of quarterback he might be for the Tigers in 2021. He got the opportunity to make a couple of spot starts as a true freshman last season, against Boston College and Notre Dame. In those two outings, he came away with an 83.6 passing and five big-time throws without recording a single turnover-worthy play. He made the right decisions with the ball unleashed his cannon of a right arm.
The number 1 breakout candidate of 2021

DJ Uiagalelei ????

— PFF College (@PFF_College) June 8, 2021
There were some accuracy issues on sideline throws, though. Of his 29 passes over 5 yards downfield, only 31% were accurate while 44.8% were entirely uncatchable. This all has to do with mechanics and will be something to monitor this fall, but the overall early returns from D.J. were promising.
Stroud will have the benefit of having the best receiving unit in college football at his disposal in his first year in a starting job. There is less known with Stroud than with the other two passers, but he has certainly shown the tools to be something great. He​​ has proven to have a big arm and can be a threat on the ground. The former hasn't been shown off in a college game yet, but the latter has. He did get one carry in 2020, and that resulted in a 48-yard touchdown. 
Stroud's deep ball made waves when he was in high school, and that has remained the case in practice thus far. 
C.J. Stroud to Jaxon Smith-Njigba. Hello. pic.twitter.com/QKTmvLAyCT

— Colin Hass-Hill (@chasshill) August 10, 2021
Stroud may have the shortest leash of the bunch considering the amount of young, high-ceiling quarterbacks Ohio State has on the roster. The likely QB1 for the Buckeyes won't wait too long before getting a tough defensive test as the Oregon Ducks will travel to Columbus in Week 2.
THE BOTTOM LINE
Based on what has happened historically, it would be a rare scenario if Young, Uiagalelei and Stroud all ended up at a Heisman or championship-leading level right away. Again, trends can be broken and outliers can pop up, but it's more likely than not that at least one of the three ends up in need of significant help from their respective team in order to keep them in Natty contention. 
And that's the beauty of the 2021 college season. With all of the unknown at the most important position on the field for these three teams — and even for Georgia in the case of JT Daniels — this season is set up for unexpected chaos.
Only a few more weeks to go before all of the questions start to get answered…