The 2015 season was shaped by the running back position more than any in recent history, and 2016 is primed to become an encore to the same story. Many of the nation's top runners return, and they're all slated to be the focal point in their respective offenses. While quarterbacks have dominated the Heisman Trophy voting in recent years, there's a strong chance that we will see another running back hoist the trophy once again this year. Here's a look at the top Heisman candidates for 2016 as we head into the "Year of the Running Back, Part 2."
[Editor's note: Be sure to check out our 7 dark-horse candidates for the Heisman Trophy as well.]
Christian McCaffrey, RB, Stanford
McCaffrey did it all for Stanford's offense in 2015, leading all running backs with a +49.1 overall grade. His 2019 rushing yards ranked second to Heisman winner Derrick Henry, while adding 645 yards through the air at 14.3 yards per reception. He set the NCAA record for all-purpose yards and while that can be an inflated stat when putting return yards on the same scale as yards from scrimmage, the record encapsulates McCaffrey's value to Stanford's offense. He's a smooth runner in any scheme, whether working downhill in Stanford's preferred downhill system or looking to find a cutback lane on zone runs. McCaffrey can then create matchup problems for opposing defenses as he can take wildcat snaps or line up as a receiver where he looks like a veteran wide receiver with his smooth route running.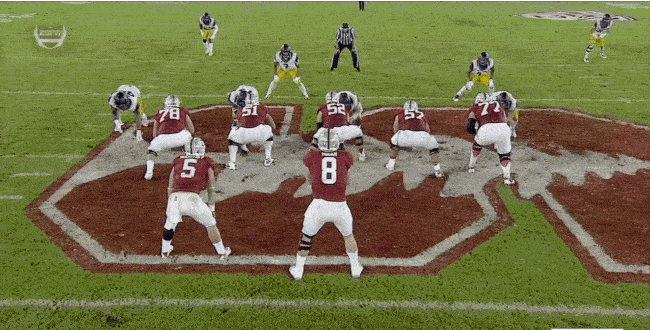 Regardless, getting the ball into McCaffrey's hands is vital, and he'll have plenty of opportunities to carry Stanford's offense this fall. If there's a concern for McCaffrey's campaign it's breaking in three new offensive linemen which may hurt his production on the ground, but given his versatility, he should be able to make up ground by getting the ball in creative ways to exploit the defense. McCaffrey was our pick for the Heisman last season and he's the early front runner heading into 2016.
Leonard Fournette, RB, LSU
The Heisman front-runner for much of last season, Fournette ran into a brick wall in November, starting with the Alabama defense. It's unfortunate that his campaign was essentially halted on a night when Alabama's defense gave him no room to run while Henry ran wild on the other side, but it shouldn't take away from Fournette's incredible sophomore season.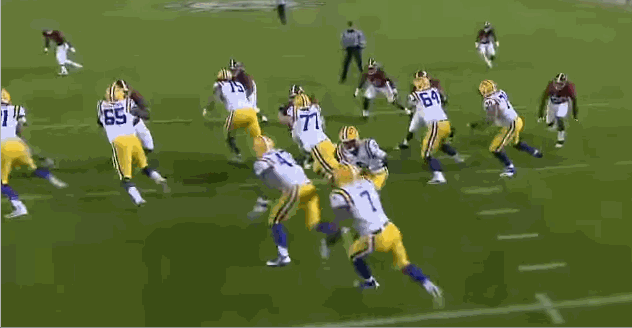 He posted the highest rushing grade of any running back while also leading the way with 85 forced missed tackles. His improvement after a stellar true freshman season was evident as he looked more agile last year, adding a shifty component to his already-impressive combination of size and speed. Snap for snap, he looked like a better runner than Henry and given the leaps he made from 2014 to 2015, it's possible that Fournette takes another big step forward as a junior and that's a scary proposition for opposing defenses.
Deshaun Watson, QB, Clemson
Last year's No. 3 finisher in the voting, Watson got off to a slow start before carrying Clemson to the title game and capping the year with an impressive performances against the national champs. Watson is the early favorite to become the top pick in next year's draft as he has the ability to make accurate downfield throws while bringing athleticism and power as a runner that Clemson often uses in the designed running game. Watson's +41.9 overall grade ranked third among FBS quarterbacks and from Week 9 through the end of the playoff, he was the nation's best. After flashing his potential as a true freshman in 2014, we saw what Watson is capable of as a sophomore last season and his best football is still ahead of him. The challenge for Watson's campaign is the nature of the quarterback position that almost demands perfection in the eyes of the voters, so any slip up by Clemson along the way could hurt his chances. The Tigers have a talented roster, but they've lost huge numbers to the NFL on the defensive side of the ball and Watson will be called upon to carry them on a weekly basis more than ever.
Dalvin Cook, RB, Florida State
Few running backs can change a game on one play quite like Cook. In just two years at Florida State, Cook has been the catalyst for a number of fourth-quarter comebacks, whether 2014 against Louisville or last season against Miami. He brings a big-play threat every time he touches the ball as evidenced by 62.9 percent of his years coming on breakaway (15-plus yard) runs last season, highest in the nation. Even when fighting through injuries last year, Cook took the slightest bit of daylight and made opposing defenses pay as his speed is unmatched once he gets to the second level. With questions surrounding the quarterback position in Tallahassee, Cook will be relied upon more than ever and he's proven up to the challenge as a freshman and sophomore. Given Cook's ability to change angles with his speed and his incredible acceleration that gets him to top speed, he is the nation's best running back when given strong blocking up front. While he may not be the classic runner that will keep the offense on schedule and fight for the tough, early-down yards, Cook's big plays will keep him entrenched in the Heisman race.
Baker Mayfield, QB, Oklahoma
After transferring from Texas Tech, Mayfield continued to exceed expectations, posting the third-best grade among quarterbacks at +49.6 and leading Oklahoma to the College Football Playoff. He played an efficient brand of football, as he had the lowest percentage of negative grades of any quarterback in the nation and that style kept the ball moving in Norman. While the Big 12 gets a bad rap defensively, and rightfully so, Mayfield deserves credit for taking advantage and spreading the ball around to his various playmakers. Losing the nation's top-graded wide receiver, Sterling Shepard, should hurt, but games like Mayfield had against Baylor showed his capabilities as he made a number of big-time throws while going head-to-head with one of the nation's top offenses. With an adjusted completion percentage of 77.2 that ranked fourth among Power-5 quarterbacks combined with an opportunistic running style, Mayfield's efficiency will keep him in the Heisman mix, especially if he can spearhead another run at the College Football Playoff.
Nick Chubb, RB, Georgia
Yet another talented runner, Chubb is coming off a season-ending injury, but a return to health will have him squarely in the middle of the Heisman conversation. He burst onto the scene as a true freshman when eventual first-round pick, Todd Gurley, was injured and he ranked third in the nation with an elusive rating of 108.5. Opponents stood no chance when trying to tackle Chubb as they bounced off his regularly, and perhaps most impressive, he then showed the speed to create big plays.
That combination has led to an excellent 7.4 yards per carry average in his two years at Georgia. Chubb finished his freshman season at +21.0 overall, good for sixth in the nation, and he was off to another strong last year before injury struck. Georgia got inconsistent quarterback play a year ago, and this year may be more of the same, so look for Chubb to carry the offense. If he's back to form, Chubb is as talented as any of the other backs in the nation.
Royce Freeman, RB, Oregon
Often overlooked in the running back conversation, Freeman brings a tough, downhill style to an Oregon offense that gets pigeonholed as a finesse system. Freeman doesn't have any one trait that stands out as special, especially when compared to the other top runners, but few 230-pounders can move like him and tacklers bounce off him as his 80 forced missed tackles ranked third in the nation a year ago. Oregon's spread offense does a good job of creating space for running backs and Freeman took advantage to finish with the fourth-best rushing grade in the nation while averaging 3.8 yards after contact per rush to tie for 12th. Like others on the list, having an unknown at quarterback may help in Freeman's favor as he'll be featured heavily in the offense with plenty of opportunities to build his Heisman campaign.
Other top candidates: Myles Gaskin, Washington; Saquon Barkley, Penn State; Samaje Perine, Oklahoma; Elijah Hood, North Carolina; Mason Rudolph, Oklahoma State; Chad Kelly, Ole Miss; Greg Ward, Houston; Myles Garrett, Texas A&M; Derwin James, Florida State.