After getting shutout by the Clemson Tigers in the College Football Playoff semifinal back in 2016 and being on the outside looking in the last two seasons, the Ohio State Buckeyes are back in the CFP and seeking revenge against the Tigers.

We all knew the Ohio State Buckeyes would be good heading into the year, but nobody could have imagined that they would end up as one of the nation's most improved units as a whole. They lost Dwayne Haskins, Parris Campbell and Terry McLaurin, all key offensive starters, to the NFL, and they lost legendary head coach Urban Meyer to retirement. The Buckeyes overcame all of this in 2019 and improved their PFFELO-point total more than any other team in the FBS.
This then begs the following question: Does Ohio State actually have a shot at taking down the reigning national champions? Could they then beat the LSU Tigers, the hottest team in college football right now? Using PFF's advanced database and unique grading system that is used by all 32 NFL teams and 70 FBS programs, we can try to answer this question. First, let's dive into their remarkable year and decipher why they might be able to do so.
Justin Fields is one of the best quarterbacks of the PFF College era
A former five-star and second overall recruit, Justin Fields had big shoes to fill after Dwayne Haskins was taken 15th overall in the 2019 NFL Draft. Haskins finished the 2018 season with an 84.2 passing grade that finished 17th nationally and was also the best for an Ohio State quarterback in the PFF College era (since 2014). Fields shattered that in 2019 — his passing grade of 92.9 was not only the best by a Buckeye and best we have seen in the Big Ten, but it also finished behind only Heisman winner Joe Burrow for best in the entire country. Not to mention, it's among the five best we have ever seen in the PFF College era.
Known for his absurd touchdown to interception ratio, Fields is arguably one of the best in college football at making big-time throws and limiting turnover-worthy plays. In fact, he is just one of two FBS quarterbacks to rank in the top-10 in both big-time throw rate (7.5%) and turnover-worthy play rate (2.0%).
We here at PFF have hammered home how quarterback performance from a clean pocket is one of the most predictive and stable metrics for the position,  and no college quarterback has graded better from a clean pocket than Fields. His success in a clean pocket isn't coming from "safe" throws, either. So far, Fields has accumulated 72.5% of his total passing yardage through the air as opposed to after the catch — which is the nation's highest rate by over 3.5% — and he's also recorded the country's most deep touchdown passes (16) after opposing pressure had been kept at bay.
Which leads us to our next point of Fields being one of the best downfield passers in all of football. While Joe Burrow is still number one in PFF grade on throws at or beyond the sticks, Fields is barely behind him and third place is not anywhere near the two.
Fields has produced a completion percentage that ranks second to only Burrow at 66.7% on these throws. In other words, two-thirds of his passes beyond the first down marker are caught for a first down. Quarterback coaches from all over will preach how difficult it is to teach accuracy at the higher level, but this is no concern for Fields, as his accuracy on these past-the-sticks passes is something special. On throws at or past the marker, Fields is second (yes, again only to Burrow) in "accuracy plus" rate, according to PFF's quarterback charting system. Essentially, he has produced the second-best rate of perfectly placed passes to the receiver.
Life without Terry McLaurin and Parris Campbell has been better than anticipated
In addition to losing Haskins to the NFL, Ohio State saw two of their three highest-graded wide receivers move on to the professional realm. Consequently, the receiving unit as a whole needed to step up, and they did just that in 2019. Altogether, the Ohio State receivers have been creating separation better than any other team in college football. On targets of 10-plus yards downfield, the Buckeyes' receivers have had a step or more of separation 52.8% of the time. That's 4% above the next best team and over 22% above the FBS average.
Highest % of tgts that were "open" (@PFF, taking out tgts less than 5 yds):

1 Chris Olave, Ohio St – 61.7%
2 KJ Hill, Ohio St – 58.5%
3 Zakhari Franklin, UTSA – 55.8%

Fields & the OSU defense may get the attention, but the receivers have been just as important to their success. pic.twitter.com/xPEHXiOkro

— Anthony Treash (@PFF_Anthony) December 9, 2019
The emergence of true sophomore wideout Chris Olave has been a big part of that. At just 19 years of age, Olave has produced the 17th-best receiving grade in the FBS (87.1). Olave is the clear-cut deep threat on this Ohio State roster, and he owns elite speed that can shred any zone-coverage concept he faces. In fact, Olave has seen the most targets of 15-plus yards with "open" separation (more than a step), with 20. His production is among the best in college football — he has gathered 3.58 yards per route run, ranking eighth at the position. He's played his way into a beefy starting role within this Buckeye offense, and the Buckeyes are better off for it.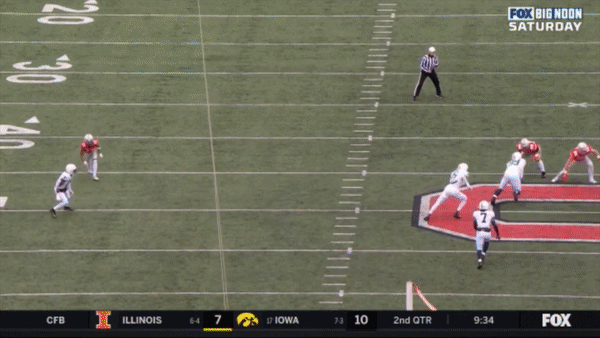 One of the rare cases of the run game actually helping team
Last year, the Ohio State Buckeyes' rushing attack was less than ideal. After the conference championship in 2018, their expected points added (EPA) per rush was at a lowly -0.049, ranking 80th among the 130 FBS offenses. This year, however, it's been a completely different ball game.
The Buckeyes have increased their EPA per rush all the way up to 0.142. For perspective on how good of an EPA total that is, it means they are more efficient rushing the ball than 104 FBS teams are at passing it.
So, what's the difference between the two seasons? It's not the running back, it's the scheme. With Ryan Day calling the shots as head coach, the Buckeyes' rushing attack has maintained their usage of the inside-zone concept at nearly 50% while almost doubling their usage of outside zone to 30% — the latter of which just so happened to be their most successful scheme in 2018. In both zone concepts in 2019, Ohio State has averaged 6.7 yards per carry, which is over 2.5 yards more than the FBS average. Though, as indicated, the Buckeyes have benefited most from outside zone, as they have produced 0.368 EPA per rush on those plays, the nation's highest mark (second is at 0.257).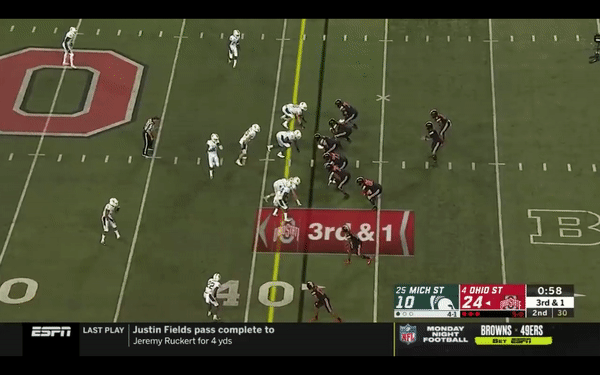 The Ohio State rushing attack has been superb while running within an outside-zone scheme, but they're at their best when they're running it out of a spread personnel package with three or more wide receivers. Day and Ohio State have thrown out heavier personnel packages than they have done in the past and have increased their rate of run plays in packages with three or more wide receivers.
When they run out of these spread formations, the outside-zone usage is apparent and the results have been noticeable. On outside-zone plays with three or more wide receivers on the field, the Buckeyes have averaged 3.6 yards before contact and 8.3 yards per carry, which is over three yards more than the FBS average. Of course, this is all made possible by the offensive line, a unit that currently ranks 10th among the 130 FBS teams in PFF run-blocking grade.
The defense went from good to one of the best PFF has ever seen
In addition to the massive improvements on the offensive side of the ball, the Buckeyes' defense went from a good one to one of the best PFF has ever seen. Through the Big Ten Championship, Ohio State is on pace to be the highest-graded defense in the PFF College era; they went from allowing a good-not-great -0.086 EPA per play in 2018 (50th) to allowing -0.317 EPA per play (2nd). That is the third-highest jump in college football this year.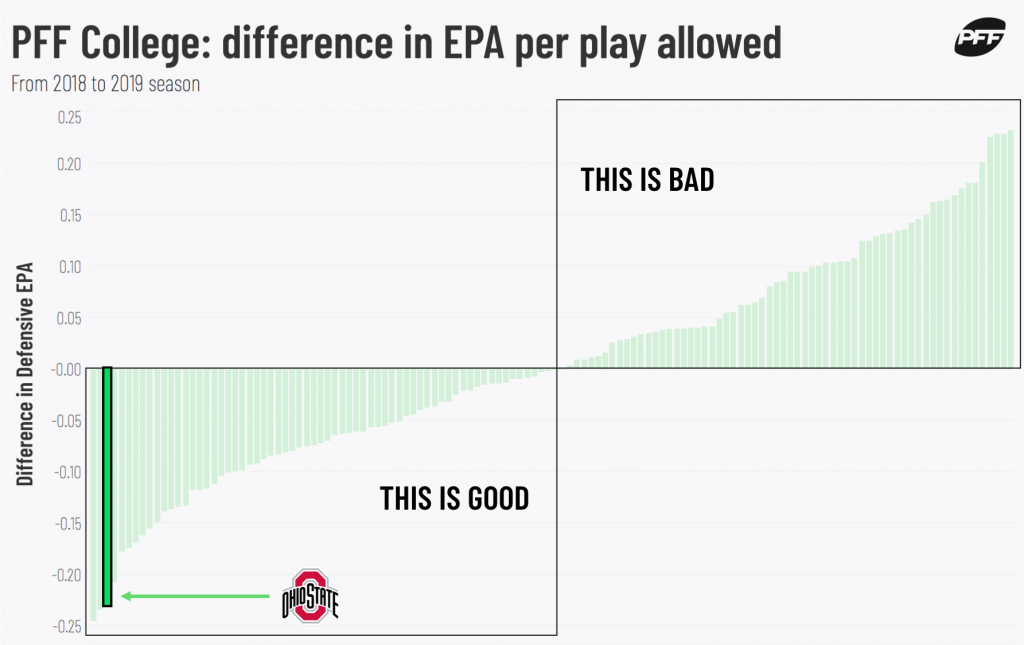 To start, we have to mention Chase Young — the consensus number two overall pick in the 2020 NFL Draft behind Joe Burrow. While most analysts circled Young as one to watch in 2019, few truly saw his level of dominance coming. He's been a game-wrecker game in and game out, and his 96.7 overall grade is on pace to break the record for the highest PFF grade we have ever given to a college football player. Against a rather difficult slate of opponents, Young has produced a 27.3% pass-rush win rate — third in the nation — and he has produced sacks and fumbles like no other.
As for the interior defensive line, the Buckeyes lost Dre'Mont Jones to the NFL last year, but the team once again overcame this setback. This season, Ohio State has benefitted from the play of Jashon Cornell, Robert Landers and Davon Hamilton, all of whom currently rank inside the top-25 players at the position in terms of PFF grade.
The biggest weakness for the Buckeyes in 2018 was their secondary, as they ranked 81st in team coverage grade just a year ago.  This year, however, they've skyrocketed to first place, and so far, it's been a complete team effort. 
First off, starting safety Jordan Fuller has had a career year in 2019. After spending the first few seasons of his collegiate career playing as a hybrid safety, he moved to full-time free safety and went from good to great. When lined up as a free safety, Fuller has produced the ninth-best PFF grade; he is locking down the middle of the field, seeing a target once every 31 coverage snaps, and he's managed to record six combined interceptions and pass breakups on the year.
While Fuller is thriving deep in the secondary, Shaun Wade has been a difficult matchup for receivers in the slot. In addition to being 10th in PFF grade from the slot, Wade has forced as many incompletions as the number of first downs he's allowed. 
While opposing quarterbacks may want to avoid the slot after finding that out, they'd soon see the numbers for the outside cornerbacks and come to the realization that there just isn't a good option when it comes to targeting this defense. Led by Jeffrey Okudah and Damon Arnette, Ohio State's outside cornerbacks have combined to allow a passer rating of just 49.8 this year, which is the nation's second-lowest mark, and they are the only unit in the FBS to allow just one or fewer touchdowns. Oh, and they're allowing a first down on just 18.6% of their targets in coverage, which is the lowest rate in the FBS by over 3.5%.
So, do they have a realistic shot of upsetting Clemson in the CFP?
It's a tight race between Ohio State, Clemson and LSU for the best team in college football. In terms of PFFELO, they're all engulfed in a neck-and-neck race with each other, with Alabama just outside of the three and Oklahoma coming in at sixth. With that being said, PFF simulations give the Buckeyes the third-best chance to take home the CFP crown, at 17.2%.
As said previously by PFF betting analyst Ben Brown, if it came down to quarterback play, Ohio State would be the slight favorite over Clemson. As good as Ohio State has been everywhere else, Clemson has been a touch better. Though, we here at PFF do believe this matchup is closer than others think. These are the two best defenses and two of the top quarterbacks in college football. Regardless of the outcome, this Ohio State versus Clemson matchup will be one to look forward to.