The College Football Playoff is set. Unlike other sports, we like to cut right to the chase. The setup is a lopsided semifinal round featuring LSU at nearly two-touchdown favorites over Oklahoma, with an intriguing nightcap that showcases Clemson as two-point favorites over Ohio State on Dec. 28.
All four of the College Football Playoff participants rank in the top six of our PFF Massey offensive rating. When it comes to expected points added (EPA) per pass attempt, all four rank in the top 10 for 2019. Quarterback play is obviously paramount to team success. Among the four teams, all starting quarterbacks rank in the top 10 in PFF passing grade. It has never been more obvious that a focus on offensive production is the only way to ensure your team is capable of competing for the national title. Below, we will walk through each team's specific chances and path to being crowned national champion using outcomes generated from our simulation to see if we can unearth value from the betting markets.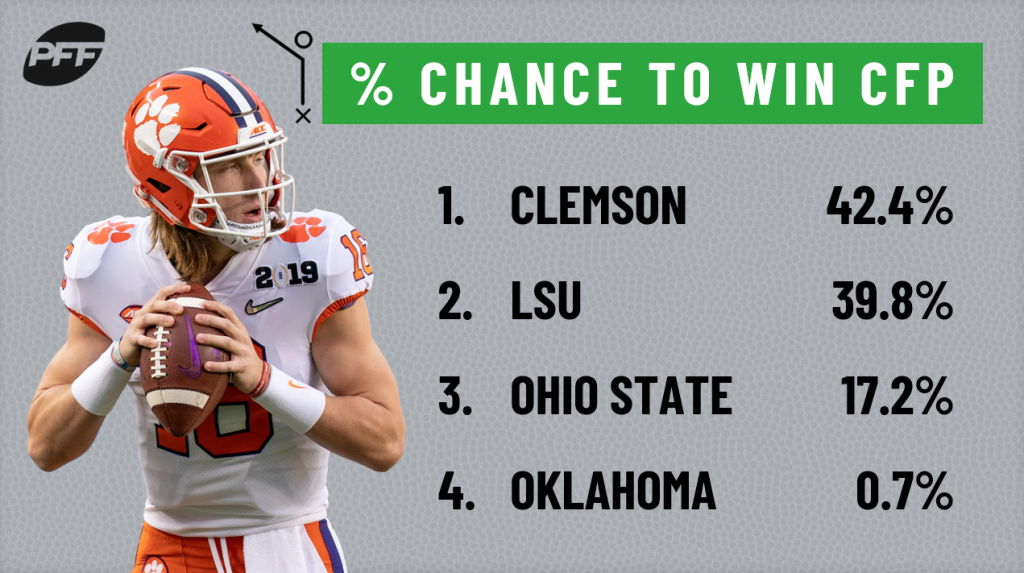 Clemson (42.4% to win the national championship)
The Clemson Tigers, our favorite and current No. 1 overall, provide value at future odds priced at +150 or greater. Their semifinal matchup is far from the two-touchdown spread that LSU will be tasked with. According to the current spread, betting markets have Clemson priced to win this matchup 56.5% of the time. This is the situation we have been in all year with Clemson, as our model doesn't discount their path based on playing less-than-stellar competition. Outside of quarterback play, they have clearly been the best team in the country from both a team level PFF grade and EPA standpoint. In saying that, Trevor Lawrence has officially put his early-season struggles behind him. Over the past six weeks, no quarterback overall or from a clean pocket has a higher passing grade than Lawrence. If you aren't buying into this current form of the Tigers, it could easily cost you when the confetti falls on Jan. 13.
LSU (39.8%)
LSU has the distinction of being the odds-on favorite with the clearest path to a national title. If it came down to strictly quarterback play, LSU would be at least a field-goal favorite against any team in the playoff bracket. Joe Burrow needs no introduction at this point, as his passing stats have been some of the best we have seen in the PFF College era. The Tigers are currently priced with an 83.5% win probability in the semifinal game. It is as close to a lock for a play-in game to the national championship that we have seen. And if LSU makes good on that likelihood, will the team be favored in the title game and if so, by how much? If Ohio State pulls off the early upset, the assumption is that LSU opens up as a field goal-to-3.5-point favorite over the Buckeyes. In this scenario, LSU would have right around a 60% win probability. Facing off against Clemson is another beast entirely. Take into account the disclaimer above that we have been higher on Clemson than conventional ranking systems and betting markets all season. Also, there's the small detail that whatever happens in the semifinal games will have an impact on national championship odds. We would make Clemson a slight favorite over LSU but could see that spread fluctuating anywhere between +2 and -2 on either side. Wherever it lands, LSU's current future price to win the National Championship holds no value, according to our simulation. If looking to play LSU, it is best to be patient and simply bet the moneyline in a National Championship game that could go down as one of the best ever.
Ohio State (17.2%)
If the semifinal spread were set solely based on quarterback grade, then Ohio State would be the two-point favorite over Clemson. This is the only category where we give Ohio State a slight edge on Clemson. When factoring in team PFF grades and our ELO ratings, we would have Clemson close to a touchdown favorite. Still, this is a matchup that has been priced closer than what we would make it, which means our simulation odds are lower than current odds for Ohio State. We have taken some in-season lumps fading Ohio State in certain Big Ten matchups. They are a team that has far exceeded our expectations by gaining more ELO points in our rating system than any other team in the FBS. In saying that, we could still be too low on them, as we have forced the Buckeyes to make up more ground than the other top teams. They could easily prove us wrong. If looking to play the Ohio State angle, it is best to simply roll moneyline bets into their next two games, where they will be priced as dogs. This is a significantly better proposition than taking their third-best odds at the current market price.
Oklahoma (0.7%)
Getting into the College Football Playoff is a consolation prize, but this is a tournament that doesn't award participation trophies. As such, it is hard to envision a scenario where Oklahoma walks away with hardware. In their semifinal matchup, their win expectancy sits at just 16.5%. If the Sooners somehow pull off one upset, they would find themselves in a very similar position — likely against Clemson — in the championship. If chaos reigns supreme in the semifinal round, Oklahoma would still be at least a touchdown underdog to Ohio State for the title. They hold the No. 1-ranked offense in the country, which is a big boost to their resume. On pass attempts, they average .414 EPA per attempt but have dropped off considerably since their early-season performance. The Sooners have had four games where they generated .100 EPA or less per pass attempt, with three of those games coming over their final five contests. To say they have failed to impress when they needed to most would be an understatement. It's true — they backdoored their way into the playoff bracket, needing losses from more than one team above them to get in. Oklahoma may just be happy to be here, but hopefully, the Sooners have the motivation to prove that they belong. Our simulation and current betting odds have a hard time buying into that scenario, though.