The college football regular season came and went in a flash, and we are now set with our playoff teams locked into their respective semi-final matchups. Bowl season, however, also provides many quality games between teams that fell just short in 2019. Each week during the regular season, we provided written content on teams in our top-25, so now that the season has been all but wrapped up, we wanted to unveil our full rankings while highlighting the path and direction each team took in 2019.

This article will be heavy on images, as we provide a line graph to show every FBS team's 2019 PFFELO ranking by week. To provide context, we've added a dotted line at 1500 ELO points to signify the ranking for an average team in our system. The Y-Axis has also been scaled to highlight in-season changes for a specific team. Note that the Y-Axis will be scaled differently in some graphics, which will make a one-to-one comparison between some teams difficult.
PFFELO is an iterative system that updates each team's rating after each game based on two things: how well they played against their opponent and how well they were expected to play against their opponent. The PFFELO rating system measures the former using our unique offensive, defensive and special teams grades, while the latter is determined by the PFFELO ratings leading up to the game and where the game is played.
For example, a heavy favorite playing at home is expected to outplay the visitor, so a victory would result in only a small rise in their PFFELO rating and a similarly small decrease in the defeated team's, but if an upset were to happen, the visiting team would see their PFFELO rating rise substantially, and the home team's see a similarly sized drop.
Sometimes in football, the best team does not win, and PFFELO accounts for these oddities by using our grades. Hence, there will be teams rated higher or lower in this system than their win-loss record would suggest.  While adjustments are made using preseason market data, along with recruiting rankings, the majority of these numbers are derived using our grades. Since PFF began charting college football in 2014, the difference in PFF ELO values alone has been able to explain over three-fourths of the variance in the closing Vegas line. Check back to PFF.com for bowl season college spread picks using this model.
Ranking All 130 FBS Schools
1. Clemson
Despite proponents shouting "Clemson hasn't played anybody," the team remains as the class of our current ranking system. Trevor Lawrence has looked like the best player in college football over the past six weeks. Defensively, they sit fourth in our opponent-adjusted ranking and have allowed the lowest EPA per pass attempt in the FBS. Quieting the doubters at least for now, Clemson has opened as two-point favorites over Ohio State in their semifinal matchup.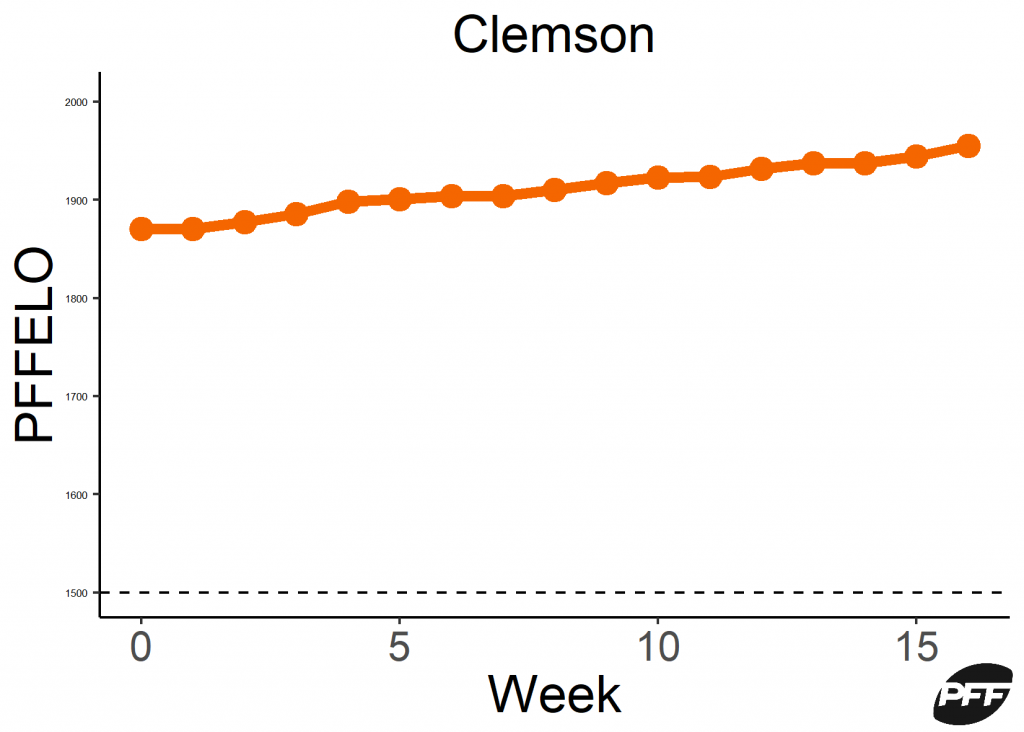 2. Ohio State
No team has gained more ELO points during the 2019 season than the Ohio State Buckeyes. They did it by running the table against the 17th-most difficult strength of schedule in the FBS. For that achievement, they get the opportunity to play the defending national champions in the opening round of the College Football Playoff. If it came down to only quarterback play, Ohio State would be a slight favorite over Clemson. The key for Ohio State will be their passing attack, which ranks third in EPA per pass attempt, seven spots better than the Clemson Tigers.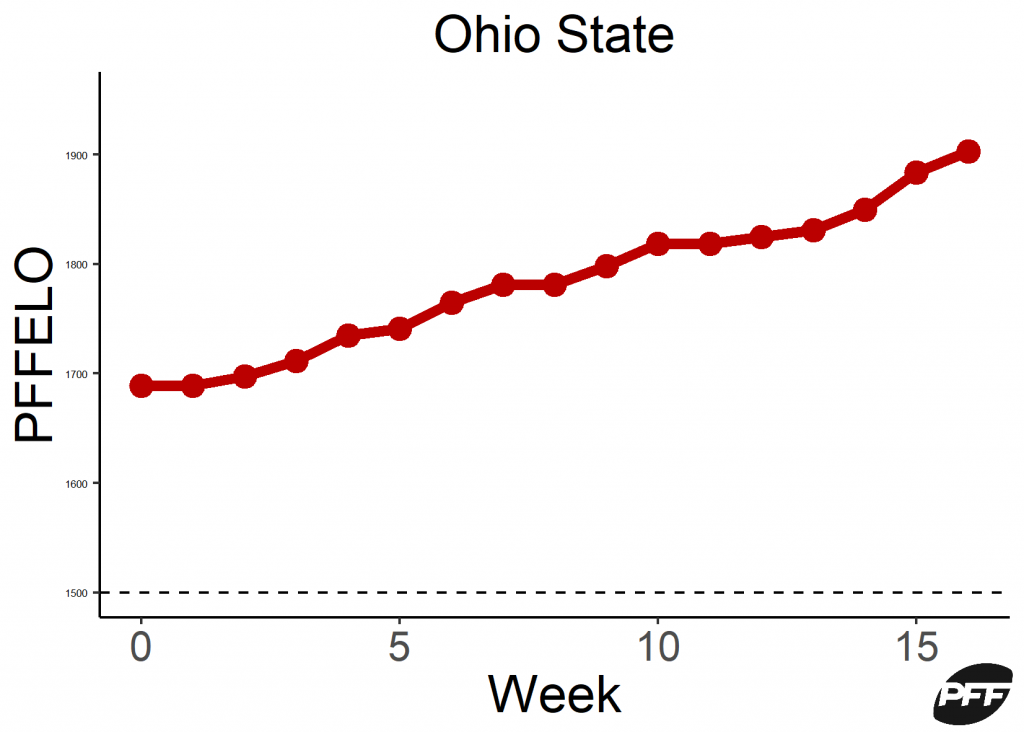 3. LSU
PFF First-Team All-American. Heisman Trophy winner. First overall pick. Joe Burrow's credentials need no introduction at this point. After going undefeated against the sixth-most difficult strength of schedule in the country, anyone who wants to say that LSU are the current number one team will hear little to no argument from us. Their path to a national championship is significantly easier as double-digit favorites in the semifinal round. Whoever they match up with in the finals should provide a national championship game for the ages.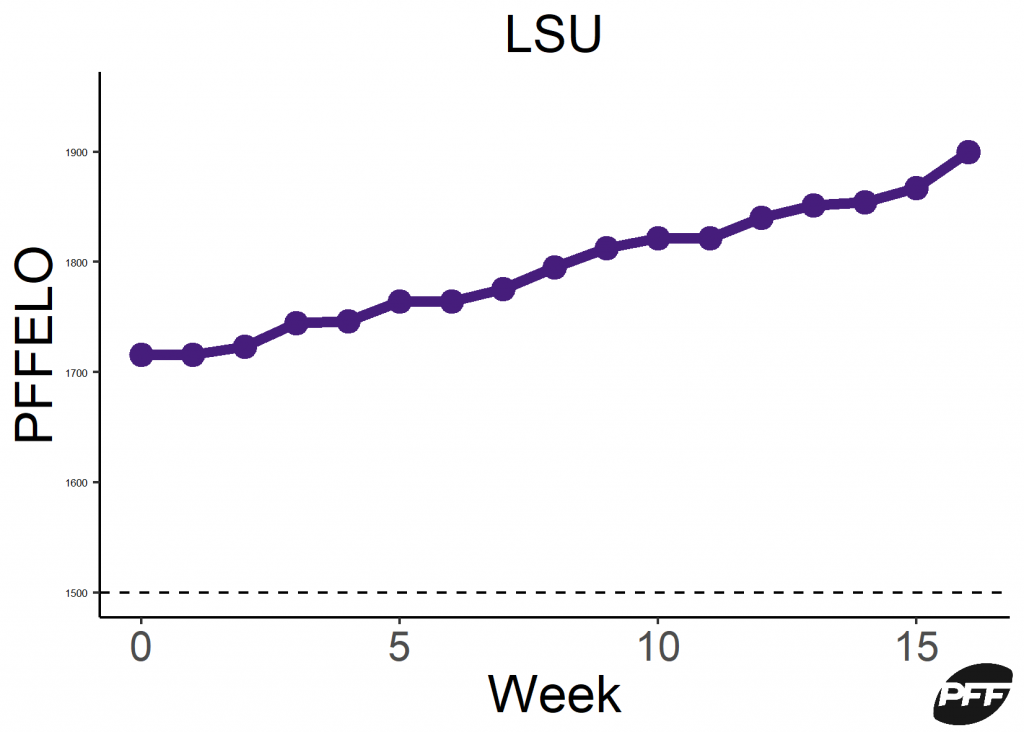 4. Alabama
Any season the Tide do not get to vie for a national championship can be seen as a disappointment in Tuscaloosa. Early rumblings project most of the talented class of juniors to stay for one more chance at a title in 2020. Alabama still sits high in our rankings, as the grades from their Auburn matchup paint a different picture than the one we saw in the final box score.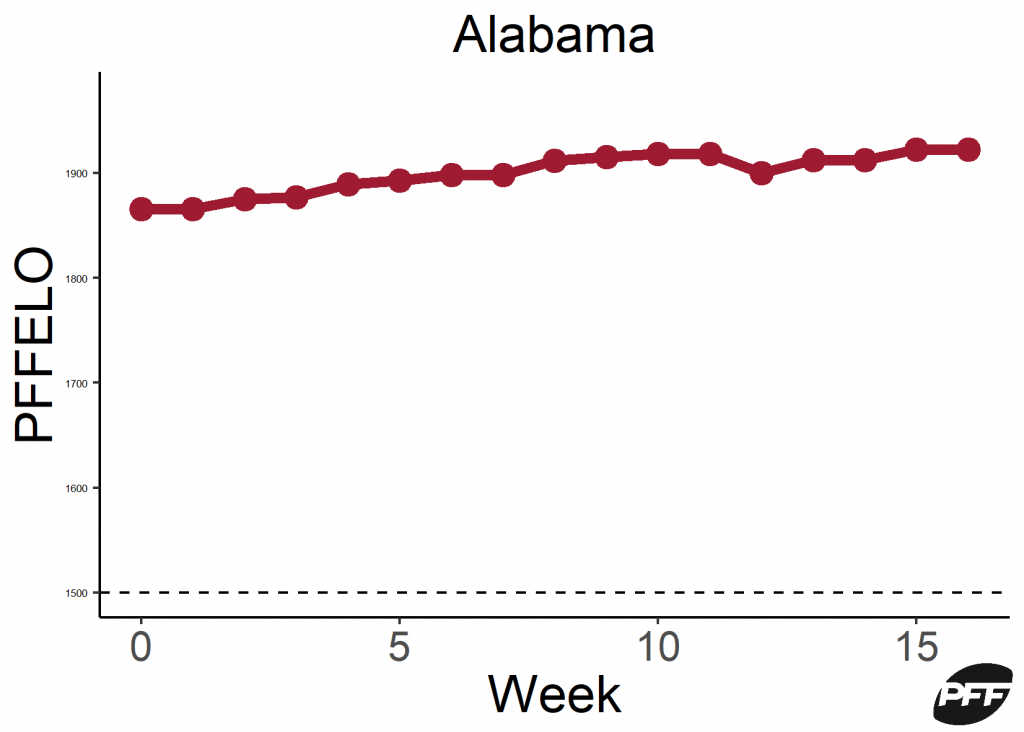 5. Georgia
The Bulldogs' reliance on their stellar defense finally caught up with them in the SEC Championship Game, as their passing offense failed to generate a positive EPA per attempt for the seventh game in 2019. Jake Fromm ended the season with just a 48.3% adjusted completion percentage on throws targeted 10 or more yards downfield, 101st among qualifying FBS quarterbacks in 2019. For the second year in a row, a talented Georgia squad failed to get over the SEC hump in what might have been their best chance for the foreseeable future.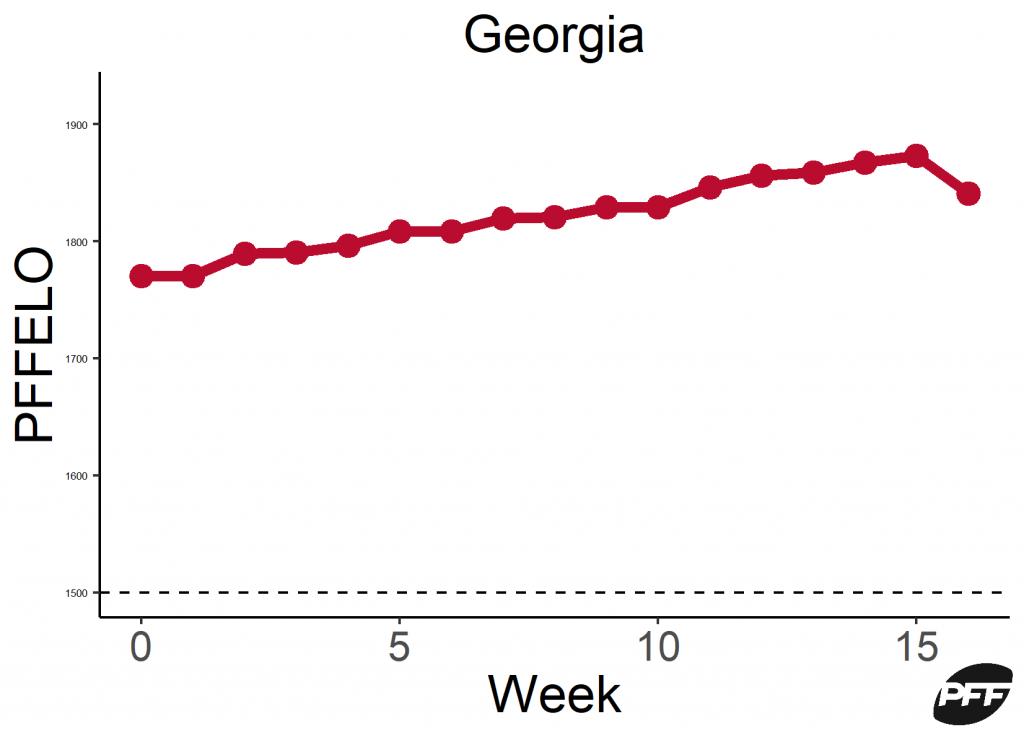 6. Oklahoma
Things broke correctly for Oklahoma, as they slid into the final playoff spot and are currently getting ready for what stands to be one of the most anticipated offensive matchups we have ever been treated to. Oklahoma has held the top spot in our opponent-adjusted offensive rankings since the start of the season. Defensively, they have risen 17 spots but still have the 15th-worst EPA allowed per pass play in the FBS.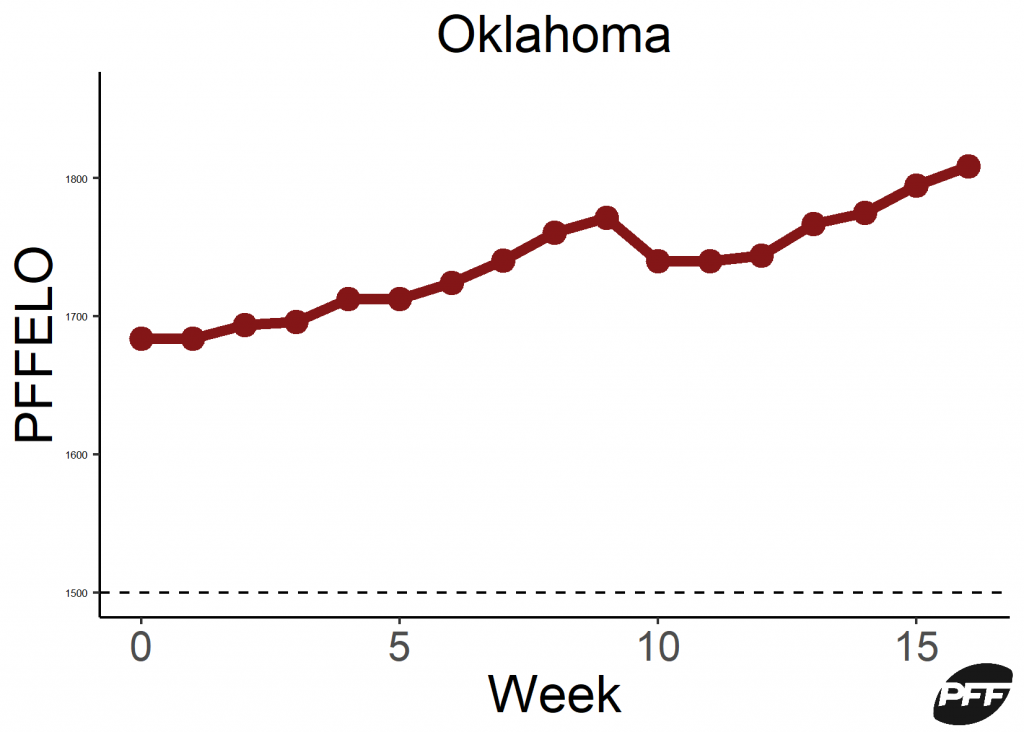 7. Notre Dame
Notre Dame stayed relevant throughout 2019 and were rewarded with a trip to the Camping World Bowl. At least the matchup provides intrigue, as bettors have backed the opposing Cyclones since the spread opened. Our metrics have been high on the Fighting Irish all season, ranking them as the fourth-best defensive unit according to our opponent-adjusted metric.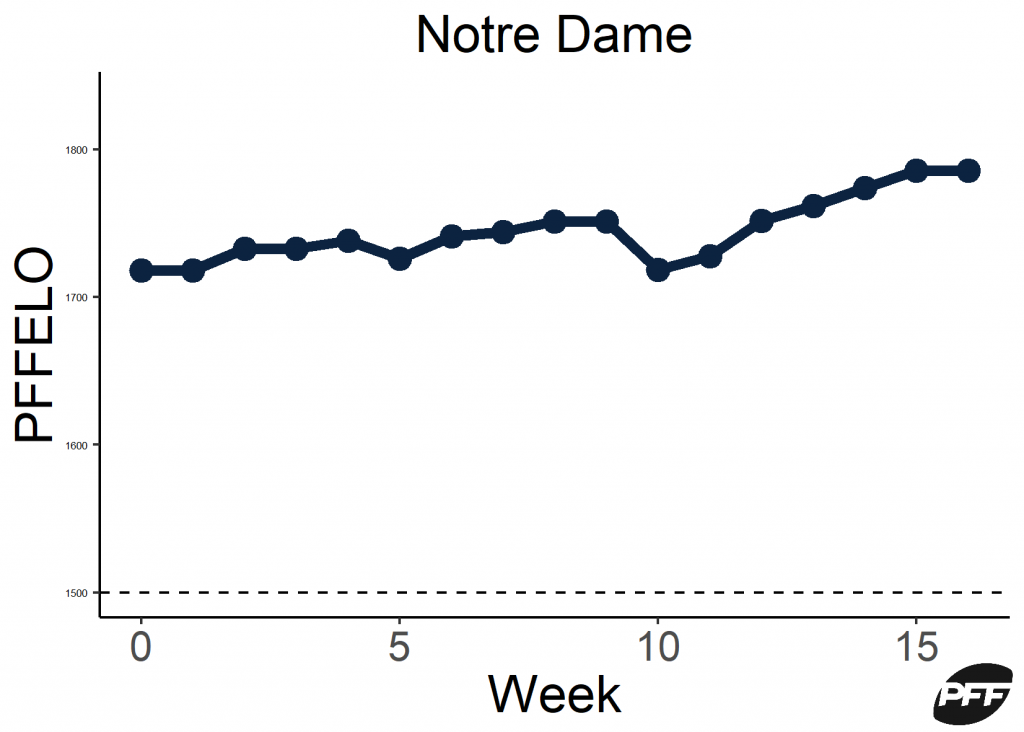 8) Penn State
Our second-ranked team from the Big Ten got better-than-expected play from their defense throughout 2019. Offensively, they dropped one spot from our preseason ranking after posting just the 85th-best EPA per pass attempt in the FBS. Quarterback Sean Clifford was sporadic throughout 2019, posting just the 63rd-best passing grade from a clean pocket.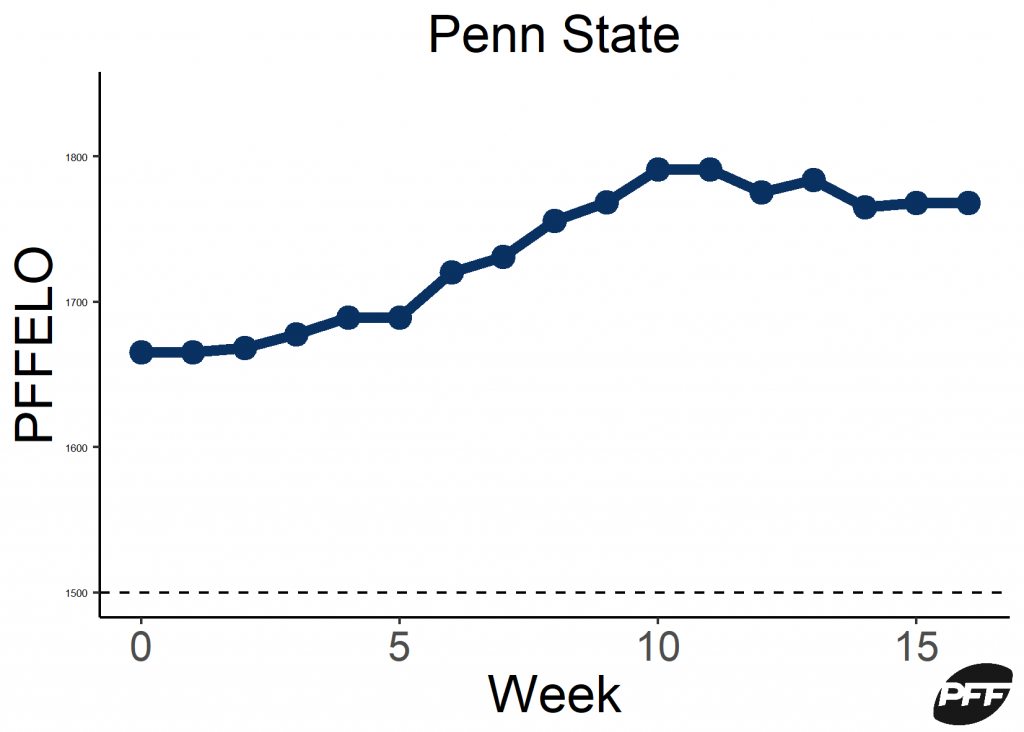 9) Oregon
The Ducks capped off their season with a signature victory to secure the Pac-12 title. They were not rewarded for playing a tough non-conference schedule, as their missteps against Auburn and Arizona State were too much to overcome. Their rushing attack highlighted their offensive production over their final three games, with Justin Herbert failing to grade at even an average level over that timeframe.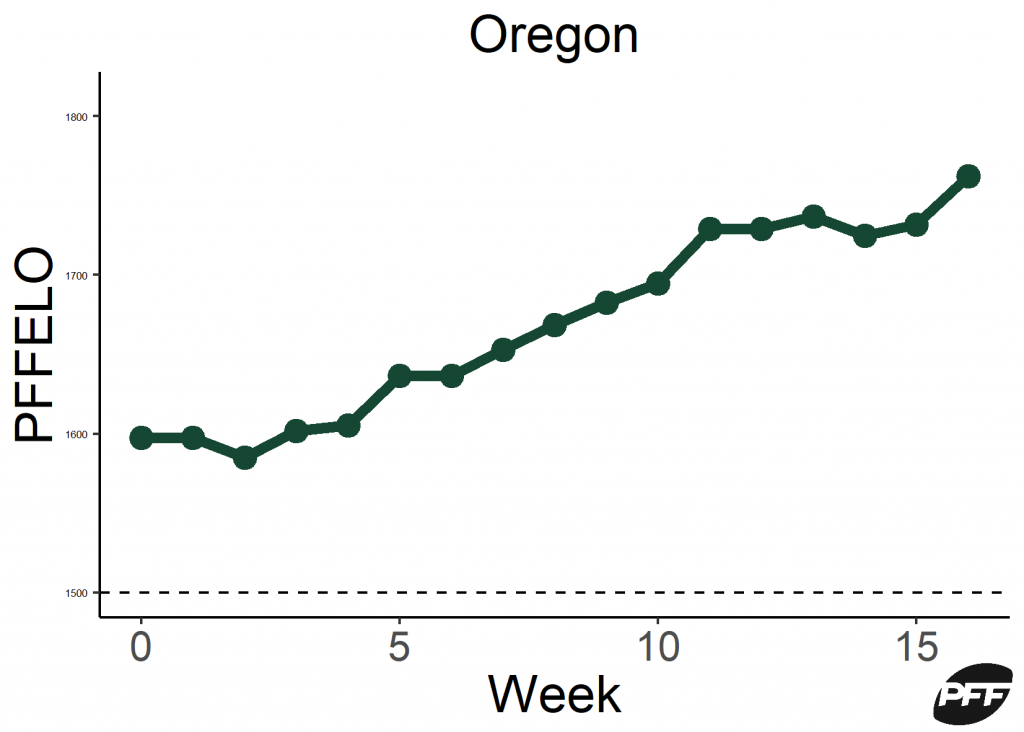 10) Wisconsin
The Big Ten Championship Game started off competitively, with Wisconsin holding a two-touchdown lead at halftime. Failing to score in the second half against the fourth-best offense in the country did not end well for them. The Badgers are still headed to the Rose Bowl to play one of the best matchups we have outside of the playoff semifinals.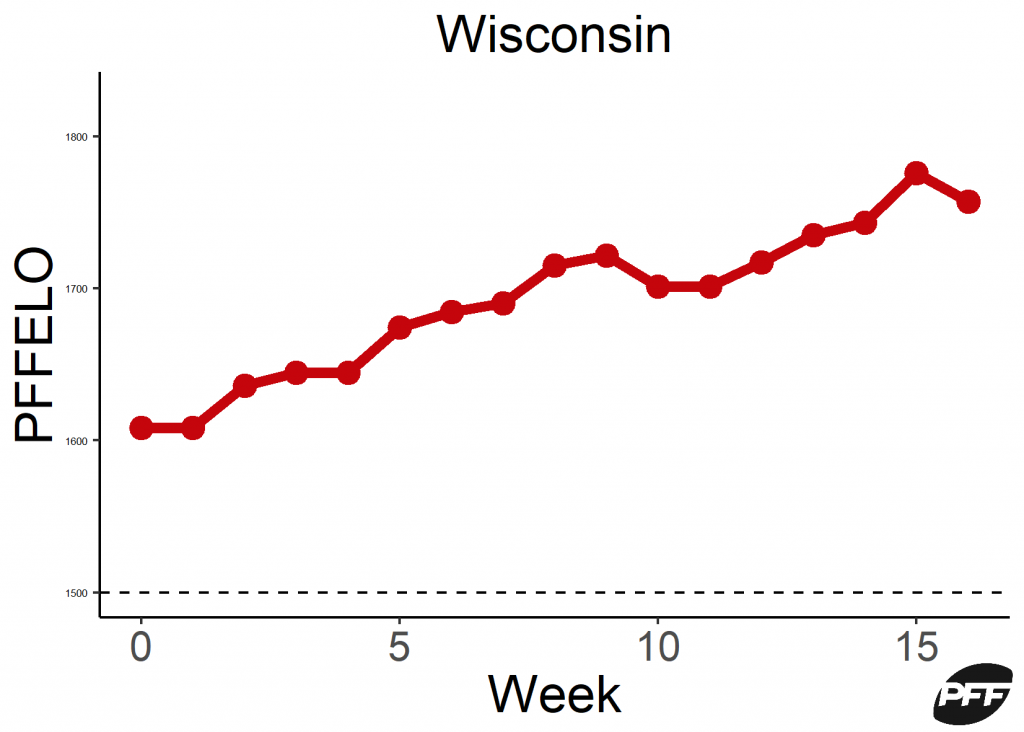 11) Michigan
Despite the balanced team-building approach that saw them rank 15th in opponent-adjusted offensive ranking and 14th in our opponent-adjusted defensive ranking, the Wolverines still failed to stay relevant in their biggest games of 2019. A few slip-ups were warranted, as the Wolverines ended up with the second-most difficult strength of schedule in the FBS. Doubts will linger into the offseason as numerous questions need to be answered for a team that has holes to fill at key positions before starting their 2020 campaign.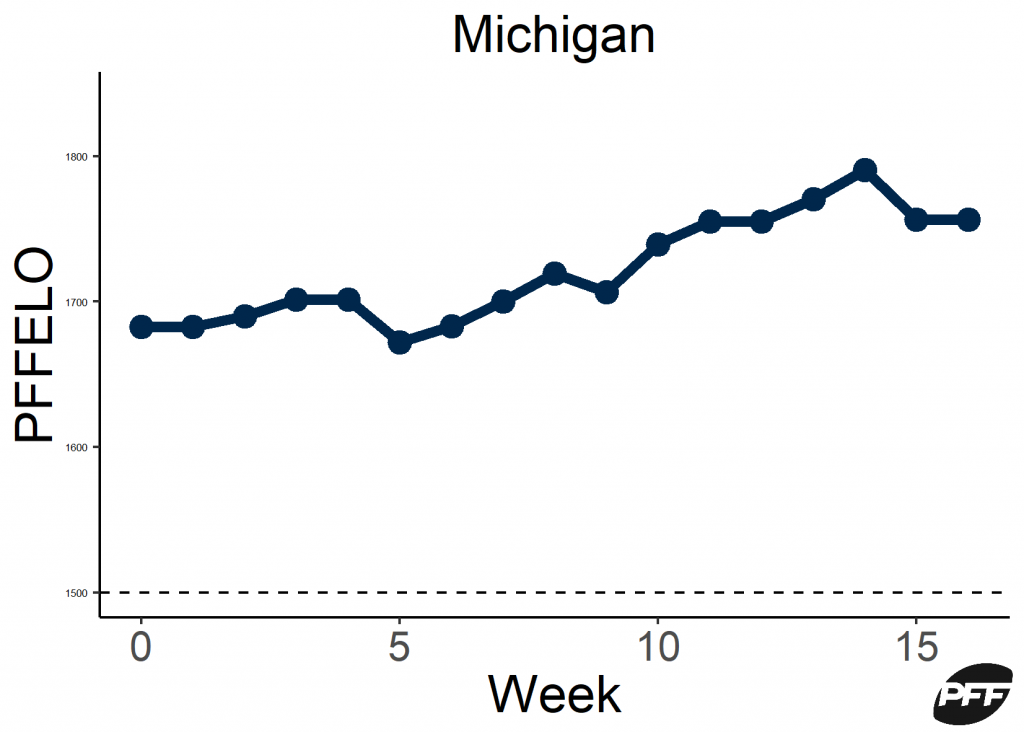 12) Florida
Things are looking up for a Florida team that exceeded expectations despite losing starting quarterback Feleipe Franks. Kyle Trask posted a slightly above average passing grade but threw almost twice as many turnover-worthy plays as big-time throws. Defensively, they remained stout at 19th overall, but they have to improve from their 54th offensive ranking if they want to make a jump into the elite tier of the SEC.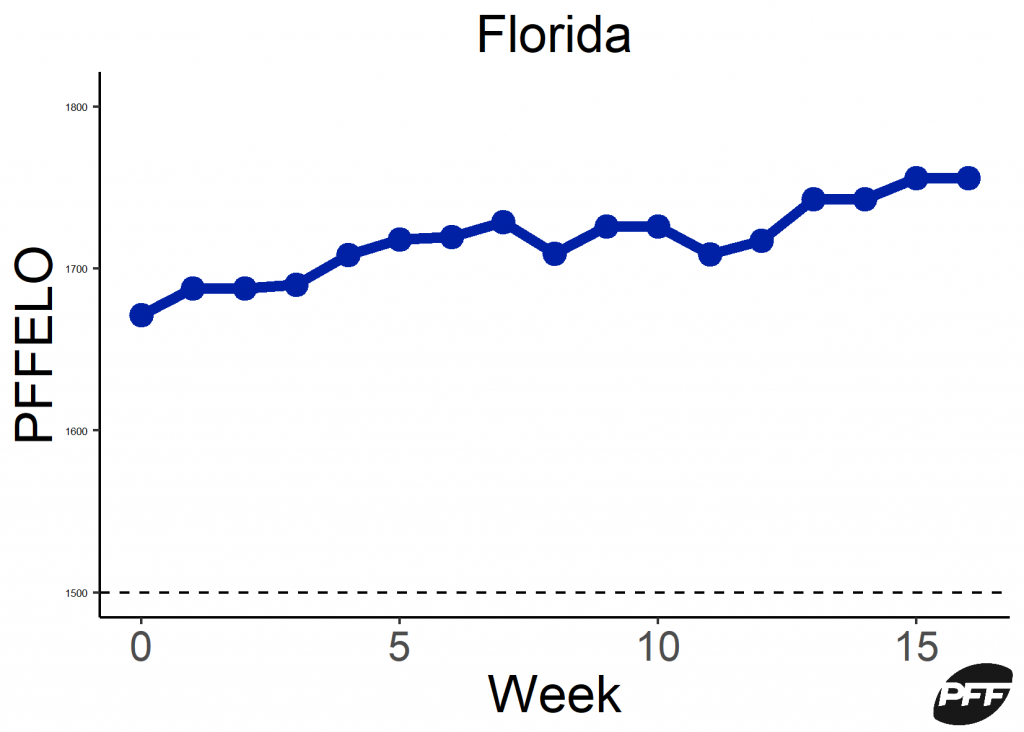 13) Auburn
It appears that Auburn has fully bought into Bo Nix as their long term solution at quarterback. After posting a 66.5 passing grade in his freshman season, the offseason questions begin with how much Nix can improve? Auburn faithful are hoping that question receives a quick answer in the form of an impressive bowl performance over a quality Minnesota team.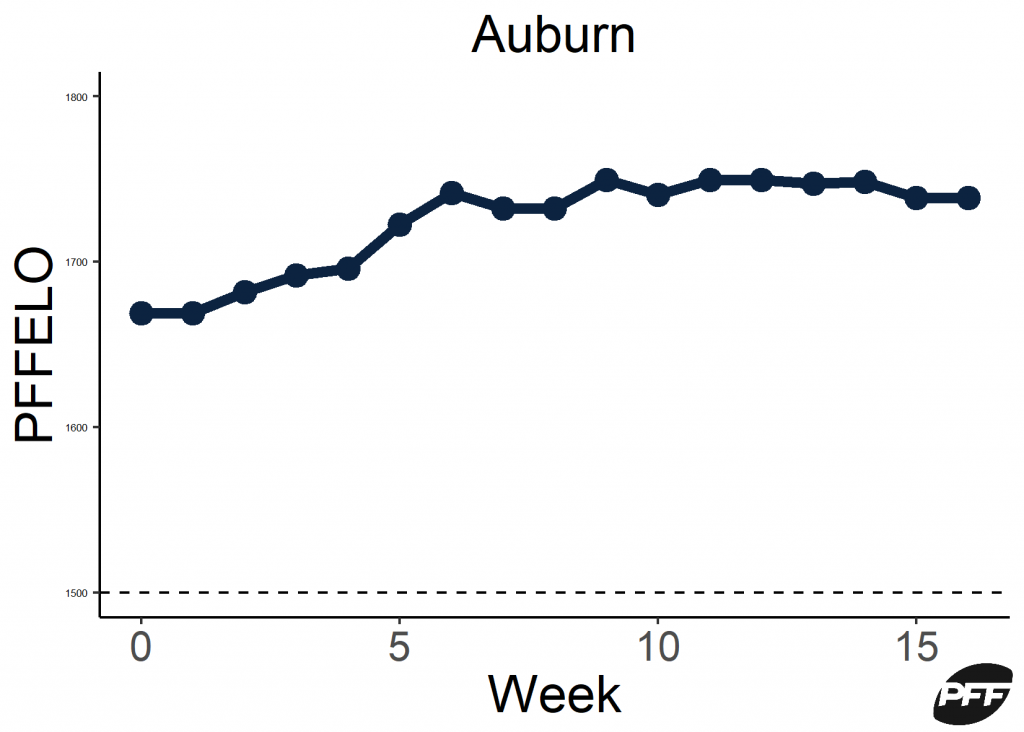 14) Utah
This senior-heavy Utah squad failed to deliver when they needed to. Their Pac-12 Title Game matchup against Oregon was the first time this season that their defense allowed a positive EPA per opposing offensive play. Their struggles at the most inopportune time highlights the difficulty in building a championship-level contender around a defensive unit.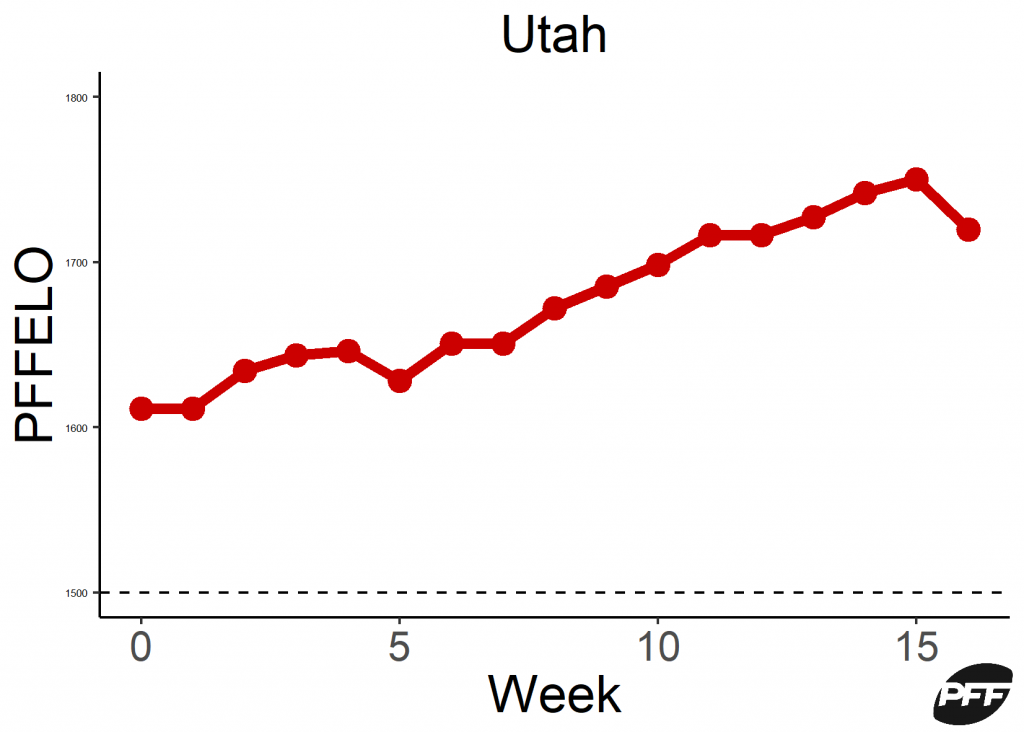 15) Iowa
The Hawkeyes held steady throughout 2019, dropping one spot from their preseason ranking. It was their offense that overachieved in 2019, rising 25 spots from a preseason opponent-adjusted ranking of 60th. Defensively, they had the second-best pass coverage unit in the country according to EPA allowed per pass play. Nate Stanley was reborn in the second half of the season, posting four of his best five passing grades from Week 8 on.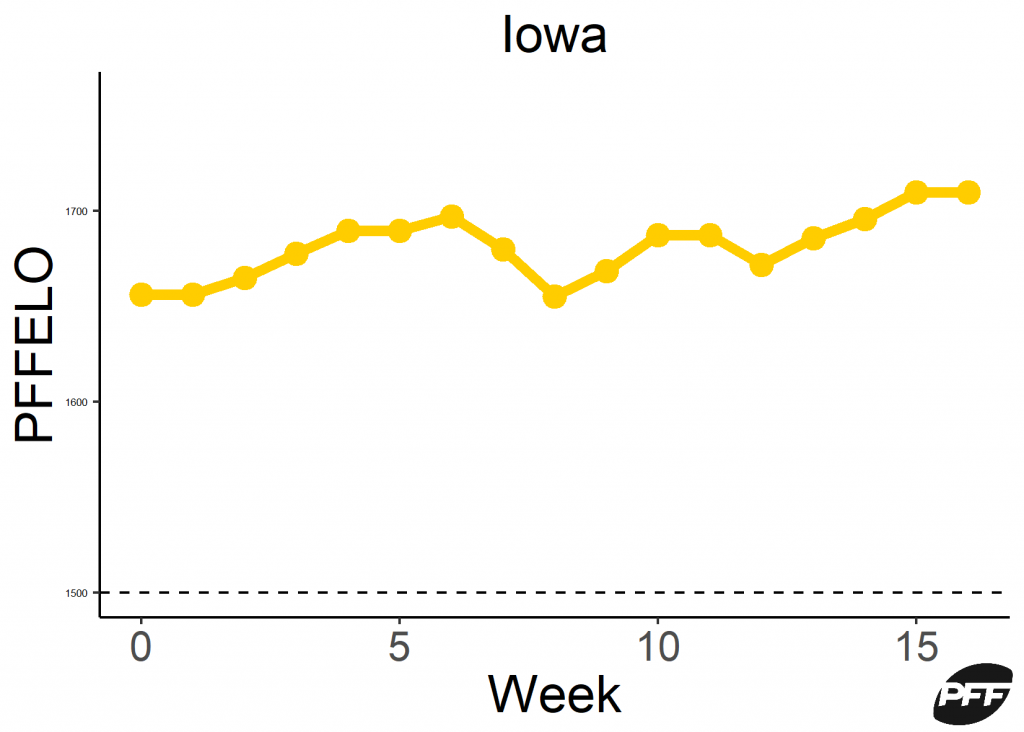 16) Memphis
The best-ranked Group of Five participant had a meteoric rise up our rankings in 2019. Memphis gained the third-most ELO points in 2019 behind Ohio State and LSU. They climbed from a preseason ranking of 61st up to 16th on the back of their seventh-ranked offense.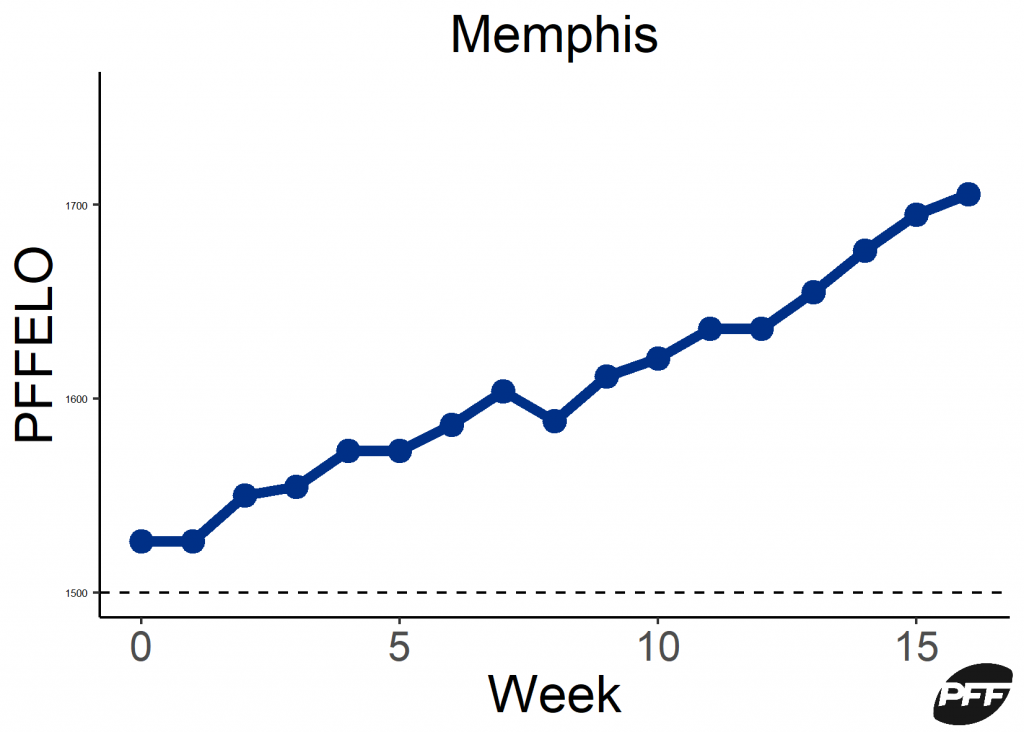 17) Boise State
Another impressive performance from a Group of Five school slots Boise State at 17th in our rankings. The Broncos are a well-balanced outfit, with both their offensive and defensive units ranking in the top-25 of our opponent-adjusted metrics. It doesn't seem to matter who starts at quarterback for Boise State, as they have the 14th-best EPA per pass attempt in 2019.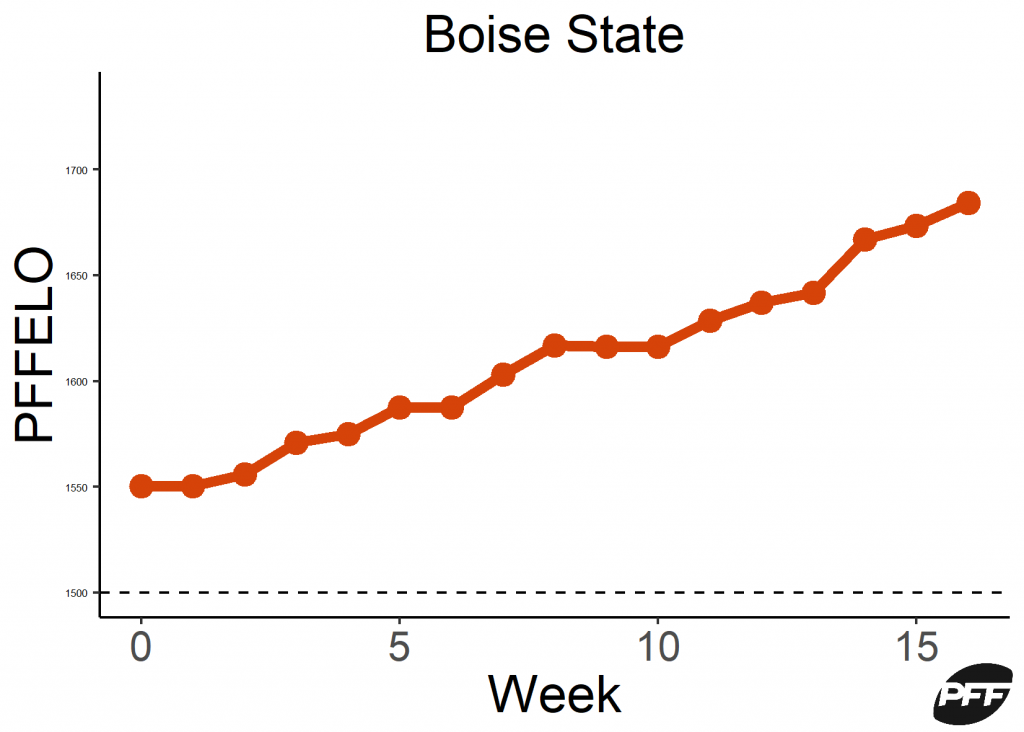 18) Baylor
Baylor once again fell short to Oklahoma after having a potential playoff berth open up before their eyes. Still, it was a season that exceeded expectations for the Bears after starting the season at 60th in our ranking system. Defensively, they improved dramatically, but their offense rarely lived up to the ability of their players, especially on the outside.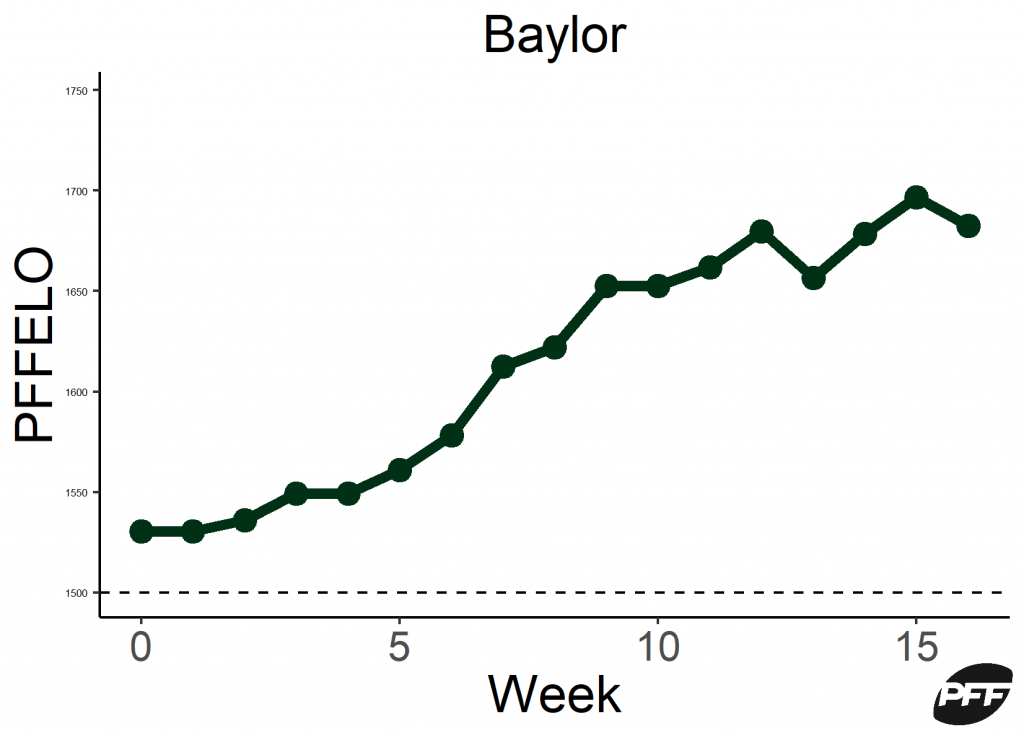 19) Minnesota
Despite slip-ups towards the end of the season, Minnesota still exceeded expectations in 2019. The 10-2 Gophers improved their opponent-adjusted offensive ranking by 34 spots after starting at 53rd. A New Year's Day bowl game is a significant win for a program that appears to be heading in the right direction.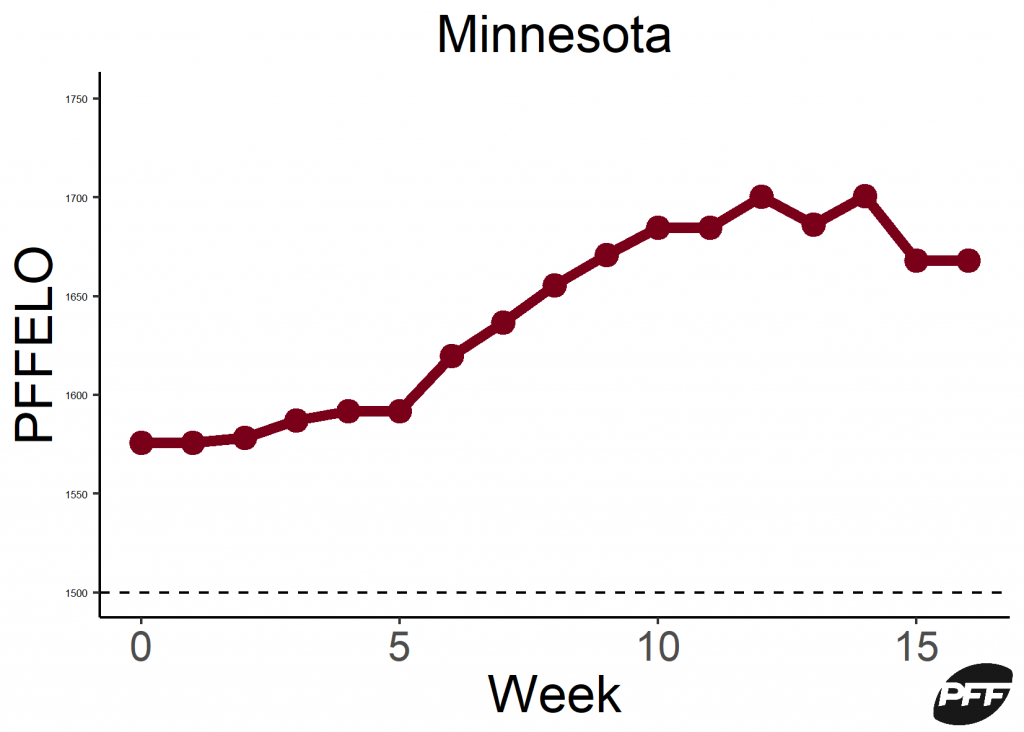 20) Washington
Washington is one of the few teams still in our top-25 that failed to live up to lofty preseason expectations. It was more of a rebuilding year than people anticipated, with Washington losing ground throughout the year in not only our ELO rankings but also our opponent-adjusted metrics. Jacob Eason should return in 2020 to try and improve on his currently diminishing draft stock.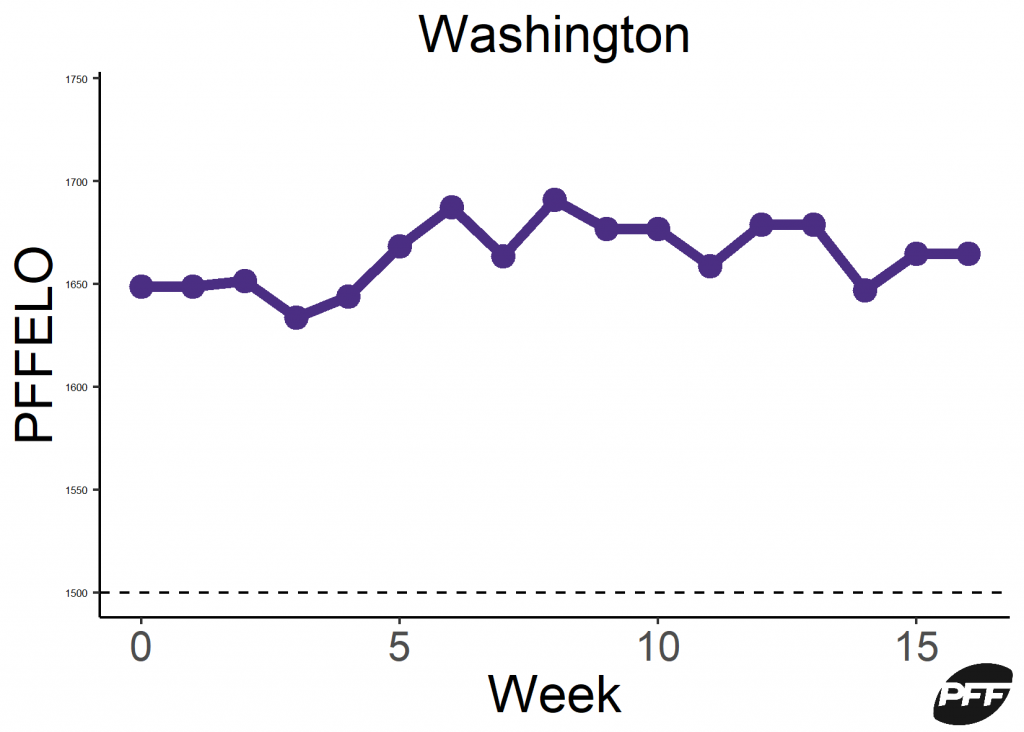 21) USC
USC has massive holes to fill at the wide receiver position in 2020, especially for an offense that routinely trots out four wide receiver sets. Thankfully, they have one of the deepest quarterback rooms in the country with J.T. Daniels expected back from injury and Kedon Slovis filling in admirably in his stead. Their offensive ranking improved 37 spots in our opponent-adjusted metric.
22) Texas A&M
The Aggies were constantly in survival mode in 2019 after facing off against the fifth-most difficult strength of schedule in the FBS. They failed to secure any quality victories and barely became bowl eligible due to their difficult schedule. Bettors are buying into their bowl chances, making them touchdown favorites after opening below a field goal favorite to Oklahoma State.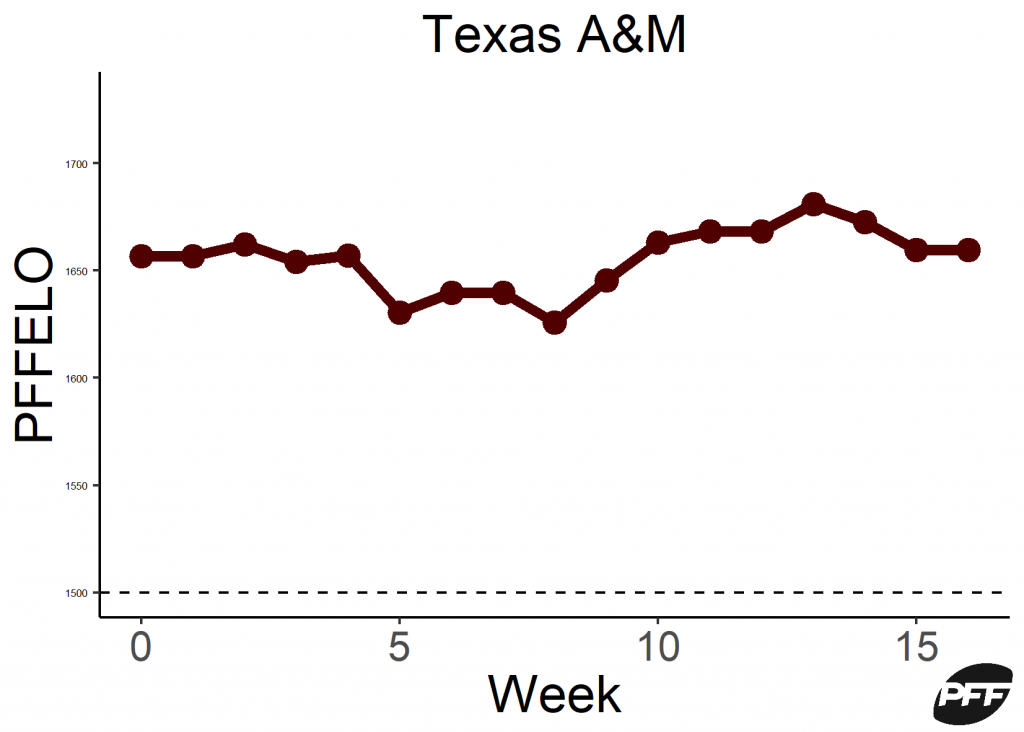 23) Appalachian State
The Mountaineers rose 48 places in our PFFELO rankings. The lone slip up against Georgia Southern cost them a high-level bowl game in 2019. Their matchup against UAB in the New Orleans Bowl should be a fun Group of Five matchup. Listed right now as 16.5-point favorites, Appalachian State has the second-highest spread we have on a bowl game in 2019.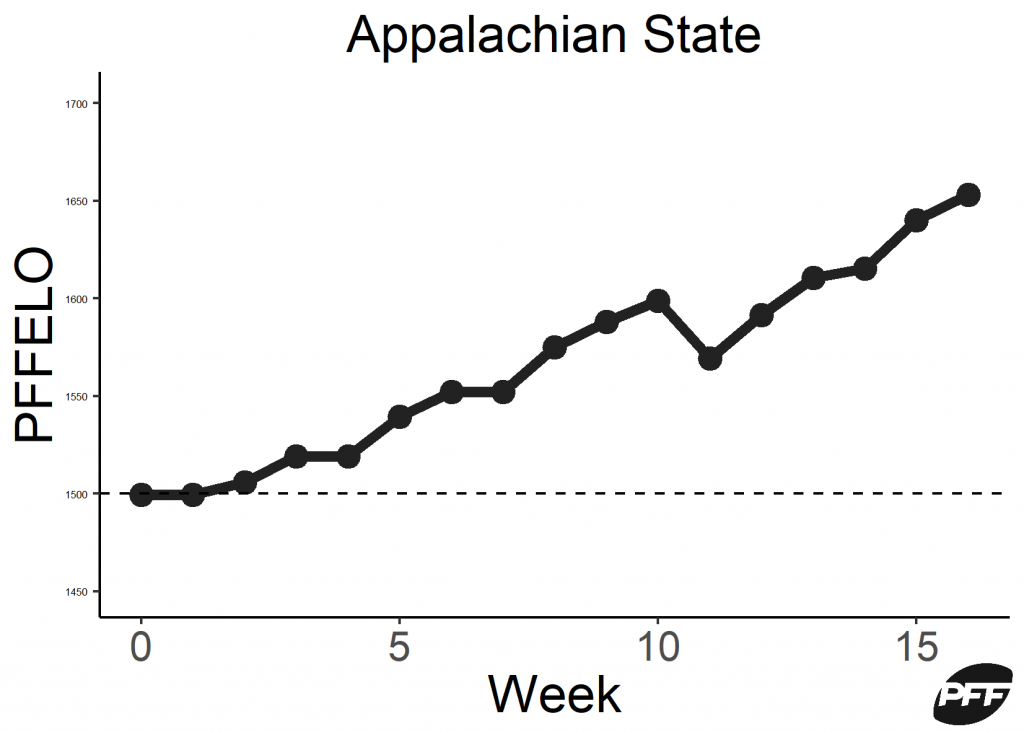 24) Texas
Texas are the second underachieving team in 2019 to barely hang onto a top-25 ranking in our ELO system. The Longhorns' 12th-ranked defensive unit was rarely enough to overcome their 76th-ranked offense. Sam Ehlinger should return for one more go-round after ranking 20th in PFF passing grade in 2019.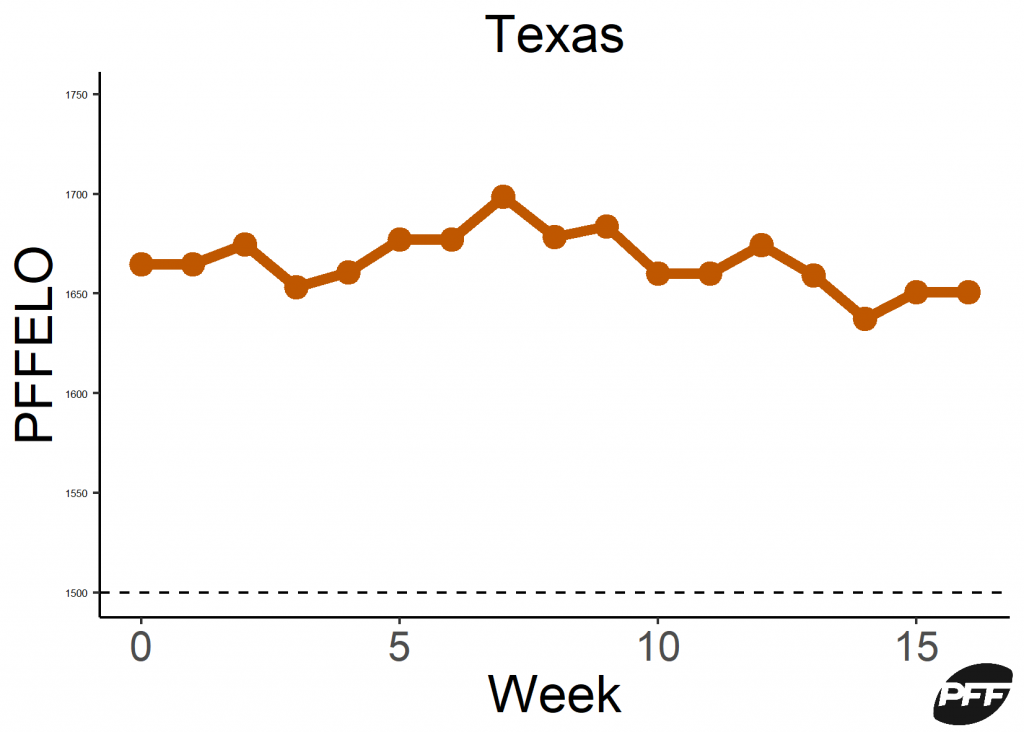 25) Kansas State
Talk about a roller coaster of a season for the Wildcats, who had tough early-season losses lead into a signature upset victory over playoff-contending Oklahoma. Late losses to Texas and West Virginia caused their second downward trend before closing out with victories over Texas Tech and Iowa State. Most of this team remains intact for what could be a popular early-season riser in 2020.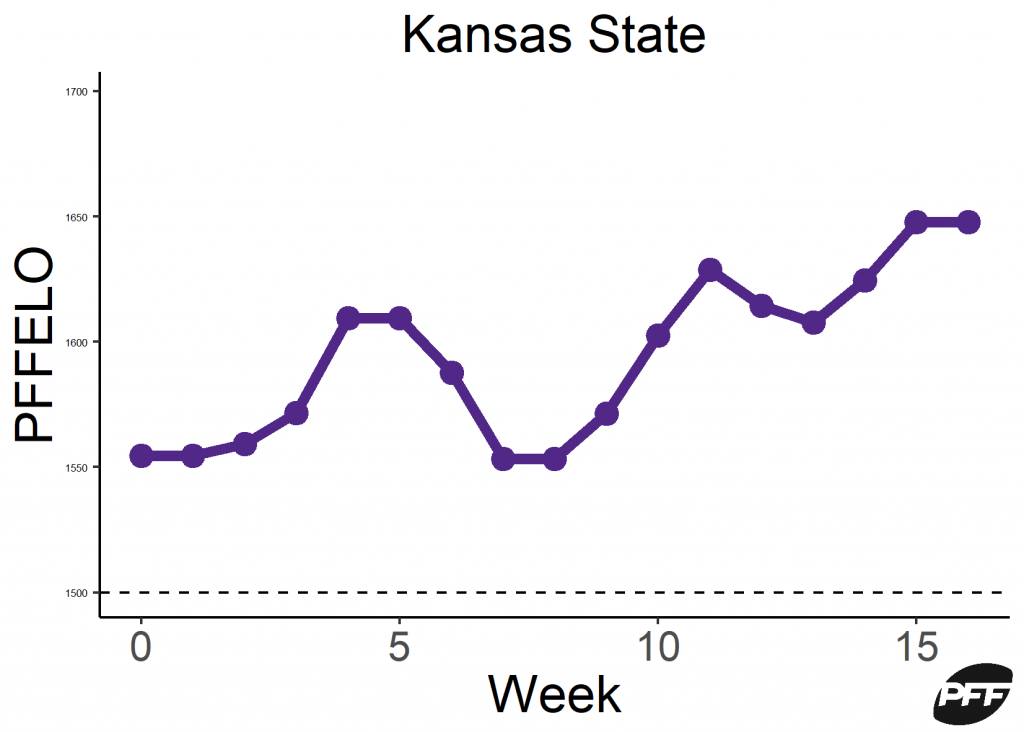 26) UCF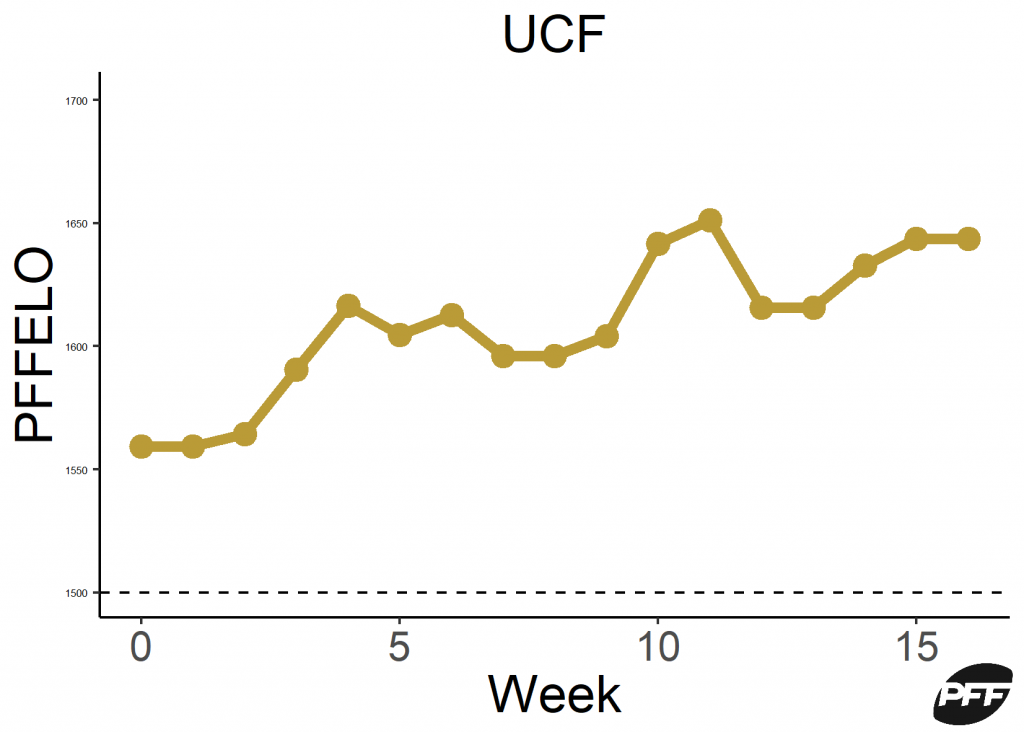 27) Kentucky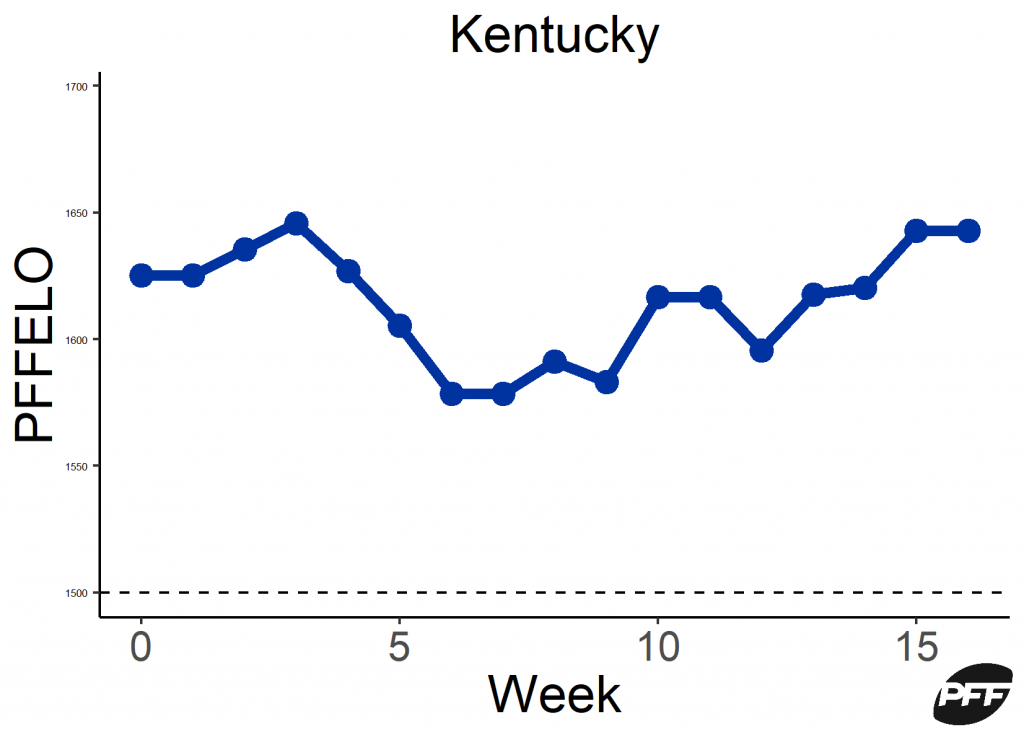 28) Virginia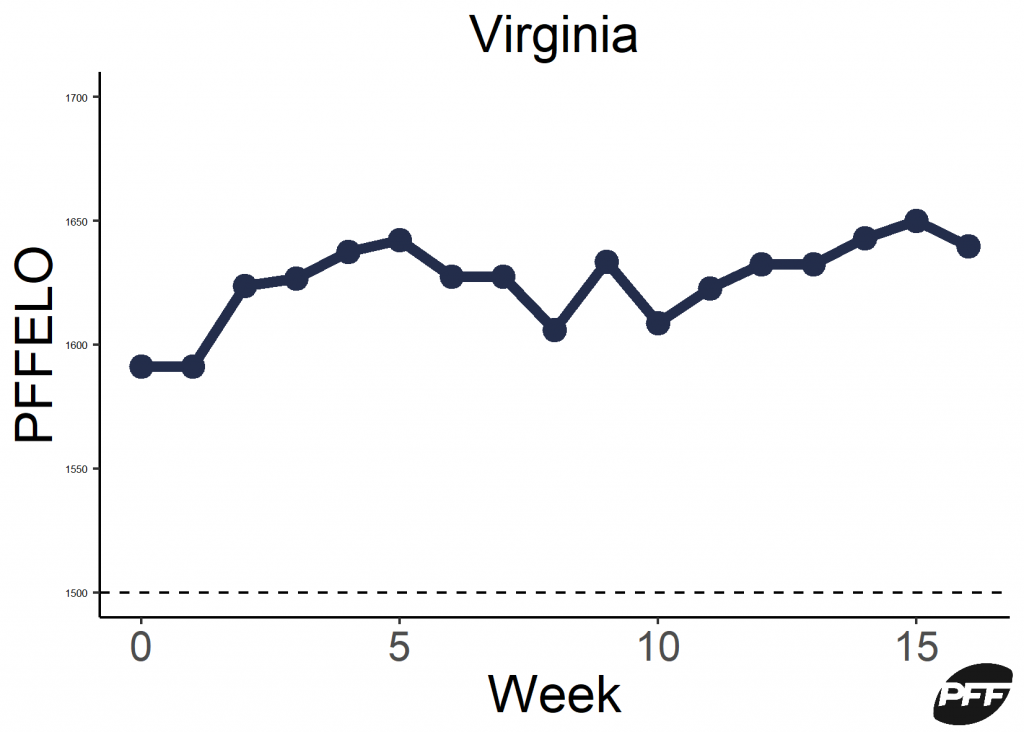 29) Iowa State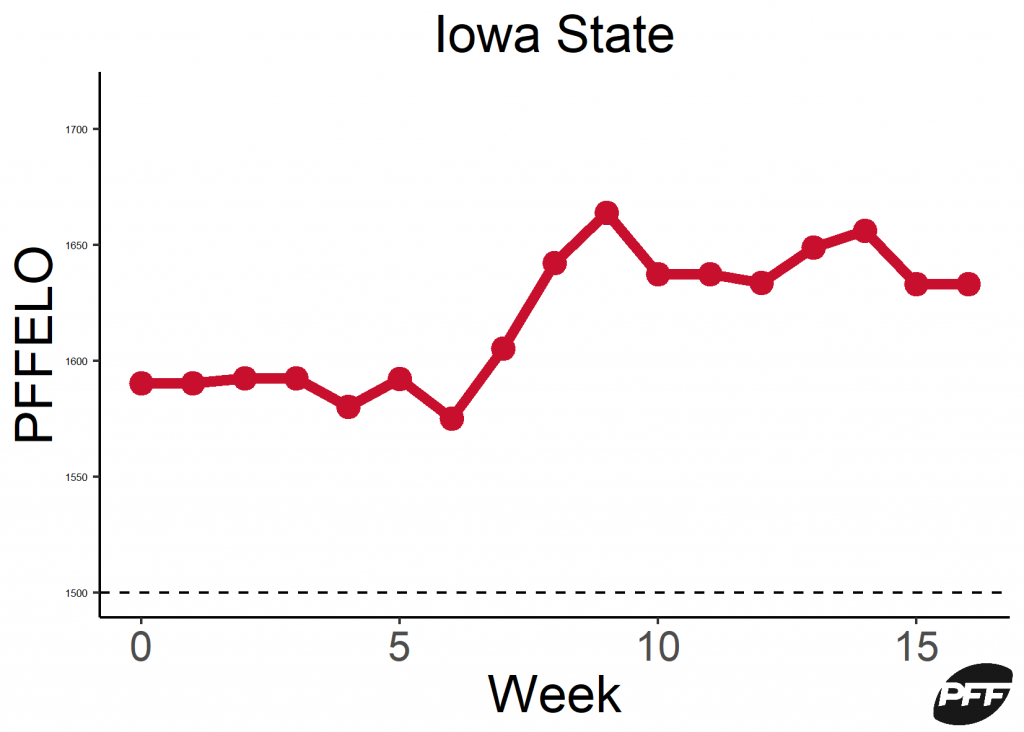 30) Virginia Tech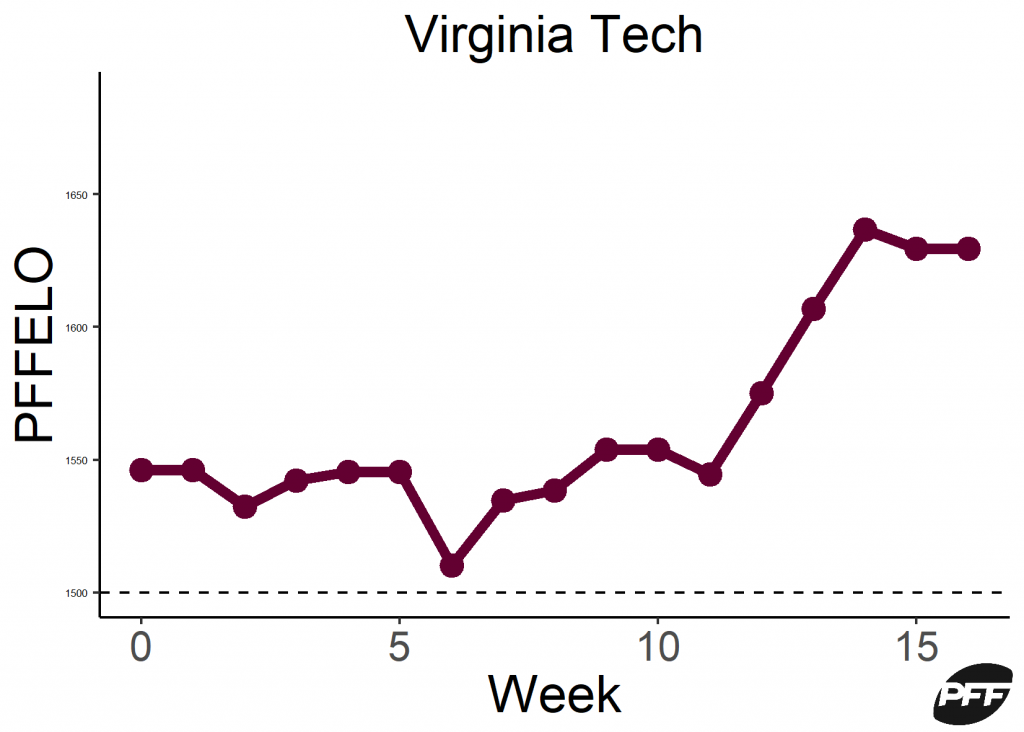 31) Pittsburgh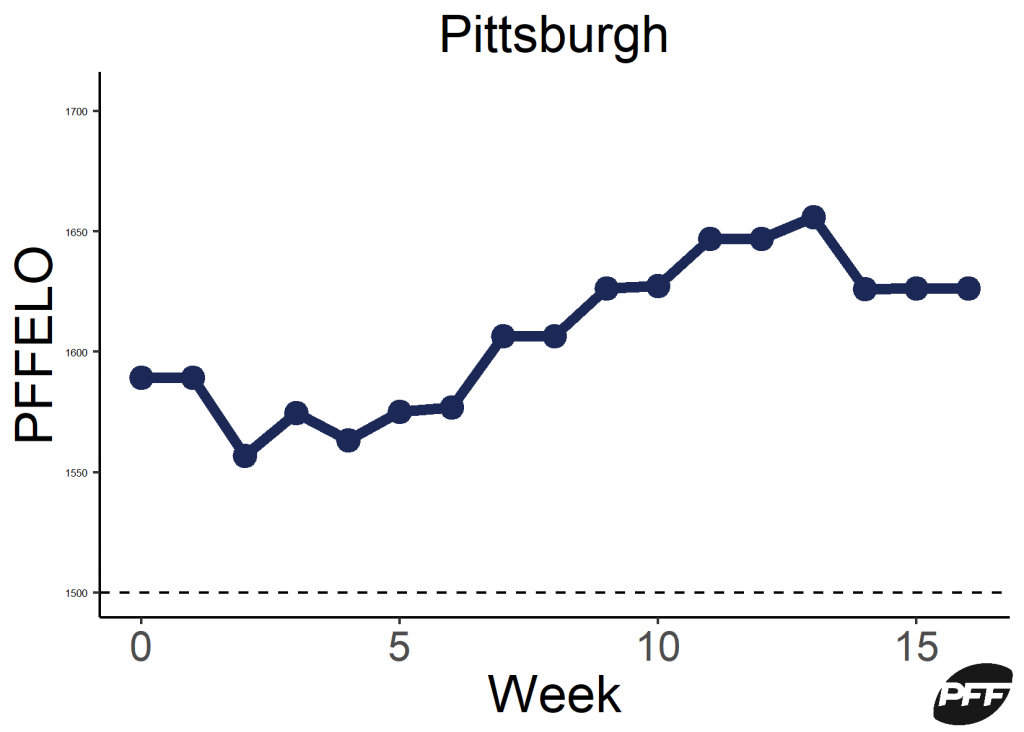 32) Michigan State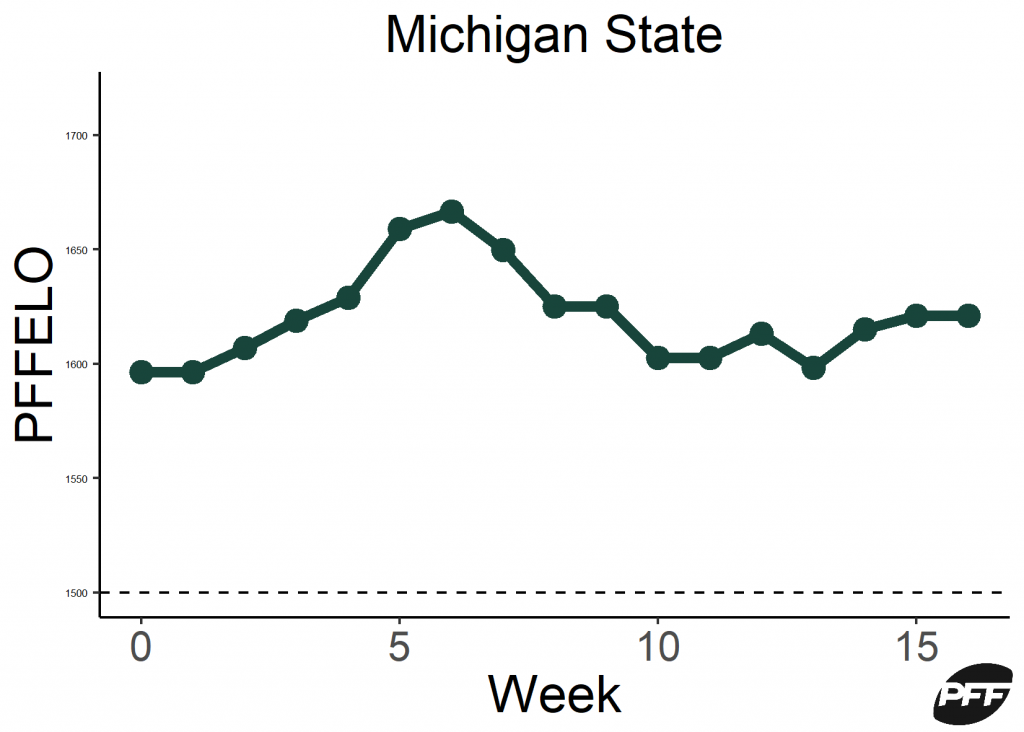 33) Air Force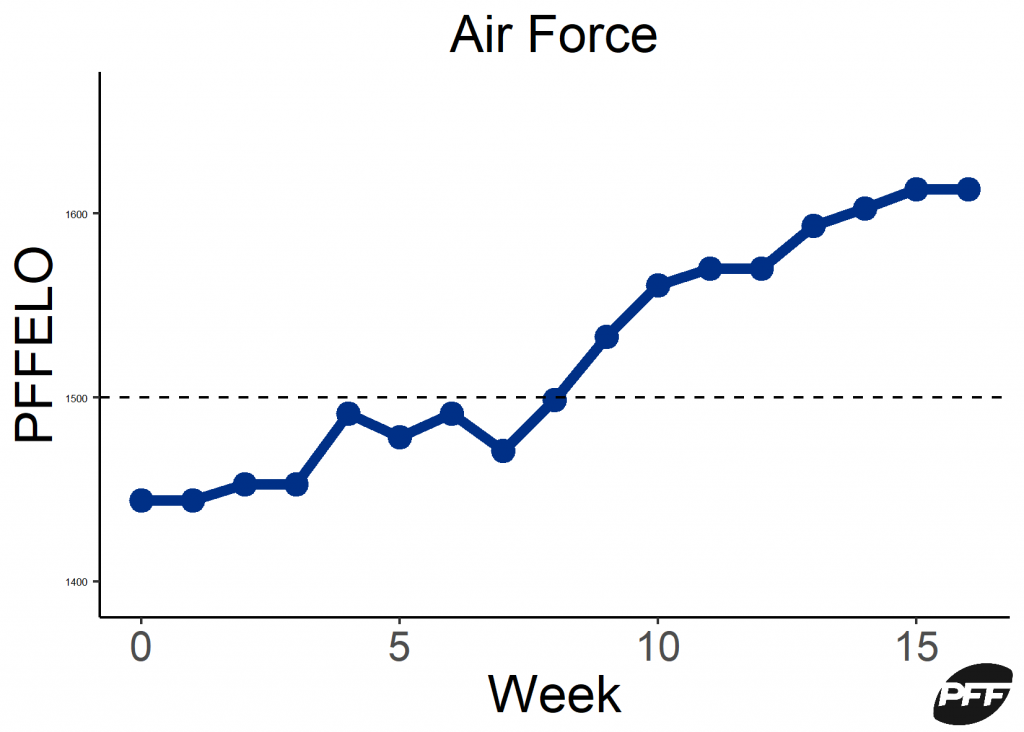 34) Oklahoma State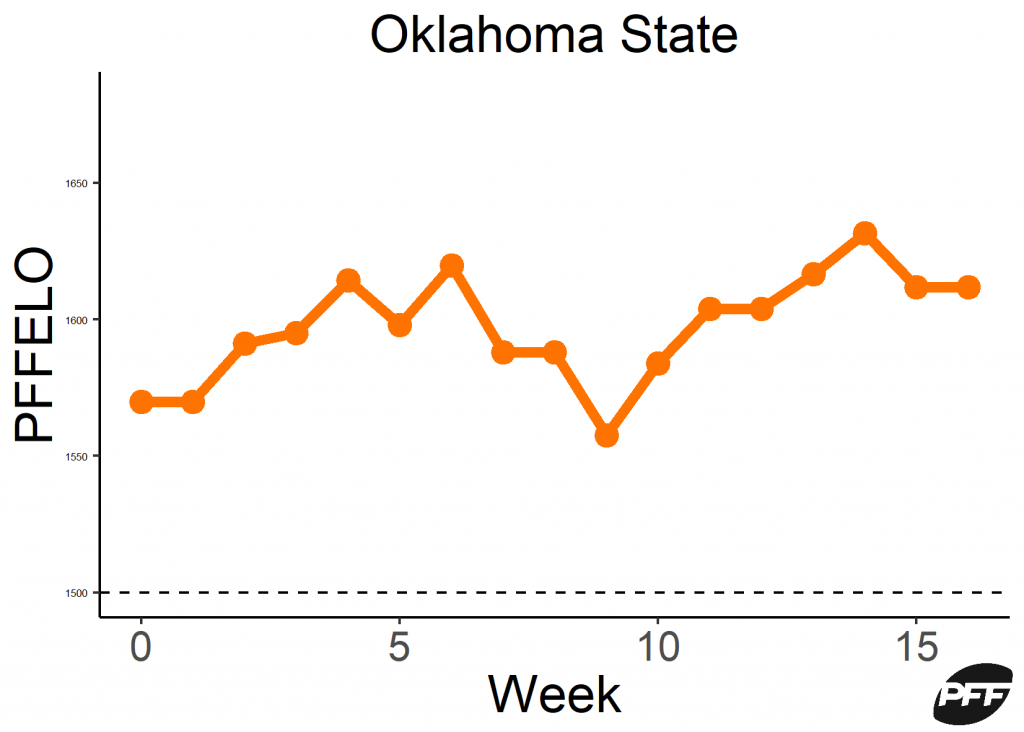 35) Tennessee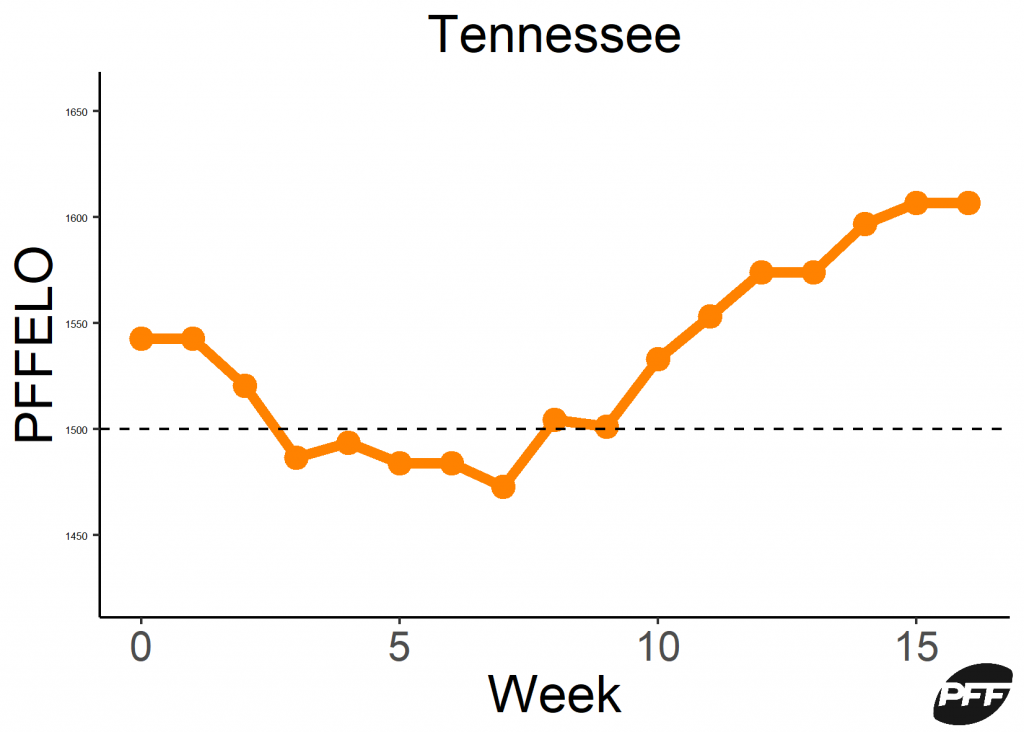 36) Florida Atlantic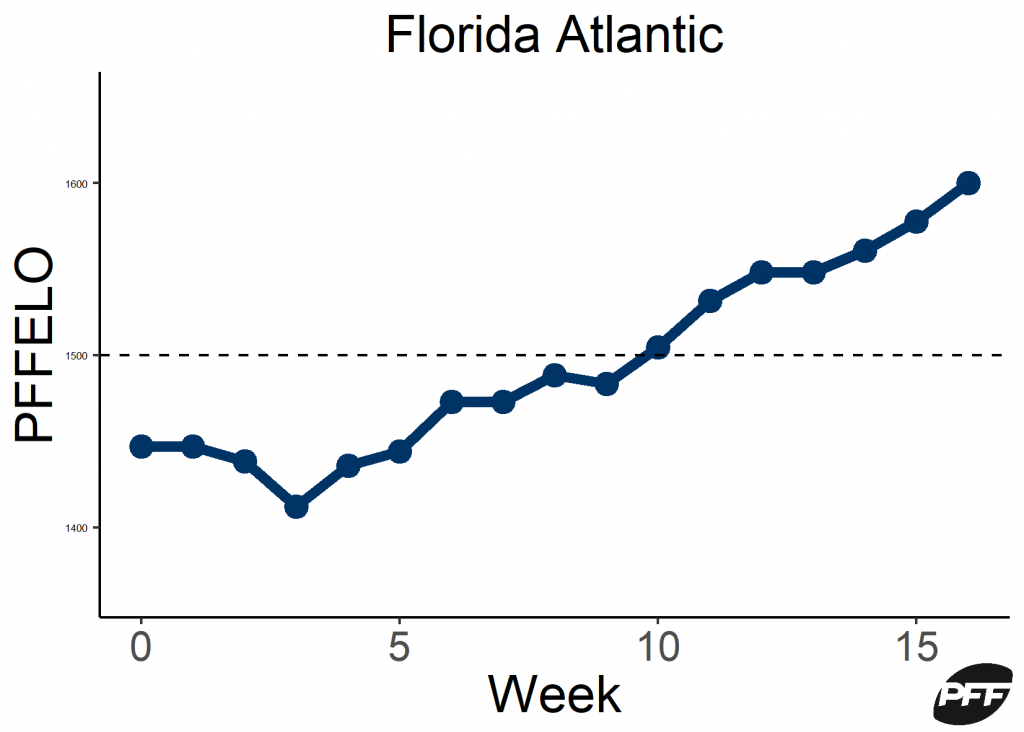 37) Missouri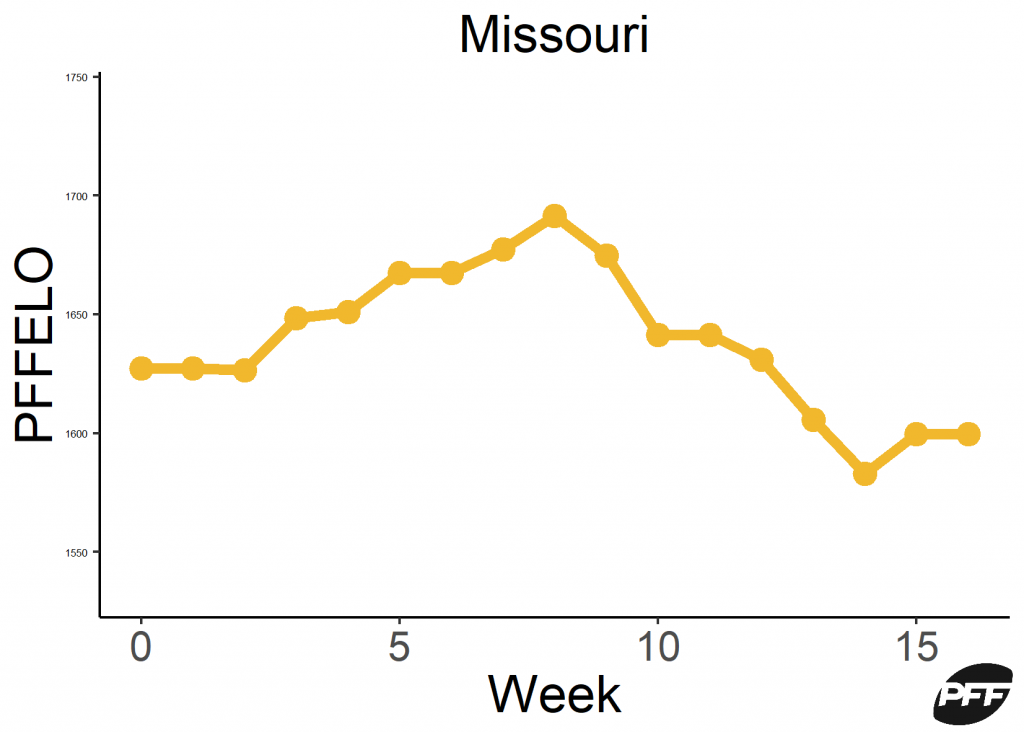 38) Mississippi State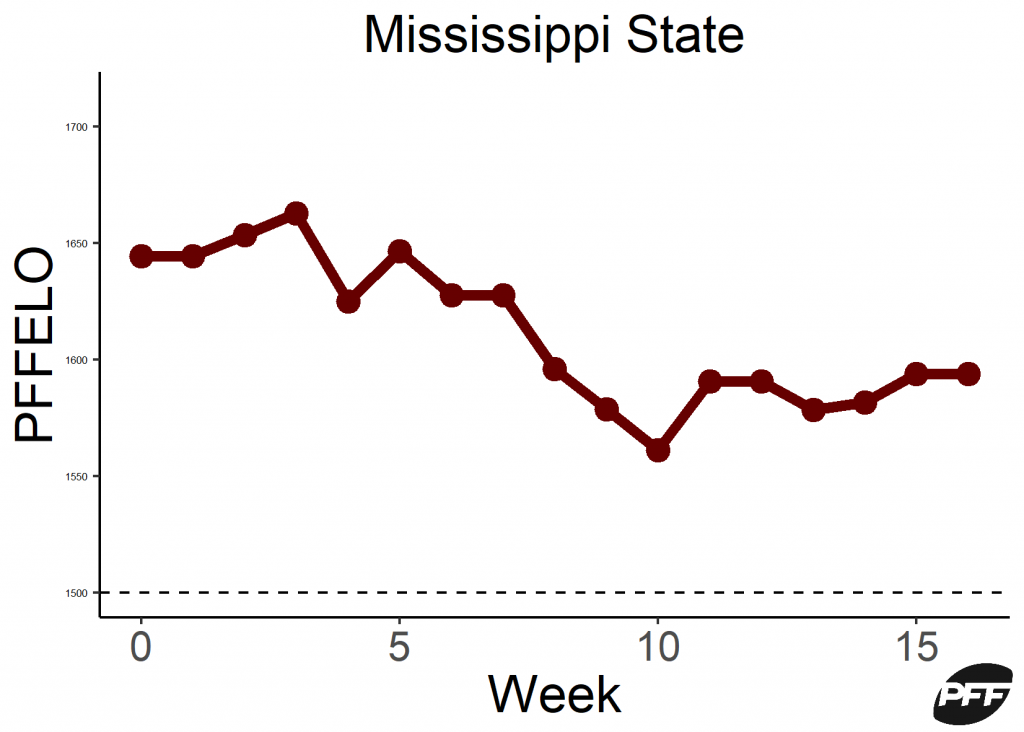 39) Florida State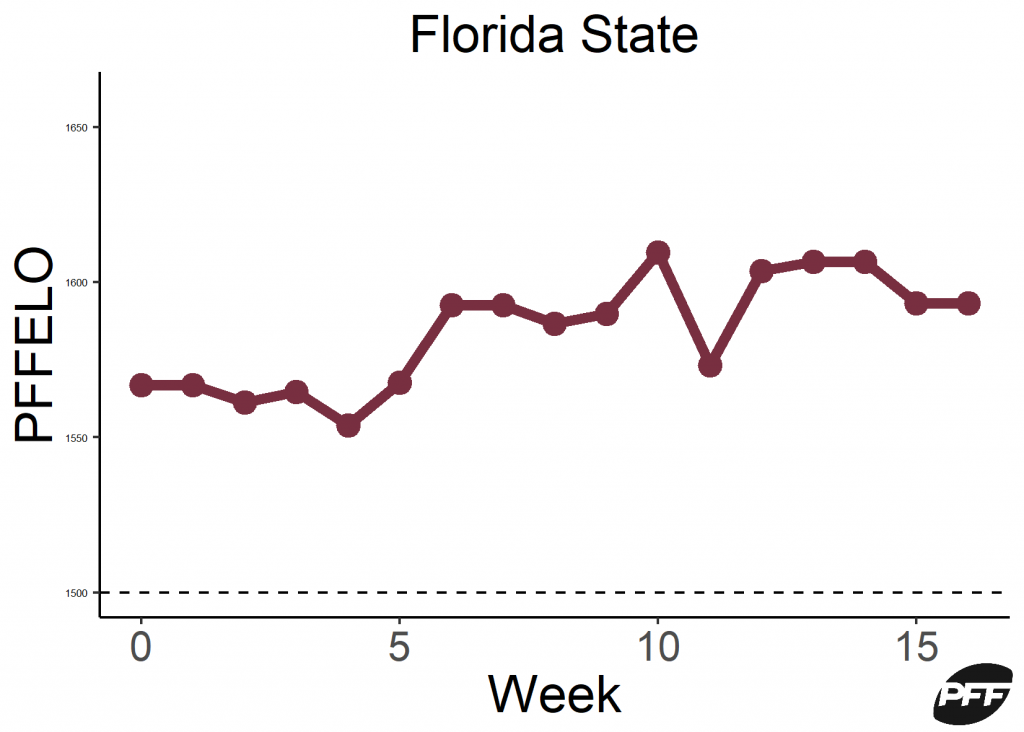 40) Cincinnati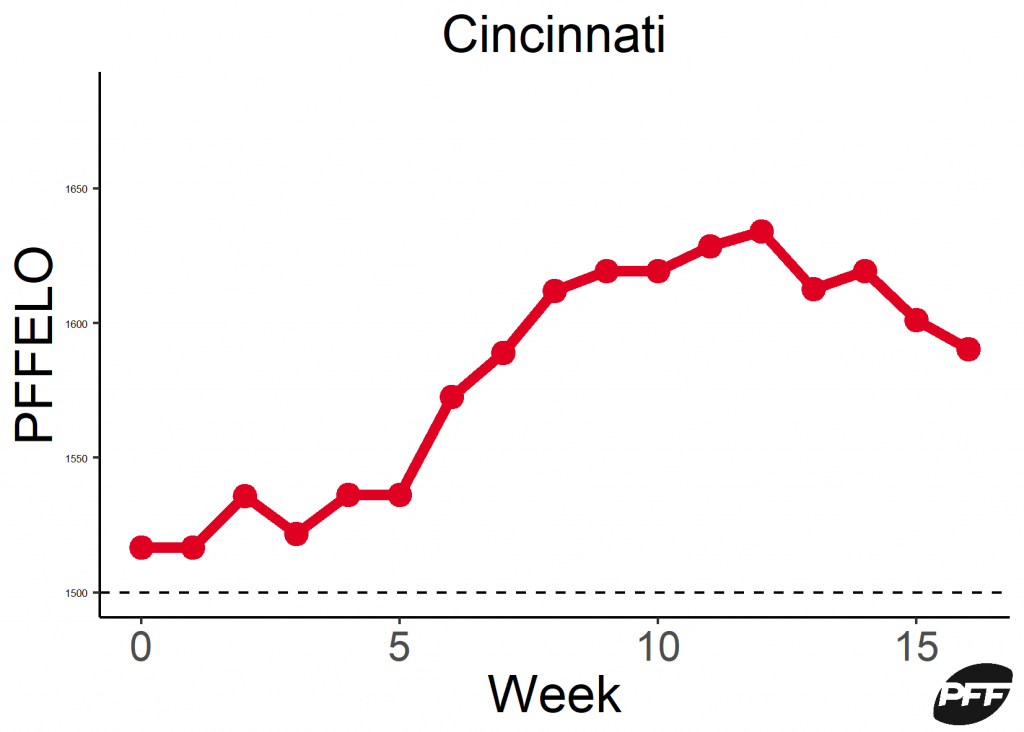 41) SMU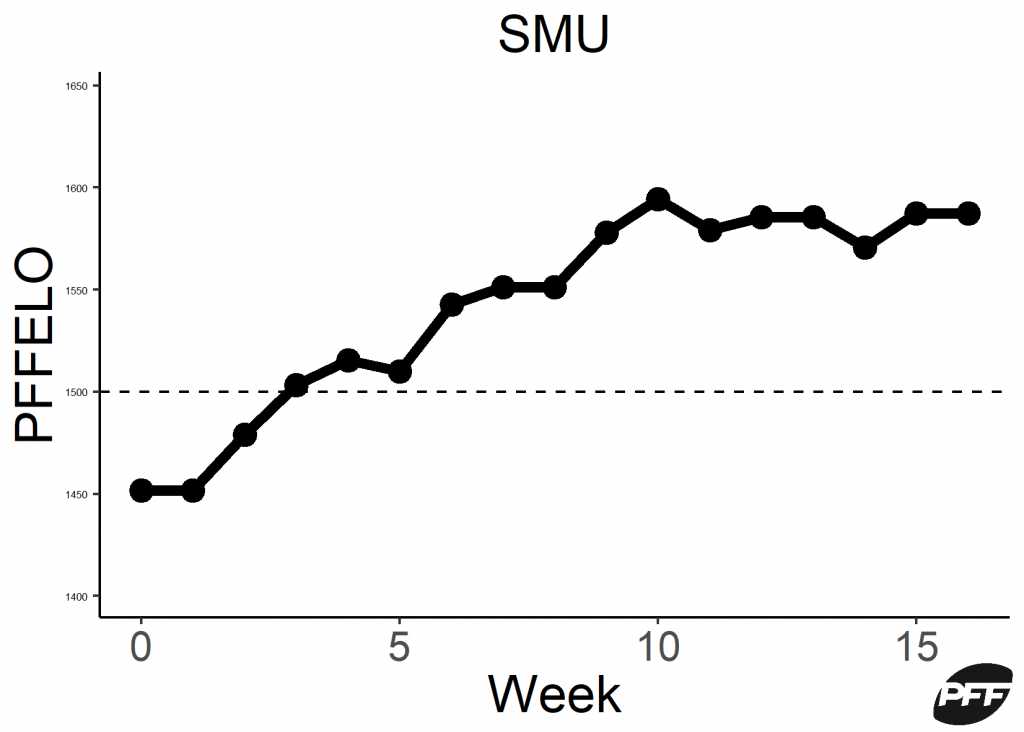 42) Wake Forest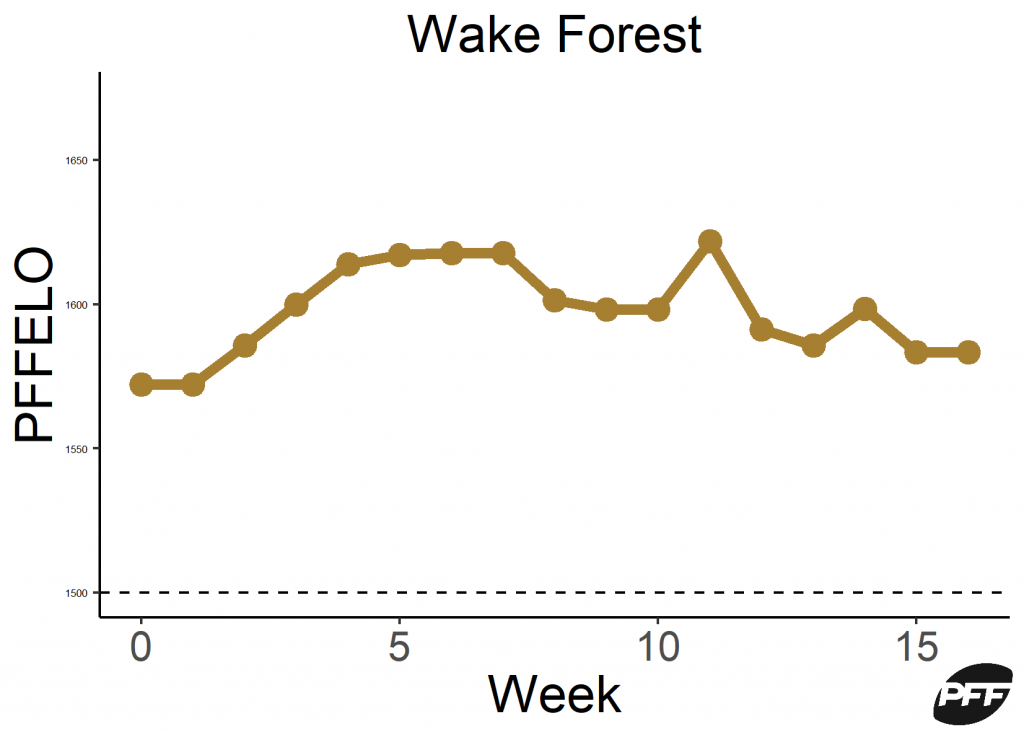 43) Miami (FL)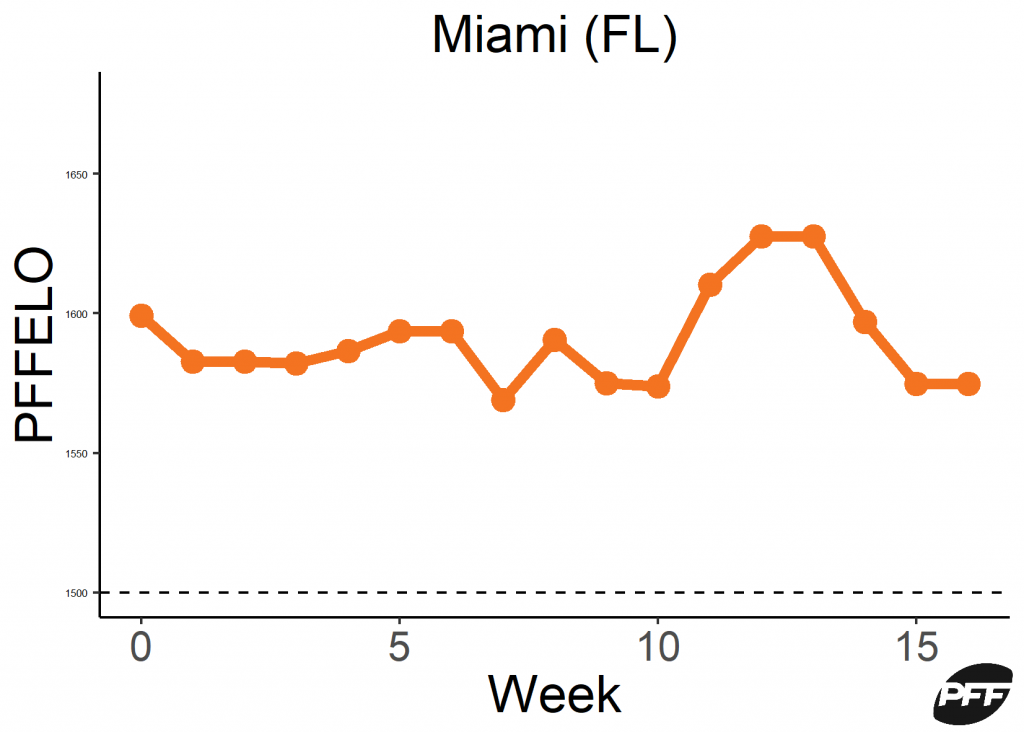 44) Washington State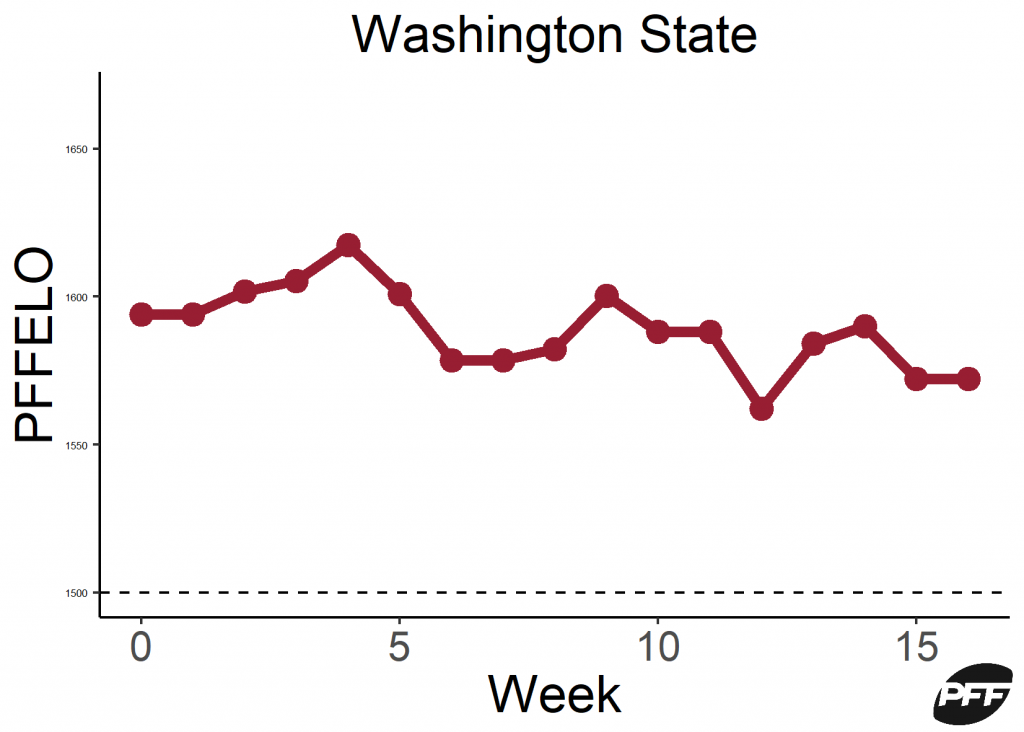 45) TCU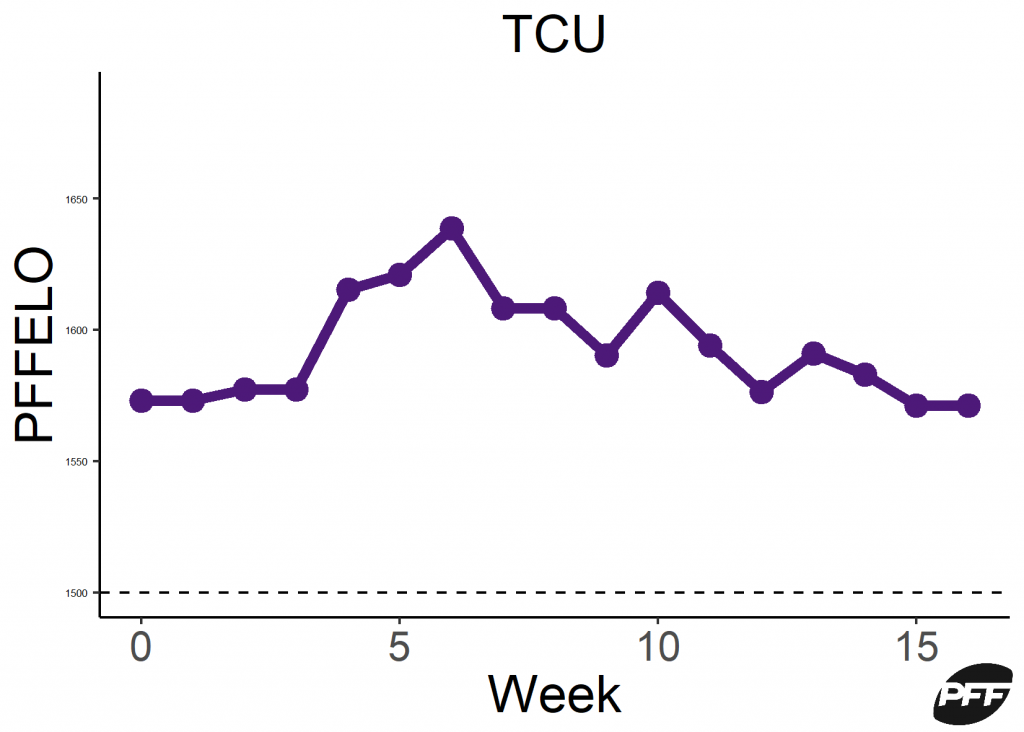 46) North Carolina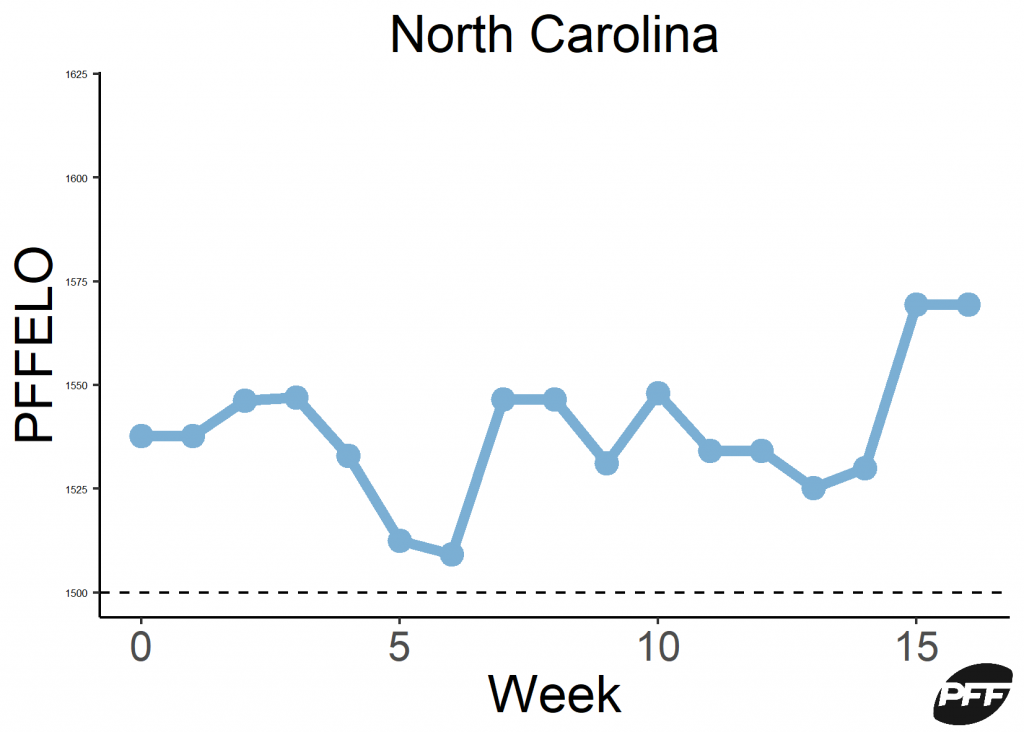 47) Boston College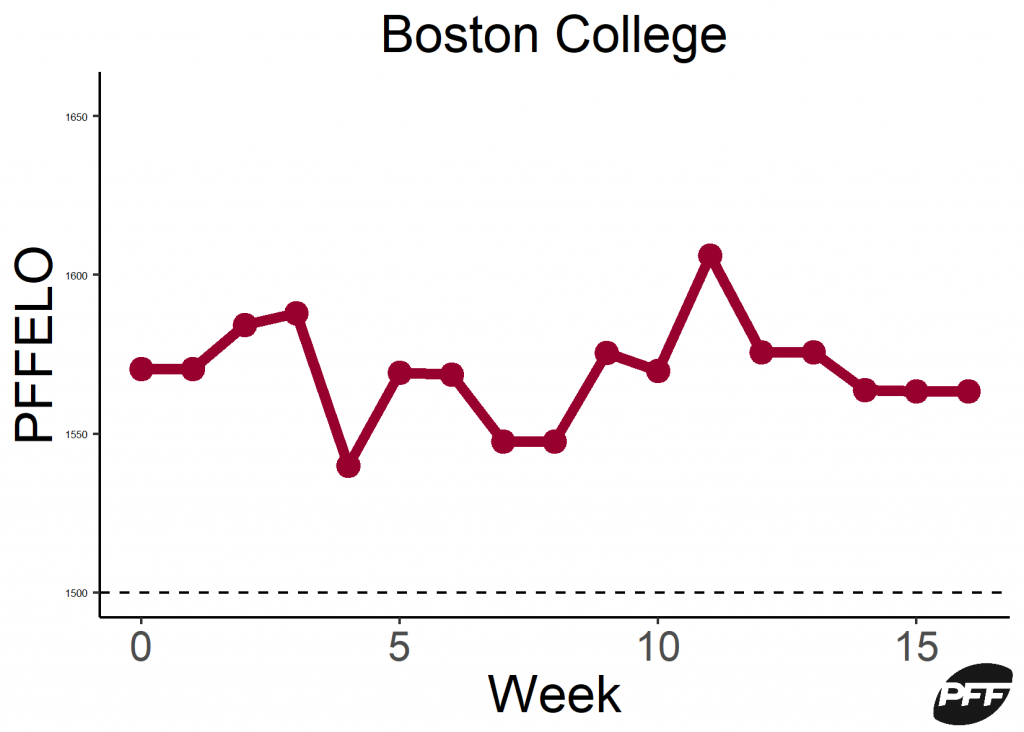 48) Temple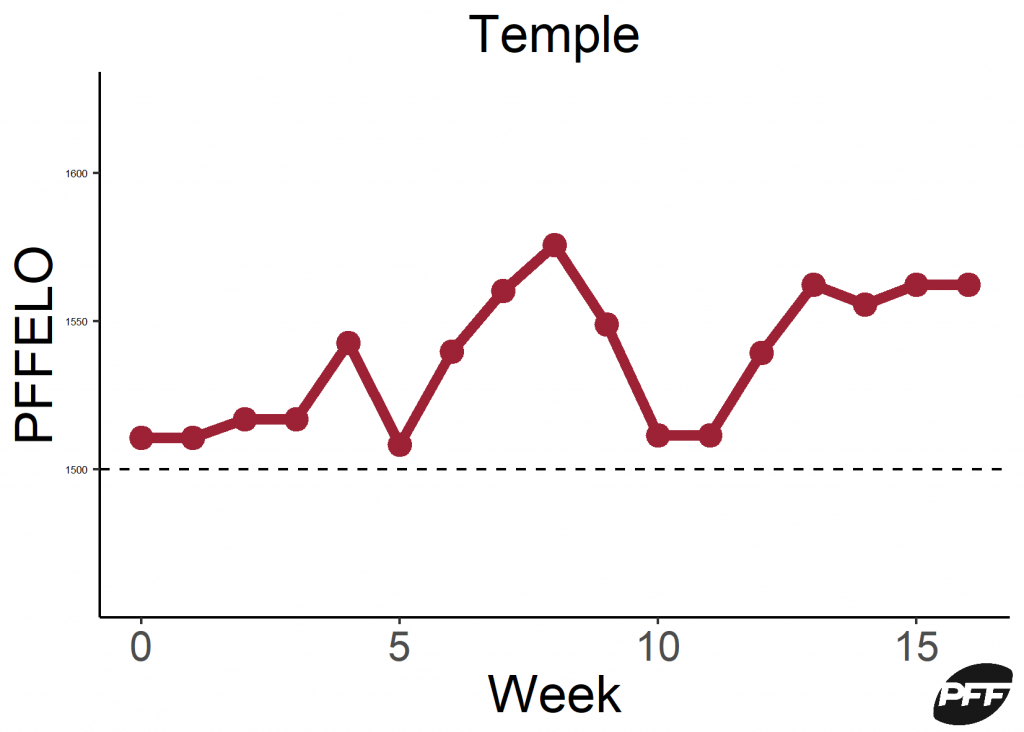 49) Navy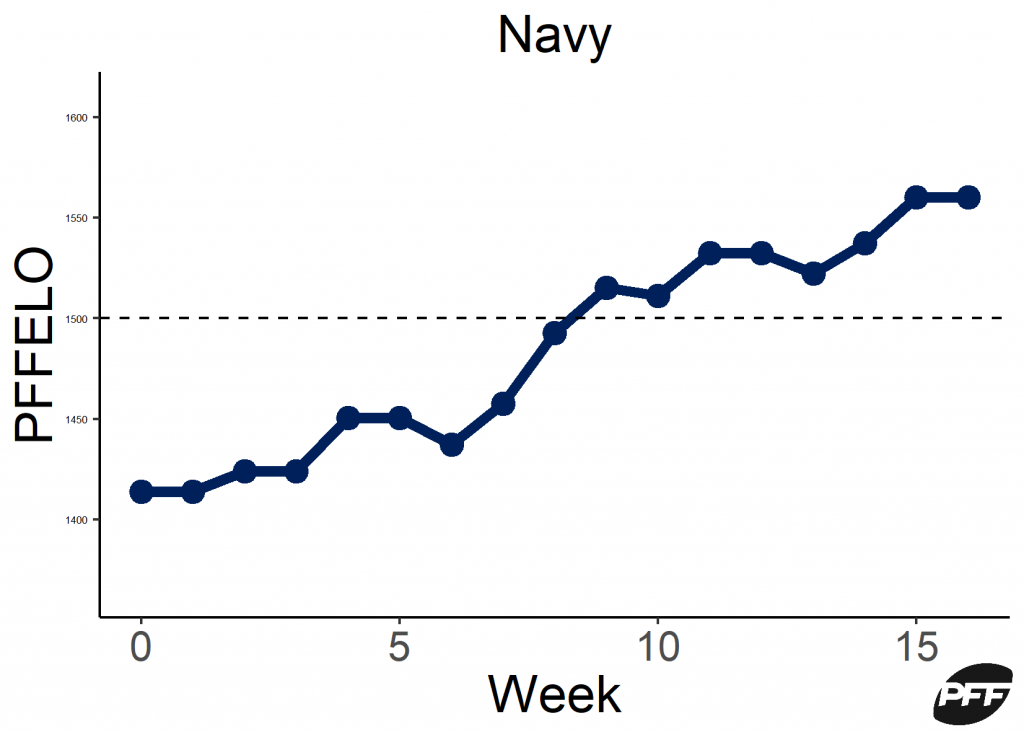 50) Louisiana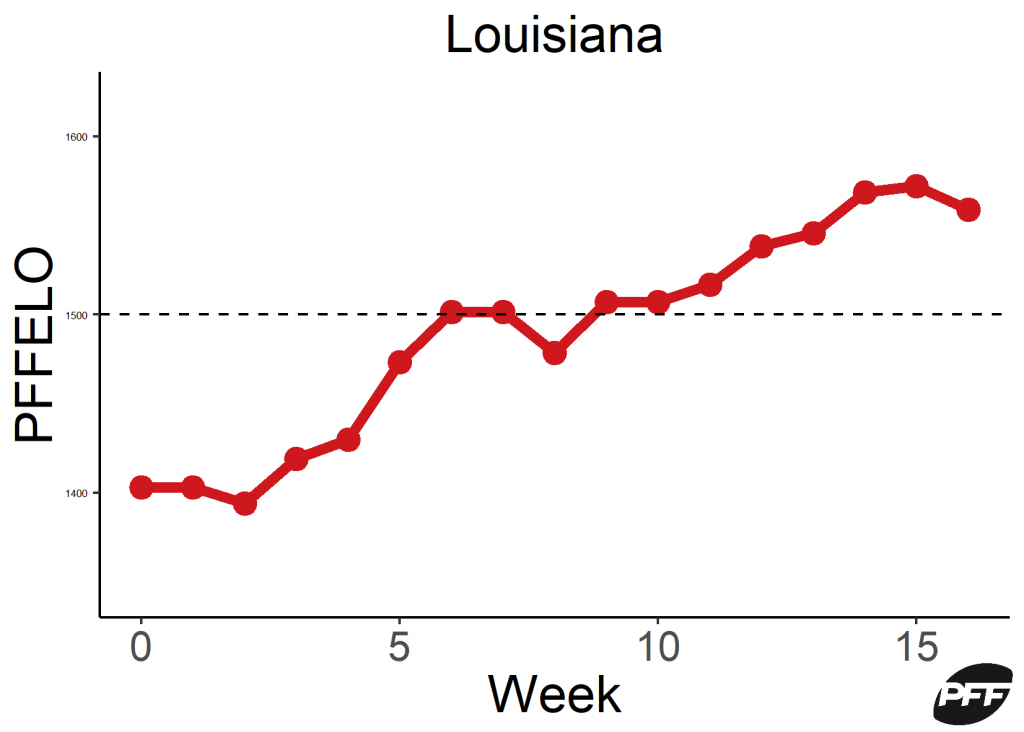 51) Indiana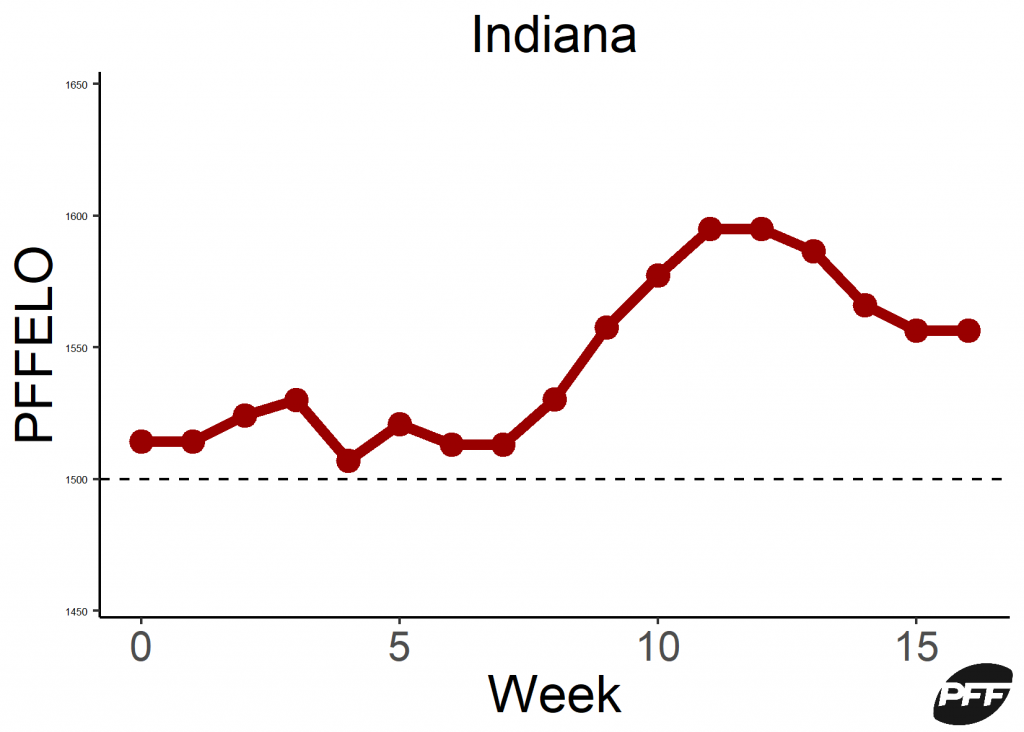 52) San Diego State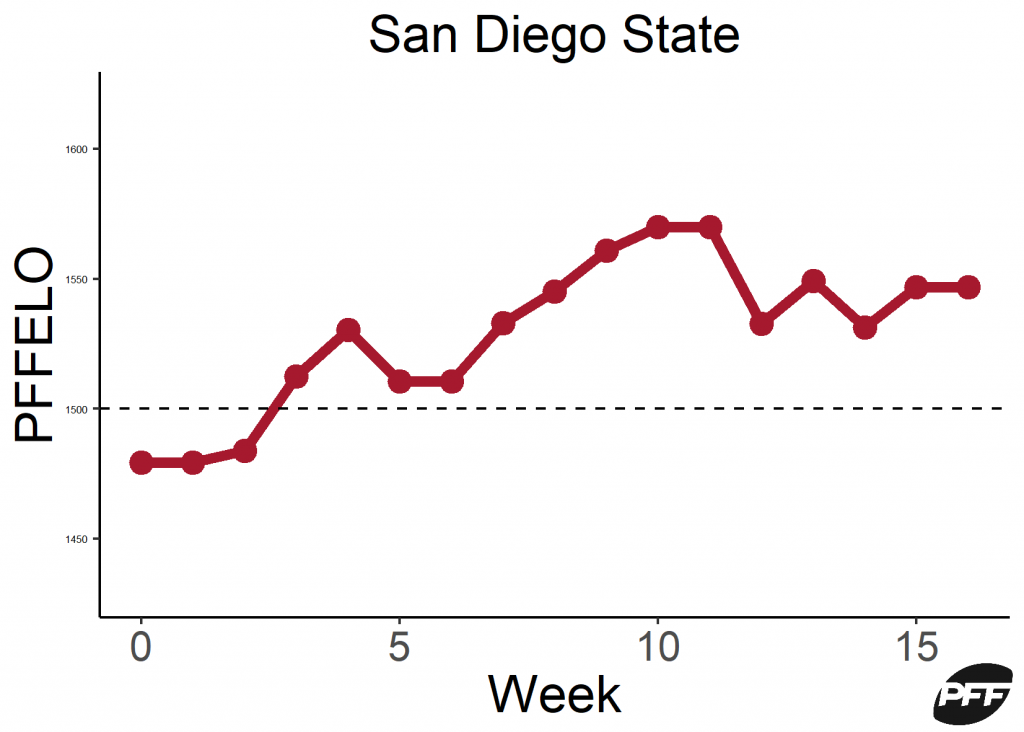 53) Louisville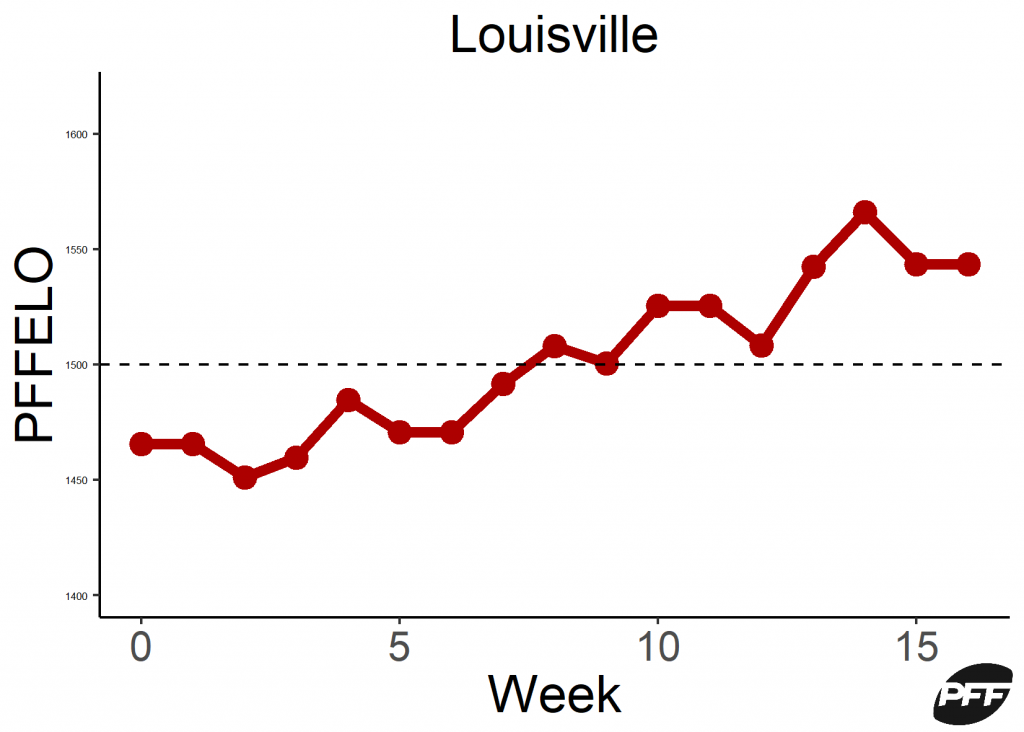 54) California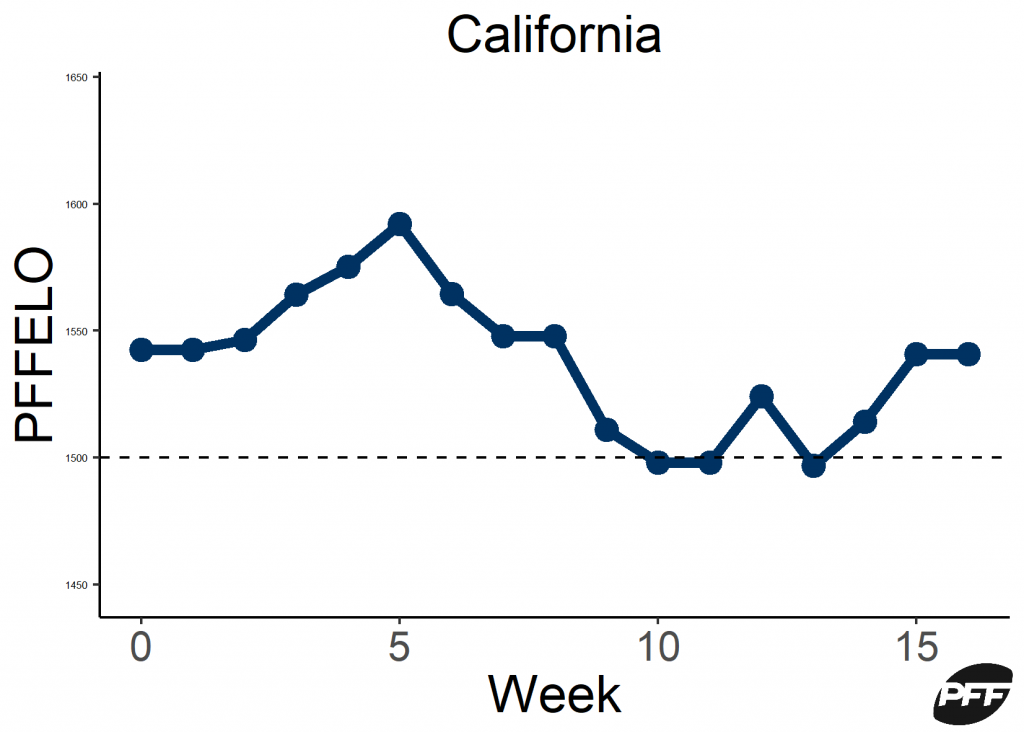 55) Syracuse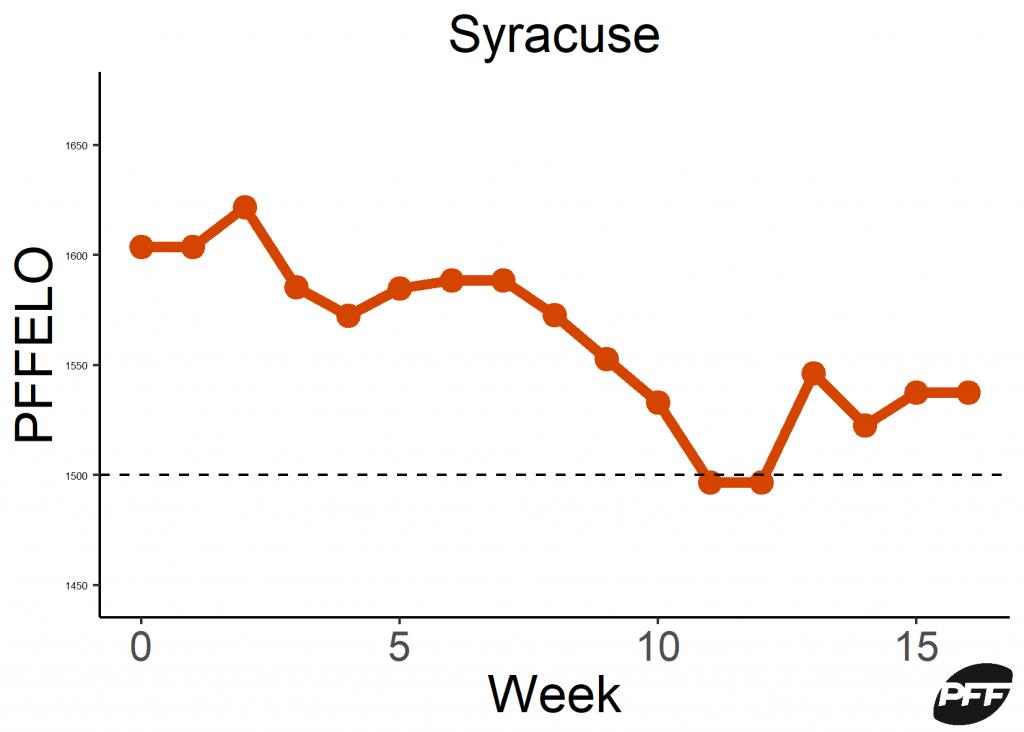 56) Nebraska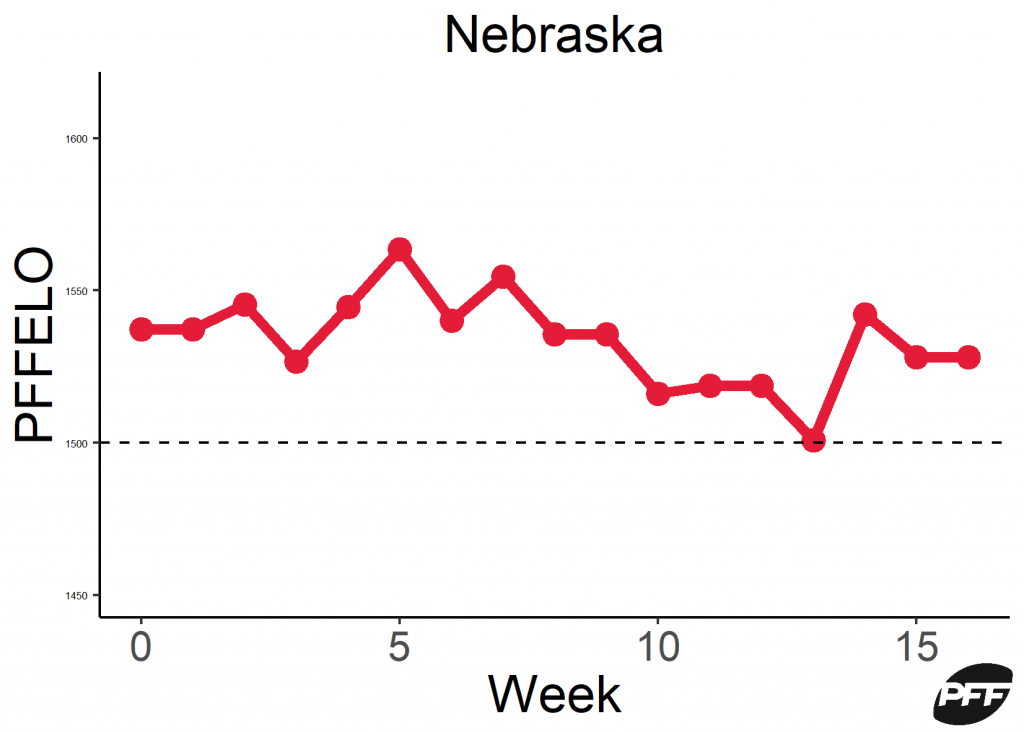 57) Western Kentucky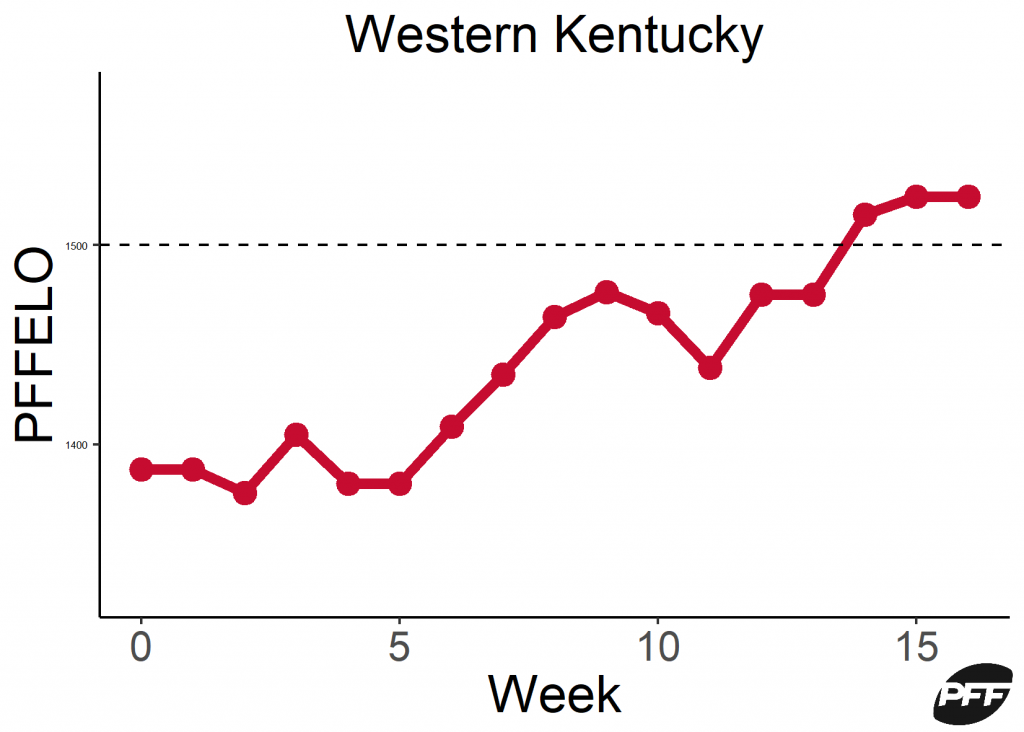 58) Buffalo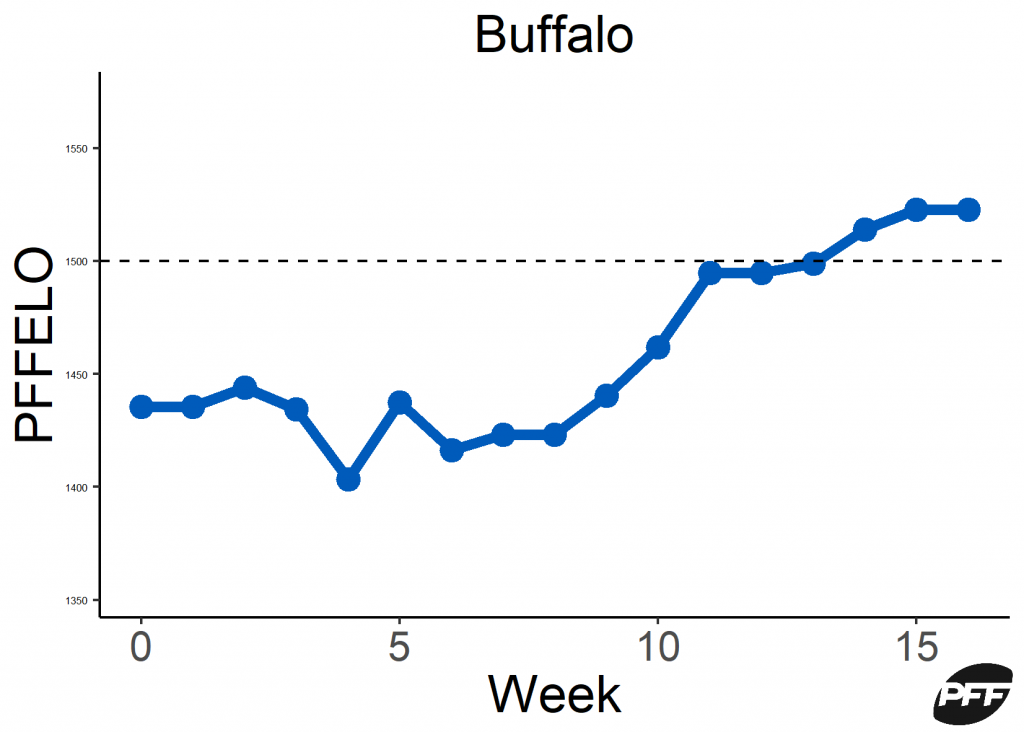 59) Mississippi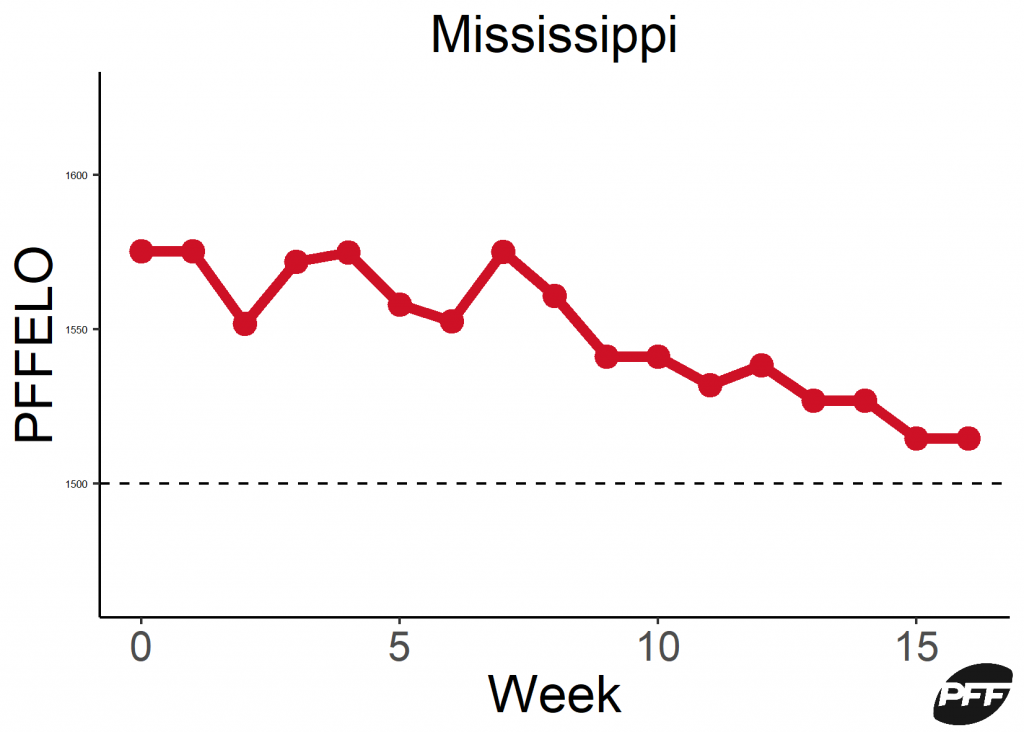 60) BYU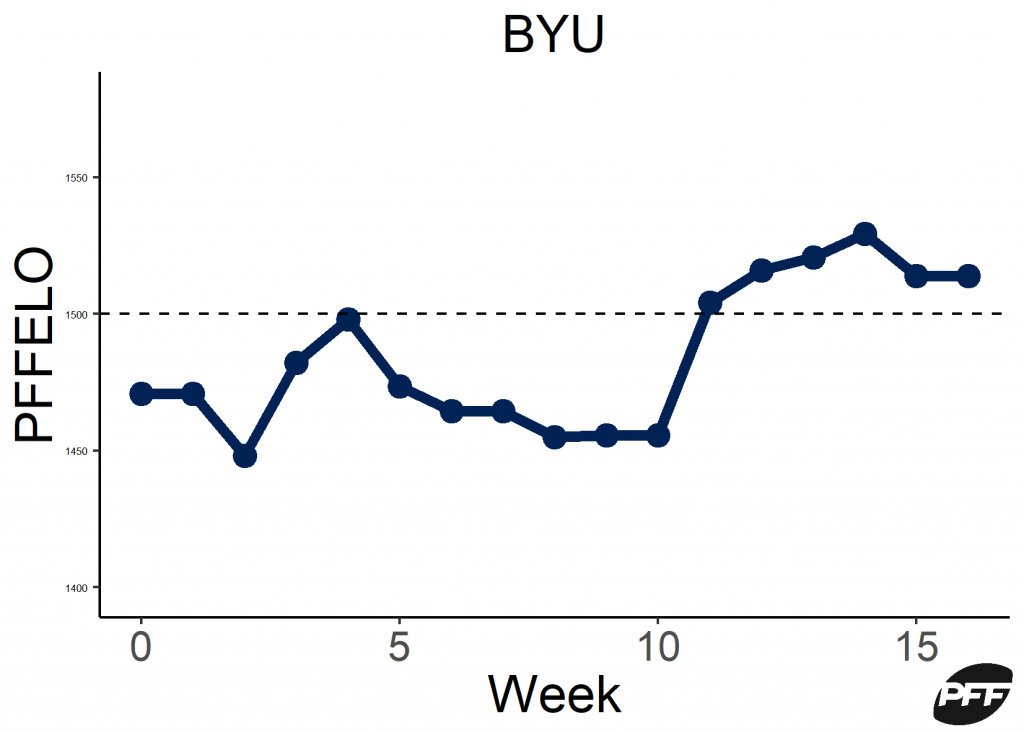 61) South Carolina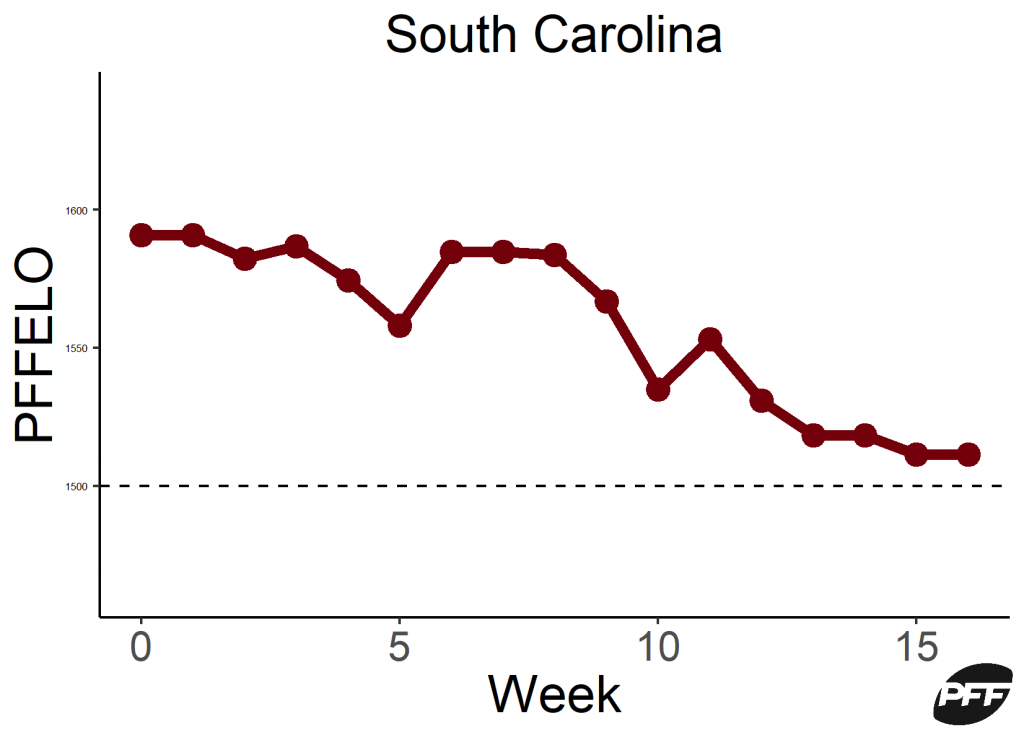 62) Arizona State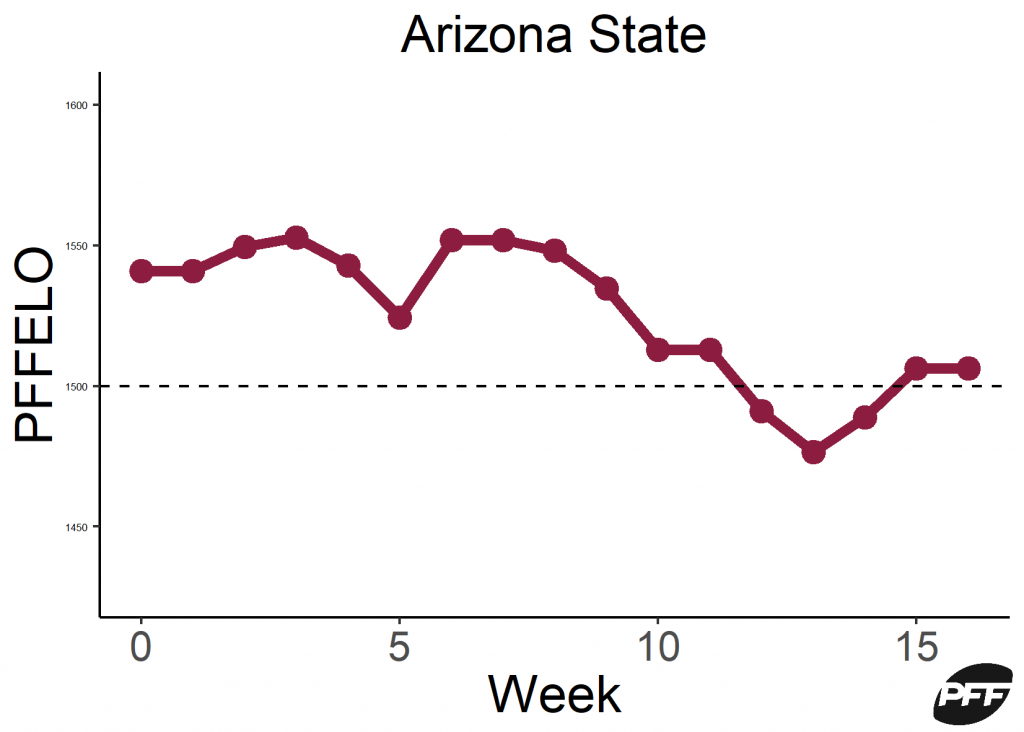 63) Duke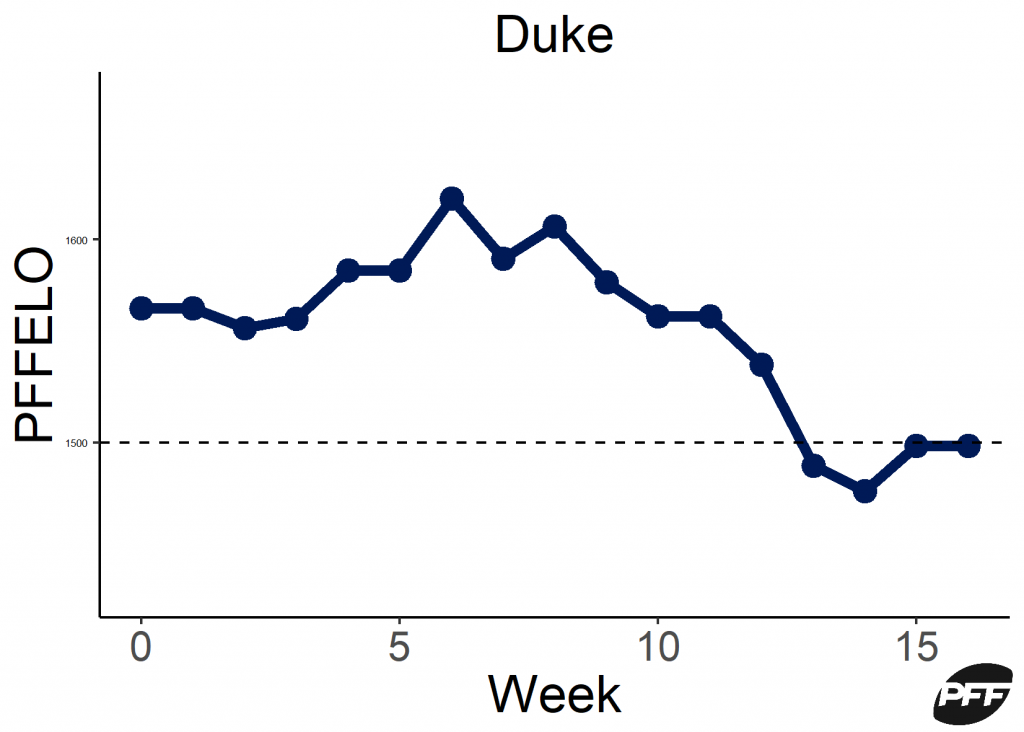 64) Marshall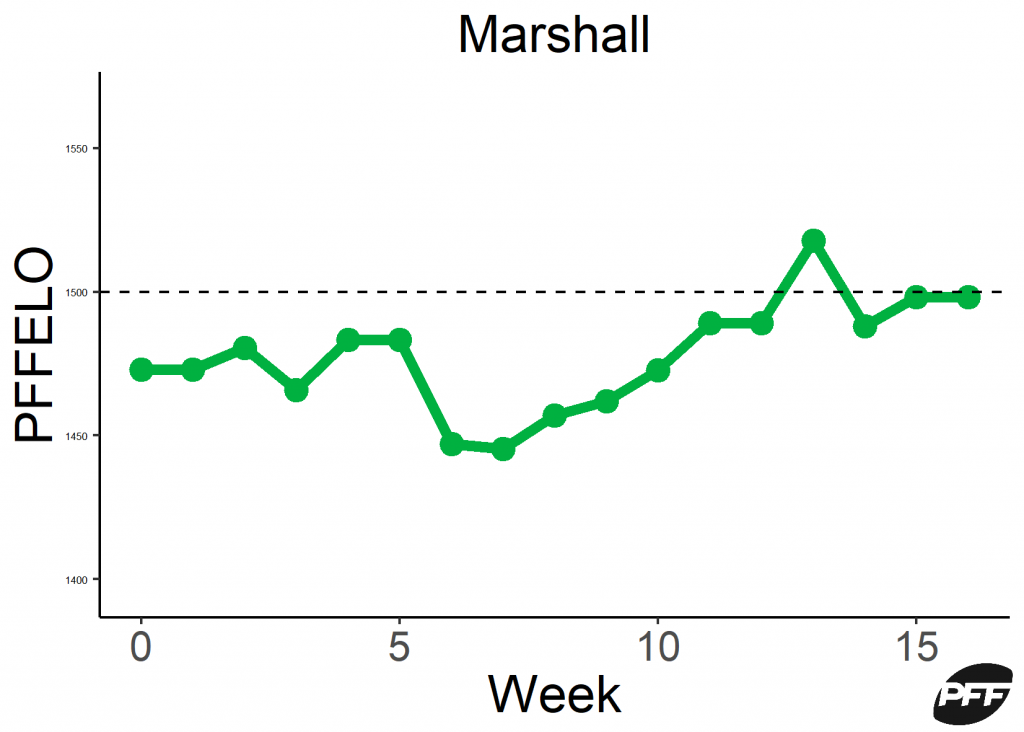 65) Purdue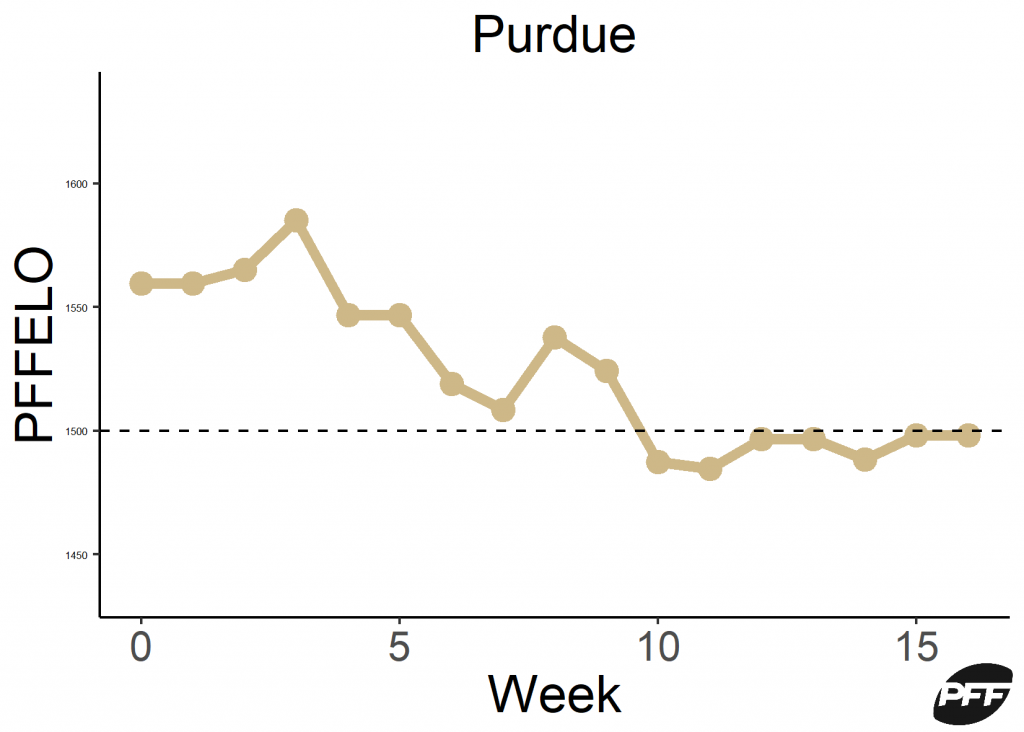 66) Louisiana Tech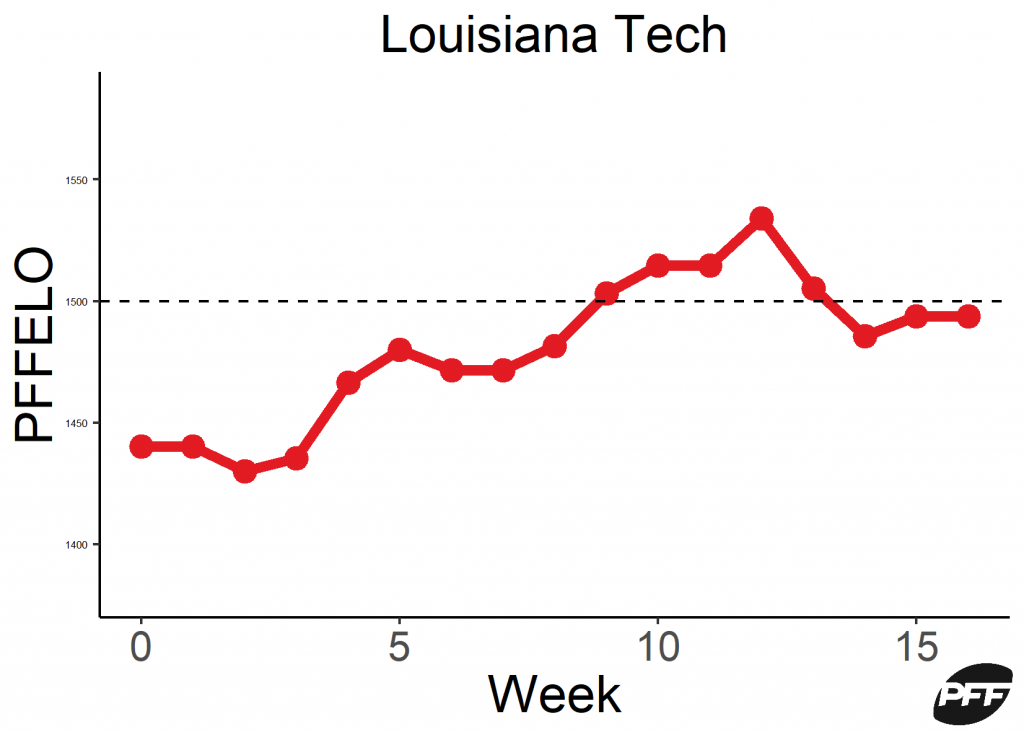 67) UAB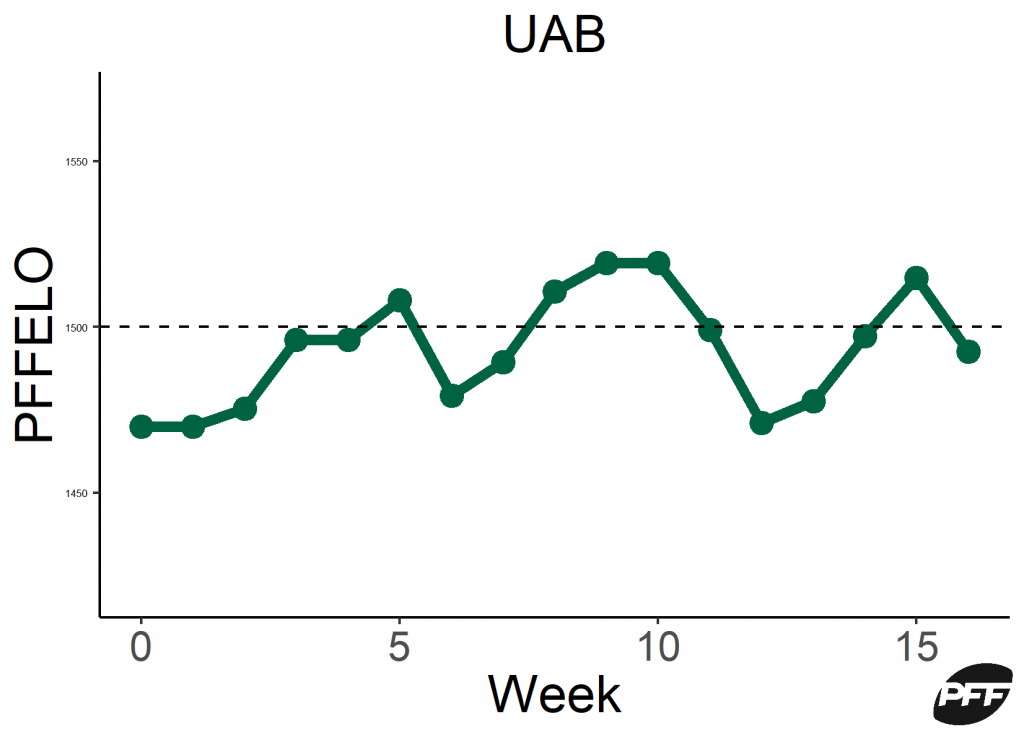 68) West Virginia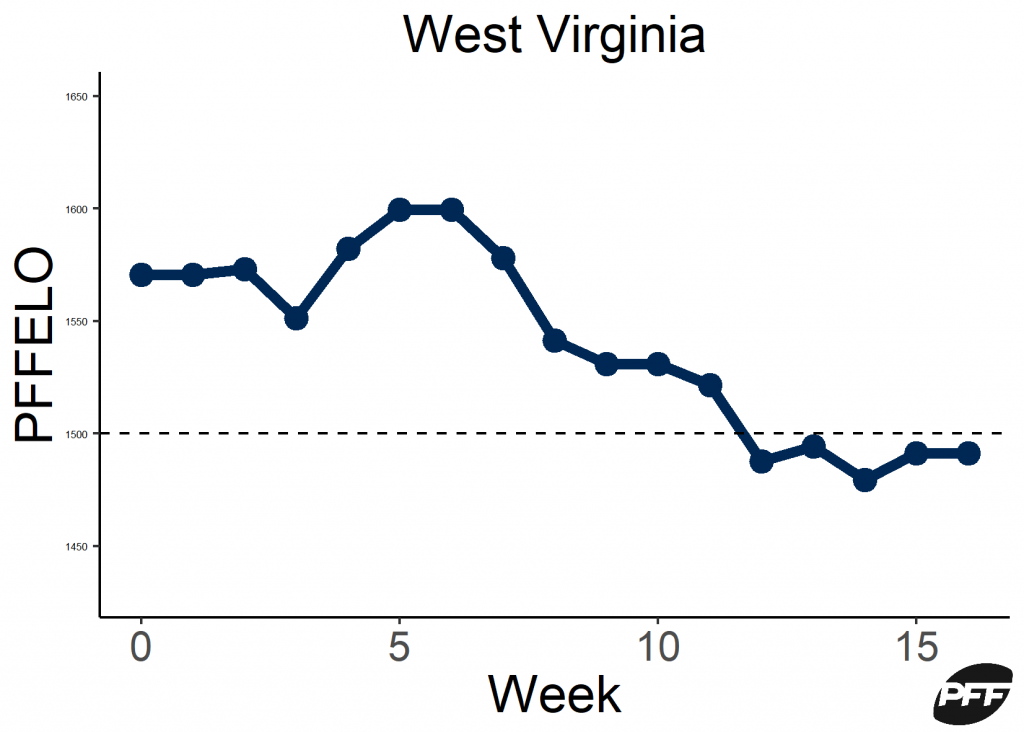 69) Tulane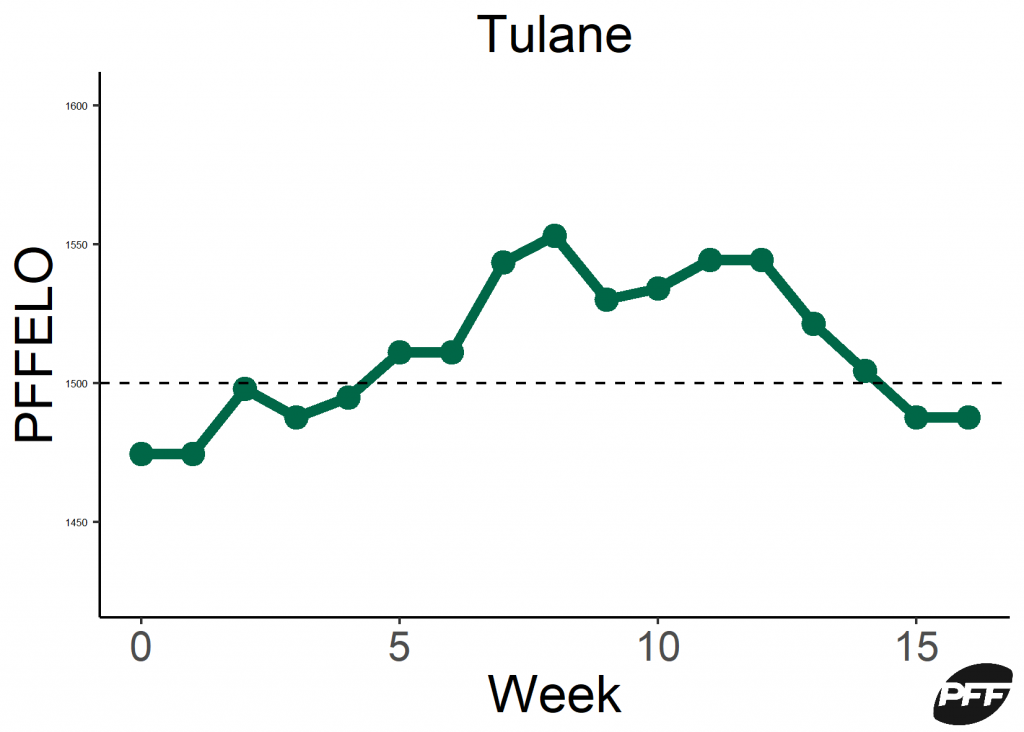 70) Northwestern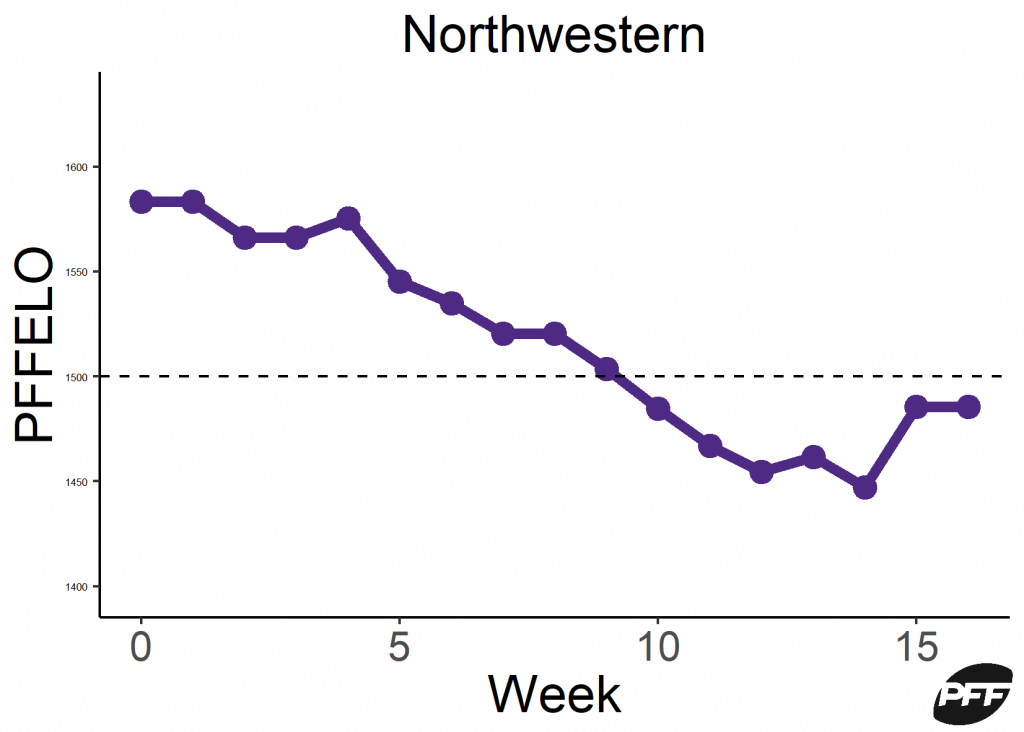 71) Texas Tech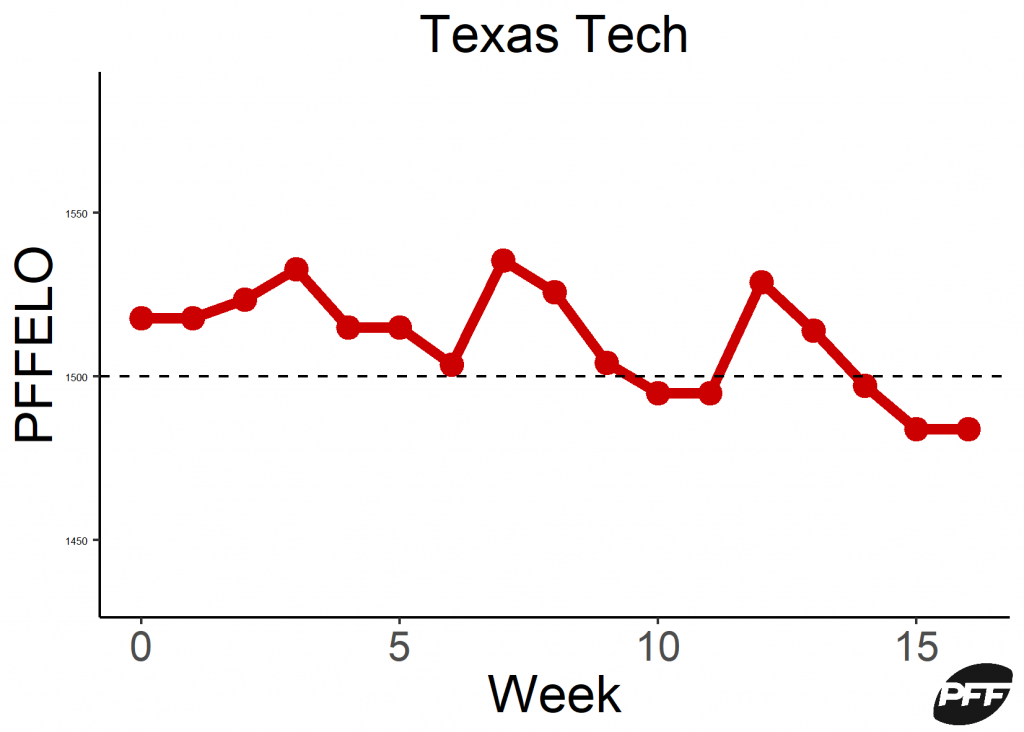 72) Oregon State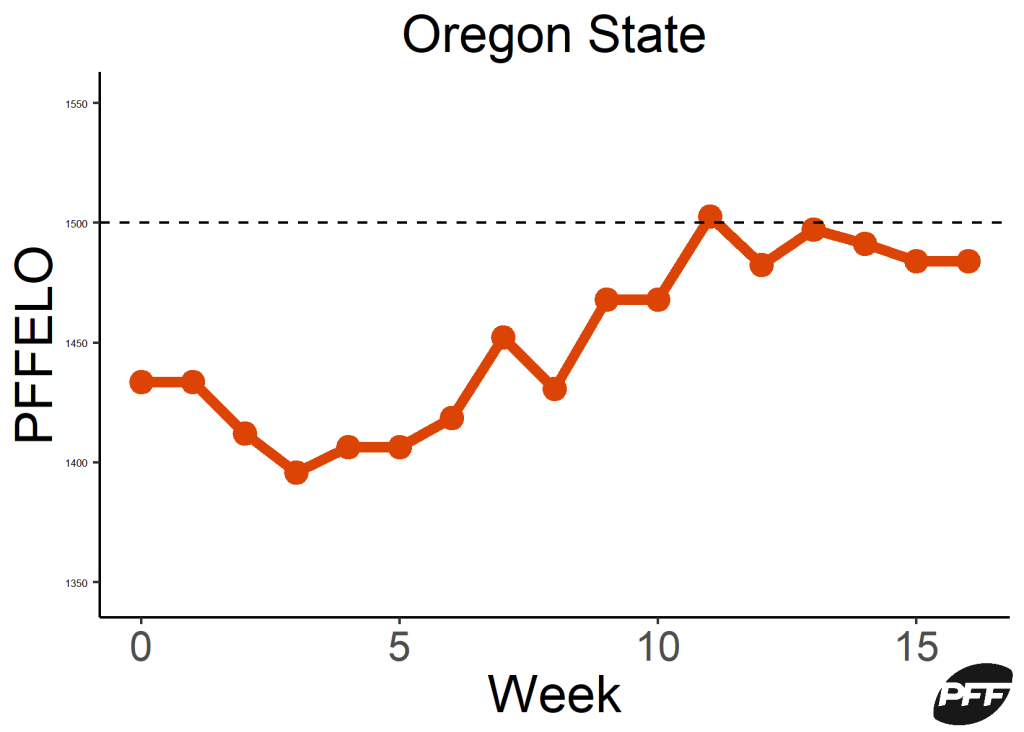 73) Utah State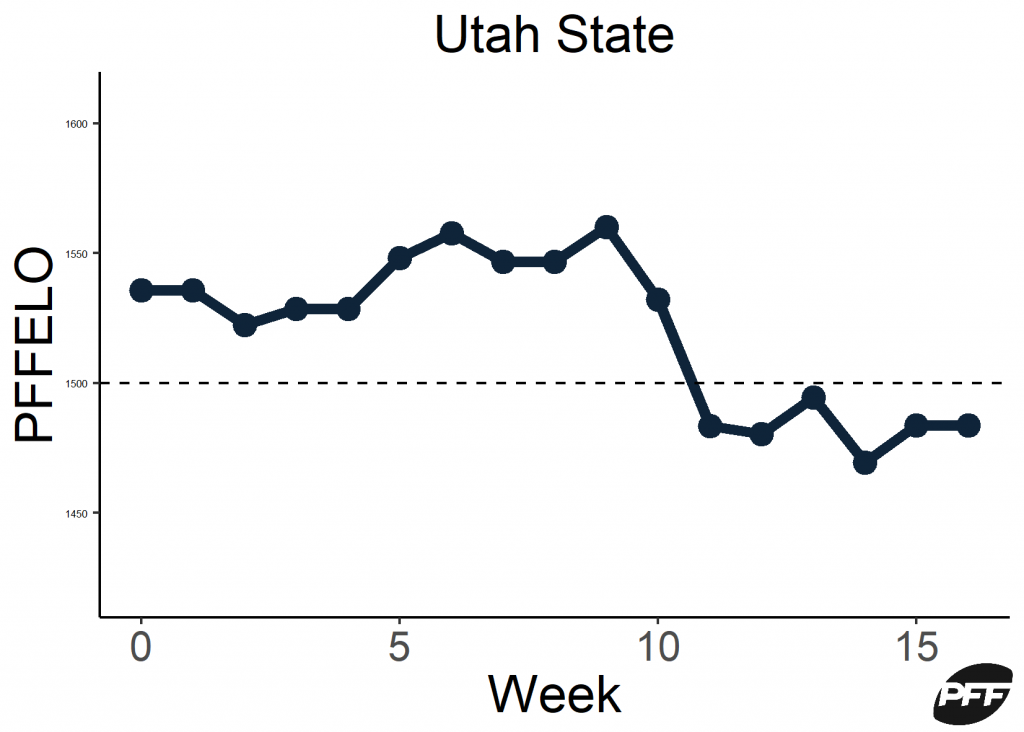 74) Ohio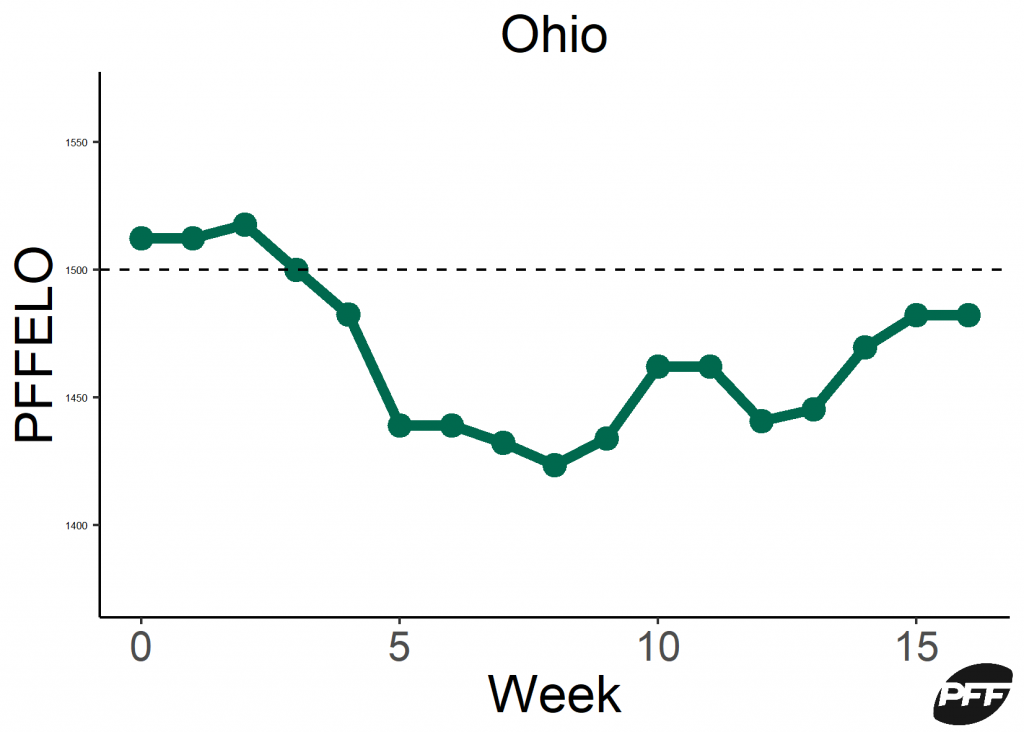 75) Hawaii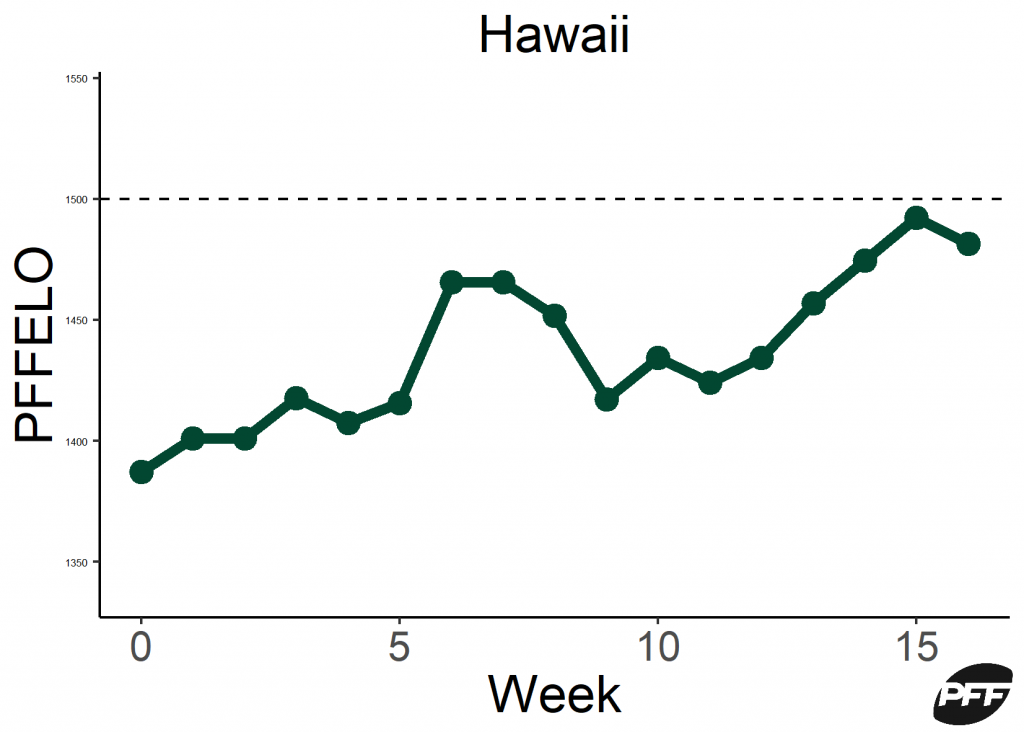 76) Illinois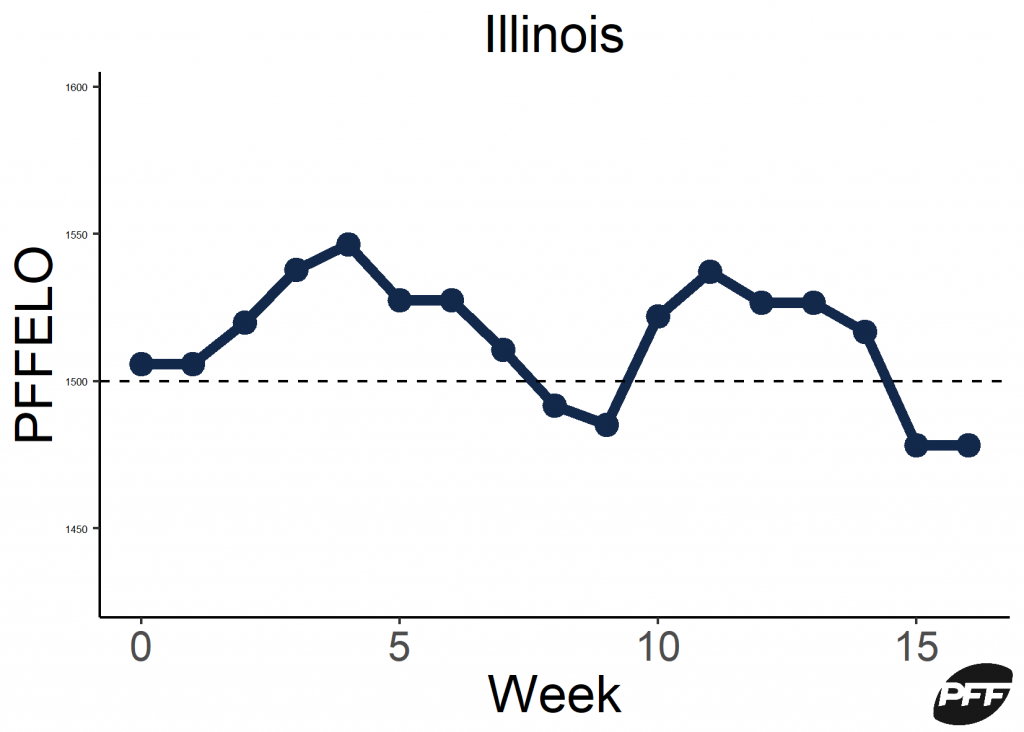 77) Colorado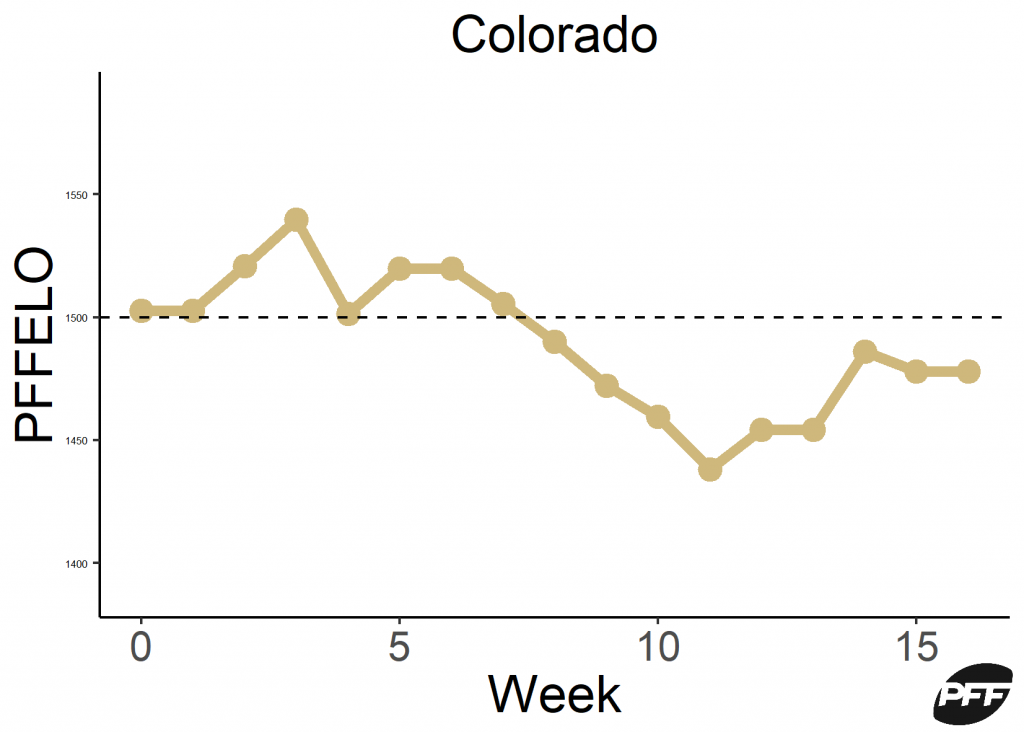 78) North Carolina State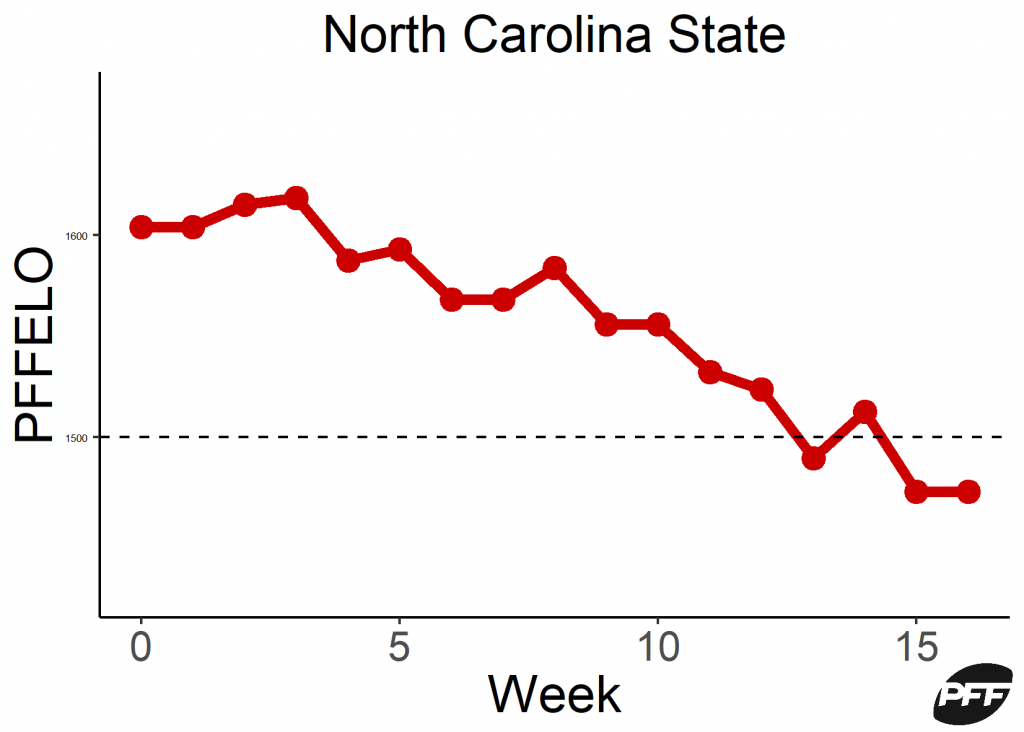 79) Stanford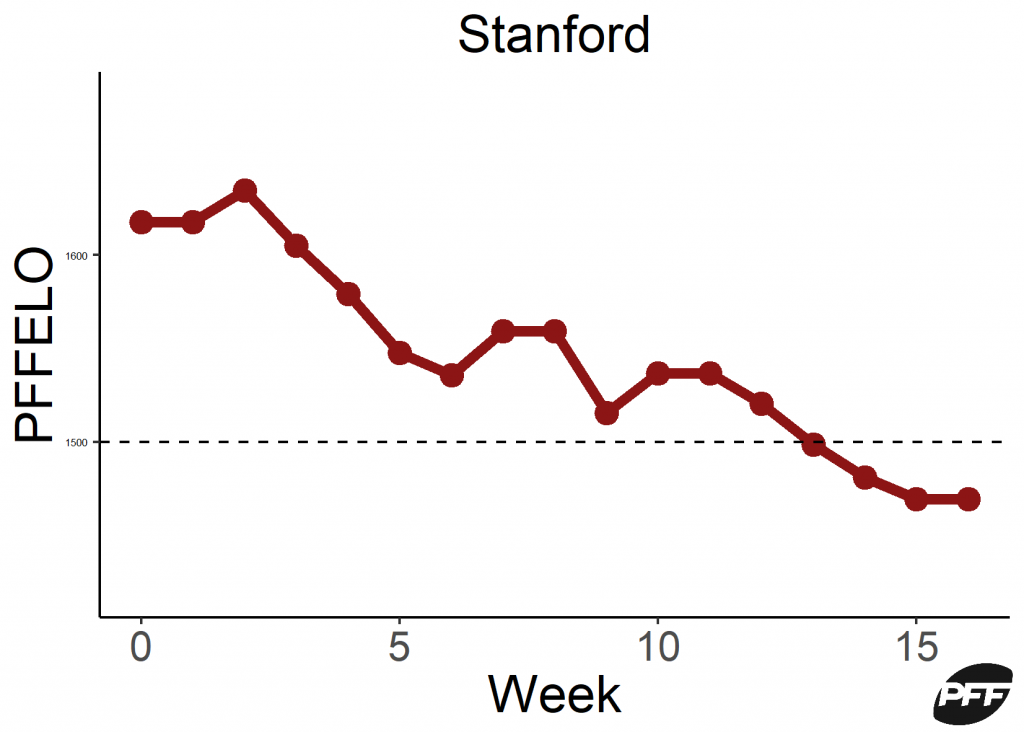 80) Southern Miss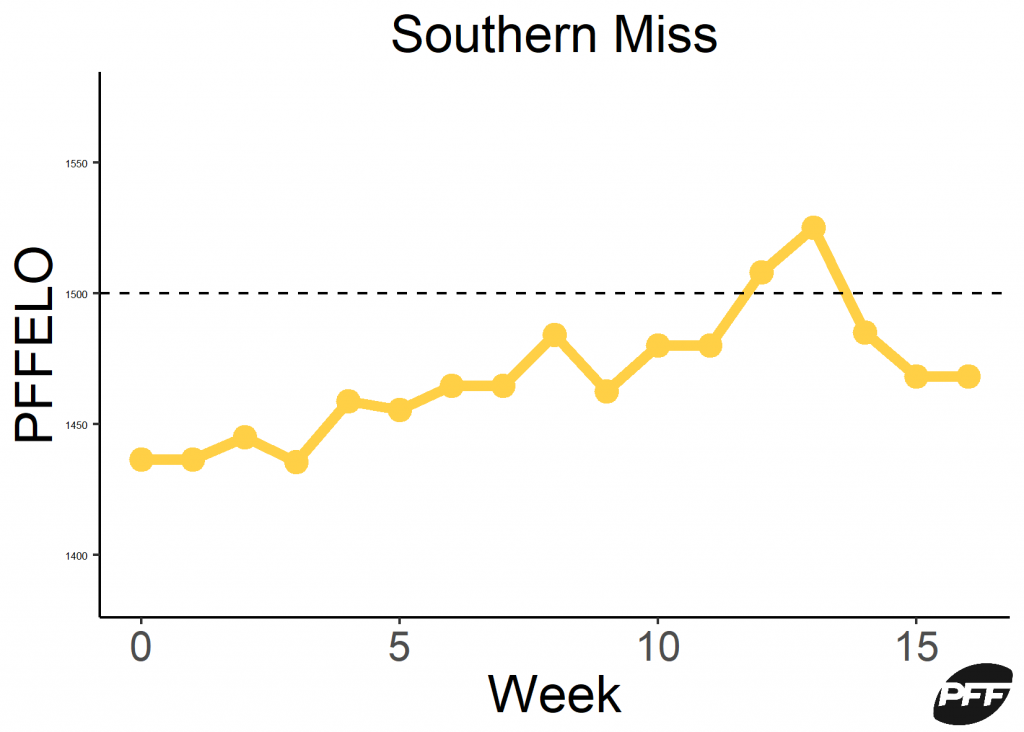 81) Wyoming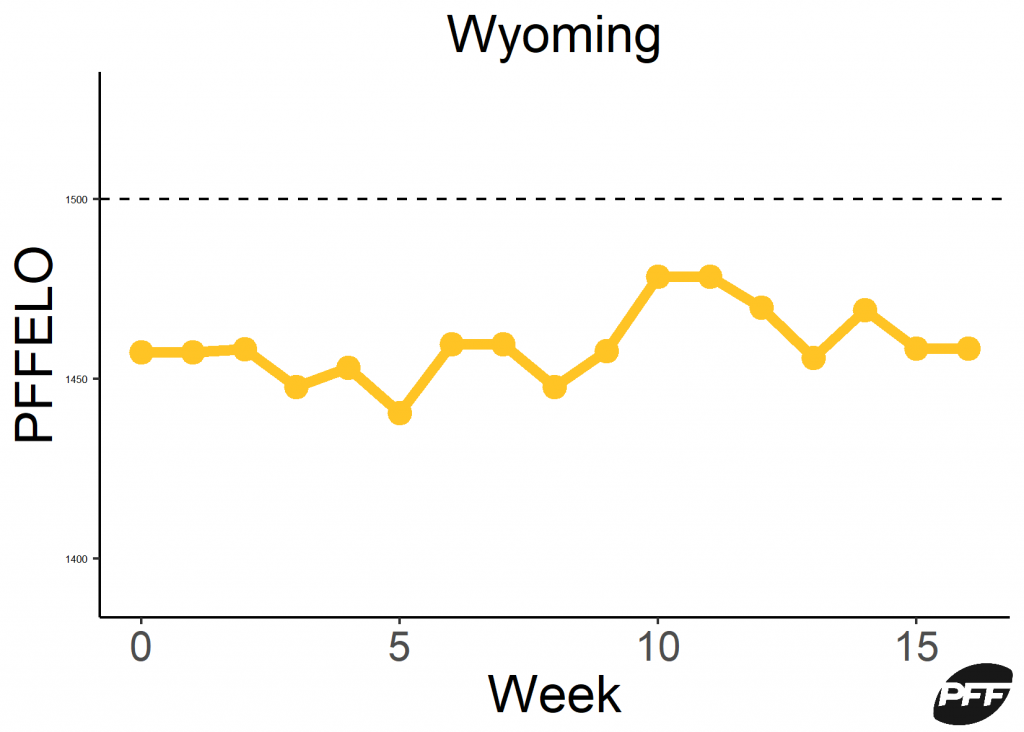 82) UCLA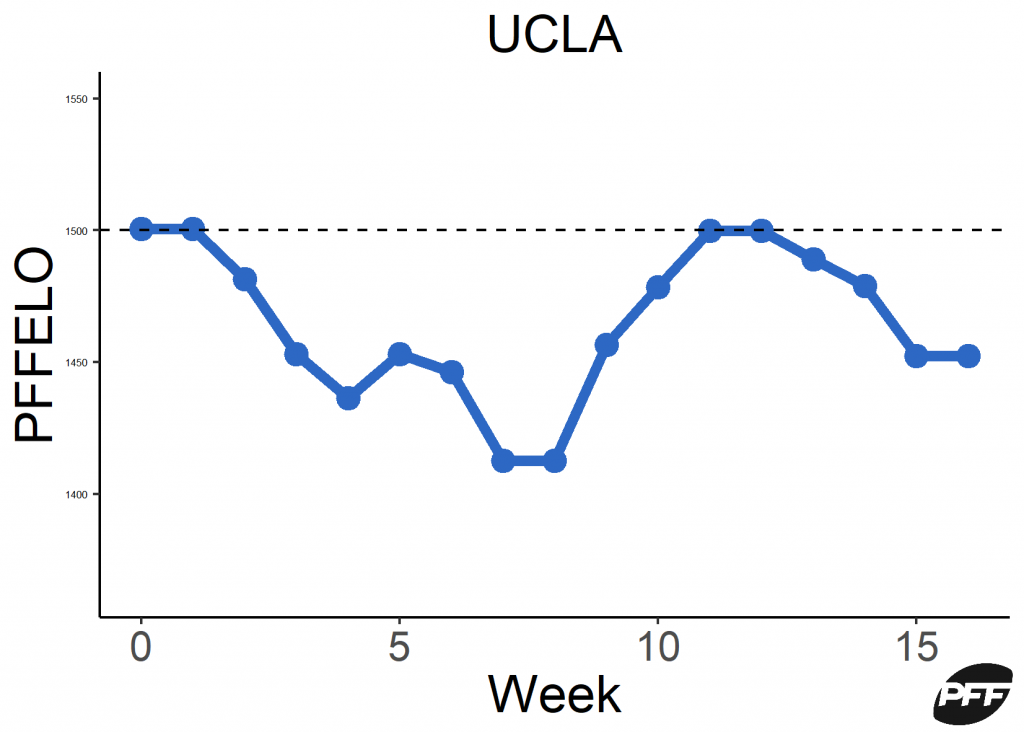 83) Georgia Southern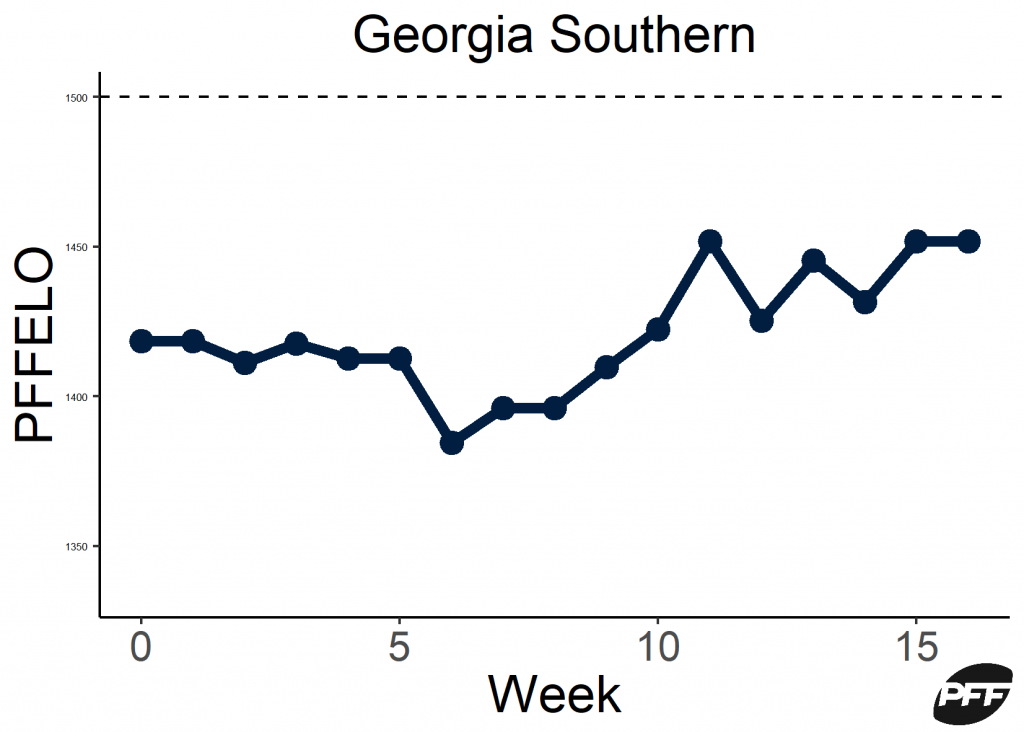 84) Nevada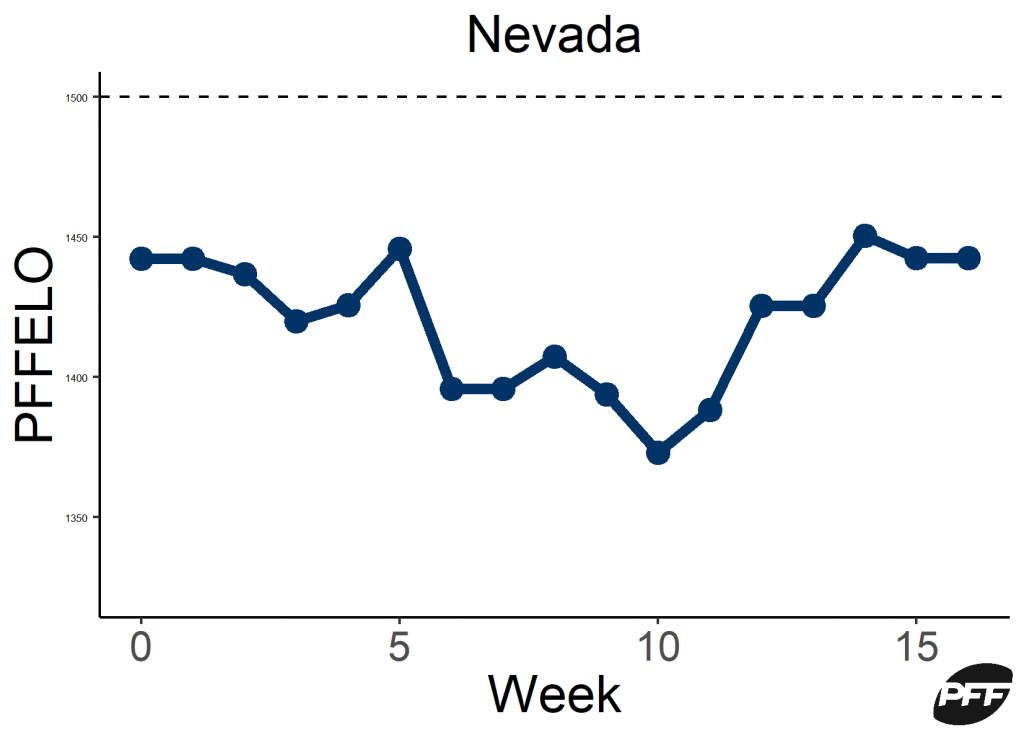 85) Miami (OH)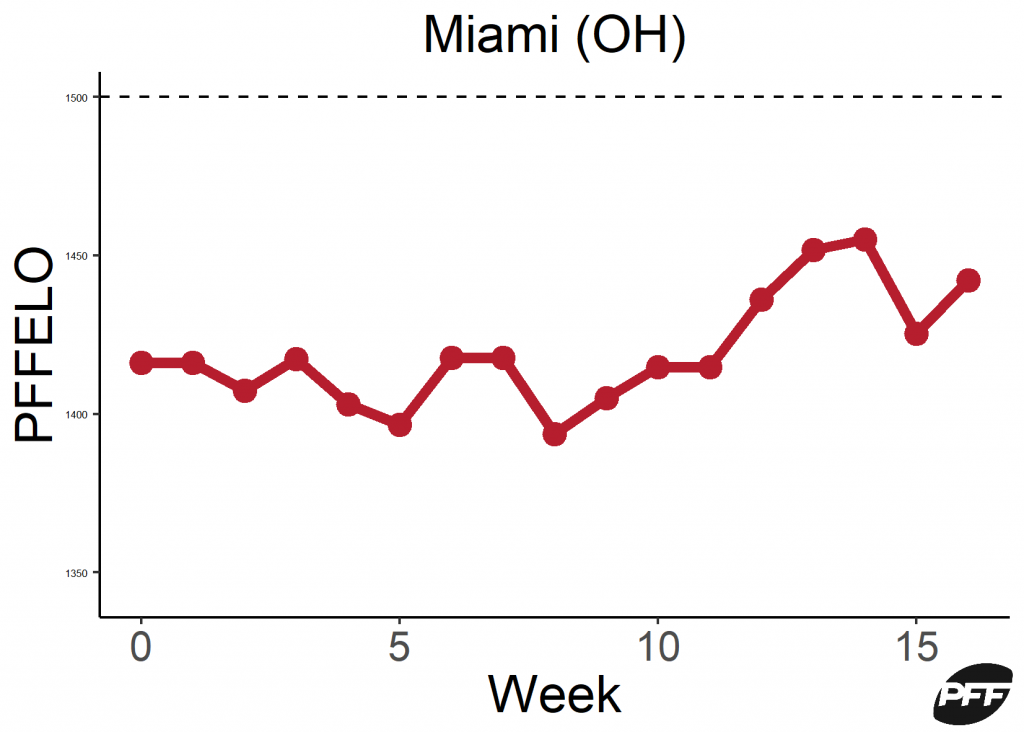 86) Troy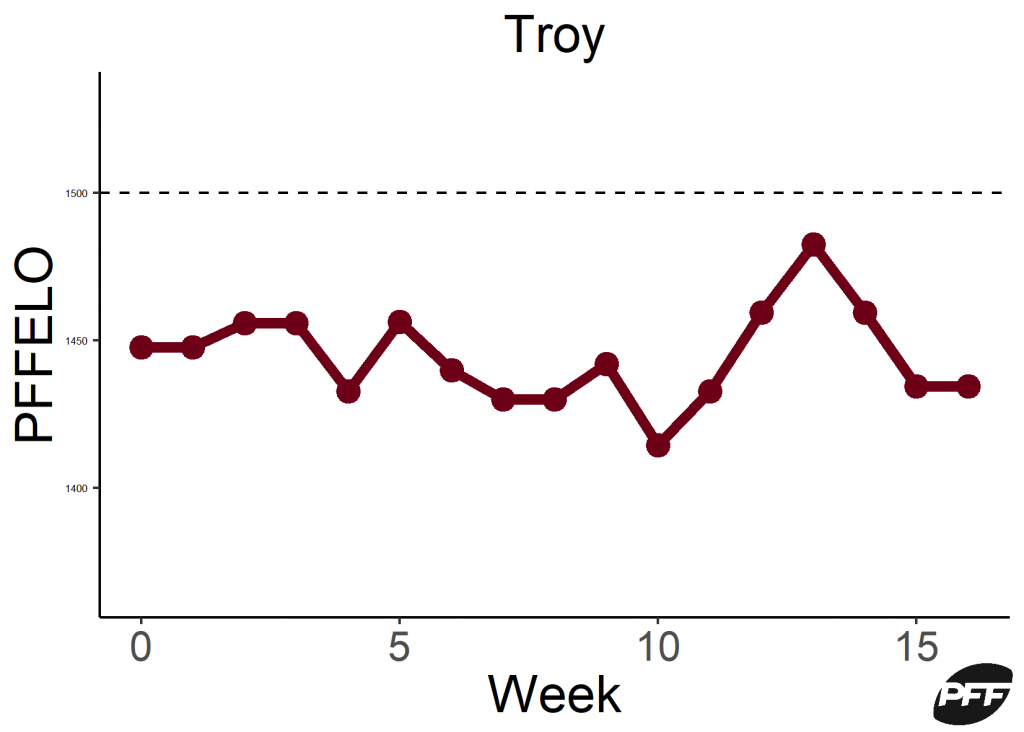 87) Central Michigan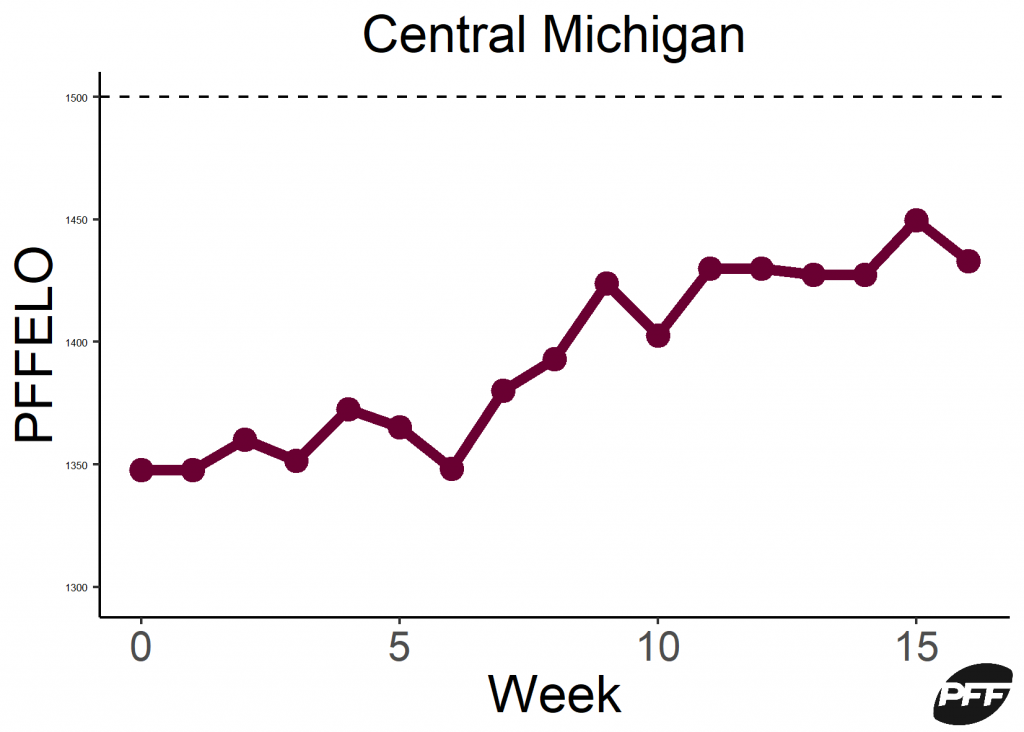 88) Arizona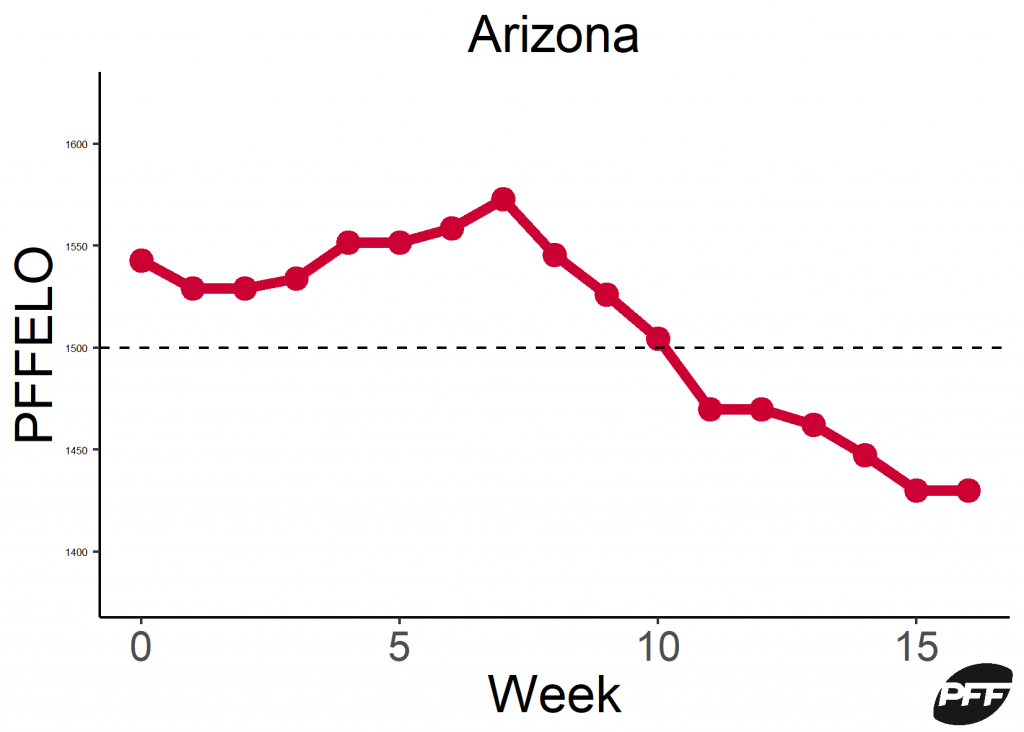 89) Fresno State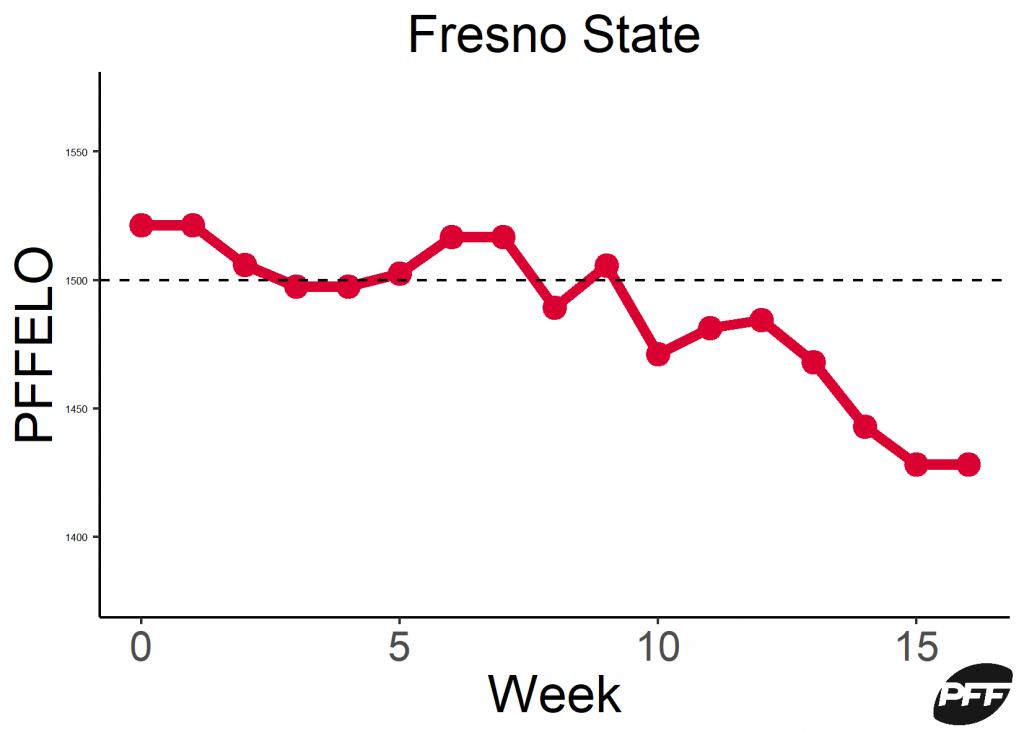 90) Charlotte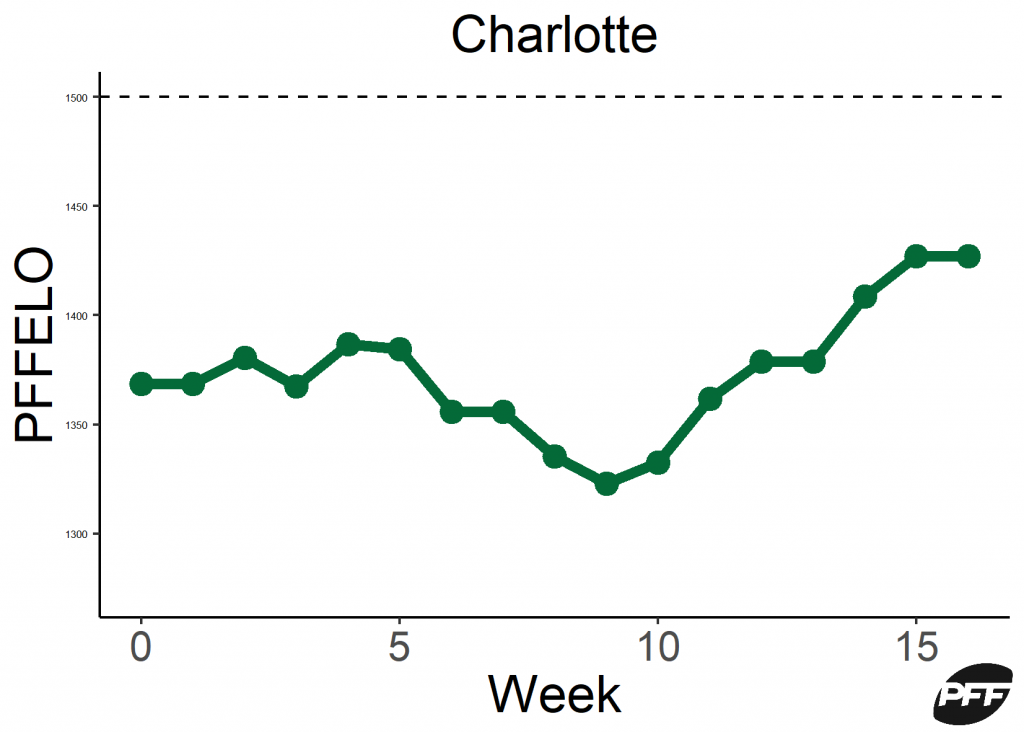 91) Arkansas State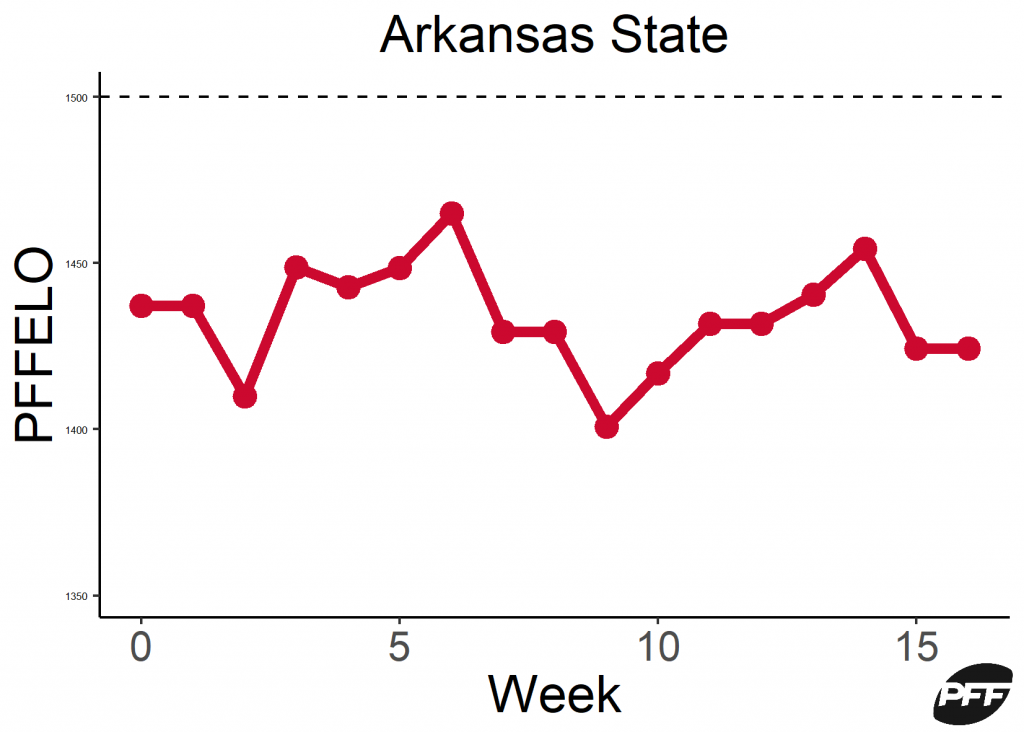 92) Maryland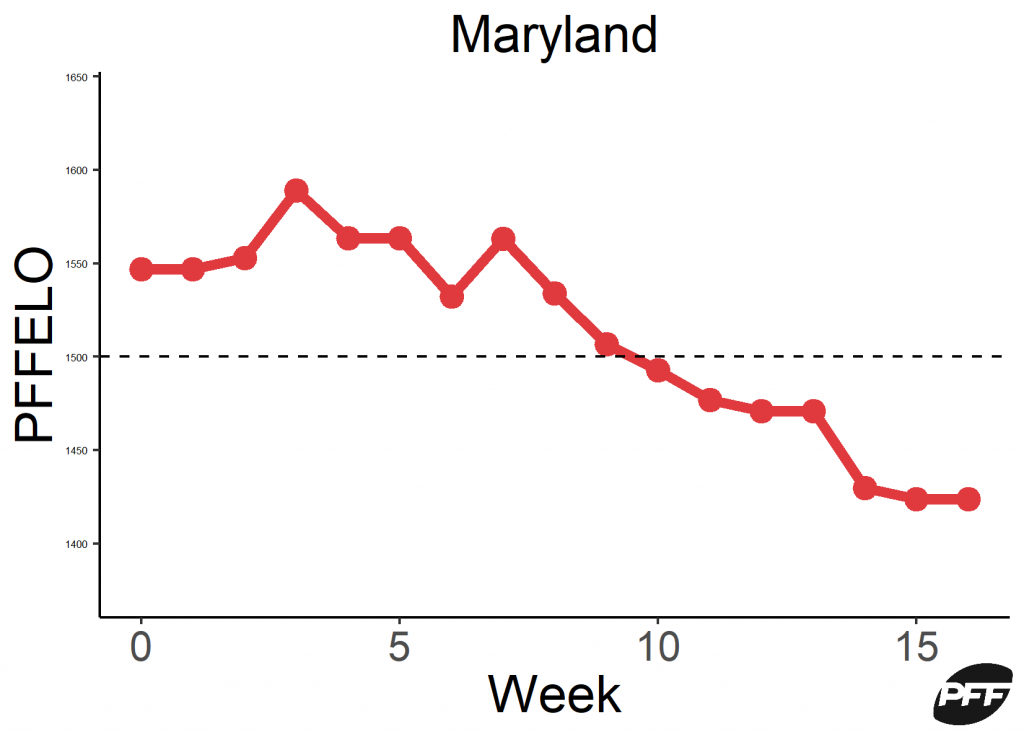 93) Houston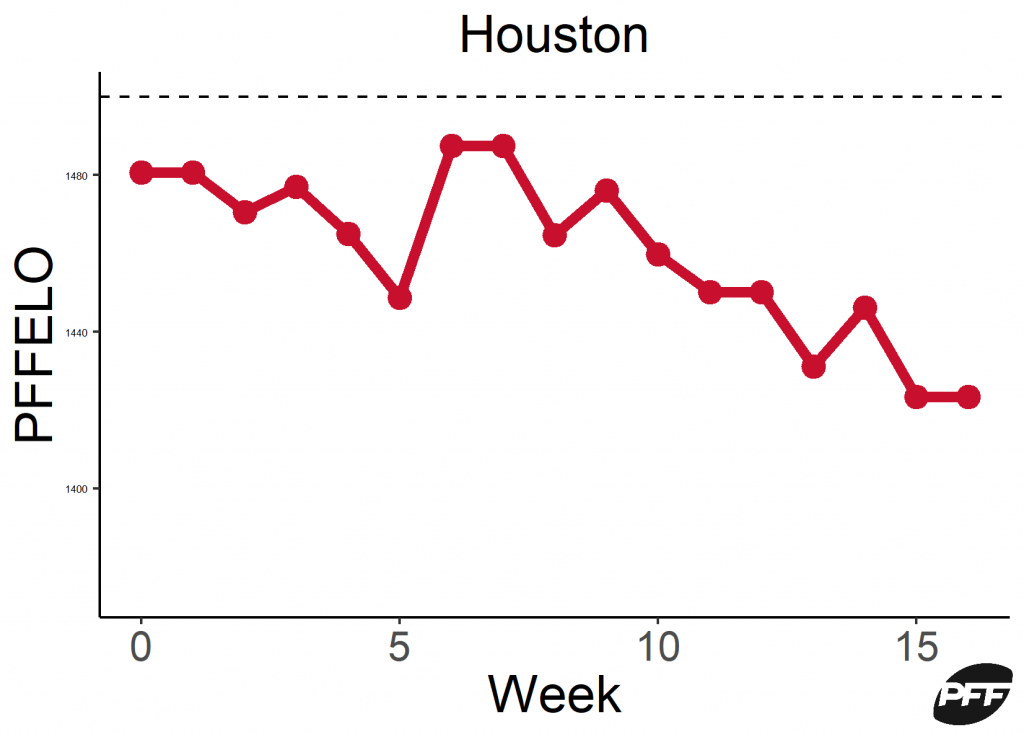 94) Liberty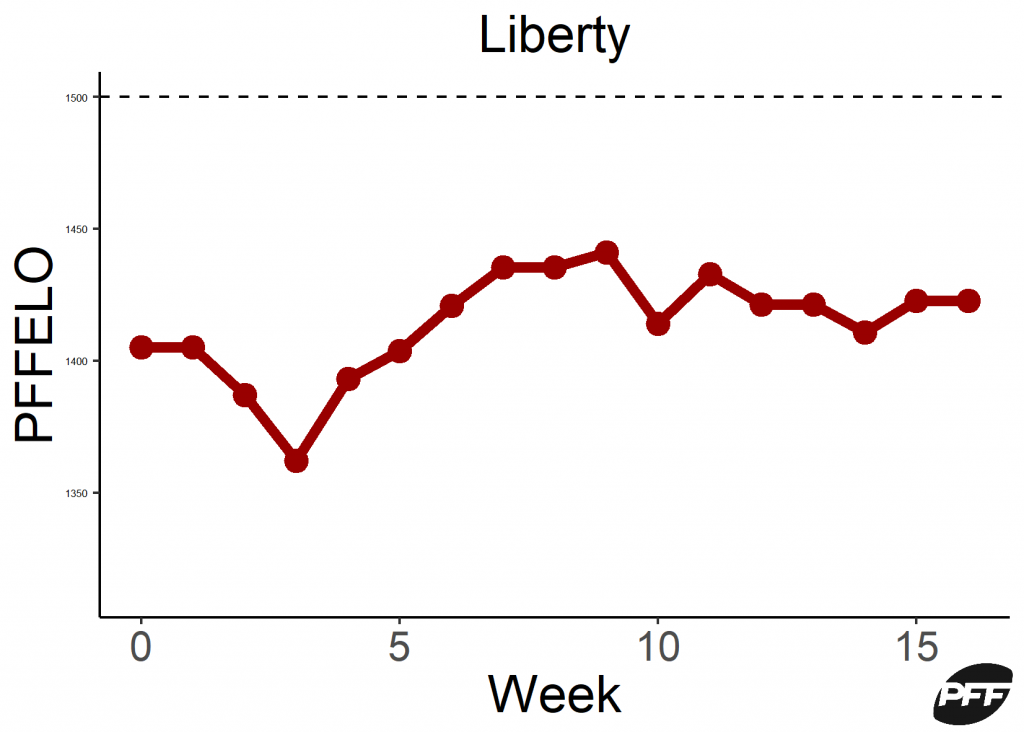 95) Western Michigan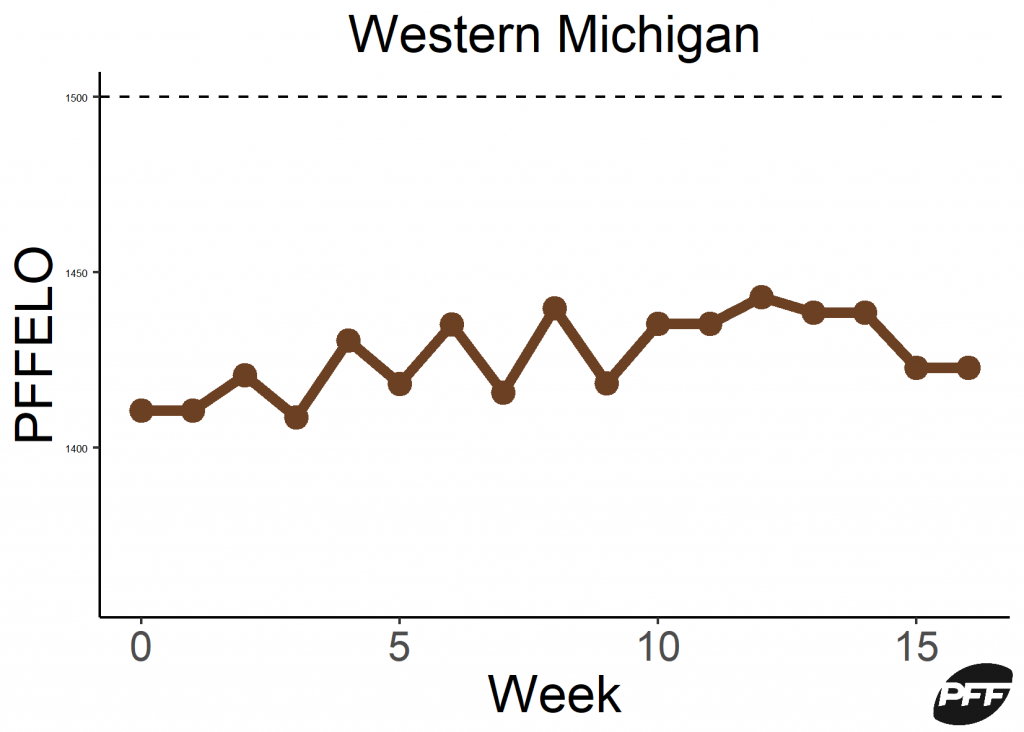 96) USF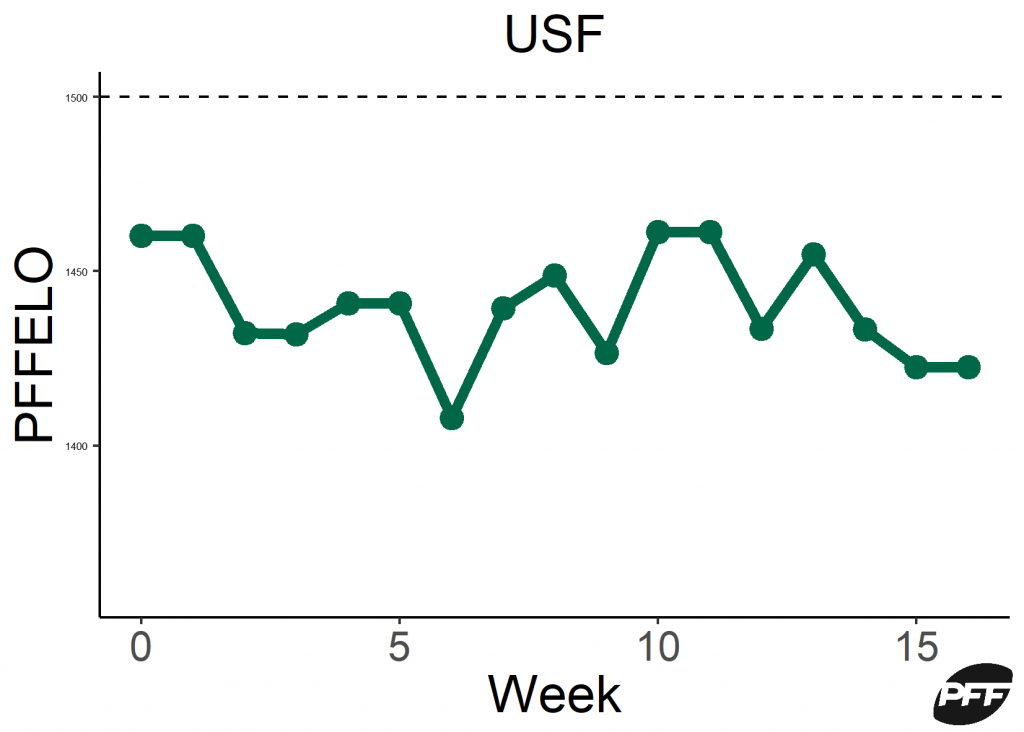 97) Army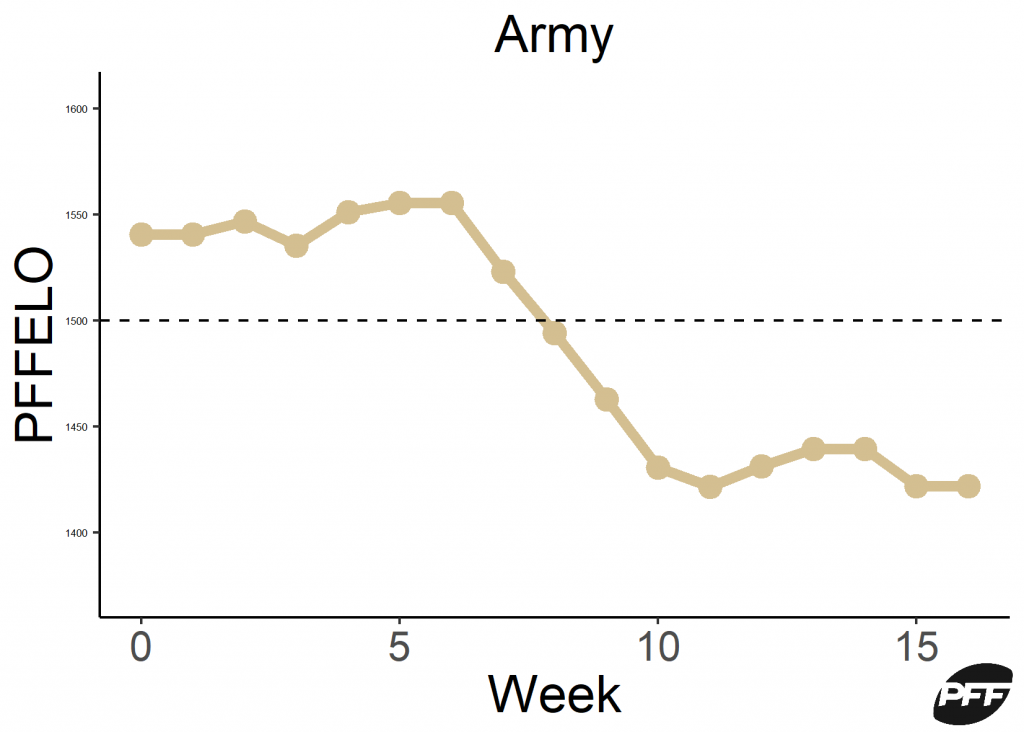 98) Florida International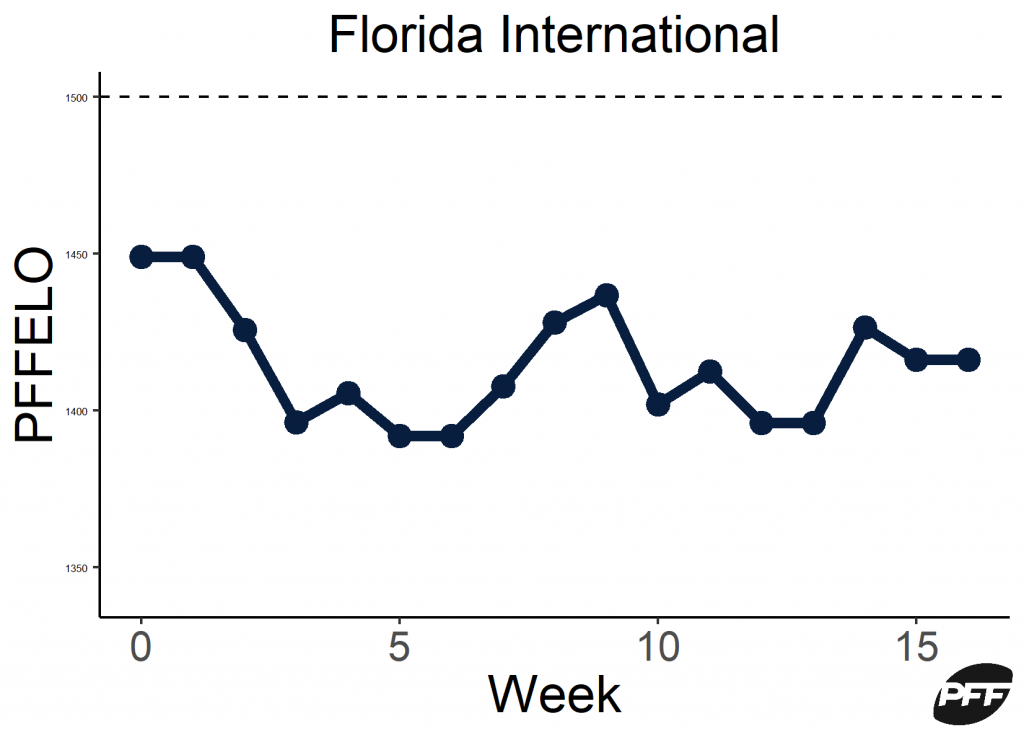 99) Kansas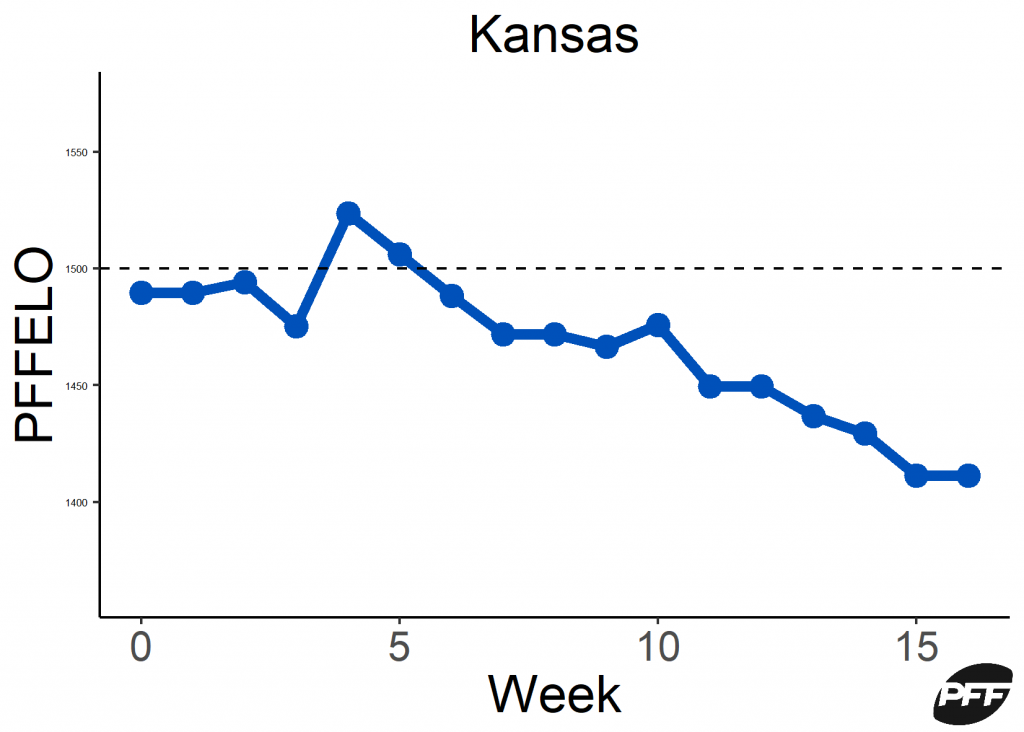 100) Georgia Tech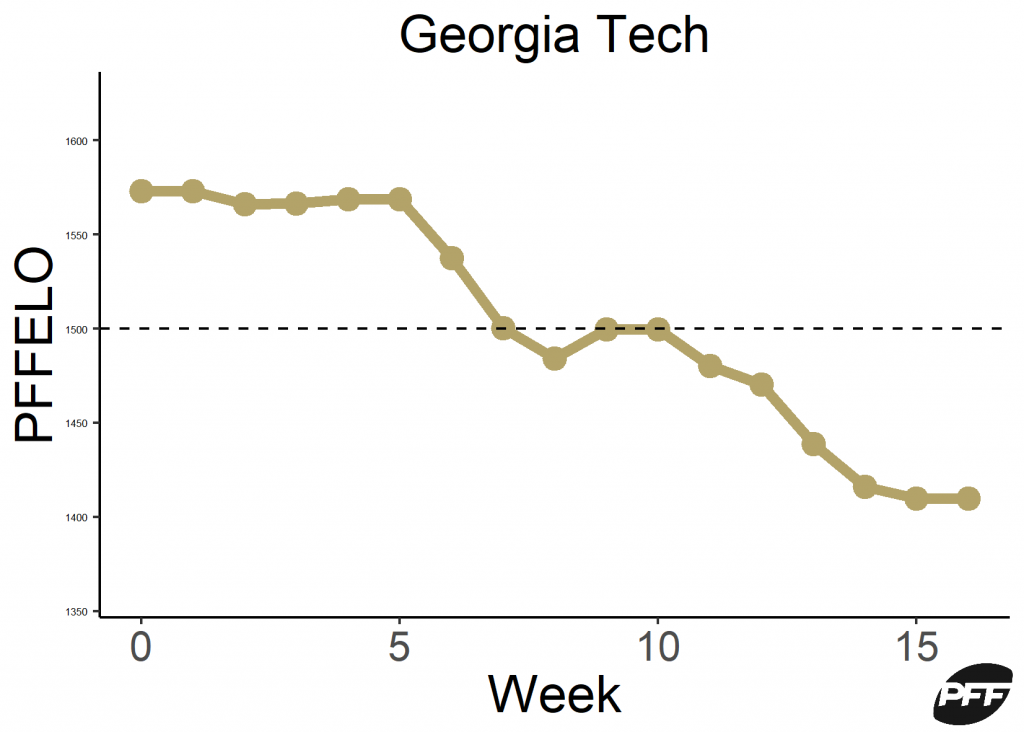 101) Tulsa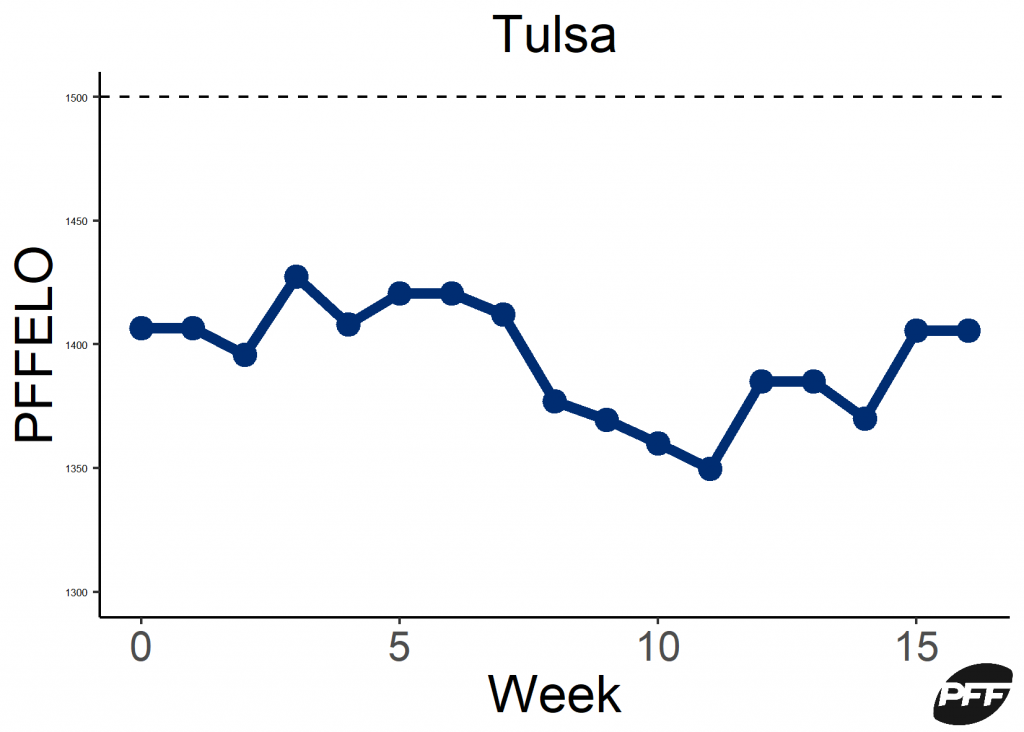 102) Vanderbilt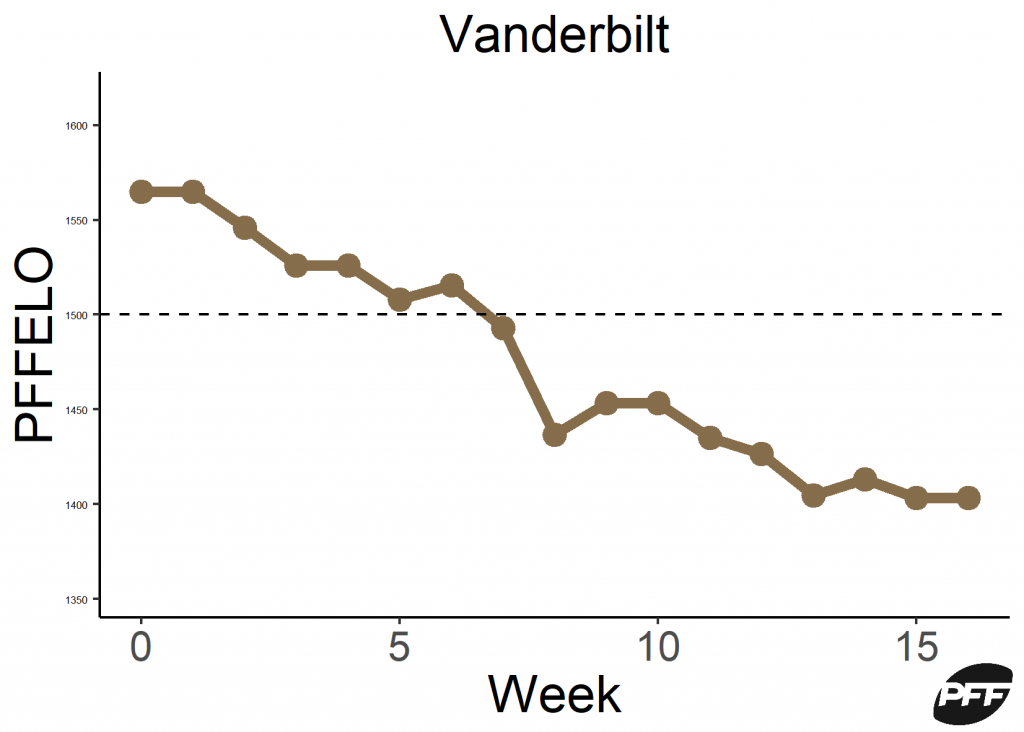 103) Eastern Michigan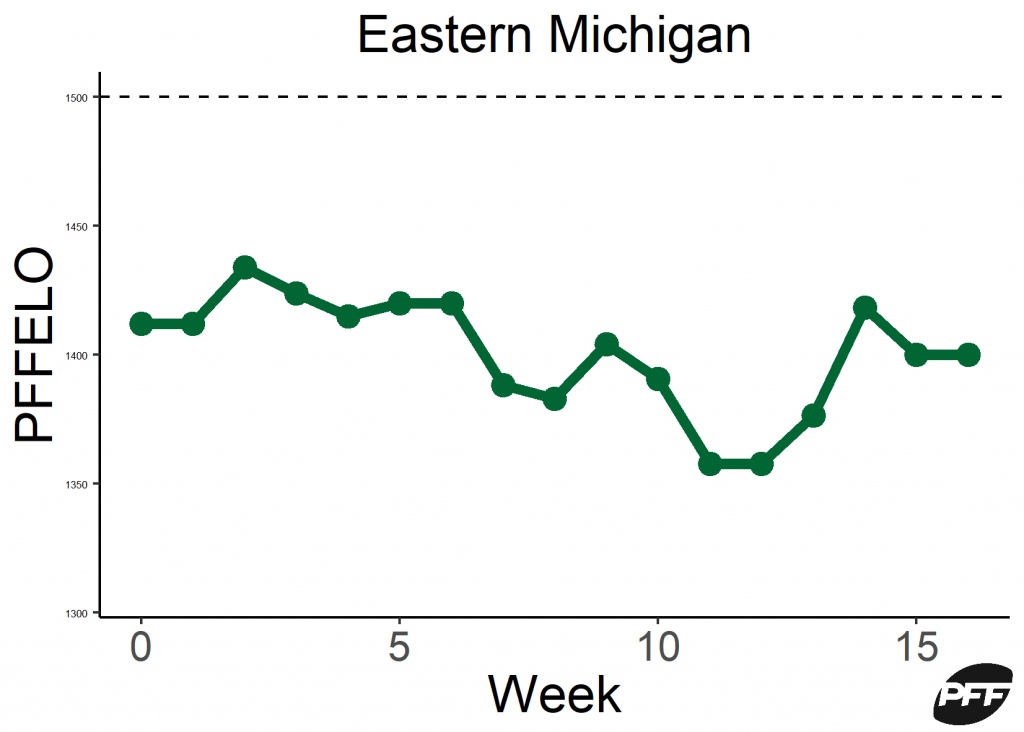 104) Colorado State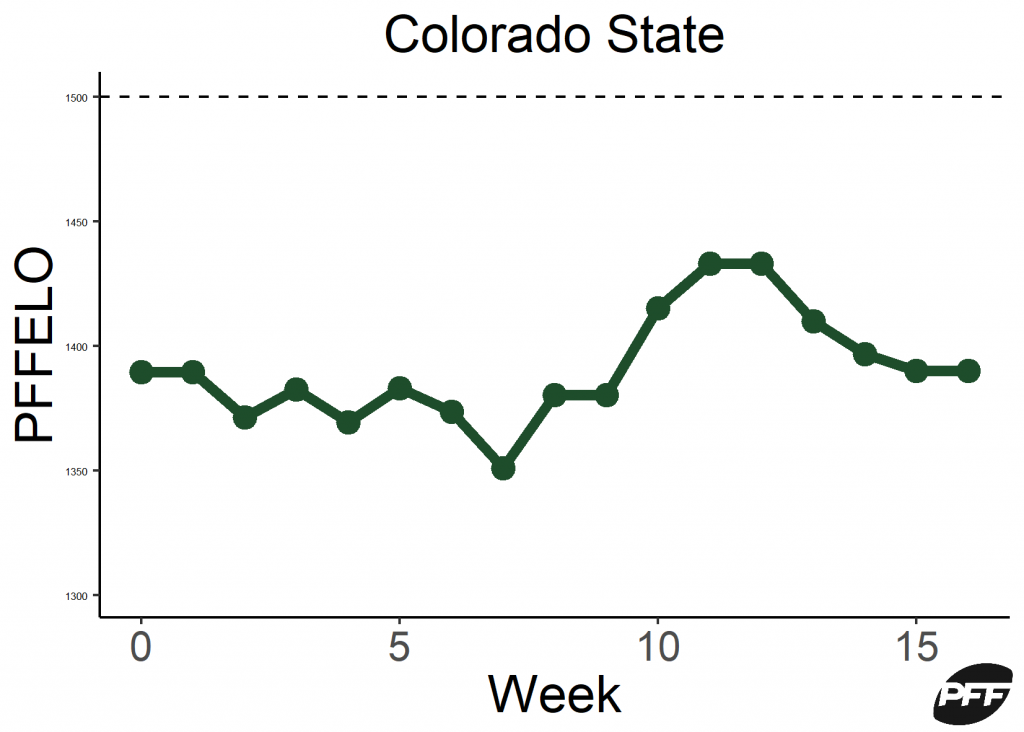 105) Arkansas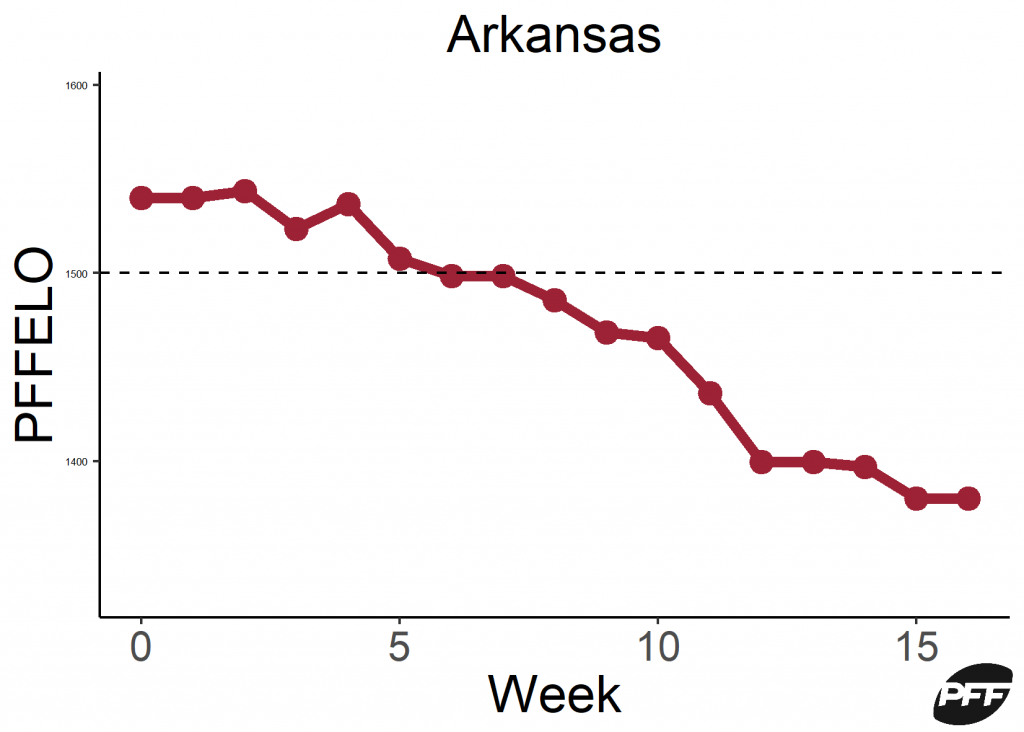 106) Louisiana-Monroe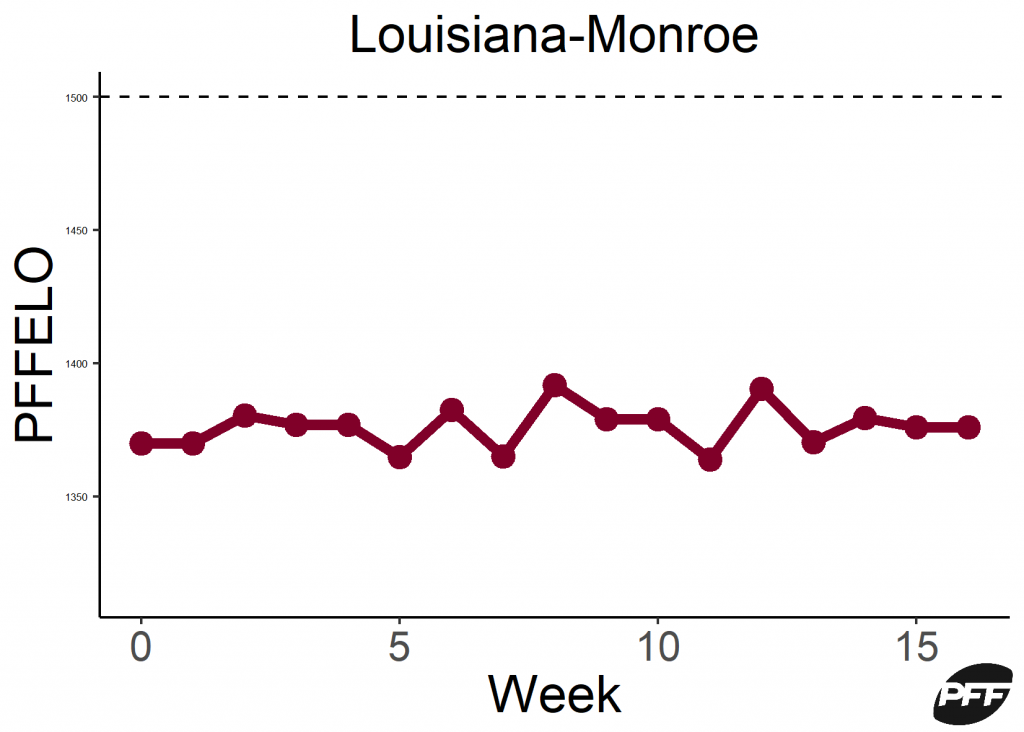 107) North Texas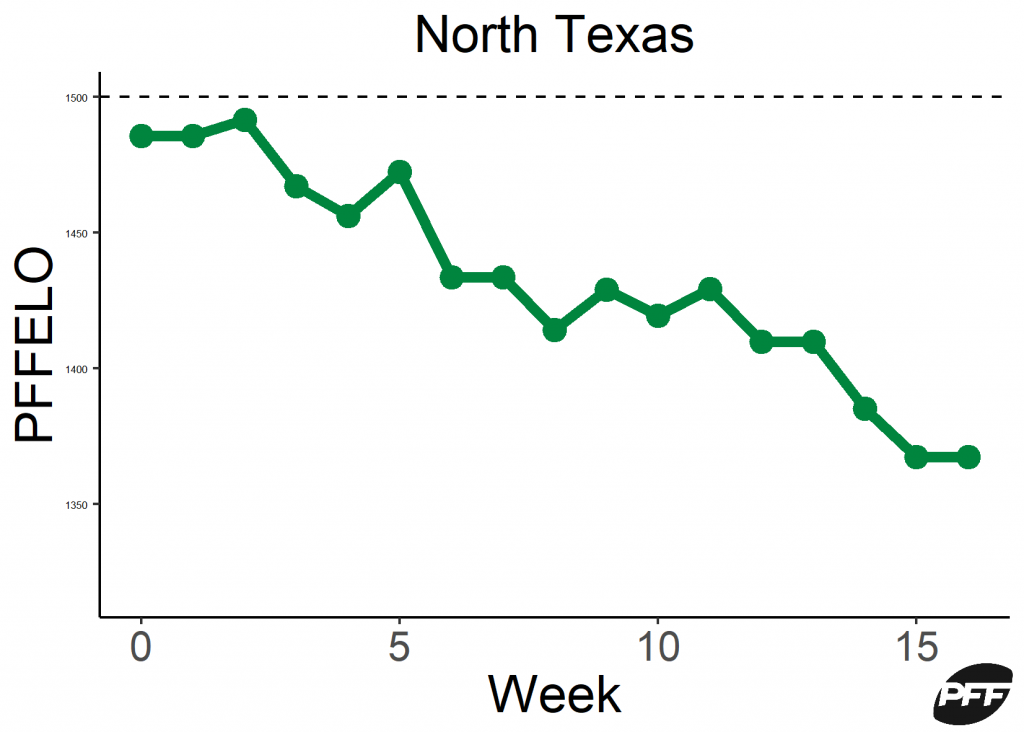 108) Northern Illinois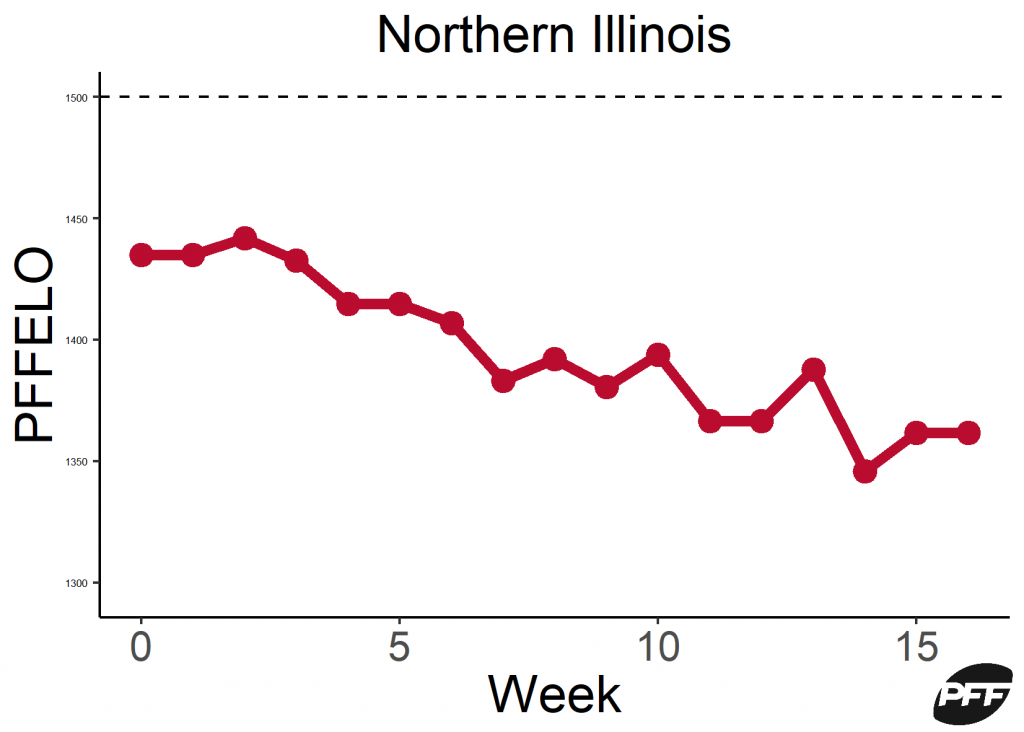 109) Rutgers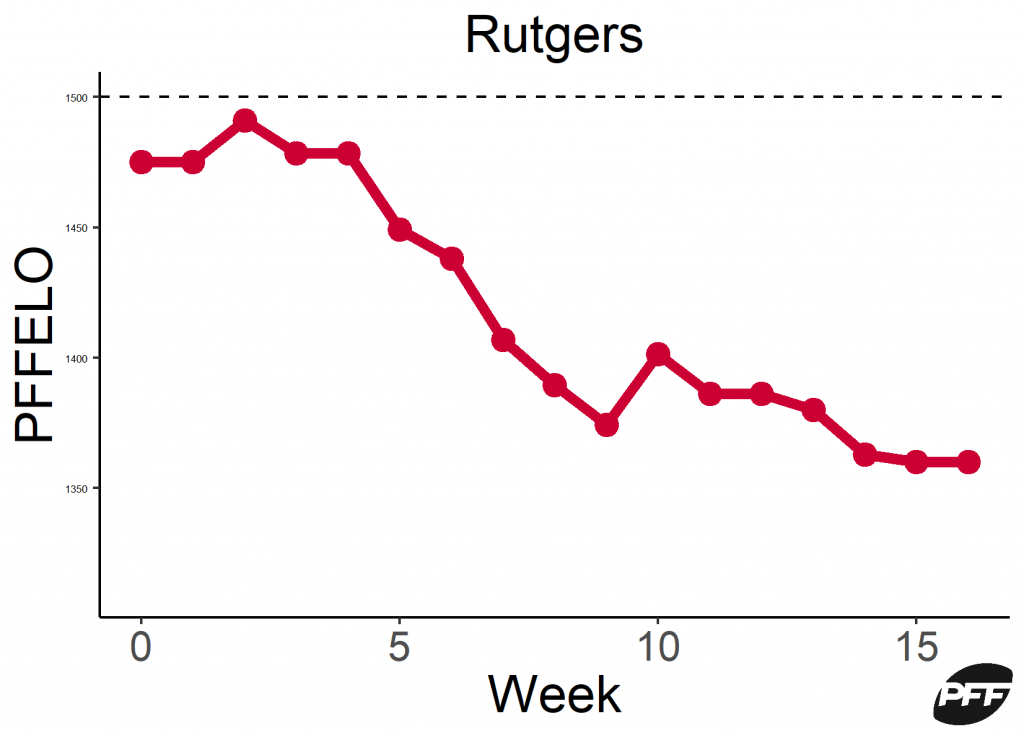 110) Georgia State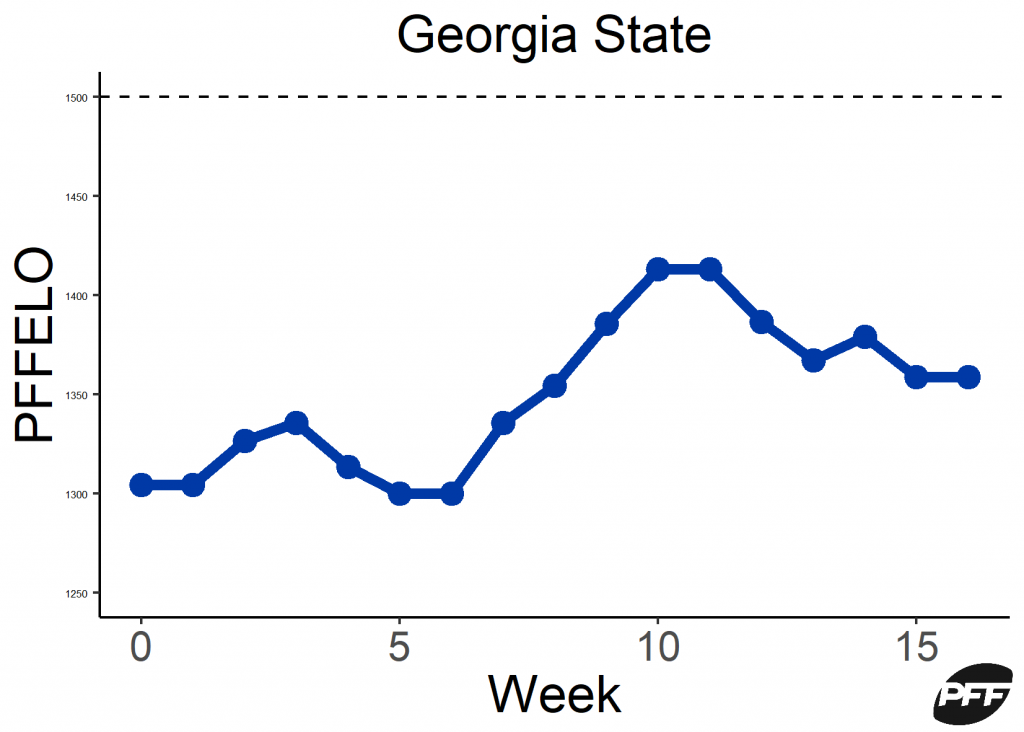 111) Kent State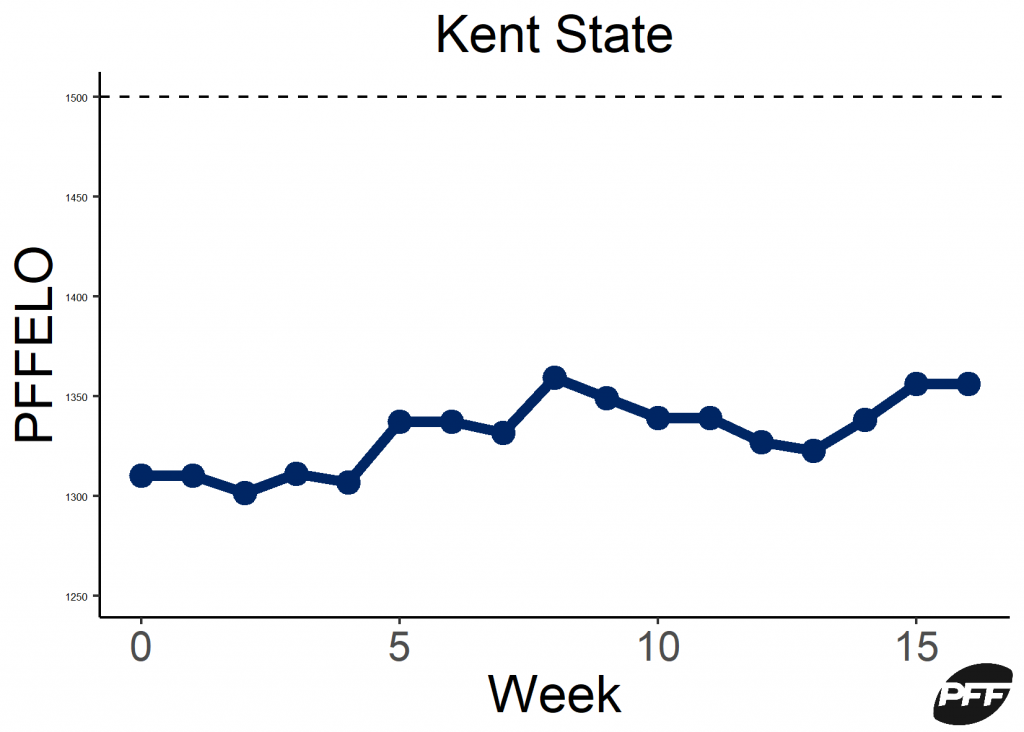 112) Ball State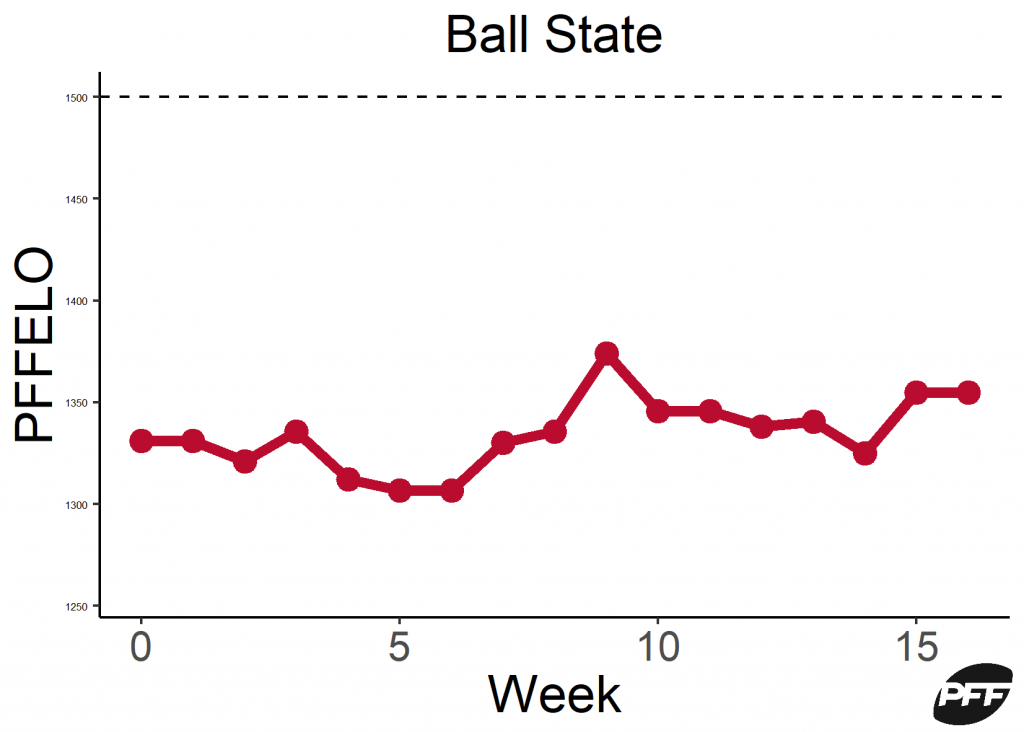 113) Middle Tennessee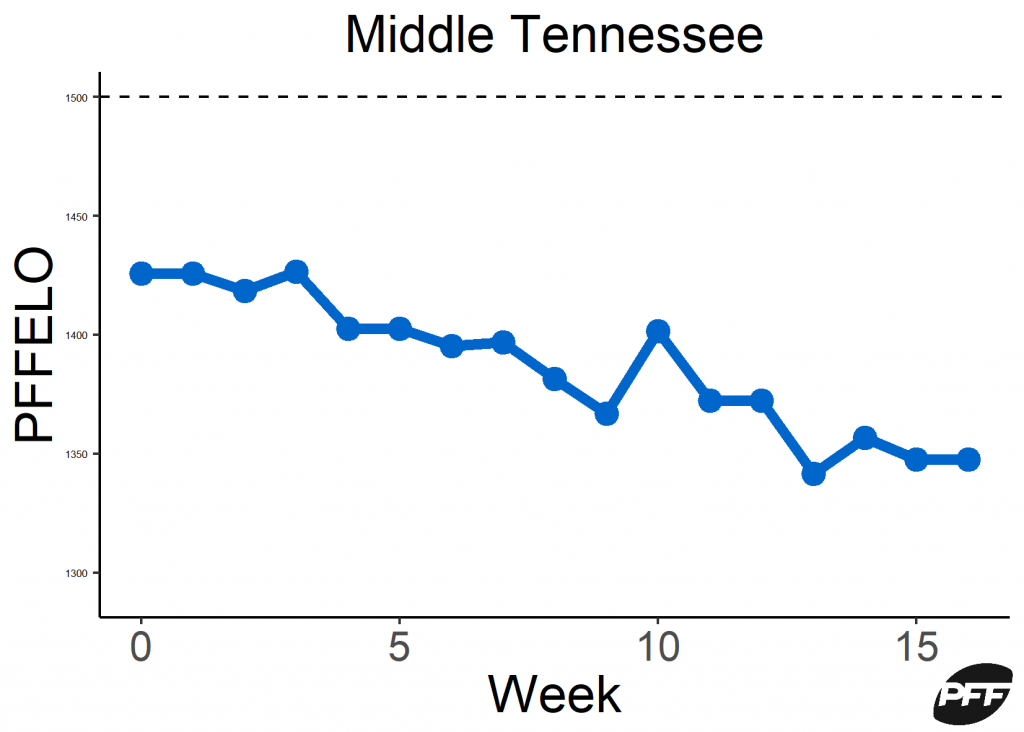 114) San Jose State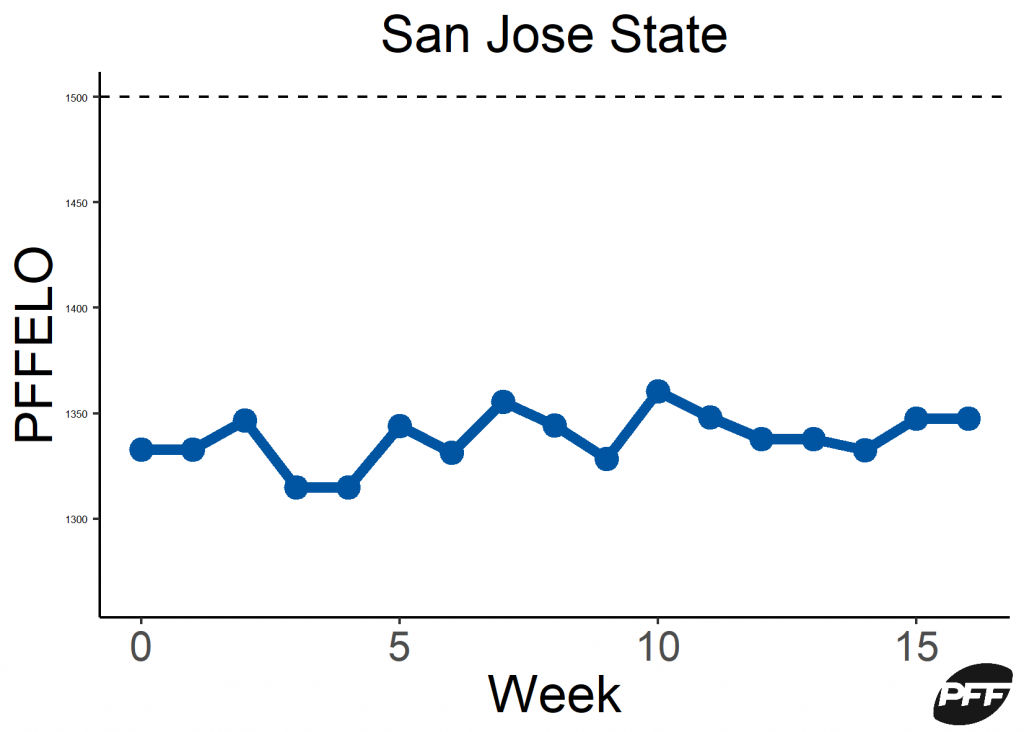 115) Toledo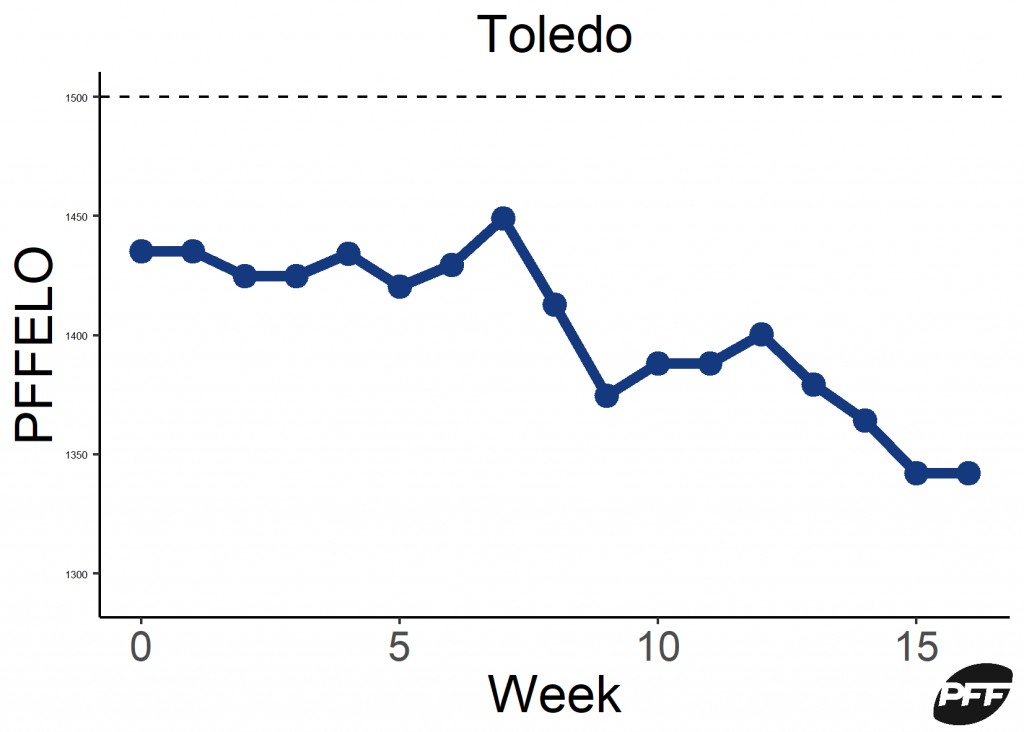 116) Rice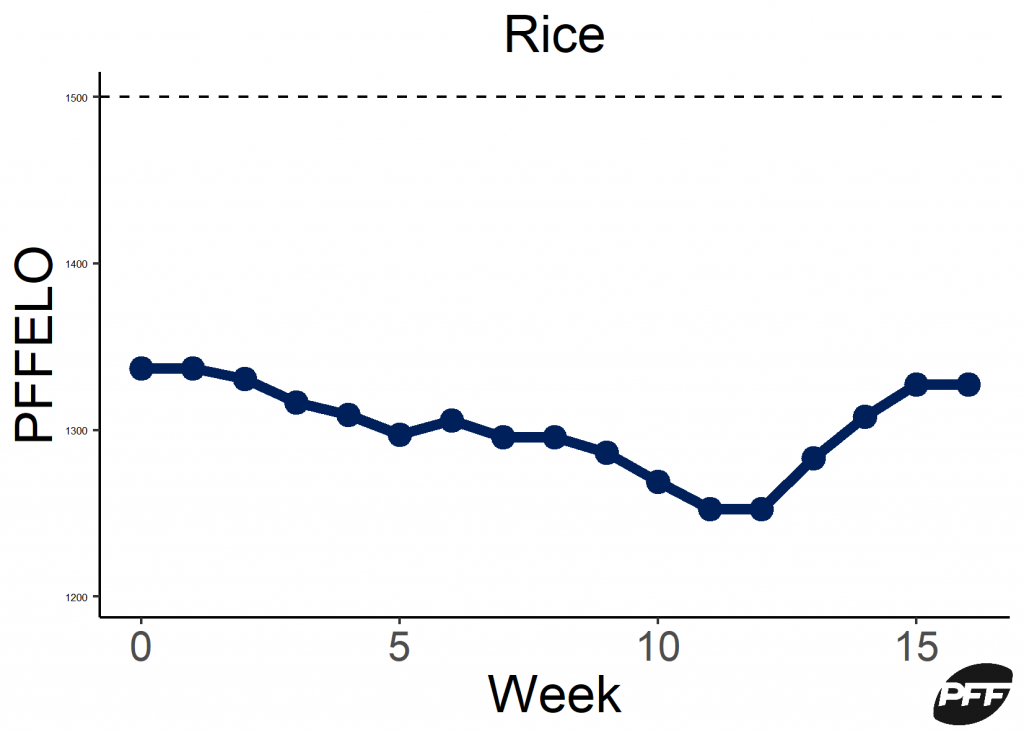 117) UNLV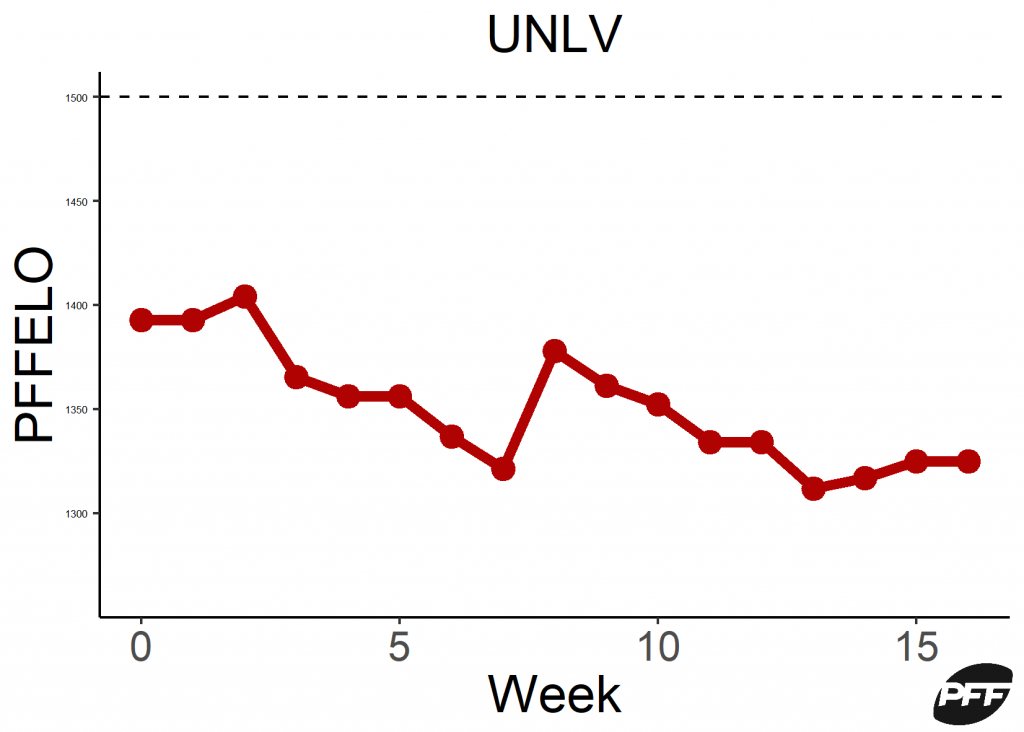 118) East Carolina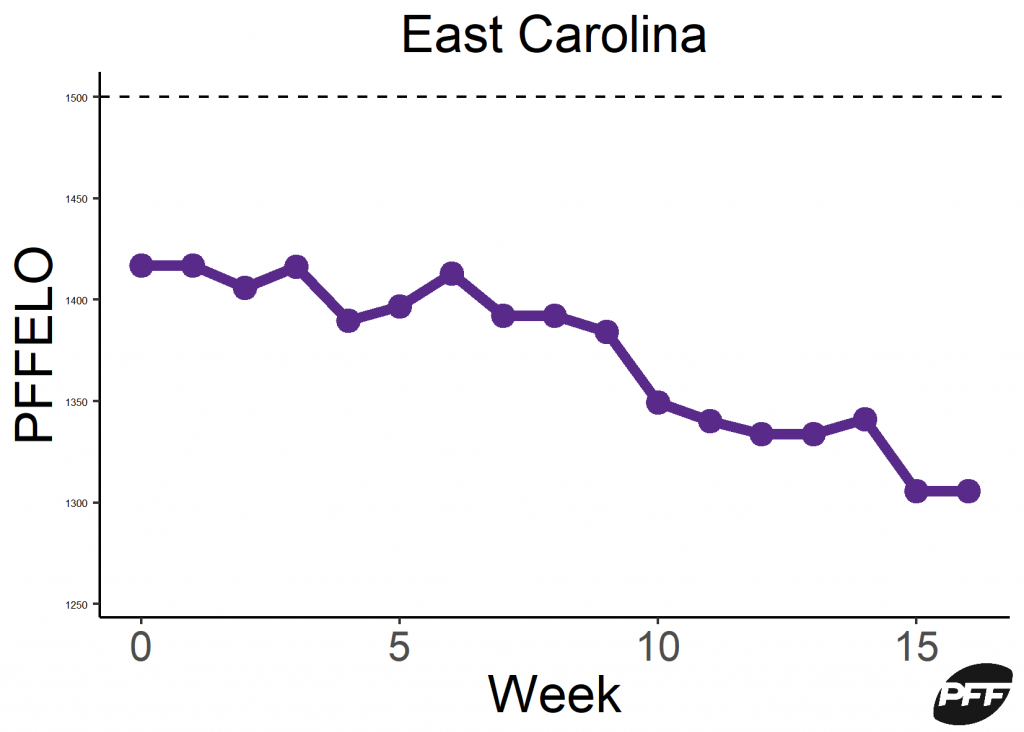 119) Texas State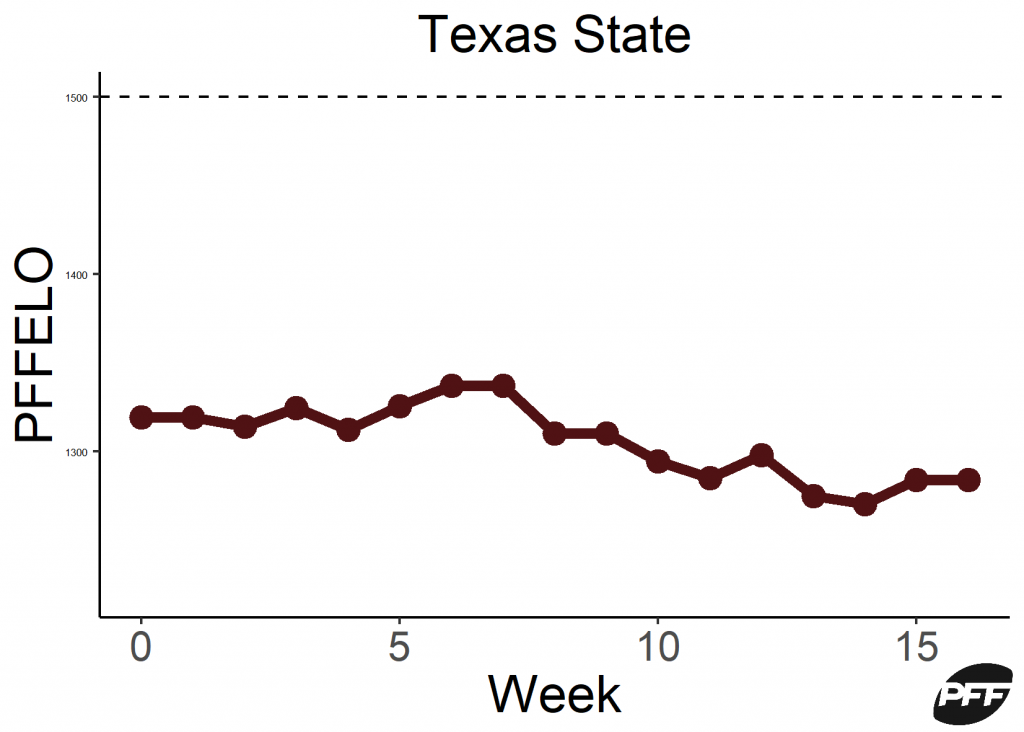 120) UTSA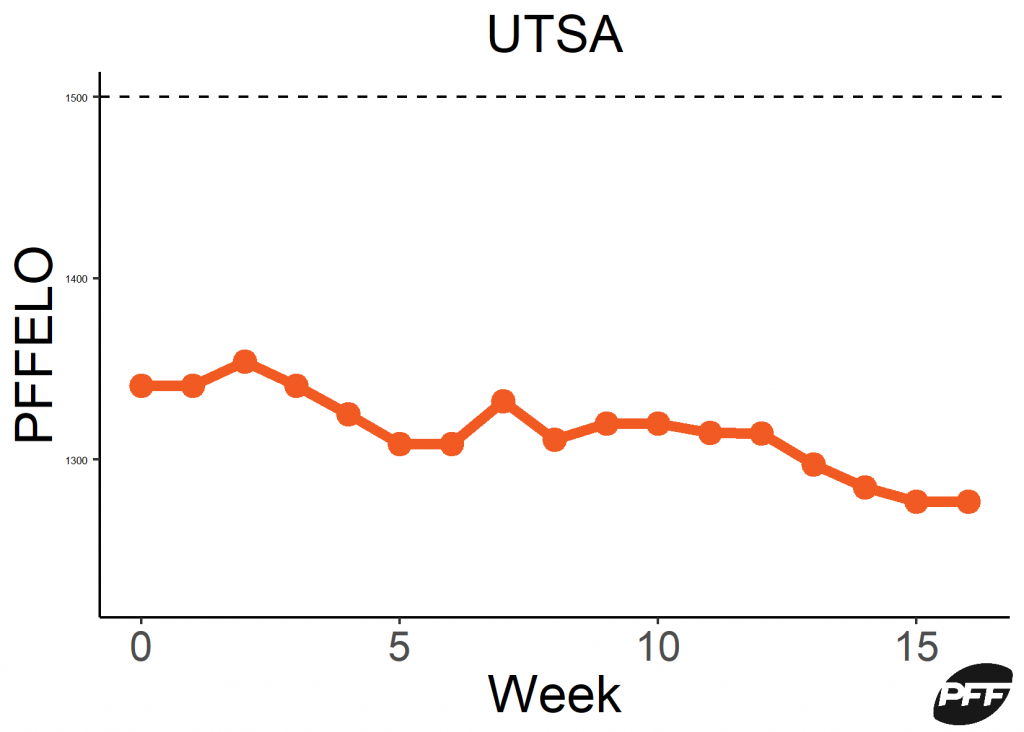 121) Coastal Carolina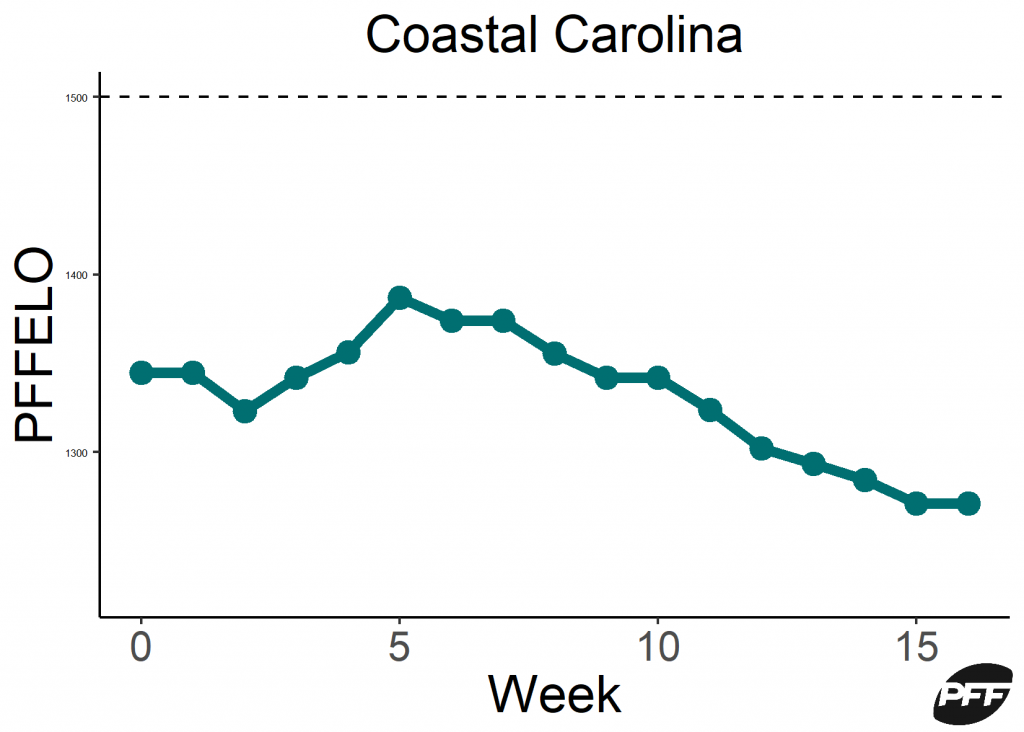 122) Connecticut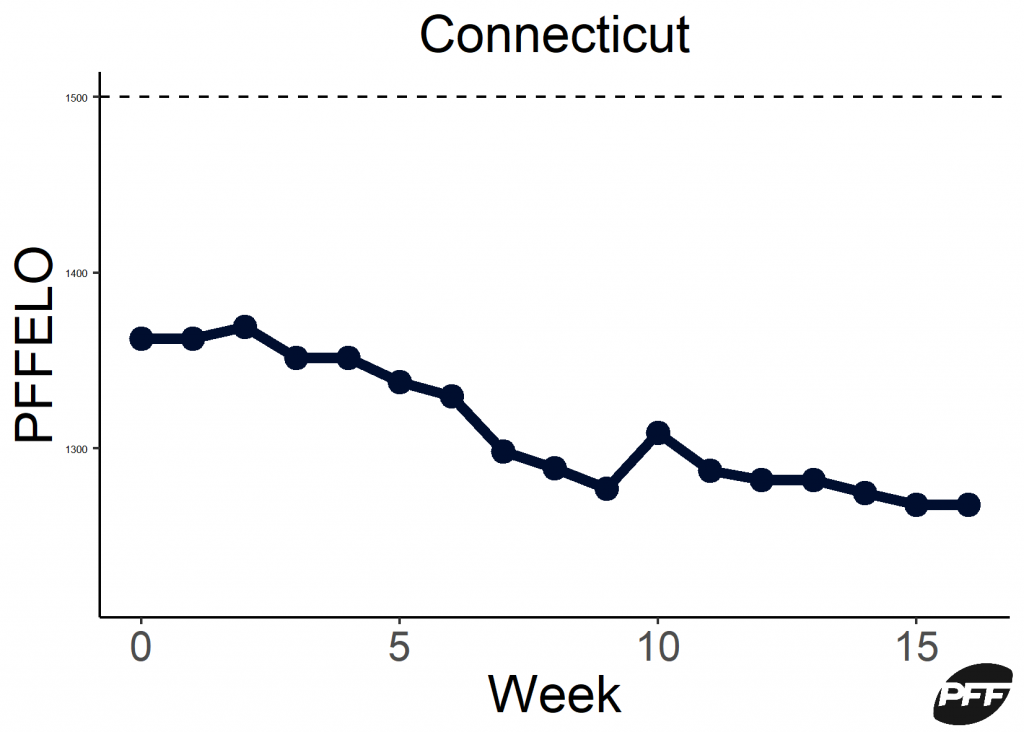 123) New Mexico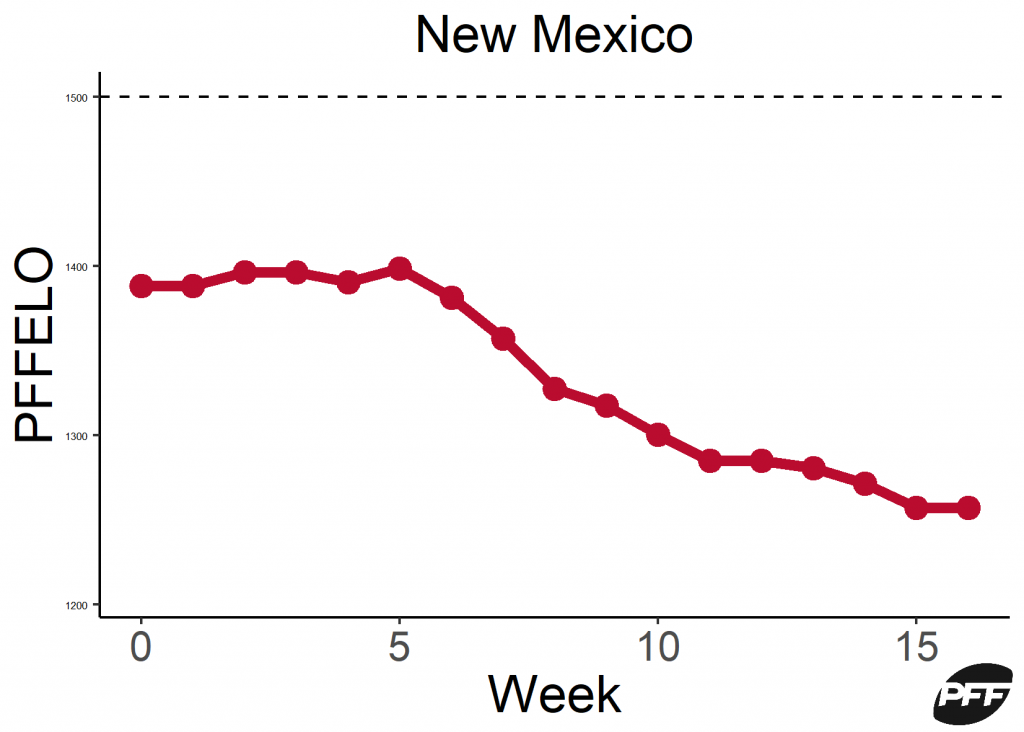 124) South Alabama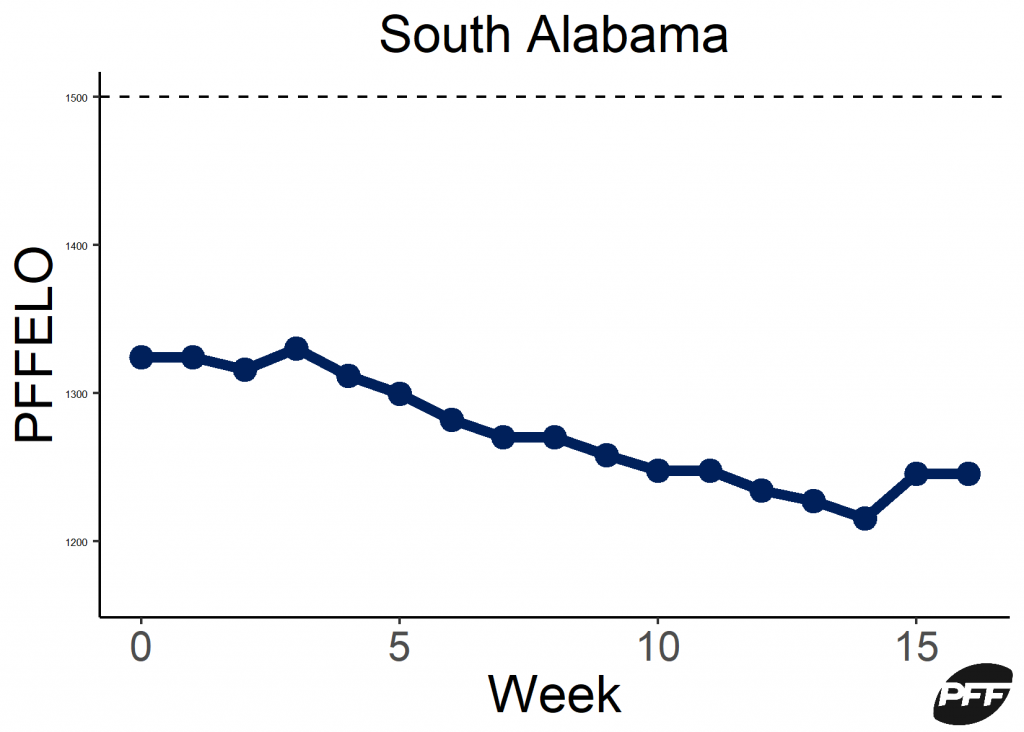 125) Bowling Green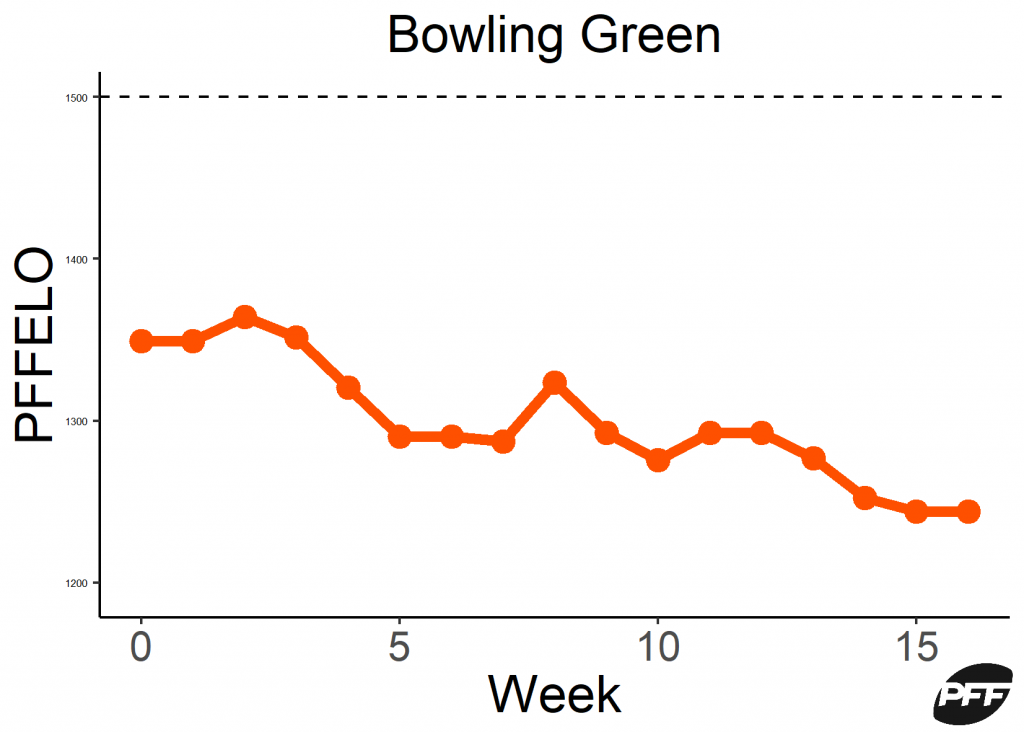 126) New Mexico State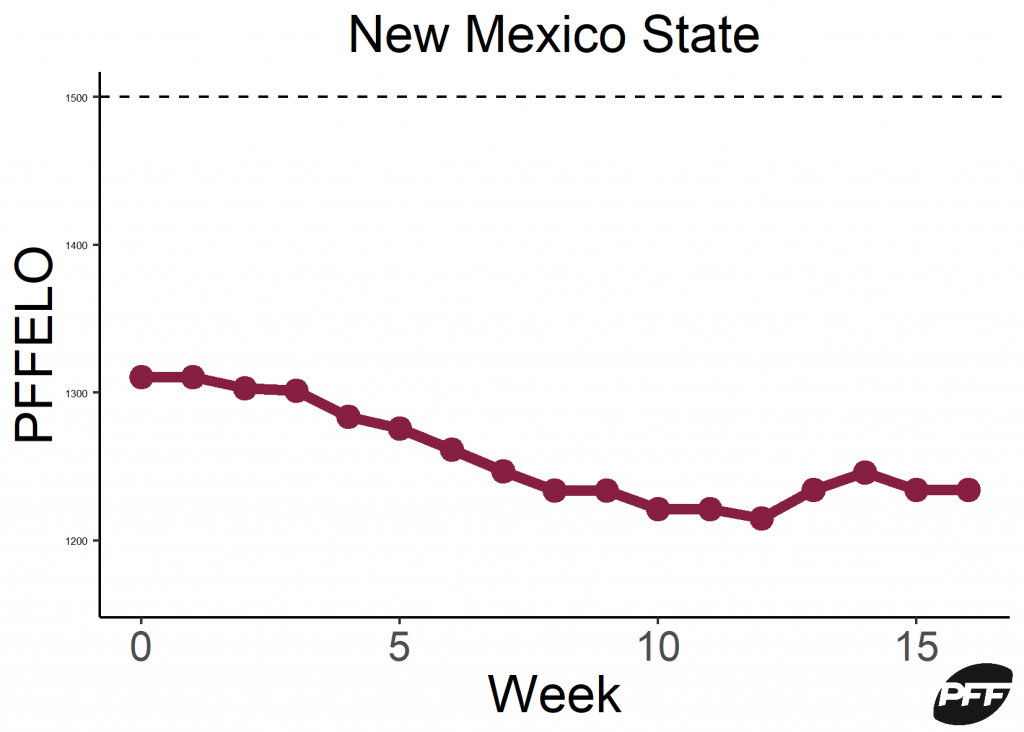 127) Old Dominion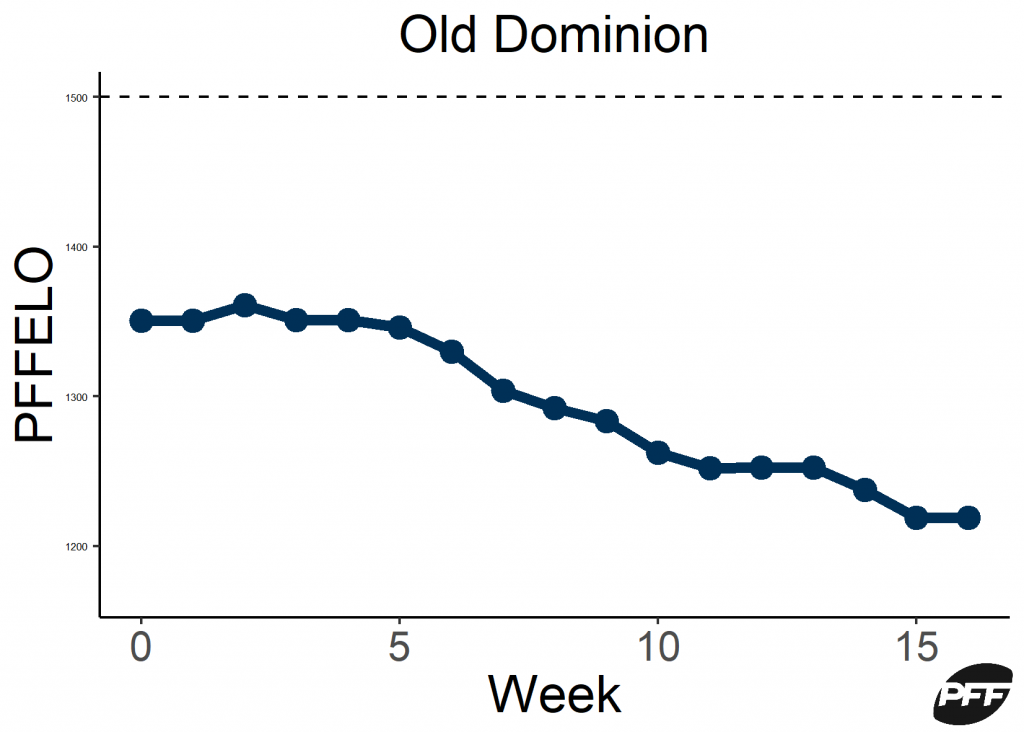 128) Massachusetts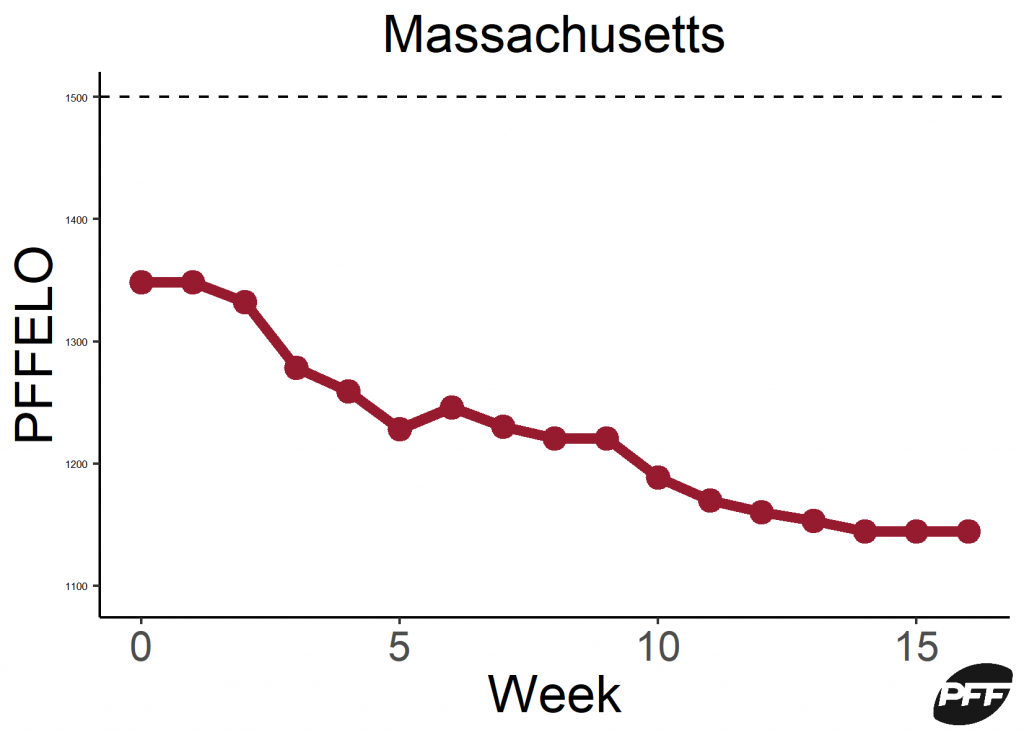 129) Akron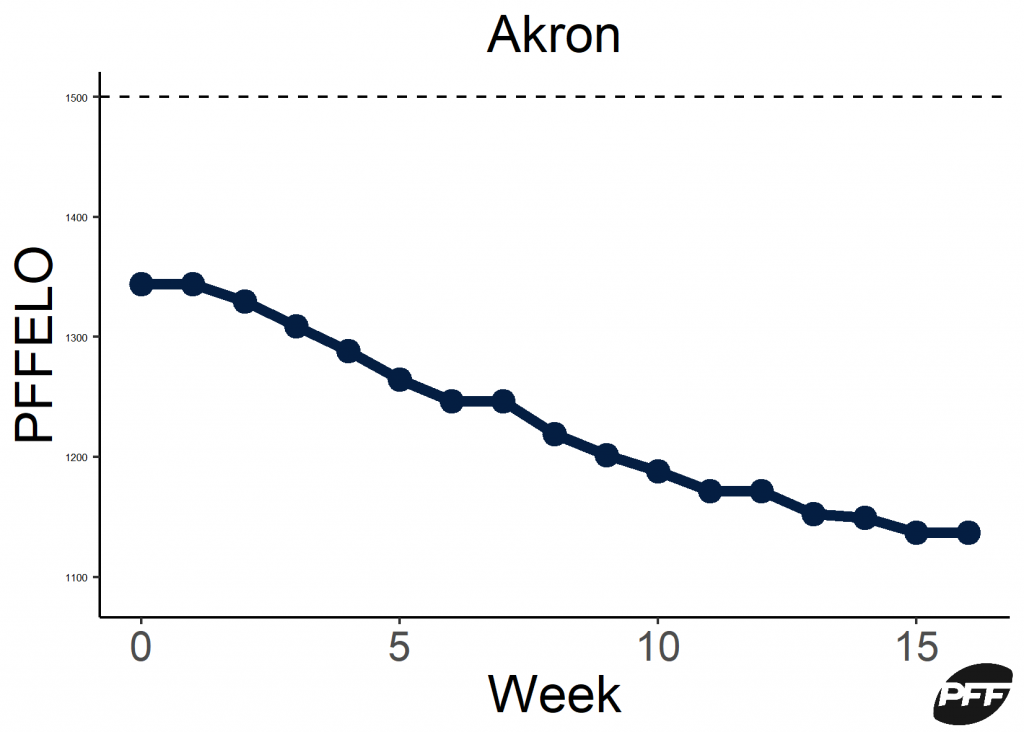 130) UTEP