Not every player on this list is a senior due to redshirt seasons or other factors, but each could have declared for the 2020 NFL Draft after last season but chose not to. These are the top 25 such players and how they can most improve their draft stock this fall.
[Editor's Note: Check out PFF's 2021 Mock Draft Simulator as well as 2020 NFL Draft grades for all 32 teams. And if you haven't already, be sure to pick up a copy of PFF's 2020 NFL Draft Guide by subscribing to PFF EDGE or ELITE.]
1. RB Travis Etienne, Clemson
Of everyone on this list, Etienne has by far the least to prove. He already showed he can be a factor in the passing game last season, going from 12 receptions in 2018 to 37 in 2019. If he would have declared for the 2020 NFL Draft, there's a good chance he would have been the first running back off the board. All we want to see is business as usual after he broke an absurd 91 tackles on 207 attempts as a junior — the best rate we've ever seen from a college back.
2. DI Marvin Wilson, FSU
Wilson is never going to be confused for Aaron Donald, as he's simply a comfortable tier below the elite NFL defensive tackle athletically. Middling athleticism isn't the death knell at defensive tackle, though. We've seen Danny Shelton and Derrick Brown both get selected early after putting up underwhelming numbers at the Combine. Both were near-unblockable in their final years in college, though. We need to see the dominance we saw from Wilson early last season, when he put up 20 pressures over his first four games, sustained over a full season for him to go in the top 10.
3. CB Caleb Farley, Virginia Tech
A back injury caused Farley to miss the final two games of last season, and his subsequent surgery likely contributed to his decision to return to Blacksburg. He's got NFL size for the position at 6-foot-2, 207 pounds and has reportedly run in the 4.3s. Oh, and he's also dominated on the field with a 90.3 coverage grade and a 26.8 passer rating allowed on 50 targets last season. We'd like to see him get some more reps in press coverage after doing so on only 105 of his 395 coverage snaps last season.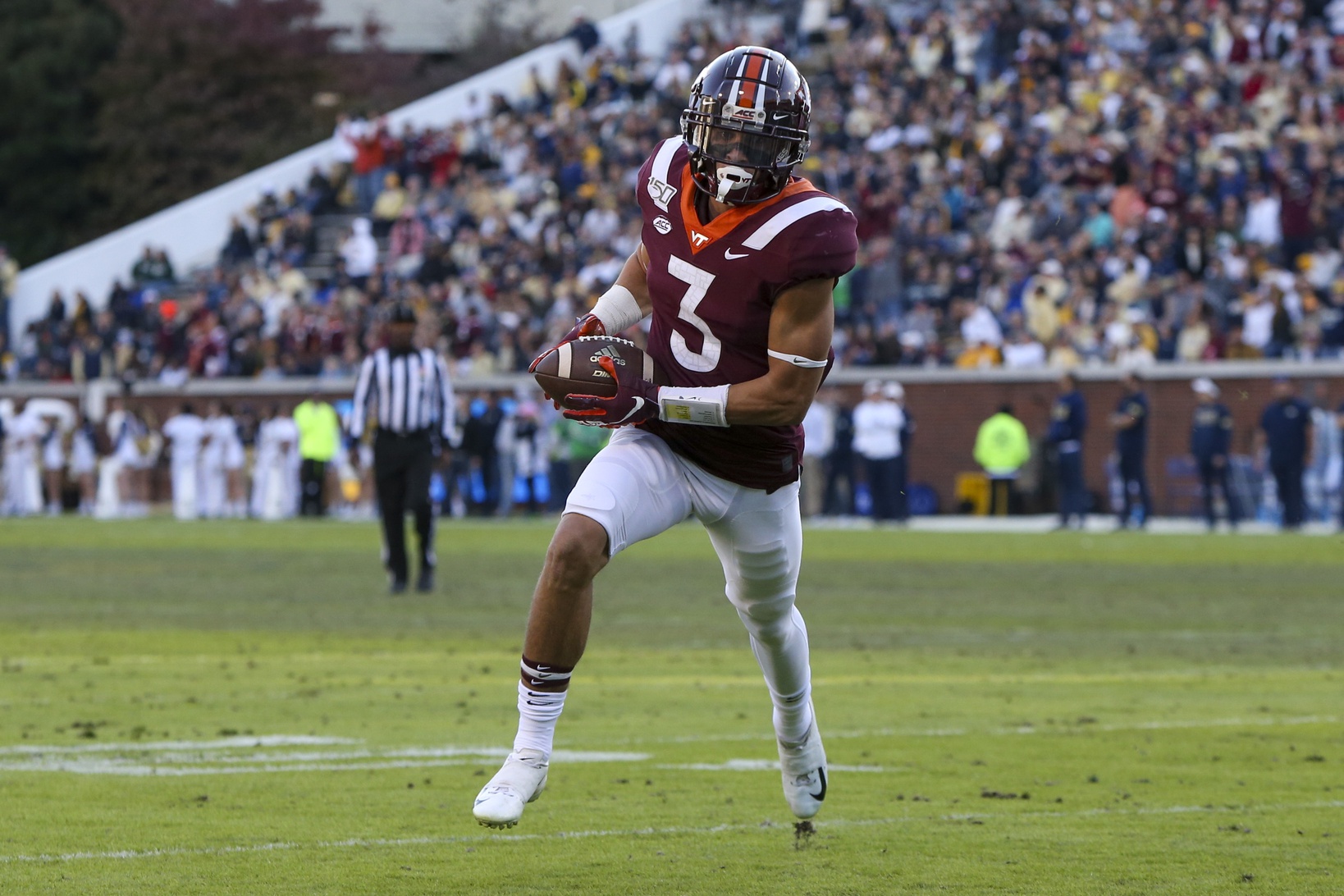 4. WR DeVonta Smith, Alabama
All Smith really needs to do to vault himself into the WR1 conversation is prove he can add some muscle to his frame. Being 6-foot-1, 175 pounds is a tough sell at the top of the draft — even with his elite speed. In a receiver room field filled with first-rounders, it was Smith who got the go-balls. He hauled in 10-of-16 deep targets for 416 yards to lead the Crimson Tide, beating highly coveted LSU cornerback Derek Stingley Jr. twice. If he adds the strength element to his game, look out.
5. OT Alex Leatherwood, Alabama
There's a chance Leatherwood would have been even higher on PFF's Big Board than teammate Jedrick Wills Jr. — who went 10th overall and was 11th on our board — had he declared last season. As far as pass protection goes, Leatherwood allowed fewer pressures last season (10 compared to 13). However, it was his first season at tackle after switching from guard in 2018. We need to see him take his play strength up a notch to solidify his OT2 status behind Penei Sewell next year.
6. TE Pat Freiermuth, Penn State
Freiermuth was only a sophomore last year but was technically draft-eligible because he reclassified after spending an extra year at prep school in 2017-2018, so we included him. He's been tabbed as "Baby Gronk" by some, and while those are unfair expectations, the stylistic comparisons are there. He's already a jumbo 6-foot-5 and 260 pounds and eschews making defenders miss for running through them entirely. He broke nine tackles on 43 receptions last season. It would be nice to see more downfield production in 2020 after he averaged only 11.8 yards per catch last year.
7. ED Carlos Basham, Wake Forest
Basham shows flashes of dominance, but with his absurd get off at 6-foot-5 and 275 pounds, he is still only scratching the surface. While he earned a 90.0-plus pass-rushing grade last season and had two games with double-digit pressures, we still need to see more game-to-game consistency. Basham gets a little too cute at times instead of sticking with what works: power. His bull-rush can be an every-down weapon with his explosiveness if he can perfect it.
8. LB Dylan Moses, Alabama
Moses tore his ACL before his 2019 season even started, making his draft decision an easy one. He is an uber-athlete who the NFL would have likely still coveted highly if he had declared, though he was far from a perfect prospect on tape. He earned only a 48.7 coverage grade in 2018, as he was more of a cleaner-upper in coverage than a playmaker. He didn't have a single pass breakup or interception, and that's something we need to see more of in 2020.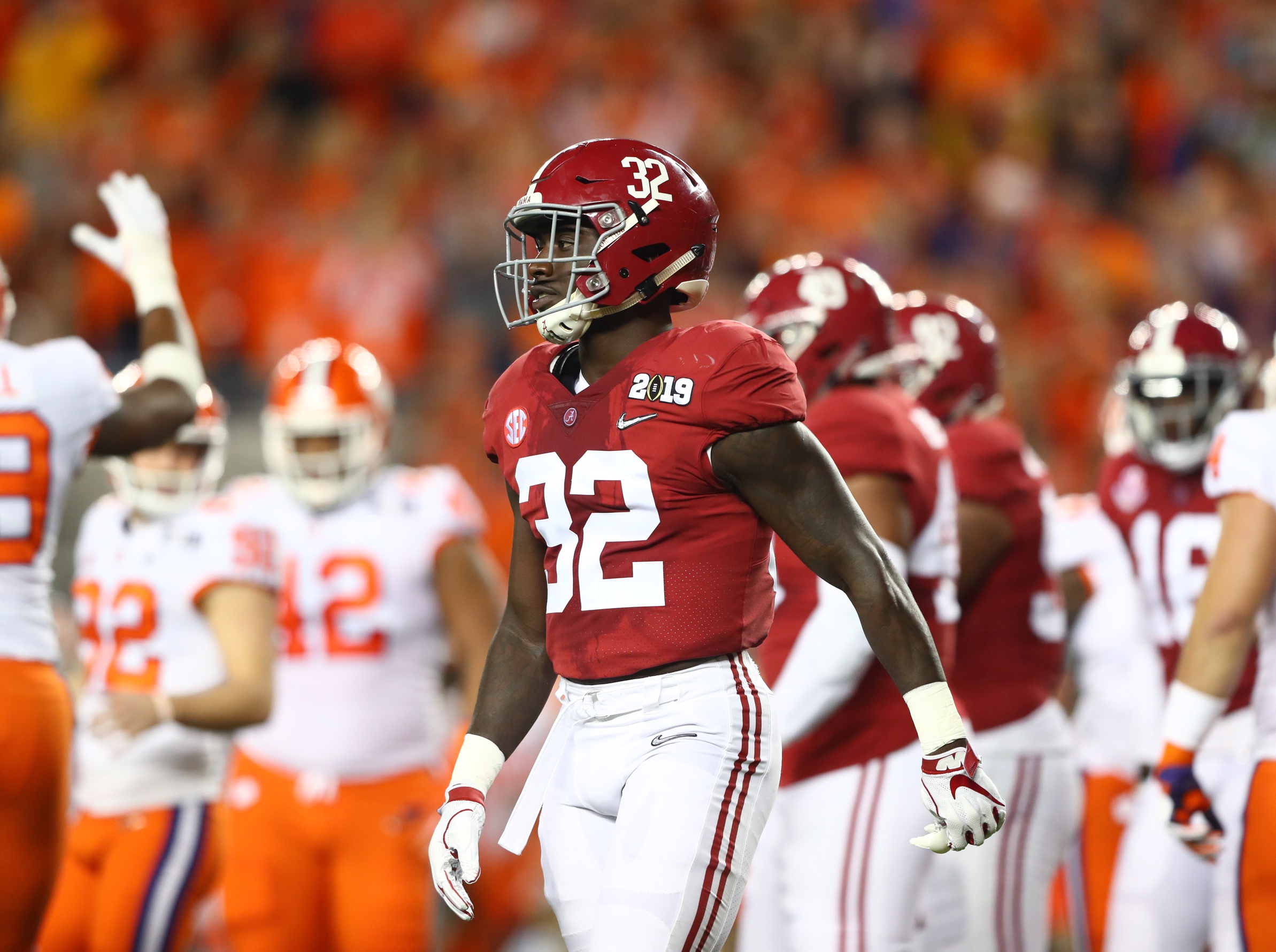 9. IOL Wyatt Davis, Ohio State
Davis would have likely been a second-round grade for us had he declared last season. He and Jonah Jackson formed the top guard tandem in all of college football last season. Davis didn't allow a single sack or hit on 459 pass-blocking snaps. There's not much he has to prove in our eyes, as continued technical improvement could boost him into the first round.
10. CB Shaun Wade, Ohio State
What Wade needs to prove in 2020 is simple: show he can hold up at outside corner. He's played a grand total of 55 snaps on the outside in his career with the vast majority of his snaps coming from the slot for the Buckeyes. While he has the tools, that doesn't mean the transition will be an easy one.
11. OT Walker Little, Stanford
Little came into 2019 on a similar tier as Andrew Thomas and Tristan Wirfs in the conversation for OT1. Coming out of high school, in fact, it was Little who was heralded as the "freak" with the best SPARQ score of any offensive tackle recruit. His pass sets looked much improved in the one game we saw against Northwestern before a knee injury ended his 2019 season. Putting that on tape for a full, healthy season could vault him into the top 10.
12. ED Chris Rumph II, Duke
Rumph was pound-for-pound the best pass-rusher in the country last season. That statement is obviously helped by the fact that he was listed at only 225 pounds last year. Rumph's dad is the outside linebackers coach at Tennessee, and it shows. He's got a ton of different pass-rushing moves already and even flashed a bull-rush at his limited size. Rumph's 31.6% pass-rushing win rate was tops in the country (Chase Young's was 27.2%), and he capped off his season with a 14-pressure outing against Miami. If he can get his weight up into the NFL range, Rumph should be a first-rounder.
13. WR Tylan Wallace, Oklahoma State
Wallace tore his ACL against Iowa State last year after he'd accumulated 895 yards through eight games. He took his after-the-catch ability to another level, averaging 9.8 yards after the catch per reception and breaking 13 tackles on 53 catches. Adding some strength to his game and refining his route-running at the intermediate level will be keys to watch this upcoming season.
14. IOL Trey Smith, Tennessee
Smith's offseasons have been torpedoed due to blood clots in his lungs that have put his playing career in jeopardy. He was cleared to play on the eve of the 2019 season and understandably struggled out the gate. From Week 8 on, though, Smith was the second highest-graded Power-5 guard in football. Finally getting a full, healthy offseason should do wonders for his game and his draft stock.
15. OT Sam Cosmi, Texas
Cosmi has all the tools necessary to be strong in pass protection in the NFL, but his play strength has to improve. We saw him go from 25 pressures allowed and an 82.8 pass-blocking grade as a redshirt freshman at right tackle in 2018 to 14 pressures and an 86.0 pass-blocking grade this past season at left tackle. He still failed to hold up to better bull-rushers too often, and it likely played a factor in his decision to return.
16. WR Sage Surratt, Wake Forest
Surratt had a massive breakout campaign in 2019 that saw him haul in 65 balls for 1,006 yards and 11 scores in nine games before a shoulder injury ended his season. Listed at 6-foot-3, 215 pounds, Surratt is one of the most physical receivers in the country and broke 17 tackles after the catch last year. He's very much on the slow end for the position, though, so anything he can do to add a little juice to his game downfield would go a long way.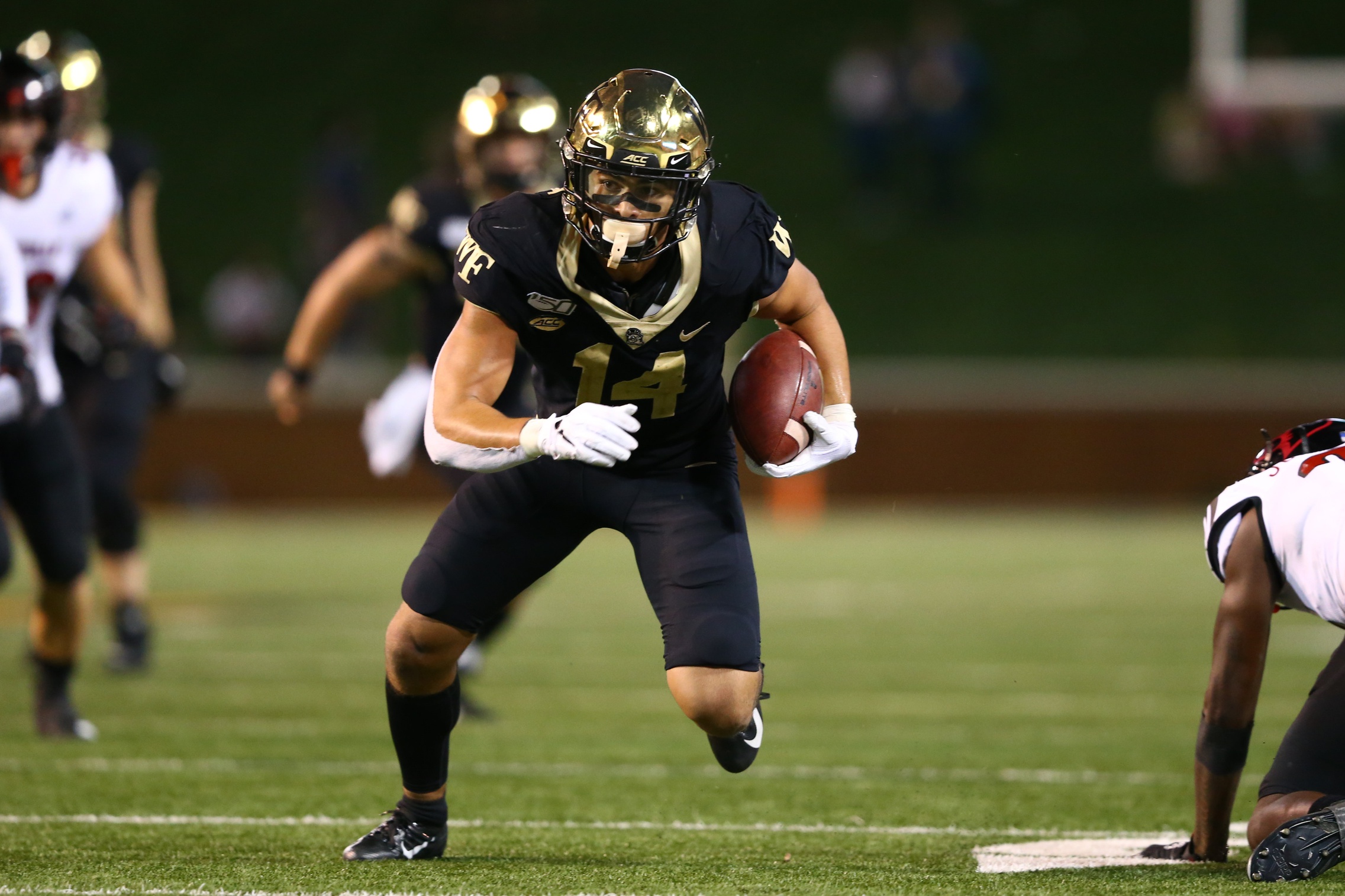 17. RB Trey Sermon, Ohio State
Outside of Travis Etienne, it's likely Sermon who has the best balance of the running backs in this class. On 336 career carries at Oklahoma before transferring to Ohio State this offseason, Sermon broke 113 tackles. At 6-foot, 221 pounds, he can not only run through you, but also make you miss. He's never had more than 162 carries and 16 receptions in a single season for his career, so proving he can handle a heavy workload in both areas will be a plus for his stock.
18. DI Levi Onwuzurike, Washington
We had high hopes for Onwuzurike in 2019 as he transitioned from a rotational role that saw him earn a 91.0 run-defense grade and 82.5 pass-rushing grade in 2018. Unfortunately, Onwuzurike failed to take any sort of next step, earning only an 81.0 run-defense grade and 78.6 pass-rushing grade on 504 snaps in 2019. We still saw the flashes of dominance, but with his physical tools, we'd like to see that be a weekly occurrence.
19. IOL Creed Humphrey, Oklahoma
Humphrey is probably still having nightmares about the BIg-12 championship game that saw him get routinely overpowered by Baylor nose tackle Bravvion Roy. He allowed five pressures in that contest and earned a paltry 8.3 pass-blocking grade. That game likely contributed to his decision to return to Oklahoma, as it became clear he needed to add some play strength to his frame. There's no shame in admitting that as a redshirt sophomore last year at a position that's based so much on power.
20. RB Najee Harris, Alabama
There's one big thing keeping Harris from being in the top running back conversation: speed. The Alabama senior is an ox at 6-foot-2, 230 pounds and has unsurprisingly been difficult to tackle over his career. He's broken 96 tackles on 326 attempts over the past two seasons. Harris also showed great hands in 2019 — most notably his back-shoulder score against LSU — and can be a weapon in the passing game. His big-play ability will be severely limited in the league, though, with what looks like 4.6-second speed on tape.
21. QB Jamie Newman, Georgia
Newman's numbers last season came and went with the other Wake Forest prospect on this list. In the nine games with receiver Sage Surratt healthy, Newman earned a 90.6 overall grade. In the final four games without Surratt, that dropped to 60.5 overall. One of Newman's greatest strengths was his ability to put the ball accurately on receivers downfield in contested situations, and that part of his game disappeared without someone like Surratt he could trust to make plays. We'll see if sophomore George Pickens can be that guy for him this year after transferring to Georgia.
22. S Richard LeCounte, Georgia
LeCounte was a five-star recruit coming out in 2017 and earned a starting job as a sophomore. Since then, he's earned coverage grades of 84.1 and 83.5 in 2018 and 2019, respectively. I'm not sure he'll be able to "fix" some of his biggest knocks in the eyes of the NFL, though. He's undersized for a safety at 5-foot-11, 190 pounds and lacks ideal length. But with his speed, agility and instincts on the back end, we're not too worried about it.
23. ED Quincy Roche, Miami (FL)
Roche's to-do list is simple: pack on the muscle. Listed at 6-foot-4, 235 pounds last season, Roche was able to get by against AAC competition, but that won't fly as much in the ACC and definitely won't in the NFL. He earned a dominant 93.3 pass-rushing grade with 68 total pressures at Temple last year. Maintaining that production at Miami could see him fly up boards.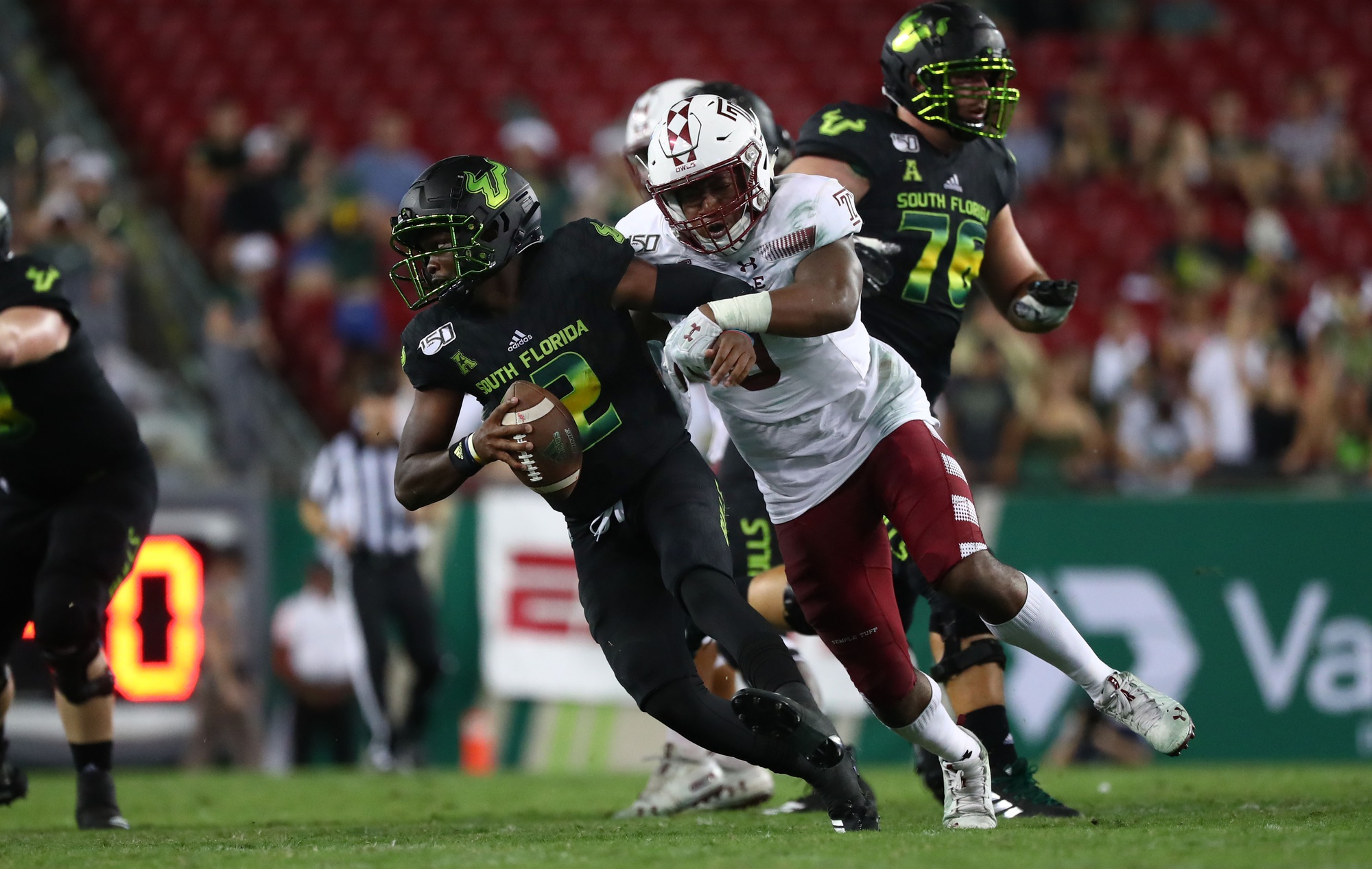 24. WR Tamorrion Terry, FSU
For a taller wide receiver, Terry can straight up scoot. With his long legs, Terry sails past cornerbacks downfield when he gets up to top speed. In his two years starting for the Seminoles, he's averaged 20.3 yards per reception and broken 15 tackles on 95 catches. He came on strong toward the end of last season, as well, with 542 yards over his final four games. Cleaning up some drop issues that saw him miss 11 of 106 catchable targets in his career and adding some muscle are two areas where he needs to show improvement in 2020.
25. CB Elijah Molden, Washington
Molden may be a slot-only player in the NFL, but he'll be a darn good one. In that role for the Huskies last season, he broke up 10 passes, picked off four more and earned a 90.9 coverage grade on the season. NFL teams will love his willingness as a tackler. He led all cornerbacks in college football last year with 33 stops and missed only nine tackles on 90 attempts.