We may be months away from the 2020 college football season and even further from the 2021 NFL Draft, but the evaluation process never stops here at PFF. Call them way too early, call them meaningless, call them whatever you want — here's where we stand with our positional rankings heading into 2020.
[Editor's note: Subscribe to PFF ELITE today to gain access to PFF's Premium Stats and new Player Grades experience in addition to the 2020 NFL Draft Guide, 2020 Fantasy Rookie Scouting Report, PFF Greenline, all of PFF's premium article content and more.]
Quarterback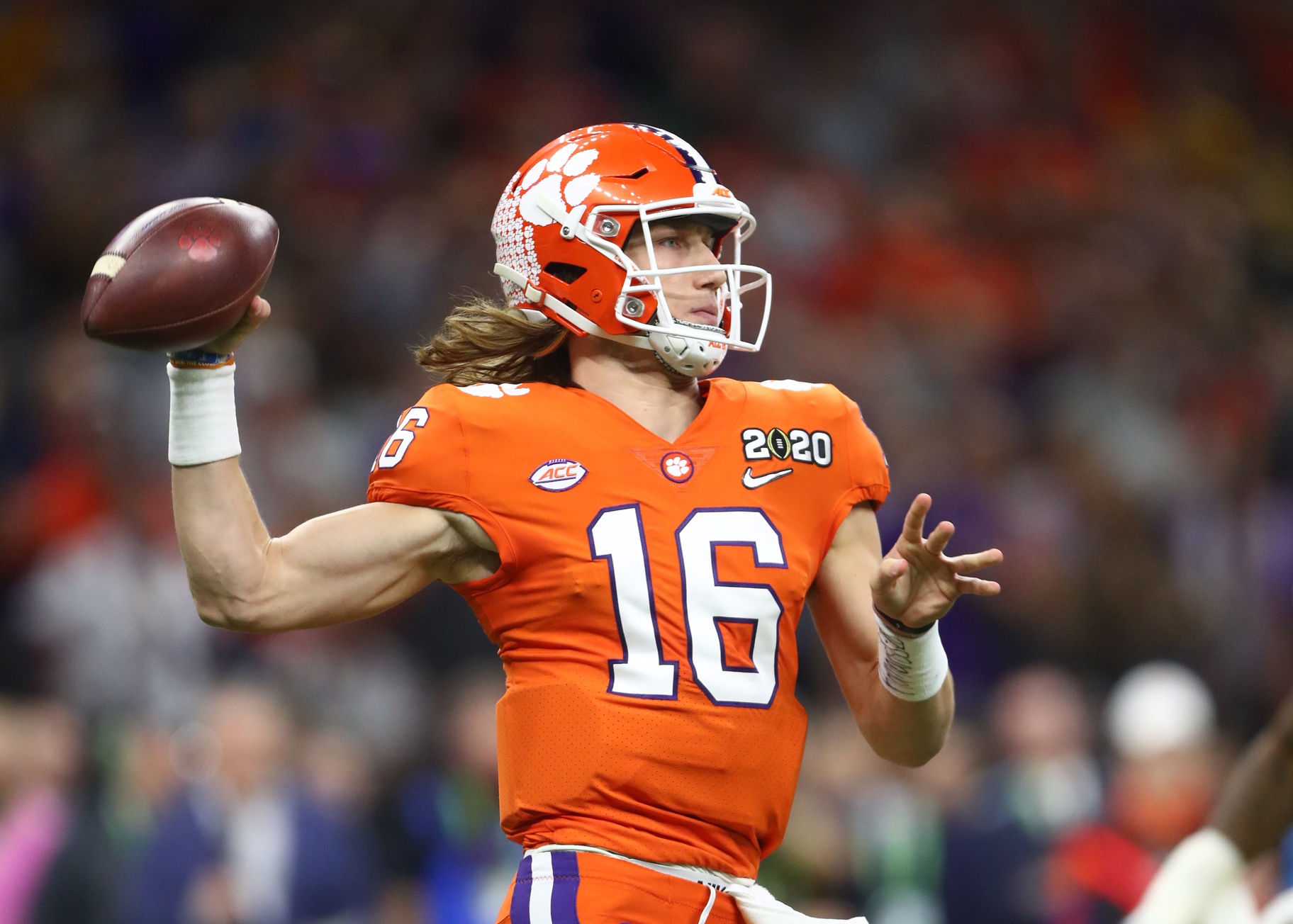 1. Trevor Lawrence, Clemson
Even after the little blip at the beginning of 2019, Lawrence has started off his college career in a manner unparalleled in college football with overall grades of 90.7 and 91.0. He can bury you so many ways and is even a threat with his legs, as he broke 22 tackles on 62 carries last season.
2. Justin Fields, Ohio State
We haven't seen many more impressive breakout campaigns than Fields' 2019 campaign. He earned a 91.5 overall grade and ranked second in college football with 34 big-time throws. Fields operated far more down the field than Dwayne Haskins ever did, with an average depth of target of 12.6 yards.
3. Trey Lance, North Dakota State
From a tools perspective, Lance is right up there with Lawrence and Fields. He has an easy cannon and went for over 1,000 yards on the ground at 6.9 yards per carry with 4.7 coming after contact. He also protected the football extremely well, with no picks and only four turnover-worthy plays on the year.
4. Brock Purdy, Iowa State
Purdy is yet another third-year quarterback who has been balling since Day 1. His 88.0 passing grade as a true freshman ranks second to only Lawrence since 2015. He took a bit of a step back in 2019 to 82.8 but also lost his best playmaker in Hakeem Butler. With a distinct lack of talent around him at Iowa State, Purdy has elevated the offense using both his arm and his legs.
5. Jamie Newman, Georgia
PFF's entire top five are dual threats who can beat you in the run game. Newman went for 712 yards on the ground last year for Wake Forest. His ball placement downfield is exceptional, and he's one of the best bucket throwers in the class. He'll get to operate more pro dropback concepts this upcoming season at Georgia against better competition after transferring during the offseason.
Running Back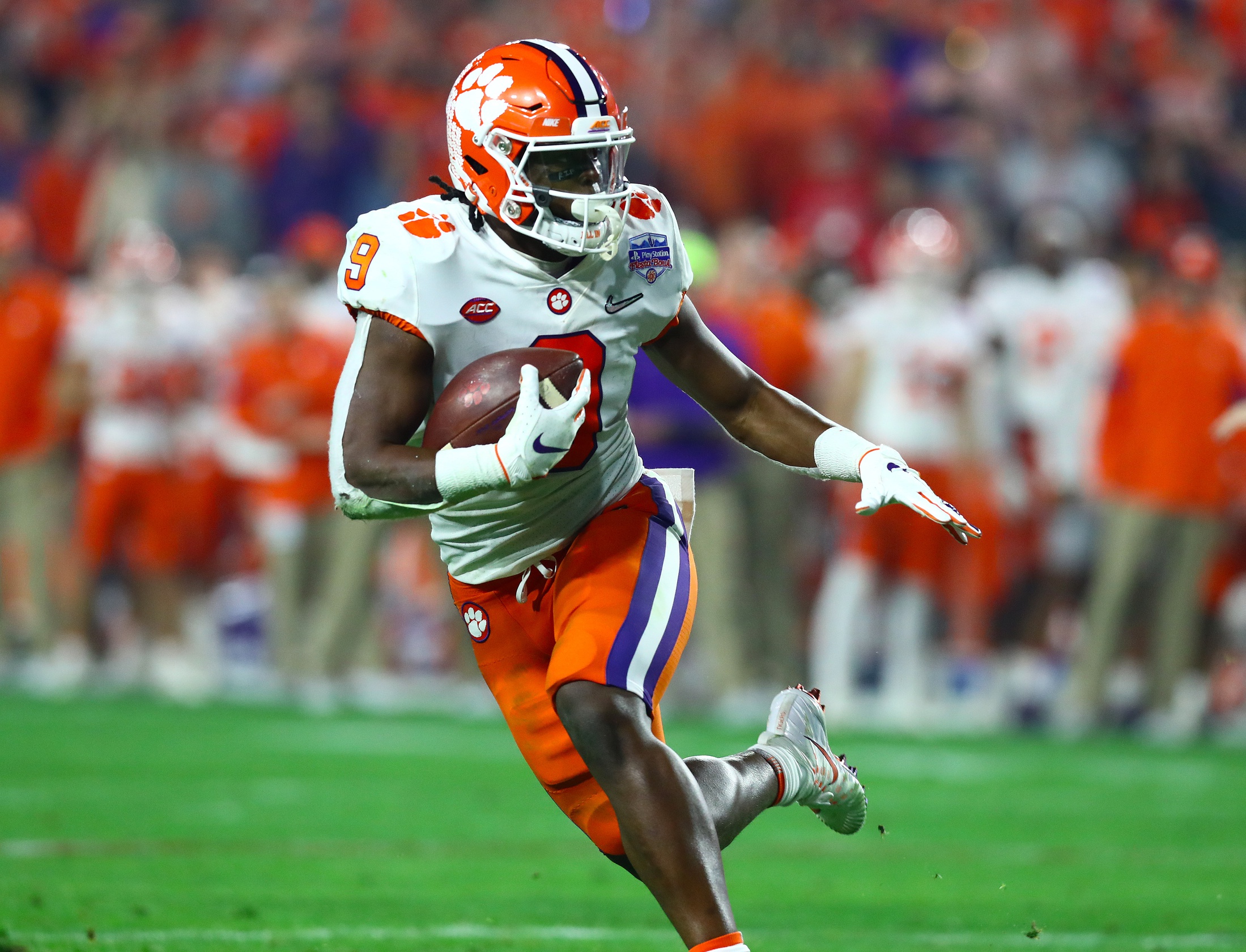 1. Travis Etienne, Clemson
Etienne would have been RB1 for PFF had he declared last season, but he returns for one last ride with the Tigers. He's coming off the single most elusive season we've seen from a college back, with 91 broken tackles on only 207 carries. He also got much more involved in Clemson's passing attack last season, hauling in 37 of 40 targets for 433 yards and four scores.
2. Trey Sermon, Ohio State
Sermon didn't fall out of favor at Oklahoma and eventually transfer to Ohio State after last season because he lacked ability. The rising senior averaged 7.1 yards per carry and broke 17 tackles on 54 attempts last season. That's a year after he broke 57 tackles on 162 attempts in 2018. He's got the size (6-foot, 221 pounds) to be an every-down back and is just as comfortable running through a defender as he is making people miss.
3. Chuba Hubbard, Oklahoma State
Hubbard is only listed at 6-feet tall and 201 pounds, but he plays far bigger than the listed size suggests. He's more than willing to run between the tackles and is extremely decisive in his running style. Hubbard carried a massive workload, with 328 carries and 77 broken tackles last season.
4. Najee Harris, Alabama
Harris has one glaring flaw: speed. He will not be outrunning anyone anytime soon. He will be running through you, though, and going over you to make catches if need be. Harris broke 59 tackles on 209 carries last season.
5. Zamir White, Georgia
White has an ideal size/speed combination for the position but to date hasn't been all that productive. He's only carried the rock 78 times in his career and averaged 5.2 per carry with 3.6 coming after contact. A larger workload in 2020 will shine much more light on him as a prospect.
Tight End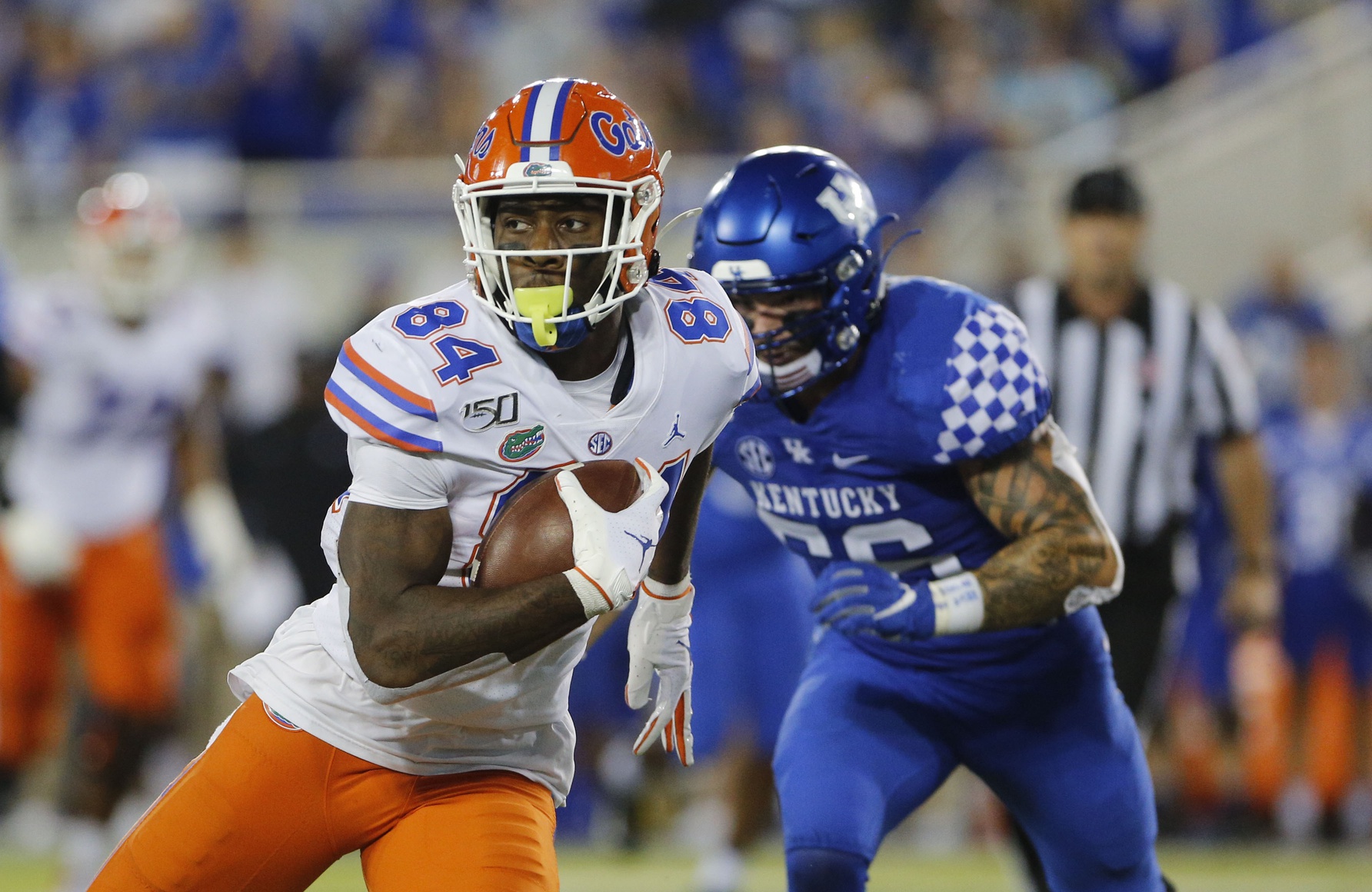 1. Kyle Pitts, Florida
Florida had three wide receivers taken in the 2020 draft, including Van Jefferson in the second round. Pitts had the most receiving yards of all of them. He still needs to get considerably bigger than his listed 240 pounds, but he's not even 20 years old yet. He consistently lined up out wide and still beat cornerbacks down the field.
2. Pat Freiermuth, Penn State
Freiermuth is a brute of a tight end at nearly 260 pounds. College defenders bounce off him left and right in a manner that has garnered comparisons to Gronk. Freiermuth is easily the most "complete" tight end in the class.
3. Brevin Jordan, Miami (FL)
Jordan is more athlete than complete tight end at this point, but the former is the difficult part to teach. He's only going to be a true junior and has been producing ever since he caught 32 passes for 287 yards and broke seven tackles as a freshman in 2018.
4. Charlie Kolar, Iowa State
Kolar had a whale of a breakout year in 2019 that saw him catch 51 passes for 697 yards and seven scores. His 90.3 receiving grade was the third-highest in the country last season. For his career, Kolar has dropped only two passes on 64 catchable targets.
5. Jake Ferguson, Wisconsin
Ferguson may not have the athleticism of the guys ahead of him on this list, but he's been consistently productive when called upon. He's caught 30-plus passes for 400-plus yards and broken 7-plus tackles in each of his two seasons as a starter.
Wide Receiver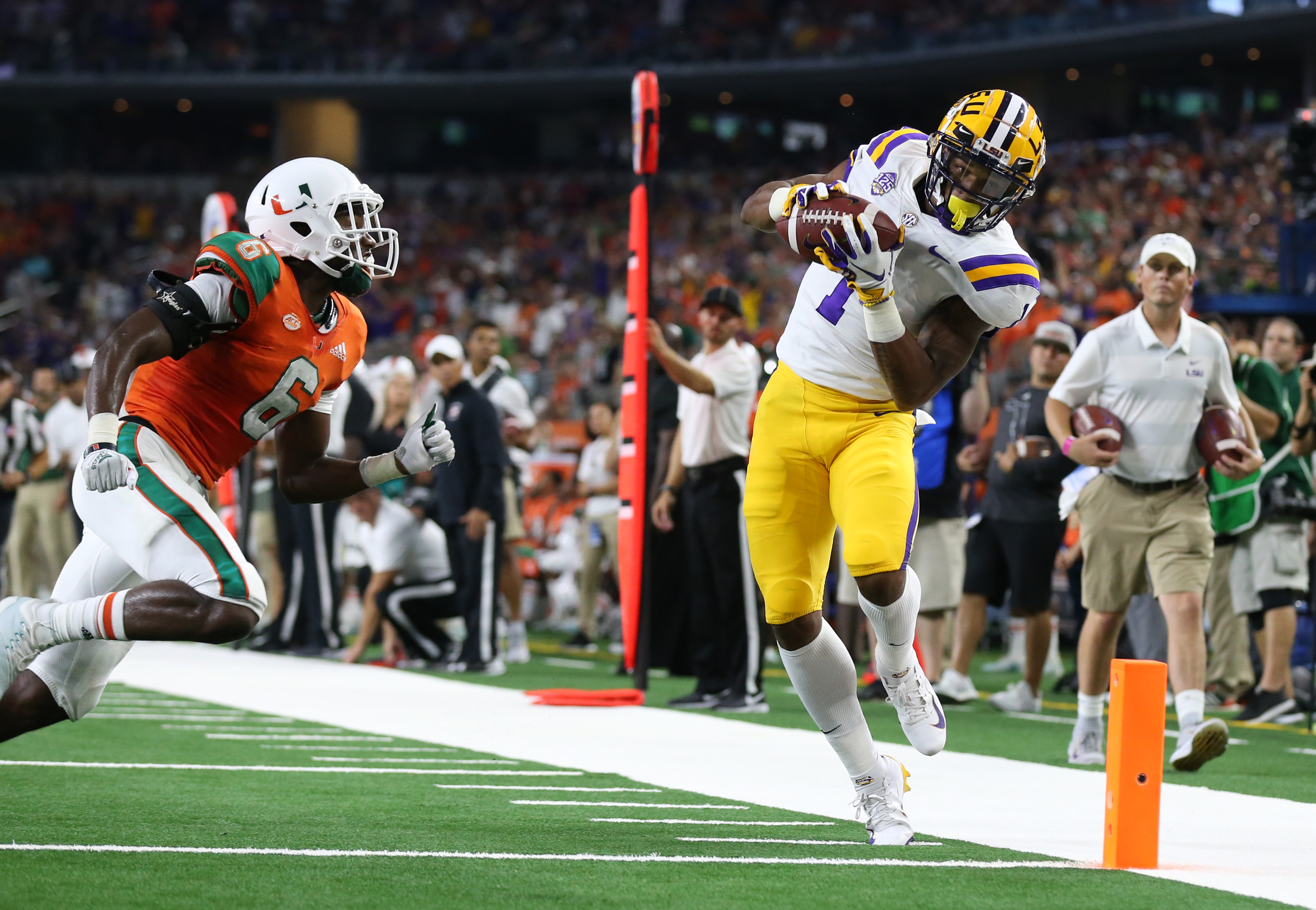 1. Ja'Marr Chase, LSU
Chase's 2019 season was statistically more outrageous than any we've seen from a true sophomore in our six years of grading college football. Maybe the most ridiculous is that he had 10 more deep catches (24) than any returning receiver in college football. His physicality is special for a rising junior.
2. Rondale Moore, Purdue
There are players who are electric with the ball in their hands in college football, and then there's Moore in a tier above them all on his own. He led college football with 37 broken tackles on 114 catches in 2018 and had seven broken on 29 catches for 385 yards before going down for the season in Week 4 last year. He's everything you want in a modern slot receiver.
3. Jaylen Waddle, Alabama
Waddle's play speed is up there with any receiver in the country. He simply couldn't see the field in a loaded Alabama receiving corps as a sophomore last season. Waddle earned a perfect 158.3 passer rating when targeted and averaged an astonishing 12.2 yards after the catch per reception.
4. Rashod Bateman, Minnesota
The Golden Gophers had one of the nation's top receiving corps in 2019, and it was Bateman who did the heavy lifting from the outside. He consistently won in the area that matters most: downfield. His average depth of target was 16.7 yards downfield, and he averaged 20.3 yards per reception.
5. Amon-Ra St. Brown, USC
St. Brown is a crafty and fluid route-runner who also had to split targets in a loaded USC receiving corps. He caught 60 balls for 750 yards as a true freshman and followed that up with 77 catches for 1,042 yards last year. While he's been primarily a slot the past two years, he has the suddenness and athleticism to win from the outside.
Offensive Tackle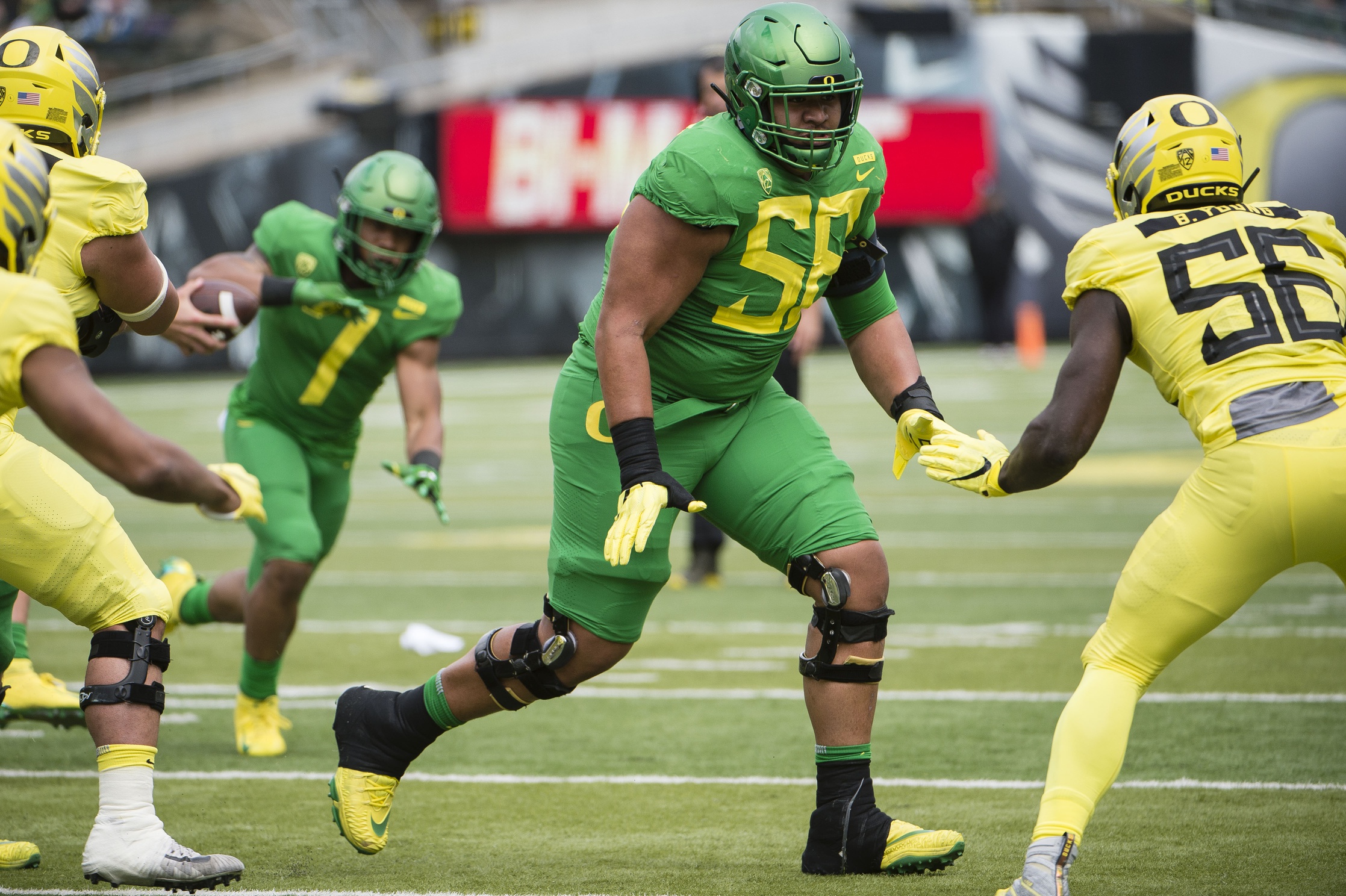 1. Penei Sewell, Oregon
Sewell is a rare dude. He can do things at the position other offensive tackles can only dream of. As a true sophomore, he led the entire country with a 95.8 overall grade. Sewell is as dominant a college offensive tackle as we've ever graded and he's not even 20 years old.
2. Alex Leatherwood, Alabama
Leatherwood isn't nearly the athlete as his former teammate Jedrick Wills Jr., but he's already far more fluid in his pass sets. He only allowed nine pressures last season and no sacks. Leatherwood is far from a people-mover in the run game, though, and may never be much of an impact player in that regard.
3. Walker Little, Stanford
Little went down for the season after sustaining a knee injury in Week 1 against Northwestern. He had cleaned up the hitch from his pass sets we saw as a sophomore back in 2018 and looked poised for a monster season. He's very explosive off the ball, but we need to see a bigger sample size of pass-blocking proficiency.
4. Samuel Cosmi, Texas
Cosmi could have declared after his redshirt sophomore season in 2019, but the loaded tackle class and some play-strength concerns caused him to return. Cosmi just needs to get stronger, as he had issues with bull-rushes at times in 2019. That's a no-go for a top tackle prospect and something that could push him up our board if fixed in 2020.
5. Liam Eichenberg, Notre Dame
Eichenberg is an extremely solid, if unspectacular, tackle prospect. He saw his performance take a massive leap from his first to his second season as a starter. His pass-blocking grade went from 63.5 in 2018 to 85.6 last year and his run blocking grade from 60.8 to 78.8.
Interior Offensive Line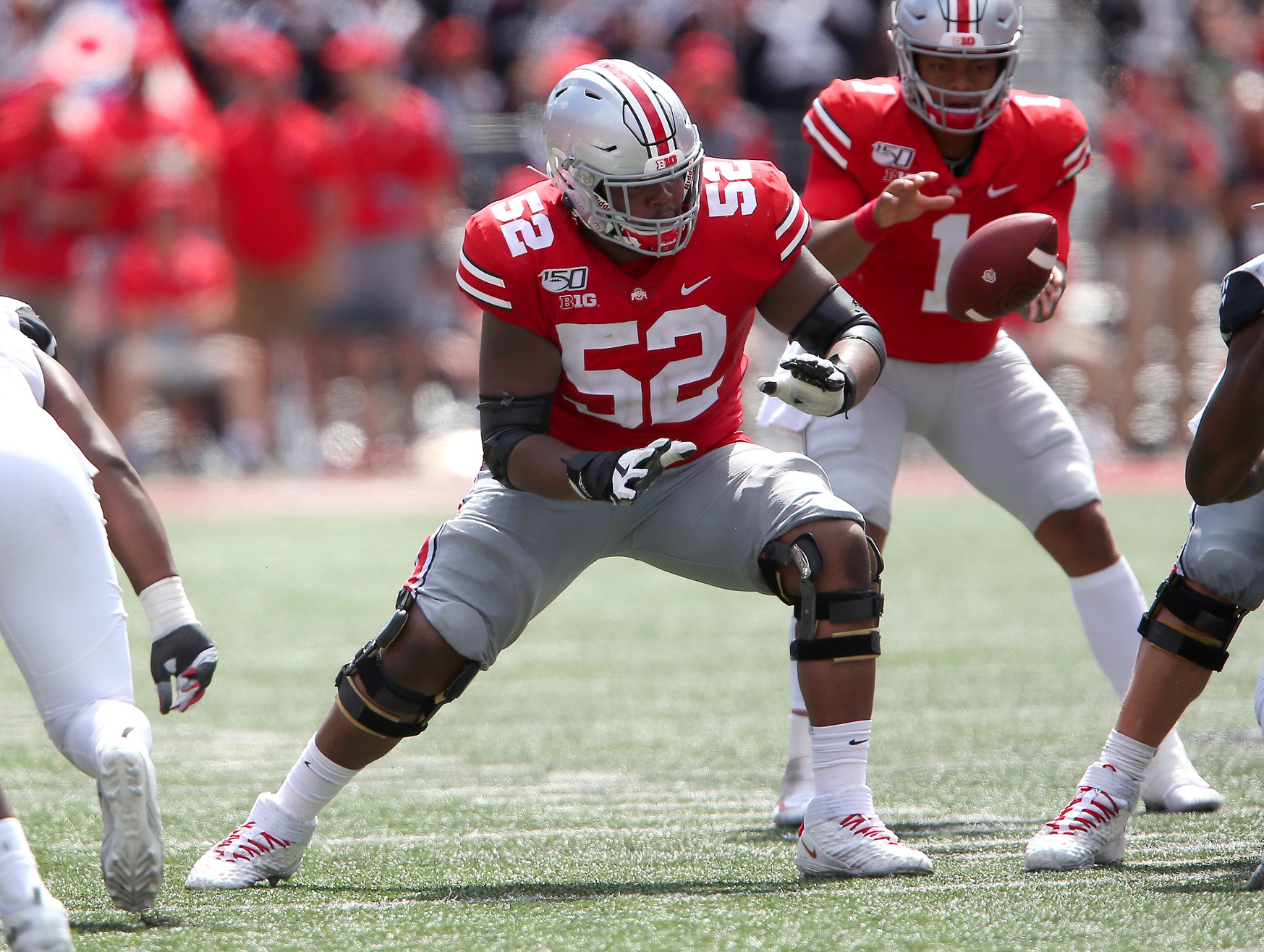 1. Wyatt Davis, Ohio State
Davis would have likely been given a similar-round grade as teammate Jonah Jackson had he declared after his redshirt sophomore campaign. Davis choose to return and is easily the most polished guard in the country. He didn't allow a single sack or hit on 459 pass-blocking snaps in 2019.
2. Trey Smith, Tennessee
Smith's career has been a bit of a rollercoaster. He had an impressive freshman campaign that saw him line up all over the Tennessee offensive line, but he has dealt with recurring blood clots in his lungs that have robbed him of playing time and development time in the offseason. Fully healthy and back at his more natural guard position last year, Smith looked the part down the stretch in 2019. He earned an 81.5 overall grade over his final eight games last season.
3. Tyler Linderbaum, Iowa
Linderbaum started his career along the defensive line at Iowa before quickly taking to the center position for the Hawkeyes. After making the switch after his freshman season, Linderbaum earned an 81.7 overall grade in his very first year at center. His get-off is as good any center in the country, and he does some incredible work in space.
4. Alijah Vera-Tucker, USC
Vera-Tucker is another uber-athletic interior lineman who can mirror with the best of them. He allowed seven total pressures on 590 pass-blocking snaps last season for the Trojans and only one on 80 pass-blocking snaps the year prior. He could stand to get a little stronger, but I'll bank on that improving.
5. Creed Humphrey, Oklahoma
Humphrey was much heralded heading into 2019 after a monster redshirt freshman campaign in 2018, but he put too much bad on tape last season to enter in the 2020 draft — specifically in the Big 12 title game when Baylor nose tackle Bravvion Roy ate him up for five pressures on the day. He needs a big bounce back in 2020.
[Editor's note: If you haven't already, be sure to check out PFF's 2021 Mock Draft Simulator. PFF's simulator gives you the opportunity to be the general manager of any NFL team; you can trade up or down, customize your big board and even decide how much the other teams draft for need and positional value. PFF's 2021 Mock Draft Simulator is Completely FREE to use and share.]
INTERIOR DEFENSIVE LINEMEN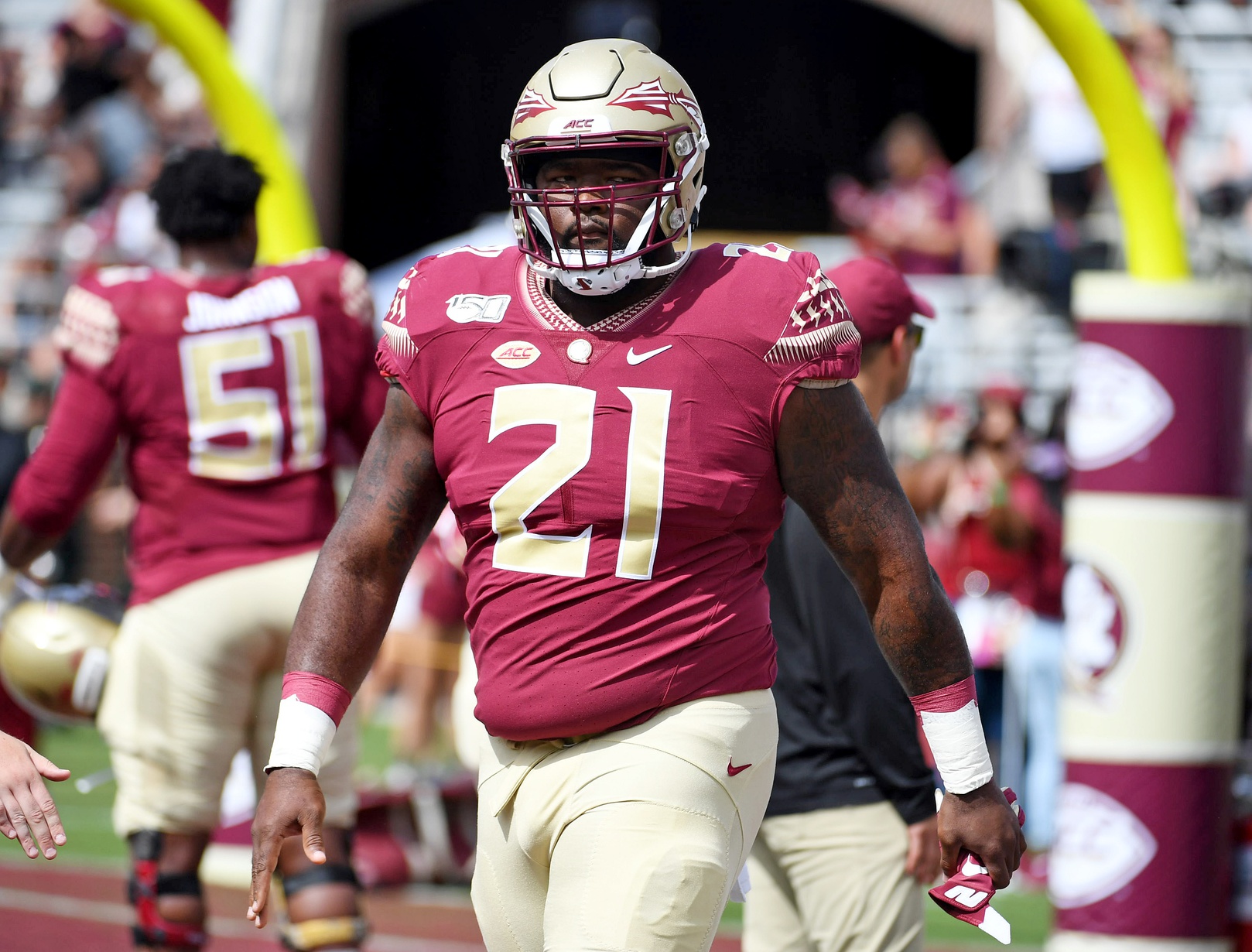 1. Marvin Wilson, Florida State
Wilson is quite easily the most productive returning defensive tackle in the country. He earned a 90.0 grade in 2018 as a sophomore and a 90.7 grade last season before a hand injury prematurely ended his season. He's a big-bodied hands-fighter who strung together moves as well as any defensive tackle in the country last year. However, his athleticism is a minor concern, and that may make it difficult for him to push into the top-10 come next year's draft.
2. Christian Barmore, Alabama
Barmore doesn't have a large body of work, but it is certainly a quality body of work — he earned an 87.8 overall grade on 269 snaps in 2019. He was a small part-time player early in the season before playing 30-plus snaps in each of Alabama's final four games. In those outings, he racked up 11 pressures and laid down lofty expectations heading into 2020.
3. Levi Onwuzurike, Washington
We had high hopes for Onwuzurike heading into a full-time role in 2019 after he had earned a 91.0 run-defense grade and an 82.5 pass-rush grade on 391 snaps the season before. While he didn't quite take his game to the next level, we still saw flashes of dominance. Onwuzurike finished with an 81.0 run-defense grade and a 78.6 pass-rush grade on 504 snaps last year. He's got a lightning-quick first step, though he still struggles to play with consistent leverage.
4. Cory Durden, Florida State
The other oddly numbered Florida State defensive tackle is fresh off a breakout sophomore campaign that saw him rack up 45 pressures and earn an 81.7 pass-rush grade. That's nearly identical to what we saw from Marvin Wilson as a sophomore back in 2018. Durden has proven to be a versatile piece and even lined up out on the edge on numerous occasions last season. We need to see him finish more plays, though, as he missed 15 tackles in 2019.
5. Darius Stills, West Virginia
Stills came on strong over the second half of 2019, with five pressures against Texas Tech and seven pressures against TCU. He's slightly undersized at 6-foot-1, 282 pounds, but he's very quick for the position and plays with great leverage.
EDGE DEFENDER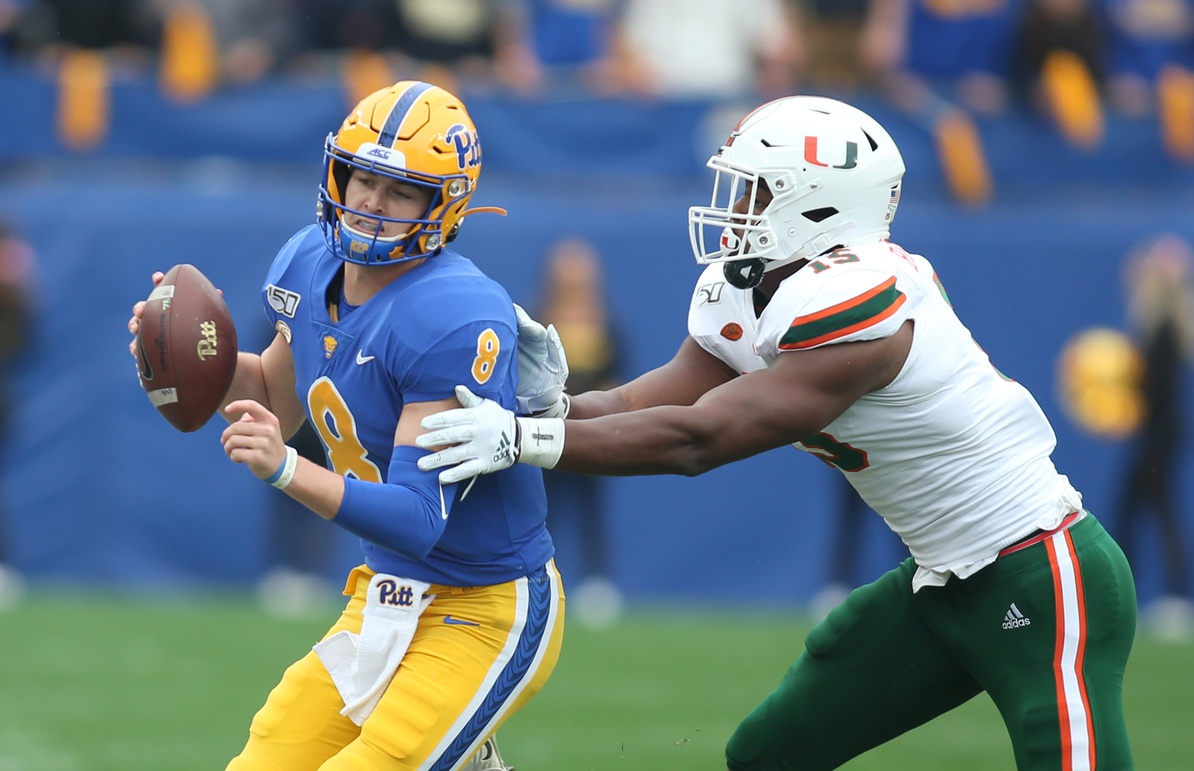 1. Gregory Rousseau, Miami (FL)
Rousseau's body type is as if someone put together ideal edge traits and then decided to take them a step farther — his combination of height and length is flat-out absurd. While his 16 sacks don't quite mesh up with his 80.7 pass-rush grade, both of those numbers are crazy when you realize they came in his first year actually starting along the defensive line. He's still only scratching the surface of what he could be.
2. Carlos Basham, Wake Forest
Once Basham realizes that he can overpower opposing offensive tackles at will … look out. At 6-foot-5, 275 pounds, Basham is a specimen off the edge with juice you rarely see at that size. All he needs is to get his bull-rush form consistent, and it's going to be unstoppable with his physical tools. He went from 52 pressures in 2018 to 60 this past season, earning a 90.6 pass-rushing grade in the process.
3. Chris Rumph, Duke
Rumph is on the opposite end of the spectrum from the two men above him on this list in terms of ideal physical tools. Listed at 6-foot-3, 225 pounds, Rumph is not close to NFL edge size yet. However, he makes this list because no one in college football comes close to Rumph's pass-rushing toolbox. At that size, he consistently got home with a bull rush and beat guards as an interior rusher. That never happens. He finished last season with the highest pass-rush win rate in all of college football — yes, higher than Chase Young's — at 30.8%. If he can add the weight, he can win in the league.
4. Aidan Hutchinson, Michigan
Hutchinson is a power end at 6-foot-6, 278 pounds, and he has a little outside/inside versatility to his game. He's a line-of-scrimmage mover in the run game and an exceptional hands-fighter as a pass-rusher. He gave Tristan Wirfs more fits than any other edge in the country and notched seven pressures against Iowa. He was a true sophomore last season and racked up 46 pressures and 28 run stops.
5. Xavier Thomas, Clemson
Thomas had an incredibly impressive freshman campaign that saw him rack up 26 pressures on only 150 pass-rushing snaps for an 84.2 pass-rushing grade. That talent didn't all of a sudden go away this past season, but Clemson's 3-1-7 defense neutered his pass-rushing opportunities. He was often contain-rushing on blitzes or rushing from the interior and managed only 26 pressures on 246 pass-rushing snaps. He's got a classic 4-3 defensive end body, and getting him back into a role that lets him play to his strengths would go a long way for his draft stock.
LINEBACKER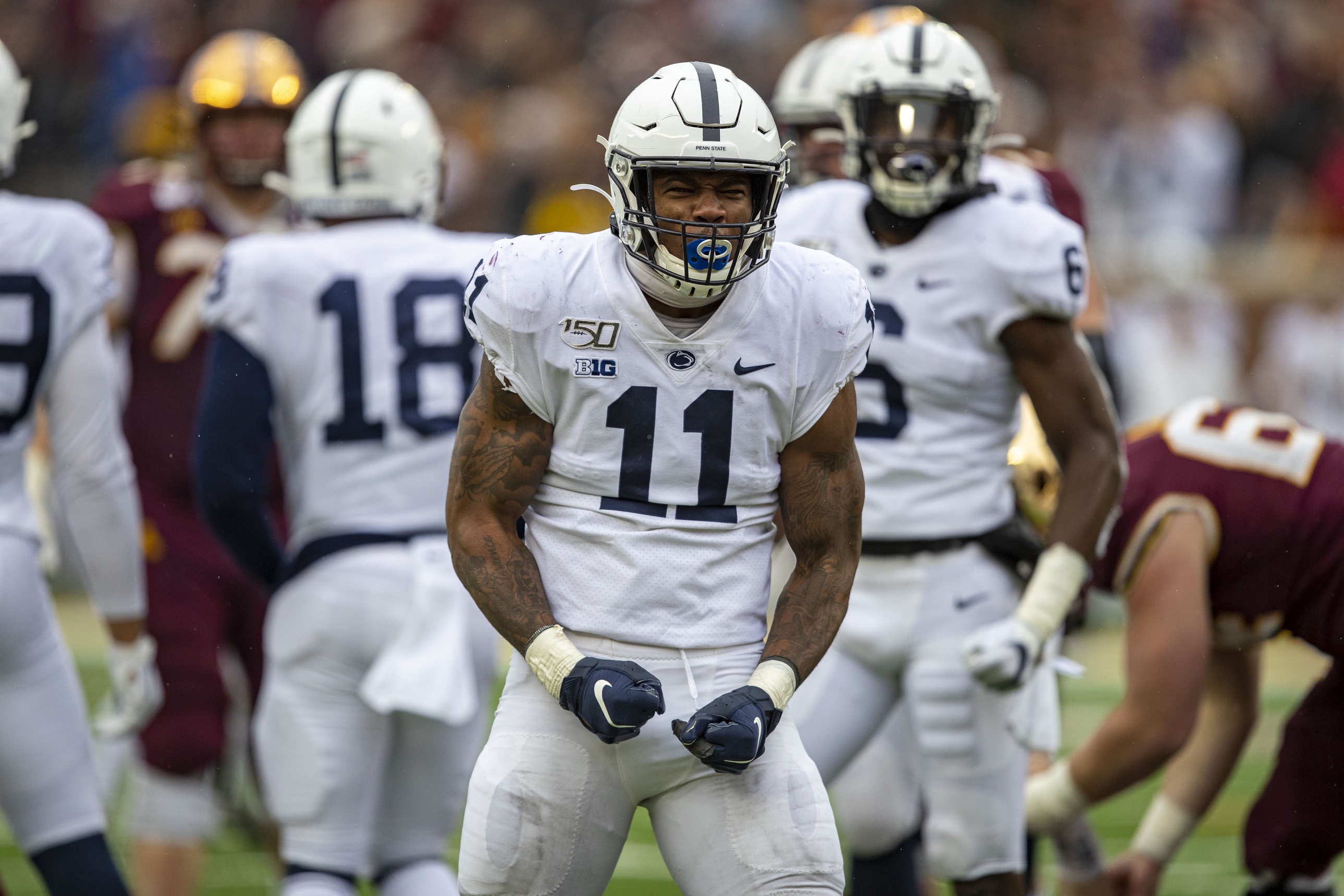 1. Micah Parsons, Penn State
Parsons is as complete a linebacker prospect as we've seen in our six years of grading at PFF. Tackling, taking on blocks, speed, coverage ability — you name it, Parsons can do it. We haven't quite yet seen playmaking ability in coverage (just four career pass breakups to date) to the degree we saw it from others in the past, but he was only a true sophomore in 2019 yet was already the highest-graded linebacker in college football.
2. Nick Bolton, Missouri
In his first season as a starter for the Tigers, Bolton had a monster 2019 campaign that saw him earn an 89.8 run-defense grade and 90.4 coverage grade. While he doesn't quite have the ideal size/length combo that Parsons has, Bolton isn't too far behind in the way he plays the game of football. The rising junior has proven to be extremely versatile in coverage and had two picks and eight pass breakups last season.
3. Dylan Moses, Alabama
Moses missed all of his junior campaign with a torn ACL. In terms of athletic tools, Moses is as freaky as any linebacker in the country. As a sophomore in 2018, though, they didn't quite translate to a ton of plays on the football field. He earned a 49.0 coverage grade and didn't get his hand on a single pass all season. His balance in the open field is extremely impressive, however, and he missed only four tackles on 84 attempts that season.
4. Chazz Surratt, North Carolina
Surratt played quarterback for the Tarheels as recently as 2018. In his lone season at linebacker in 2019, though, Surratt turned heads. He racked up 56 stops and 31 pressures on 101 pass-rushing snaps. If he can clean up his tackling that saw him miss 27 of 120 attempts, Surratt could be a first-rounder.
5. Jack Sanborn, Wisconsin
There's a clear delineation between the top four linebackers in this class and the next, but Sanborn proved no slouch in his first season as a starter in 2018. The sophomore earned an 83.7 coverage grade with three picks, three pass breakups and a 37.4 passer rating allowed in his coverage. He's still undersized at 6-foot-2, 230 pounds, though, and he needs to add some explosiveness to his game.
CORNERBACK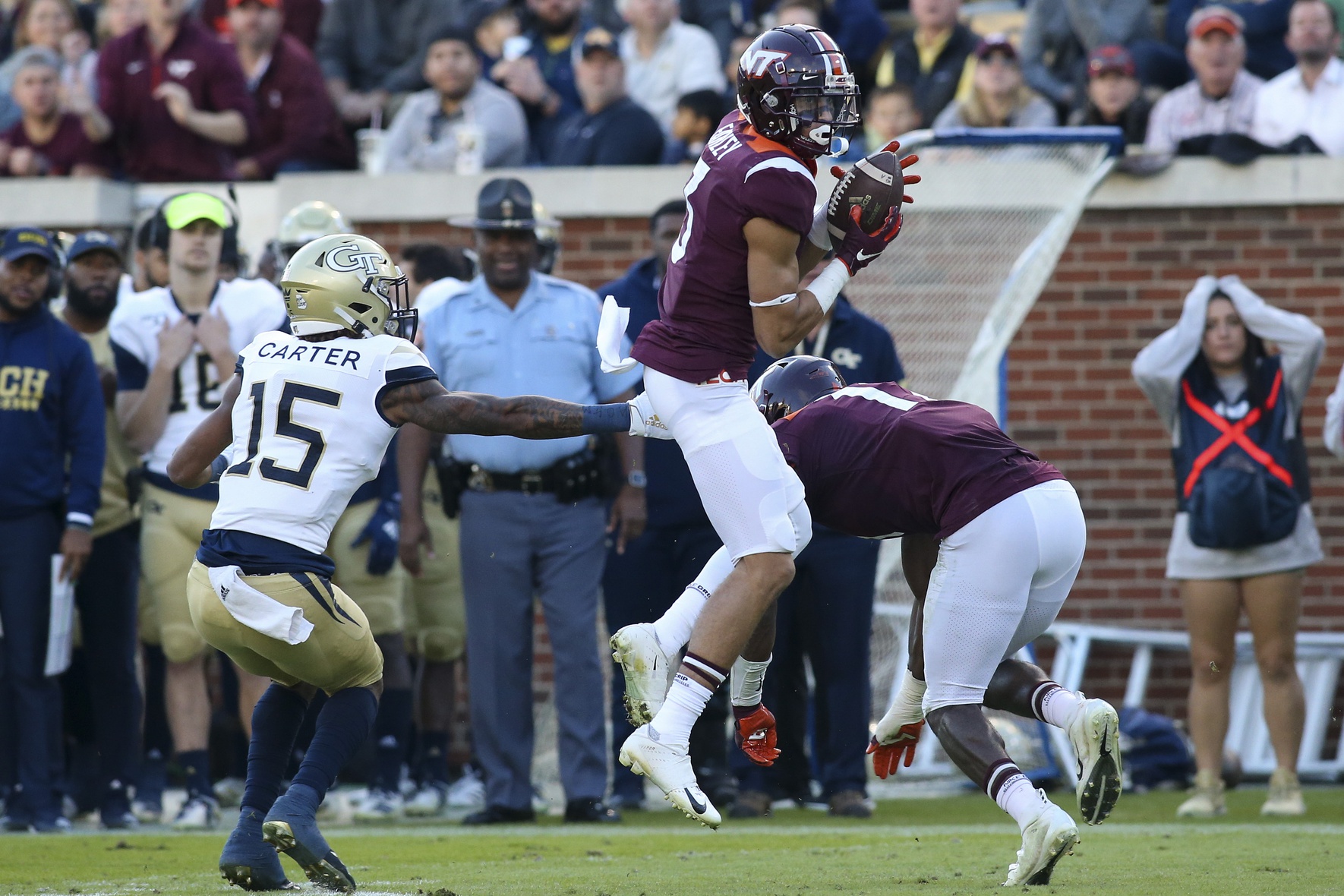 1. Caleb Farley, Virginia Tech
Farley's combination of size, speed and production is unrivaled at the cornerback position. The 6-foot-2, 207-pound cornerback was clocked in the 4.3s back in high school before coming to Virginia Tech, and he looks to be at least in the low 4.4s on tape. This past season, Farley earned a 90.3 coverage grade and allowed only 18 catches from 50 targets for 257 yards. He's got top-10 sort of tools and production.
2. Shaun Wade, Ohio State
Wade has already flashed considerably from the slot, but this season he'll get a chance to push his draft stock into the stratosphere on the outside. He's got the size to be an outside corner at 6-foot-1, 195 pounds, but until we see the redshirt junior do it on the outside, we'll hold off on putting him in the top corner conversation.
3. Patrick Surtain, Alabama
Surtain made up one half of college football's most physical cornerback duo from 2019. Even as a true sophomore, the 6-foot-2, 203-pound corner routinely bullied the receivers lined up across from him last season. In two seasons as a starter, Surtain has allowed only 681 yards on 986 coverage snaps.
4. Asante Samuel Jr., Florida State
Samuel doesn't have near the size of the three men above him on this list, at 5-foot-10, 184 pounds, but none of them have quicks like Samuel. He's broken up nine passes as both a freshman and sophomore for the Seminoles. Samuel has seamlessly been able to move between outside and the slot as well as between man and zone coverage.
5. T.J. Carter, Memphis
Carter has been starting at Memphis ever since he stepped foot on campus in 2017. He may not have great size at 5-foot-11, 189 pounds, but he has the speed for the position. After seeing 93 targets in 2018, Carter was ignored by opposing quarterbacks last season. He saw only 41 targets on 366 coverage snaps, allowing just 22 catches for 237 yards.
SAFETY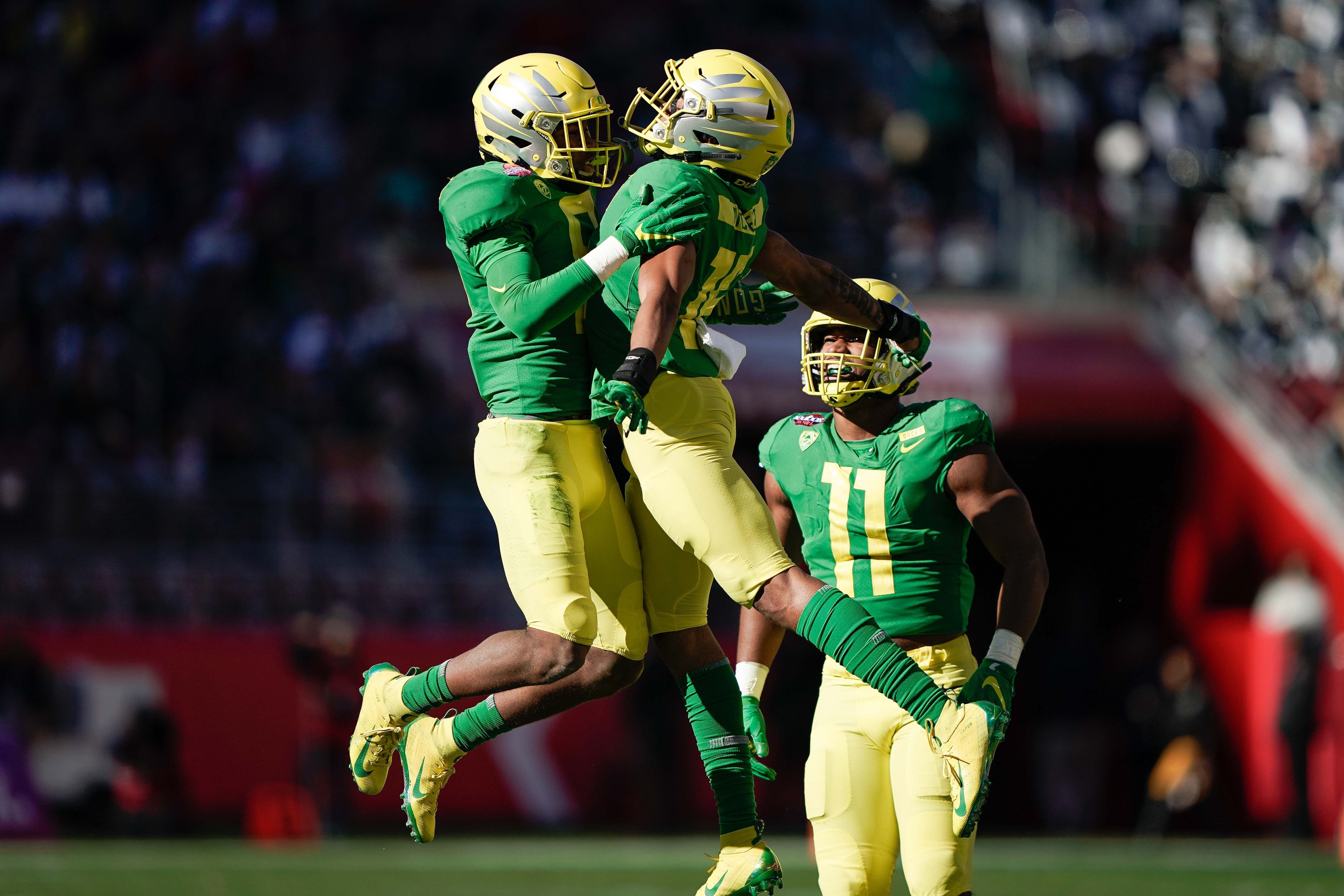 1. Ar'Darius Washington, TCU
I don't care about his size (5-foot-8, 179 pounds) the same way I don't care about Tyrann Mathieu's size (5-foot-9, 190 pounds). The way Washington plays the game trumps any length or mass deficiencies. You won't find a more instinctive and assignment-sure safety in the entire draft class. The statistics he put up in coverage last year were mindblowing — he allowed as many catches as he had interceptions (five) and allowed a passer rating against of only 11.6. For only being listed at 179 pounds, it didn't even make a difference as a tackler, as he missed only three of his 48 attempts all year long. Washington is the type of football player every team in the NFL should want on their team.
2. Jevon Holland, Oregon
Holland is yet another natural playmaker. He notched five picks and six pass breakups as a freshman at safety before four picks and five pass breakups this past season as a slot corner. That nose for the football combined with his smooth change-of-direction ability is ideal for the position in the NFL. He's also got a bit more "ideal safety size" than Washington, though, at 6-foot-1, 200 pounds.
3. Andre Cisco, Syracuse
Cisco's click-and-close ability on routes is second to none at the safety position. When he keys something, he gets there in a blink of an eye. It's why he's collected 12 picks and 13 pass breakups already in his two-year college career. He's still a bit too boom or bust, with six touchdowns allowed in his coverage last year (although some of that can be attributed to an overly aggressive Syracuse defense), but the natural talent is all there.
4. Hamsah Nasirildeen, FSU
Nasirildeen is a jumbo safety at 6-foot-4, 212 pounds, and he could even be seen as a linebacker at the NFL level. He could have even made the leap after a strong junior season that saw him earn an 81.8 run-defense grade and an 81.6 coverage grade last year, but he decided to return for his senior season. Nasirildeen's calling card is his versatility, and he has done everything from lining up deep to lining up on the line of scrimmage to lining up in press-man coverage against Clemson WR Tee Higgins during his time at FSU.
5. Trevon Moehrig, TCU
Moehrig is the other half of the TCU safety duo that was dominant in Gary Patterson's split-field coverages last fall. In his first season as a starter, he allowed 25 catches from 47 targets for 288 yards; he broke up 12 passes and picked off four others. He's physically imposing at 6-foot-2, 208 pounds, and he has all-around versatile safety traits. His 92.1 overall grade last season as a sophomore was the highest of any safety in college football.