Sometimes we need to take a step back from the draft industrial complex and just enjoy good college football players. Instead of looking at them through the lens of whether they can be future professional players, let's love and coddle them as current *takes a deep breath* student-athletes.
We're going to try to dig into the weeds a bit here to uncover some skill players who haven't been talked about as much going into the 2020 season. For a list of the household names you need to know going into next season, take a look at Mike Renner's 2021 draft article.
[Editor's note: Click this link to see PFF's 2020 NFL Draft grades for all 32 teams. And if you haven't already, be sure to pick up a copy of PFF's 2020 NFL Draft Guide by subscribing to PFF EDGE or ELITE.]
Kyle Vantrease, QB – Buffalo Bulls
Vantrease holds our second-highest passing grade for returning Group of 5 quarterbacks in non-play action, straight dropbacks, at 82.7. He sits just barely behind former Texas quarterback Shane Buechele, who now plies his trade at SMU. Vantrease was not the Buffalo starter coming into the season but started the final eight games.
The difference in quarterback play after Vantrease took over was stark. Former starting QB Matt Myers posted a 60.7 overall offensive grade through the first five weeks of the season, so the Bulls were certainly in line for a change at the position. Vantrease's 82.3 overall grade over the last eight games was a marked improvement. Without the bonus effect of play-action, Vantrease put up 10 big-time throws and only had three turnover-worthy plays in 112 dropbacks. Very good numbers.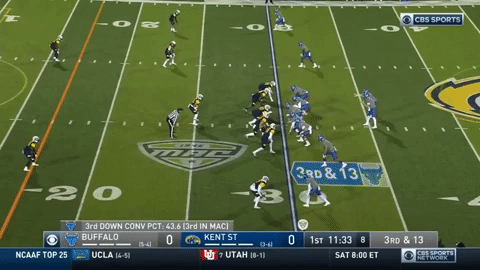 The most important part of Vantrease's game is his versatility. He's a real dual-threat quarterback who adds value with his leg. Leg. Singular. Specifically, his left leg because Vantrease was the team's starting punter before becoming the starting quarterback. He produced four fair catches on his 13 punts.
That is as close to "college athlete" as you can get.
Jack Coan, QB – Wisconsin Badgers
Looking at only the Power-5 level, only two of the top 10 quarterbacks who threw at least 200 non-play-action straight dropbacks return in 2020: former four-star recruit Sam Ehlinger at Texas and former three-star recruit Jack Coan at Wisconsin. With their use of different personnel groupings, formations and pass concepts, the Wisconsin passing attack is not necessarily a plug-and-play system for quarterbacks, but Coan performed admirably. Wisconsin ran over 90 snaps in four different personnel groupings. For reference, LSU had two.
However, the senior quarterback will have to improve on his consistency. In terms of overall offensive grade, Coan posted five games graded above 80.0 but also eight below 70.0. There was almost no middle ground. Before putting up a 90-plus passing grade against Michigan State, he had tallied an awful 47.9 passing grade against lowly Northwestern only a couple weeks prior.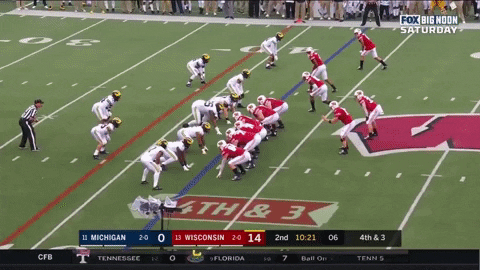 If Wisconsin is to finally get over the hump and win the league for the first time since 2012, Coan's improvement will be paramount.
JD Spielman, WR – Nebraska Cornhuskers
Although JD was on the Biletnikoff award watchlist the past two seasons and did make the All Big Ten third-team in 2018, the 5-foot-9 senior has gone under the radar nationally. Spielman has not been blessed with elite quarterback play the past two seasons in Lincoln, but his 27 explosive receptions over 15 yards on only 48 catches shows that when the quarterback can get him the ball, he makes plays. The problem is that the quarterback can't always get him the ball. Eighteen of his 48 catches were on balls that we did not chart as "accurate." For current Biletnikoff award winner Ja'Marr Chase, only eight of his 84 catches were on balls that we did not chart as "accurate." There's something to be said for having to bail your quarterback out time and time again.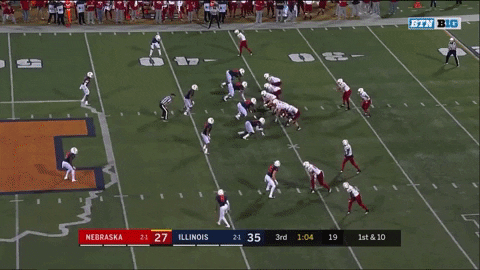 With just a slight increase in quarterback play, we could see massive numbers from Spielman.
Warren Jackson, WR – Colorado State
Warren Jackson returns to CSU after being our highest-graded Group of 5 receiver in 2019 who played at least 200 snaps. Jackson is a big receiver who can go up and snatch balls over his head. He's not the smoothest of route-runners, but he does get the job done and shows good body control, as he graded excellently on back-shoulder go-balls. His overall receiving grade was an elite 89.9, and he caught 17 contested catches and forced nine missed tackles on his 77 receptions. His 2.99 yards per route run is also excellent.
Jackson was really the do-it-all player for the Rams. If the new coaching staff can find better ways of using him in the middle of the field (he was only targeted 23 times on in breaking routes), it could really send his game to the next level.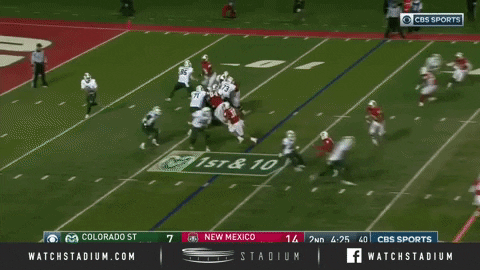 Elijah Mitchell and Trey Ragas, RBs – Louisiana Ragin' Cajuns
After splitting carries three ways in 2019, it looks to be the Mitchell and Ragas show in 2020 for the Cajuns. Ragas finished second in the G5 in yards after contact per attempt with 4.9, while Mitchell finished 11th with 3.98 among running backs with at least 100 carries. The pair excelled everywhere. Ragas finished first in missed tackles forced per attempt with 0.35, and Mitchell placed eighth at 0.28 in the G5. In fact, Ragas finished sixth in the whole country in that statistic. It will be interesting to see if the coaching staff gets creative in how they use their two star running backs. The Cajuns played with only one running back on the field on 97% of their offensive snaps.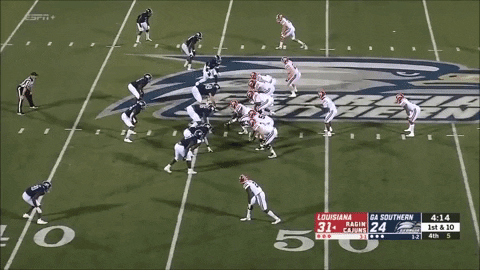 Jordan Mason, RB – Georgia Tech
Up against many obstacles, Jordan Mason proved himself as a legit running back during a rebuild at Tech in 2019 under Geoff Collins. Mason was the lone bright spot on the offense. His overall offensive grade of 86.1 was 20 (!) points higher than the next-highest Tech player who played at least 20 snaps.
Mason led the country in missed tackles forced per attempt with 0.44 and was eighth in yards after contact per attempt with 4.4. Most of those missed tackles were forced before the line of scrimmage, as Mason played behind one of the worst offensive lines in the entire country. Not one offensive linemen — whether he played one snap or 700 — graded above 60.9. There's bad and there's abysmal. This was abysmal. Mason's 5.2 rushing yards per attempt is a modern miracle. Hopefully, Tech can shore up its front lines and Mason can showcase himself more than in 2019.