A trap game is defined in a variety of ways, but it essentially boils down to a high-ranked team playing in a game that everyone expects them to win against a far lesser opponent (not necessarily a losing team).
We see upsets every single year, and it's rare for a highly ranked team not to have a "scare" at some point in their season. We here at PFF recently debuted our 2020 preseason top 25 power rankings using the PFF ELO system, and each team in the top 10 has a game on their schedule with "upset watch" written all over it. While every team's current slate of games is entirely up in the air, we are going to assume they play every game currently scheduled. That being said, here is the biggest "trap game" or possible "upset to look out for" for every single team in the top 10 of our 2020 preseason ELO rankings:
(Note: We are not saying/predicting any of these teams will lose any of these games listed — rather, this is the one game on their schedule that could be viewed as a "trap game" or potential upset.)
[Editor's note: Subscribe to PFF ELITE today to gain access to PFF's Premium Stats and new Player Grades experience in addition to the 2020 NFL Draft Guide, 2020 Fantasy Rookie Scouting Report, PFF Greenline, all of PFF's premium article content and more.]
Trap Game: Week 2 vs. Louisville
Clemson is the top team in college football and fields one of the best QB-RB-WR trios in the country with Trevor Lawrence (one of two quarterbacks to have an elite 90.0-plus grade the last two years), Travis Etienne (most valuable non-quarterback since 2018) and Justyn Ross (second-highest graded deep receiver since 2018). And luckily for the Tigers, they have a pretty favorable schedule in 2020. Outside of Notre Dame in Week 10, they don't face a single team in our preseason top 25. Clemson faced a weaker schedule in 2019 as well, but they did have a small scare in Week 5 when they traveled to Chapel Hill to take on UNC. If any team has a chance to knock off Clemson other than the Fighting Irish, it's the Louisville Cardinals in Week 2.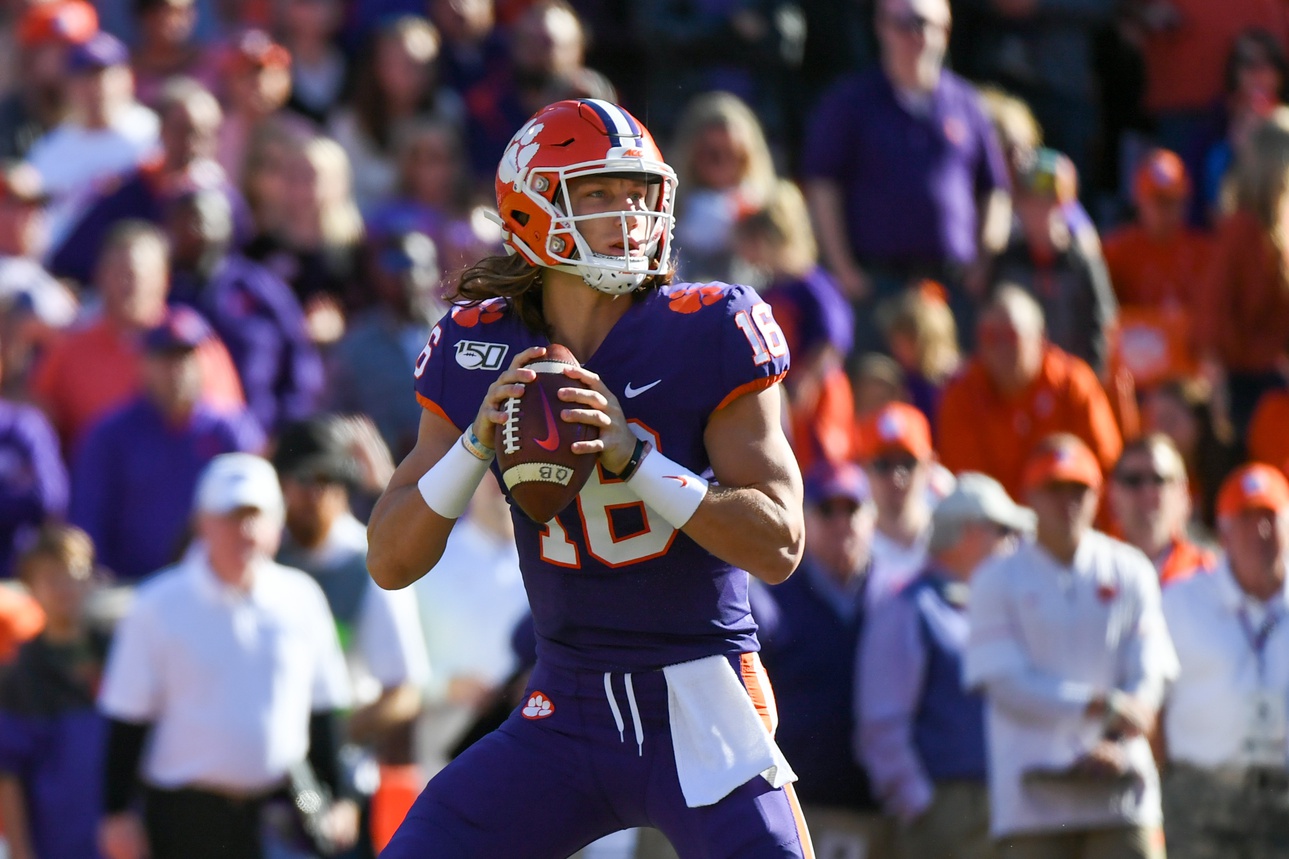 Louisville had one of the most improved offenses of 2019, improving their EPA per play rank from 121st the year prior to 25th — and they return all of the key players from that improvement. Wide receiver Tutu Atwell was the most valuable member of Louisville's 2019 squad and is the eighth-best returning wide receiver in the country. Running back Javian Hawkins is also among the top returners at his position, and quarterback Micale Cunningham looks to build off his decent first season as a starter in 2019 that resulted in a 74.0 overall grade. Clemson blew out Louisville in 2019 (Etienne's best rushing grade of the 2019 season), but that doesn't mean they'll do it again in 2020.