The 2021 College football season will officially get underway this Saturday when the Nebraska Cornhuskers take on the Illinois Fighting Illini. And that means there are only a few days left to make season-long bets and predictions, which is exactly what I'm about to do today.
Without further ado, here are eight bold predictions for the 2021 college football season.

---
Click here for more PFF tools:
PFF Betting Dashboard | PFF Fantasy projections | PFF Draft Kit 
PFF Fantasy Rankings  | NFL Premium Stats | Win totals tracker
---
Clemson will beat Georgia by double digits in Week 1
Georgia has a talented team and deserves its top-five ranking, but Clemson is just set up far better for early success. 
The Bulldogs will be without freak tight end Darnell Washington and the best slot defender in the country in Tykee Smith, but the biggest question marks hover over this quarterback situation, as JT Daniels is set to take over for a full year after closing the final four games of 2020 as the team's starting quarterback.
The 2018 five-star was exceptional in his debut against Mississippi State but recorded a sub-50.0 passing grade and four turnover-worthy plays against Cincinnati's ferocious defense in the Peach Bowl.
Brent Venables and Co. will be a difficult test for Daniels; it will be our first indication of whether the quarterback has taken a step forward. The Tigers are a three-and-a-half-point favorite over the Bulldogs in their Week 1 showdown.
---
Ohio State's WR room will challenge Alabama's 2019 unit for best of the PFF College era
In the seven years PFF has graded college football, no receiving corps has even come close to the unit Alabama fielded in 2019. DeVonta Smith, Jaylen Waddle, Henry Ruggs III and Jerry Jeudy all went in the first round of their respective draft classes, and that group combined for a positional unit grade that led the FBS by a comfortable margin.
The scary thing, for college defenses at least, is that Ohio State has a group of wide receivers capable of producing at that kind of level. The leaders in the room are Chris Olave, Garrett Wilson and Jaxon Smith-Njigba.
Last season, Olave and Wilson earned 80.0-plus PFF grades, making them one of just two tandems that accomplished such a feat in 2020. The other was Alabama's Smith and Waddle.
Smith-Njigba, a 2020 five-star, ran just 69 routes a season ago, but he still graded at 72.3 and generated a passer rating of 107.5 across 13 targets. He flashed his ceiling on a touchdown grab against Nebraska, one of the best scores of 2020.
Cincinnati will become the first non-Power Five program to make the College Football Playoff 
Cincinnati's 2020 schedule wasn't strong enough to warrant playoff consideration, but that isn't likely to be the case this year thanks to road games against Indiana and Notre Dame in the non-conference slate. If UC can piece together a perfect record featuring wins over those two schools, a CFP appearance is likely.
This prediction rests entirely in the hands of quarterback Desmond Ridder. If he can take that next step forward as a passer — and the tools are there to do so — this could be the first Group of Five team to dance into the four-team playoff.
Ridder's passing grade since 2019 sits at 67.7, and he has struggled to hit downfield shots. He connected on only 14 deep passes on the year, and Cincinnati came in sixth in the AAC and 60th in the FBS in explosive (15-plus yard) pass play rate (14.9%).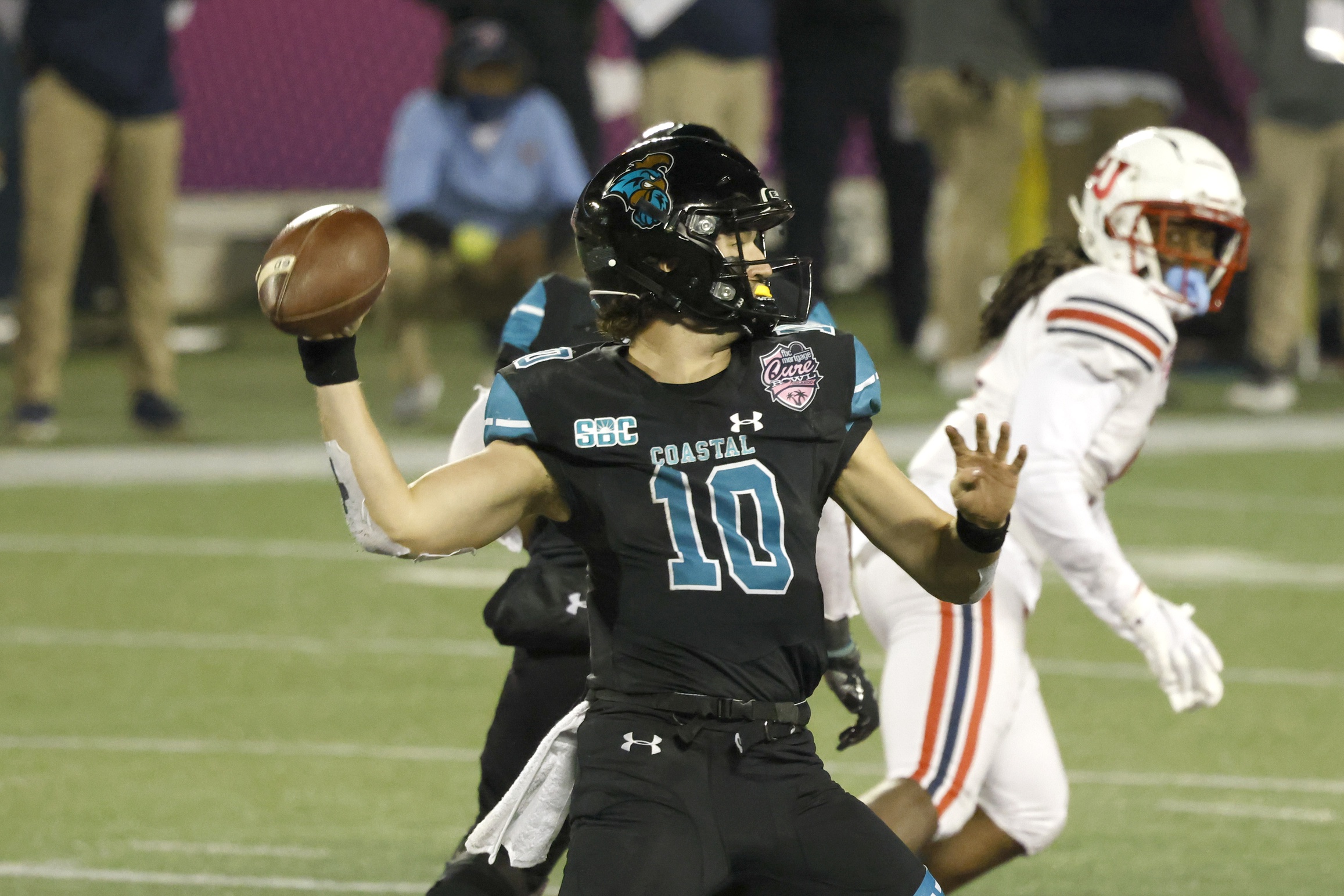 Coastal nearly pulled this off during their Cinderella run last season, but a bowl game loss to Liberty saw them slip to 11-1. This year, the Chanticleers will have every opportunity to redeem themselves and piece together an undefeated campaign.
The program returns every one of their 10 most valuable players from last year's team, according to PFF WAA. And that includes starting quarterback Grayson McCall, who was the third-highest-graded passer in the country last season.
On his appearance on the Tailgate podcast, coastal head coach Jamey Chadwell said McCall "looked like he was going to a Nascar race with a six-pack" last year but now looks like an actual college football player. If McCall even maintains the same level of play we saw last season while leading the Chants through PFF's easiest strength of schedule in the country, then this program is destined to piece together an undefeated campaign.
---
Iowa center Tyler Linderbaum will enjoy a record-breaking year with 90.0-plus pass- and run-block grades
No center in the PFF College era has managed to finish a season with a 90.0-plus grade as both a run-blocker and a pass-blocker. Linderbaum was close in 2020 — his second year starting at the position after flipping over from the defense — but an 87.3 pass-block grade kept him from etching his name into the PFF record books.
Linderbaum has some of the best movement skills you'll see at the position and is one of the feistiest players on the field each week. Now that he's returning to school for 2021, the Iowa center has a chance to build off a remarkably strong 2020 campaign.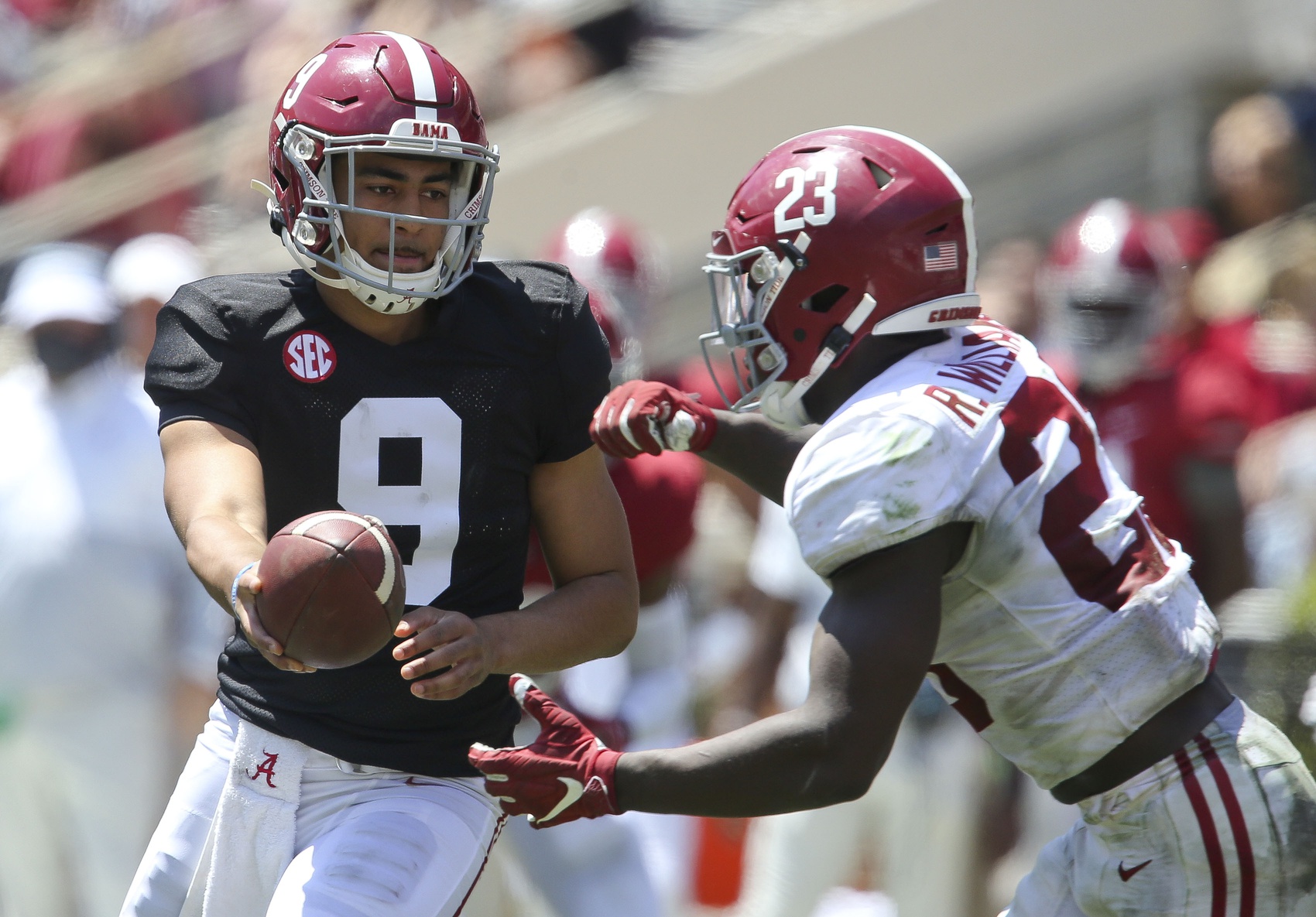 Alabama will have the Power Five's largest decline in per-play passing efficiency from 2020 to 2021
Last year's Alabama offense broke the PFF record for the highest single-season successful pass play rate. Quarterback Mac Jones, Heisman-winning wide receiver DeVonta Smith and playcaller Steve Sarkisian led a charge for the ages, but now the Tide will try to sustain that excellence without the three.
New starting quarterback Bryce Young was the No. 1-rated recruit of 2020, according to 247Sports, and he has all the tools to develop into a quality player for Alabama. The only question is, can he hit his ceiling sooner rather than later and come close to matching the week-after-week consistency that Mac Jones enjoyed last season?
Considering how rare last year's unit was, along with the inconsistent play from Young in mop-up duty last year, it's likely not going to be the case right away.
---
Texas will finish inside the top 10
Texas has some climbing to do to reach top-10 status, but as PFF's Diante Lee outlined last week, Texas should thrive under Steve Sarkisian.
The former Alabama offensive coordinator called the plays in 26 games for the Crimson Tide from 2019 to 2020, and not once did the team produce negative expected points added (EPA) per play over a game. Yes, the Alabama program has been full to the brim with talent, but the fact that he didn't even come close to fielding an inefficient offense is truly absurd. 
Right now, the Texas starting quarterback competition has yet to be decided, with Casey Thompson and Hudson Card both in the running. Both quarterbacks are unproven but have a lot of potential. Thompson notably earned a 90.0 grade on 17 attempts in 2020, a mark anchored by three big-time throws. He showed fantastic ball placement and timing while staying calm under pressure.
While they might not be able to hang with Oklahoma this season, they have every opportunity to be the second-best team in the conference and exceed their projections for the season.
Spencer Rattler will be the highest-graded quarterback in college football. He will win the Heisman and lead Oklahoma to their first College Football Playoff title
The coup de grace.
Oklahoma has cracked a spot in the College Football Playoff four times since its inception seven years ago but has yet to earn a spot in the National Championship Game. This year could be different, with Rattler's return being a key reason why.
The only other college quarterbacks to produce a higher PFF grade than Rattler last season were Mac Jones, Zach Wilson and Justin Fields — all three first-round picks who are now dominating the 2021 NFL preseason. He's one of the best playmaking quarterbacks PFF College has ever seen. The only major concern with this team is the secondary, but their pass-rush unit might just be enough to stabilize that side of the ball.