College football is coming. And to honor the start of the 2019 college football season, we have put together our Preseason College Football Top 25 ahead of Saturday's kickoff between the University of Miami (Fla.) and Florida.
PFF's Preseason Top 25 and the weekly Top 25 rankings to follow are a product of our PFFELO rankings. Like all ELO systems (including our version for the NFL), PFFELO is an iterative system that updates each team's rating after each game based on two things: How well they played against their opponent and how well they were expected to play against their opponent. The PFFELO rating system measures the former using our unique offensive, defensive and special teams grades, while the latter is determined by the PFFELO ratings leading up to the game and where the game is played.
[Editor's Note: The PFFELO system, both in college football and the NFL, is used in PFF Greenline, an online betting dashboard that provides pick advice for moneyline, against the spread and over/under. PFF College Greenline will be made available to ELITE subscribers in August 2019. Subscribe today!]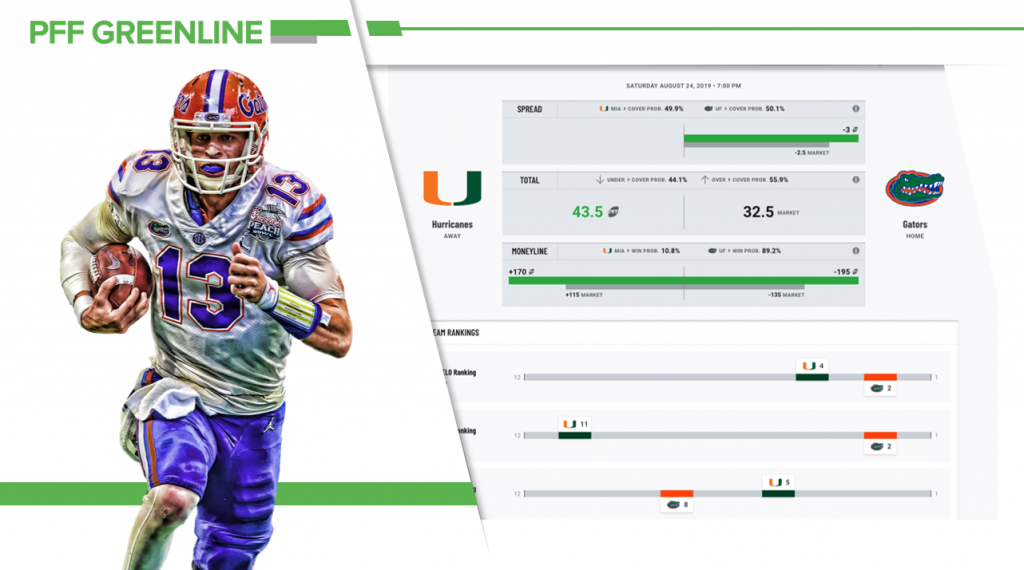 While adjustments are made using preseason market data, along with recruiting rankings, the majority of these numbers are derived using our grades. Since PFF began charting college football in 2014, the difference in PFFELO values alone has been able to explain over three-fourths of the variance in the closing Vegas line.
Check back to PFF.com for weekly spread picks using this model and stay tuned for the launch of PFF College Greenline this month for a full slate of against the spread and total lines.
Top 25 Rankings
1. Clemson
Expectations for the Tigers will only grow after their 2018 National Championship. Clemson returns the No. 1 overall college player to an offense with little turnover outside of Mitch Hyatt. Not much more can be said about Trevor Lawrence's true freshman year. He lived up to the hype of a generational quarterback. Compared to quarterbacks returning in 2019, Lawrence had the third-highest passing grade, 12th-highest percentage of big-time throws and by far the lowest percentage of turnover-worthy throws. Somehow, he is not going to be paid to play football for at least two more seasons… Defensively, things could be a bit more of an uphill battle for the Tigers. Thankfully that rarely matters as much anymore. Clemson seems set to roll through their regular season schedule with a Vegas win total shaded to the over of 11.5 games with 30 percent plus implied probability of repeating as National Champions. 
2. Alabama
The clear No. 2 in what most predict to be a two-team race towards the National Championship, Alabama for once returns a star-studded offensive cast in 2019. Tua Tagovailoa is every bit as impressive as Trevor Lawrence with the highest percentage of accuracy plus passes among Power 5 quarterbacks. Tua constantly hits his receivers perfectly in stride and with the talent he is working with at wide receiver, the Tide offense every bit as dangerous as Clemson. Their path is nowhere close to as clear as Clemson, however, with the possibility of running the SEC championship game again in the first round of the playoffs with our third-ranked Georgia team. After simulating the regular season, it is tough to pay the cost associated with the over 11 regular season win total. Their National Championship odds look more enticing by the day if they continue to slide early in the season. Buy the Tide at +300 or better. 
3. Georgia
The Bulldogs feel a bit overlooked at three, especially when looking for an SEC championship winner. When the two teams above you combined have over 60 percent plus implied probability of winning the National Championship, it feels appropriate that the Bulldogs are a distant third in our ELO Rankings, almost 100 ELO points behind both. Ground can be made up quickly and an early-season matchup against the fourth-ranked Fighting Irish offers an opportunity to establish a pecking order for the final two slots of the playoff bracket. If they survive road matchups against Florida and Auburn, even a loss in the SEC title game should not hold the Bulldogs back from the playoffs for the second time in three years. 
4. Notre Dame
Ian Book could easily be the most important piece to the four-team playoff puzzle. Everyone remembers the playoff performance against Clemson last year, eight sacks taken and a mere 4.2 yards per attempt. With what we are learning about quarterback play and pressure rates, Book's 52.0 passing game grade draws concern after being his sixth passing game grade below 70 in nine starts. On the bright side, Book has the second-highest percentage of accurate plus throws on targets 10-plus yards downfield. Chase Claypool caught over 90% of the catchable passes thrown his way with an average depth of target of 12.5. Claypool and Chris Finke should soak up the void left by Miles Boykin. Being independent brings a tough schedule sometimes, and this year is no different, with two road games against top-10 opponents and matchups sprinkled against other top-25 teams. Under 9.5 win total is in play if priced right.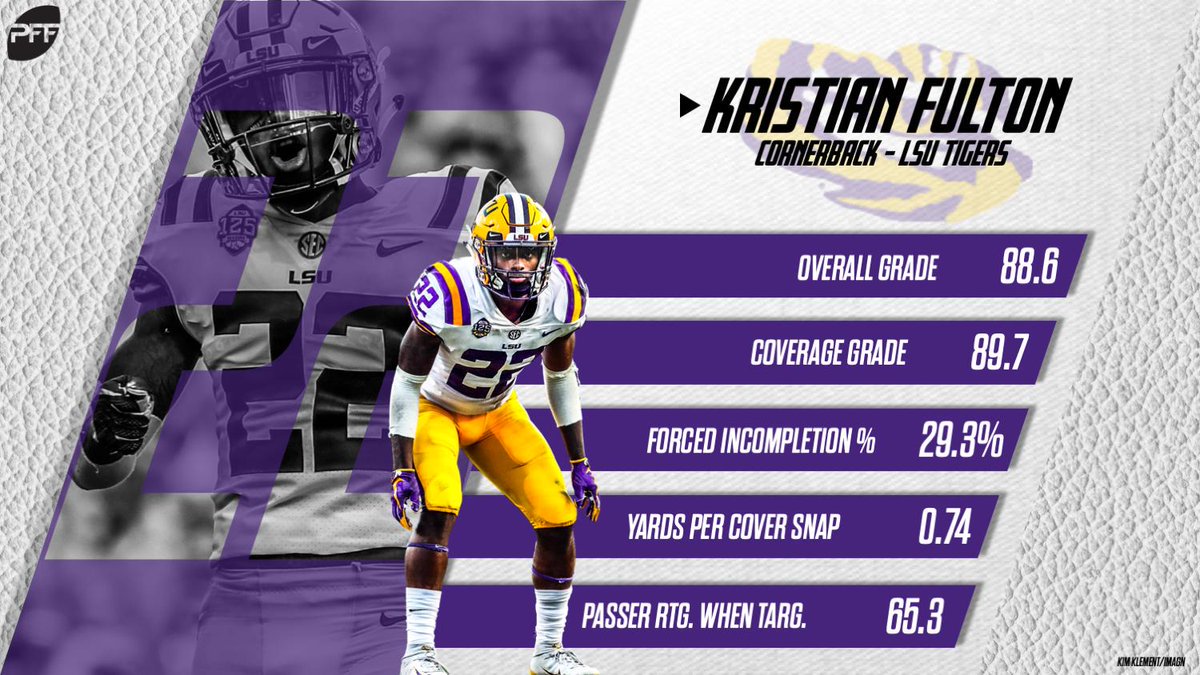 5. LSU
After a jump start game in Week 2 against Texas, LSU eases into a home-road home stretch against Florida, Mississippi State and Auburn, a break followed by a date in Tuscaloosa. Their schedule never lets up, which is why oddsmakers seem low on them maintaining a top-five ranking much less coming close to a National Championship at around +2500 odds. Simulating the season, the model likes the price at under nine regular season wins. To at all survive their brutal schedule, Joe Burrow will need to be a miracle worker. In 2018, Burrow had the third-highest average depth of target in the SEC after receiving minimal support from his receivers. LSU's group of pass-catchers had the lowest yards after catch per reception in the SEC along with the third-lowest percentage of catchable passes that were actually caught. 
6. Ohio State
Priced with the fourth-best odds to win the National Championship, the Buckeyes seem poised to navigate their regular season schedule before wrapping with Penn State and a showdown with Michigan in the big house. Justin Fields will take over at quarterback in Columbus after transferring from Georgia as a five-star recruit. This will be a revamped offense with K.J. Hill returning the most experience as a pass-catcher. Urban Meyer had a knack for plugging roster holes in subsequent seasons; Ryan Day needs some of that magic if the Buckeyes are going to hold off Michigan in 2019. 
7. Oklahoma
It is fitting the Sooners fall directly behind the Buckeyes in our rankings. Both are tasked with the same responsibility of replacing a first-round signal-caller with a new transfer to their program. Jalen Hurts is taking his talents to Norman as a grad transfer, where he will try to replace the otherworldly production of Kyler Murray. Hurts appears up to the challenge after posting an 82.7 passing grade over three seasons at Alabama. Throwing past the sticks on only 42% of attempts, Hurts relied heavily on his pass-catchers to make plays after the catch. Lucky for him, Oklahoma returns some able bodies at the skill positions. Ceedee Lamb should see all the targets he can handle after being 1B to Marquise Brown in 2018. Lamb is one of the best returning deep threats in the county posting the fifth-best completion percentage among wide receivers in the Power 5 conferences on throws 10 plus yards downfield. 
8. Michigan
The noise from the big house is clear; 2019 is the year. With Shea Patterson nominated as the preseason 1st team Big-10 offensive quarterback, it highlights where the Wolverines must excel to overtake the Buckeyes in the Big 10. In 2018, Patterson flashed with almost 60% of his yards coming through the air. He co-led the Big 10 in adjusted completion percentage on second or third and long with Dwayne Haskins. The Wolverines ran on almost 60% of first- and second-down plays. With Karan Higdon gone, the Wolverines will hopefully avoid these situations by letting Patterson attempt to make plays downfield in early down situations.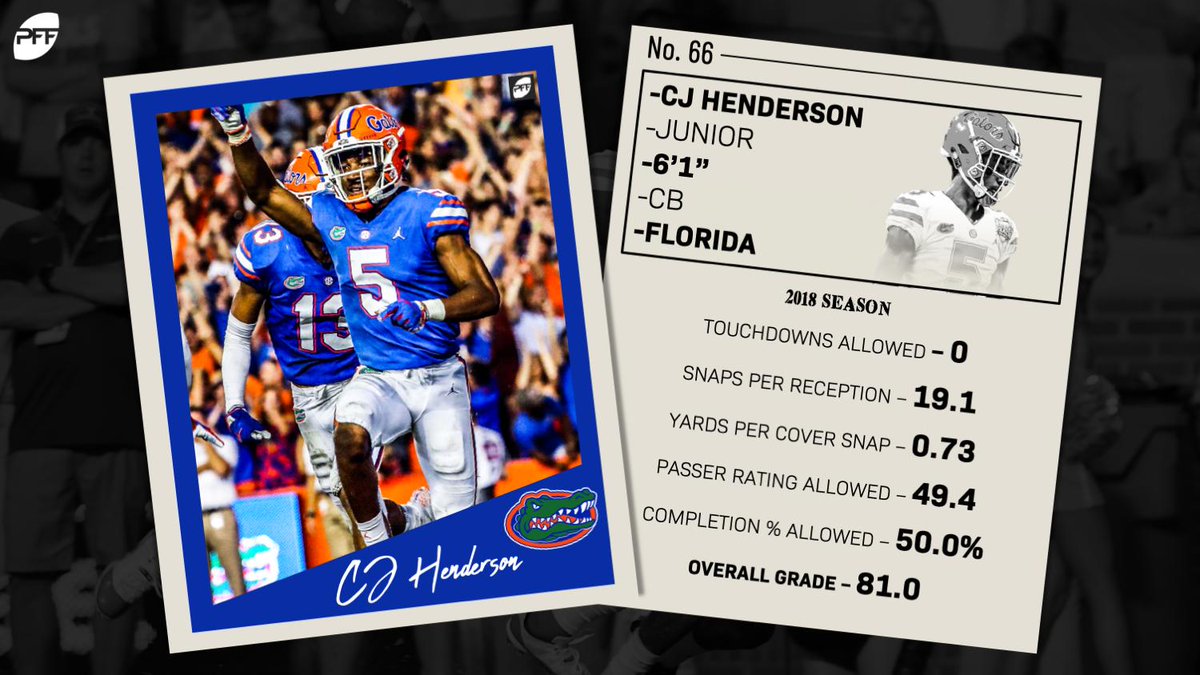 9. Florida
Florida slots in one position ahead of rival Auburn, as some quarterback is better than no current quarterback. Feleipe Franks graded out as an average passer in 2018, but with dual-threat capabilities, he has upside if he can improve his accuracy downfield. On throws 10-plus yards downfield, Franks finished towards the back of the pack in the SEC in all of PFF's accuracy measurements. Even after missing Alabama, Florida still has a brutal SEC schedule. The win total has finally dropped to 8.5 with the under no longer playable at the current price.
10. Auburn
Auburn is learning quicker than anyone this is no longer your father's SEC. Relying on their defense will only get Auburn so far and cannot be done if they want to keep pace. Gus Malzahn continues to keep his quarterback decision close to the vest with no starter announced. Bo Nix appears to offer significantly more upside than Joey Gatewood. Whoever Malzahn goes with, he has to help the unproven signal-caller. In 2018, Auburn ran the ball on 59% of first downs and utilized a two running back set over 60% of the time. Talented defense aside, it is going to be tough to win games in the SEC continuing to use offensive game scripts like this.  
11. Penn State
The Nittany Lions ease into their 2019 schedule needing to prep Sean Clifford and the rest of their fresh-faced offense before gearing up for Big 10 play. KJ Hamler is the lone holdover on the offensive side of the ball with an aDOT of 13.3 and YPRR of 2.07. He will be relied on extensively in his sophomore season. With tough road matchups throughout their Big 10 schedule, one of the best bets according to our simulation model is the Nittany Lions under 8.5 games in 2019.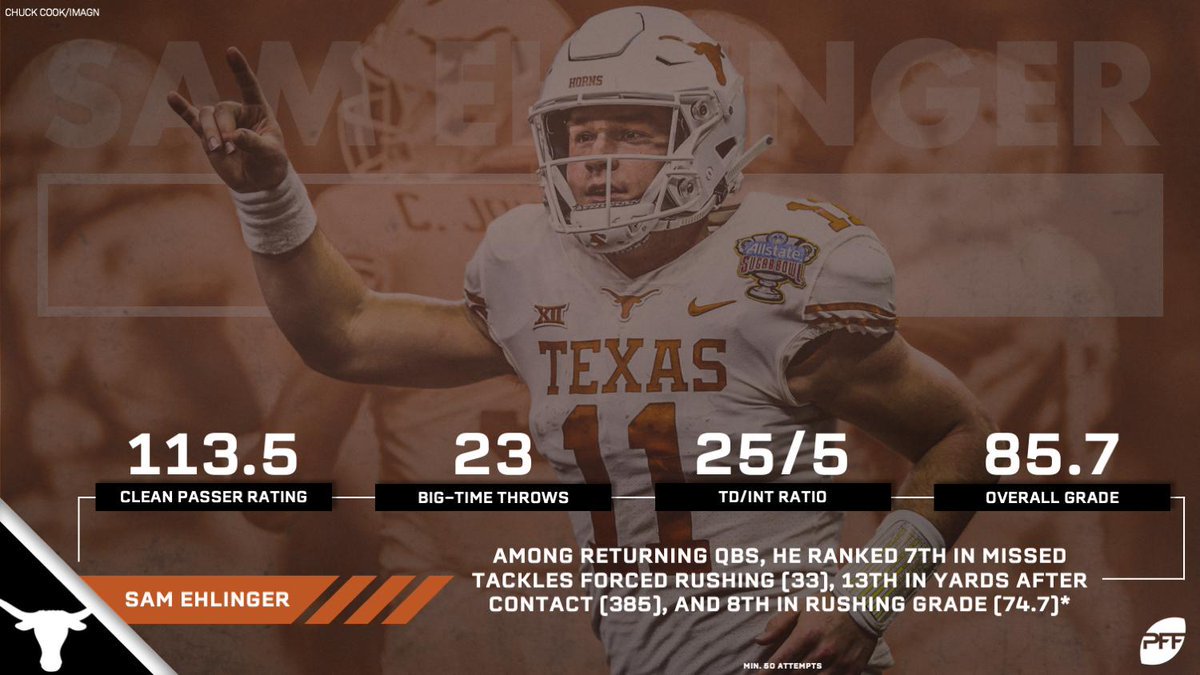 12. Texas
People are clamoring to proclaim Texas is back, and it is all on the basis of Sam Ehlinger. Among returning quarterbacks in Power 5 conferences, Ehlinger had the fifth-best accuracy percentage when the score differential was within two touchdowns. When adjusting for depth, Ehlinger's accuracy drops off but was still ninth-best among the same participants on throws 10-plus yards downfield. If your hypothesis is that Oklahoma struggles to replace all of their missing pieces, then Texas at +350 or better to win the Big-12 championship looks quite gritty. 
13. Iowa
As outlined in PFF's starting quarterback rankings, Nate Stanley is possibly the most polarizing quarterback when comparing PFF passing grades to traditional box score metrics used to evaluate quarterback play. His 26-11 TD to INT ratio seems appealing on the surface, but with 18 big-time throws and 16 turnover-worthy throws, he was the beneficiary of fortune in 2018. With the two most talented tight ends at his disposal, Stanley won on deeper throws over the middle, the highest EPA pass attempt available. In 2019, winning in this area will be much more difficult. The question that has to be answered is can Nate Stanley shoulder the burden of the Hawkeyes' offense with much less NFL level talent around him? 
14. Texas A&M
As others have highlighted, the Aggies will have more to do with who ends up in the college football playoff than any other FBS team. With regular-season matchups against four of our top-five ranked teams, the Aggies could be the first three-loss team with a legitimate claim to the college football playoff. If they can even survive with only three losses. Kellen Mond appears up to the challenge as a dual-threat quarterback willing to take shots downfield. He threw past the sticks on over 55% of his attempts, the seventh-highest rate among Power 5 quarterbacks in 2018. With three games of passing grades above 90.0, Mond has flashed the play needed to upset the class of college football. He will have a number of opportunities to do so in 2019. 
15. Washington
Opening as favorites to repeat as Pac-12 champions, Washington has lost some steam to Oregon and Utah as the season approaches. The Huskies may have actually upgraded at quarterback with transfer Jacob Eason, a five-star recruit coming back from Georgia. Aaron Fuller can ease the offensive transition by performing like he did to start in 2018. Through the first six games of 2018, he had a receiving grade of 87.9 with 26 first downs and 15 explosive plays. Defensively, holes need to be plugged all over after losing nine starters from arguably the nation's best defense. 
16. Mississippi State
The Bulldogs represent the fifth SEC West team in the top-16 of our ELO rankings. Talent resides everywhere, but whoever emerges from the SEC West will have been tested an astonishing amount. Mississippi State opens with questions at quarterback and talent on defense. Compounding this issue are rumors of a generational running back in Kylin Hill. All of this sets up for a ground and pound attack that plays into the hands of the SEC defenses.  
17. Missouri
Kelly Bryant is taking his grad tour in Missouri after three seasons in Clemson. The offense will operate differently with Bryant taking over for Drew Lock. Comparing careers, Bryant posted a 58 accuracy percentage with a low aDot of 8.2; Lock 56 accuracy percentage with an aDot of 11.5. The Tigers may benefit from the switch to Bryant, who offers a higher percentage of completions and running upside. Despite a relatively mild SEC schedule, our model still has under 8.5 as one of the better under bets. 
18. Kentucky
Rounding out the SEC representation is Kentucky, who hopes to build off their impressive 2018 campaign. Terry Wilson ran well in 2018 with 6.2 yards per carry (3.8 after contact). Improvement in his passing touch downfield would do wonders for this offense. Key to that is Lynn Bowden Jr., who forced 18 missed tackles while averaging 7.7 yards after contact per reception. Depending on price, as it is shaded at 6.5 wins, we give Kentucky almost a 73% chance of going over.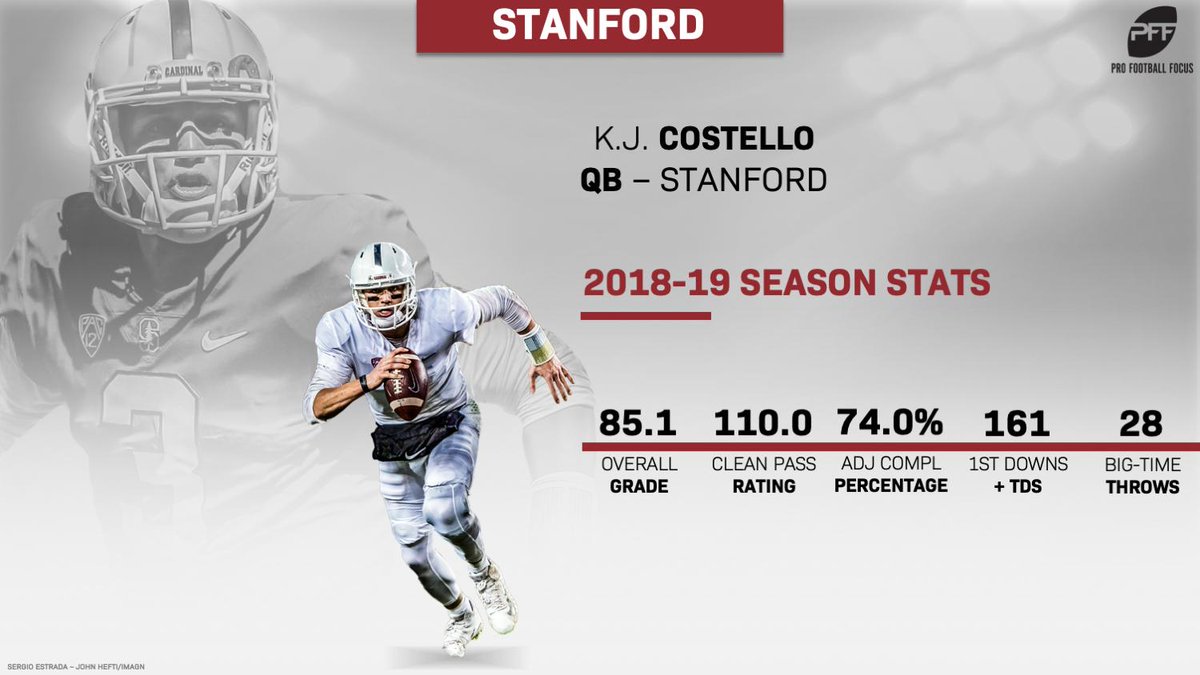 19. Stanford
Already on record is my over infatuation with Stanford and to a lesser extent K.J. Costello in 2019. The truth is we know Costello is accurate delivering the football downfield. Whether a new pass-catcher will emerge to replace JJ Arcega-Whiteside remains to be seen. Still, quarterback play trumps all. When you have the seventh-best signal-caller in the Nation, anything feels possible to start the season. 
20. Utah
The steam is hot for the Utes in 2019, as seemingly everyone wants a piece of their betting odds. Tyler Huntley isn't necessarily a world-beater at quarterback with an aDOT of 8.5. He threw past the sticks on only 39% of attempts. Backing a run-heavy approach is not something our model will do. With the steam up to 9.5 wins, our simulation has the over happening ~17% of the time, making the Utes one of our favorite under bets.  
21. Wisconsin
Most reports point to Jack Coan beginning the season as Wisconsin's starting quarterback. Small sample withstanding, his play in 2018 is far from reassuring. Coan appeared in five games and posted a PFF passing grade of 45 with six turnover-worthy throws. He wasn't exactly pushing the ball downfield either. With a 7.4 aDOT, he threw past the sticks only 34.7% of attempts. The Badgers once again have one of the best offensive lines in the country with two players in the top 50 NCAA players to start 2019. The Badgers have Michigan, Michigan State and Iowa at home, but going over 8.5 wins seems like a longshot with our model giving the under an 80% chance of hitting. 
22. North Carolina State
The Wolfpack will be breaking in a new quarterback and offensive coordinator to start 2019. Although not set in stone, Matt McKay seems to be in the lead to start Week 1. Outside of some mop-up spots in 2018, little has been charted on McKay. Their schedule sets up relatively well with over seven wins in play if you are comfortable with the potential push. 
23. Syracuse
Despite losing Eric Dungey, Dino Babers appears to have complete faith in Tommy DeVito to run his offense. On 104 dropbacks in 2018, DeVito had an adjusted completion percentage of 62.8 with an aDot of 13.9. He will look down the field more often than Dungey ever did, which could help this offense improve in 2019.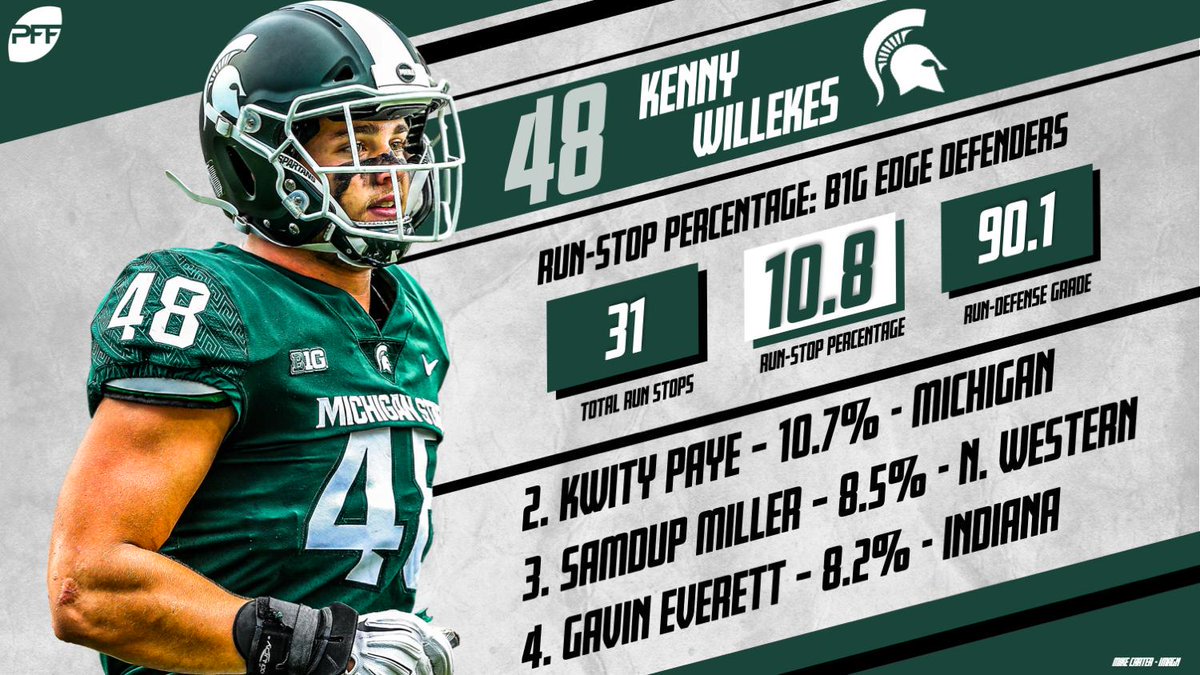 24. Michigan State
The Spartans 2018 passing offense set modern football back almost a decade. The injuries to receivers didn't help, but neither did the play of Brian Lewerke. If Lewerke's 50.4 passing grade doesn't tell you enough, then know that less than 40% of pass attempts were positive EPA with an average EPA per pass play of -.21. Despite having an elite defense led by PFF top 50 players Joe Bachie and Kenny Willekes, Mark Dantonio had little success relying solely on this elite defense to win games. If Dantonio wants to find success in 2019, he must find innovative ways to put Lewerke in the best position to make plays. 
25. University of Miami (Fla.)
It is a season of new beginnings in Miami. New coach Manny Diaz is taking over and naming Jarren Williams the starting quarterback for the Hurricanes. Jeff Thomas will help outside after having 13 explosive plays and forcing eight missed tackles in 2018. Michael Pinckney is the prototypical new-age linebacker who excels in coverage and is capable of applying pressure when sent on blitzes. After the battle for Florida, Miami's schedule lightens up considerably, as they play only one (Florida State) of the other top-five teams in the ACC.