Football is officially back. Week 0 of the college football season kicks off this Saturday. Our opening two-game slate starts in Orlando, Florida matching the Gators against the Hurricanes and a nightcap of Hawaii hosting the Arizona Wildcats. With games closing in, we wanted to give a behind the scenes look at the new PFF NCAA Greenline product, which offers projections when wagering against game market spreads, totals and moneylines. These models rely heavily on our PFFELO rating system for the NCAA, along with game or spot information like where the game is played, how far a team has to travel, among other variables. We also fold in opponent-adjusted PFF grades into our machine-learning algorithm to factor in roster changes and possible asymmetric mismatches that can occur through the course of a game.
Let's take a look at both games to see if Greenline has any edges associated with consensus betting markets. 
[Editor's Note: All ELITE subscribers have access to all of PFF's take on the spread, totals and moneyline at the NFL and NCAA levels. Subscribe today to gain access!]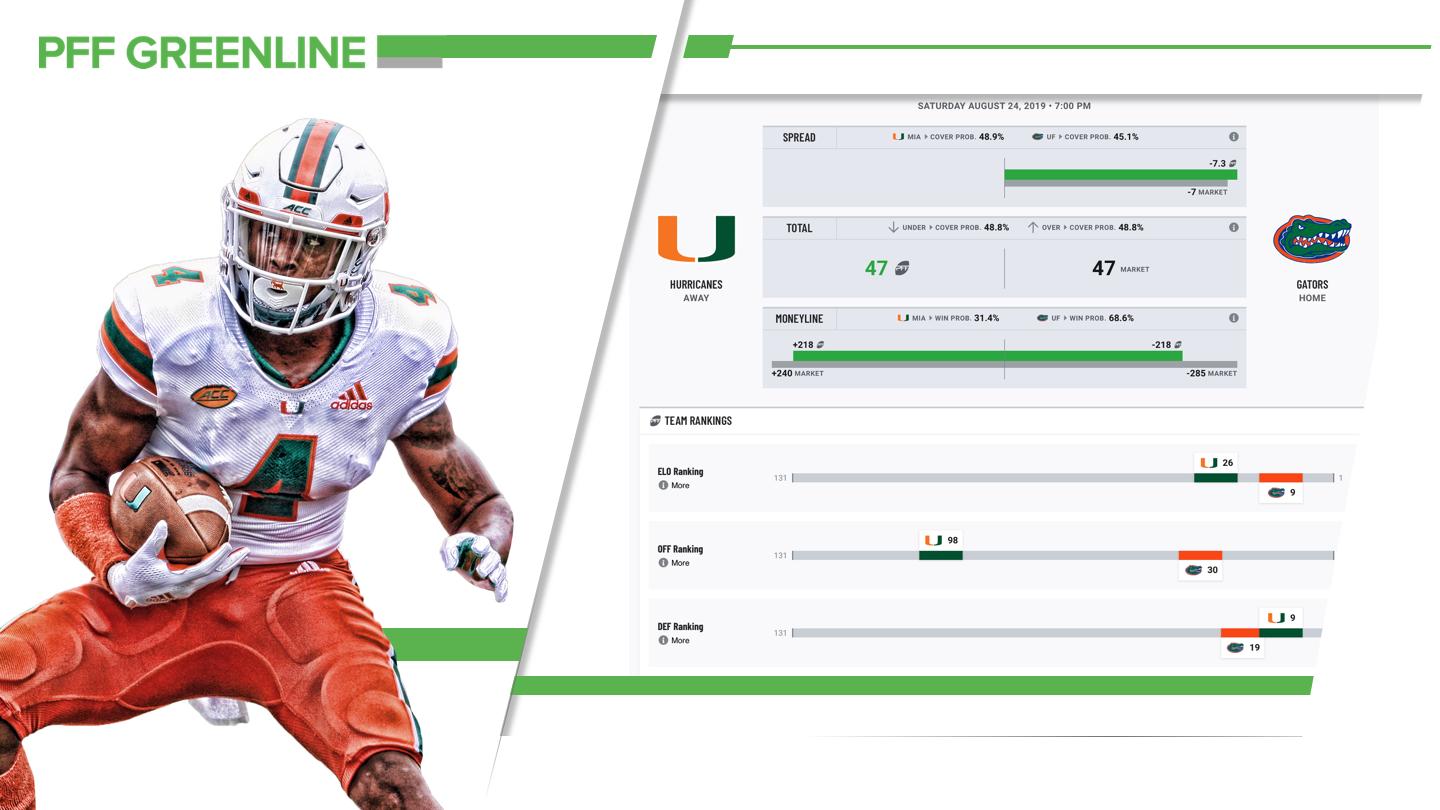 The kickoff to college football showcases our ninth-ranked Florida Gators at home against a new look Miami team currently 26th in our PFFELO rankings. Miami is definitely an unknown early with new coach Manny Diaz working to revamp the offense with new offensive coordinator Dan Enos. It is only fitting that they are breaking in a new quarterback, Jarren Williams, who beat out talented backups N'Kosi Perry and Tate Martell. This could turn into a defensive slugfest with some sloppy offensive play expected. The total falls right in line with Greenline projections and offers no value on either side with so much unknown in Week 0. After opening with a hook, this spread has oscillated between an even +7, with folks needing to lay around -120 to bet the favorite Florida Gators, and +7.5, with the price around -120 to bet the Miami Hurricanes as a dog.  In either event, while our stated break-even percentages on PFF Greenline assume standard -110 juice, at higher prices we're not able to recommend a bet on the spread for this game. However, there is a small advantage betting Miami around +240 on the moneyline, but this wouldn't be a full unit size play. Despite the excitement of kickoff finally being here our recommendation is to tread lightly as more information will allow us to find better spots in the early to mid part of the season.   

ARIZONA WILDCATS (-11.0) AT HAWAII WARRIORS (OVER/UNDER 74)
While the PFF algorithm does not have an official pick for this game, we're going to go through some of our processes in terms of picking games focused on this particular matchup. 
The Wildcats are the 51st-ranked team by PFFELO ranking with the Warriors slotting in at 109th of 131 FBS teams. Our offensive ranking showcase a tighter race with the Wildcats (80th) and the Warriors (79th).
When taking a look at opponent-adjusted grading metrics for different facets of play, Hawaii's potential starts to shine through. Cole McDonald had a productive 2018, throwing past the sticks on 55.1% of attempts and getting almost 65% of his total yards through the air. Because of this, Hawaii has a significant edge at the game's most important position returning with the 38th-highest opponent-adjusted passing grade in the FBS. Khalil Tate, by comparison, had the 73rd-best opponent-adjusted passing grade with a slightly lower overall composite passing grade. Tate maintained a higher aDOT and received considerably more help after the catch than McDonald. The Wildcats pass-catching unit (50th in the nation) offers the Wildcats a significant advantage in this matchup compared to Hawaii's 87th ranked unit in opponent-adjusted pass catching grade. 
Offensively, these two teams appear closer than the consensus market has them priced. Factoring in the push probability at +11, Hawaii is slightly above 50% cover probability but not at a significant enough edge to beat the vig. Opening at +11.5 offered value, which pushed the spread down. If the number moves back to +11.5, Hawaii would become playable at that opening line according to our models.
 Hawaii has the 93rd-best opponent-adjusted coverage grade, which surprisingly is an improvement on Arizona's ranking of 107th. With the offensive capabilities and seemingly lack thereof on the defensive side of the ball, it is not surprising that this is the highest game total (74) we have seen in Week 0 or one of the PFF College era by a full three points. PFF Greenline is shaded to the over with a cover probability of 51.2%. Still, with the market feeling relatively accurate according to our models with so much unknown early in the season, this is a pause or layoff unless the market moves to offer us a better line before kickoff.