The Chicago Bears continue to be very active in free agency and will snag another offensive weapon in TE Trey Burton. Chicago will also ink Allen Robinson to a deal when the free agency period officially opens on Wednesday at 4 p.m. EST.
Burton was arguably the top pass-catching tight end in this year's free agent class following a strong 2017 campaign. Despite being stuck behind Zach Ertz on the depth chart, Burton made his mark as a role player throughout the season, and was especially effective when Ertz was sidelined. In those two games, which occurred in Weeks 9 and 14, Burton racked up seven catches on 10 targets for 112 yards and three touchdowns.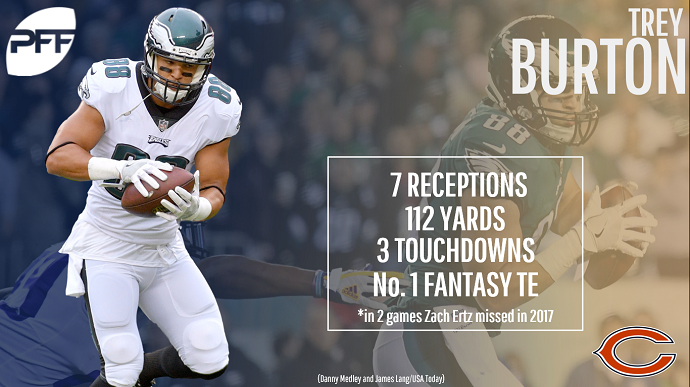 Of course, we can't overlook the fact that Burton hasn't been a full-time starter at any point since entering the league as an undrafted free agent out of Florida in 2014. Still, the Bears were willing to pony up $32 million over four years for his services. That average of $8 million per year makes Burton the sixth highest paid tight end in the league, and it also suggests the Bears view him as a full-time starter.
The addition of Burton almost certainly spells the end of Dion Sims' tenure in Chicago, but the Bears also have second-year man Adam Shaheen on the roster. Shaheen was a draftnik favorite thanks to his impressive size and athleticism. He ended up being selected in the second round of the 2017 draft, but only played a minor role in the passing game with just 12 catches last season. Shaheen still has appeal as a long-term dynasty stash, but the addition of Burton takes Shaheen off the redraft radar.
For Burton, this is a solid landing spot. He'll play in a system that is likely to be very TE-friendly under new head coach Matt Nagy. Like with Allen Robinson, Burton's fantasy value hinges on Mitchell Trubisky taking a step forward in Year 2. That being said, Burton's plus ability as a receiver and his favorable role in the Bears' offense bode well for his fantasy prospects. He's a good bet to produce TE2 numbers with the outside chance of him landing on the back end of the TE1 radar.