Our friends at SimBull have created a stock market for sports, allowing you to trade teams like stocks and even earn cash payouts when your teams win. It is the perfect blend of sports and the stock market and offers a brand-new way to invest in your favorite teams and profit off their success, making it one of the most exciting and innovative ways to speculate on football.
The price of each team's share is determined by the auction market and is typically influenced by how many games the market thinks the team will win. But that doesn't mean that things have reached an efficient equilibrium.
Like the real stock market, different investors have different timeframes and reasons for buying in. This is one of the most appealing parts of SimBull, as you are in control of how long you hang onto a team.
Editors Note: Deposit $10 on SimBull using promo code PFF & get a free year of PFF EDGE!
This is the biggest change from sports betting, as you can hold shares for multiple seasons until a young, up-and-coming team reaches its full potential. There is little downside risk in the SimBull market, given that the payouts occur after each win and the pennant offers valuable backing of a team's price.
Another key difference from most other game offerings is that SimBull is not a "zero-sum game" but rather a free market with the extended possibility of payouts. A zero-sum game means that the total value of all shares in the market is constant at all times: If one team increases in value, another team decreases in value.
SimBull, on the other hand, is a free market: The value of virtual shares is determined by supply and demand. The value of the market may be higher at certain times and lower at others, but it is in a constant state of change.
Some of the SimBull teams appear to be on the same rocket other alternative investments once captained, as all 32 teams have a positive ROI since their initial price offering last August. This is the single biggest benefit of a free-market setup like SimBull, as all franchises have appreciated in value since the initial release.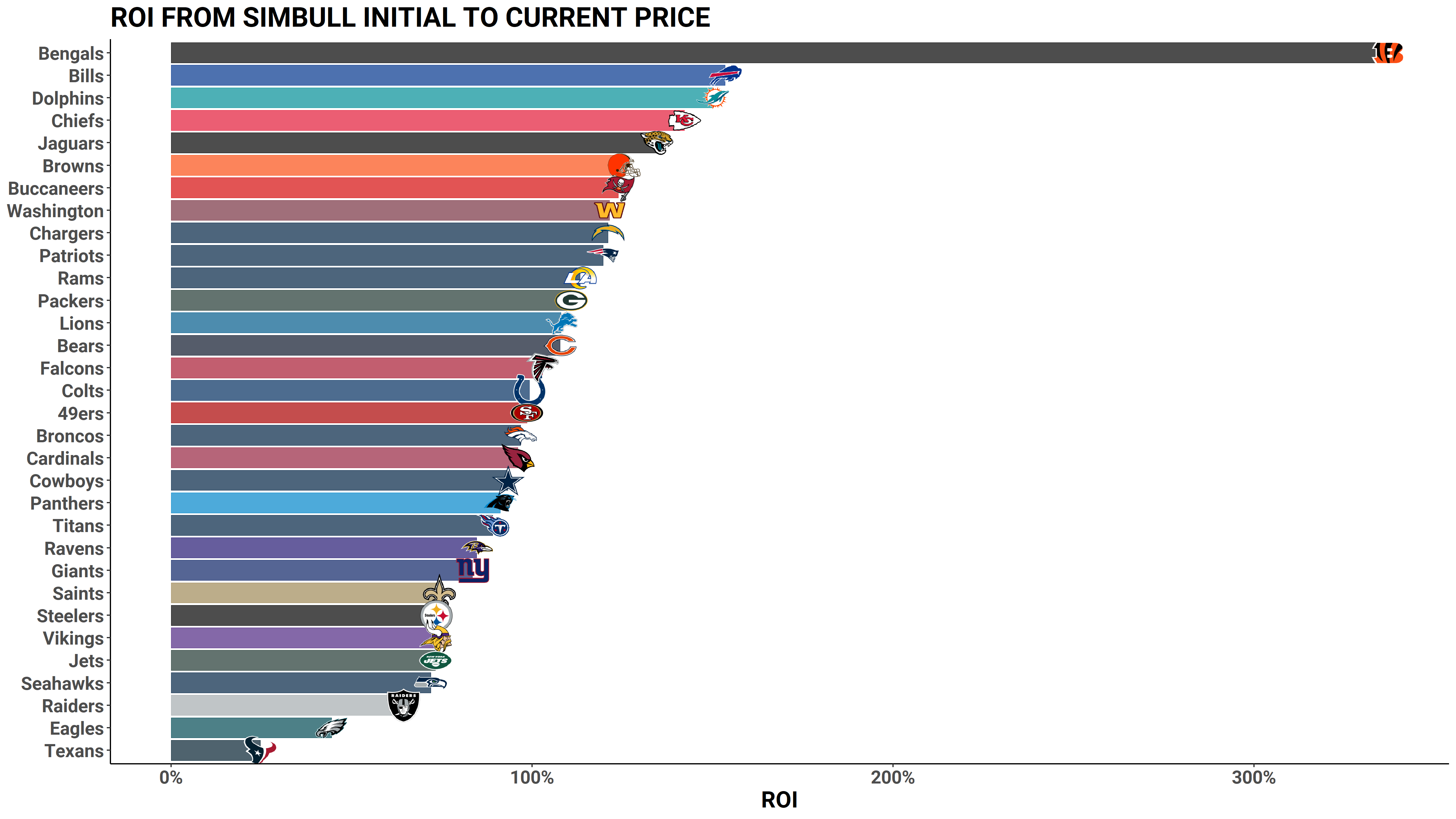 The SimBull market seems extremely bullish on up-and-coming teams with young quarterbacks, contrary to this year's futures markets. This appears to signal that some investors are looking at a longer timeframe than just the 2021 season.
The Cincinnati Bengals and Jacksonville Jaguars have been two of the biggest risers since last August, although it's tough to know precisely what has caused the huge spike in the Bengals market.
Another way we can see popularity in the market is with the total number of trades occurring for each team since March 1, which shows how often each team has been traded.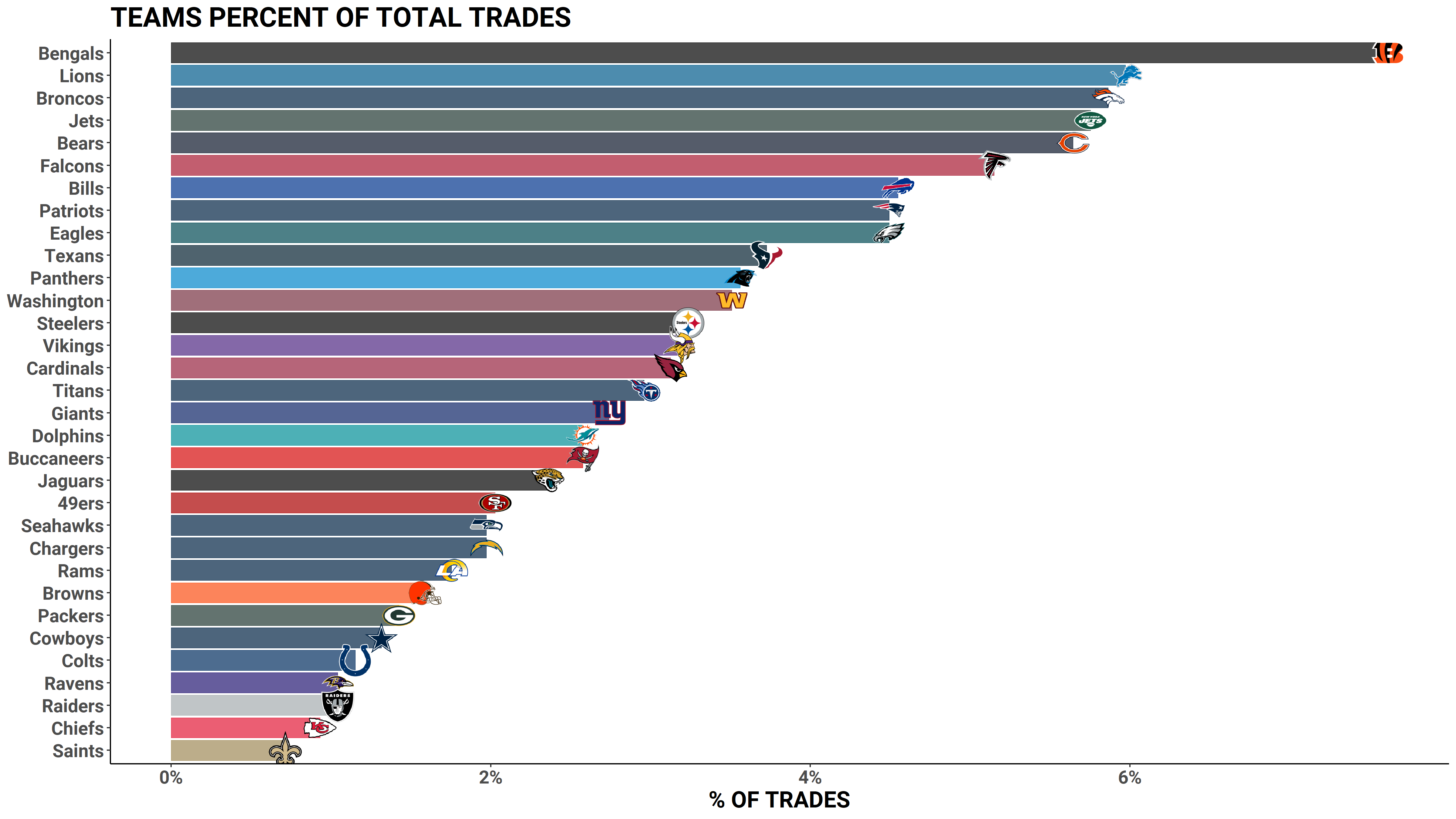 The Bengals are an incredibly popular team on SimBull and appear to be untouchable at their current price. Some of the cheapest available offerings include the most heavily traded teams, as most of the established contenders have seen little trading action at their high prices.
Outside of the expected ROI, SimBull also offers payouts for each win that your team secures. This is an addition to the value placed on your share price and can be viewed as a dividend in the stock market.
Looking solely at the potential dividend payments, some teams seem to be valued lower than their current 2021 season expectation. First, we use our simulation to find a team's projected win total, and then we take their current price by expected payout to see if there are any teams to buy into based solely on a payout perspective for this season.
Team
2020
Payout
2021 Sim:
Total Wins
2021
Expected Payout
Payout %
Per Current Price

Raiders

$4.00

9.5

$4.75

17.24%

Packers

$7.00

12.5

$6.25

16.28%

Seahawks

$6.00

10

$5.00

15.57%

Buccaneers

$7.50

13.1

$6.55

15.26%

Titans

$5.50

10.1

$5.05

15.07%

Jets

$1.00

8.4

$4.20

14.89%

Browns

$6.00

11.2

$5.60

14.01%

Falcons

$2.00

9.5

$4.75

13.97%

Panthers

$2.50

7.9

$3.95

13.93%

Ravens

$6.00

10.4

$5.20

13.66%

Cardinals

$4.00

8.6

$4.30

13.47%

Giants

$3.00

7.8

$3.90

13.45%

Rams

$5.50

10.1

$5.05

13.36%

Chiefs

$8.00

13.2

$6.60

13.22%

Vikings

$3.50

8.1

$4.05

12.84%

Eagles

$2.00

6.8

$3.40

12.60%

Saints

$6.50

8.6

$4.30

12.55%

Colts

$5.50

9.1

$4.55

12.54%

Bills

$7.50

11.5

$5.75

12.46%

Washington

$3.50

8.1

$4.05

12.33%

Texans

$2.00

5.3

$2.65

12.33%

Jaguars

$0.50

8.3

$4.15

12.33%

Steelers

$6.00

7.8

$3.90

12.03%

Cowboys

$3.00

8.6

$4.30

11.90%

Broncos

$2.50

7.7

$3.85

11.67%

Bears

$4.00

8.3

$4.15

11.58%

49ers

$3.00

8.5

$4.25

10.89%

Chargers

$3.50

8.3

$4.15

10.89%

Patriots

$3.50

8.2

$4.10

10.25%

Dolphins

$5.00

8.1

$4.05

10.25%

Lions

$2.50

5.5

$2.75

8.36%

Bengals

$2.00

7.8

$3.90

6.01%
The Bengals are clearly overvalued, given the current season's market expectation, but this also provides insight into other overvalued or undervalued teams.
The Las Vegas Raiders and Seattle Seahawks appear to be good buys based on this year's expectation, and we should see them increase dramatically in price if they start to outperform their win total. No one knows what to make of the Green Bay Packers, as bookmakers seem to be splitting the difference between Aaron Rodgers playing versus not playing in Green Bay.
We can also tie in some PFF power rating metrics to determine if a team is underpriced or overpriced based on their current ELO rating.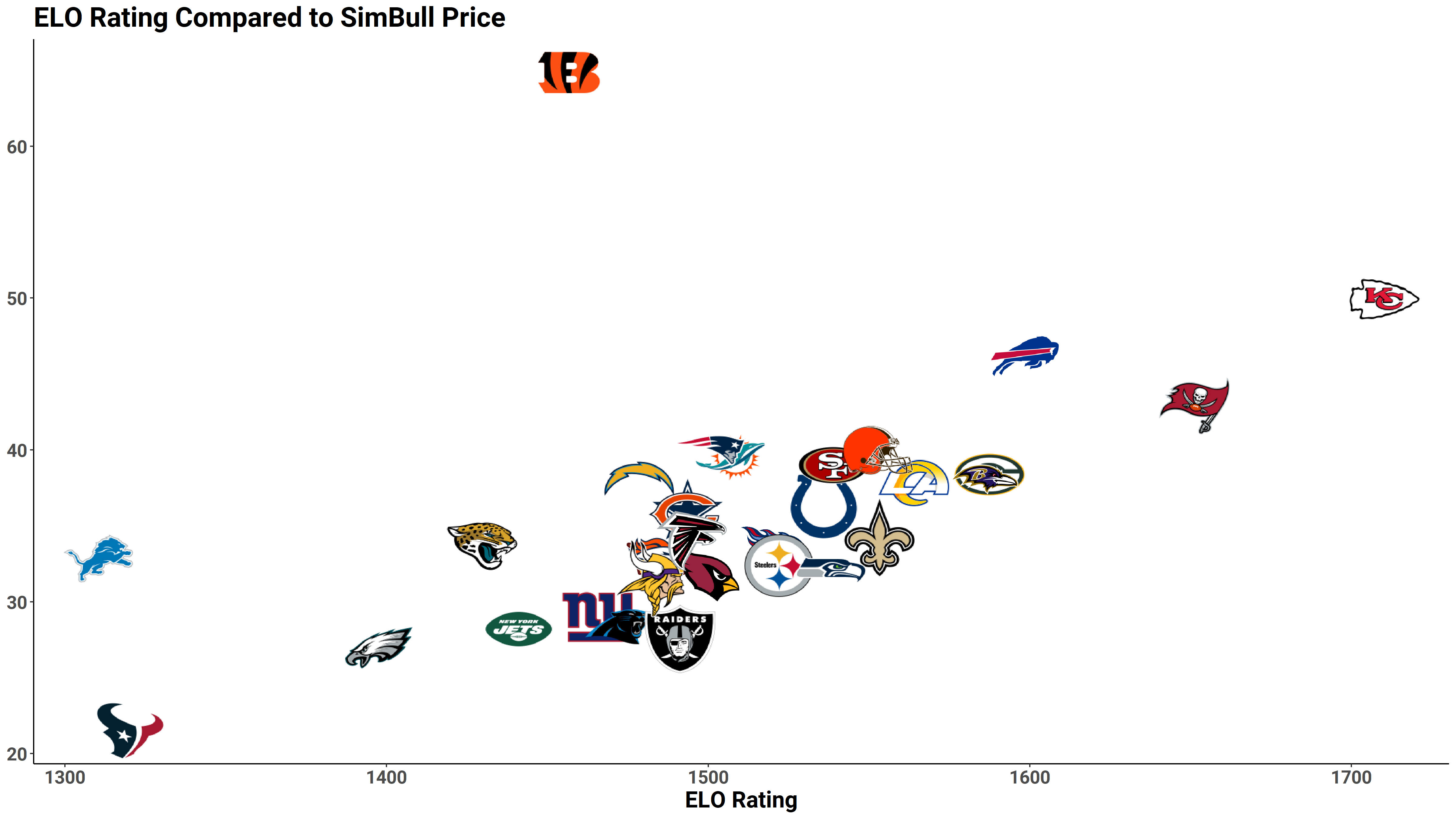 Elo Rating appears to be correlated well with SimBull price, except for the outlier that is the Cincinnati Bengals. Teams on the bottom part of this graph appear to be the best buys, with the Raiders, Seahawks and Carolina Panthers sticking out. Of course, this depends on our timeframe, which is why this is one of the most exciting games to get involved with in the offseason.
We will continue to explore the markets with weekly content at PFF. My next article will focus on how a win (or unexpected win) impacts a team's price. We will also focus on each division to try and get insight into the best buys to make with our friends over at SimBull.