SimBull shares of every NFL team have been on the same rocket ship once reserved only for DogeCoin. After our first article diving into an exciting and innovative way to speculate on football, we have seen a massive increase in almost every team's share price — with the entire market seeing a 15.7% return on investment. 
At the team level, a few NFC East squads have surged in value. Our recommendation to buy the Las Vegas Raiders has paid off immediately, as they have returned almost 30% value in two short weeks. As we suspected, the overpriced Cincinnati Bengals are untouchable at their market-high price and haven't seen any trading activity for some time.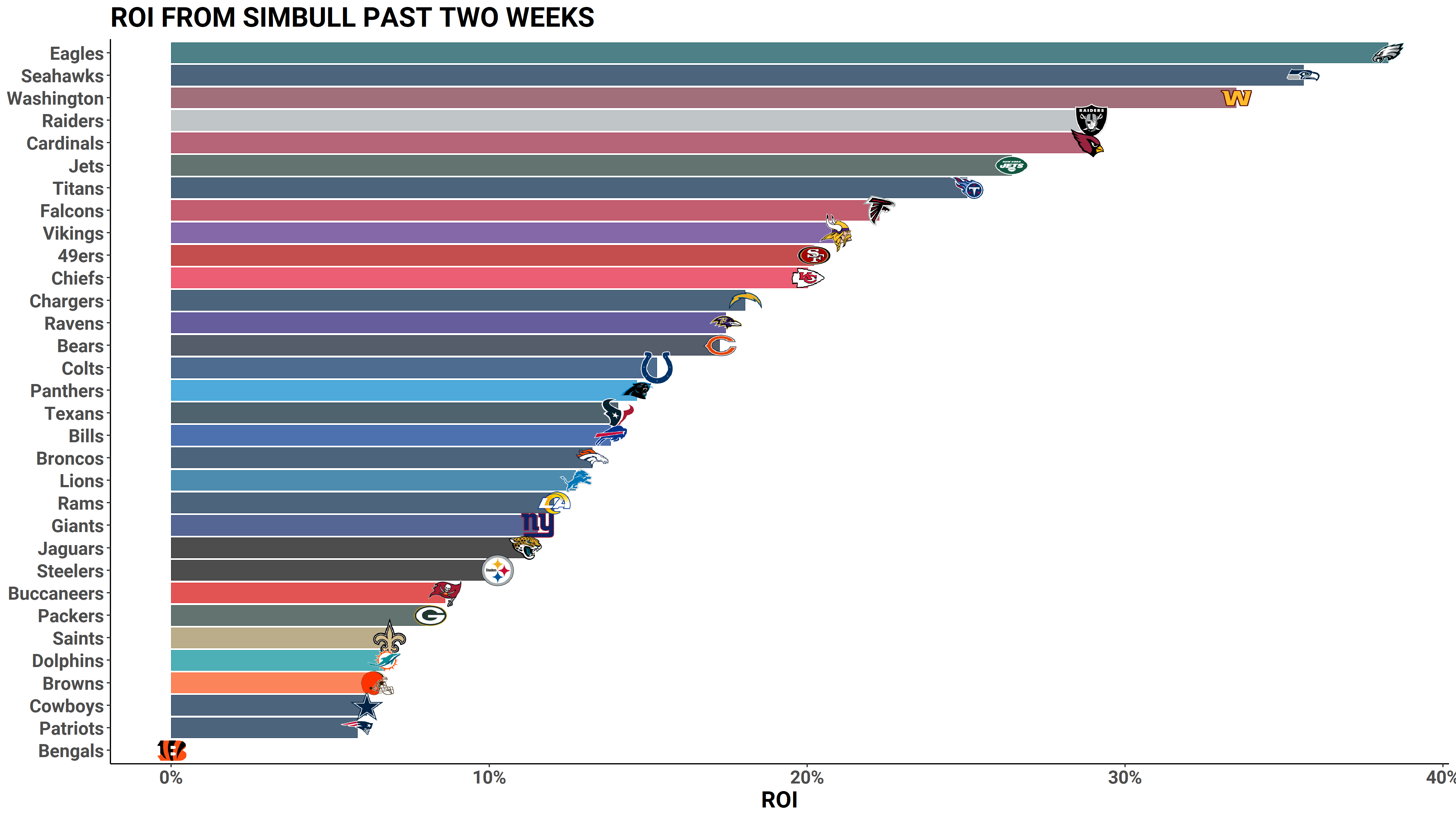 Editor's Note: As part of PFF's partnership with SimBull, deposit $10 on SimBull using promo code PFF and get a free year of PFF EDGE!
From a market sentiment standpoint, we have seen interest in certain teams completely flip from where they were previously at. The Kansas City Chiefs went from the second-lowest percentage of total trades to the highest since May 17. The Raiders experienced a similar swing, with the market quickly realizing how undervalued they are. The least popular traded teams are either overpriced based on current season expectations, are waiting for news (Green Bay Packers, Denver Broncos) or were involved in recent news (Atlanta Falcons) that made them overvalued.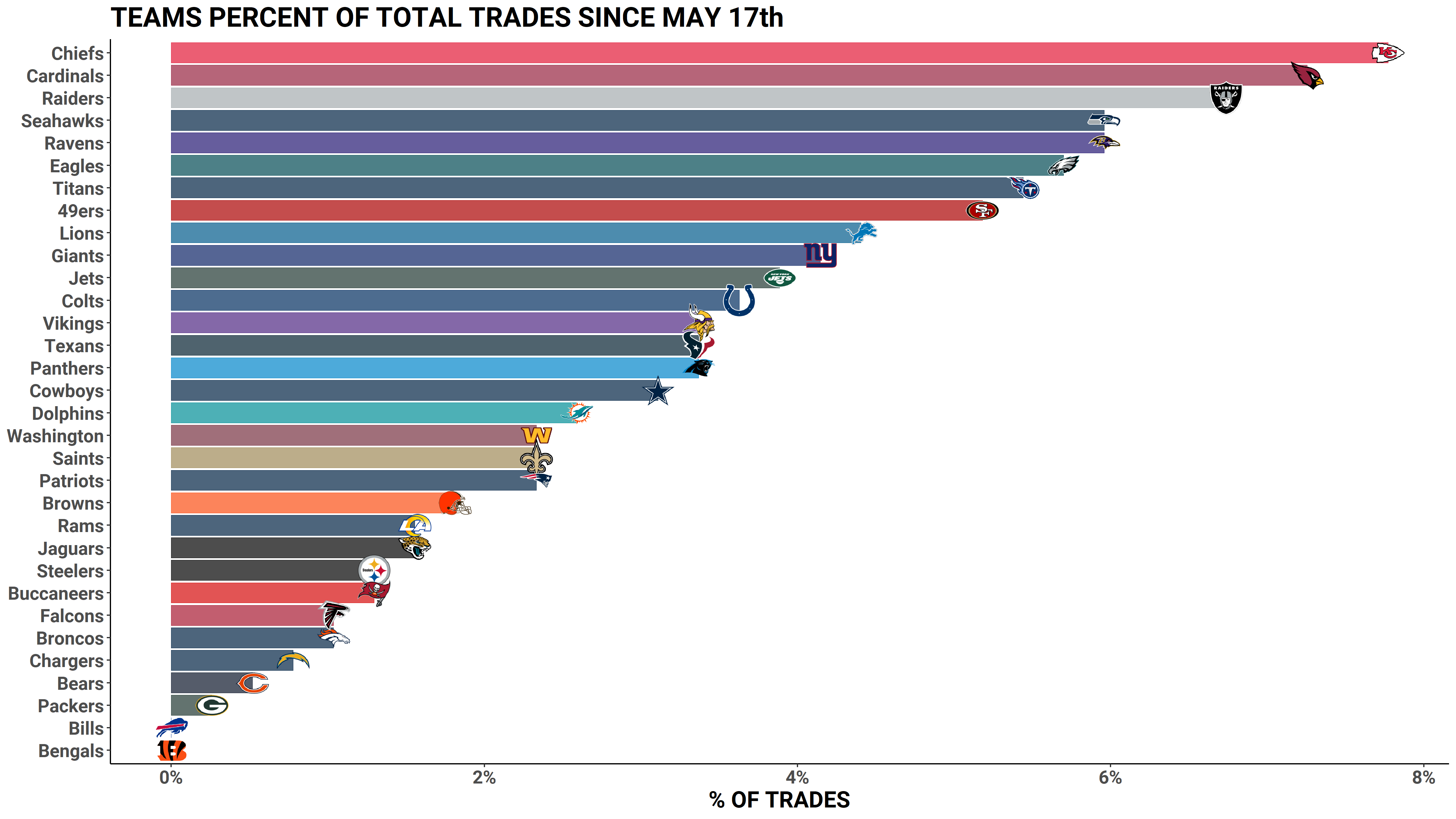 The entire SimBull market is maturing before our eyes. Since beginning to take trades last August, the exchange has moved toward a more efficient state. There are still points of inefficiency, but those seem to be resolved daily. One element to be aware of is early adopters to the market who can hold many shares, particularly of one team. Certain teams can become mispriced if someone is looking to buy or sell a lot of shares.
As more people join SimBull, resulting in more spread-out ownership of shares, and the market becomes more efficient, these sort of rare scenarios will no longer occur.
ELO RATINGS 
In the last article, we compared PFF's current ELO rating to the price of each team's SimBull share to get a general idea of teams that are undervalued and overvalued. PFF's ELO rating is highly correlated to the SimBull price, which makes it more difficult to pick out teams to buy based solely on that graphic.
To take it one step further, we can show the value for each ELO point based on the current price for each team, thereby highlighting who to buy based solely on the SimBull market value. Since the market as a whole has been exploding in value, it stands to reason that simply getting involved, even if it is with the worst teams, should see your investment appreciate.
| | | |
| --- | --- | --- |
| Team | Value Per ELO | Change From May |
| Texans | 53.84 | 7.56 |
| Giants | 43.32 | 4.99 |
| Panthers | 42.85 | 6.28 |
| Saints | 42.41 | 2.91 |
| Raiders | 41.90 | 12.12 |
| Steelers | 40.74 | 4.18 |
| Jets | 40.24 | 10.63 |
| Cowboys | 38.96 | 2.39 |
| Vikings | 38.84 | 8.12 |
| Broncos | 38.43 | 5.09 |
| Packers | 38.31 | 3.12 |
| Jaguars | 38.21 | 4.26 |
| Eagles | 37.48 | 14.34 |
| Rams | 36.89 | 4.44 |
| Falcons | 36.68 | 8.17 |
| Colts | 36.67 | 5.60 |
| Titans | 36.52 | 9.14 |
| Browns | 36.35 | 2.36 |
| Cardinals | 36.11 | 10.40 |
| Dolphins | 35.68 | 2.39 |
| Bears | 35.53 | 6.13 |
| Lions | 35.38 | 4.50 |
| Ravens | 35.21 | 6.14 |
| Buccaneers | 35.13 | 3.02 |
| Patriots | 34.96 | 2.05 |
| Washington | 33.38 | 11.18 |
| Chargers | 32.84 | 5.93 |
| 49ers | 32.76 | 6.62 |
| Seahawks | 32.50 | 11.57 |
| Bills | 31.73 | 4.38 |
| Chiefs | 28.58 | 5.72 |
| Bengals | 22.44 | 0.00 |
The main takeaway is to buy into teams that others are overlooking. For various reasons, the teams at the top are not popular among SimBull participants. The Cowboys and Vikings jump out as teams that could easily contend for a division title and will see a significant gain in price throughout the 2021 season.
To dive deeper into each NFL team, we will hit on one division per article to give an assessment of each team's standing in the SimBull market, starting with the AFC South today.
AFC SOUTH
The Colts' SimBull price is right at league average after netting a 15.3% return on investment over the past two weeks. Tennessee has barely squeezed ahead of them in price, but the Colts are still the slight favorite to win the AFC South on DraftKings sportsbook. Priced as the sixth-most likely team to win the AFC, Indianapolis could be slightly undervalued in the SimBull market. With more enticing options elsewhere, and the team's ceiling capped by a quarterback with a low range of outcomes, the Colts look like the perfect team to pass on in the SimBull market. 
Tennessee has exploded in value after making the biggest offseason trade to date. They have the seventh-highest return on investment in the past two weeks and are now priced as the top option in the AFC South. PFF's season simulation added half a win to their season total after the Julio Jones trade and gives them a 47.2% chance to win the division. For as much as Tennessee has gained in the past two weeks, there is still a strong case to be made that the team is undervalued on SimBull and looks like a strong buying opportunity. 
Unlike the futures market, SimBull participants have placed a high premium on teams with young quarterbacks. Nowhere is that more apparent than with the Jacksonville Jaguars, who are tied for the third-lowest win total in the betting market. Jaguars backers are playing the long game, as they currently have the ninth-lowest price on Simbull. Taking PFF's ELO rating into consideration, the Jaguars are 12th in ELO per price and could easily move into the top 10 if Trevor Lawrence comes close to living up to the generational hype surrounding him. To buy into the Jaguars is to buy into Lawrence, which is why they are still one of my favorite teams to own on SimBull. 
If you are looking to dip your toes into the SimBull market, there are few teams more enticing than the Texans. They are by far the lowest-priced team and are almost $10 less than the next closest Giants share. For comparison, the Giants are $10 less than the 11th-highest-priced team, which means Houston is extremely undervalued if you buy into the SimBull market as a whole.
When new participants enter the market, the market value as a whole will only grow, and no team has more room to do that than the Texans. Despite their on-field outlook, if SimBull takes hold we should see every team gain in value, just like the value of actual NFL franchises have done. The Texans are a safe bet to buy at their absolute floor price.