• Parlay Saints moneyline + Saints total o23.5: Andy Dalton is top 5 in several stable QB metrics, including from a clean pocket, on early downs, without play action and in avoiding negative plays.
• Meantime, Lamar Jackson has struggled when he's not blitzed — and New Orleans sends extra rushers on only 17% of drop backs.
• Parlay Saints alt spread -5.5 + Saints total o23.5: With Dalton playing his best football, and their defense No. 1 in rush EPA and rarely blitzing, the Saints are a good bet to score often and cover the 5.5 points.

Last updated: Nov. 2, 10:40 a.m.
Estimated reading time: 5 mins
---
Most bettors place wagers in multiple markets — spreads, totals, teasers, props, etc. — where they generally get oriented by following a bottom-up approach: "Which spreads do I like?" "Which totals stand out this week?"
But the goal in this space is to articulate my process for bets by following a top-down approach. We will consider how a specific thesis on a team, player, or trend is best applied and capitalized on the proper market. Some bets will track more traditional markets, but more often we will look to maximize our upside in the multitude of different markets offered by sportsbooks — dependent on finding the right market for the thesis! Let's dive in!
---
As we wrote last week, one of the central questions in 'Leveraging Tails' is how to price in a key injury. In this spot, it's how to price the Saints offense with Andy Dalton at the helm, and the Ravens' Lamar Jackson without Rashod Bateman and possibly Mark Andrews. 
Parlay New Orleans Saints moneyline vs Baltimore Ravens + Over 23.5 Saints total (+190), Saints alt spread – 5.5 + Over 23.5 (+310)
Bottom line
The market is not yet buying into Dalton, despite his elite play in the stable metrics. A below-average Ravens defense is unlikely to generate enough pressure to disrupt Dalton. If Dalton's improved production is not a fluke — and this is the tails we chase in this spot — the Saints should fly past 23.5 points. And with their defense prepared to stop what Baltimore does best, the Saints are a good bet to score often and cover the 5.5-point alt spread. 

Fundamentals & Power Rankings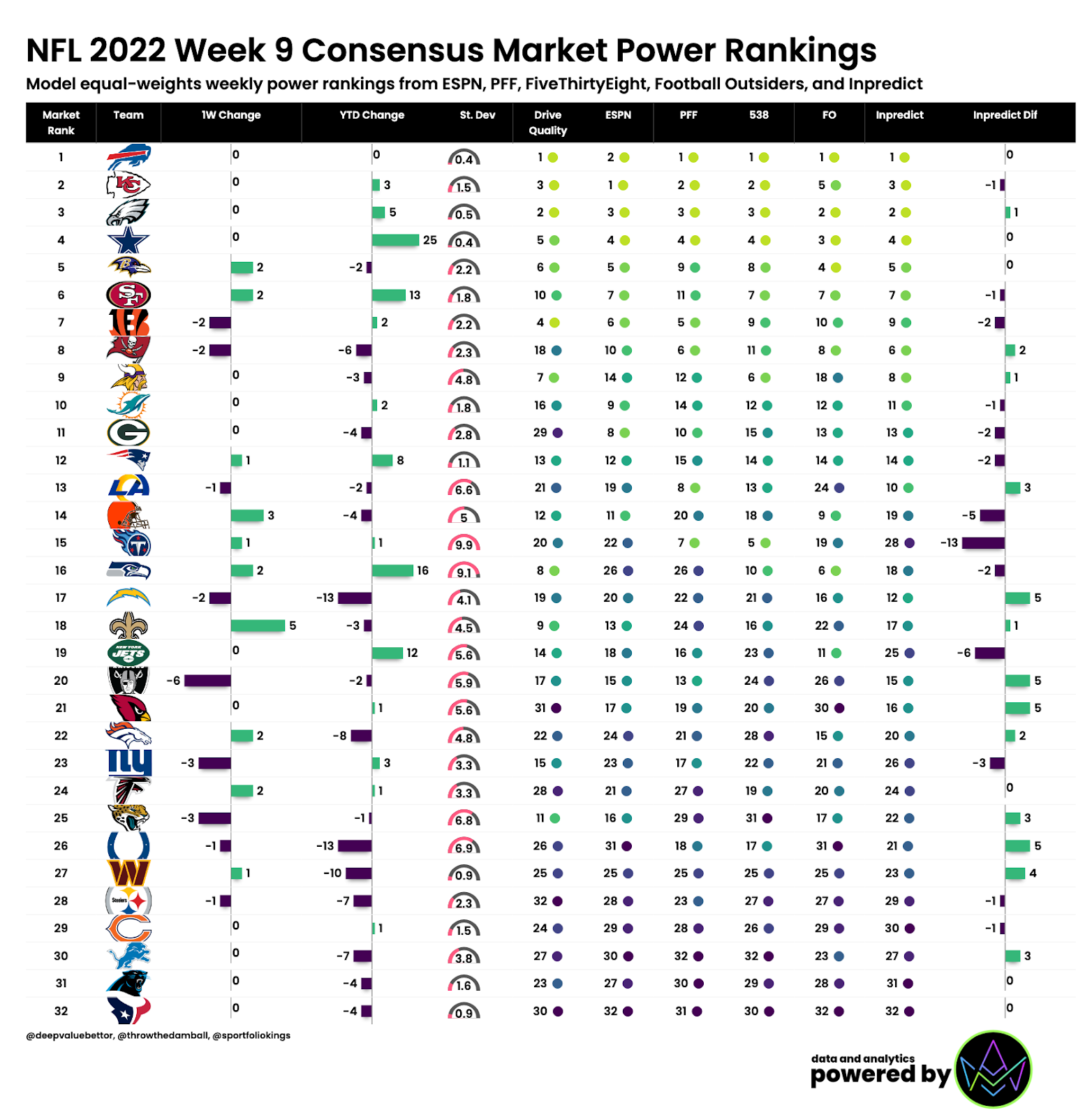 The market is pricing Baltimore as a top-5 unit, and the Saints as a middling-to-below-average unit.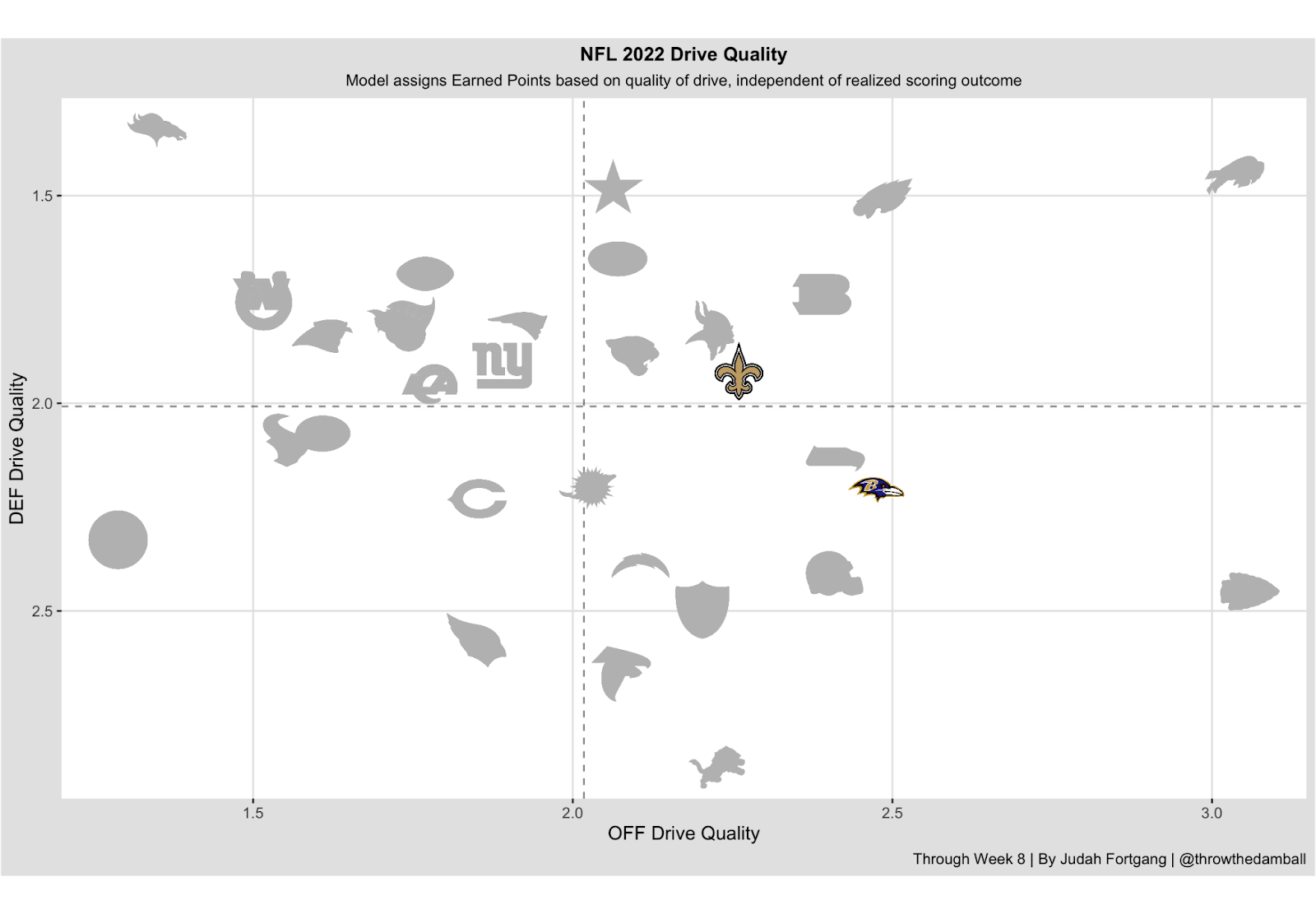 • Considering how well these teams have played through 8 weeks using drive quality as a proxy, these rankings seem to make sense on the Ravens' end but are discounting the Saints quite a bit. 
• Plus, the Saints' numbers lack some critical context, as their defense has only generated 27 expected points off turnovers, 4th-fewest in the NFL. Over time, especially with their, these numbers should regress and the Saints' defense should produce more like the top unit of the past few seasons. 
• But perhaps more important, the Saints' defense has been a totally different unit since Dalton took over for Jameis Winston.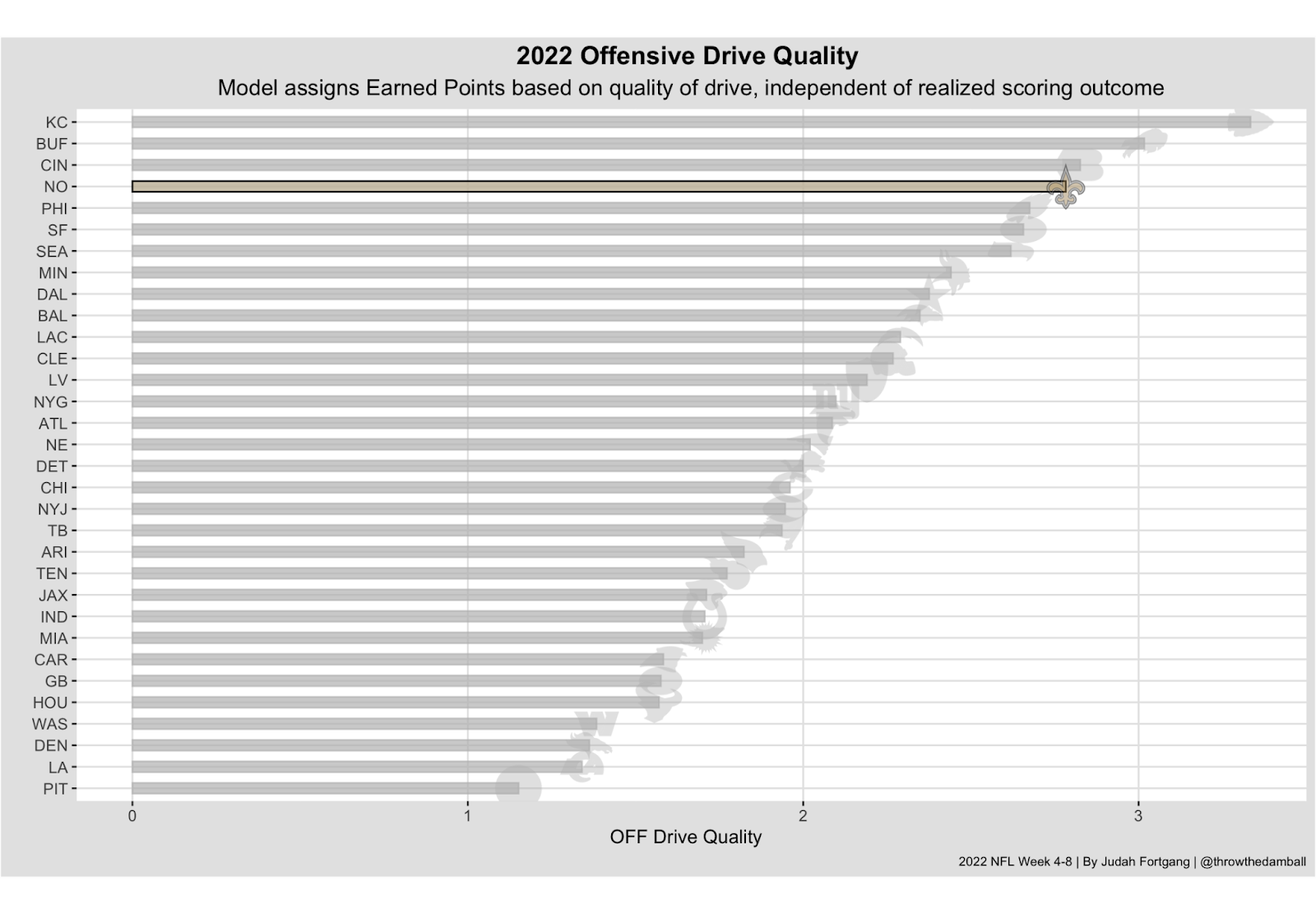 Since Dalton took over in Week 4, this offense has been dominant, with the 4th-best Drive Quality in the NFL, 6th-highest EPA, and best Success Rate in the league. And this is every bit a function of Dalton looking like a terrific QB.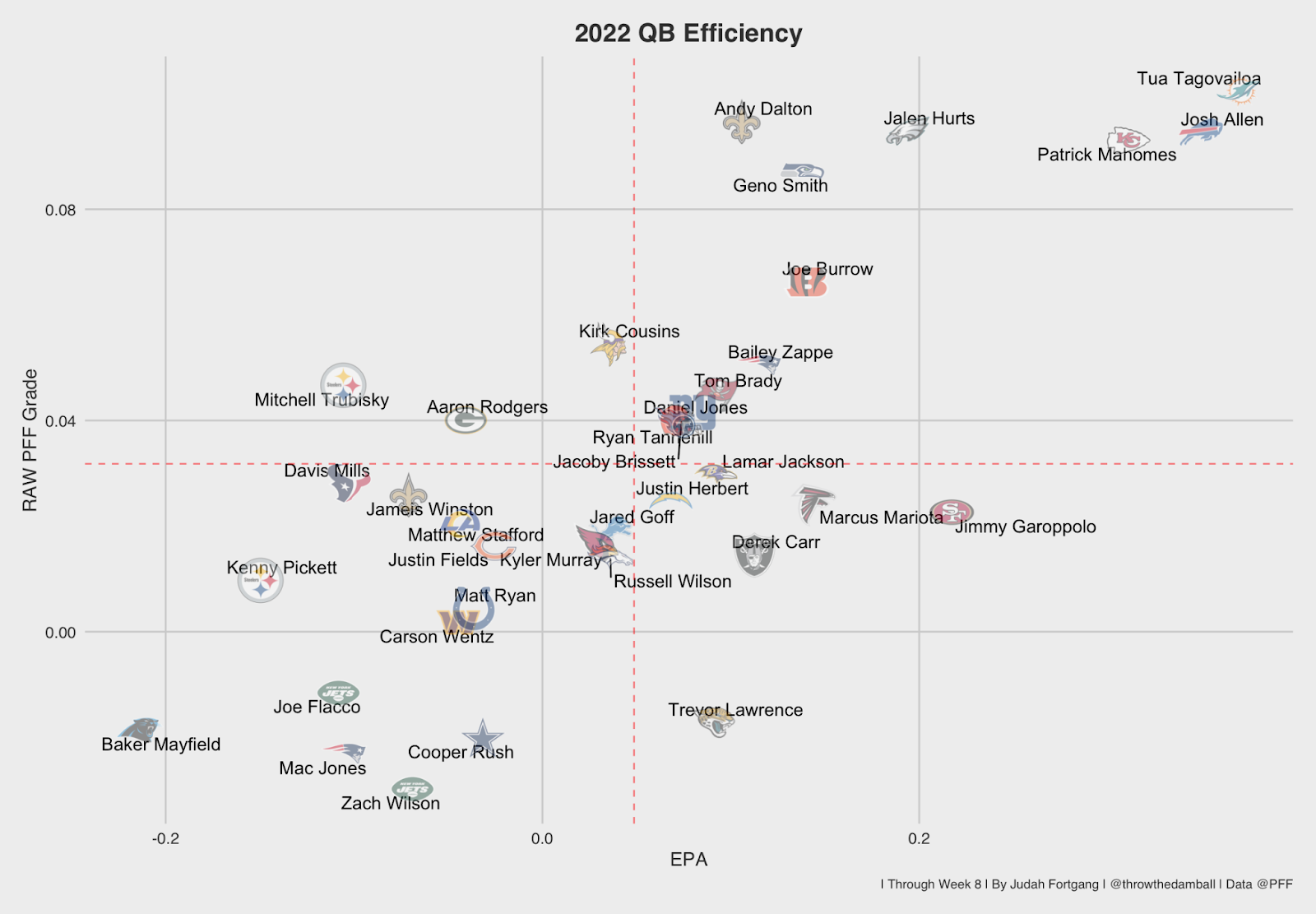 • Among the most surprising results so far this season is Dalton's performance despite the Saints' plethora of WR injuries. And his production is not simply a function of easy matchups.
· Dalton's opposing defenses in EPA: 17, 21, 9, 18, 28
· Dalton's opposing defenses in Drive Quality: 12, 21, 8, 29, 30
• Nor is Dalton's production simply a function of play in unstable metrics such as play under pressure.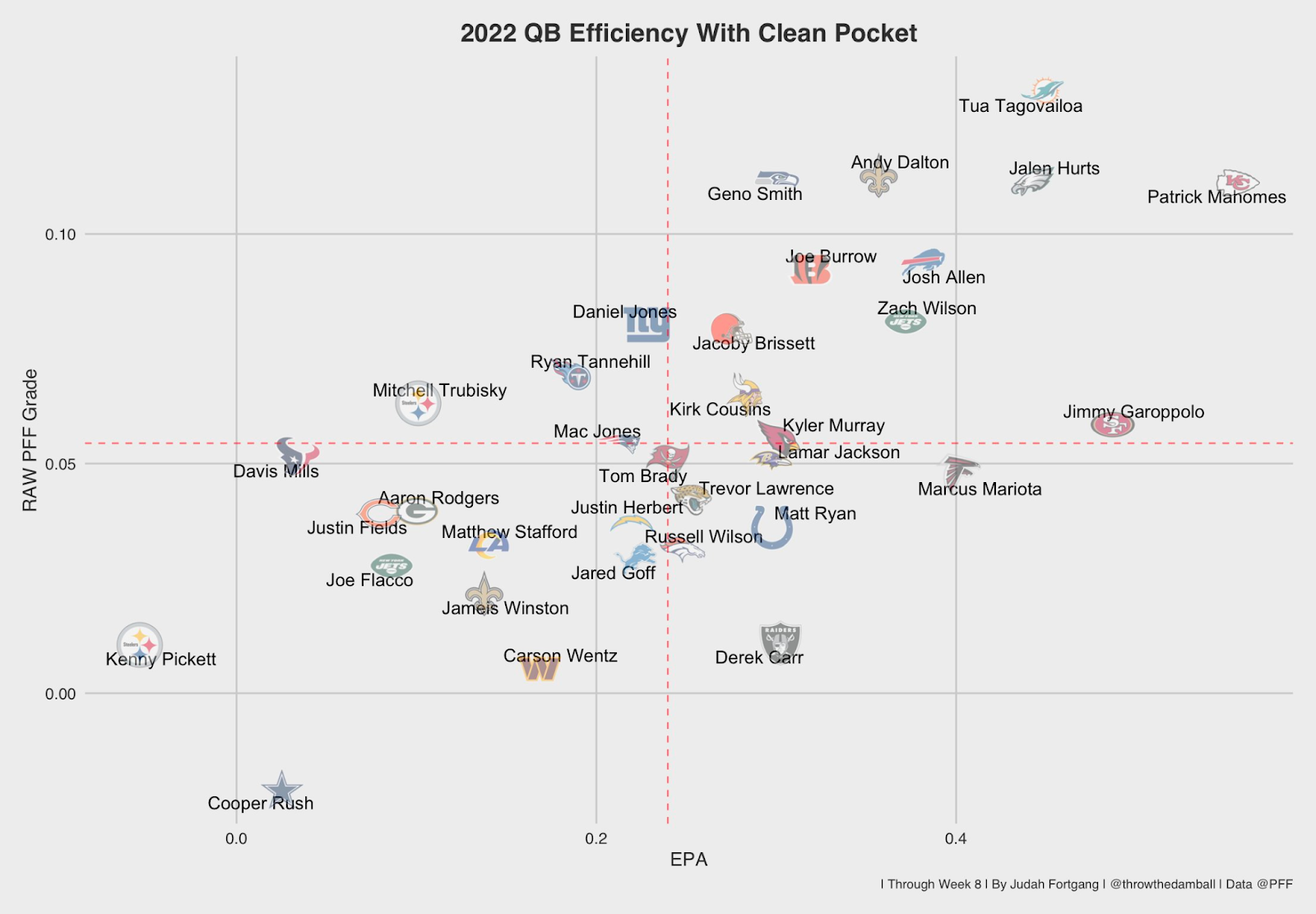 As illustrated above, Dalton is continuing to produce at an elite clip with a clean pocket, one of the more stable metrics. 
• Additional stable metrics in which Dalton is top 5 include:
· PFF grade on early downs
· PFF grade without play action
· Avoiding negative plays.
• There is little evidence from 2022 to suggest that Dalton's play is fluky and unsustainable. 
With Dalton playing like a top-5 QB, and the defense playing above average — despite poor turnover variance — the market is materially mispricing and underselling this Saints team. 
Matchup Angles
Not only is the market failing to account for Dalton's production, there also are matchup angles that support the Saints.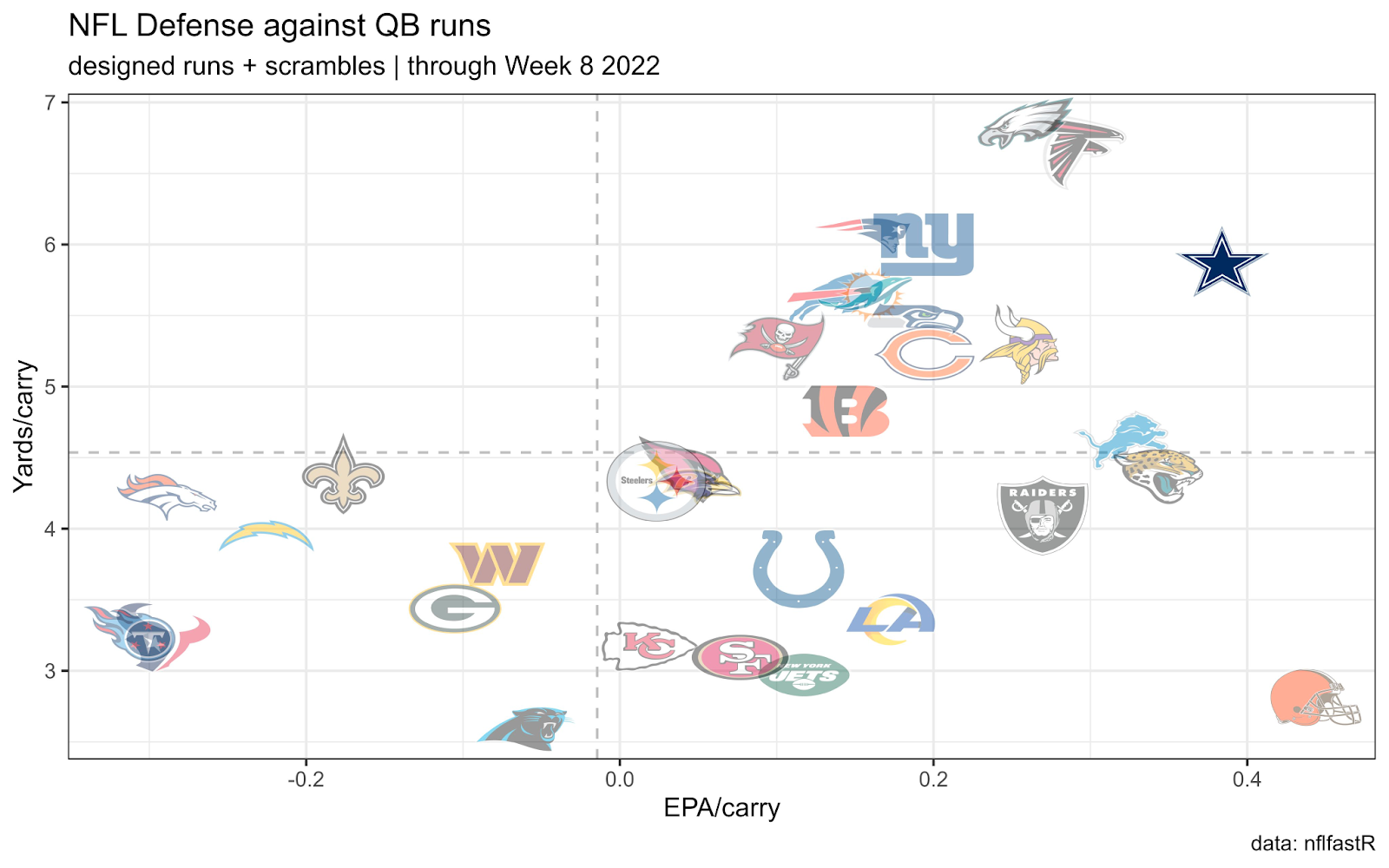 Matchup Angle 1: New Orleans should stifle Ravens' rush attack
• The Saints' defense boasts the best rush EPA (-0.16) in the NFL this season, a recent staple for the team, which also finished No. 1 in 2021 and No. 3 in 2020. In other words, it's not fluky that the Saints are dominant defending the run.
• And it's not merely against running backs. Courtesy of Dan Morse, the Saints also are terrific defending QB runs. 
• Being able to stop the run — and especially stop the QB run — is certainly a recipe for success against Jackson and a team needing to rely on the run with an injured receiving corps. 
Matchup Angle 2: Jackson's 2022 success has come largely vs the blitz, but Saints rarely blitz
The Saints have blitzed only 17% of the time, which could pose an issue for Jackson in this spot.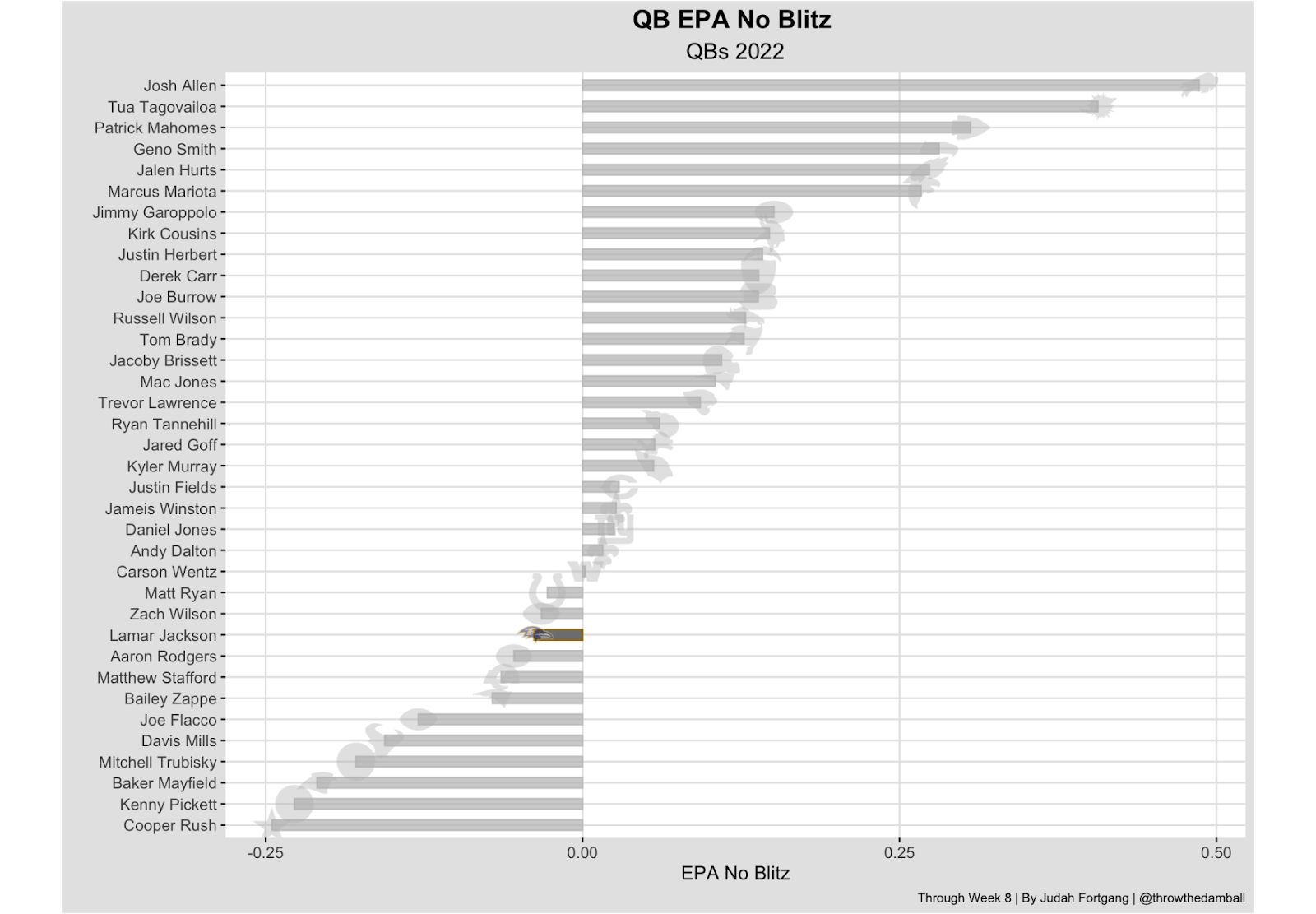 • Although Jackson is 6th in the NFL in EPA when blitzed (0.27), his EPA is negative when he's not blitzed. Should the Saints stick with their season blitz  average, we can project a huge portion of Jackson's dropbacks to be negative output.