Our picks went 1-1-1 last week, with our OVER 44 in New Orleans a no-doubter and our Cincinnati (+8) push a product of getting less than the best of the number on Thursday morning. We are now 21-17-1 on the season and 114-98-11 (53.8%) over the history of this column. We are getting an average of 0.24 points of closing-line value on picks against the spread and 0.13 points on totals. As usual, we will run through the entire week of games on the PFF Forecast, which drops on Thursday and Monday mornings.
This week's slate is so bad the NFL had to flex Duck Hodges into primetime. That means both of us will have to spend more time suffering through each of our four season-long win totals (Titans under 8, Bears under 9.5, Cowboys under 9, Buccaneers over 6.5), all of which could be decided this week. We start off with a head coach battle royale (with cheese) in the desert.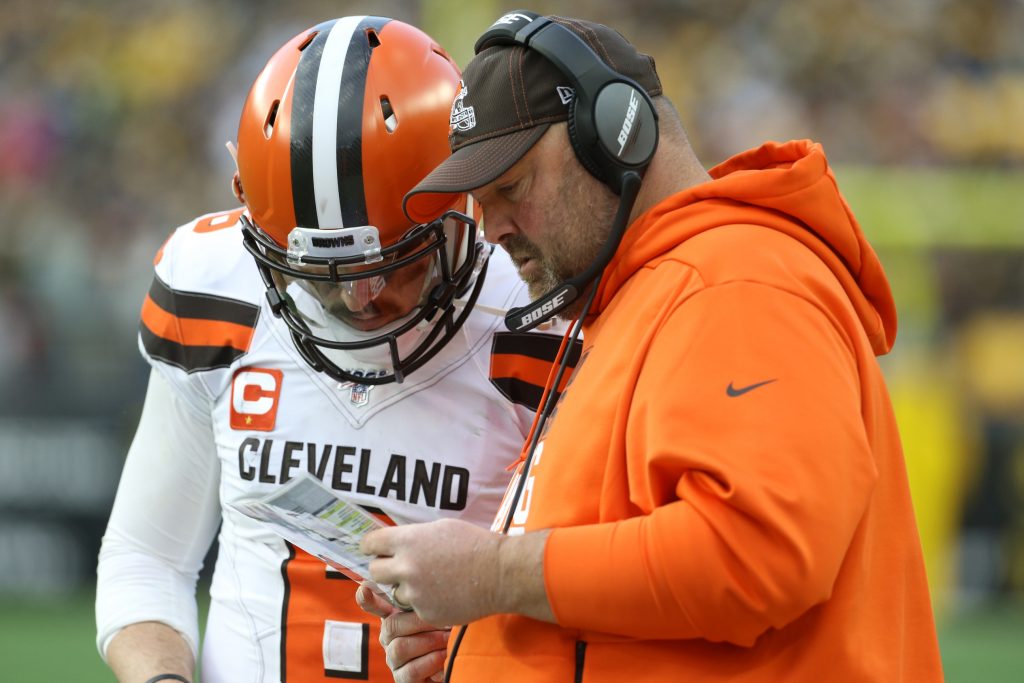 Point (Eric Eager): This column is 5-0-1 picking Cleveland Browns games this year, so while there are some teams we've had a difficult time handicapping over the past two-plus seasons (looking at you, PFFalcons), we've had the Browns pegged well since the beginning of the year. While they have been a major disappointment in 2019, the Browns have won and covered in four of their last five games, only losing in Pittsburgh when Baker Mayfield injured his hand in the middle of the game (when they were up 10-0). Mayfield has not been brilliant at all this season, but he's improved since his severe early-season struggles, taking only 10 sacks during the last five games while throwing eight touchdowns to just four interceptions. His receivers have been more consistent in recent weeks, as well (just five drops), while Kareem Hunt has been a revelation as a do-it-all player out of the backfield.
Enough about the Browns, though. This pick is a (hopefully not-too-late) fade on the Arizona Cardinals, who, after being competitive against some good opposition going into the bye, have failed to win or cover as short underdogs at home the last two weeks (two picks Greenline liked that we regrettably didn't write up). The 'Zona defense is an absolute bus fire, giving up the third-worst adjusted yards per pass play on defense, which is only slightly better than where they are in overall yards per play (fourth-worst). Cleveland should be able to score here, and while I'm a little concerned that they don't have the pass-rush to slow the Cardinals the way that the Rams and Steelers did, their young group of cornerbacks and linebackers should be able to slow an underwhelming set of skill players in Glendale.
Counterpoint (George Chahrouri): Imagine choosing Freddie Kitchens as a favorite against Kliff Kingsbury, I simply cannot. Kitchens & Co. needed all the help they could get to beat the hapless Cincinnati Bengals at home last week, and now they travel to the desert, which would have really appealed to Freddie at first before someone alerted him to the missing "s." Baker Mayfield is sporting an 82.1 passer rating from a clean pocket which is nearly 20 points below the NFL average, and the guy who was supposed to make the Browns immediate Super Bowl contenders have gone from an All-World receiver with Eli Manning throwing him the ball to a guy who ranks 62nd in yards per target this season (8.0, he was eighth at 10.2 his rookie year).
The Cardinals' offensive line has been nothing short of awful so far this season, and poor Kyler Murray has regularly had to run for his life. But with Myles Garrett is still sitting at home studying dinosaurs and Olivier Vernon questionable, this Cleveland pass-rush is about as toothless as it gets. The Cardinals have looked absolutely awful since coming off a bye, generating the worst expected points added per play among teams in that span. On the flip side, that also means the Browns should beat them — and that's the kiss of death for the once-popular Super Bowl pick.
Subscribe to PFF Edge to continue reading
Already have a subscription? Sign In