• Bet Bengals QB Joe Burrow o1.5 pass TDs at Steelers: Elite Bengals passing game (No. 5 in EPA/play) has big edge over Steelers (23rd); Burrow threw 2 TDs in Week 1 meeting.
• Try PFF's Betting dashboards free by signing up to PFF+ today.
• Bet Patriots QB Mac Jones u203.5 pass yards vs Jets: When expected to pass, Jones has third-worst EPA; Jets have PFF's No. 1 defensive grade.
Last updated: Nov. 18, 1:00 p.m.
Estimated reading time: 3 mins
---
In Week 10, we went 2-1 using various data points to bet on QB props. Patrick Mahomes over 2.5 passing touchdowns hit in the first half, and Justin Fields went under 24.5 pass attempts. Davis Mills went over 207.5 passing yards, despite getting closing line value, but we still added .85 units to our bankroll as we look for additional improvement in Week 11.
Bet Gameplan: Playable to 201.5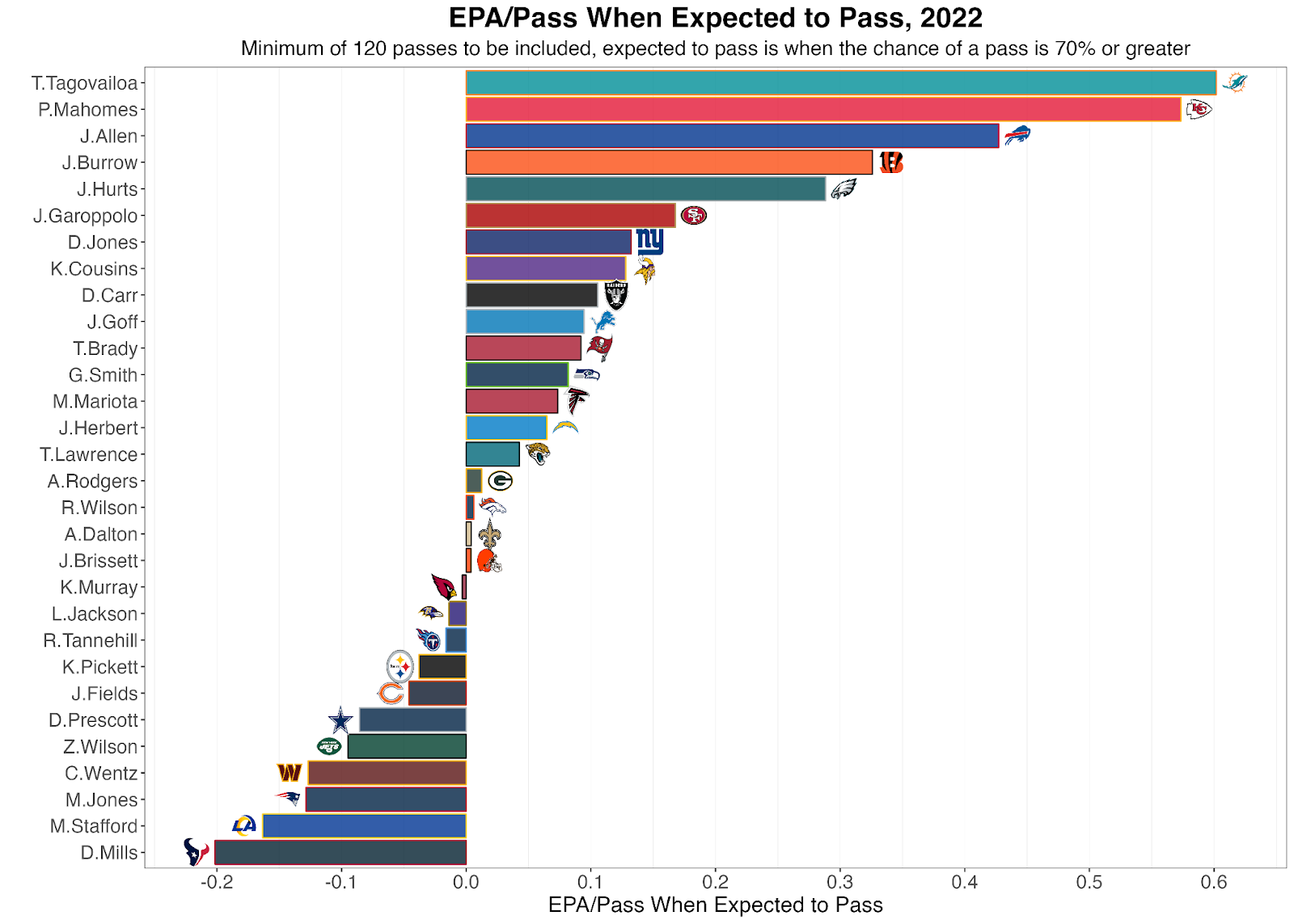 • Jones Struggles When Expected to Pass: This season, New England Patriots starting quarterback Mac Jones has had the 3rd worst Expected Points Added (EPA) when the chance of his team passing is 70% or greater. The New York Jets defense are PFF's #1 overall graded defense meaning they could force Jones and the Patriots into a lot of expected passes.
• Jones Hasn't Gone Over in a Month: The last time Mac Jones went over 203.5 passing yards was September 25th against the Baltimore Ravens meaning he went all of October without having a game with more than 200 passing yards. Against the Jets he threw for 194 yards on 35 attempts and against the Colts he threw for 147 on 30 attempts. He should have less attempts in this game but even if he doesn't, it will be a tough path to go over.
Bet Gameplan: Playable to -150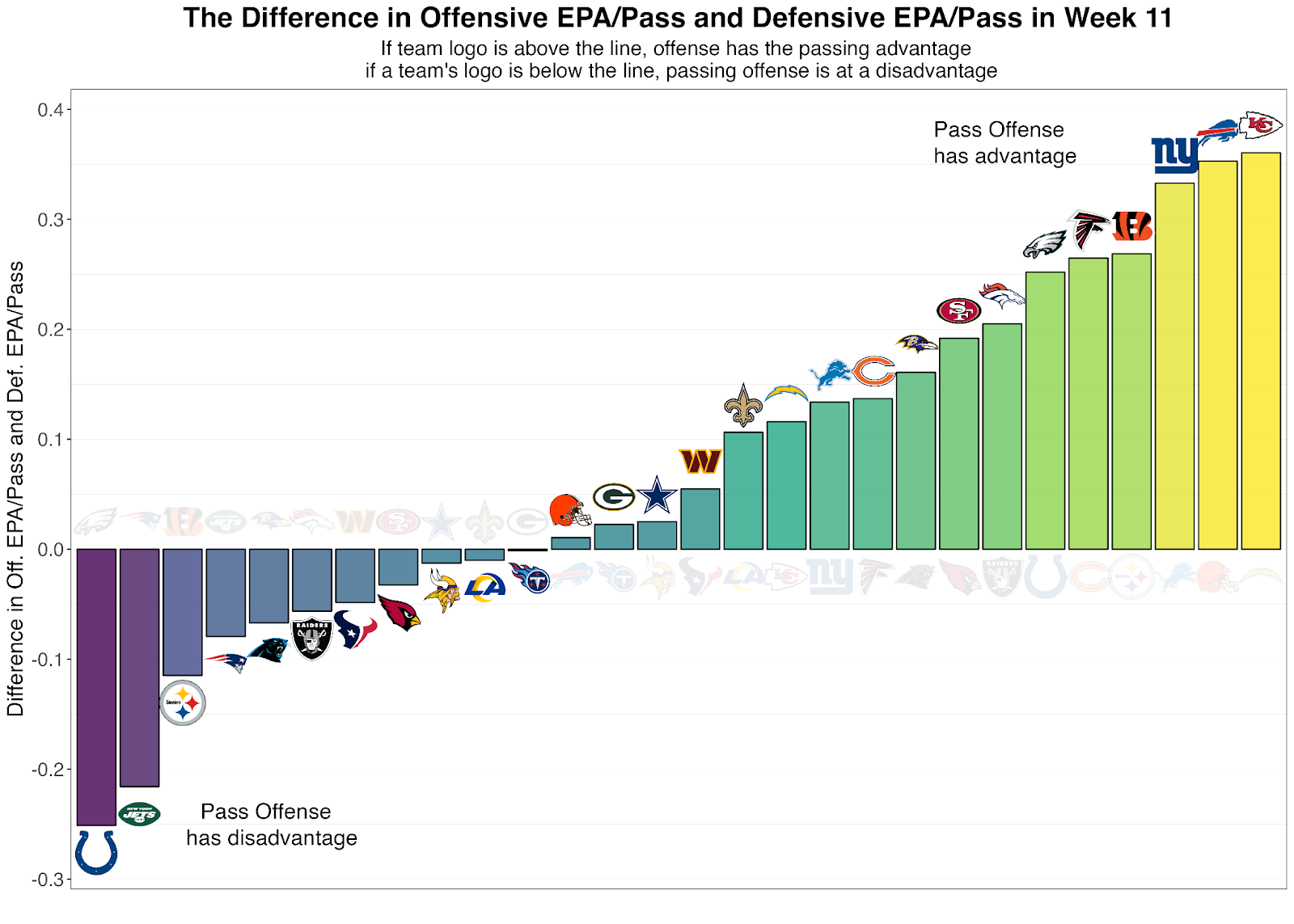 • Bengals Have Passing Advantage: The Cincinnati Bengals have had the 5th best passing attack according to EPA/pass this season. The Pittsburgh Steelers have had the 23rd ranked pass defense. This matchup is a strong advantage for the Bengals as they have an elite passing attack against a pass defense that has struggled.
• The Odds are in Burrow's Favor: At -140, that implies the betting market thinks there is a 58.3% of Joe Burrow throwing for over 1.5 passing touchdowns. However, he has thrown for over 1.5 passing touchdowns in 66.7% of his games this season. He even went over against the Steelers in Week 1 throwing for two touchdown passes. 
Bet Gameplan: Playable to 18.5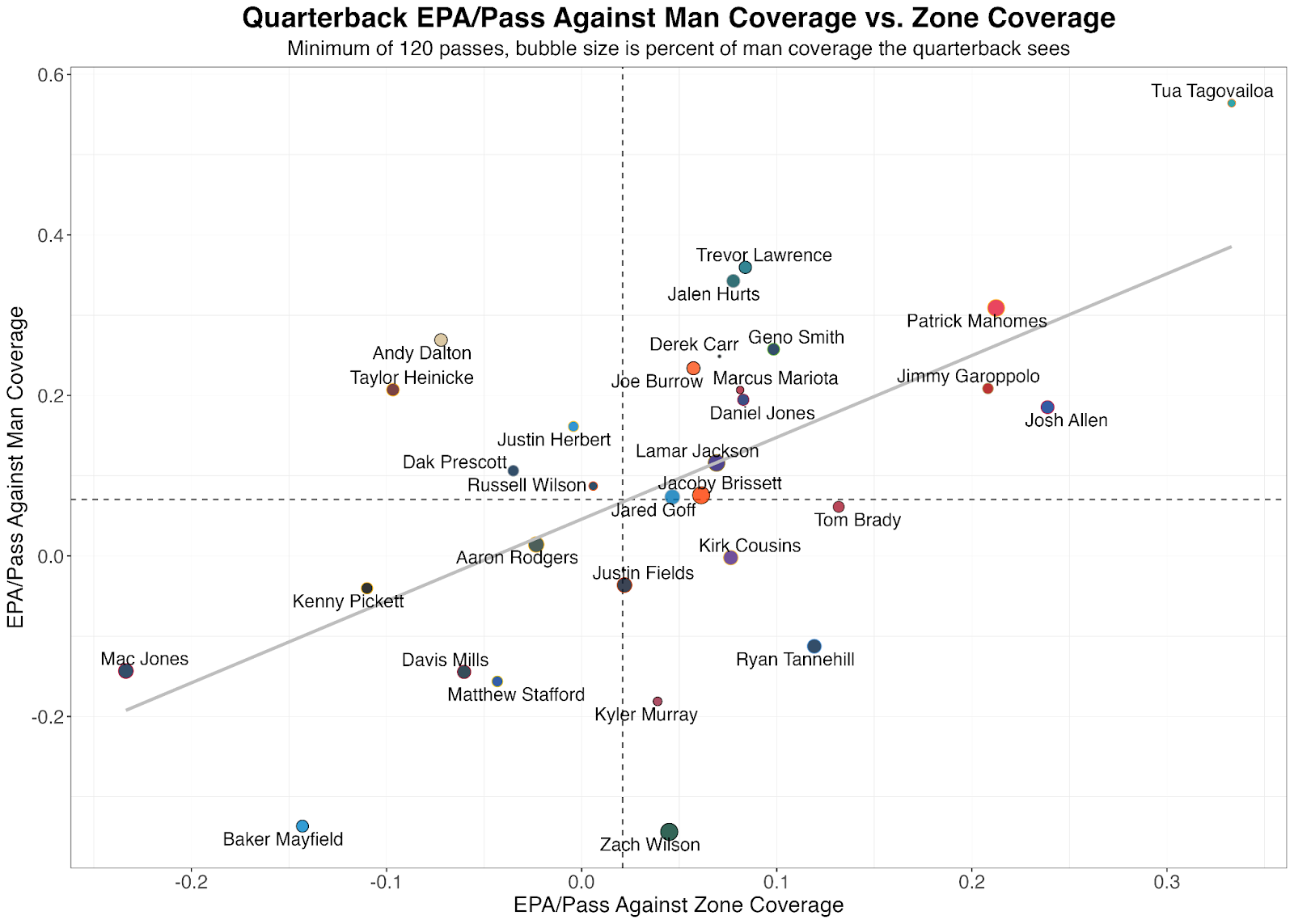 • Dalton has Struggled Against Zone: Most of Andy Dalton's production has come on picking apart man coverage this season. Against zone coverage, Dalton has had a -0.07 EPA per pass, good for 5th worst among starting quarterbacks in the league.
• The Rams Only Play Zone: The Los Angeles Rams play the most zone coverage in the league playing zone on 90% of passing plays. This could be a bad matchup for Andy Dalton because of that and we wouldn't expect him to complete around his usual number of passes.   
---
Tej's QB player props went 2-1 in Week 10, bringing his season record in this space to 16-12 (5.75 units).