For the first time in the New England Patriots' dynasty, questions have started to circulate around their starting quarterback in 2020. Further speculation only intensified this weekend with Tom Brady seemingly mouthing "he's not" when his top receiver suggested that the long-time signal-caller would be returning to New England next season.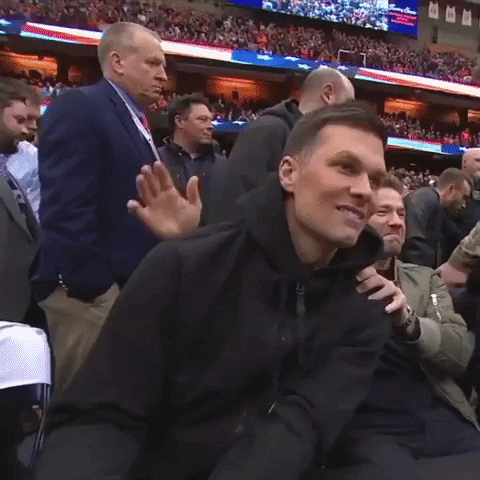 Taken at face value, this seems to suggest that Brady is at least going to consider all of his options before rejoining the Patriots. But instead of delving into TMZ-style reporting with full-on lip-reading algorithms and specialist body language analysis, we can take a quick look at Vegas betting odds to get a gauge at the market consensus.
These are by no means sharp markets, but by using these odds along with roster construction and schematic fit, we can begin to handicap just how likely each quarterback-needy team is to land the veteran services of either Tom Brady or, at least as a consolation prize, Philip Rivers.
Brady: -125
The general consensus is that Tom Brady returns to the Patriots. Everyone is fully aware that the familiarity along with schematic fit makes the Patriots the odds-on favorite to retain TB12's services.
The real question, though, is whether or not Brady has learned a thing or two from Bill Belichick. After all, Belichick is renowned for moving on from a player a year too early, so is it time for Brady to get out ahead and do the same?
Despite fielding an impressive defense that generated the highest overall WAR from a New England team since 2006, their offense fell off a cliff in 2019. Overall, it was the Patriots' lowest offensive output from a WAR perspective since 2008, the year Tom Brady missed due to injury; the skill positions alone produced the lowest WAR value of any New England skill position group since 2006. It's still probably not enough to sway Tom Brady to greener pastures, but with up-and-coming teams scattered throughout the AFC, this is only the odds-on favorite until it's not.
Rivers: +2000
If Brady takes his talents elsewhere, does Philip Rivers become the answer in New England? Well, betting markets have this priced just shy of 5%. Most would agree that Rivers isn't an upgrade over Brady, so a full-on rebuild is much more likely than a band-aid solution of Rivers, especially with the state of this current roster. Belichick also has the longest leash in the NFL and would be expected to survive rebuilding years in the hope that he can recreate the magic New England once had. All this being said, it seems highly unlikely that Rivers ends up in New England in 2020.
Brady: +800
Would Tom Brady sign up to try and finish the job that Philip Rivers couldn't do? There is, at least, a chance, which is more than what Rivers has to rejoin his old team. The Chargers wouldn't necessarily provide an upgrade for Brady,  however, as the Chargers and Patriots received a near-identical WAR value from their skill position players, as they ranked 17th and 19th overall in that regard, respectively. That being said, the Chargers' offensive line and defense would be a downgrade from what Brady received in New England, so if Brady is chasing rings and not beaches, then this appears to be an unlikely destination for the six-time champ.
Rivers: N/A
Philip Rivers has odds listed to join 31 NFL teams. The only one missing is his former Chargers squad.
Brady: +400
The Vrabel connection, coupled with the 20% implied probability this situation is a significant upgrade over what Brady received in 2019, offers the best odds for Tom Brady to join a new team in 2020.
Removing the quarterback position from the equation, the Titans' 2019 outfit generated the second-most WAR among teams last season; their offensive skill positions also had the second-highest WAR value among franchises while their offensive line ranked sixth. The Titans are coming off a season where they overachieved, but Vrabel seems set on not committing to a one-hit-wonder quarterback with a long-term contract. Tennessee clearly presents the best situation for Brady outside of New England, and a conversation between the two parties is expected when the free agency period begins.
Rivers: +1000
This is another spot where Philip Rivers would be viewed as a consolation prize if Brady goes elsewhere. But, at least from a schematic fit compared to last season, Rivers may actually slide in better at the quarterback position in Tennessee than Brady would.
In 2019, Ryan Tannehill made his living throwing deep; he had the third-highest aDot on all throws while grading out as the top quarterback on throws targeted 10 or more yards downfield. Tom Brady, by comparison, sat near the bottom in both of these categories while Rivers finished somewhere close to the middle. A complete remake of the Titans offense with even more reliance on Derrick Henry — should he re-sign — could occur with Tom Brady at quarterback. Rivers, on the other hand, has at least shown the resolve to throw the ball deep, something that Brady has been reluctant to do in recent seasons.
Brady: +500
Outside of monetary gain, there doesn't seem to be much incentive for Brady to join the newly-minted Las Vegas Raiders. They aren't close to competing in the AFC West and have a lower overall skill position ranking than New England, according to PFF WAR. They also have a much worse offensive line and defense and do not have the pieces to completely remake this roster through the draft. If Brady wants a shot to win, this option would be among his worst.
Rivers: +1000
The Raiders actually make more sense for Rivers, who would be staying in the same division to exact revenge on his former team. Right now, however, the Raiders are a lot like that person at the bar, the one with a flashy outfit that you flirt with to make other suitors jealous. They appear to be flashy and new but aren't anywhere close to ready to commit to a long-term partner, especially an older statesman on his last legs.
Brady: +1000
The Colts are a great fit for two reasons. A.) They have one of the best offensive lines in all of football, and B.) Frank Reich is a coach who generates production that is greater than the sum of its parts. The Colts' skill position players finished second to last in WAR generated last year, but this group was plagued by injuries. Still, at 100%, it does have dynamic playmakers at both the wide receiver and tight end positions. This is a darkhorse spot for Tom Brady that actually makes a lot of sense; the only reason his odds appear to be so low is that they have been heavily linked to Rivers throughout this process.
Rivers: -150
This is the likely destination for Philip Rivers, with an almost 60% implied probability. The Colts suffered through one of the more unfortunate seasons in recent memory after the sudden retirement of Andrew Luck in the preseason. Still, after a somewhat disappointing season, they now have a handful of options to choose from in free agency. With how well constructed this team is, it would be shocking if they didn't come away with one of the two best free agent quarterback targets. And while -150 is a lot to lay, this is a spot where I like taking the longshot bet on Brady, with the Colts seemingly choosing him over Rivers if given the opportunity.
Brady: +1500
After fielding arguably the best receiving corps in the league in 2019, the Bucs offer not only dynamic playmakers at the skill positions but one of the best offensive-minded coaches in the NFL.
The Bucs' skill positions generated by far the most WAR in the NFL last season, and it wasn't even really that close. Their offensive line is consistently underrated and sat seventh in our regular season offensive line rankings while ranking 11th in total WAR generated. Reports indicate that they are set on moving on from Flameis, as his high interception rate is just too much to gamble on. With the talent at all other positions, this is an ideal landing spot for either free agent quarterback; it's a spot where we expect one of these two to land this offseason.
Rivers: +175
Rivers is priced at just over a 35% probability of joining the Bucs this offseason. This is a spot that fits well with Rivers' skill set, as the option to air the ball out on any given play to the best receiving unit in the NFL is something that Rivers seemingly can't pass up at this stage. The expectation is that this is a win-now spot for the veteran signal-caller; the NFC appears to be wide open and is the much easier division to come out of at this time. Both Brady and Rivers should be interested, but Rivers seems all but destined for Tampa Bay at this stage.