Welcome to the best weekend in football.
Season-long fantasy football is long gone, but there are still numerous ways to engage in speculative opportunities that center around the outcomes of football games. And while the typical game markets are usually the starting point for new bettors, better places exist for people with background knowledge of fantasy football.
Player props are a great way for people to get more accustomed to sports betting, and they have the added benefit of being a more inefficient market than the bets typically discussed.
Player prop unders hit at a 55% rate between 2017 and 2019, but the 2020 season has seen a much closer distribution to 50% than in previous years. The divisional round was an outlier week, as it had by far the highest percentage of props going under of any week this season. All told, 62.5% of the props we track finished under, which made it a difficult weekend for those who favor betting the over.
The percentage of props going under now sits at 53.08% for the season. The majority of prop categories lean toward the under, but we aren't seeing as extreme a preference as we did during the middle of the season. At a macro level, it appears that passing attempts are down based on expectation but a higher percentage of those attempts are completed.
Passing touchdowns and interceptions are close to the correct break-even percentage, but pricing always plays a critical evaluation role. Meanwhile, all yardage-related props continue to go under at a higher rate than most categories, making them great to target this late in the season. This is especially true of rushing-yardage props when usage looks to be split in a timeshare between running backs.
It also appears that books have more of an issue correctly pricing the discrete number props — things like touchdowns, interceptions and receptions are more difficult to assign the correct number and price to. Yardage props offer more wiggle room, as the tail outcomes make pricing of the discrete prop categories a wholly different challenge for books than the yardage-total props.
| | | |
| --- | --- | --- |
| Prop Category | Percentage of Under Wins | Percentage of Over Wins |
| Passing Attempts | 56.7% | 43.3% |
| Passing Completions | 51.7% | 48.3% |
| Passing Interceptions | 50.6% | 49.4% |
| Passing TDs | 51.4% | 48.6% |
| Passing Yards | 54.5% | 45.5% |
| Receptions | 52.3% | 47.7% |
| Receiving Yards | 53.0% | 47.0% |
| Rushing Attempts | 50.0% | 50.0% |
| Rushing & Receiving Yards | 50.0% | 50.0% |
| Rushing Yards | 54.8% | 45.2% |
| All Props | 53.1% | 46.9% |
One way to consistently find defined edges is by utilizing our player props tool. The ability to adjust both the number and price means you are always certain of each prop bet's expected value.
The divisional round was the worst weekend my written plays have had on the season, as we went 0-for-6 on the weekend. It was a painful experience, but we still sit well within the black, as my written prop record is 87-61-2 for +20.15 units.
It is never fun to have a losing weekend, but it is all the motivation we need to finish the season strong. Thankfully, with the marquee matchups still ahead of us, we have numerous opportunities to find some winners before the season wraps up.
[Editor's note: Download the DraftKings Sportsbook app and use promo code PFF when you sign up to turn $1 into $100 if any QB scores a rushing or receiving touchdown this weekend! Click here to play at DraftKings Sportsbook.]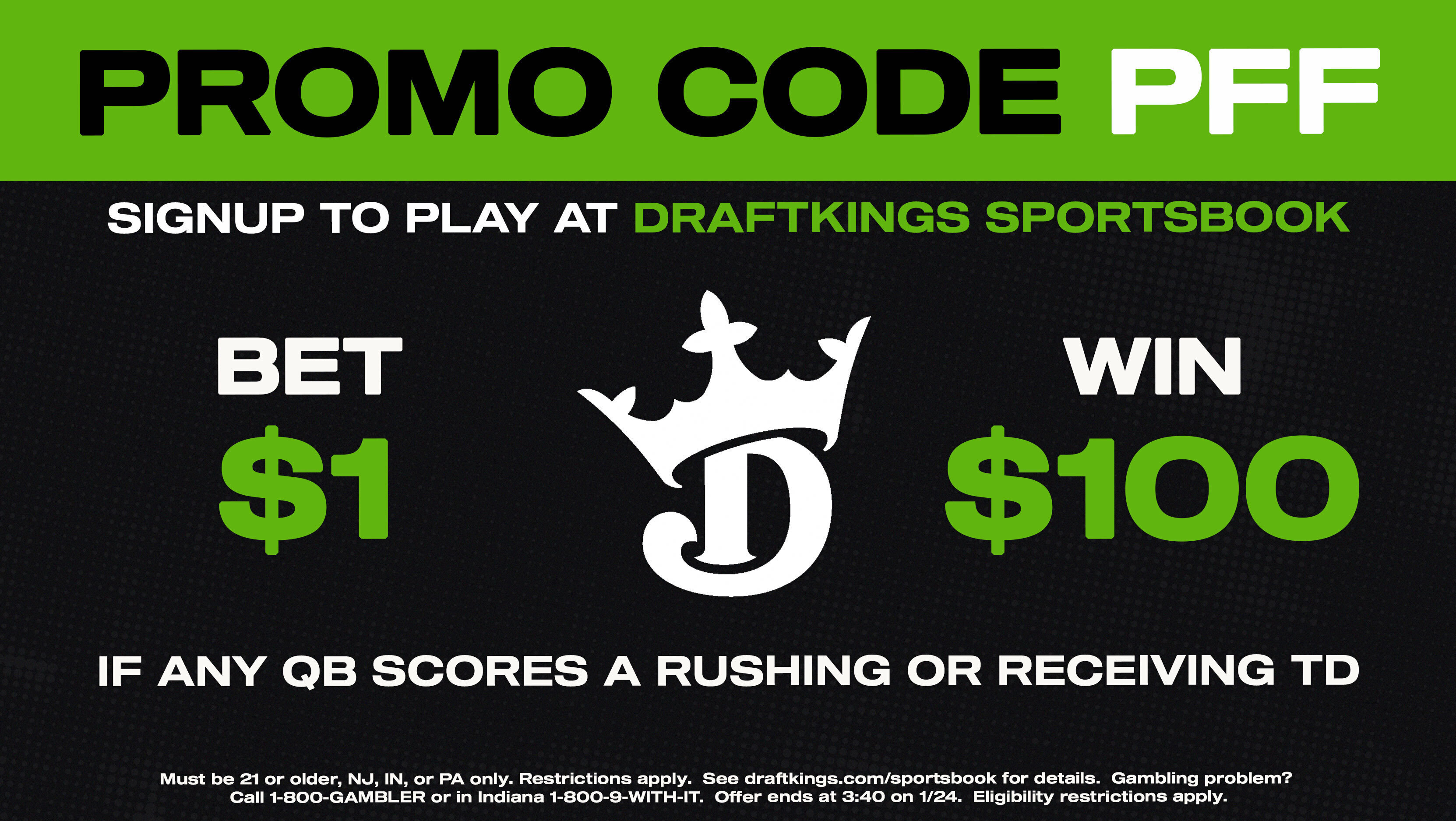 Aaron Rodgers over 2.5 Passing Touchdowns