From our futures' perspective, NFL Super Wild Card Weekend couldn't have gone any better, with both top seeds getting No. 6-seeded opponents in the divisional round as a result of upsets.
As we did last week, we'll go through and see if there's any value using our simulations, as well as go over our previous bets. Enjoy!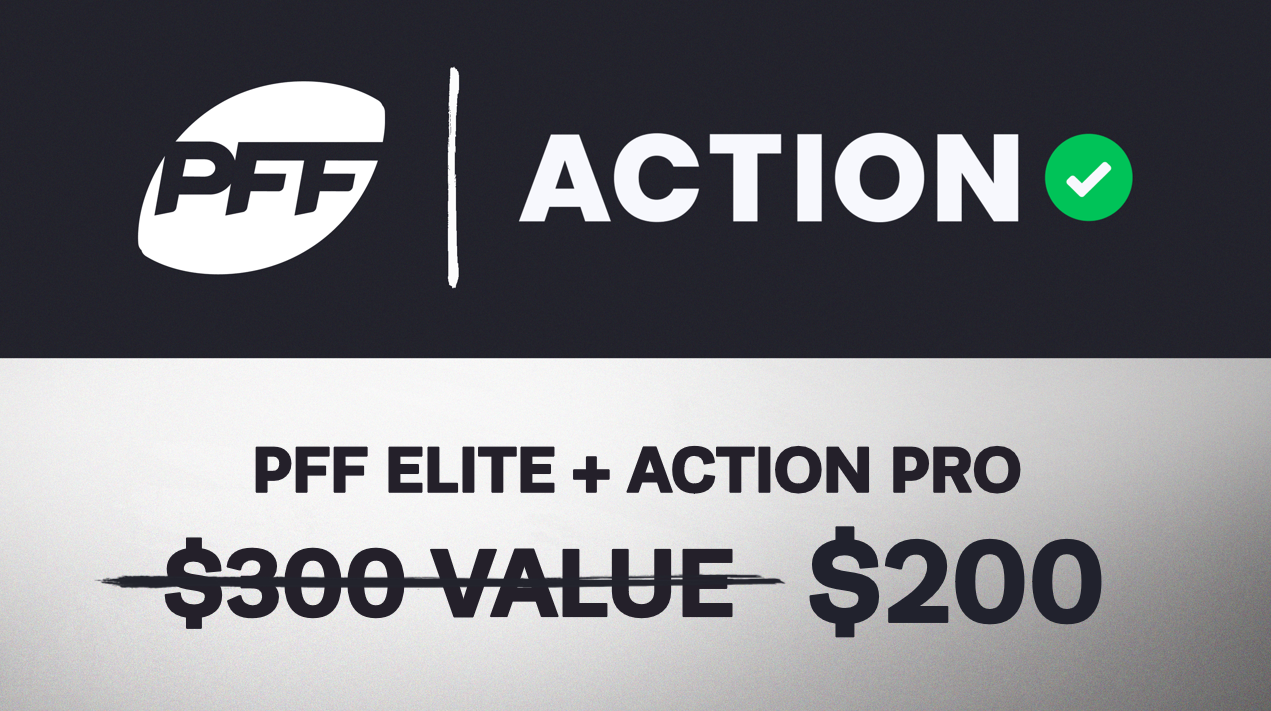 The AFC Playoff Picture (Odds from DraftKings Sportsbook)
Kansas City Chiefs -121 (54.8% breakeven, 50.7% implied, 46.0% PFF simulated odds)
Buffalo Bills +275 (26.7%, 24.7%, 23.9%)
Baltimore Ravens +400 (20.0%, 18.5%, 18.7%)
Cleveland Browns +1400 (6.7%, 6.2%, 11.4%)
The Chiefs are now a vig-free favorite against the field in the AFC due in large part to the Browns' upset of the Steelers on Sunday Night Football. They won't get the break they got a season ago, though, as the team that comes out of the other AFC game will be better than the Titans were last year. So while the Chiefs' divisional-round matchup is easier, the path is not trivial at all.
There is some value on the Browns in the AFC market, but this might be due to us pricing in home-field advantage a bit lower than the market. Given this uncertainty, and the longshot the Browns are, it's probably better just to bet them this week if you find value in them.
The NFC Playoff Picture
Green Bay Packers +120 (45.5%, 42.4%%, 36.5%)
New Orleans Saints +225 (30.8%, 28.7%, 27.3%)
Tampa Bay Buccaneers +400 (20.0%, 18.6%, 23.6%)
Los Angeles Rams +800 (11.1%, 10.4%, 12.6%)
The Packers actually lost some value as a result of last week's games. They have a tough matchup with the Rams defense, and whoever comes out of the Tampa Bay versus New Orleans matchup will be a tough out, even at Lambeau Field. Tampa Bay is a value here, as folks are overestimating the impact of the first two games against New Orleans on the future odds that the Bucs can go into New Orleans (with no or minimal fans) and win that game.
Similar discussion points about the Browns can be made about the Rams.  There's a lot of uncertainty there with their quarterback, so if you like them long-term, just bet them this week either against the spread or on the moneyline.
The Super Bowl
Kansas City Chiefs +200 (33.3%, 29.8%, 27.2%)
Green Bay Packers +375 (21.1%, 18.8%, 18.4%)
Buffalo Bills +600 (14.3%, 12.8%, 11.7%)
New Orleans Saints +600 (14.3%, 12.8%, 12.8%)
Baltimore Ravens +800 (11.1%, 9.9%, 9.0%)
Tampa Bay Buccaneers +900 (10.0%, 8.9%, 11.2%)
Los Angeles Rams +2000 (4.8%, 4.3%, 4.7%)
Cleveland Browns +3000 (3.2%, 2.9%, 5.1%)
As they are in the NFC playoffs, the Bucs are a value on the Super Bowl betting market, as well.  Obviously, their straights are improved with a Rams win in Green Bay (they jump to 14% with a Packers loss). A moneyline rollover with them would not necessarily net the benefits it would for one on Cleveland, as they'd have to be +102 on each of the two subsequent moneylines for it to make sense — which is basically a bet on chalk holding throughout.
This Week's Bets
Tampa Bay Buccaneers +900 to win the Super Bowl
Resolved Regular-Season Futures Bets
Seattle Seahawks to win the NFC West: +190 after Week 1 (Win)
Tennessee Titans to win the AFC South: +125 after Week 1 (Win)
Green Bay Packers to win the NFC North: -140 after Week 2 (Win)
Philadelphia Eagles to miss the playoffs: -170 after Week 2 (Win)
Arizona Cardinals to make the playoffs: +104 after Week 2 (Loss)
Tampa Bay Buccaneers to win the NFC South: +100 after Week 3 (Loss)
New England Patriots to win the AFC East: +125 after Week 3 (Loss)
Cleveland Browns to make the playoffs: -182 after Week 4 (Win)
Dallas Cowboys to win the NFC East: -125 after Week 5 (Loss)
Baltimore Ravens to win the AFC North: -165 after Week 6 (Loss)
Washington Football Team to win the NFC East: +425 after Week 7 (Win)
Miami Dolphins to make the playoffs: +184 after Week 8 (Loss)
Indianapolis Colts to miss the playoffs: +114 after Week 9 (Loss)
Philadelphia Eagles to miss the playoffs: +154 after Week 10 (Win)
Cleveland Browns to make the playoffs: -245 after Week 11 (Win)
Minnesota Vikings to miss the playoffs: -270 after Week 12 (Win)
Washington Football Team to win the NFC East: +160 after Week 13 (Win)
Indianapolis Colts to win the AFC South: +125 after Week 15 (Loss)
Seattle Seahawks to win the Super Bowl: +1400 after Week 1 (Loss)
10-9 record, +5.64 units
Super Bowl Futures Remaining
Kansas City Chiefs to win the Super Bowl: +550 after Week 1, now +200
Green Bay Packers to win the Super Bowl: +2600 after Week 1, now +375
Green Bay Packers to win the Super Bowl: +700 after Week 14, now +375
Green Bay Packers to win the Super Bowl: +450 after Week 17, now +375
Green Bay Packers to win the NFC: +160 after Week 17, now +120