The 2019 season has graced us with the best overall talent present in the College Football Playoff since the committee established a four-team bracket in 2014. The top two seeds have the two best overall quarterbacks from a PFF passing grade perspective. All four offenses rank in the top 10 of not only our Massey Offensive Rankings but also EPA generated per pass attempt.
For a nuanced, in-depth look at each matchup be sure to check out the writeups done by our talented college analysts who dive into great detail to find PFF relevant stats to help frame each matchup. From a Greenline perspective, both games offer significant betting intrigue. Below, you will find the best bets we are targeting from Greenline for the college semifinal matchups along with an in-depth look at possible lines we will see for the various Championship Game combinations.
Why the over hits
We got caught with our hand in the cookie jar one too many times with Oklahoma overs toward the latter half of the season. It is a spot we have been targeting all year, but since the first Baylor matchup, Oklahoma has failed to go over in their past four games. The current total has held close to the open, rising a half point as we move toward game time. At the current 76 price Greenline gives a 55.1% cover probability for the over.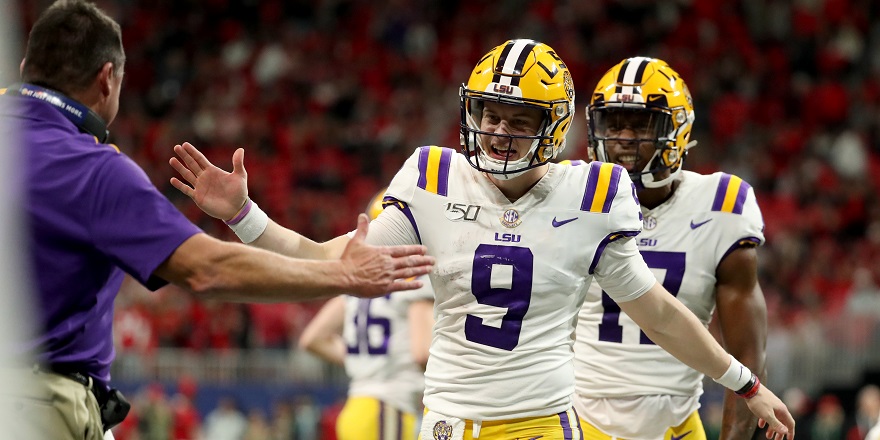 © Jason Getz-USA TODAY Sports
Both quarterbacks have elite passing grades with Joe Burrow playing at a level above what we have seen in college football before. This has led to both offenses sitting in the top six of our Massey Offensive Rankings. It hasn't been just the quarterbacks who have produced for these two teams, though. In our explosive-play-per-target metric, each team's group of pass-catchers has taken over 25% of their targets and turned them into explosive pass plays. Oklahoma sits third in this ranking behind two service academy schools with significantly less passing volume. LSU ranks seventh in this same metric.
In order to see this total go over, we will need big chunk plays from both offenses, which we should see plenty of Saturday night. Few can stomach backing the under in this game so from an entertainment perspective, the over is the only play in this first semifinal matchup.
What could go wrong
A number of things could go wrong with such a high total. Any lull in offensive production could severely hamper the over getting home in this game. The key matchup that could seriously derail the over will come down to the play of Derek Stingley against CeeDee Lamb. Stingley was rightfully named the PFF Freshman of the Year after allowing just a 42% completion percentage and posting a 91.5 coverage grade. Lamb is the lone big-play threat for the Sooners offense. If Stingley is successful bottling him up early the Sooners could fall behind quickly, which would see LSU coast to an easy victory. In this scenario the likelihood of the total going over 76 is diminished. Lamb will need to occasionally win this matchup against Stingley in order for the over to come through for Greenline.
Why Clemson covers
Outside of quarterback play, our model has a strong lean toward Clemson in every other category we use as inputs in our predictive model. Ohio State may have better top-end talent on their roster with Justin Fields grading better and more accurate than Trevor Lawrence over the course of the 2019 season. Defensively, Ohio State has two of the top three picks in the upcoming draft on Mike Renner's latest board. As a unit, we have Clemson second in the country with Ohio State down at sixth in our Massey defensive ranking. We also give Clemson a slight lean overall in the Massey Offensive Ranking with these teams sitting third and fourth, respectively. If you side with top-end playmakers, then Ohio State offers more upside in that regard. Clemson appears to be the deeper team with significant talent present at every position.
It is easy to cherry pick specific game logs, but it is accurate to say that no quarterback has been better over the past five weeks of the season than Lawrence. After an early-season lull, he has looked the part of the best player in college football since Week 9. The question becomes, do you side with season-long performance or recent performance when attempting to evaluate who offers the better quarterback in this matchup? Or do you look at the overall body of work that both quarterbacks have put forth with Lawrence's 2018 campaign the best we have ever seen from a true freshman? This is a "put your money where your mouth is" situation, with our ELO rankings significantly higher on Clemson throughout 2019. In the matchup we have been waiting for, we are taking our opportunity to prove it and siding with Clemson as 2.5-point favorites giving them a 54.5% cover probability at the current spread.
What could go wrong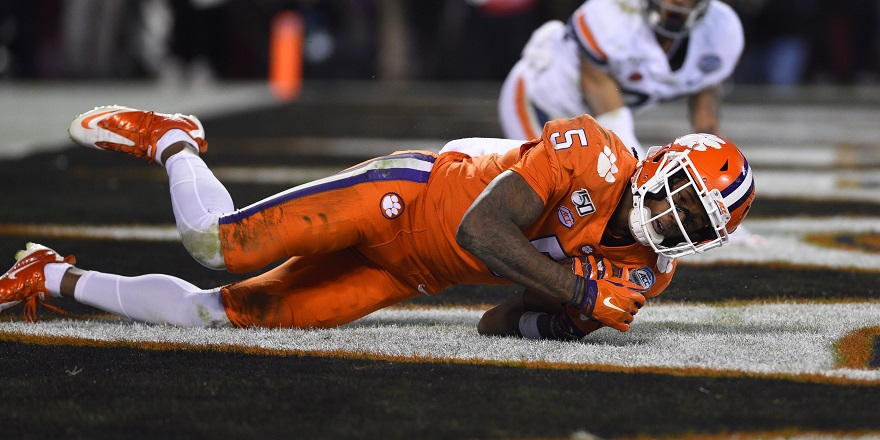 © Bob Donnan-USA TODAY Sports
Of the four semifinal quarterbacks, Lawrence has the fewest amount of accurate plus-percentage passes and lowest passing grade from a clean pocket. Throughout 2019, Fields has been better in every statistical category. Ohio State also has the better overall receiving grade as a unit with Chris Olave not far behind Tee Higgins for best individual receiving grade. This could easily be a historic semifinal matchup as whoever wins will most likely be slight favorites in the National Championship Game. This matchup is as close as they come and with this game most likely going down to the wire it could break either way with such a close spread. Our model sides with the team we have ranked higher and is a buying opportunity at anything below a field goal spread. There are numerous situations that see this game break the other way with Ohio State emerging victorious at the end.
Possible National Championship matchups
Clemson vs. LSU
The most likely national championship matchup that we see occurring 46.5% of the time pits the No. 1 overall pick in the upcoming draft against the No. 1 overall pick coming in the 2021 draft. In this scenario, LSU would be slight favorites based solely on quarterback play but sit as slight dogs in all other metrics we use as inputs for our Greenline model. Without knowing how the semifinals will play out, we would handicap this specific matchup as a pick 'em or slight lean toward Clemson as one-point favorites.
Ohio State vs. LSU
The next most likely national championship matchup occurs 32% of the time with Ohio State evenly matched against LSU. This matchup offers almost as much intrigue as the one above with two teams that rose dramatically throughout ranking systems in 2019. They both established themselves as national title contenders despite beginning the season as afterthoughts after the big two. In this game we would make LSU 2.5- to 3-point favorites over the Buckeyes.
Clemson vs. Oklahoma
A slip up by Heisman trophy winner Joe Burrow is not expected as this matchup occurs in 12.5% of scenarios. Despite what would be a big win in the semifinal round, Oklahoma would still open as 10.5-point or greater dogs to Clemson in this national title game. It is worth noting that Oklahoma would actually hold the smallest of leans at the quarterback position and would be the only metric that would lean their direction currently.
Ohio State vs. Oklahoma
The least likely national title matchup would require upsets in both semifinal games. We see this scenario occurring 9% of the time. In this scenario, the Buckeyes would open as touchdown or 7.5-point favorites over Oklahoma. The Sooners would most likely need to pull off two near double-digit upsets if they want to emerge as National Champions.