It only took one week for the reigning national champions to lose in dramatic fashion to a team just a few months removed from a complete offseason overhaul. So much for continuity being key in college football. But of course, we cannot draw too many conclusions from a one-game sample, no matter how entertaining it was to see the Air Raid thrive in the SEC, so now it's time to turn our attention to Week 5 of the 2020 college football season.
Week 5 brings an assortment of quality matchups. Fifteen teams in our top-25 Elo rankings will be in action on Saturday; we also have two matchups between top-25 teams, with Georgia and Auburn being our first game between top-10 programs.
Editor's note: PFF's NFL & NCAA Betting Dashboards (PFF Greenline) offer PFF-exclusive insight on moneyline, against the spread and over/under picks for every NFL and FBS game in 2020. Subscribe to PFF ELITE to get access.
To begin, let's get an understanding of the slate-level uncertainty by utilizing a measure called Shannon Entropy (information theory). This theory is used to quantify information occurring in an event and a variable — entropy — calculated using probability. By taking this approach, we can quantify how predictable a certain game or slate of games is by taking the probability assigned by the betting markets through moneyline probabilities.
Week 5 falls right in line with the uncertainty we saw in Week 4. It sits just below the mean that we have for the past six seasons of all college football slates that involve at least eight games. Week 4 and 5 see a bump-up in uncertainty now that conference schedules are fully taking hold; this rises until Week 11, which is when we start to see uncertainty wane as we wrap up the season with a better understanding of how to evaluate teams.
Last week didn't quite go as planned from a written picks perspective, as we finished 1-2 after a rough wrap-up to our picks. We picked up significant line-movement value on the West Virginia spread, but their inability to get the ball back while down by a touchdown proved to be too much when Chuba Hubbard scampered across the goal line to put the game, and the cover, out of reach.
Meanwhile, Baylor and Kansas were tracking towards the under until two kick-return touchdowns and a safety proved to be the key separators when it came to my printed pick and the closing line. This was one where the closing line was a win but my early-week recommendation didn't have the luxury of the positive line movement.
We now sit at 50-48-1 on written plays over the past two college football seasons. It was a disappointing week, but thankfully we have more than enough opportunities to get into the black. Using PFF's predictive models as a guide, let's take a close look at some of the best bets to make ahead of this Week 5 slate of games.
Our predictive model has flipped quickly on the Mountaineers, who were identified as the best play in Week 4 only to let us down in excruciating fashion.
Their early-season performance is still buoyed by their win over Eastern Kentucky; PFF Elo has them as the eighth-best team in the Big 12, while Baylor is third in the same ranking. These teams are separated by one place in our opponent-adjusted offensive and defensive rankings, with Baylor having the better defense and West Virginia having the better offense.
West Virginia has the better passing offense from an expected points added (EPA) standpoint, ranking third in the Big 12 to start the season. Again, this is propped up by their performance at Eastern Kentucky, as they had a negative EPA per pass attempt figure against Oklahoma State.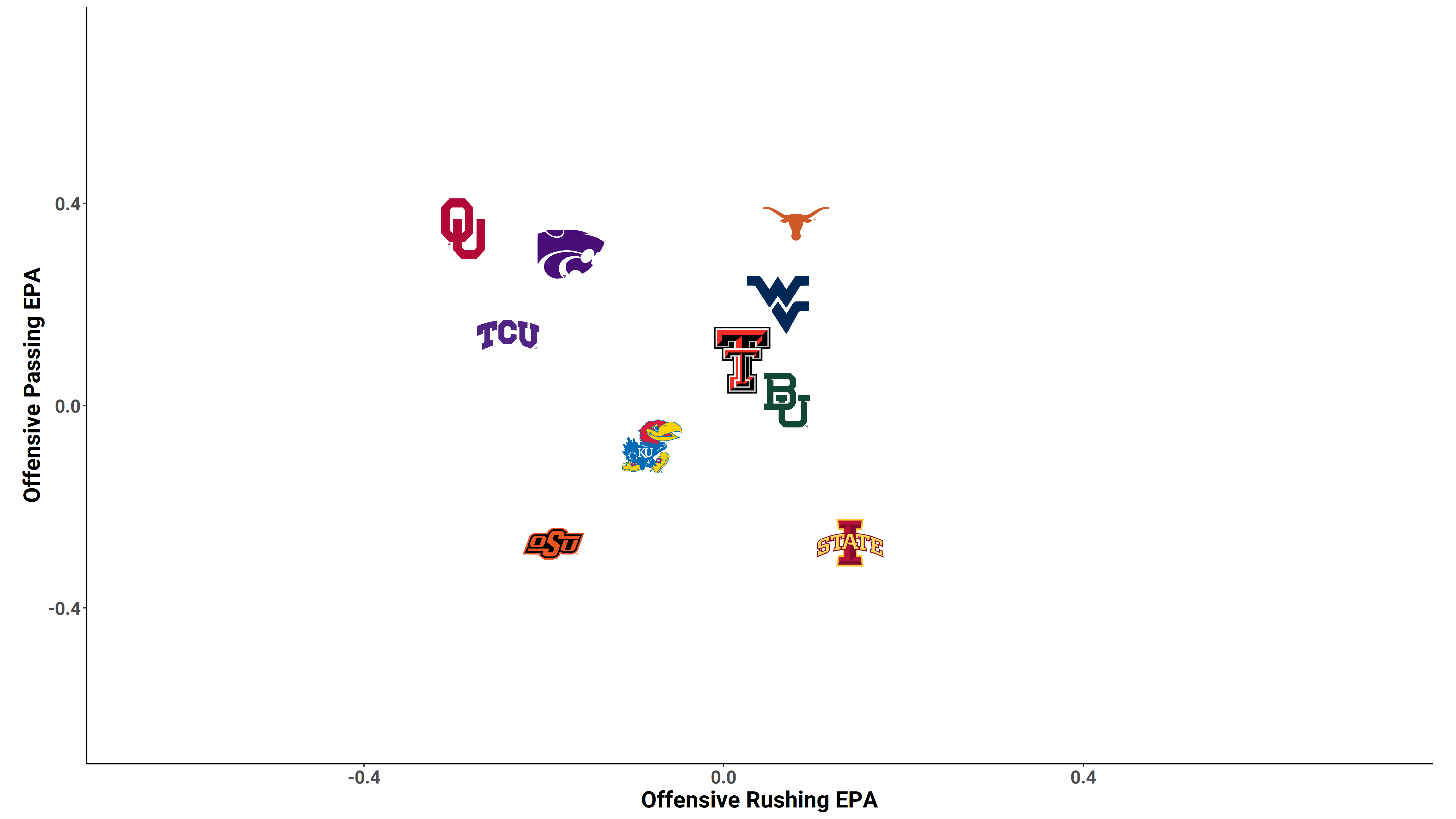 Baylor's defense is superior to Oklahoma State's, and it is on a different planet entirely than Eastern Kentucky's. This cover will come down to the quarterback play unless Baylor finds its way into two special teams touchdowns again.
Charlie Brewer has the second-highest percentage of positively graded throws in the Big 12 to start the season; Jarret Doege has produced positively graded plays at half the rate Brewer has while also recording more negatively graded throws. We also have historical context with Charlie Brewer, so it is safe to say he is the better quarterback in this matchup.
This spread opened at 2.5 with vig starting to pile onto the road favorite. Some rogue threes have started to pop up, with the juice flipped in those situations. Our predictive models are all over the 2.5. The expectation is that we get to +3 before kickoff, making this a buying opportunity before the market corrects to the right number.
Pick: Baylor -2.5
It's not all dogs and unders this week — for once, we get to pile onto a chalky over on a high total.
This number sits well above the third quartile of all totals we have dating back to 2014. We have 353 games in our dataset that had a total higher than 70 points; the over-cover percentage on this dataset is 47.6% after removing pushes. Not exactly the trend we are wanting, but there is a reason why our predictive model thinks this matchup will be different.
It comes down to explosive plays along with quarterback play. Both Brady White and Shane Buechele have the highest accuracy percentage among AAC quarterbacks from 2019 to present; White ranks 12th in the FBS in the percentage of pass plays that generated at least one EPA per play, and both quarterbacks have produced a 15-plus-yard pass play on nearly 30% of their dropbacks.
This is typically the kind of game that I would fade because we usually see our predictive model lean away from the high total. However, it is always more enjoyable to root for points and quality football, and in a season that has been anything but normal to start, this is the perfect matchup to tune into to see some explosive plays in high-volume passing offenses.
Pick: Over 74.5
It cannot be all fun and games on favorites and overs. At some point, you just have to sweat out the unders while watching teams that have looked rough to start the season.
Kentucky is a perplexing team. It is safe to say that quarterback Terry Wilson has not looked like the player who flashed before his injury in 2019. Poor decision-making was apparent throughout Kentucky's matchup against Auburn, and throwing the football away on a 2-point conversion simply comes down to a lack of situational awareness.
Kentucky generated negative EPA on both pass and rushing attempts, and the Rebels were unable to slow Florida, with their opponent-adjusted defensive ranking now 12th in the SEC. Their offense was better than expected, but a lot of that production came with the game well out of reach.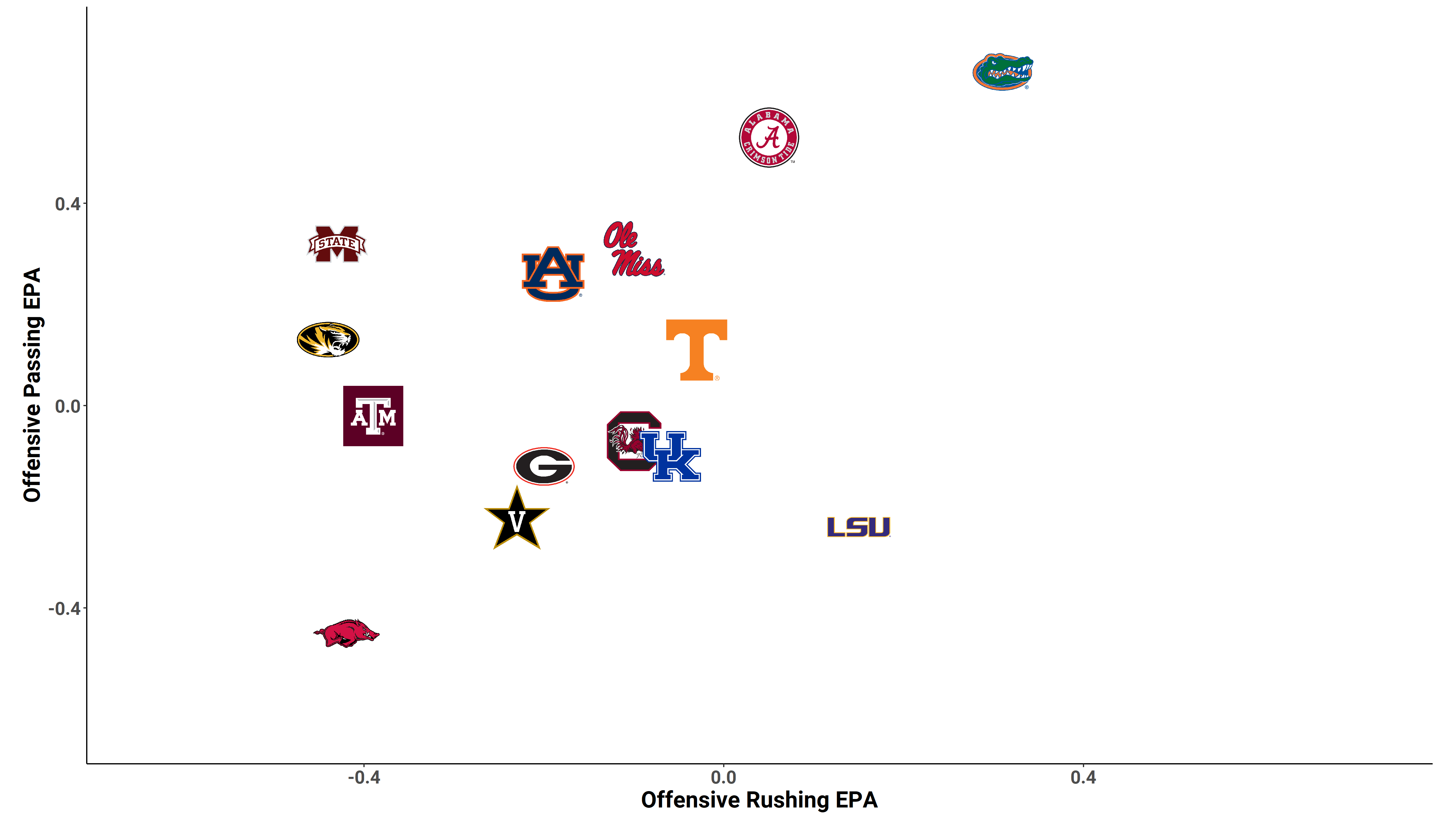 The late-game production has caused this total to become inflated — past 58 — which is the seventh-most-important number in a college football total. This is a situation that could change if we get more information on Joey Gatewood's availability. If Terry Wilson gets the start, the expectation is that Kentucky struggles enough offensively to keep this game well below the current number.
Pick: Under 60.5