The Air Raid returned to the SEC for its second go-around last Saturday in Death Valley, and it went very well. With Mike Leach running the show at Mississippi State this season and Stanford grad transfer quarterback K.J. Costello slinging the rock, the team has already broken numerous school and SEC records.
Editor's note: ELITE subscribers can view player grades, advanced statistics, positional snap counts and more in Premium Stats 2.0. Subscribe today for access.
Costello's 623 yards against LSU in Week 4 is both a Mississippi State record and a conference record. It's fitting that it came on the hallowed ground of Tiger Stadium, the house that Joe Burrow built. This was the most passing yards an LSU team has given up in the PFF College era.
Most passing yards in a game against LSU since 2014:

1. K.J. Costello (2020) – 623
2. Tua Tagovailoa (2019) – 418
3. Sam Ehlinger (2019) – 401
4. Patrick Mahomes (2015) – 370 pic.twitter.com/3AhEbjbuIV

— PFF College (@PFF_College) September 27, 2020
This was a thoroughly dominating effort and the 12th-best offensive performance in terms of expected points added per play against Power Five competition since 2014. Considering the top 11 performances came against some pretty lowly SEC defenses — such as the 2019 Arkansas Razorbacks — and this one came against the defending national champions, one could argue this was the best Bulldog offensive performance of the past seven seasons.
LSU might be the defending national champions, but the two-deep is nothing like the 2019 team that ran amok through the SEC. The secondary was always going to be thin. And going against an Air Raid unit, even in Mississippi State's first game of the season running that offense, was going to be a tough task. It just didn't have to be this bad. New LSU defensive coordinator Bo Pellini stuck to his guns too long and allowed Costello and Leach to rewrite the record books.
Let's start with the roster. LSU was already going to be without safety Grant Delpit and cornerback Kristian Fulton, who were each drafted in the early rounds of the 2020 NFL Draft. The Tigers then lost nickel back Kary Vincent Jr. to an opt-out before the season started and all-world cornerback Derek Stingley to illness the day before the game. That's 3528 snaps not playing from last year's national championship secondary.
Jacoby Stevens led the Tigers with 979 snaps last season at safety. Cordale Flott was locked in to start at nickel, where he played 111 slot snaps last season. Jay Ward was the only player coming back with experience outside, and that was on only 73 outside cornerback snaps all of last season. Freshman Elias Ricks would have to start opposite Ward.
It would seem on paper that this was not the group to play man coverage with. That is exactly what LSU did, though, and it cost them dearly. Let's take a look at Mike Leach's Air Raid heatmap from last year in Pullman to get an idea of where his offense likes to attack defenses: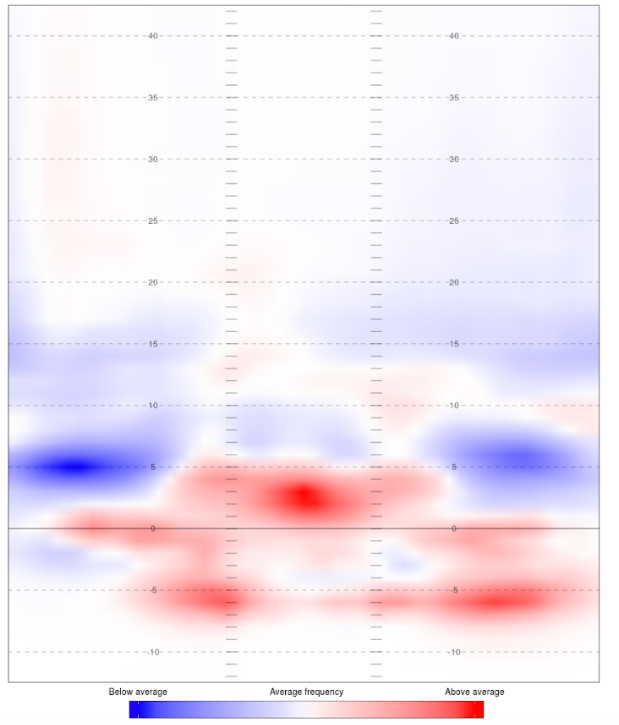 See all that red under 5 yards? That's from shallow crossing routes usually on Leach's patented mesh concept. The 2019 Cougars threw 82 shallow crossing routes, which was by far the most in the country last season. The mesh concept is a great play against man coverage because it creates picks and rubs all over the field.
Mesh Concept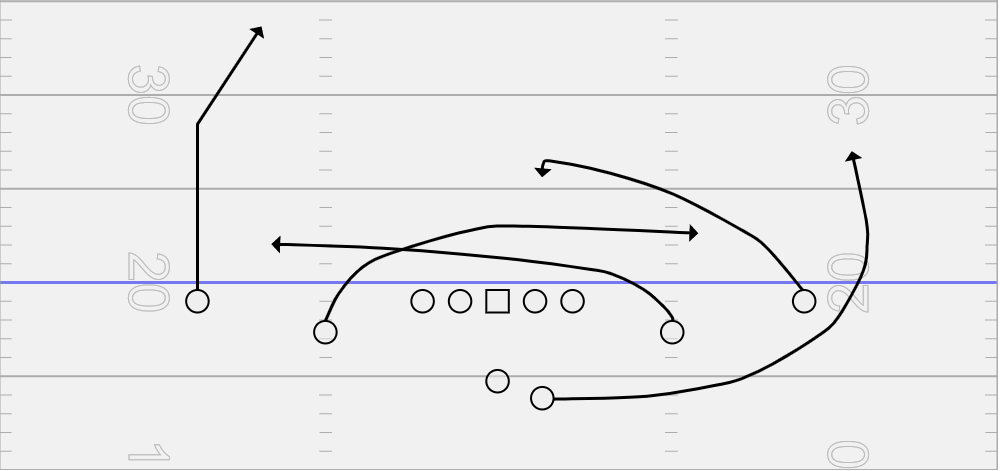 The progression for the quarterback can be the pre-snap shot play on a post or go route. They'll also tag intermediate out routes by outside receivers if they are getting off coverage. If those "advantage" routes aren't available, the quarterback will work the wheel route to the shallow cross running to the side of the wheel.
First, the wheel route can get open via a pick on the linebacker who has to work through the first crossing route. Next, a shallow crosser can get open via a pick route between the two shallow crossers running next to each other. Third, via formation, a shallow cross can get open using a pick route from lining up outside a slot receiver running a downfield pattern.
If a team is to play man coverage against a team that is absolutely going to try to run mesh concepts up and down the field, the best answer might be to play with a rat or low-hole defender.
Rat Defender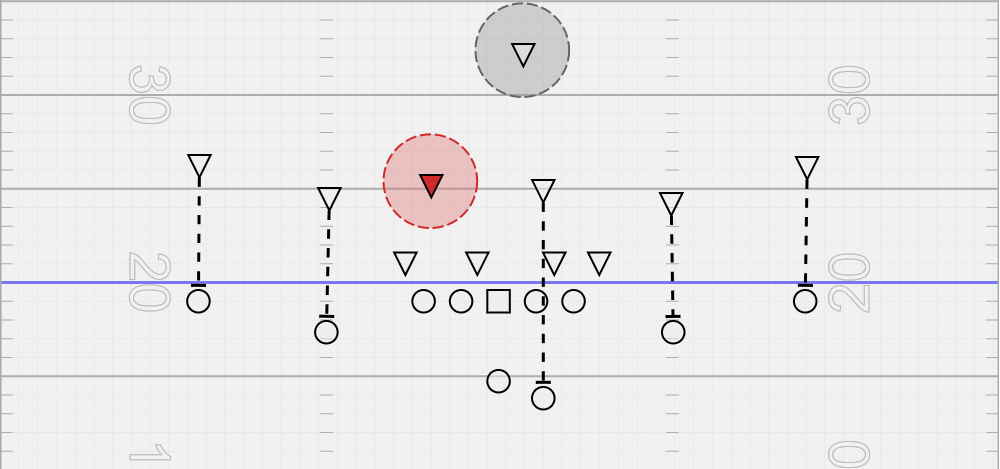 The rat's job is to "cut" any crossing route. This means he'll look to take over and carry the shallow crossing route from the trailing man coverage cornerback. This allows the defense to always have good leverage on where this drag route is heading and not be fighting through traffic in a trail position.
A team that blitzes more than four players loses its ability to play man coverage and cut crossers. The other way a defense loses its cutter is by playing Cover 2 man. The unit gains an extra deep safety, but there is no free underneath defender unless they rush only three players.
Cover 2 Man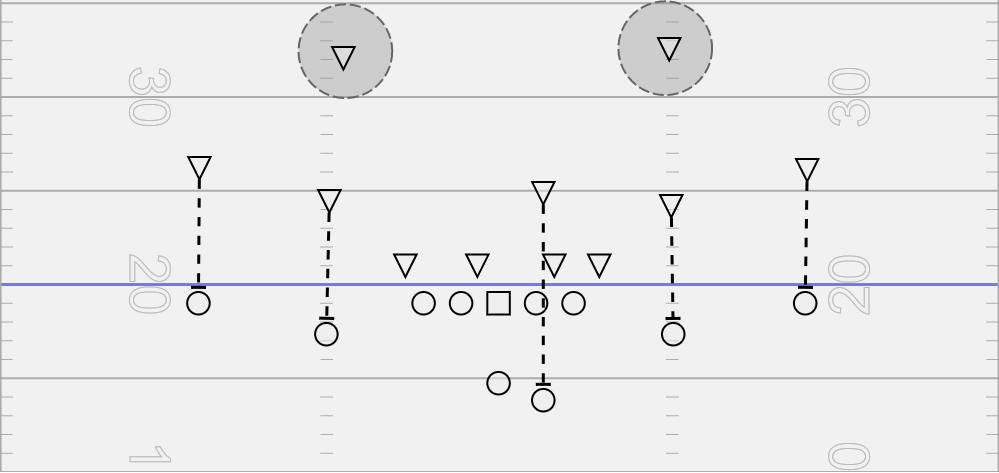 When teams played Cover 1 and rushed four or fewer players against Washington State over the past two seasons, they suppressed the Air Raid and allowed only .166 expected points added (EPA) per play and a 46.6% success rate. Teams that rushed five and lost their rat player due to him blitzing allowed .271 EPA per play and a 53.5% success rate. Playing without a cutter is not the best option against the pure Air Raid attack that Leach still runs.
That is exactly what LSU did. With an almost brand new secondary and holdover Jacoby Stevens lining up as a pseudo linebacker on 43 of his 72 snaps, Bo Pellini stayed in man coverage for the entire game. LSU played man coverage without a cutter on 56% of Mississippi's passing snaps. I was also being very generous while charting this. There are plays where the middle linebacker looks like a low-hole/rat player but is not actually looking for crossers. He's more of a low spy. This was still charted as LSU having a cutter since he's at least in the way. I also gave some leeway on all the coverage busts. The results of the contest, then, are not surprising.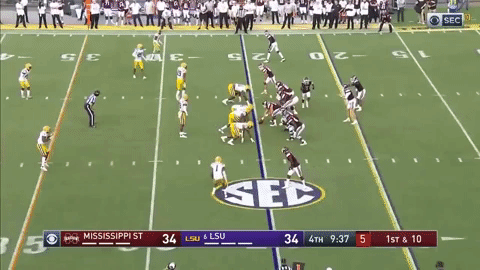 The crazy part is that LSU had 40 total pressures, with newcomer Ali Gaye notching 11 himself, but receivers ran open before the Tigers' defense was able to take Costello to the ground.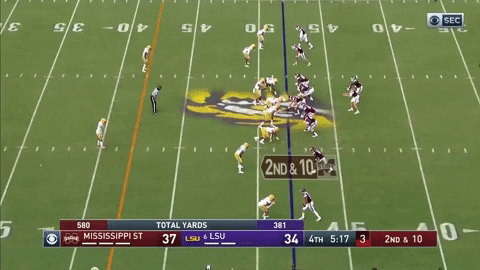 Edge rusher BJ Ojulari is able to get around his tackle, but Costello has a wide-open receiver on this play. To the top of the screen, Jay Ward is lined up against the outside receiver, who receives a legal pick from his slot receiver to free him up. Ward has no chance with no one in the middle of the field available for him to pass the route off to.
Bulldog receivers caught five of their eight targeted shallow crossing routes for 110 yards, with a whopping 95.5% of those yards coming after the catch. The next play is a carbon copy of the one above:
LSU thought it could bully the receivers at the line of scrimmage by playing press-man coverage, but even on sideline go routes, the Bulldogs were able to get over the top.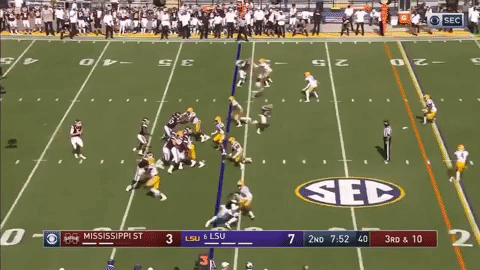 Out West, the Washington Huskies had great success running any type of zone coverage against Leach's attack. Over the past two seasons, the Huskies ran Cover 1 or Cover 2 man only eight times on 114 pass plays. They also rushed three or fewer players 77% of the time. They chose to sit back and allow Gardner Minshew and Anthony Gordon to make mistakes. In two games, those quarterbacks combined for only 459 yards, 0 touchdowns, four interceptions and five sacks. Meanwhile, LSU allowed over 600 yards in one game.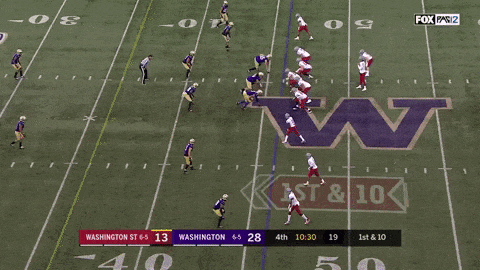 Washington played off and let the offense come to them. LSU attacked, and it played right into the hands of the Air Raid offense. It's the first loss by a defending national champion in their opening game in over 20 years. And with the LSU offense scoring 34 points, it could have easily been avoided.