College football bowl season is in full swing, with the New Year's slate of games just days away.
Information about team and player availability has been better of late, which makes betting on the bowl games a much better proposition. And while there is still a small stream of player news that tends to trickle in before game time, this creates some opportunity for bettors willing to find late inefficiencies in certain matchups.
Last week's early writeup started 0-1, with plays pending on Ohio State and Oklahoma. Ohio State continues to offer value, and the market has moved heavily in favor of Oklahoma since our write-up because of the latest opt-outs.
My combined full-game and derivative plays now sit at 91-86-1 over the past two college football seasons. Let's take a close look at PFF's predictive model (PFF Greenline) and highlight some of the best bets to make as we head into 2021.

Last week's writeup has a pending play on Ohio State +7.5, which has held as we approach kickoff, though Some books are printing +7 with the juice flipped to the favorite's side.
These two teams sit back to back in our Elo rankings, which causes a discrepancy with the current betting market, as Clemson has received 77% of the cash and 72% of the tickets. Ohio State looks playable on either the spread or moneyline, as we don't agree with the market understanding of both teams' ability at the most important position.
Most would give Clemson the clear advantage at quarterback, but PFF grading has this much closer than most expect. Trevor Lawrence's PFF passing grade is only 0.7 points better than that of Justin Fields, who also offers significantly more with his rushing ability.
Fields leads the FBS in adjusted completion percentage and simply hasn't gotten the yards-after-catch production that some of the more popular quarterbacks have received. Heading into this matchup, 67.7% of Fields' total yards have come through the air, the ninth-highest rate among quarterbacks in the FBS. He currently appears to be undervalued by the betting market, which is why PFF Greenline leans heavily in the Buckeyes' favor.
Our predictive models expect this game to play out similarly to the one we saw in last year's playoff matchup when Ohio State jumped out to an early lead with their defense slowing down the Tigers' offense before their own offense struggled to move the ball in the second half.
This game should go under like last year, and staying within a touchdown spread happens in the majority of outcomes. If you are still inclined to play the Clemson side, the best approach could be a teaser leg with the other playoff matchup.
The market has continued to side with the Crimson Tide in this matchup, as they have received 58% of the cash and 67% of the tickets. The market has held to the opening number, but some books are starting to move to -20.
Mac Jones has been the best quarterback among players in the college football playoffs in terms of PFF passing grade. The weapons around him also sit atop the FBS, as his pass-catching unit ranks first in our opponent-adjusted grades and his rushing unit also holds the top spot. So, we once again have the makings of an Alabama juggernaut as we get set to kick off the 2020 College Football Playoff.
PFF Greenline expects the Notre Dame defense to make an impact in this matchup; the -19.5 spread has no value on either side, but the lean toward the under at 65.5 means that points could fall below the market expectation.
It is tough to lay almost a three-touchdown spread in a game that could go under its total, but thankfully a few other potential betting options exist to get money down on this matchup.
Teasers are having their moment, as the general public is starting to understand why they can be so profitable. The PFF Forecast has also begun to target teasers at the NFL level, which is an even better spot for teasers because of the efficient nature of the market. We also see fewer blowouts at the NFL level because team strength is closely aligned across all matchups.
We see less of this at the college level, but some opportunities still provide value on this type of bet. And the playoff bowl games offer a unique opportunity to implore this strategy, as team strength across this matchup is similar to what we see at the NFL level.
For rooting interest in both playoff games, the best approach is to tease the two favorites down to a more playable number, with the expectation that one or both have difficulty covering the wide spread. Getting Clemson down to -0.5 and Alabama below a two-touchdown spread crosses enough key numbers to create a value opportunity on New Year's Day.
PICK: Two-team teaser — Clemson down to -0.5 and Alabama down to -13.5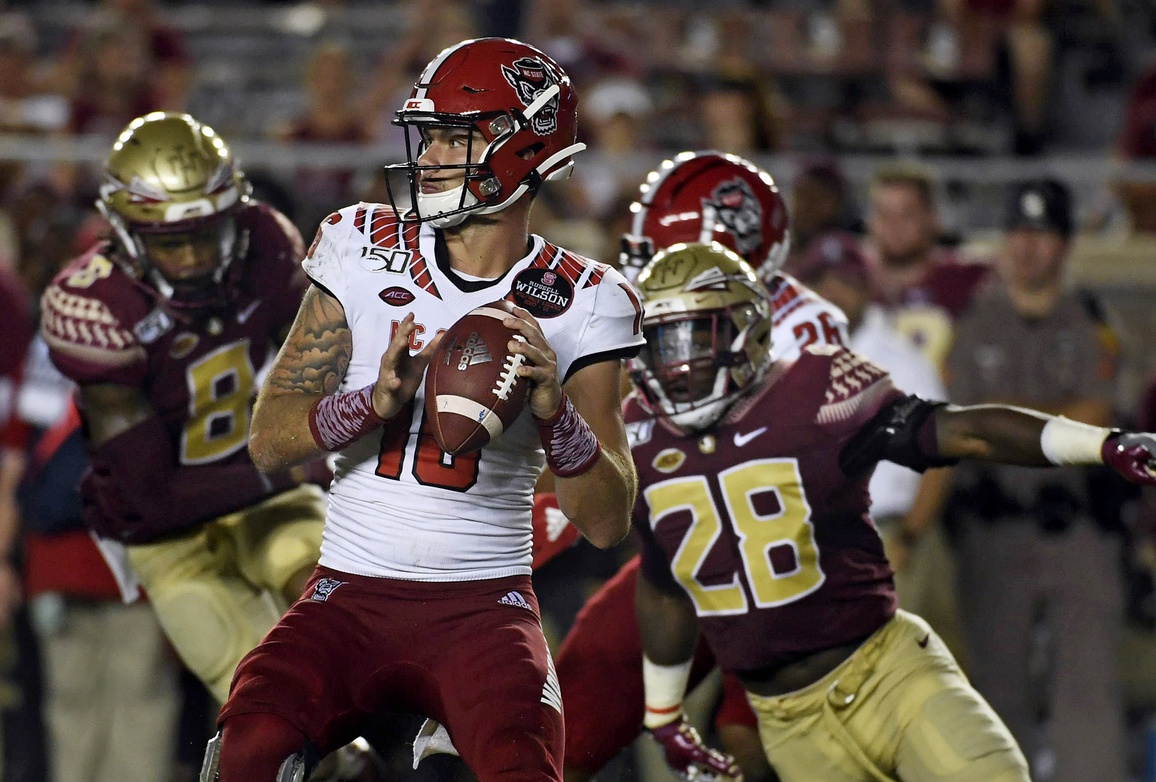 One of the most enjoyable parts of the bowl season is trying to handicap two teams that rarely, if ever, match up and have no similar matchup stats. This is even more plausible in 2020 when few non-conference games were played throughout the season. It creates unique betting opportunities like the one available in the Gator bowl.
Kentucky is 17 spots better than North Carolina State in our latest Elo rankings, and the Wildcats have the better opponent-adjusted offensive and defensive rankings in this matchup.
PFF Greenline's lean is actually counter to the cash and ticket percentages, both of which side heavily with the Wolfpack. This has also been the direction of the line movement, as we dropped off a field-goal spread down to -2.5. According to Greenline, the -3 is the correct spread, with value opening up after the latest line movement.
The Wolfpack have the better quarterback in this matchup, as Bailey Hockman has been adequate after taking over for the injured Devin Leary. Meanwhile, Kentucky has been plagued by quarterback issues all year, with Terry Wilson struggling to lead a competent passing attack.
There are reports that we could see all three Kentucky quarterbacks in this bowl game, but Wilson should draw the start and see the majority of reps in his final game. However, there is a possibility of Joey Gatewood or Beau Allen entering the game and providing a spark to this Wildcats offense.
In a matchup where they have the advantage in every facet outside of quarterback play, Kentucky is the correct side at under a field-goal spread.
PICK: Kentucky -2.5
The Orange Bowl appears to be the most intriguing non-playoff bowl game, as it features two offenses in the top 15 of our opponent-adjusted offensive rankings. Texas A&M has the clear advantage on defense, as the Tar Heels have struggled to stop anyone this year.
The spread market has moved away from the Tar Heels, who opened at +6 only to push through 7 and out to 7.5. Some of this could be driven by opt-out concerns, as North Carolina will at least be without Javonte Williams, one part of their top-tier rushing duo. This isn't a concern from a betting perspective, as Michael Carter has the dynamic playmaking ability that most covet at the running back position.
This could also force the Tar Heels to utilize quarterback Sam Howell and his impressive pass-catching unit. North Carolina's opponent-adjusted quarterback ranking is third in the FBS, with their pass-catching unit sixth overall. As good as Texas A&M has been offensively, North Carolina has been even better, with the opt-out news most likely benefiting their offense as a whole. They already look like they can compete offensively with any team in the SEC, as they have separated in both their rushing and passing ability from an expected points added (EPA) perspective.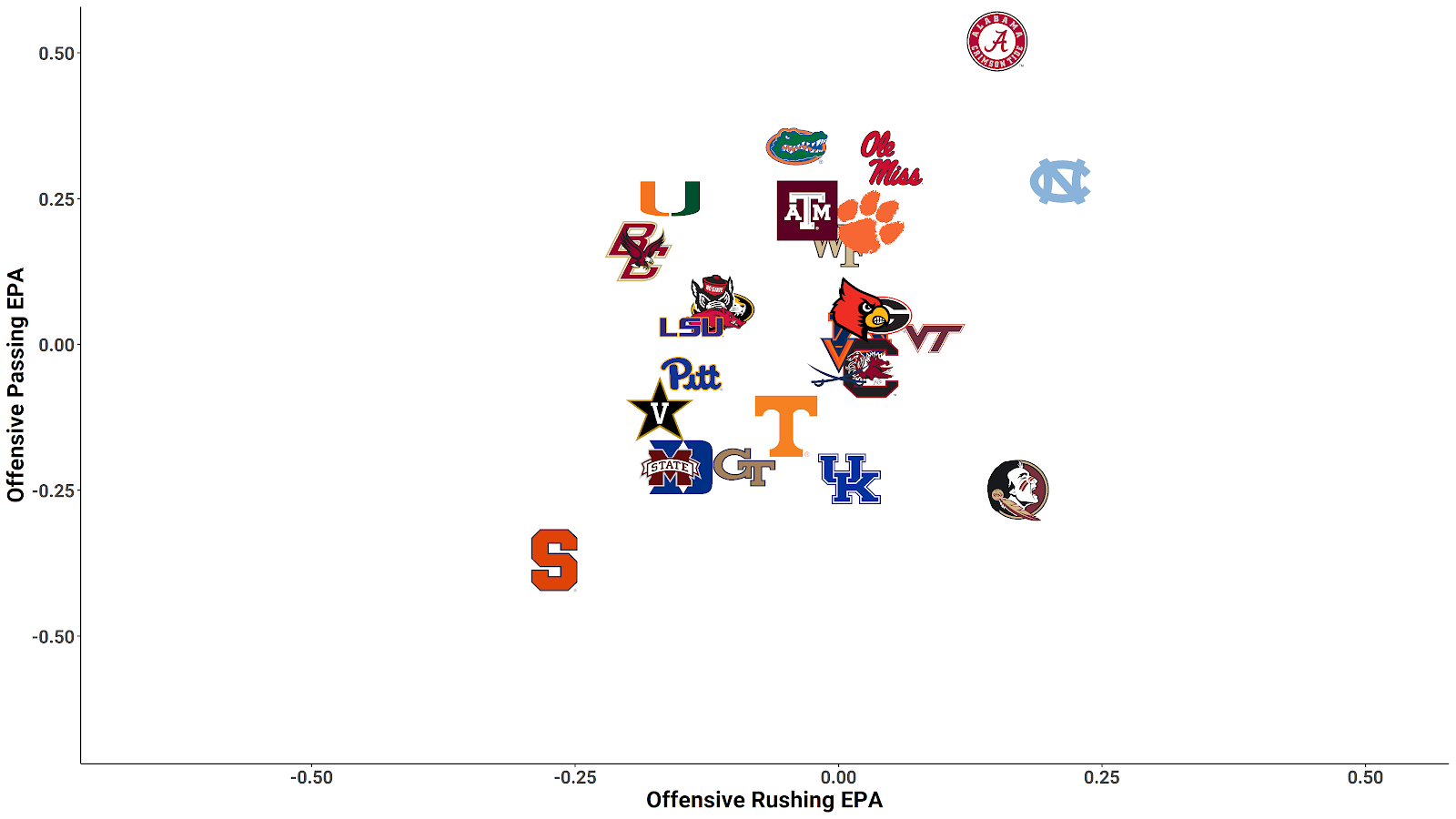 PFF Greenline found more agreement with the opening spread, as 5.5 or 6 looks like the best number in this matchup. Moving up through +7 has simply opened up too much value for a team that we believe has a better offensive unit.
Our rating system can be slightly higher on SEC teams, making our disagreement in this matchup all the more apparent, and the market might be overvaluing the state of both defenses, which is always a spot to buy into from our model's perspective. This is the perfect spot to take the points at the best number, with an offensive shootout expected on Saturday.
PICK: North Carolina +7.5