NFL player props continue to grow in popularity, as they give fantasy football players an easy way to get accustomed to sports betting.
Player prop "unders" hit 55% of the time between the 2017-2019 regular seasons. And after a hot start for the "overs" to open the 2020 NFL season, Week 6 continued the slight move toward the unders. The percentage of props hitting the under has now increased to 53.4% on the year.
We have seen a correction back to the downside for the majority of prop categories. At a macro level, it appears that passing attempts are down slightly based on expectation, but a higher percentage of those attempts are completed. Passing touchdowns look like a decent spot to take the overs, especially if offered a plus-money price, while rushing-yard props can be extremely valuable unders to bet.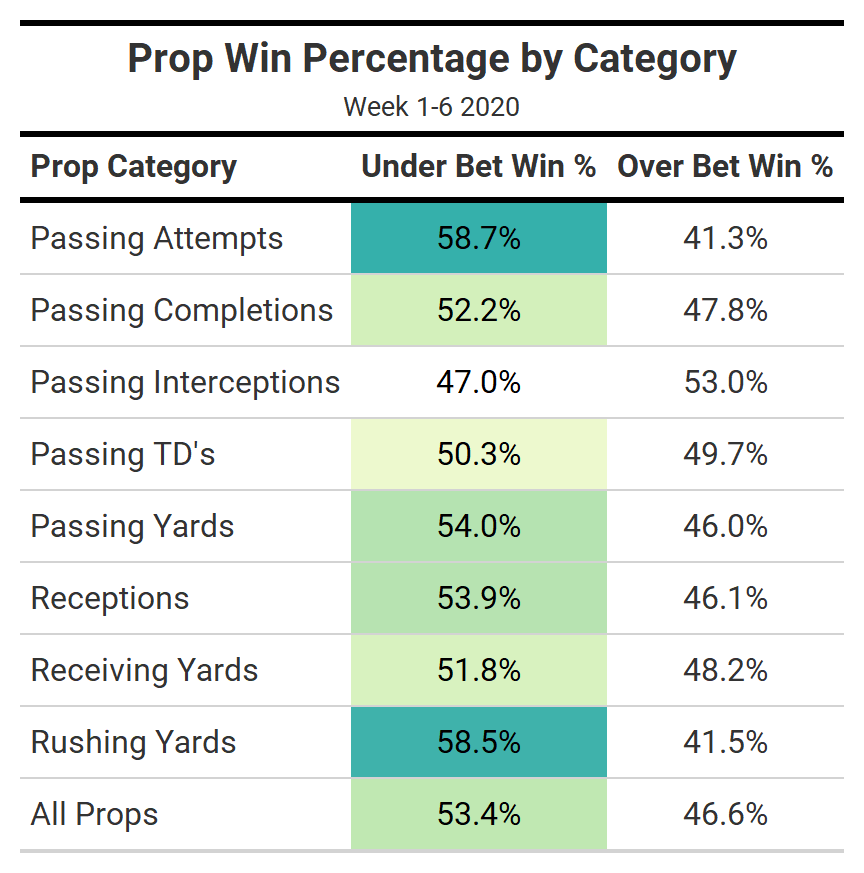 One way to consistently find defined edges is by utilizing our player props tool. The ability to adjust both number and price means you are always certain of the expected value for each prop bet.
My written plays went 1-1 on Monday to push action evenly, with a positively juiced bet that didn't come through. This brings my year-to-date written prop record to 36-23 for +9.8 units.
We are hitting the point of the season where usage is better understood. We are now looking for mispriced lines and situations that have moved too much to one side based on recency bias. Some of the props written may not be the most comfortable bets, but being able to take a loss that is still based on sound process is a useful skill that all sports bettors should master. Let's take a quick look at what the betting market is implying for Thursday Night Football before diving into some of the best player props, according to our tool.
Subscribe to PFF Edge to continue reading
Already have a subscription? Sign In