Bet Dalvin Cook u68.5 Rushing Yards (-115 DraftKings; playable to 66.5): Cook has struggled this year compared to previous seasons, which is a big reason the under side of his rushing yardage prop is viable against a stout run defense.
Bet: Nick Chubb o91.5 Rushing Yards (-115 BetMGM; playable to 93.5): Chubb's ability to create explosive runs should be on full display against a struggling run defense.
New users who bet $10 or more at BetMGM will receive a free year's subscription to PFF+ — a $79.99 value.
Estimated reading time: 3 minutes
---
In the past eight weeks, we've gone 20-10 (+7.7 units) on our RB prop bets using rushing yards over expected (RYOE). This is because 20 of the 30 bets were rushing-yard unders, which cash more regularly than overs, as PFF's Ben Brown details in his midseason player prop review.
In this article, two bets on unders and one on an over will be given out to maximize profits, but the over should be placed with more caution than the others.
BET: Minnesota Vikings RB Dalvin Cook under 68.5 rushing yards (-115 DraftKings; playable to 66.5)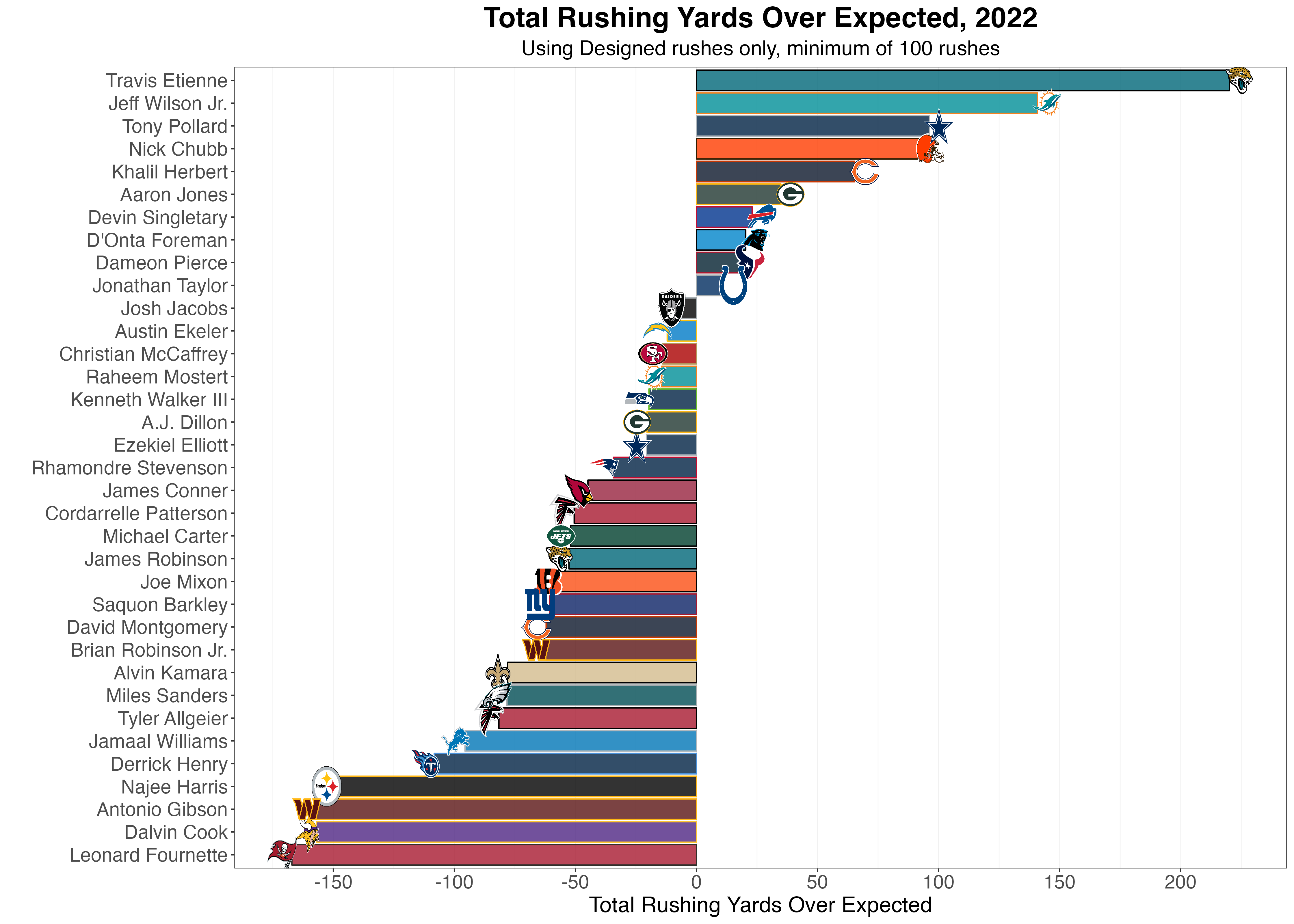 Cook has struggled this year:

After being an average rusher at -0.07 rushing yards over expected (RYOE) per rush last season, Cook has averaged -0.91 RYOE this season which ranks 35th out of 38 qualifying rushers. 

The New York Jets' run defense is stout: Last week, Cook ran for only 42 yards from 22 carries against a New England Patriots defense that ranks 10th in yards per carry allowed. The  Jets rank seventh and have PFF's sixth-best-graded run defense, which is why this will be a tough test for Cook. 
---
BET: Cleveland Browns RB Nick Chubb over 91.5 rushing yards (-115 BetMGM; playable to 93.5)
Chubb is very explosive: The quickest way to go over a rushing yardage prop is to break off an explosive run, which Chubb does the second-most often in the NFL, behind Tony Pollard. On 14.8% of his rushes this season, Chubb has gained more than five yards over what was expected from the run.
The Houston Texans give up big runs often:

The Texans defense leads the league in explosive (10-plus yards) rushes allowed (54). Houston also ranks 28th in yards per carry allowed, meaning that Chubb can take advantage of a leaky run defense. 
---
BET: Kansas City Chiefs QB Patrick Mahomes under 26.5 rushing yards (-120 DraftKings; playable to -125)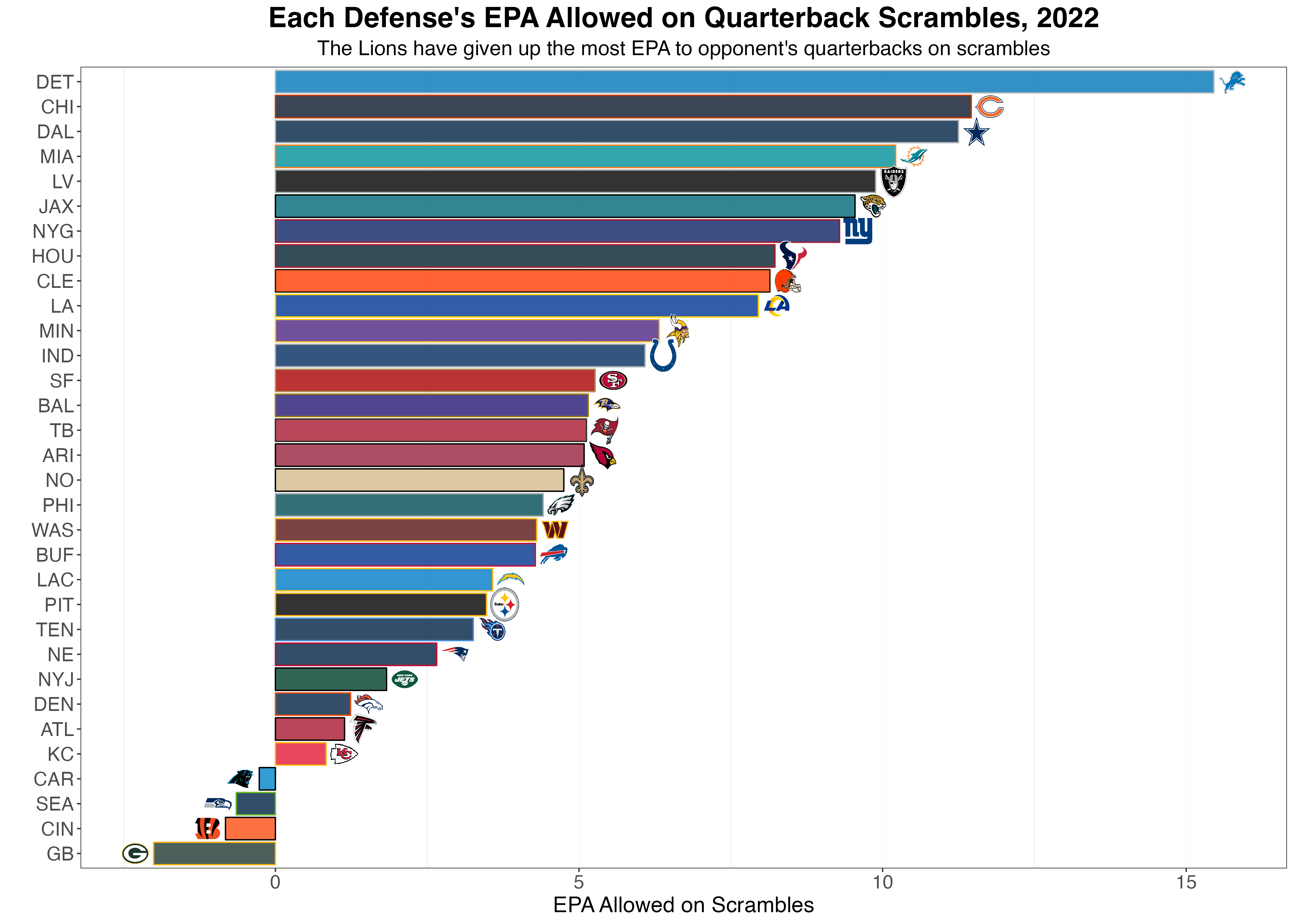 Cincinnati Bengals defense doesn't allow scrambles:

For good reason, Mahomes doesn't participate in designed rushes, so he gets all of his rushing yards from scrambles. However, the Bengals have had the second-best run defense against scrambles this season. 

Mahomes finished under his rushing yardage prop in both Bengals games last hear:

Last season, Mahomes played the Bengals defense twice and rushed for 25 and 19 yards respectively, showing that they have been able to limit him as a rusher. 
---
Rushing Yards Over Expected explained
Rushing yards over expected was created using an extreme gradient boosting model (XGBoost). The most important factor in determining expected rushing yards is the number of graded and negatively graded blocks on a play. The importance is followed by yards from the end zone, number of box defenders, defensive strength, seconds left in the half and score differential.
This model can predict 22% of the variance in actual rushing yards and has a year-to-year correlation of 0.21. A shiny app to explore RYOE for each player can be found here.