The 2023 NFL Draft is in the books, with teams making a multitude of selections from Thursday to Saturday, bringing in a total of 259 new players. With that, we give you our full recaps of all 32 team's drafts, with analysis on every selection each team made during the weekend and an in-depth look at their top picks.
Draft Picks, Analysis, Prospect Spotlights
2023 NFL Draft: All 32 Teams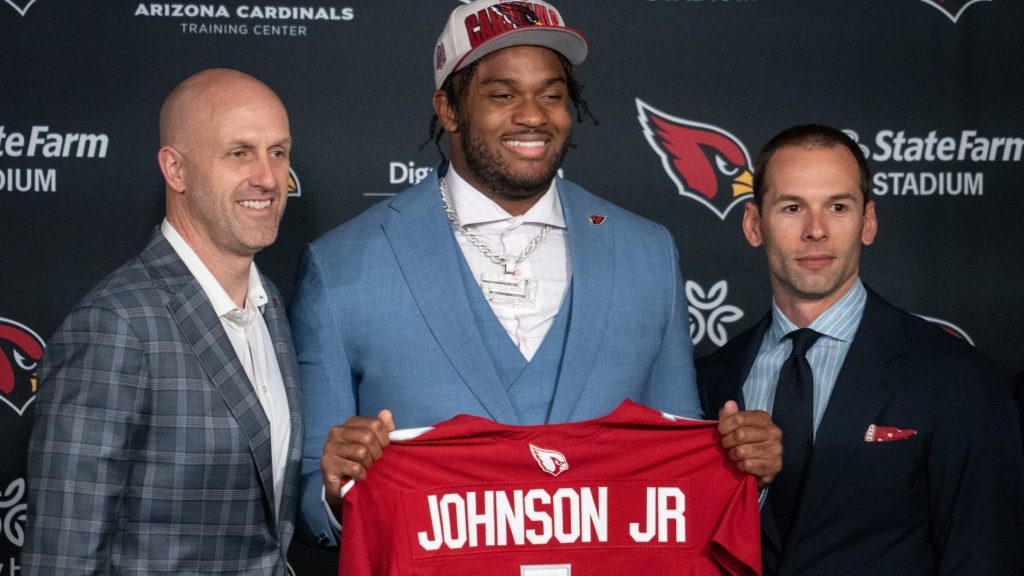 Draft Picks
R1 (6): T Paris Johnson Jr., Ohio State
R2 (41): EDGE BJ Ojulari, LSU
R3 (72): CB Garrett Williams, Syracuse
R3 (94): WR Michael Wilson, Stanford
R4 (122): G Jon Gaines II, UCLA
R5 (139): QB Clayton Tune, Houston
R5 (168): LB Owen Pappoe, Auburn
R6 (180): CB Kei'Trel Clark, Louisville
R6 (213): DI Dante Stills, West Virginia
Day 1: After moving down from No. 3, the Cardinals move back up and select their left tackle in Paris Johnson Jr. He ticks all the boxes physically, coming in at 6-foot-6 and 310 pounds, and he allowed just 14 total pressures from 449 pass-blocking snaps last season, the best of his career. The wheeling and dealing by Arizona just makes this that much better.
Day 2: Pass rush was a clear need for the Cardinals entering this draft, and Ojulari was one of the better remaining options. He doesn't have elite traits, but he wins with a deep collection of pass-rush moves and a high motor off the edge.
Day 3: Gaines is a reliable asset in both the run and pass game, as he graded at 76.7 and 77.4 in those facets, respectively. He is one of only three guards in the class to grade at least a 76.7 in both the pass and run games. Gaines may not have any particular special skill, but his consistency and balance are much needed in Arizona.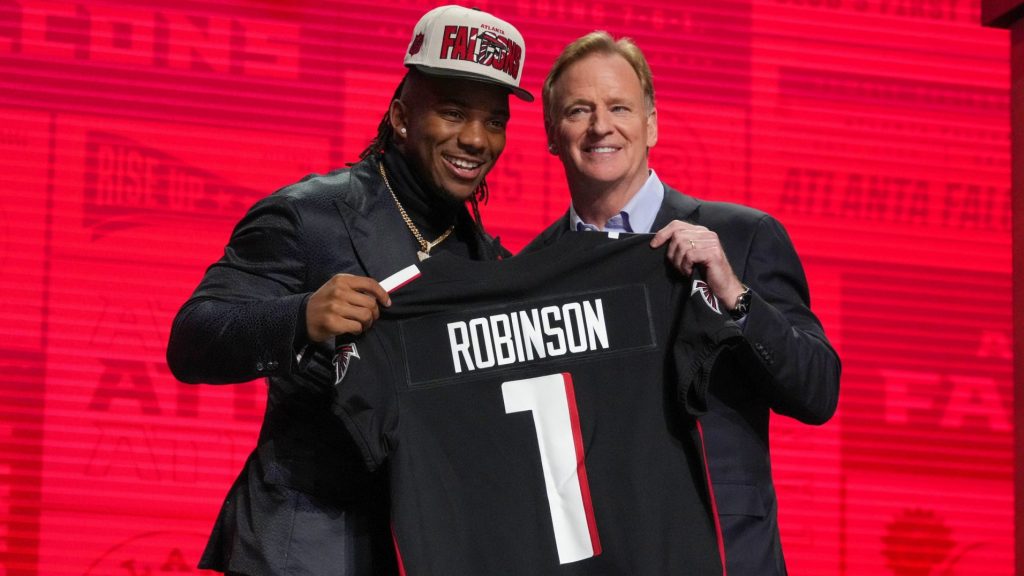 Draft Picks
R1 (8): RB Bijan Robinson, Texas
R2 (38): T Matthew Bergeron, Syracuse
R3 (75): EDGE Zach Harrison, Ohio State
R4 (113): CB Clark Phillips III, Utah
R7 (224): S DeMarcco Hellams, Alabama
R7 (225): OG Jovaughn Gwyn, South Carolina
Day 1: Teams wouldn't usually receive an "average" grade for taking a running back in the top 10, but it's hard to dislike this pick too much, given how good Bijan Robinson was in 2022. An impressive athlete at 220 pounds, he set a PFF college record with 104 missed tackles forced in 2022, producing a 95.3 PFF grade in the process.
Day 2: Bergeron is a nimble tackle with a very in-control play style. He played significant time at both tackle spots for Syracuse but could kick inside to guard for Atlanta. Bergeron needs to have more of a killer mentality and better hand usage, but this is a good fit for the 6-foot-5, 318-pound lineman.
Day 3: Phillips is undersized (5-foot-9 with arms just over 29 inches long) and a below-average athlete. That's not a great combination and why he's slid to this point in the draft. However, Clark is a physical, savvy coverage defender who can compete for a role in the slot with Atlanta. He tallied six interceptions and four pass breakups in his final season with the Utes, allowing a 68.4 passer rating into his coverage.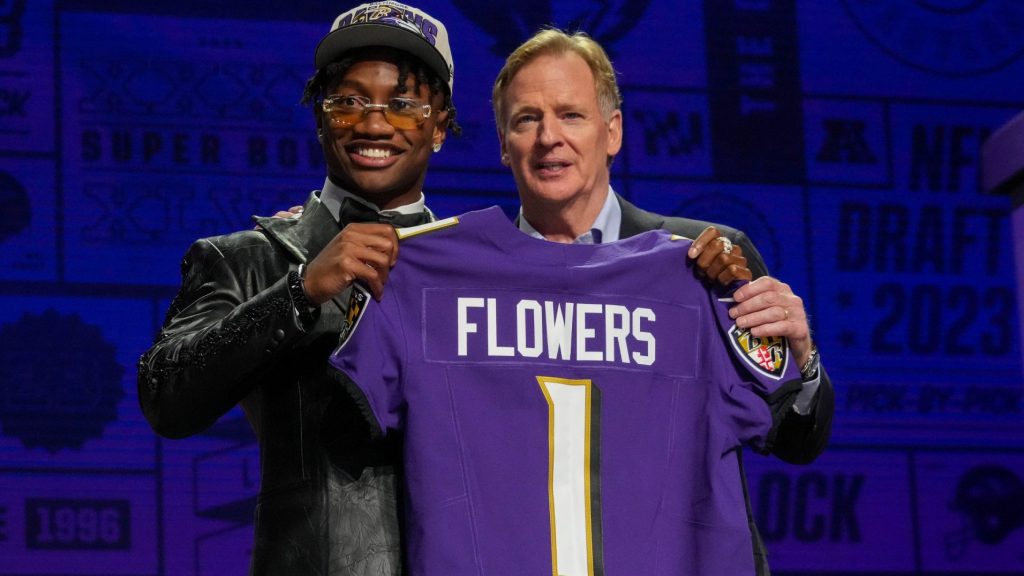 Draft Picks
R1 (22): WR Zay Flowers, Boston College
R3 (86): LB Trenton Simpson, Clemson
R4 (124): EDGE Tavius Robinson, Ole Miss
R5 (157): CB Kyu Blu Kelly, Stanford
R6 (199): OG Sala Aumavae-Laulu, Oregon
R7 (229): OG Andrew Vorhees, USC
Day 1: Flowers is shifty, knows how to separate and complements what the Ravens have at the position well. He can replace the production they lost from Hollywood Brown after trading him away last year, as Flowers racked up 500 receiving yards on throws 20-plus yards downfield.
Day 2: Baltimore gets good value here in Clemson off-ball linebacker Trenton Simpson, a former five-star recruit in the 2020 class. Simpson's numbers did dip a bit from 2021 to 2022 as he moved from an overhang role to playing more in between the tackles, but the Ravens will surely take advantage of the physically gifted linebacker's versatility.
Day 3: Robinson has all the tools at 6-foot-6 and 257 pounds. He is a project, though, and while he has the length and power to play in the NFL, he needs to widen his pass-rush arsenal. Baltimore won't ask him to play a ton early, and they'll have to decide if he is a 3-4 end or an outside linebacker in their defense.
Draft Picks
R1 (25): TE Dalton Kincaid, Utah
R2 (59): G O'Cyrus Torrence, Florida
R3 (91): LB Dorian Williams, Tulane
R5 (150): WR Justin Shorter, Florida
R7 (230): OG Nick Broeker, Ole Miss
R7 (252): CB Alex Austin, Oregon State
Day 1: The Bills make a small jump but land the premier pass-catching tight end in the draft in Kincaid. The 10th overall player on the PFF big board, this is a huge value pick. Kincaid was the focal point of the Utah offense and led all players at the position with a 91.8 PFF receiving grade.
Day 2: Like the Giants just a few picks ago, this could have easily been the Bills' first-round pick. A mountain of a man at the position, he can still move better than his size would suggest. After starting his career at Louisiana, he made the move to the SEC with ease, finishing 2022 with an 89.9 PFF run-blocking grade, which was the best in the Power Five last season.
Day 3: Shorter is one of the bigger wide receivers in this class, coming in at 6-foot-4 and 234 pounds with nearly 34-inch arms. He was a big-play threat for the Gators and averaged 19.9 yards per reception in 2022 without a dropped pass. He'll likely fill a similar role for Buffalo and compete to be on the receiving end of Josh Allen bombs.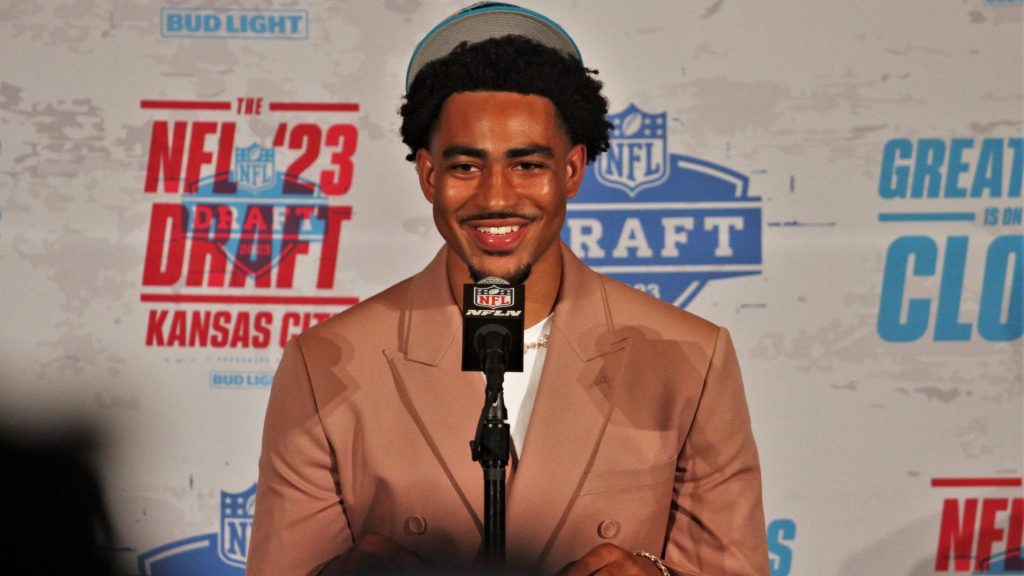 Draft Picks
R1 (1): QB Bryce Young, Alabama
R2 (39): WR Jonathan Mingo, Ole Miss
R3 (80): EDGE DJ Johnson, Oregon
R4 (114): G Chandler Zavala, NC State
R5 (145): S Jammie Robinson, Florida State
Day 1: Carolina moved up to No. 1 overall and secured their potential franchise quarterback. Despite concerns about his size, Young was the top QB on the PFF big board, and his 92.9 passing grade led all players at the position over the past two seasons.
Day 2: Mingo was one of the biggest risers in the pre-draft process and finds himself in Carolina to team up with top pick Bryce Young. While his production in college was spotty, he has a good blend of size and athleticism to like his fit here with the Panthers. Not to mention, he flashed often on tape between unbelievable body adjustments and clean wins at the line of scrimmage.
Day 3: The Panthers have invested in improving their offensive line over the last several seasons and continue to do so with Zavala here. He played just over 1,000 snaps in the FBS but earned an 86.5 PFF pass-blocking grade last season and adds some explosiveness to the interior of their offensive line.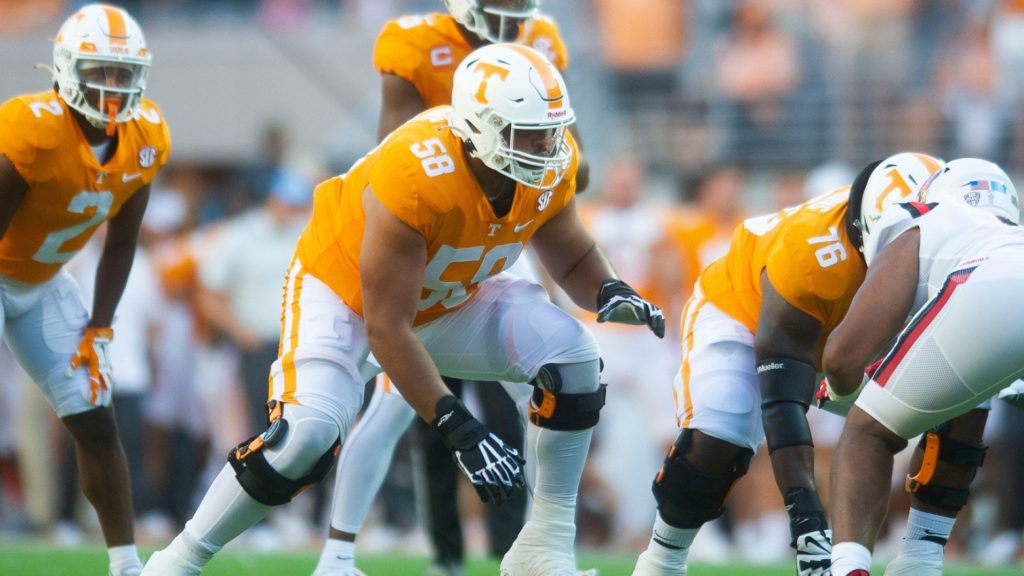 Draft Picks
R1 (10): T Darnell Wright, Tennessee
R2 (53): DI Gervon Dexter Sr., Florida
R2 (56): CB Tyrique Stevenson, Miami (FL)
R3 (64): DI Zacch Pickens, South Carolina
R4 (115): RB Roschon Johnson, Texas
R4 (133): WR Tyler Scott, Cincinnati
R5 (148): LB Noah Sewell, Oregon
R5 (165): CB Terell Smith, Minnesota
R7 (218): DI Travis Bell, Kennesaw State
R7 (258): S Kendall Williamson, Stanford
Day 1: Wright fills a need for the Bears, but he is just the 22nd-ranked player on the PFF draft board. He produced a PFF grade of just 71.4 in 2022 but has some really good reps on tape where he just overpowers people. He allowed just eight total pressures in 2022.
Day 2: Dexter's 4.88-second 40-yard dash at 6-foot-6 and 318 pounds ranked in the 83rd percentile among interior defenders in PFF's database, but he needs to turn that athleticism into more production at the next level. Dexter is young at just over 21 years of age. He offered very little as a pass-rusher in 2022 with just a 55.2 grade, but his explosiveness is evident.
Day 3: Johnson was overshadowed by Bijan Robinson in the Texas backfield but brings plenty to the table for a team that should run more than just about any team in the NFL next season. Johnson earned 80.0-plus PFF rushing grades in four consecutive seasons with the Longhorns.
Draft Picks
R1 (28): EDGE Myles Murphy, Clemson
R2 (60): CB DJ Turner, Michigan
R3 (95): S Jordan Battle, Alabama
R4 (131): WR Charlie Jones, Purdue
R5 (163): RB Chase Brown, Illinois
R6 (206): WR Andrei Iosivas, Princeton
R6 (217): P Brad Robbins, Michigan
R7 (246): CB DJ Ivey, Miami (FL)
Day 1: Murphy looked like a future top-five pick after a freshman season that saw him produce an 85.2 PFF grade, but we never really saw him progress beyond that. However, he has produced a PFF grade of at least 79.0 in each of the past three seasons and racked up 76 pressures over the past two years.
Day 2: Turner can flat-out fly, clocking a 4.26-second 40-yard dash at the scouting combine in Indianapolis. He did get picked on a little at Michigan, and there's still a fair amount of development needed, but he allowed just 46.5% of the passes thrown into his coverage to be caught in 2022 and forced 14 incompletions in the process.
Day 3: If the Bengals are looking to find a long-term replacement for Tyler Boyd in the slot, Jones could be just what they are looking for. He dropped just 2.7% of the catchable passes thrown his way in 2022 and averaged 2.70 yards per route run over the season.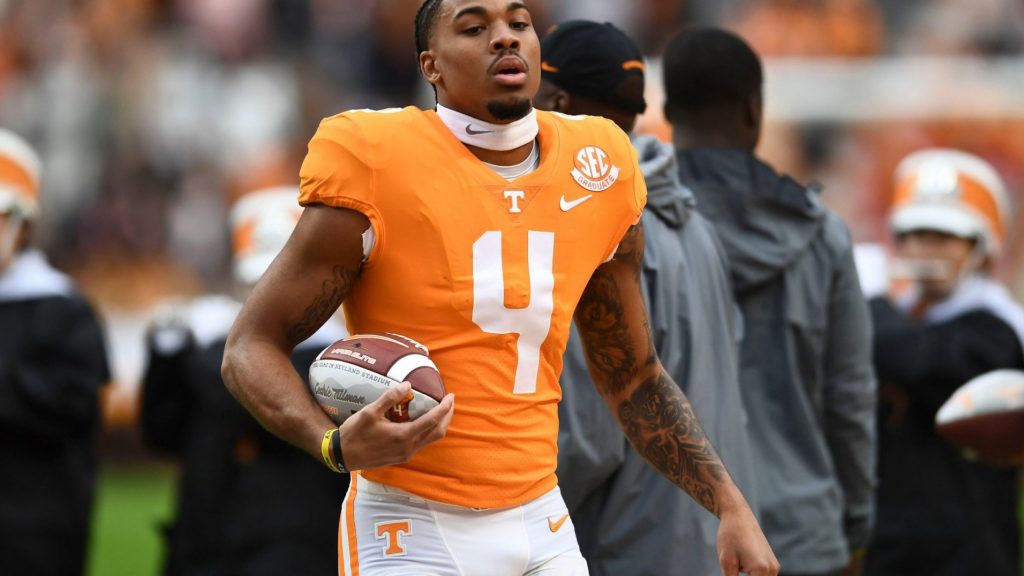 Draft Picks
R3 (74): WR Cedric Tillman, Tennessee
R3 (98): DI Siaki Ika, Baylor
R4 (111): T Dawand Jones, Ohio State
R4 (126): EDGE Isaiah McGuire, Missouri
R5 (140): QB Dorian Thompson-Robinson
R5 (142): CB Cameron Mitchell, Northwestern
R6 (190): C Luke Wypler, Ohio State
Day 2: In a draft class of undersized wide receivers, Tillman was among the few top prospects with prototypical X measurables. He has good size, he is physical and he attacks the football in the air. With the additions of Tillman and the trade for Elijah Moore, Deshaun Watson will have more options in the passing game entering his second season with the team.
Day 3: There were questions about Jones' conditioning/commitment that likely contributed to his slide down boards, but there's a lot of reason to bet on Jones' talent at this stage of the draft. His size and length afford him room for error, and he has enough movement ability at his size to have success as a starter. Jones earned 80-plus PFF grades as the Buckeyes' starting right tackle in each of the last two seasons.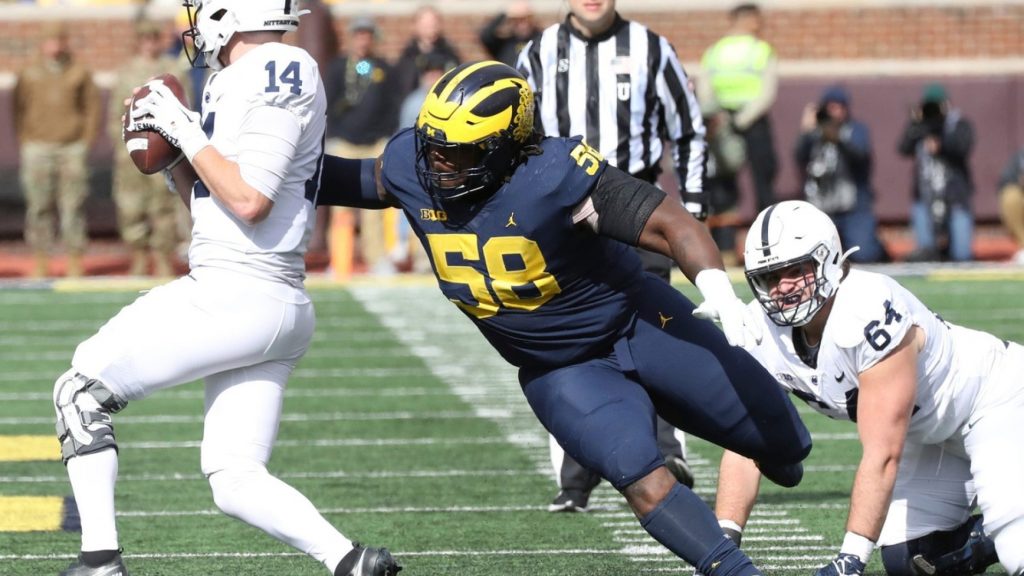 Draft Picks
R1 (26): DI Mazi Smith, Michigan
R2 (58): TE Luke Schoonmaker, Michigan
R3 (90): EDGE DeMarvion Overshown, Texas
R4 (129): EDGE Viliami Fehoko, San Jose State
R5 (169): OT Asim Richards, North Carolina
R6 (178): CB Eric Scott Jr., Southern Mississippi
R6 (212): RB Deuce Vaughn, Kansas State
R7 (244): WR Jalen Brooks, South Carolina
Day 1: It might not be an exciting pick, but for a team that have struggled to stop the run consistently recently, it makes a lot of sense. An impressive athlete for someone his size, Smith posted PFF grades of 75.0 or better in each of the past two seasons.
Day 2: Schoonmaker is an in-line tight end, so the fit is obvious here for the Cowboys, but it's just that it's a bit of a reach at 58th overall. He averaged 2.15 yards per route run in 2022 but caught just 28.6% of the contested targets he saw. There's some projection here, but he does have the athletic profile where the reach could work out for the Cowboys.
Day 3: Fehoko makes a lot of sense in the fourth round as a player who offers the versatility to play on the edge and kick inside in certain situations. He dominated at San Jose State in 2022, winning 21.5% of his pass-rushing attempts and registering a defensive stop on 10.9% of his snaps in run defense.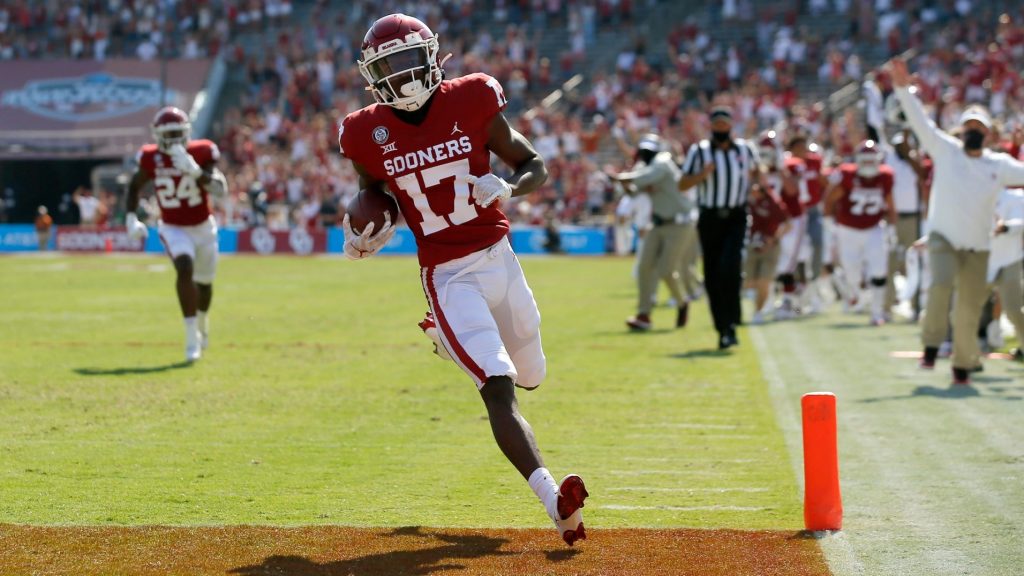 Draft Picks
R2 (63): WR Marvin Mims, Oklahoma
R3 (67): LB Drew Sanders
R3 (83): CB Riley Moss, Iowa
R6 (183): S JL Skinner, Boise State
R7 (257): C Alex Forsyth, Oregon
Day 2: An analytics darling, Mims averaged 19.5 yards per catch over the course of his career in college. Despite not being the biggest player, he still managed to win 54.5% of the contested targets he saw. He tracks the ball in the air really well, averaged 2.75 yards per route run and was fifth in the nation with 602 yards on throws 20-plus yards downfield.
Day 3: At 6-foot-4 and 220 pounds, Skinner could be a safety/linebacker hybrid at the next level, with 58 defensive stops over the last two seasons. Skinner earned an 83.3 coverage grade in 2022 but belongs closer to the line of scrimmage to get the most out of his skill set.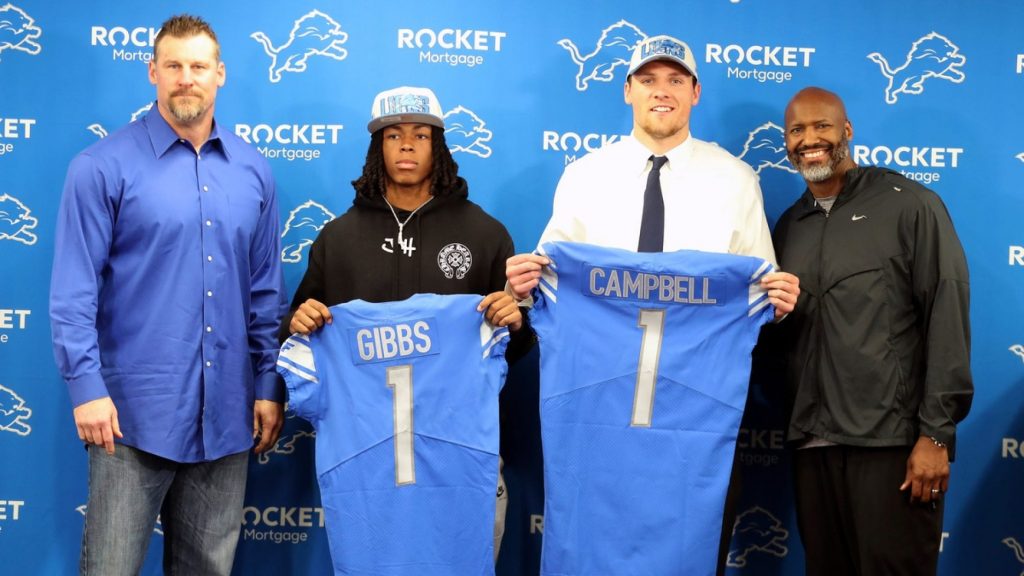 Draft Picks
R1 (12): RB Jahmyr Gibbs, Alabama
R1 (18): LB Jack Campbell, Iowa
R2 (34): TE Sam LaPorta, Iowa
R2 (45): S Brian Branch, Alabama
R3 (68): QB Hendon Hooker, Tennessee
R3 (96): DI Brodric Martin, Western Kentucky
R5 (152): OT Colby Sorsdal, William & Mary
R6 (219): WR Antoine Green, North Carolina
Day 1: Gibbs is the second-ranked running back on the PFF big board, but he is also just the 34th-ranked prospect. Viewed as a potential late first-round pick, this is a big reach with the 12th overall pick. He can make an impact in the passing game, though, as he hauled in 103 passes for 1,215 receiving yards over the past three seasons.
Day 2: Detroit shocks the football world once again by taking tight end Sam LaPorta over Notre Dame's Michael Mayer at Pick 34. The Iowa product plays an incredibly physical game, something head coach Dan Campbell covets at every position. LaPorta is a high-quality athlete and an after-the-catch weapon. His 368 yards after the catch and 20 missed tackles forced were both top-three marks among FBS tight ends in 2022.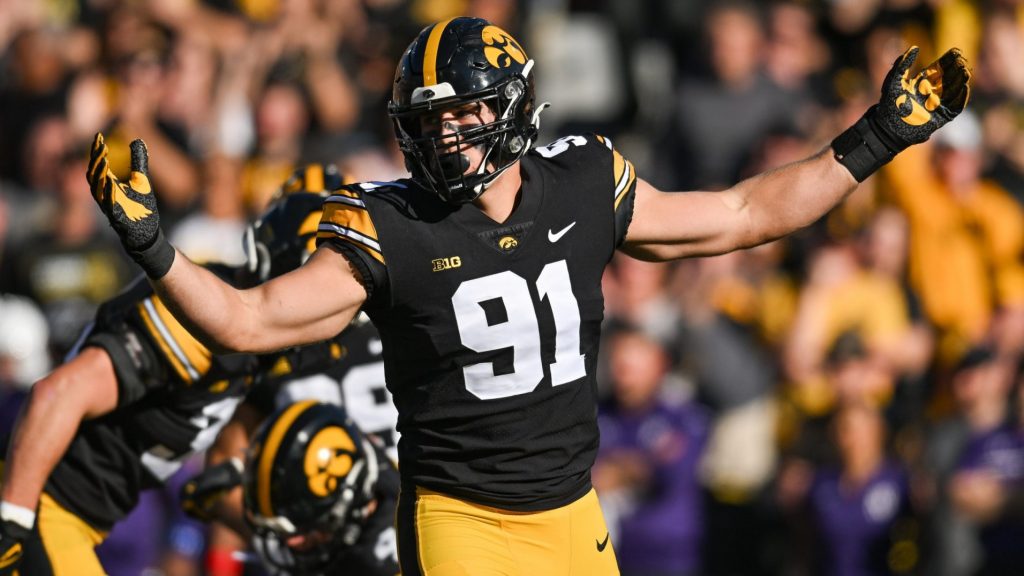 Draft Picks
R1 (13): EDGE Lukas Van Ness, Iowa
R2 (42): TE Luke Musgrave, Oregon State
R2 (50): WR Jayden Reed, Michigan State
R3 (78): TE Tucker Kraft, South Dakota State
R4 (116): EDGE Colby Wooden, Auburn
R5 (149): QB Sean Clifford, Penn State
R5 (159): WR Dontayvion Wicks, Virginia Tech
R6 (179): DI Karl Brooks, Bowling Green
R6 (207): K Anders Carlson, Auburn
R7 (232): CB Carrington Valentine, Kentucky
R7 (235): RB Lew Nichols III, Central Michigan
R7 (242): S Anthony Johnson, Iowa State
R7 (256): WR Grant DuBose, Charlotte
Day 1: Many thought this was the spot for a playmaker for quarterback Jordan Love, but the Packers instead opt for an edge defender in Van Ness. A power rusher, he can push through opposing offensive linemen and likely comes with the versatility of being able to kick inside at times.
Day 2: The Packers address their receiving corps on Day 2 after (once again) passing on several receiving options in the first round. Musgrave adds a different element to their tight end room with the size and speed to challenge defenses down the seam. He looked to be on his way to a very strong 2022 season for Oregon State before a knee injury cut his campaign short after just two games, making this a projection play for Green Bay.
Day 3: Wooden should offer some inside-outside for the Packers after playing primarily on the interior for Auburn at 273 pounds. He has active hands and earned a 60th-percentile run-defense grade across three college seasons as a starter.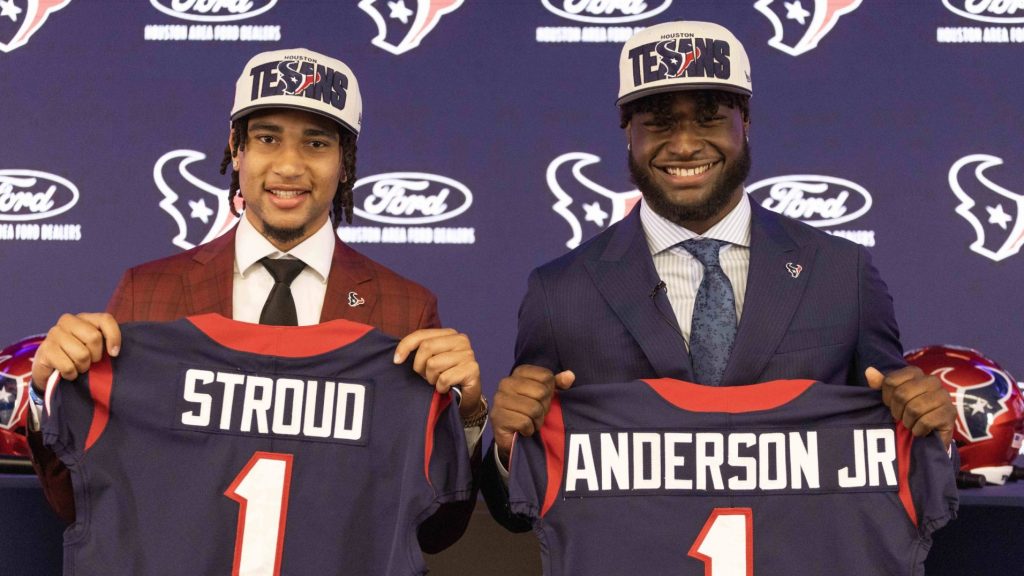 Draft Picks
R1 (2): QB C.J. Stroud, Ohio State
R1 (3): EDGE Will Anderson Jr., Alabama
R2 (62): C Juice Scruggs, Penn State
R3 (69): WR Nathaniel Dell, Houston
R4 (109): EDGE Dylan Horton, TCU
R5 (167): Henry To'oTo'o, Alabama
R6 (201): C Jarrett Patterson, Notre Dame
R6 (205): WR Xavier Hutchinson, Iowa State
R7 (248): S Brandon Hill, Pittsburgh
Day 1: After a lot of speculation that they would pass on a signal-caller, the Texans ultimately select the second-ranked quarterback on the PFF big board. Stroud earned a 92.2 PFF grade in 2021, tying with Bryce Young, and he was the seventh-highest-graded player at the position this past season.
Day 2: Scruggs comes off the board before Ohio State's Luke Wypler after producing 67.5 and 71.5 PFF grades in each of the past two seasons. The 138th-ranked player on the PFF big board, there's still plenty of development needed, and he is likely scheme dependent. He produced a 72.6 PFF run-blocking grade on zone plays and a 62.9 PFF grade on gap plays.
Day 3: Houston traded down twice to kick off the day and still land a solid prospect at a position of need, as Horton is set to develop alongside No. 3 overall pick Will Anderson Jr. Horton is a safety convert who has added a bunch of weight while maintaining plus athleticism. He posted pass-rush and run-defense grades above 70.0 in 2022.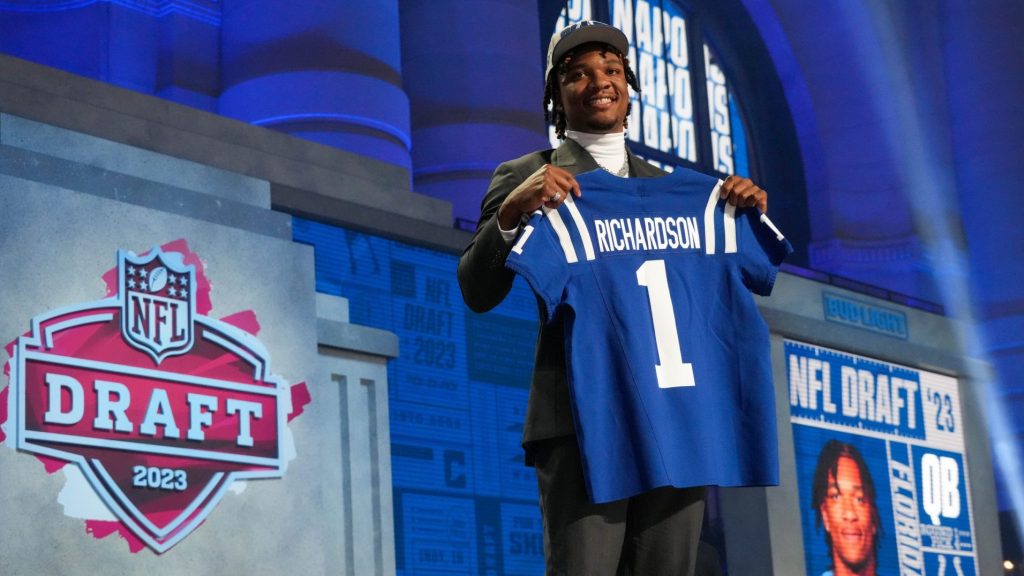 Draft Picks
R1 (4): QB Anthony Richardson, Florida
R2 (44): CB Julius Brents, Kansas State
R3 (79): WR Josh Downs, North Carolina
R4 (106): T Blake Freeland, BYU
R4 (110): EDGE Adetomiwa Adebawore, Northwestern
R5 (138): CB Darius Rush,  South Carolina
R5 (158): S Daniel Scott, Cal
R5 (162): TE Will Mallory, Miami (FL)
R5 (176): RB Evan Hull, Northwestern
R6 (211): EDGE Titus Leo, Wagner
R6 (221): CB Jaylon Jones, Texas A&M
R7 (236): OT Jake Witt, Northern Michigan
Day 1: The Colts stay at Pick 4 and swing for the high ceiling of Anthony Richardson. While Richardson was inconsistent as a passer, he is arguably the most incredible athlete at the quarterback position we have ever seen. He forced 39 missed tackles in 2022.
Day 2: Brents is in the group of long, athletic prospects that the Colts have gravitated to on defense over the past several years. There aren't too many cornerbacks out there at 6-foot-3 with 34-inch arms and a 42-inch vertical. Brents' production and grading profile don't overly impress, but he has traits worth betting on here for Indianapolis.
Day 3: The Colts need reinforcements along the offensive line and land the 6-foot-8 Freeland, who tested off the charts with 95th percentile or better scores in the vertical jump, broad jump, short shuttle and three-cone. Freeland's athleticism will be best utilized as a run blocker in space, earning a 90.2 zone blocking grade in 2022, but he will need to improve as a pass protector at the NFL level.

Draft Picks
R1 (27): T Anton Harrison, Oklahoma
R2 (61): TE Brenton Strange, Penn State
R3 (88): RB Tank Bigsby, Auburn
R4 (121): LB Ventrell Miller, Florida
R4 (130): EDGE Tyler Lacy, Oklahoma State
R5 (136): EDGE Yasir Abdullah, Louisville
R5 (160): S Antonio Johnson, Texas A&M
R6 (185): WR Parker Washington, Penn State
R6 (202): CB Christian Braswell, Rutgers
R6 (208): S Erick Hallett II, Pittsburgh
R7 (226): OT Cooper Hodges, Appalachian State
R7 (227): DI Raymond Vohasek, North Carolina
R7 (240): FB Derek Parish, Houston
Day 1: This makes a lot of sense given the reported suspension for Cam Robinson. The 24th ranked player on the PFF big board, the Jaguars get Harrison at about the right spot but pick up three additional picks by moving down. He allowed just nine total pressures from 447 pass-blocking snaps in 2022.
Day 2: This could very well be a long-term replacement for Evan Engram because Strange projects far better as a receiver than he does as a run blocker. He caught 62.5% of the contested targets he saw in 2022 and had a drop rate of just 3.0%. His 60.5 run-blocking grade confirms that you probably don't want him taking on defensive ends as an in-line blocker.
Day 3: Miller brings a hard-hitting presence to Jacksonville's run defense. The question is whether he will hold up in coverage. He should be able to contribute in the Jaguars' base defense and short-yardage packages in the early going.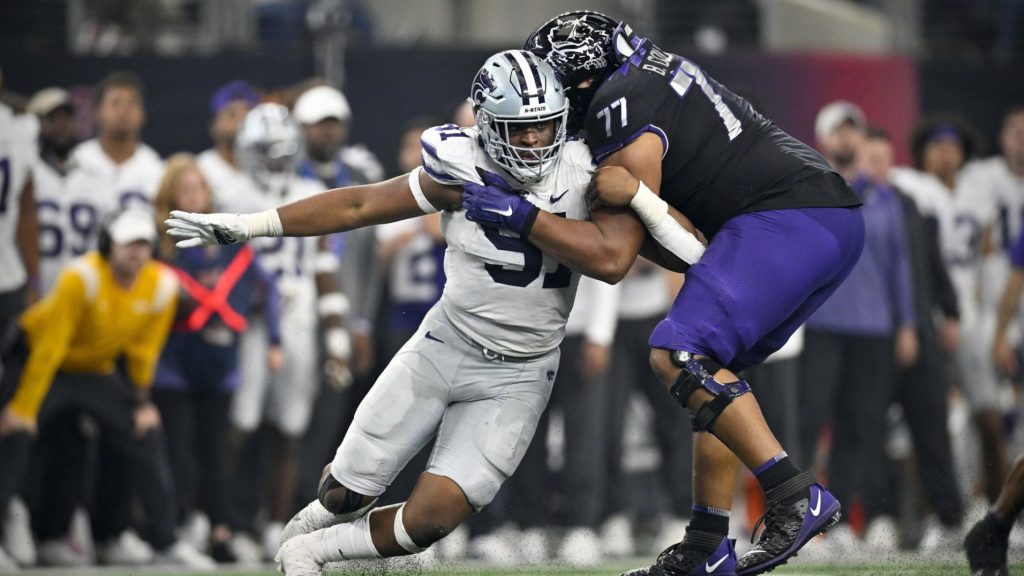 Draft Picks
R1 (31): EDGE Felix Anudike-Uzomah
R2 (55): WR Rashee Rice, SMU
R3 (92): T Wanya Morris, Oklahoma
R4 (119): S Chamarri Conner, Virginia Tech
R5 (166): EDGE BJ Thompson, Stephen F. Austin
R6 (194): DI Keondre Coburn, Texas
R7 (250): CB Nic Jones, Ball State
Day 1: Anudike-Uzomah produced PFF grades of 74.0 or better in each of the past two seasons and is one of the best edge benders in this draft class. He was one of the most successful players in college football at converting pressures into sacks, with 21 of his 89 pressures over the past two seasons resulting in a sack.
Day 2: The Chiefs add another wide receiver to their committee with a target magnet in Rice, who was asked to do everything at SMU. Rice was top 10 in the country in both deep catches and screen catches in 2022, earning an 85.9 receiving grade on the season with his 16 contested catches, another top-10 mark in the nation. Rice's 41-inch vertical was 97th percentile and his 10-foot-8 broad jump was 89th.
Day 3: Connor is a strong safety/slot hybrid who was a four-year starter at Virginia Tech. He has the size and length to cover tight ends but misses too many tackles in the pass and run game. More than anything, this pick represents Steve Spagnuolo's preference for versatile safeties as he tries to find a replacement for Juan Thornhill.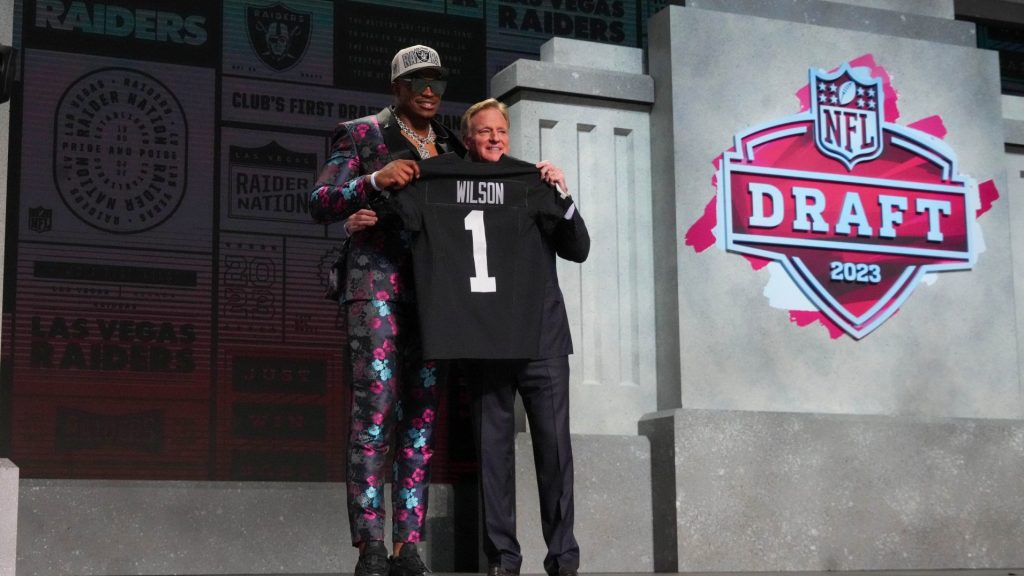 Draft Picks
R1 (7): EDGE Tyree Wilson, Texas Tech
R2 (35): TE Michael Mayer, Notre Dame
R3 (70): DI Byron Young, Alabama
R3 (100): WR Tre Tucker, Cincinnati
R4 (104): CB Jakorian Bennett, Maryland
R4 (135): QB Aidan O'Connell, Purdue
R5 (170): S Christopher Smith, Georgia
R6 (203): LB Amari Burney, Florida
R7 (231): DI Nesta Jade Silvera, Arizona State
Day 1: Wilson looks like he was built in a pass-rushing lab, so it's not a shock to see him go in the top 10. That said, he ranked just 28th on the PFF big board because the consistency just wasn't there in college. His 75.1 PFF grade last season was the highest of his career.
Day 2: The Golden Domer's wait is over, as the Raiders trade up to Pick 35 for one of the most polished prospects in the class. Mayer isn't a gifted athlete by any means, but he checks every other box as a receiver and a blocker. He has a high-level football IQ and was the engine of the Notre Dame offense in 2022. Mayer was targeted more than any other tight end in the country this past season and earned an FBS-best 92.5 PFF grade in the process.
Day 3: Tucker produced PFF grades of 70.0 or better in all four of his seasons in college, but this is a lot earlier than he was expected to go off the board. He's a shifty player who forced 31 missed tackles on 113 receptions over the course of his career at Cincinnati.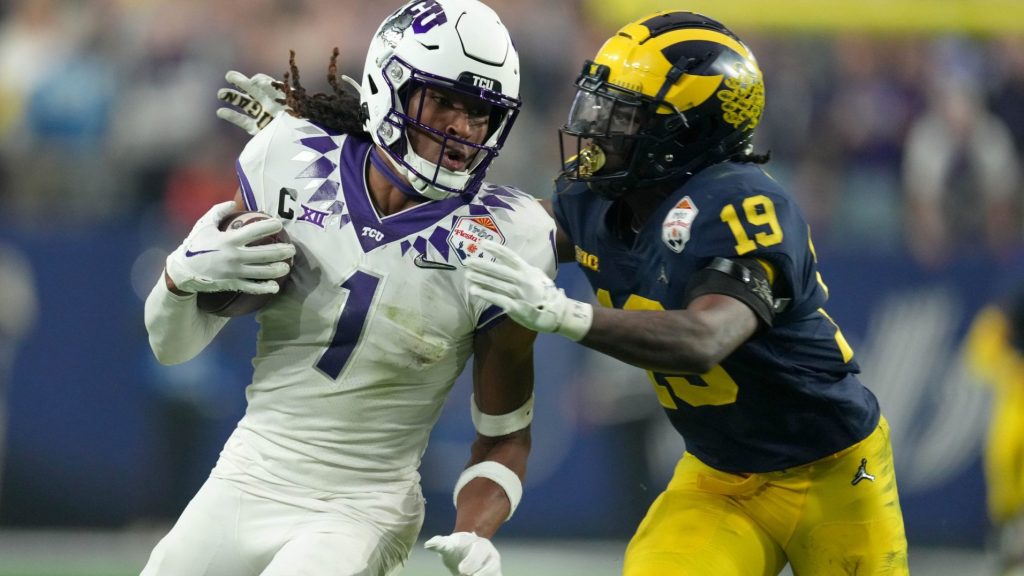 Draft Picks
R1 (21): WR Quentin Johnston, TCU
R2 (54): EDGE Tuli Tuipulotu, USC
R3 (85): LB Daiyan Henley, Washington State
R4 (125): WR Derius Davis, TCU
R5 (156): T Jordan McFadden, Clemson
R6 (200): DI Scott Matlock, Boise State
R7 (239): QB Max Duggan, TCU
Day 1: The Chargers land the third-ranked wide receiver on the PFF big board, and a player who can make people miss in space in TCU's Quentin Johnston. He forced 19 missed tackles on just 60 receptions and averaged 17.8 yards per catch. He did drop 11.8% of the catchable passes thrown his way this past season, though.
Day 2: Tuipulotu is one of the youngest players in the class at 20 years old and earned an 81.0 pass-rush grade in 2022 with a 19.1% pass-rush win rate. The Chargers are very smart to add a third edge beyond Joey Bosa and Khalil Mack. They can move him around as well, as the USC product has the size to play as a three-technique defensive tackle or on the edge.
Day 3: Davis ran a 4.36-second 40-yard dash and can be explosive with the ball in his hands. He lacks route-running polish and was generally at his best when running crossing routes. The speedster offers immediate value in the return game but is likely more of a gadget player than a consistent contributor on offense — think Year 1 and 2 Mecole Hardman.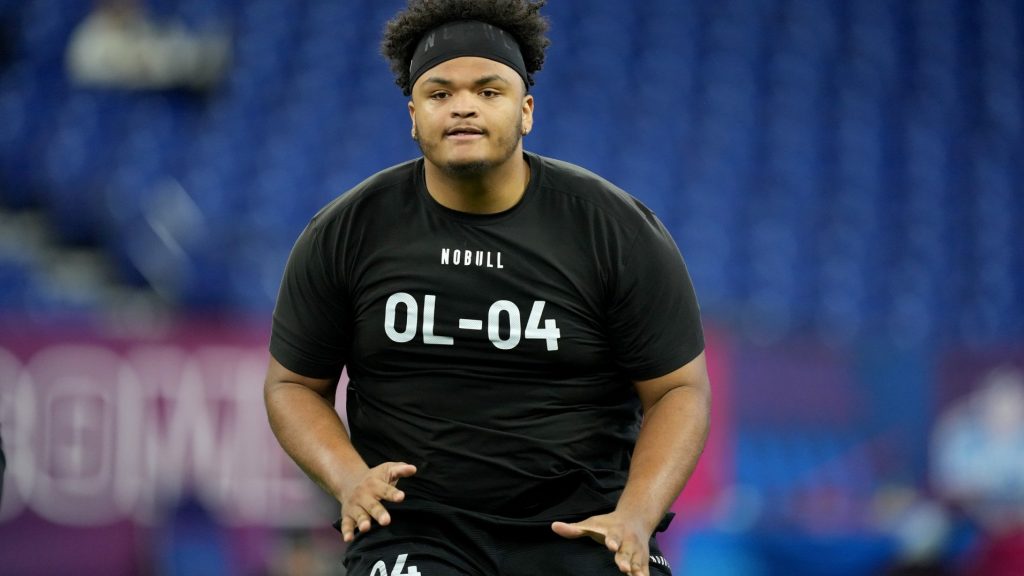 Draft Picks
R2 (36): G Steve Avila, TCU
R3 (77): EDGE Byron Young, Tennessee
R3 (89): DI Kobie Turner, Wake Forest
R4 (128): QB Stetson Bennett, Georgia
R5 (174): OT Warren McClendon, Georgia
R5 (175): TE Davis Allen, Clemson
R5 (177): WR Puka Nacua, BYU
R5 (161): EDGE Nick Hampton, App State
R6 (182): CB Tre'Vius Hodges-Tomlinson, TCU
R6 (189): EDGE Ochaun Mathis, Nebraska
R6 (215): RB Zach Evans, Ole Miss
R7 (223): P Ethan Evans, Wingate
R7 (234): S Jason Taylor II, Oklahoma
7 (259): DI Desjuan Johnson, Toledo
Day 2: Avila was the model of consistency in pass protection during TCU's Cinderella run in 2022. He averaged less than one pressure allowed per game last season and surrendered just one pressure to a vaunted Georgia defensive line in a blowout national championship loss.
Day 3: Stetson Bennett comes off the board in the fourth round after helping Georgia win back-to-back national championships in college. He put up an elite 90.9 passing grade when he was kept clean from pressure, and he now lands in a situation where he can develop. This gives him one of the best chances to succeed in the NFL, whether as a future starter or backup.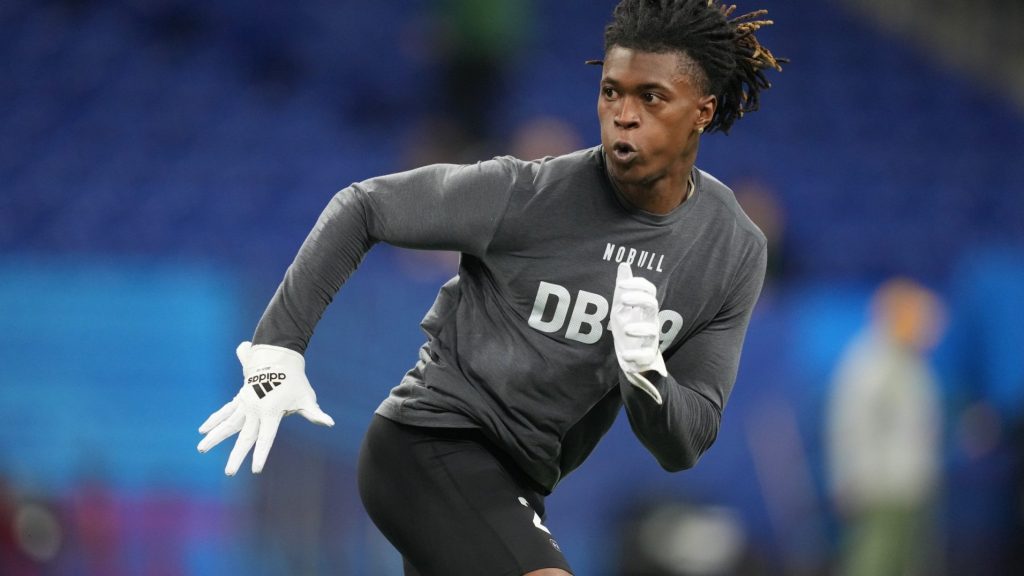 Draft Picks
R2 (51): CB Cam Smith, South Carolina
R3 (84): RB Devon Achane, Texas A&M
R6 (197): TE Elijah Higgins, Stanford
R7 (238): OT Ryan Hayes, Michigan
Day 2: Smith is always around the football, has a propensity for pass breakups and tested faster than he played on tape, which could be a sign of continued growth. No one's big board ranking dropped more precipitously over the last month of the pre-draft cycle, but he could end up being a value. Smith makes a lot of sense starting in the slot with Jalen Ramsey and Xavien Howard out wide in Vic Fangio's loaded defense.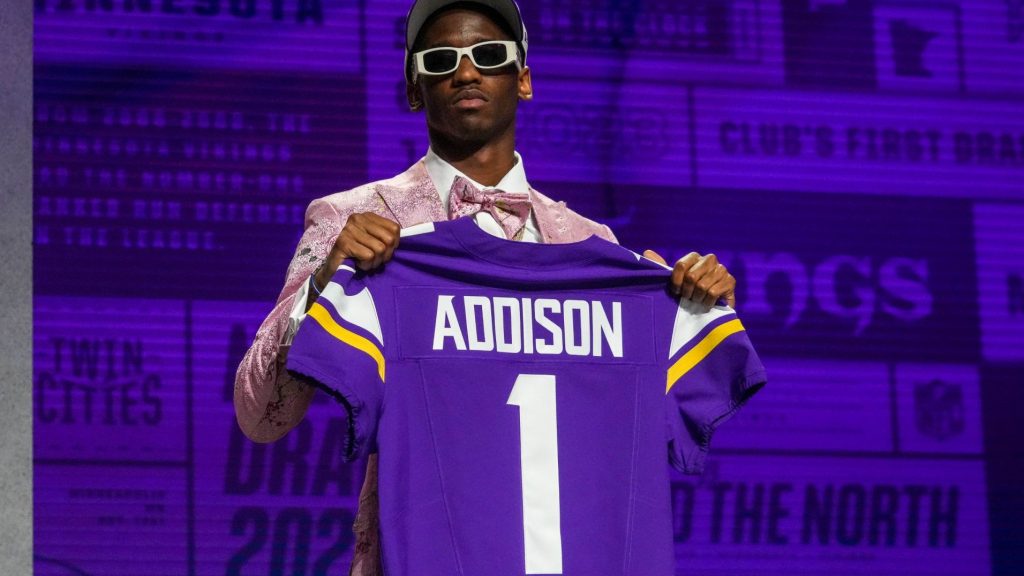 Draft Picks
R1 (23): WR Jordan Addison, USC
R3 (102): CB Mekhi Blackmon, USC
R4 (134): CB Jay Ward, LSU
R5 (141): DI Jaquelin Roy, LSU
R5 (164): QB Jaren Hall, BYU
R7 (222): RB DeWayne McBride, UAB
Day 1: The Vikings stick at No. 23 overall and come away with a talented wide receiver to pair with Justin Jefferson. Addison was the Biletnikoff Award winner with Pittsburgh in 2021 before transferring to USC. He finished the past two seasons with 25 touchdowns from 159 receptions.
Day 2: One of PFF analyst Sam Monson's favorite players in the draft, Blackmon is coming off by far the best season of his college career. On the field for 907 snaps, he produced a 90.6 PFF grade and allowed just 47.6% of the passes thrown into his coverage to be caught. He missed only two tackles in 2022.
Day 3: Ward failed to grade above 61.0 in both seasons in which he played 600 or more snaps. His 53.6 coverage grade and 65.9% completion rate allowed don't inspire much confidence, but he does offer some versatility in that he can play outside, in the slot and at safety.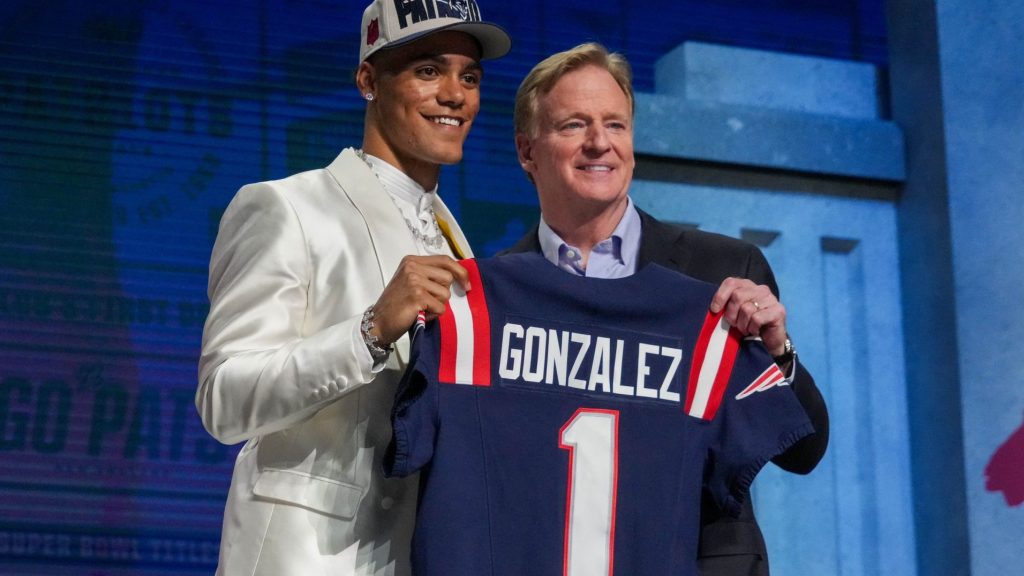 Draft Picks
R1 (17): CB Christian Gonzalez, Oregon
R2 (46): EDGE Keion White, Georgia Tech
R3 (76): S Marte Mapu, Sacramento State
R4 (107): C Jake Andrews, Troy
R4 (112): K Chad Ryland, Maryland
R4 (117): OG Sidy Sow, Eastern Washington
R5 (144): Atonio Mafi, UCLA
R6 (187): WR Kayshon Boutte, LSU
R6 (192): P Bryce Baringer, Michigan State
R6 (210) WR Demario Douglas, Liberty
R6 (214): CB Ameer Speed, Michigan State
R7 (245): CB Isaiah Bolden, Jacksonville State
Day 1: The Patriots move down to 17th overall, add a fourth-round pick and still land the second-best cornerback on the PFF big board. He has the size and speed you look for at the position and had the best season of his career after transferring to Oregon in 2022, racking up four interceptions and six pass breakups.
Day 2: White fits the mold of the defensive linemen that New England tends to look for up front — a powerful 6-foot-5, 285-pounder. White earned a 75.8 PFF pass-rush grade in his lone season as a starter for Wake Forest in 2022 after transferring from Old Dominion.
Day 3: For the second year in a row, the Patriots reach on a center, as Andrews ranked No. 237 on the consensus big board. Andrews is adept as a run blocker in zone and gap concepts but earned a 56.5 pass block grade due to a lack of anchor and lower-body strength, which showed up with a 24th-percentile vertical and 44th-percentile broad jump.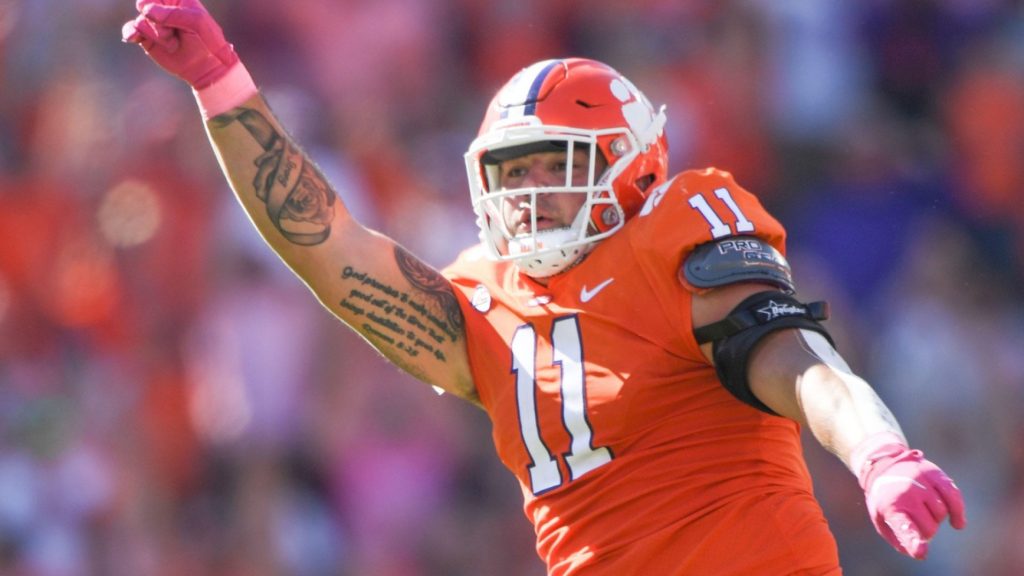 Draft Picks
R1 (29): DI Bryan Bresee, Clemson
R2 (40): EDGE Isaiah Foskey, Notre Dame
R3 (71): RB Kendre Miller, TCU
R4 (103): OT Nick Saldiveri, Old Dominion
R4 (127): QB Jake Haener, Fresno State
R5 (146): S Jordan Howden, Minnesota
R6 (195): WR A.T. Perry, Wake Forest
Day 1: A talented player on the defensive interior, Bresee is coming off a season where he posted a career-high 82.0 PFF pass-rushing grade. He can play across multiple spots on the interior and even has some experience playing outside the tackles.
Day 2: Foskey has the size and athletic profile that New Orleans tends to covet on the edge. He uses his 34-plus-inch arms well to keep himself clean but never dominated as a pass-rusher at Notre Dame like his sack numbers might indicate, posting a 42nd-percentile pass-rush grade at the position over the past two seasons.
Day 3: Saldiveri earned an 85.1 pass-blocking grade in 2022 at tackle but likely moves inside to guard at the next level. Both starting guards in New Orleans are entering contract years if the Saints decline the fifth-year option for 2020 first-round pick Cesar Ruiz. Saldiveri was a late riser who generated a ton of buzz over the last few weeks, and New Orleans felt it was necessary to trade up to ensure it got him.
Draft Picks
R1 (24): CB Deonte Banks, Maryland
R2 (57): C John Michael Schmitz, Minnesota
R3 (73): WR Jalin Hyatt, Tennessee
R5 (172): RB Eric Gray, Oklahoma
R6 (209): CB Tre Hawkins III, Old Dominion
R7 (243): DT Jordan Riley, Oregon
R7 (254): S Gervarrius Owens, Houston
Day 1: The third-best cornerback on the PFF big board, Banks can fly and clocked a 4.35-second 40-yard dash at the scouting combine in Indianapolis. An elite athlete, he has proven that he can mirror wide receivers in college and has the size teams look for at the position. He produced a 72.0 PFF grade in his final season at Maryland, the best of his college career.
Day 2: If the Giants had made this pick in the first round, nobody would have really batted an eye. He led all centers with a 92.3 PFF grade in 2022 and had graded well both on zone and gap plays. He's a big guy but can really move and was a four-year starter at Minnesota. Simply put, he is one of the best run blockers at the position to enter the draft in recent years.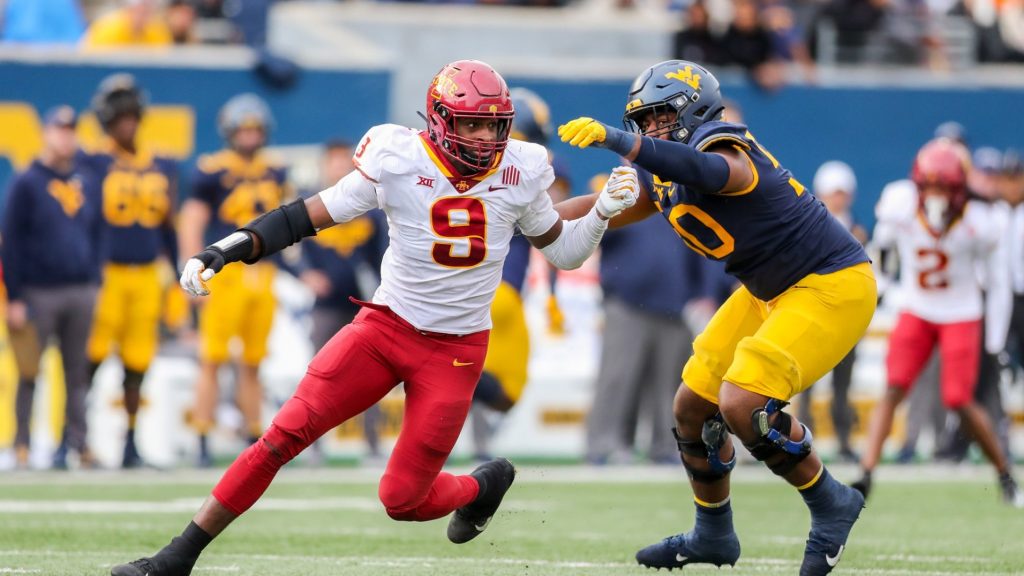 Draft Picks
R1 (15): EDGE Will McDonald IV, Iowa State
R2 (43): C Joe Tippmann, Wisconsin
R4 (120): OT Carter Warren, Pittsburgh
R5 (143): RB Israel Abanikanda, Pittsburgh
R6 (184): LB Zaire Barnes,  Western Michigan
R6 (204): CB Jarrick Bernard-Converse, LSU
R6 (220): TE Zack Kuntz, Old Dominion
Day 1: McDonald had the best season of his college career in 2022 and flashed incredible lateral quickness. PFF's Sam Monson views him as the second-best pass-rusher in this draft class, but the Iowa State product was just the 29th-ranked player on the PFF big board. He finished his college career with 127 total pressures across 862 pass-rushing snaps.
Day 2: The Jets eliminated their need to take center by bringing back Connor McGovern on a cheap, one-year deal, but Tippmann gives them another long-term option at the position. He brings a unique combination of size and athleticism to the middle of New York's offensive line, along with an 84th-percentile run-blocking grade at center on zone runs since 2021.
Day 3: The Jets finally take their tackle. For now, Warren projects as more of a depth piece. He has the requisite build and length but needs some work in his technique and consistency in pass protection. The Jets will hope to develop him behind some veterans in the early going.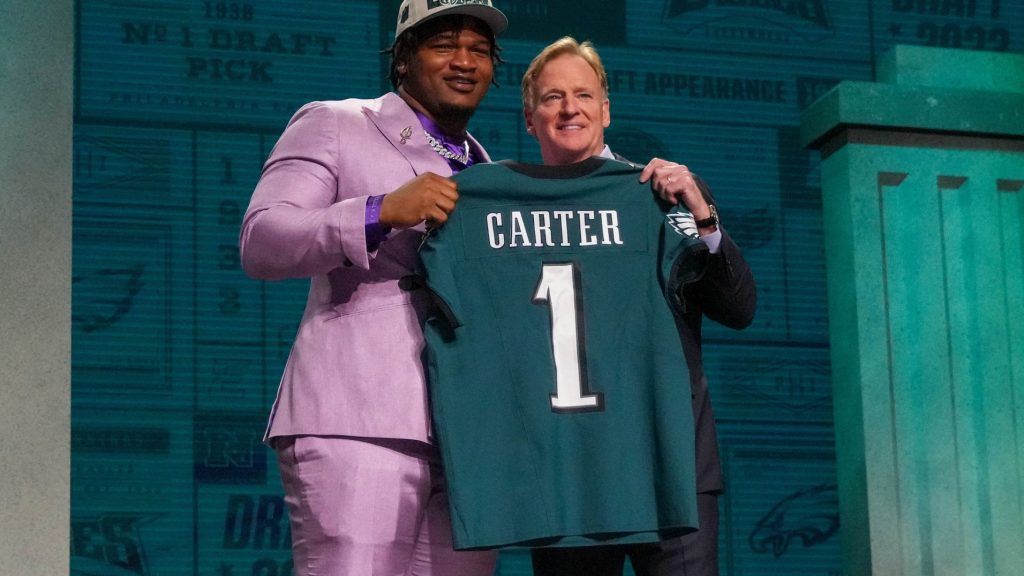 Draft Picks
R1 (9): DI Jalen Carter, Georgia
R1 (30): EDGE Nolan Smith, Georgia
R3 (65): OT Tyler Steen, Alabama
R3 (66): S Sydney Brown, Illinois
R4 (105): CB Kelee Ringo, Georgia
R6 (188): QB Tanner McKee, Stanford
R7 (249): DI Moro Ojomo, Texas
Day 1: Landing the No. 2 overall player on the  PFF big board at Pick 9 is a huge win for the Eagles. Carter played 392 snaps in 2022 and earned a 92.3 PFF grade that led all Power Five interior defenders. He registered 32 total pressures from 273 pass-rushing snaps. The Eagles had to give up just a 2024 fourth-round pick to make this happen.
Day 2: Steen transferred from Vanderbilt to Alabama to finish his college career protecting No. 1 overall pick Bryce Young's blindside, and he earned a 74.4 pass-blocking grade over the year. Steen's arms are under 33 inches, a common NFL threshold required to play tackle, so he may move inside at the outset. Steen was a steady riser throughout the process and is the newest student at Stoutland University in Philadelphia.
Day 3: The Eagles continue in their quest to recreate the back-to-back National Champion Georgia Bulldogs defense, trading up for a straight-line athlete in a very young cornerback that showed inconsistency after a breakout 2021 season. Ringo is a bit stiff moving laterally, which may have caused his drop here, but at 6-foot-2 and 207 pounds he could line up out wide or perhaps transition to safety.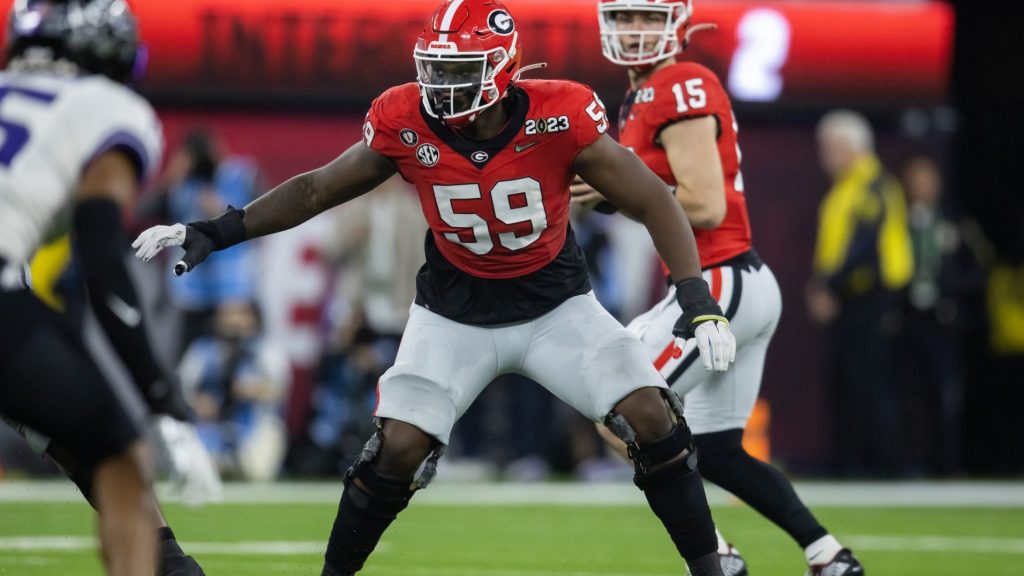 Draft Picks
R1 (14): OT Broderick Jones, Georgia
R2 (32): CB Joey Porter Jr., Penn State
R2 (49): DI Keeanu Benton, Wisconsin
R3 (93): TE Darnell Washington, Georgia
R4 (132): EDGE Nick Herbig, Wisconsin
R7 (241): CB Cory Trice Jr., Purdue
R7 (251): OG Spencer Anderson, Maryland
Day 1: The Steelers jump up three spots, giving up a fourth-round pick to make sure they land the offensive tackle they wanted. Jones impressed as a pass-blocker in 2022, earning a 84.1 PFF pass-blocking grade and allowing just nine total pressures from 470 pass-blocking snaps.
Day 2: Pittsburgh takes PFF's CB4 and 21st-ranked prospect to open up Day 2 of the 2023 NFL Draft. Porter wins with his length. The former Nittany Lion's 34-inch arms make it easy to disrupt his opponent at the catch point and line of scrimmage. Porter's 40% forced incompletion rate in 2022 led all Power Five cornerbacks.
Day 3: The Steelers' incredible draft continues. Herbig played on the edge at Wisconsin but figures to be more of a tweener in the NFL, and that's likely why he wasn't a higher pick. He knows how to rush the passer, though, as he won 23.9% of his pass-rushing snaps in 2022 and earned a 91.1 pass-rush grade.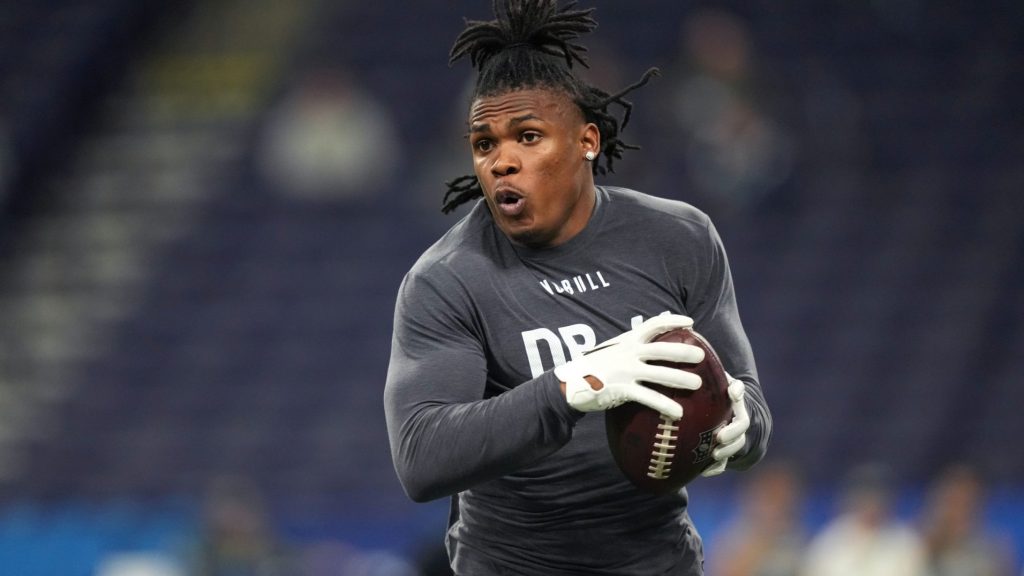 Draft Picks
R3 (87): S Ji'Ayir Brown, Penn State
R3 (99): K Jake Moody, Michigan
R3 (101): TE Cameron Latu, Alabama
R5 (155): CB Darrell Luter Jr., South Alabama
R5 (173): EDGE Robert Beal Jr., Georgia
R6 (216): LB Dee Winters, TCU
R7 (247): TE Brayden Willis, Oklahoma
R7 (253): WR Ronnie Bell, Michigan
R7 (255): LB Jalen Graham, Purdue
Day 2: Brown was a do-it-all safety for the Nittany Lions. He seamlessly went from deep safety to the box to the slot to outside linebacker to mugging the A-gap, and he executed each role at a high level. Brown's ball skills, in particular, jump off the screen. He secured 10 interceptions across the past two seasons.
Day 3: Luter has traits to work with on the outside with above-average length and decent straight-line speed and explosiveness. He took a bit of a step back in 2022 from a production standpoint after allowing just a 27% completion percentage and a 3.9 passer rating in 2021.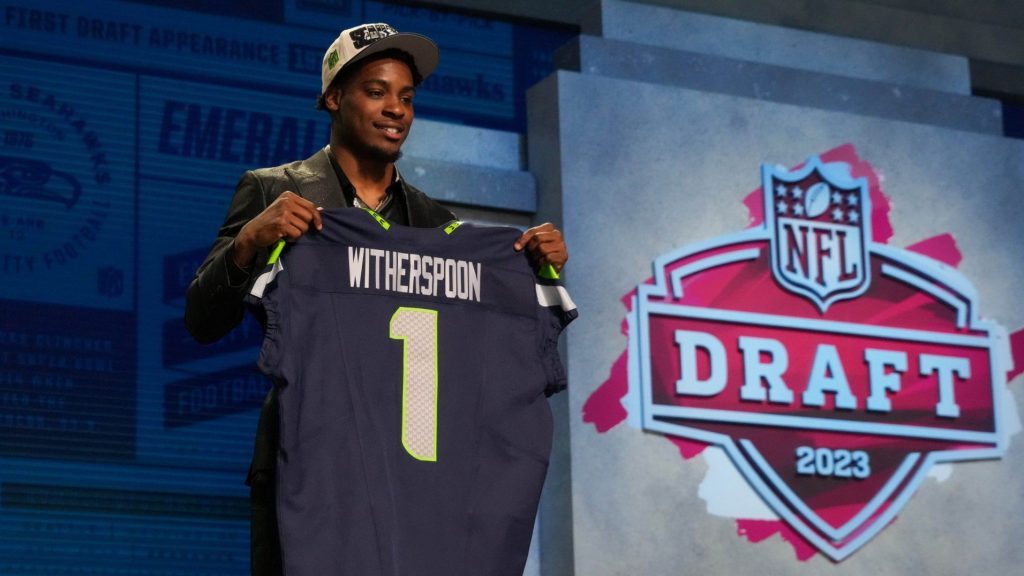 Draft Picks
R1 (5): CB Devon Witherspoon, Illinois
R1 (20): WR Jaxon Smith-Njigba, Ohio State
R2 (37): EDGE Derick Hall, Auburn
R2 (52): RB Zach Charbonnet, UCLA
R4 (108): G Anthony Bradford, LSU
R4 (123): DI Cameron Young, Mississippi State
R5 (151): EDGE Mike Morris, Michigan
R5 (154): C Olusegun Oluwatimi, Michigan
R6 (198): S Jerrick Reed II, New Mexico
R7 (237): RB Kenny McIntosh, Georgia
Day 1: The Seahawks surprise everyone and take Illinois cornerback Devon Witherspoon at No. 5. Witherspoon was the highest-graded cornerback in the Power Five last season. In press coverage for 107 snaps, he allowed just one yard in coverage on those plays.
Day 2: Hall was one of the SEC's most productive pass-rushers throughout his time at Auburn, earning a pass-rush grade above 80.0 in each of the past three seasons. While his run defense is a bit of a concern at the next level, he works speed to power exceptionally well. He has the quickness, bend and length to sustain his pass-rush production in Seattle.
Day 3: Bradford fits well in a gap scheme by bringing strength in the run game to Seattle, filling a position of need with an athlete that tested very well for his size. However, Bradford will need to develop as a pass protector, as he finished with a 51.7 pass-blocking grade.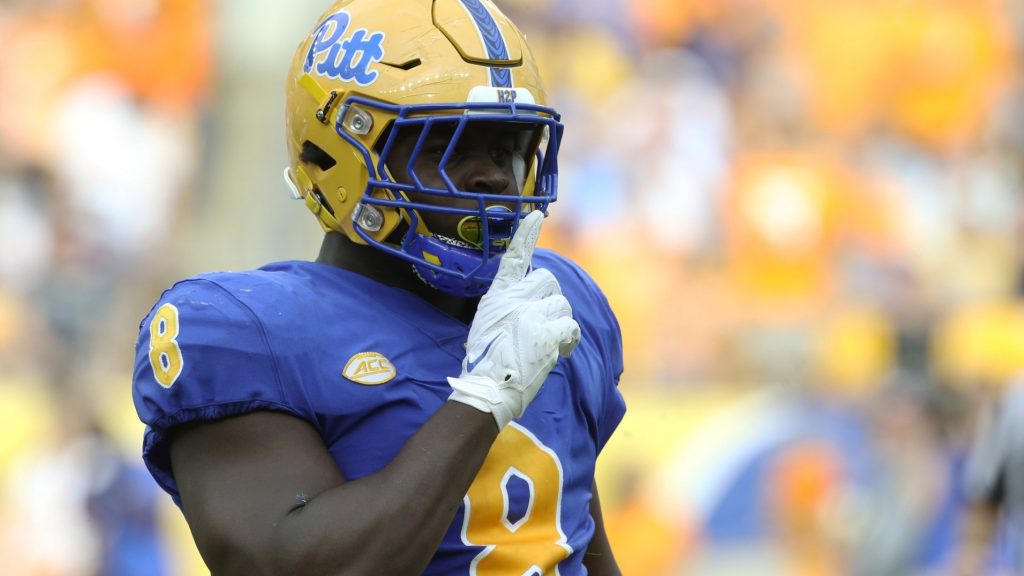 Draft Picks
R1 (19): DI Calijah Kancey, Pittsburgh
R2 (48): OT Cody Mauch, North Dakota State
R3 (82): EDGE YaYa Diaby, Louisville
R5 (153): LB SirVocea Dennis, Pittsburgh
R6 (181): CB Josh Hayes, Kansas State
R5 (171): TE Payne Durham, Purdue
R6 (191): WR Trey Palmer, Nebraska
R6 (196): EDGE Jose Ramirez, Eastern Michigan
R7 (232): CB Carrington Valentine, Kentucky
Day 1: He might be undersized, but Kancey is a phenomenal pass-rusher on the interior of the defensive line. His first step is elite, and he's coming off a season where he led all players at the position with a 92.4 PFF pass-rushing grade and should make an immediate impact as a pass-rusher.
Day 2: The Buccaneers trade up with the Packers for Mauch after trading 2022 starting right guard Shaq Mason to the Houston Texans this offseason. Mauch played tackle in college and offers inside/outside versatility at 6-foot-5 and was dominant at North Dakota State in a gap rushing scheme with a 91.1 grade. He'll need to improve as a pass protector, especially if he does stay at tackle, which may not be likely at the outset.
Day 3: Dennis is on the small end for the position but has the explosiveness to make up for it with a 42-inch vertical jump and a 10-foot-5 broad jump that both ranked in at least the 90th percentile at linebacker. Dennis was elite against the run for Pittsburgh in his final seasons, earning a 92.1 run-defense grade and missing fewer than 5% of his tackling opportunities.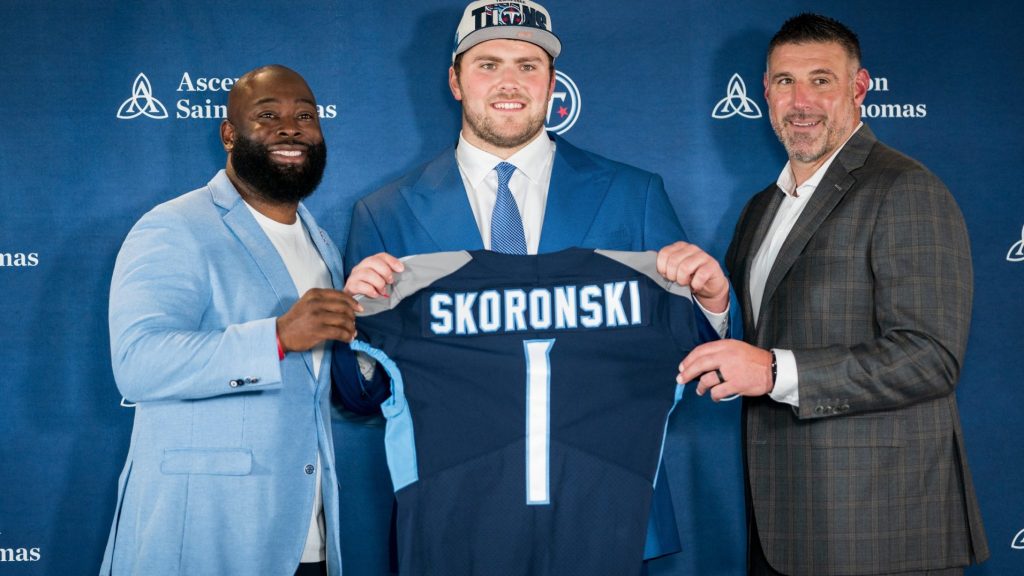 Draft Picks
R1 (11): OT Peter Skoronski, Northwestern
R2 (33): QB Will Levis, Kentucky
R3 (81): RB Tyjae Spears, Tulane
R5 (147): TE Josh Whyle, Cincinnati
R6 (186): OT Jaelyn Duncan, Maryland
R7 (228): WR Colton Dowell, Tennessee-Martin
Day 1: The big question is whether Skoronski will play tackle or guard at the next level. He played tackle in 2022, though, and had a tremendous season. As Northwestern's starting left tackle this past season, he allowed just six total pressures on 474 pass-blocking snaps.
Day 2: Will Levis' slide ends early on Day 2, with the Titans trading up to Pick 33 to grab the signal-caller. Levis has supreme arm talent and an ultra-quick release, but the big knock on him is how little he put that into action. He lacked high-quality throws at Kentucky last season, which played a part in his middling 65.8 passing grade on the year. The good news is that Levis lands in an offense that will help open up some downfield opportunities.
Day 3: After letting Austin Hooper walk in free agency, Tennessee adds another option at tight end to complement Chigoziem Okonkwo. Whyle has a big frame at 6-foot-7 and will find space over the middle of the field as a receiver, but he isn't likely going to be a physical, in-line blocker at 248 pounds.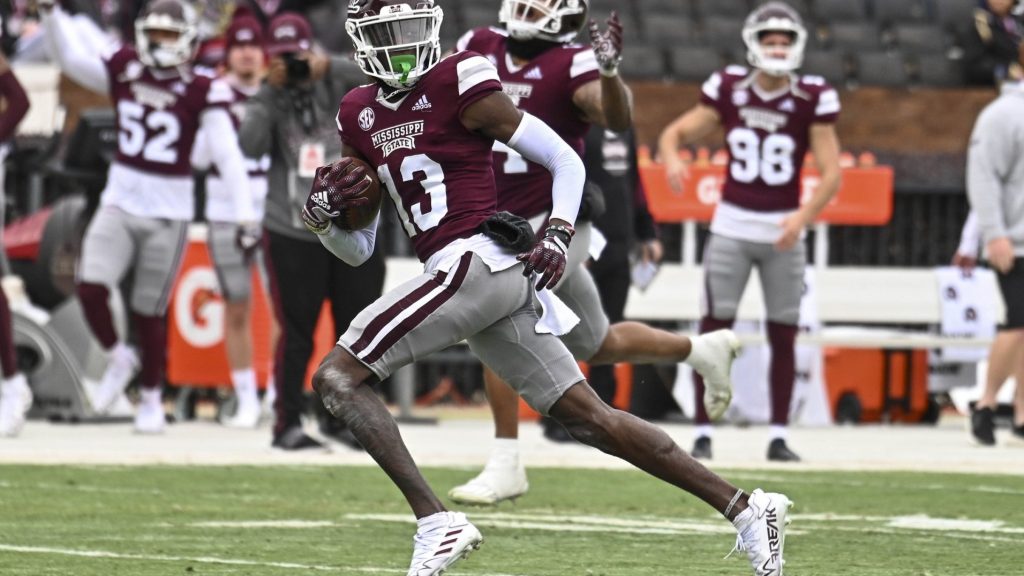 Draft Picks
R1 (16): CB Emmanuel Forbes, Mississippi State
R2 (47): CB Jartavius Martin, Illinois
R3 (97): C Ricky Stromberg, Arkansas
R4 (118): T Braeden Daniels, Utah
R5 (137): EDGE K.J. Henry, Clemson
R6 (193): RB Chris Rodriguez Jr., Kentucky
R7 (233): LB Andre Jones, Louisiana
Day 1: The 26th-ranked player on PFF's big board, Forbes was elite when it came to playing the ball in college. He produced an 87.2 PFF grade in 2022 and finished his three-year career at Mississippi State with 14 interceptions and 17 pass breakups.
Day 2: Martin comes off the board 47th overall to Washington after slotting in at 94th on the PFF big board. He can fill a versatile role in the secondary for the Commanders, who clearly placed an emphasis on improving that group in this draft. He's played everywhere from outside corner to slot corner to safety in his five-year career at Illinois.
Day 3: Daniels started at left guard in 2019, right tackle in 2021 and left tackle in 2022. He'll likely fit in best on the interior in the NFL, but he offers athleticism and versatile depth for a Washington offensive line that finished last season as the 24th-ranked unit in PFF pass-blocking grade.