• The Bills flipped their script defensively, running a ton of man coverage in Week 9 loss to Jets. But Buffalo was torched when it fell back in zone, allowing 0.57 EPA/play.
• Will Buffalo lean more again on man — which it fared well in against Jets — when a Vikings offense that's primarily struggled vs man arrives in Orchard Park Sunday?
• Seahawks' increasingly successful zone-heavy defense ran solely 1 play in man in Week 9 win over Arizona. Next up for Seattle: a German meetup with Buccaneers offense that's fared increasingly worse against zone in recent weeks.

Last updated: Nov. 10, 10:00 a.m.
Estimated reading time: 5 mins
---
Whether to run man coverage or zone coverage is a big decision for each NFL team, and many factors influence their decisions during and in preparation for the game, including the talent level of the defense itself and the talent level of the offense it will be facing. Some teams' schemes work better with man coverage, while others work better with zone, and PFF's Arjun Menon and Judah Fortgang analyzed this in a previous article titled "Should NFL teams be playing more man or zone coverage?"
Each week, we will detail how teams varied in the use of man and zone coverage, and how it may have differed from their previous week. As we get more data, we will eventually make predictions for each team's man and zone coverage rates for the next week, and analyze those predictions.
This Week's Man and Zone Rates
Playing man and zone coverage could depend on the strengths and weaknesses of the opponent the team faces. In Week 9, the league as a whole ran man coverage 25.6% of the time, down from 28.1% last week. Highlighted in the Week 9 Coverage Update, here are the teams that ran the most man and zone coverage in Week 9:
Most Man Coverage in Week 9
• Buffalo Bills (65.5%)
• Kansas City Chiefs (45.8%)
• Miami Dolphins (44.2%)
Most Zone Coverage in Week 9
• Seattle Seahawks (97.8%)
• Los Angeles Rams (91.9%)
• Los Angeles Chargers (88.9%)
Note: From 2019-2021, the league average for running man coverage was 33.9%, and zone was 66.1%.
The Bills switched up their entire defensive scheme and ran a massive amount of man coverage against the New York Jets, a strong strategy given the Jets are one of the worst offenses against man coverage this season. However, they probably should have run even more man, as the Jets tore up the Bills' zone defense, gaining 0.57 EPA per play.
The Seahawks ran 1 play in man coverage this week against the Arizona Cardinals, a team that doesn't see a lot of man coverage. Aside from Weeks 3 and 4 (when they tested out a ton of man coverage), the Seahawks have been a primarily zone-style defense that's had a ton of success recently.
Evolving Defensive Man and Zone Rates
Some teams' man and zone rates will vary by opponent, while some will stay steady throughout the season. So far, the league as a whole ran man coverage 28.9% of the time, therefore running zone on 71.1% of plays. From 2019-2021, the average man coverage percent was 33.9%, so the league is running about 5% more zone coverage this season. Below, we can see how each team's percentage of running man and zone coverage evolves each week.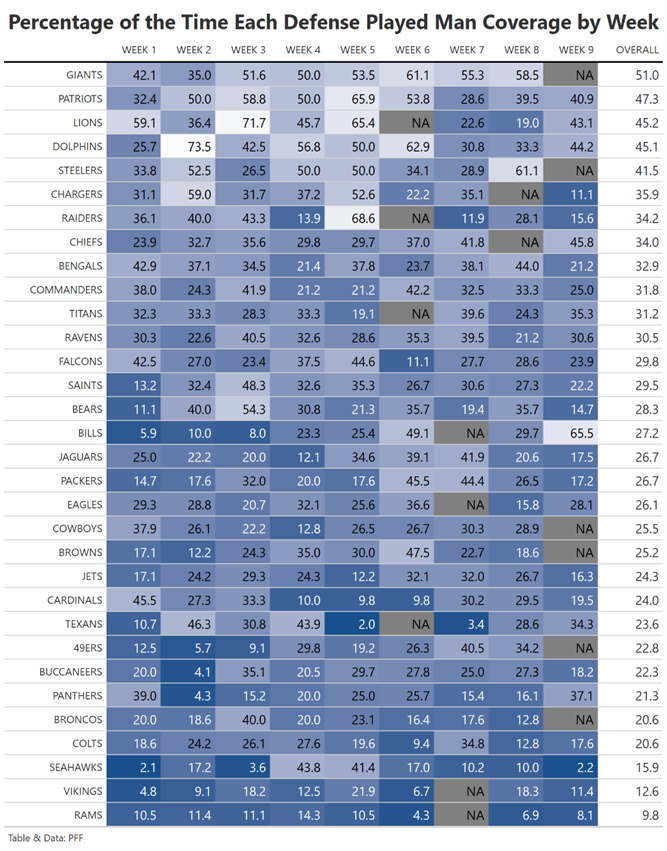 The Chargers opted to alter their normal scheme and ran mostly zone coverage against the Atlanta Falcons, a team that faces the second-most zone coverage in the NFL. Zone defense has been working for the Chargers, and they held the Falcons' offense to an average of -0.33 EPA per play against zone, their worst of the season.
After testing out a great deal of zone coverage last week, the Detroit Lions went back to running a ton of man coverage in their win over the Green Bay Packers. Their coverage players stepped up when in one-on-one coverage, holding the Packers to -0.37 EPA per play against man.
The Tennessee Titans are one of the only teams not to fall into the trap of running a massive amount of man coverage against the Chiefs. Tennessee's defensive scheme has been stellar this season, all while hovering around  30% man coverage and 70% zone coverage utilized in each game. The Titans' defensive backs held up in man coverage, giving the Chiefs' pass catchers one of the harder times they've faced this season.
Man and Zone Rates Each Offense Faced
Teams often base their defensive coverage play calling based on the particular opponent they are facing. Let's see how often each offense had faced man and zone coverage by the opposing defense, and how it's differed by week.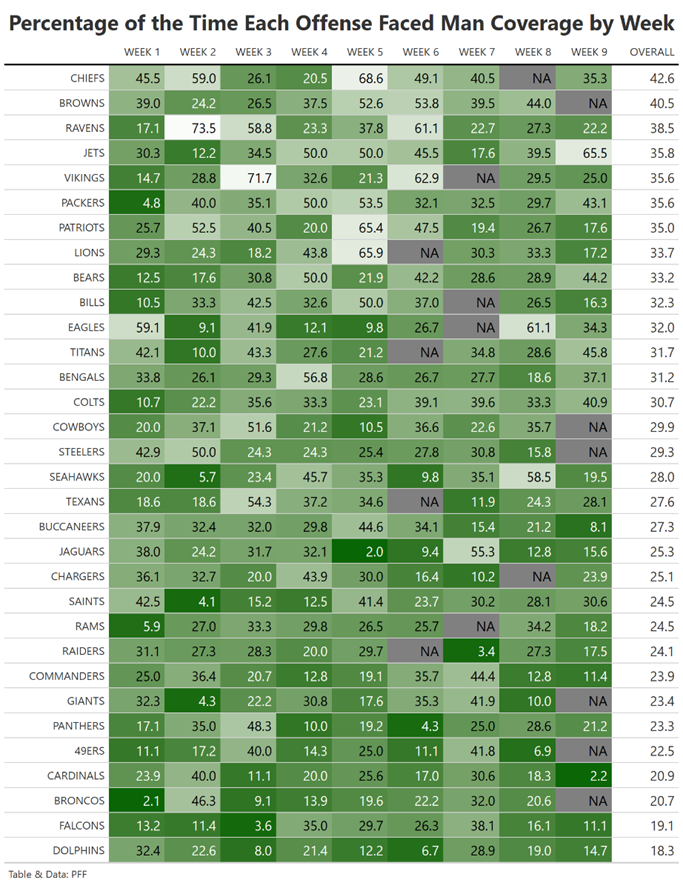 The Philadelphia Eagles have faced just about every combination of man and zone this season, playing in games where the defense ran almost entirely zone coverage and in games where the defense ran over 60% man coverage. They've been super successful against both, with the 6th-highest EPA per play against man and the 4th-highest EPA per play against zone. They haven't faced the toughest of defenses, but the Eagles are proving they have a strong passing attack — no matter the defensive scheme.
The Indianapolis Colts have faced more man coverage in recent weeks, bringing their season average to just over 30%. However, the Colts are much worse against zone than they are man, so look to see if teams decide to run more zone than man against the Colts in coming weeks.
The Tampa Bay Buccaneers have gradually been facing more zone coverage this season, culminating in them facing almost 90% zone coverage this week. The Buccaneers also have been getting much worse against zone coverage (in terms of EPA), so this has been a good choice by opposing defenses.
Week 10 Predictions and Matchups to Watch
Given that the Buccaneers are performing worse against zone coverage in recent weeks, will the Seahawks (a zone- heavy defense) take advantage? They have run about 90% zone coverage since Week 6, so look for them to continue that, and most likely be successful.
Will the Bills try to run more man coverage in their game against the Minnesota Vikings? The Vikings have faced the 5th-most man coverage this season (about 35% per game) and generally struggle against it, so look to see if the Bills take advantage, given they've been successful at using man coverage recently.
Since the Chargers proved they're willing to change up their defensive scheme and run more zone coverage, will they continue to do so against the San Francisco 49ers? The 49ers have faced the 5th-most zone coverage this season, but they actually have an EPA per play that is 0.3 lower against man than zone, so it might be more advantageous for the Chargers to go back to running more man.