• In arguably their best showing of the season, the Falcons played their highest percentage of zone coverage in the upset win vs. the 49ers.
• It's perplexing that teams continue to play more man coverage against the Chiefs, but the Bills changed their entire defensive strategy in Week 6 and held Patrick Mahomes and Co. to 20 points.
• The Seahawks' two worst showings on offense came against zone coverage, so will the Chargers again tailor their defensive gameplan Sunday after doing so successfully in Week 6 vs. Denver?
Last updated: Thursday Oct. 20, 9:30 p.m.
Estimated reading time: 6 mins

---
Whether to run man coverage or zone coverage is a big decision for each NFL team, and many factors influence their decisions during and in preparation for the game, including the talent level of the defense itself and the talent level of the offense they will be facing. Some teams' schemes work better with man coverage, while others work better with zone, and PFF's Arjun Menon and Judah Fortgang analyzed this in a previous article titled "Should NFL teams be playing more man or zone coverage?"
Each week, we will detail how teams varied in the use of man and zone coverage, and how it might have differed from their previous week. As we get more data, we will eventually make predictions for each team's man and zone coverage rates for the next week, and analyze those predictions.
This Week's Man and Zone Rates
Playing man and zone coverage could depend on the strengths and weaknesses of the opponent the team faces. In Week 6, the league as a whole ran man coverage 32.5% of the time, slightly up from 31.7% last week. Highlighted in this week's Coverage Update article, here are the teams that ran the most man and zone coverage in Week 6: 
Top 3 in Man Coverage
• Miami Dolphins (62.9%)
• New York Giants (61.1%)
• New England Patriots (53.8%)
Top 3 in Zone Coverage
• Los Angeles Rams (95.7%)
• Arizona Cardinals (92.7%)
• Minnesota Vikings (90 %)
Note: From 2019-2021, the league average for running man coverage was 33.9%, and zone was 66.1%. 
The Detroit Lions (the league leader in man coverage rate) were on bye this week, but the other three teams running the most man coverage continued doing so this week. The Giants have been gradually running more man coverage, but their defense gave up their highest EPA per play this season vs. the Baltimore Ravens.
The Rams continued their pattern and ran almost entirely zone coverage against the Carolina Panthers. The Panthers' offense hasn't been successful against any type of coverage this season, so there was no reason for the Rams to changeup their normal gameplan. 
Evolving Defensive Man and Zone Rates 
Some teams' man and zone rates will vary by opponent, while some will stay steady throughout the season. So far, the league as a whole ran man coverage 29.8% of the time, therefore running zone on 70.2% of plays. From 2019-2021, the average man coverage percent was 33.9%, so the league is running about 4% more zone coverage this season. Below, we can see how each team's percentage of running man and zone coverage evolves each week.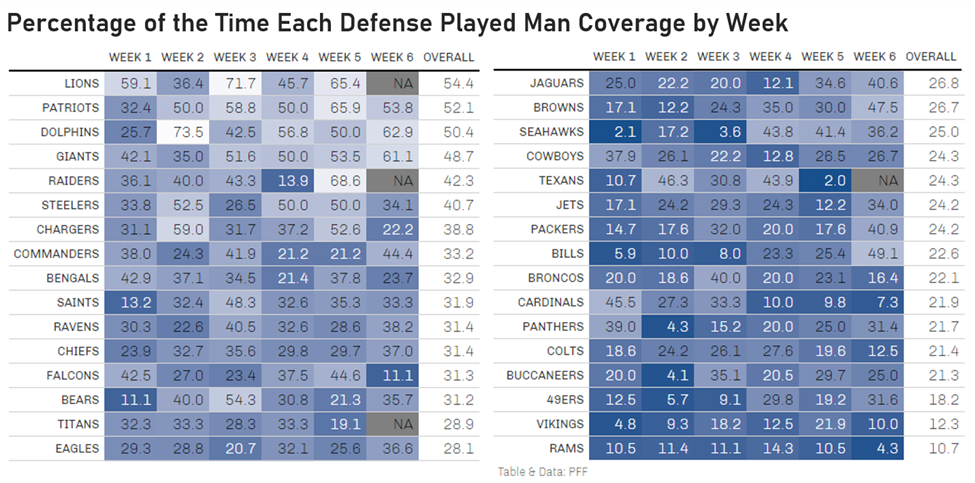 The Buffalo Bills really changed up their normal defensive scheme and ran nearly 50% man coverage this week against the Kanas City Chiefs. We predicted they would continue running almost entirely zone, so we'll touch on this interesting decision in the next section.
The Los Angeles Chargers had their lowest man coverage percent this week against the Denver Broncos. The Broncos offense has faced the second-least man coverage this year, so it looks like the Chargers chose to change up their usual gameplan and tailor it to what has worked against the Broncos so far.
The Atlanta Falcons also played their lowest percentage of man coverage this season in their Week 6 upset of the 49ers. It was arguably their strongest defensive showing this season, so look to see if they continue running mostly zone after the success they had Sunday.
The Cardinals are increasingly running more zone coverage each week, and opted for almost entirely zone coverage the past 3 weeks. They have held opponents to fewer passing yards when playing more zone coverage, so maybe they'll settle on this style of coverage for the remainder of the season.
Man and Zone Rates Each Offense Faced
Teams often base their defensive coverage play calling based on the particular opponent they are facing. Let's see how often each offense had faced man and zone coverage by the opposing defense, and how it's differed by week.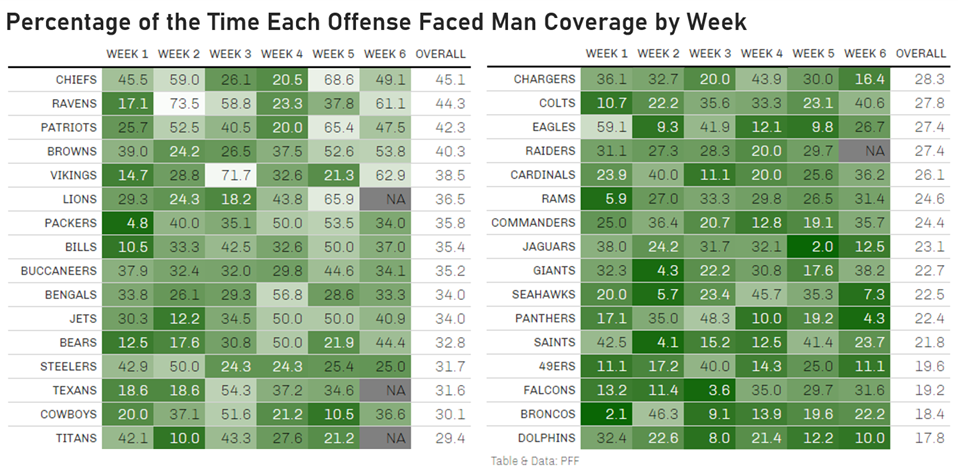 It's perplexing why teams insist on running a ton of man coverage against the Chiefs. You can justify the teams who ran a ton of man coverage against them in the first few weeks — almost all of their receivers are new to the team and it was hard to believe they could be skilled enough to beat man coverage early on — but there's no reason to run primarily man coverage against them now. Patrick Mahomes knows how to beat man coverage, and the Chiefs' receivers have followed and caught on quickly. We will give the Bills props though, they were able to hold the Chiefs to just 20 points after changing their entire defensive strategy, but they still allowed Patrick Mahomes to throw for 300+ yards. 
The Vikings' offense has faced just about every rate of man and zone coverage this season, but the two times they faced over 60% man coverage were against two of the top 3 teams that run the most man, so it doesn't look like teams are tailoring their defensive gameplans to Minnesota.
We can now confidently say that zone coverage works against the Seattle Seahawks. They've had both of their worst offensive showing the two times they faced almost entirely zone. Their strong duo of receivers in DK Metcalf and Tyler Lockett can beat man coverage, so the Cardinals' and 49ers' strategies of using all zone coverage proved to be the answer.
Week 7 Predictions and Matchups to Watch
Will the 49ers (a team that runs the third-most zone coverage) continue the trend and run mostly man against the Chiefs this week? Their secondary is depleted, losing Emmanuel Moseley for the season and having smaller injuries to their other players, so it's even more of a reason to use zone coverage if they're going with a lesser experienced unit on Sunday.
Given how poorly the Seahawks have performed against zone coverage, the Chargers should opt for a primarily zone scheme against them this Sunday. However, the Chargers run man coverage 10% more than the league average, so it will be interesting to see if they tailor their gameplan to what has stopped the Seahawks in previous games.