After hailing from Ole Miss' decorated receiver room this past offseason, A.J. Brown set himself apart from not only his former teammate in D.K. Metcalf but from every other rookie receiver — and every offensive rookie for that matter — by dominating for the playoff-bound Tennessee Titans this season. Brown utilized an incredibly strong second half of the season, notably with Ryan Tannehill as his quarterback, and edged out several other worthy rookies to be selected as PFF's Offensive Rookie of the Year for 2019.
Brown finished the regular season with 52 receptions for 1,051 yards and eight touchdowns, and it was an impressive show when he got his hands on the ball. He led not only all rookies but also every receiver in the league with an average of 8.9 yards after the catch per reception after he secured 462 yards after the catch on his 52 receptions. He was one of the more difficult receivers to take down after hauling in his receptions, and for a while, he did so as the only viable receiving threat on the Titans' entire roster.
YAC is the name of the game
When it comes to Brown's rookie season with Tennessee, yards after the catch were the name of the game. He may not have led all receivers in total YAC — he finished sixth among all NFL wide receivers in that regard — but he did make the most of his opportunities more so than any other receiver in the league.
Among the 80 receivers who hauled in at least 30 passes this season, his 8.9 YAC/reception figure ranks first over fellow rookie Deebo Samuel by almost a half-yard, and he was a full 2.0 yards over the third-best of that group in Chris Godwin (6.7). Brown was a clear step ahead of any defender trying to cover him one-on-one, and if he did get a step past the opposing cornerback, it was rare that that defender brought him down before he gained another 20 yards or more on top of the route.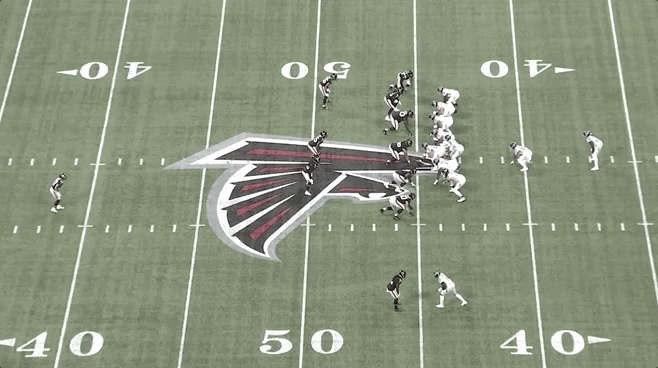 His ability to find the hole in the underneath coverage and then use his speed, balance and change of direction to outrun the defense was on display against many teams.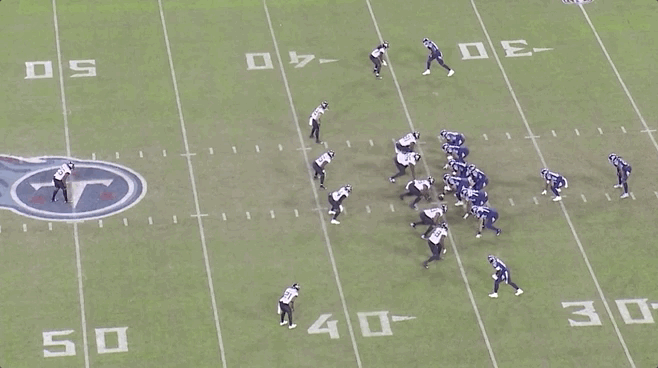 This is another example of his breakaway speed and ability to navigate his routes to the open hole in coverage. The Titans did a great job of utilizing play-action with their intermediate passing game this season, and Brown was often the benefactor because of this innate ability.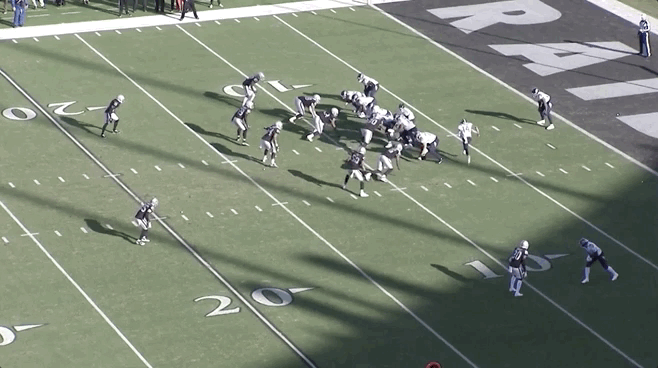 His ability to navigate his routes towards the holes in coverage wasn't just limited to in-breaking route concepts with play-action. In fact, it was on display on every route concept, as he routinely moved his routes slightly off the intended path to aid his quarterback or find a hole. The most noteworthy one, as seen above, was his incredible 91-yard touchdown against the Oakland Raiders when he drifted slightly towards Ryan Tannehill's right to allow an easier (albeit still difficult) throw.
Benefiting from Tannehill at quarterback
Brown was good but not great at the start of the season with Marcus Mariota at quarterback for the Titans, grabbing just 14 receptions over the first six games. He ranked 64th in overall grade during the first six weeks, and though he did flash with Mariota at the helm, once Tannehill took over, it was a different story. In fact, since Week 7 — when Tannehill became the full-time starter in Tennessee — Brown is the third highest-graded receiver in all of football, trailing only Julio Jones and Michael Thomas and seeing a ridiculous set of numbers in the process.
PFF's top-graded receivers since Week 7
| | | | | | | | | | |
| --- | --- | --- | --- | --- | --- | --- | --- | --- | --- |
| Receiver | Grade | TGT | REC | YDs | TD | Y/REC | YAC/REC | MT | YPRR |
| Julio Jones | 90.8 | 98 | 65 | 927 | 2 | 14.3 | 3.6 | 7 | 2.91 |
| Michael Thomas | 90.1 | 114 | 96 | 1,093 | 6 | 11.4 | 4.0 | 7 | 2.73 |
| A.J. Brown | 90.0 | 61 | 38 | 778 | 6 | 20.5 | 9.0 | 12 | 2.98 |
| DeAndre Hopkins | 87.8 | 90 | 64 | 763 | 5 | 11.9 | 3.8 | 7 | 2.18 |
| Mike Evans | 85.7 | 62 | 40 | 693 | 4 | 17.3 | 4.4 | 2 | 2.65 |
Brown firmly planted himself not just among rookie receivers but among the best at the position in the league, as he dominated with the ball in his hands. He saw the fewest amount of targeted passes to reach the 1,000-yard plateau, clearly benefiting from his 10 games with Tannehill at the helm as he secured the fifth-most yards since Week 7. In fact, 25 receivers gained over 1,000 receiving yards this year, and Brown needed only 84 targeted passes to do such a thing. All but Stefon Diggs, Mike Williams and Brown needed at least 100 targets to gain 1,000 or more yards.
Brown is more than just a highlight reel waiting to happen
It's evident from watching any of his games this season that Brown is a highlight-reel moment just waiting to happen. His targeted passes averaged 13.6 yards past the line of scrimmage, and as such, he accumulated 23 explosive plays of at least 15 yards. That's a top-26 figure in the league and just one fewer than his former teammate and fellow rookie, D.J. Metcalf.
Even as recently as his final regular-season game, Brown's ability to navigate to the ball in the air well downfield is almost unmatched at this level.
Even when he wasn't targeted deep downfield, Brown routinely turned a short, shallow crossing pattern into a chunk play and quite often turned passes targeted behind the sticks into a first down for his offense. His eight explosive plays of at least 15 yards when targeted short of the line to gain were the second-most at the position, as well.
What you wouldn't expect from a guy with his highlight-reel ability is the fact that he was just as efficient across every snap and seemingly every route. He averaged 2.67 yards per route run this season, which ranks third behind only Michael Thomas and Stefon Diggs, while he also ranked third in yards after contact after the catch.
No matter which way you sliced it this season, Brown was every bit a top-notch receiver — and that's not just among rookies. He made his name known, separated himself from the pack of talented receivers across the league and he picked up some hardware from us at PFF in the process.