Most fans can be guilty of hyping up rookies before they even step foot on an NFL field, but the truth of the matter is that very few are going to be impactful right away. For most positions, the breakouts occur in Year 2.
There are, of course, exceptions to that — Nick Bosa in 2019, for example — but most of the time, it is best to wait until after that second season before you make any sweeping conclusions about whether a player has a future in the league.
So, who from the 2019 rookie class looks to be on that path in 2020 after a couple of weeks of NFL action? With the help of PFF's advanced database and play-by-play grading, we can break down the second-year players who are showing signs of a possible breakout as well as those who are showing signs of … the opposite. Obviously, there is a whole lot of football yet to be played this year, but this is where we stand on the matter as we head into Week 3.
[Editor's Note: PFF's advanced statistics and player grades are powered by AWS machine learning capabilities.]
PLAYERS POISED FOR A BREAKOUT YEAR
If it weren't for the injuries that he battled throughout his rookie campaign, Brown probably wouldn't be on this list — he would have broken out already. Fortunately, he started the 2020 season fully healthy and has impressed through two games of action, earning a 78.7 receiving grade that ranks 10th among wide receivers and averaging 2.75 yards per route run to rank eighth.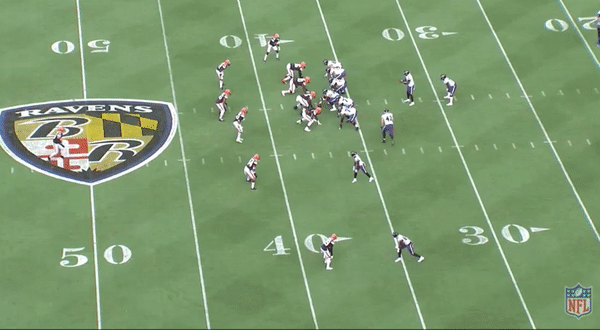 Brown is best described as a big play waiting to happen. He can fly past defensive backs for an open ball, and that's helped him earn the 12th-best receiving grade on targets of 20-plus yards since entering the league. Brown has also seen the fourth-lowest rate on contested targets on deep balls, at 15.8%. With a clean bill of health, Brown is a candidate to put up monster numbers over for the rest of the year.
The biggest issue with Burns throughout his rookie campaign was consistency — he'd put up a dominant outing one week then go quiet for the next three. This year, however, Burns looks like he might be flipping the script. While he may have only three pressures in 2020, Burns has won on a far higher rate of his reps. Last year, Burns produced a 13.2% win rate that tied for 55th among 105 qualifying edge rushers. Through Week 2 of 2020, Burns is at 20.2%, the 10th-best in the NFL. That's helped his pass-rush grade go from a 44th-ranked 68.7 to a sixth-ranked 77.2.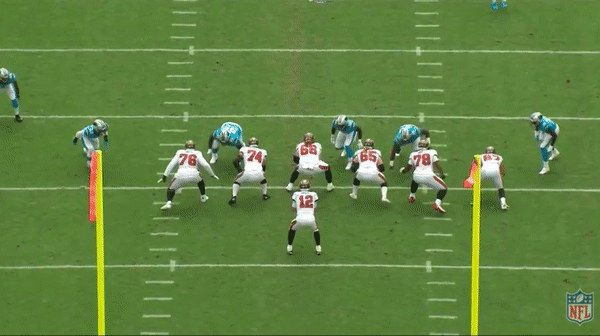 In the play above, Burns put Tampa left tackle Donovan Smith in a blender with that spin move, and he beat him with that multiple times throughout that game. The Panthers might be in bad shape — and perhaps on the path to the worst record of any team this year — but Burns is a bright spot on this team. He looks set to be a key contributor for years to come.
Johnson ending up on the list of players showing signs of a breakout isn't much of a surprise. We got a glimpse of it down the stretch in 2019, and he's carried that into 2020.
In his last six games, Johnson has produced an 81.9 receiving grade and broken 14 tackles on 37 catches, four more broken tackles than any wide receiver. A defender does not want to find themselves in a one-on-one situation with Johnson coming at them with the ball in their hands:
Johnson has earned a 75.2 receiving grade in just his two games this year, 15th among 56 qualifying wide receivers. He's been targeted on 28.8% of his routes run, which is also the eighth-highest rate in the NFL and over 10 percentage points higher than any other Pittsburgh wide receiver. Ben Roethlisberger and the Steelers believe in Johnson, and we do too.
Jones has been one of the bigger surprises two weeks into the 2020 season. The Giants might be 0-2, but their starting quarterback is producing at a top-10 level. After producing a 65.9 PFF grade that ranked 24th in the NFL last year, Jones has earned a 78.7 PFF grade through two games in 2020, placing him 10th among qualifying quarterbacks. His Week 1 PFF grade of 82.1 was the highest of his career, and his Week 2 PFF grade of 68.9 was higher than eight of his 13 games in 2019.
Jones' biggest flaw as a rookie was how often he put the ball in harm's way. From forced throws to fumbles, he gave the defense way too many opportunities to make a play. His 5.5% turnover-worthy play rate was the second-worst in the NFL, ahead of only Kyle Allen.
Jones has recorded a turnover-worthy play on just 2% of his pass attempts so far this year, the 10th-best rate in the league, and a lot of that is down to an improved decision-making process.
Jones was a fearless and aggressive player under pressure as a rookie. Sometimes it would result in an incredible big-time throw, but more often than not, it led to poor decisions and abysmal ball security. This year, we've only seen a couple of those bad decisions made under pressure, and he's fumbled the ball just once — a far cry from the 17 fumbles in 13 games that we saw from him as a first-year player.
The aggressive and risky throws are no longer popping up as regularly as they did in 2019. Some of that can be attributed to the more conservative nature of the new offense, but still a positive sign.
There's still a lot of room for improvement, but the fact he currently is one of four to rank both in both negatively graded throw rate and positively graded throw rate — while having the second-highest rate of dropbacks under pressure at 41% — is a promising sign.
Once Jamel Dean emerged in the midst of the 2019 season, Murphy-Bunting, who had been starting on the outside after the Buccaneers cut ties with Vernon Hargreaves III, was moved inside to man the slot in Week 12. And he performed a heck of a lot better there.
From Weeks 1 through 11, Murphy-Bunting's coverage grade on the outside was 66.8. From Week 12 on, his coverage grade jumped to 76.9. That strong play in the slot has carried into 2020.
Since Week 12 of last season, Murphy-Bunting ranks first in the NFL in slot coverage grade, tied for third in passing stops (8) and fifth in passer rating allowed (72.0). He has given up just one explosive play of 15 or more yards over that same span.
I was keeping an eye on the Central Michigan product after that small sample of stellar play to close out his 2019 campaign, and he's maintained that stellar play in 2020.
PLAYERS WHO LOOK TO HAVE TAKEN A STEP BACK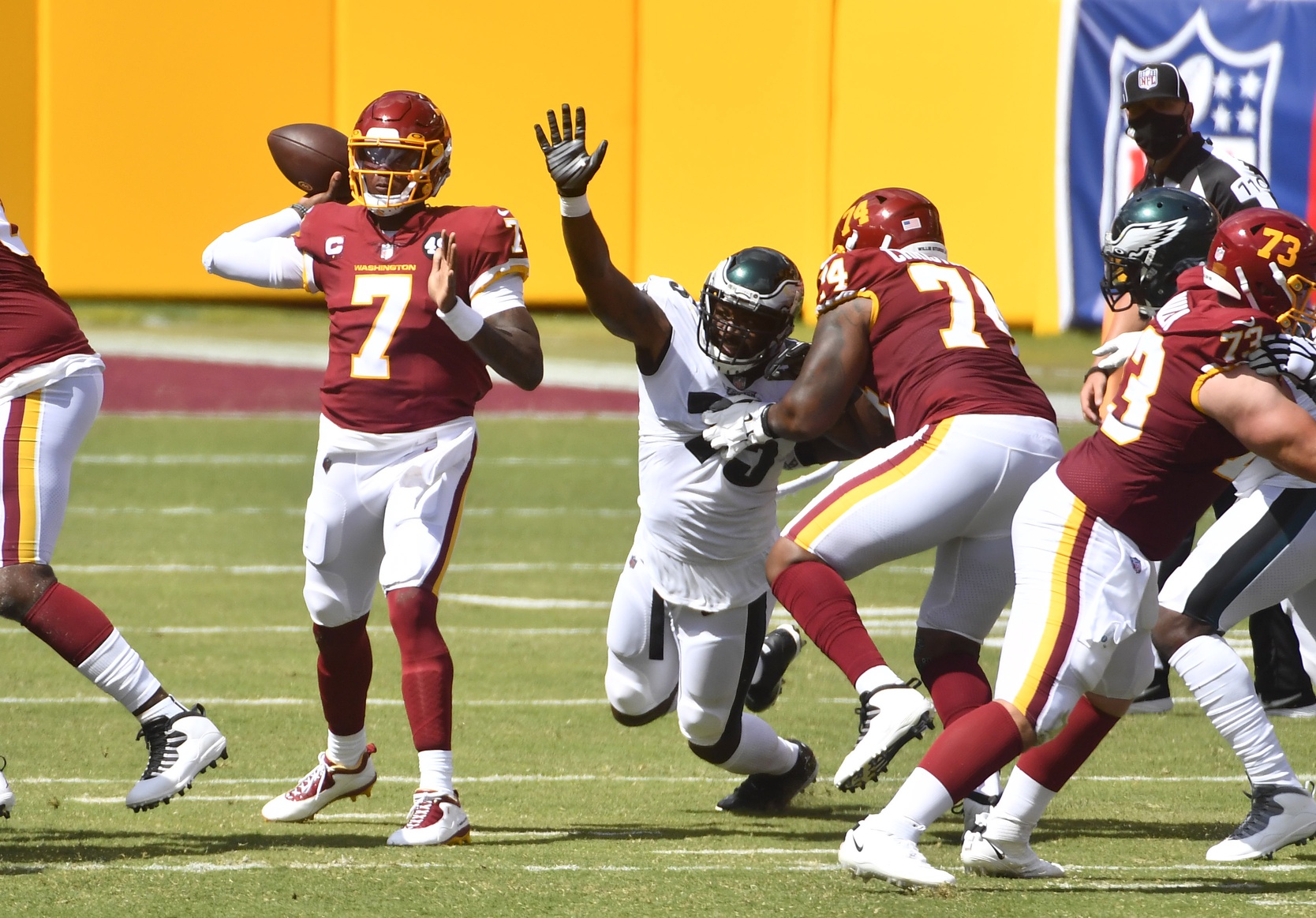 Instead of taking a step forward from the 67.0 passing grade he earned as a rookie, Haskins has taken a step back. Through two weeks, the Washington signal-caller has earned the second-lowest passing grade in the NFL, at 47.8. And while he's taken great care of the ball once again — his 1.9% turnover-worthy play rate ranked fourth in the NFL last year, while his mark of 1.3% ranks sixth in 2020 — the accuracy has been really concerning.
Haskins has thrown just four accurate passes beyond 10 yards downfield this year, while he already has 10 completely uncatchable throws at the same depth. This was an issue last season, too, as he had the fifth-worst accuracy rate on such throws.
Haskins currently ranks second-to-last in negatively graded throw rate and last in positively graded throw rate. And while he has had to throw into a tight window at a high rate, he's still not even hitting open receivers downfield. So far, Haskins has thrown just three accurate 10-plus-yard passes to receivers with a step of separation — he's attempted 12 such passes.
I would begin taking a peek at the 2021 quarterback class if I were Washington.
After bullying defensive backs in tight coverage and in contested situations at Stanford, Arcega-Whiteside has yet to do the same at the NFL level.
He saw just 19 targets and put up a poor 52.6 receiving grade as a rookie, though he reportedly battled injury throughout the season. However, he's been fully healthy in 2020, and he has yet to make a dent.
The second-year wideout has seen two targets on his 26 routes ran so far; instead of coming down with the one target that was catchable, he allowed Rams cornerback David Long Jr. to blow it up for an incompletion. Arcega-Whiteside is seeing less and less time on the field, and understandably so. The time is coming for the Arcega-Whiteside hive — the one that we were a part of — to admit that this may have been a miss.
Pratt started the back half of the 2019 season for Cincinnati and had a couple of solid games, but mixed in there were a multitude of really poor ones. He ended up finishing the year with a PFF grade of 51.0, struggling in just about every facet.
As a whole, the Bengals' linebacker unit played extremely poorly in 2019, which prompted the Bengals to take three in the 2020 NFL Draft. Still, Pratt had his starting job to perhaps overcome his rookie woes. He has far from done that in his first two games.
Pratt has earned a 35.3 PFF grade so far this season, 60th of 67 qualifying off-ball linebackers. Once again, it's no particular facet that is causing the poor play, but rather the whole position — he's missed three tackles on 12 attempts and allowed all five of his targets in coverage to be caught for a 102.5 passer rating allowed. Granted, Akeem Davis-Gaither (39.8 overall grade) and Logan Wilson (27.4) have got off to similarly poor starts, so it's not as if Pratt will lose snaps anytime soon. Regardless, it doesn't seem like he's going to turn it around.
Lock is going to be out for the next three to five games with the shoulder injury he suffered in Week 2, but on the few dropbacks we did see between Weeks 1 and 2, things didn't look any better than what we saw from him last year.
Lock's downfield passing was what made him an alluring prospect coming out of Mizzou. From beautiful touch passes to deep bombs downfield, Lock racked up 107 big-time throws from 2015 to 2018, tied for the most in college football over that time. But we've hardly seen any of that at the NFL level.
Since 2019, Lock has been the lowest-graded passer in the NFL on throws of 10 or more yards downfield, and he remains at the bottom even when you take out those plays where he is under duress. His 50% uncatchable-pass rate on those throws is also the worst.
In Denver's Week 1 loss to Tennessee, Lock had multiple completely uncatchable throws to open receivers that ultimately cost them the game. Is it time to blow it up and tank the rest of the year? Considering the situation they are in and who is available next year, I think I would.
Entering the 2019 NFL Draft, we pegged Collier as a late second-round pick — he was 54th in our big board —  and Seattle reached and took him 29th. So far, it's looking like we were both wrong and that he was perhaps just overhyped in general.
Collier played just 152 snaps as a rookie and went on to produce just a 48.6 PFF grade. And though Seattle's lack of pass rush has forced him into a starting role in 2020, it still hasn't been much better, as he has recorded a 51.7 PFF grade so far.
He's had a little bit more pass-rush production in 2020 than he did in his rookie campaign, as his win rate has grown from 4.7% to 9.5%, but that percentage still just ranks 56th of 75 qualifying edge rushers. Given the lack of reps in his career, I would say Collier is the most likely of these five to maybe to turn it around, but it's not looking great at the moment.