The time has finally come. Football is back. And while it may be preseason football that's meaningless in the end in regard to wins and losses, this is a great time to get a good look at under-the-radar rookies who could shine in 2019. These are just some of the few PFF favorites to watch closely as we head into the 2019 NFL season.
[Editor's Note: All of PFF's player grades and advanced statistics are finalized and made available to ELITE subscribers before 5pm ET on the Monday following each weekend's slate of games during the season. Sign up today to gain access!]
Heading into the 2019 draft, Iowa defensive back Amani Hooker landed as the 44th overall prospect on PFF's draft board. The Titans then got him at pick 116.
From 2017-18, Hooker earned the highest slot coverage grade (90.4) among all college defensive backs, and he allowed a stingy 53.0 passer rating in said coverage (13th). If you filter his slot play to just zone coverage snaps, Hooker is still the highest graded in coverage, at 89.6, and is he so by a large margin with second-place Chauncey Gardner-Johnson coming in at 84.5.
Tennessee Titans head coach Mike Vrabel has already stated how Hooker has the ability to "handle multiple positions." According to his PFF grades, this checks out. While Hooker has been a far better player in the slot, he was still able to perform reasonably well as a box safety (77.2 grade, 26th) and as a free safety (80.6 grade, 55th). Consequently, Hooker carries a much-coveted versatility that should come in handy in today's NFL.
Over his last two seasons at Iowa, Hooker has shown sharp awareness and has made it one of his top qualities. On plays where the offense is trying to cause confusion for the secondary with motion, Hooker stayed on top of things by recording a 92.6 coverage grade (first). Along with that, Hooker's awareness shined during long-developing plays of 2.6 seconds or more. During those plays, Hooker's 91.9 coverage grade was the highest in the nation — he allowed just a 35.9% catch rate and 31.0 passer rating while gathering 10 forced incompletions and five interceptions on such plays.
Slot coverage performance is often overlooked and arguably the most important position on the defense. With his elite slot coverage abilities shown during his time in college, Hooker has all the potential to dominate at the NFL level.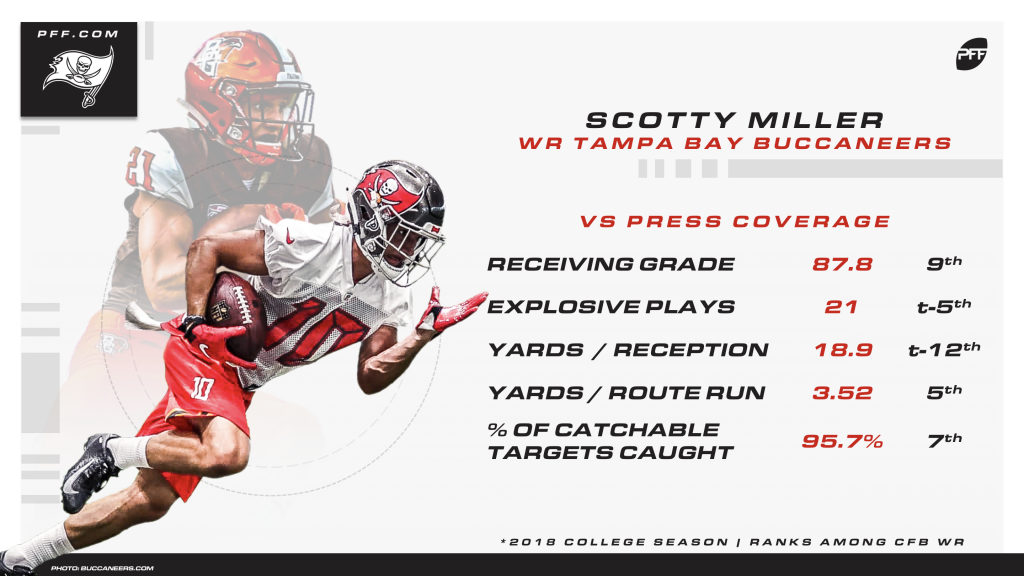 As the 208th overall pick of 2019 NFL Draft, former Bowling Green wide receiver Scotty Miller is one of the more undervalued players in this entire class. Miller is the definition of a shifty slot receiver who can generate separation at a high level. He finished the 2018 season with a solid 80.2 receiving grade in the slot (21st) where he had great production with 2.73 yards per route run (21st), 851 receiving yards (14th) and 19 plays of 15-plus yards (T-18th).
Some of his greatest play, however, came when the opposition tried to defend him with press-man coverage. On receiving snaps where he was being defended in press coverage, Miller went off for an 87.8 receiving grade (ninth), 21 plays of 15-plus yards (T-5th), 18.9 yards per reception (T-12th) and 3.52 yards per route run (5th).
With a 4.39s 40-yard time at his pro day, one could reasonably assume Miller generated a good amount of space between him and his coverage defender while in college, and that he did with 64% of his targets of 10-plus yards in 2018 coming with a step or more of separation (19th-highest). It's what Miller did on those targets that makes him a lethal addition to this Buccaneers' pass-heavy offense. On targets of 10-plus yards with a step or more of separation, Miller earned an astounding 97.5 receiving grade (T-2nd) and recorded 659 receiving yards (5th), all while catching 96.3% of his catchable targets. Moreover, on all targets with a step or more of separation, Miller came away with 25 plays of 15-plus yards (T-3rd).
You're not going to want to miss Miller getting his feet wet this preseason.
[Editor's Note: All EDGE and ELITE subscribers have access to all of PFF's locked article content. Click the link below to subscribe and gain access to this article and more!]