The 2018 MVP may have been awarded to young superstar Patrick Mahomes, but the most impressive comeback performance of the 2018 season deservedly goes to Andrew Luck.
After missing all of 2017 with a shoulder injury, speculation was starting to swirl about Luck's future in the NFL. Some even said that the Indianapolis Colts should look to move on from the former first overall pick due to the fact he couldn't throw a regulation-size football for a majority of the offseason. Subsequently, Luck proved all the doubters wrong, and by posting a career-high (and elite) 91.2 overall grade that ranked third among quarterbacks, Luck brought himself back to MVP form.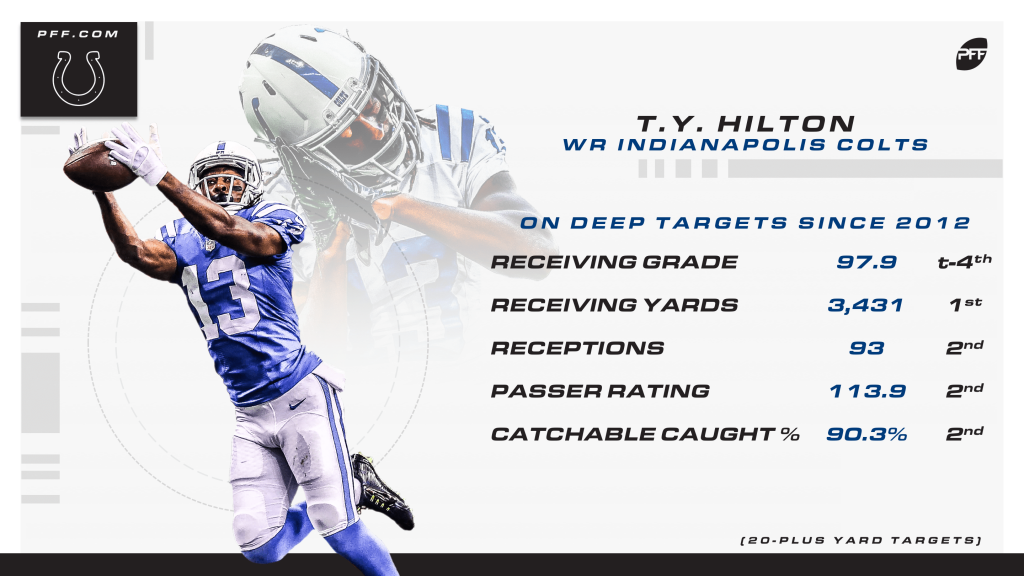 Luck to Hilton: A rare connection
Luck brought out the best in top receiving option T.Y. Hilton in 2018, as he too recorded a career-high PFF grade of 87.7 that ranked ninth among wide receivers. Though Luck and Hilton's connection wasn't just an anomaly in 2018, it has always been there. Over his career, Hilton has earned a 90.4 receiving grade when Luck has led the offense, the highest among all of Luck's targets by over 10 grade points. So, the connection has always been there — it was just taken to another level in 2018.
Hilton's productivity this past year was top tier, and he ended the campaign with an average of 2.47 yards per route run that ranked third among receivers. Along with that, Hilton carried the Colts' wide receiver unit in deep receiving (targets of 20-plus yards) with 16 deep receptions and 602 deep yards.
Standing at 5'10" some may be surprised to hear that Hilton's greatest strength is his ability to overpower his primary coverage defender in tight coverage situations, but he ranked tied for ninth in receiving grade at 83.0 in such situations last year. So then, it should be to no surprise that Hilton terrorized the cornerbacks who tried to play him in press coverage in 2018. With an 87.1 receiving grade (sixth), 13 contested catches (tied for sixth), 21 explosive plays (tied for 13th) and 2.51 yards per route run (tied for sixth) against press coverage last season, Hilton has clearly made himself into a nightmare for defenses.
Hilton's ability to make something out of nothing was unmatched last season. On longer developing plays where the quarterback took 2.6 seconds or more to throw, Hilton recorded a receiving grade at 92.1, ranking first among all wideouts. Tack on 24 explosive plays (fifth) and 3.34 yards per route run (first), and you've got yourselves a clear-cut superstar in those situations.
As mentioned, Hilton has always been Luck's number one receiver in Indianapolis. Since he came into the league with his quarterback in 2012, Hilton has come away with the fourth-most explosive plays, at 214, while he's averaged 2.11 yards per route run that ranks 11th among qualifying receivers in that span. Moreover, Hilton has unfailingly been one of the league's top deep threats in each season he has taken the field with Luck. Over the course of his seven-year career, Hilton's deep receiving grade is tied for the fourth-best among qualifying wideouts — his 93 deep receptions are the second-most among receivers in that span, his 3,431 deep yards rank first by over 350, his 113.9 deep passer rating generated on deep targets ranks second and his 90.3% catch rate ranks second.
Subscribe to PFF Edge to continue reading
Already have a subscription? Sign In