December 30, 2000. That was the day the Miami Dolphins last won an NFL playoff game.
Since Hall of Fame quarterback Dan Marino decided to hang up the cleats, Miami has suffered through quarterback play that has ranged between mediocre and terrible. In the PFF era (since 2006), Miami has only had six seasons where their quarterback graded above 70.0: 2008 (Chad Pennington), 2009 (Chad Henne), 2011 (Matt Moore), 2013, 2014 and 2016 (Ryan Tannehill).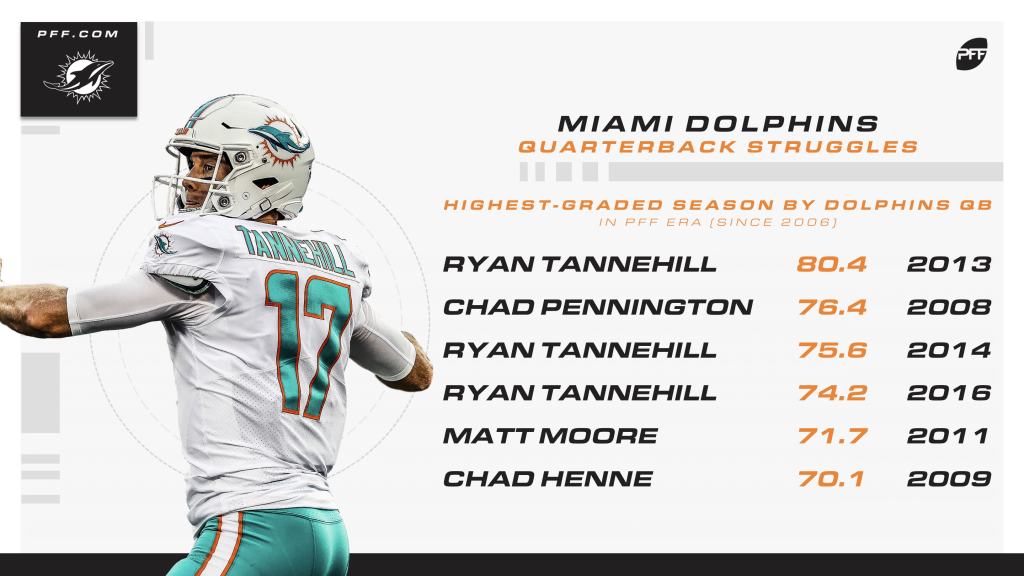 After posting an NFL-worst 42.4 passing grade in 2018 (and the third-worst passing grade we have ever seen here at PFF), Miami had enough of Tannehill and traded him to the Tennessee Titans for draft compensation. As a result, Miami was tasked with finding their next franchise quarterback this offseason but failed to select one in this year's draft. Instead, they opted to sign journeyman Ryan Fitzpatrick and tossed the Arizona Cardinals a couple of draft picks for 2018 first-round pick Josh Rosen. However, there is very little optimism around the fanbase that either can lead the Dolphins to a winning season in the near future. As things stand, the Dolphins seem destined to take a quarterback early in the 2020 draft.
The last two quarterback classes have been rather top-heavy, with each class having a clear-cut number one: Baker Mayfield in 2018 and Kyler Murray in 2019. And this year's class is likely going to continue the trend of having a consensus top quarterback, with Alabama quarterback Tua Tagovailoa seemingly set to become the latest "No. 1 guy."
We have seen the tanking phenomenon take over nearly every other sports league except for the NFL. But, given the fact that quarterback is the most important position on the field and the fact that Miami has suffered almost countless years of atrocious play at the position, should the Dolphins bring tanking to the NFL and tank for Tua?
[Editor's Note: All of PFF's advanced stats and grades for every NFL player are made available in PFF's ELITE subscription. Subscribe today to gain access!]
Subscribe to PFF Edge to continue reading
Already have a subscription? Sign In