At PFF, we pride ourselves in the fact that we can provide data that isn't available anywhere else, and now for the first time, we can take a deep dive into the last 13 seasons of the PFF era to evaluate quarterbacks by ground type to see if they perform best in either an open-air stadium, like Lambeau Field, or an enclosed stadium, like the Mercedes-Benz Superdome.
The purists among you will stand firm in the belief that the open-air stadium is where football belongs. It's the home of the great quarterbacks of years past, where signal-callers have long been at the mercy of the elements in what can be a true test of arm strength and physical endurance.
So whether you're curious to see whether your franchise quarterback makes the cut or an avid fantasy owner looking to gain an edge in your upcoming fantasy leagues, here are the PFF era's best passers in open-air stadiums.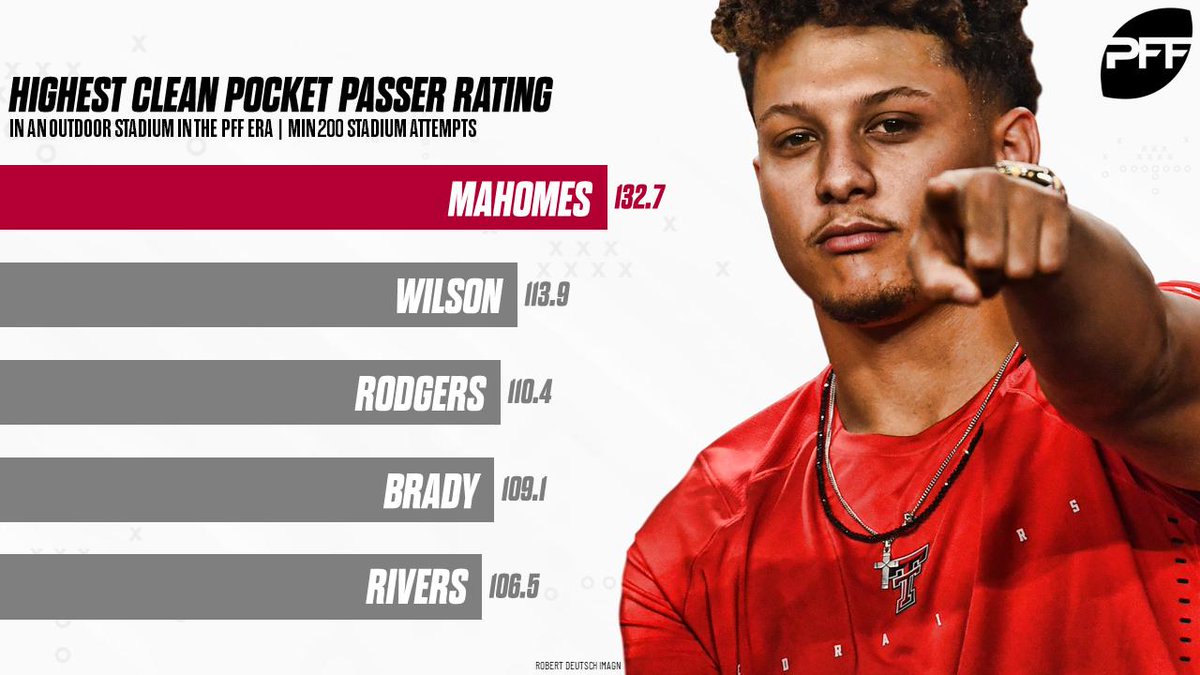 Passer rating from a clean pocket
A PFF signature statistic that can found in Premium Stats 2.0, passer rating from a clean pocket has proven to be the most stable metric for both evaluating and predicting a quarterback's performance. Here are the PFF era's top-five signal-callers in passer rating from a clean pocket. To make this list, the player must have attempted at least 200 pass attempts from a clean pocket in open-air stadiums since 2006 (regular season only).
Mahomes' first year as a starter in Arrowhead Stadium was simply sensational, so it's really no surprise to see him atop this list. Mahomes has completed 309-of-414 clean-pocket attempts for 3,918 yards, 41 touchdowns and just four interceptions in open-air stadiums. His resulting passer rating of 132.7 is nearly 20 points ahead of anyone else.
Wilson takes the No. 2 spot after completing 1,141 of his 1,584 clean-pocket attempts in stadiums, most of which have come at home at CenturyLink Field. To go with that 72.0% completion percentage, Wilson has tallied 13,210 yards, 112 touchdowns and just 25 interceptions.
One of the many great quarterbacks to grace Lambeau Field, Aaron Rodgers has completed 70.6% of his 3,302 clean-pocket pass attempts in open-air stadiums. He's thrown 210 touchdowns and 46 interceptions on those attempts, and his clean-pocket turnover-worthy play of 1.6% ranks third among the 104 qualifying players on this list.
Arguably the best quarterback of all time and almost certainly the best football player to ever step foot in Gillette Stadium, Brady has completed 3,276 of his 4,645 clean-pocket pass attempts in open-air stadiums, and he's racked up 37,182 yards, 272 touchdowns and 52 interceptions. More impressively, just 1.2% of his career clean-pocket pass attempts in a stadium have been deemed turnover-worthy, which is easily the best rate among the qualifying signal-callers on this list.
Having played the majority of his career snaps in SDCCU Stadium before moving to Dignity Health Sports Park in Los Angeles, Rivers has completed 70.8% of his 4,409 career clean-pocket attempts in a stadium setting, and he's recorded 263 scores, 96 interceptions, 222 big-time throws and only 110 turnover-worthy plays.