To put it mildly, the Denver Broncos haven't had much luck at the quarterback position over the last few seasons. In fact, if you exclude the three good seasons of play that they got out of Peyton Manning, you could argue that the team hasn't had any luck at all at the position for over a decade.
The Broncos have managed to crack the top-10 in team passing grade just four times since the start of the 2006 season, which is when PFF first started grading games, and three of those seasons were with Manning at the helm. Over those last 13 years, Manning and 2008 Jay Cutler are the only Bronco quarterbacks to surpass a single-season overall grade of at least 80.0, and if you look at the entire body of work from all nine of the team's quarterbacks with at least 100 attempts as a Bronco, you can see that seven of those quarterbacks have graded below 70.0 – a mark that we consider to be average.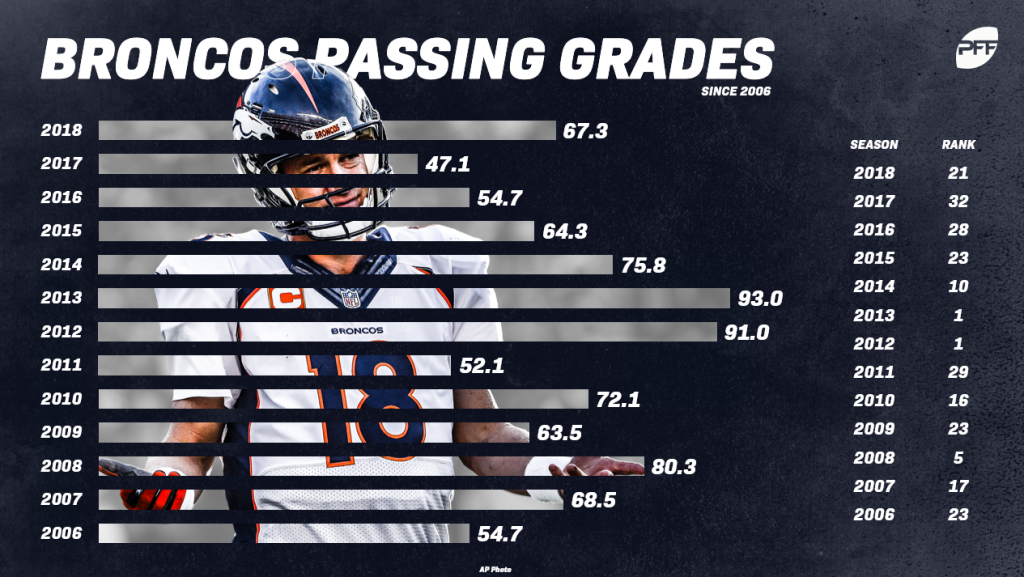 To give an indication of how much Manning buoyed the team's underwhelming quarterback play of late – something that former quarterback and general manager John Elway should be incredibly thankful for – we can take a look at the collective performance from a clean pocket, a condition that our analytics department has discovered to be the most stable for predicting and evaluating quarterback performance.
Altogether over the last 13 seasons, the Denver Broncos quarterbacks have combined to produce an elite clean-pocket passing grade of 92.0 (13th among 32 teams in that span), a clean-pocket passer rating of 97.2 (11th) and a big-time throw to turnover-worthy play ratio of 74:45. If we were to take away Manning's contributions, that clean-pocket passing grade drops to 83.4, 28th among teams, the clean-pocket passer rating drops to 92.3 (14th), and the big-time throw to turnover-worthy play ratio falls to 81:61. In simple terms, if it weren't for number 18, the Broncos would likely have spent the last seven years in quarterback turmoil.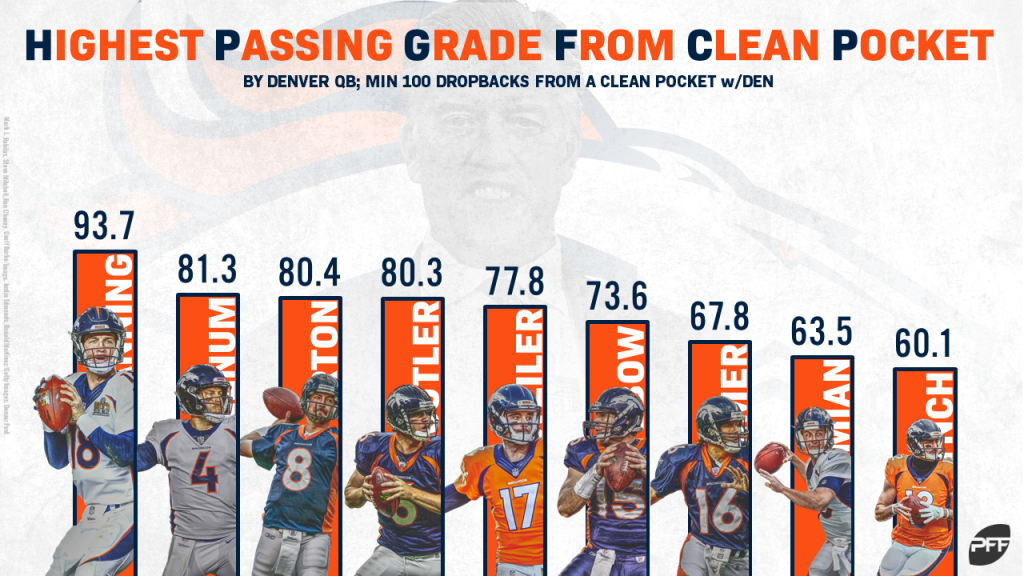 The post-Manning era in Denver has been especially difficult, to say the least. Elway tried to plug the void with a combination of Trevor Siemian, Brock Osweiler and Paxton Lynch without much success.  Neither quarterback managed to register an above-average passer rating in any facet of play, neither of them managed to record a single-season grade north of 60.0, and they ended their respective tenures with turnover-worthy play percentages that respectively ranked 39th, 48th, and 45th among the 54 qualifying quarterbacks over that two-season span.
After the team missed the playoffs in both 2016 and 2017, John Elway then turned to away from the aforementioned trifecta and instead opted to sign veteran quarterback Case Keenum to a two-year 36 Million dollar deal. In many ways, Keenum provided an upgrade for Denver last season. He produced the best single-season clean-pocket passing grade since Peyton Manning, and his play-action passing grade (90.6) ranked fifth among quarterbacks with at least 50 play-action dropbacks on the season. The problem with that was (A.) His clean-pocket passing grade was good for only 22nd among signal-callers. (B.) He was pressured at the 11th-highest rate in the league (36.2%) and recorded the league's sixth-worst pressured passing grade, and (C.) The Broncos used play action on only 23.1% of Keenum's dropbacks, the 18th-highest rate in the league.
Keenum's first season as the team's starter ultimately ended in disappointment. His failure to produce under defensive pressure far outweighed his middle-of-the-pack performance from a clean pocket, and that ultimately resulted in an overall grade of just 70.0 – 26th among quarterbacks. It also resulted in another move for the franchise, as John Elway dealt a fourth-round pick to the Baltimore Ravens in exchange for a new starter at the position, veteran signal-caller, and Super Bowl MVP Joe Flacco.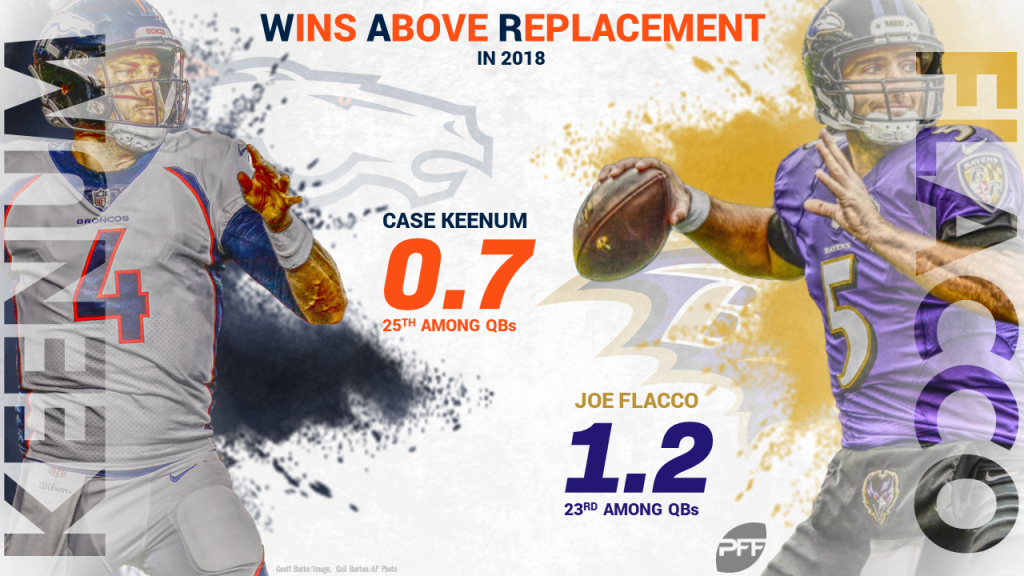 As PFF Analyst Mike Johnson excellently pointed out last week: "Flacco has been remarkably consistent over his career in terms of PFF grading with no grade lower than 65.2 and no higher than 78.5 since being drafted before the 2008 season. His career-high overall grade came in 2014 and not during the Ravens' 2012 Super Bowl run, where Flacco was only slightly above-average with an overall grade of 73.3, 13th among quarterbacks." 
Compared to the Broncos' quarterbacks over the last 13 years, Flacco's highest single-season grade would put him just below 2008 Jay Cutler, while his career-low would put him just below 2015 Brock Osweiler. And that is exactly the problem. If the move does end up being an upgrade for the team, it'll likely only be marginal and not a significant upgrade of anything that the Broncos have had before. If anything, it's a move sideways from Keenum rather than a step forward, and that is evident when you look at Flacco's and Keenum's cumulative performance over the last three seasons.
In comparison, Keenum's overall grade of 74.9 and passing grade of 71.1 better the marks of Flacco in that span, who's not far behind at 71.3 and 70.3, respectively. In statistical terms, the two offer up shockingly similar marks; Flacco has lobbed 50 touchdown passes to Keenum's 51, and Flacco has thrown 34 interceptions compared to Keenum's 36. Keenum has 12 more big-time throws to his name and has one less turnover-worthy pass. Flacco narrowly beats out Keenum in adjusted completion percentage, 75.0% to 74.5%, while Keenum edges out Flacco in passer rating from a clean pocket, 98.7 to 91.9. In terms of our wins above replacement model, Flacco was worth about 1.2 wins in 2018, which was just half a win above Keenum.
The bottom line is that with Flacco, the Broncos will very likely be stuck in the very same, predictable position next year as they are now. And while their defense, led by stalwarts Chris Harris Jr. and Von Miller is still above average, the league has moved on to a point where the instability of defensive performance combined with the ever-growing creativity in the passing game means that a franchise can no longer rely on a defense to win Championships. The Broncos need above-average play at the quarterback position to compete, and yes, Flacco gives you postseason experience, but by that logic, so would Eli Manning, and the point is completely moot anyway if they don't make it to the postseason in the first place.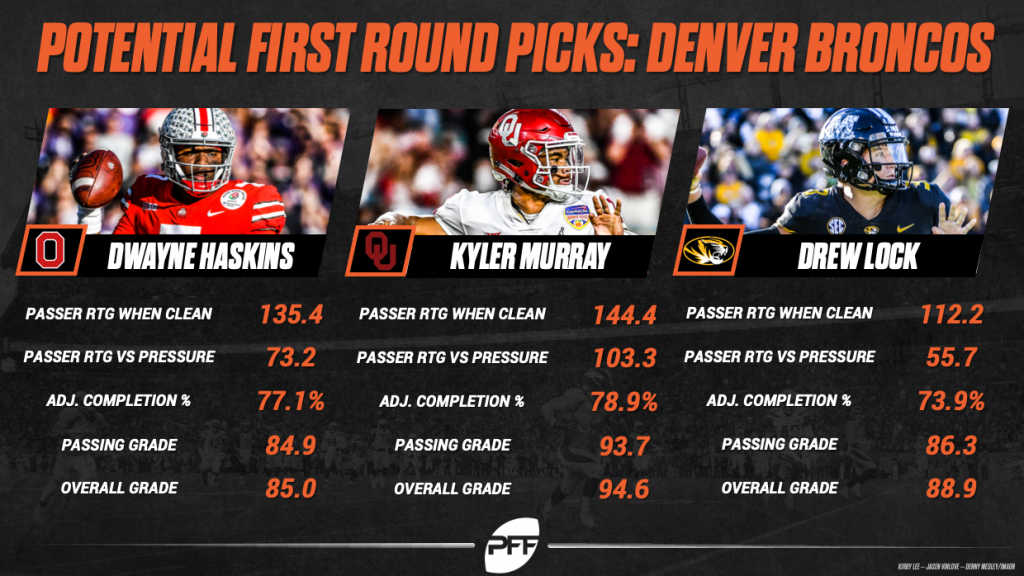 Which is why the Broncos, who currently hold the tenth overall pick of the 2019 NFL Draft, need to seriously consider taking a quarterback.
At this point, the Broncos have three options for the tenth overall pick: Ohio State's Dwayne Haskins, Missouri's Drew Lock, and Oklahoma's Heisman-winning quarterback Kyler Murray.
According to PFF's Senior Analyst Mike Renner, "Haskins is the top quarterback on most draft boards, and he ticks a lot of boxes that NFL evaluators love to see ticked. He has the size (6-3, 220), production (4,831 yards, 50 TDs), and a slingshot for an arm. By the same token, he had a good deal of 'phony' production; 664 of his passing yards and six of his touchdowns came on screens, both the most of any Power-5 quarterback (and 180 more yards than any of the other quarterbacks on this list)."
Missouri's Lock, who has been linked to the Broncos over recent weeks, has drawn his fair share of praise too. Renner says of Lock, "All three of these quarterbacks offer a trump card of sorts that could see one team falling in love with. For Lock, it's his arm talent. He can put it accurately with pace to all levels of the defense. It's part of the reason he led the NCAA in big-time throws this past season and was also the most accurate quarterback against air in the Senior Bowl practices. However, his footwork, pocket presence, and consistency are a work in progress at this point."
Finally, in what could be the boldest move of the Elway era, the Broncos could choose Murray out of Oklahoma, a man who is dramatically undersized in comparison to the players whom Elway has usually selected. Renner explains, "Murray does not by any means tick the same boxes that Haskins does. That being said, Murray ticks other boxes that are growing more and more valuable in today's NFL. The most valuable thing he does though is throw the ball accurately. Murray had the second-best adjusted completion percentage in the Power-5 this season despite having an average depth of target of 12.1 yards downfield. For comparison, Gardner Minshew II led the Power-5, and his average depth of target was 6.6 yards. Add in Murray's running ability, and there's a proven track record that quarterbacks like him can have success in the NFL. Yes, he's 5-10. Yes, he's only had one season of production against soft defenses. But the pros outweigh the cons at this point."
The name that Elway calls in on draft night will remain to be seen, but one thing is clear; the team must prioritize the most valuable position in all of team sports. Last year, Case Keenum (who outperformed Flacco from a clean pocket) provided the second-best clean-pocket passing grade by a Bronco of the PFF era, and that was still only good for 22nd among quarterbacks. Twenty-second. There comes the point when the Broncos need to stop patching the position and look towards a young player that can surpass the marks of signal-callers that have come before them. The team can then use the template that's already been built by the likes of the Rams and the Eagles; they can build the team around a promising young quarterback on a cheap contract, and use the available funds to build a championship-caliber team that can compete for years to come.
Simply put, the Broncos' quarterback play has been less than satisfactory for the majority of the PFF era. Elway can and should look to change that with the 10th overall pick of the draft.