We're a month away from the start of the new league year, and while it doesn't offer the same intrigue of the talent pool that we saw a year ago, the quarterback position will be the most talked about position this offseason once again. With that in mind, let's give a general overview of what options are out there and what we can expect.

The Free Agents
After paying the Eagles $2 million to opt out of their option, there's still a chance the Eagles could franchise tag the Super Bowl-winning quarterback. That wouldn't mean he's off the market though, as they'd assuredly do so with the sole purpose of trading him. While Foles is undoubtedly a risky option with his up and down career, he's earned a 76.1 passing grade over 522 dropbacks the past two seasons. That puts him squarely between Kirk Cousins and Case Keenum over that span grade wise – both of which got paid big money last offseason. The one area where Foles looks as if he's turned a corner of late is his decision making. He has only 11 turnover-worthy plays the past two years. In need of an immediate starter this offseason, Foles is your safest bet.
At this point, Bridgewater won't command anything of substance long-term. After signing a one-year, $10 million deal last offseason, the price tag went up, but the guaranteed money might not change. Mike Glennon's 3-year, $45 million deal that was easily waivable after one season looks like a logical starting point. All Bridgewater hope revolves around the fact that he earned an impressive 75.6 overall grade as a rookie and an 80.9 overall grade on 45 preseason dropbacks with the Jets this year. Both sample sizes are too small to make sweeping conclusions one way or the other, but beggars can't be choosers at the quarterback position in the NFL.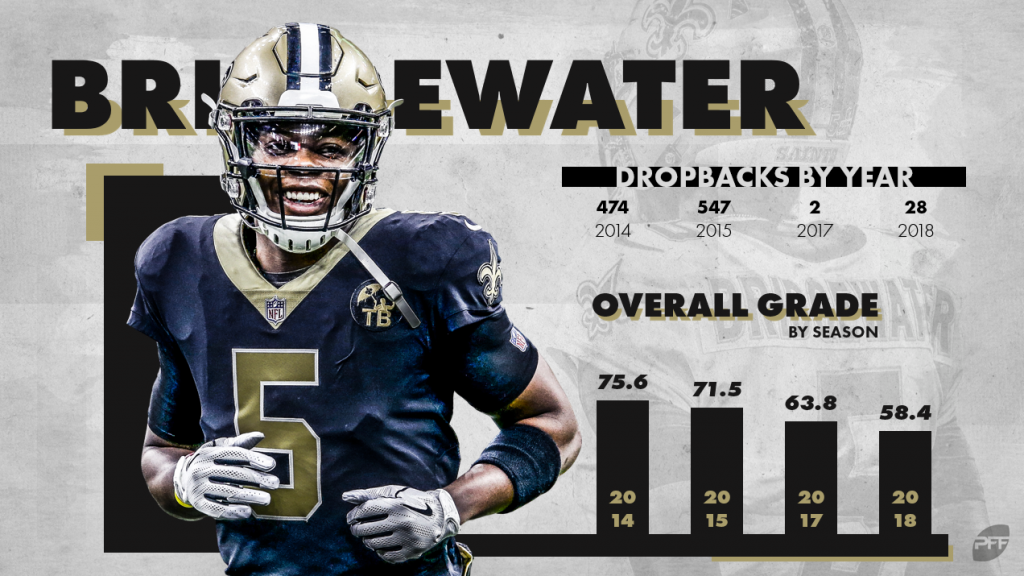 Fitzpatrick is worth tossing into the mix because he (a.) won't break the bank and (b.) can win your franchise games on his own. The unfortunate thing, that's been his M.O. throughout his career, is that he (c.) can lose you (a lot of) games. His Week 1 performance against the Saints this year was the highest-graded passing game all season while his Week 2 outing against the Eagles was the fourth-highest. If you want lightning in a bottle, Fitzpatrick is your man.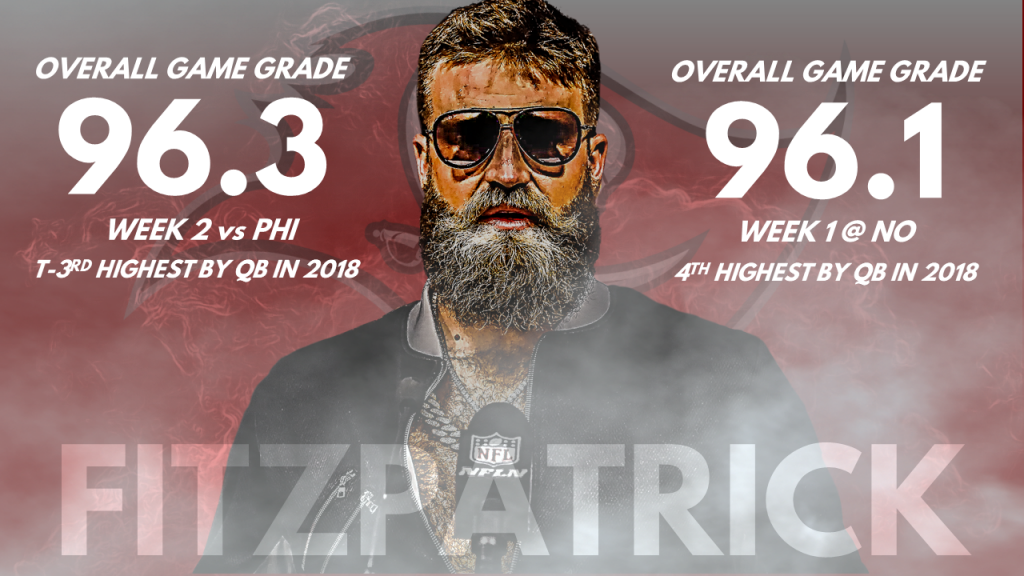 The Draft
Dwayne Haskins
The top quarterback on most people's board, Haskins ticks a lot of boxes that NFL evaluators love to see ticked. He has the size (6-3, 220), production (4,831 yards, 50 TD's), and a slingshot for an arm. By the same token, he had a good deal of 'phony' production; 664 of his passing yards and six of his touchdowns came on screens, both the most of any Power-5 quarterback (and 180 more yards than any of the other quarterbacks on this list). He also had a scintillating group of playmakers at OSU that aided his totals. Only 41.7 percent of his throws were targeted past the sticks compared to 55.2 for Murray and 44.8 for Lock. Haskins' 84.9 passing grade this past season suggests he's still far from a perfect prospect at the position.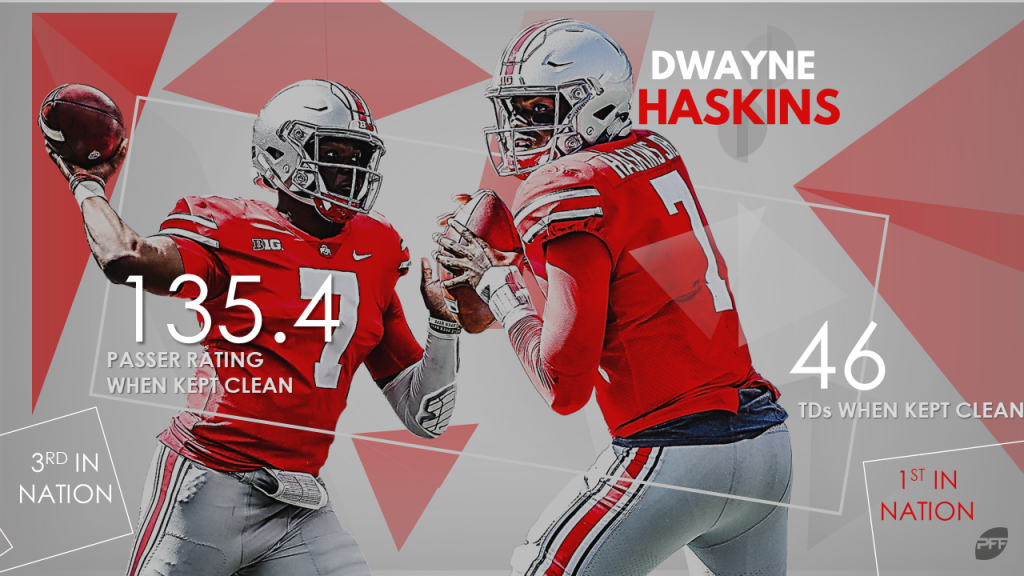 Kyler Murray
Murray does not by any means tick the same boxes that Haskins does. That being said, Murray ticks other boxes that are growing more and more valuable in today's NFL. The most valuable thing he does though is throw the ball accurately. Murray had the second-best adjusted completion percentage in the Power-5 this season despite having an average depth of target of 12.1 yards downfield. For comparison, Gardner Minshew II led the Power-5, and his average depth of target was 6.6 yards. Add in Murray's running ability and there's a proven track record that quarterbacks like him can have success in the NFL. Yes, he's 5-10. Yes, he's only had one season of production against soft defenses. But the pros outweigh the cons at this point.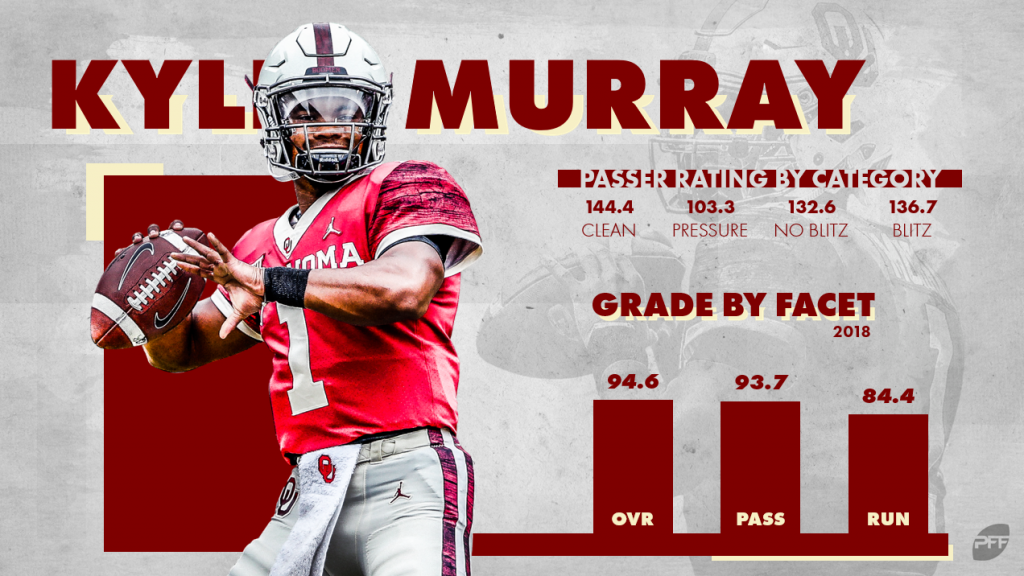 Drew Lock
All three of these quarterbacks offer a trump card of sorts that could see one team falling in love with. For Lock, it's his arm talent. He can put it accurately with pace to all levels of the defense. It's part of the reason he led the NCAA in big-time throws this past season and was also the most accurate quarterback against air in the Senior Bowl practices. His footwork, pocket presence, and consistency is what's a work in progress at this point.