Per ESPN's Adam Schefter, The Baltimore Ravens have an agreement in principle to trade veteran quarterback and former Super Bowl MVP Joe Flacco to the Denver Broncos once the new league year begins on March 13th. As a result, Denver appears ready to move on from one-year starter Case Keenum via trade or offseason release. The question now surrounding Flacco isn't whether he's elite or not (he's not), but rather is he even an upgrade at quarterback for the Broncos?

Flacco has been remarkably consistent over his career in terms of PFF grading with no grade lower than 65.2 and no higher than 78.5 since being drafted before the 2008 season. His career-high overall grade came in 2014 and not during the Ravens' 2012 Super Bowl run, where Flacco was only slightly above-average with an overall grade of 73.3, 13th among quarterbacks.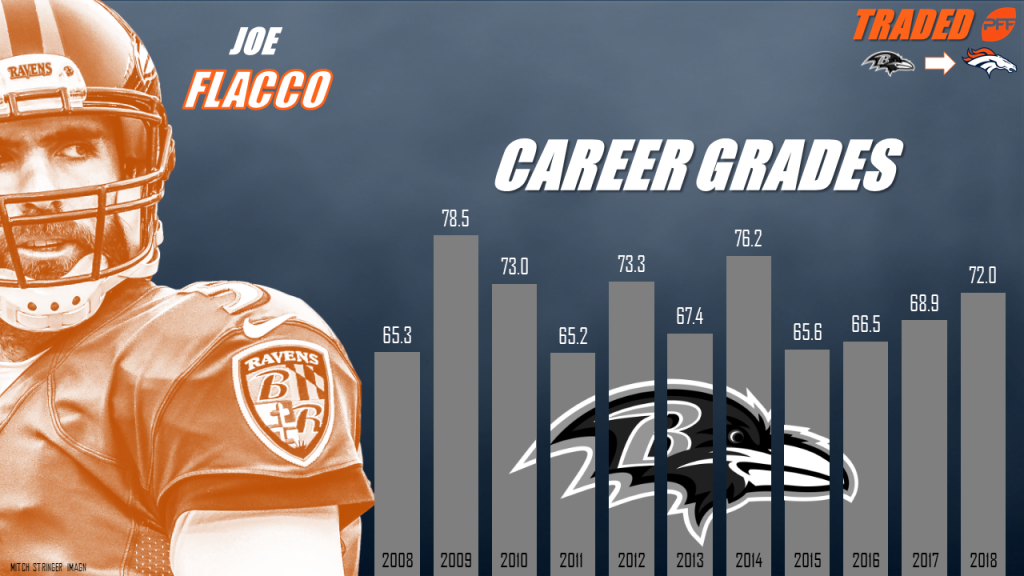 However, Flacco showed up when it counted the most during that 2012 season, and he offered up the best stretch of his career during those 2012 playoffs. He recorded an 82.2 overall grade, 117.2 passer rating, and an 11-to-0 touchdown to interception ratio during that postseason run, which culminated with a 34-to-31 win over the San Francisco 49ers. Through that stretch of the postseason, Flacco was nothing short of deadly on his deep passes, as he completed 15 of 31 attempts for 522 yards and a passer rating of 134.1 – marks that he's failed to replicate since, postseason or otherwise.
Now six seasons removed from that Super Bowl victory, Flacco has proven to a capable but uninspiring option under center. Last season started well for Flacco, with three single-game grades of 83.0 or greater during Weeks 1 to 4. Taking away a poor outing against Cincinnati in Week 2, Flacco produced a 91.9 overall grade and a 106.8 passer rating in three games during the season's first quarter. Weeks 5-9, however, offered up a different story, with no grade rising above 70.0 before he eventually gave way to Lamar Jackson as the Ravens' starter.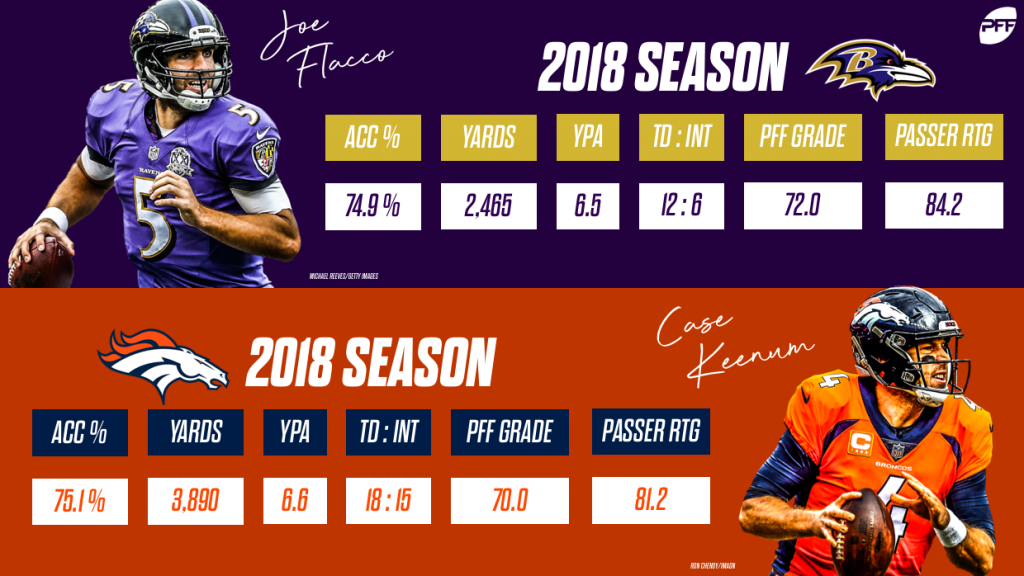 How much of an upgrade will Flacco be over Keenum for the Broncos? The team underperformed last year with a record of 6-10, finishing third in the AFC West, and Keenum was partly to blame for the disappointing season. He finished the year with a 70.0 overall grade, only two points lower than Flacco's 72.0, with a 94.9 passer rating from a clean pocket – which is exactly the same mark as Joe Flacco.
When comparing Keenum to Flacco, the two veteran quarterbacks offer up shockingly similar marks. Over the past three seasons, both signal callers have completed just over 63 percent of their passes with Flacco producing an overall grade of 68.3 during that 2015-2018 stretch. Keenum has performed only slightly better, despite having more volatility, for an overall grade of 72.8 since 2015. Flacco's highest grade during the three-year stretch is 72.0, while Keenum's was an 81.4 grade with the Vikings in 2017.
Denver knows what they're getting with Flacco, a low-risk veteran option that can offer consistency and leadership from under center. From Flacco's viewpoint, he gets another opportunity to be a full-time starter, one that was gone after the emergence of Jackson in Baltimore. However, with Flacco's lack of upside and the draft looming, this could only be the first move in the Broncos' plan to develop another quarterback of the future.