As their 7-9 record suggests, the Washington Redskins were a middle-of-the-pack team in 2018. Led by Alex Smith, the Redskins started off the season at 5-2 before ultimately losing Smith to injury and falling out of the playoff race. At this point, Smith's broken leg is considered career-threatening, and Washington will have to consider other options in either the draft or free agency.

Alex Smith finished this past season with an overall grade of 70.2, which tied for 24th out of 39 qualifying quarterbacks. Although it's not terribly bad, Smith's grade still ranks in the bottom-half of quarterbacks, and the Redskins surely have hopes of not being a bottom-half team in 2019. Throughout Smith's entire career, he's always had the label of being a game-manager who doesn't really test defenses down the field (outside of one freakish year in Andy Reid's offense in 2017). That label proved true once again for Smith last season, as his average depth of throw was only 8.6 yards, which was the 18th-lowest in the NFL. With that said, Smith does do a good job of not turning the ball over, but it usually comes at the expense of scoring more points.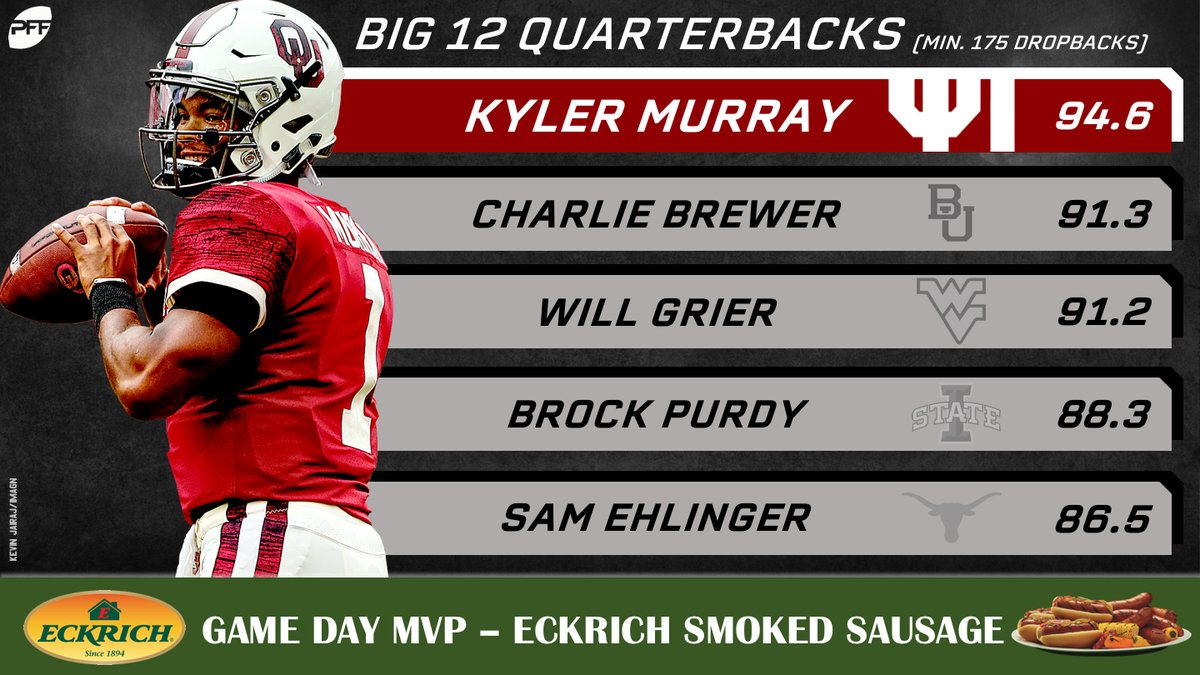 In a league where passing the ball around and racking up the points is as important as ever, the Redskins might want to take a look at the electric Kyler Murray out of Oklahoma, something Senior Analyst Mike Renner had them doing in his most recent mock draft. Murray has the talent to transform a conservative offense into one that aggressively puts up points. With an overall grade of 94.6 last season, Murray led all college quarterbacks in the country. His passing grade of 93.7 ranked first overall, and his rushing grade of 84.4 ranked second. Murray displayed top-notch accuracy, as his 78.9 adjusted completion percentage was tied for fourth in the nation.
Performance from a clean pocket is one of the most stable metrics there is for evaluating a quarterback, and Murray was unstoppable when kept clean. On 336 clean-pocket attempts, Murray threw 223 completions for 3,780 yards, 36 touchdowns, five interceptions and a passer rating of 144.4, ranking first overall. However, don't think that Murray can only perform from a clean pocket; his passer rating of 103.3 when pressured ranks sixth in the country, and his adjusted completion percentage of 76.5% when pressured ranks second. Whether pressured or not, he destroyed defenses last season.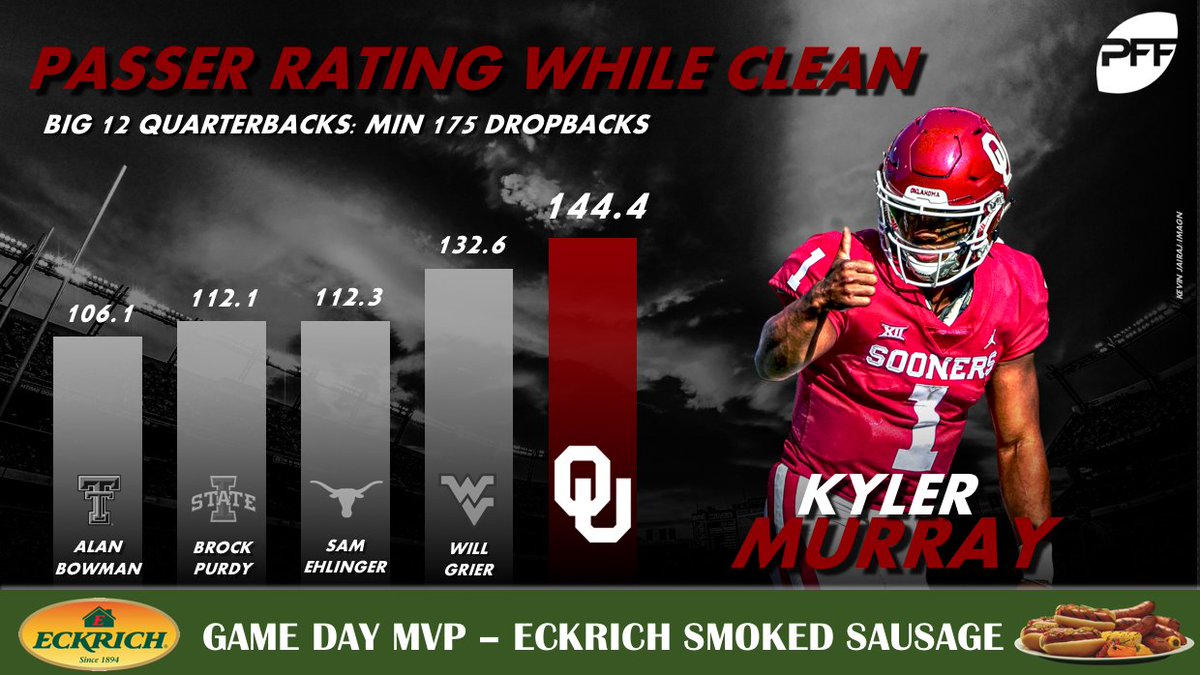 Murray also proved he can make the difficult throws that are required to be successful at the NFL level. He produced big-time throws with the best of them last season, as his big-time throw percentage of 7.7% was tied for eighth in the country out of 138 qualifying quarterbacks. Perhaps even more impressive is that he had a turnover-worthy play percentage of just 2.4%, tied for 22nd. By virtually every metric there is, Murray ranks among the elite, including running the football.
Murray's lightning quickness makes him one of the best running quarterbacks we've ever seen, as evidenced by his 84.4 running grade, which ranked second among college quarterbacks last season. Murray showcased his speed all season long, as he put up the second-most runs of 10-plus yards (41) among quarterbacks. He also had the 11th-most avoided tackles (30) at the position. Murray ran the ball with some toughness as well, as he averaged 3.18 yards after contact, ranking 20th out of 92 qualifying quarterbacks.
There's nothing that Murray can't do. He can make all the throws in all different kinds of situations. He can also evade pass rushers and make people miss in the open field. Of course, he may be overlooked because of his 5-foot-10 stature, but he is a phenomenal talent, and he could be the Redskins' very own Baker Mayfield or Patrick Mahomes; he can give hope and bring change to a team that needs one at the quarterback position. Last season, the Redskins often looked like they were one play-making quarterback away from taking that extra step towards the playoffs – Kyler Murray can be that quarterback.