It's the middle of July which means football is closer than you think. Training camps will soon be popping up all over the country and fans will get their first glimpses of the 2018 iteration of their respective teams. The middle of July means we also continue our look at the top wide receivers on each branch of the route tree from 2017, with an eye towards their possible success in the season to come.
[Editor's note: Routes in this study are bucketed onto the common PFF route tree featured below, for comparison, attached with their NFL average passer rating when targeting each specific route. For more information on our route trees and signature statistics like WR Rating – passer rating when targeted – check out our Signature Stats Glossary.]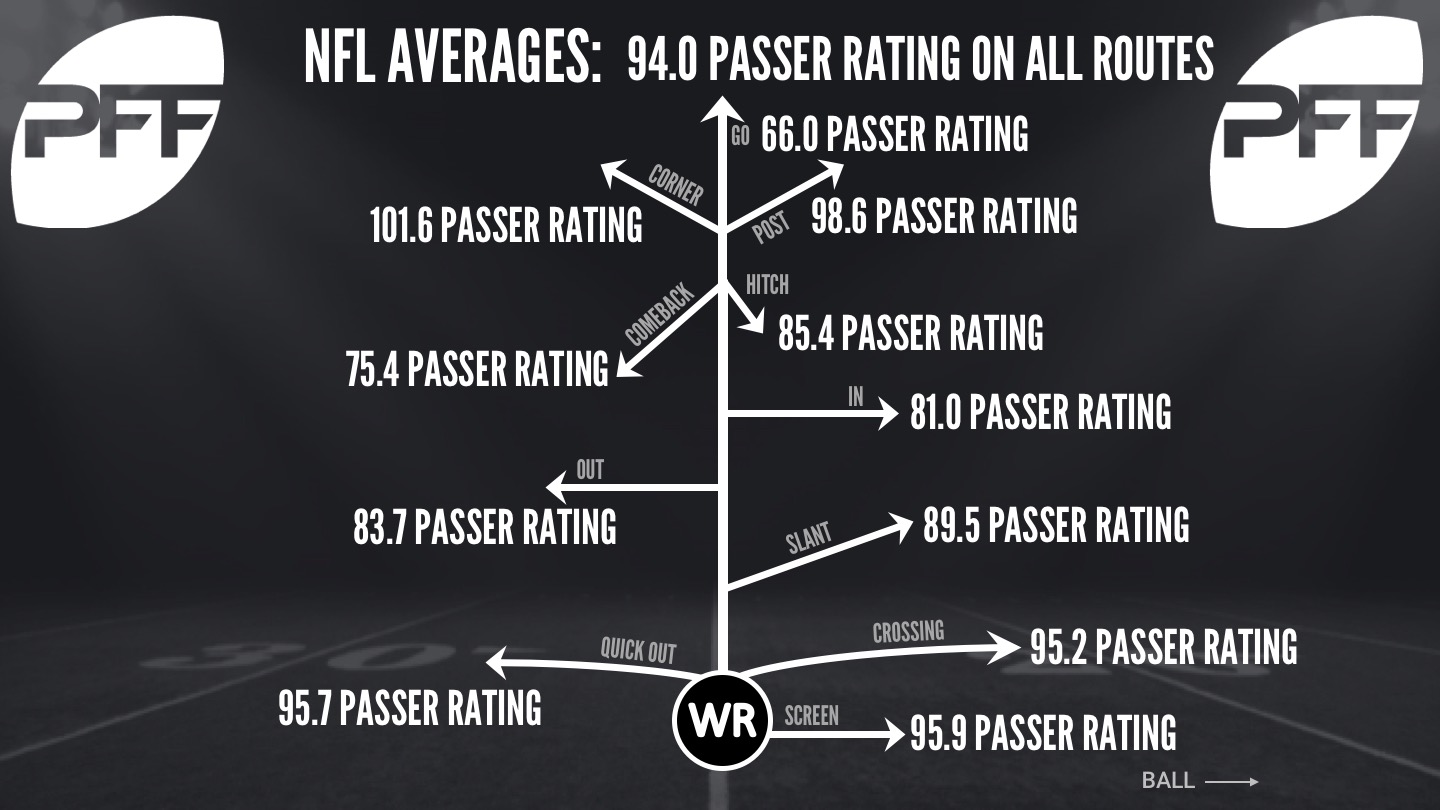 Over the course of July, we'll take a look at the top five receivers from the 2017 season on each individual route, by their passer rating when targeted – their WR Rating – on each specific branch of the route tree. We've already looked at routes targeted at or behind the line of scrimmage, on slants, crossing routes and today continue that trek past the line of scrimmage.
With that, here are the top five receivers on out routes from 2017: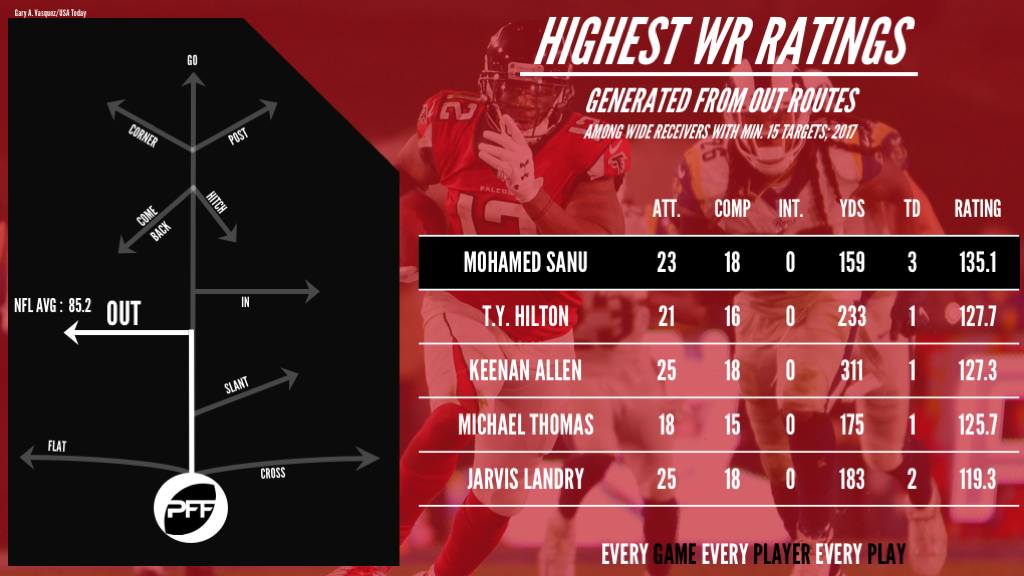 For the second straight year, the Falcons wide receiver outperformed his peers on out routes and ended the 2017 season with 18 catches from 23 targets for 159 receiving yards and three touchdowns. If we look at his body of work on out routes over the last two seasons, Sanu leads all payers in total touchdowns (five), catch rate (81.0 percent) and since we began tracking individual route data for every player on every play of every game, he's the only wide receiver to register a WR rating of at least 130.0 in consecutive seasons.
Over recent years, Hilton has developed into one of the league's premier deep threats, but that doesn't mean he can't produce on the shorter routes of the route tree. Throughout the 2017 season, Hilton was excellent at running the out route and tallied 16 catches from 21 targets, which included one touchdown reception. He ended the season with 233 receiving yards from out routes, the second-most in the league and he was one of just three receivers to see at least 20 targets without dropping a single pass
At the close of the 2017 season, no wide receiver had amassed more receiving yards from out routes than Allen, who tallied 311 yards from his 18 receptions. 13 of those receptions resulted in a first down, which was tied with Texans receiver Deandre Hopkins for the most in the NFL and his average of 17.3 yards per reception on those out routes not only paced the league, but was the fourth-best mark ever recorded by PFF.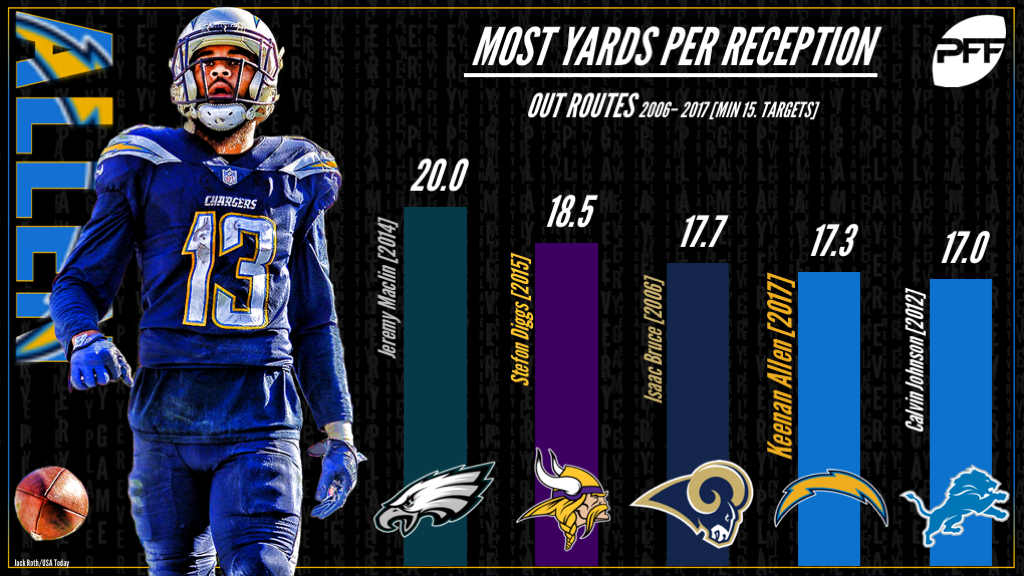 As you've probably heard by now, 'you can't guard Mike.' You can't guard him on slant routes, you can't guard him on crossing routes and you can't guard him on out routes, where he caught 15-of-18 targets for 175 yards and one touchdown in 2017. All told, he ended the season with a catch rate of 83.3 percent, which was tied for the best mark in the NFL, and 61.1 percent of his targets were positively graded, which was the league's fifth-best mark.
The out route was Landry's second-most targeted route in 2017, with his 25 targets falling just short of the 28 targets that he saw on crossing routes. Landry caught 18 of those targets for 183 receiving yards and two touchdowns while he converted nine of those receptions into first downs.