As the countdown to the start of the 2018 NFL season heats up, we at Pro Football Focus will begin to unveil our position by position rankings for each unit across the board. While those will take a look at the top units and players at each specific positional group for the upcoming season, we wanted to take that a bit further and showcase potential storylines that may develop this upcoming season.
Coinciding with our positional rankings for the wide receiver units, one of those storylines will be the success of different receivers on each route across the route tree. While this study looks at the information we have at hand from a year ago, we take a look at whether these receivers are all capable of finding such successes during the 2018 season and beyond.
[Editor's note: Routes in this study are bucketed onto the common PFF route tree featured below, for comparison, attached with their NFL average passer rating when targeting each specific route. For more information on our route trees and signature statistics like WR Rating – passer rating when targeted – check out our Signature Stats Glossary.]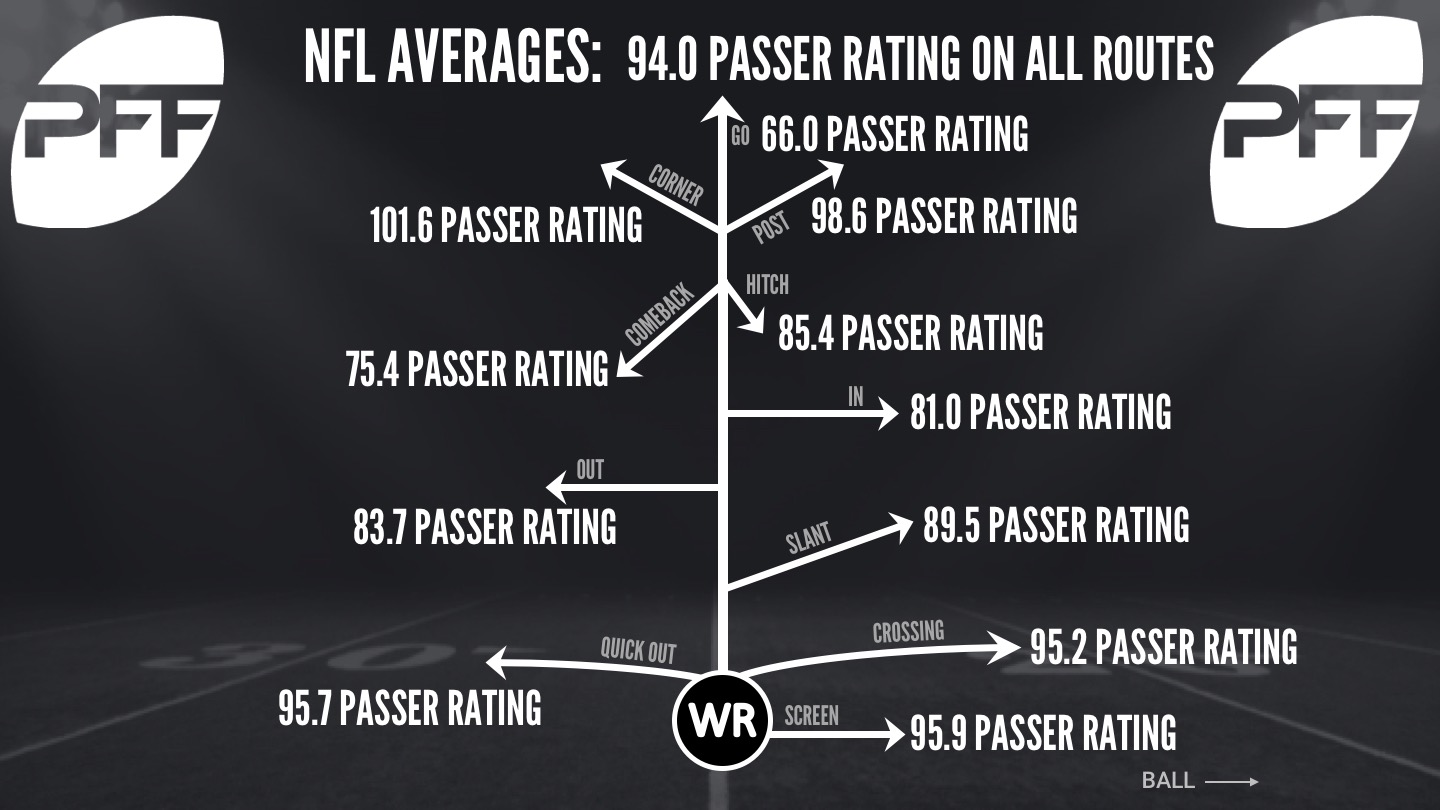 Over the course of the next month, we'll take a look at the top five receivers from the 2017 season on each individual route, by their passer rating when targeted – their WR Rating – on each specific branch of the route tree. We've already looked at routes targeted at or behind the line of scrimmage, and today we trek past the line of scrimmage.
With that, here are the top five receivers on slant patterns from 2017: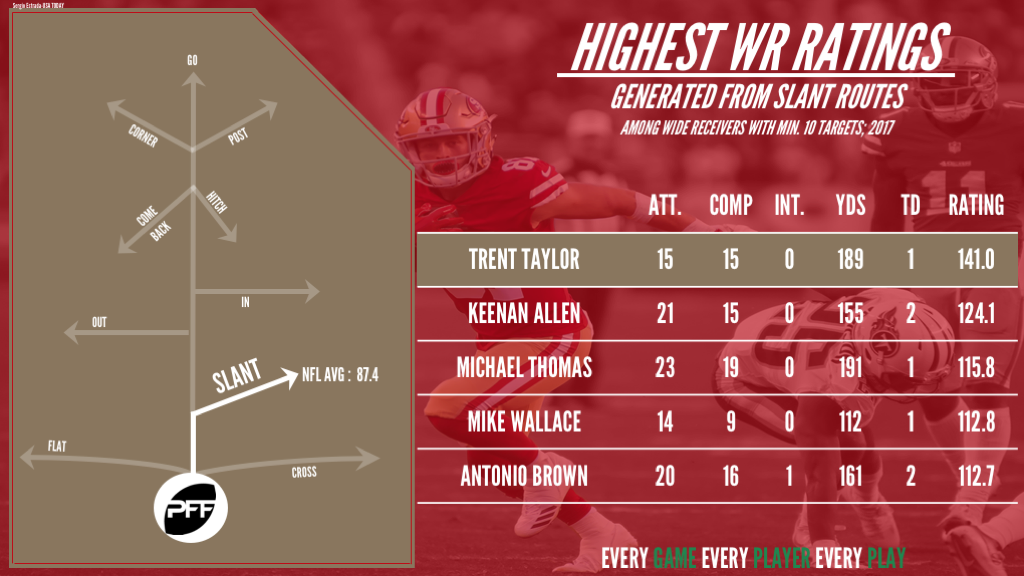 1. Trent Taylor, San Francisco 49ers – 141.0 WR Rating
The rising receiver performed historically well on slant routes in 2017 and ended the season with 15 catches from 15 targets for 189 yards and one touchdown, resulting in a WR rating of 141.0. Since we started tracking the route data for every player on every play of every game, he is the only receiver with at least 15 targets in a regular season to field a perfect catch rate, the only receiver to grade positively on at least 85.0 percent of his targets and he's the only receiver to convert over 80.0 percent of his targets to either a first down or a touchdown. That's pretty good.
2. Keenan Allen, Los Angeles Chargers – 124.1 WR Rating
The combination of Allen's size, speed and athleticism makes him a nightmare to defend on slant routes, and that certainly showed last season. The Chargers No. 1 receiver brought in 15-of-21 slant targets for 155 receiving yards and two touchdowns. His 11 receptions that resulted in a first down ranked fourth among the league's pass-catchers and 66.7 percent of his targets were positively graded – the league's fifth-best mark.
3. Michael Thomas, New Orleans Saints – 115.8 WR Rating
In 16 regular season games, Thomas was targeted on 25.9 percent of quarterback Drew Brees' pass attempts, which makes him the most targeted player of Brees' career within the PFF era, and that speaks volumes to Thomas' talent. 23 of those targets came via the slant route, and he caught 19 of those targets for one touchdown. All told, he racked up 191 receiving yards and 89 yards after the catch, both of which ranked fourth among receivers with at least 10 slant targets.

4. Mike Wallace, Philadelphia Eagles (formerly w/ Baltimore) – 112.8 WR Rating
Wallace notably ended the 2016 season ranked first on this list after he generated perfect WR rating on his slant targets, and while he did see a slight drop off in 2017, it wasn't by much. All told, he hauled in 9-of-14 targets for 112 receiving yards and one touchdown and his 12.4 yards per slant reception ranked seventh among receivers with at least 10 targets.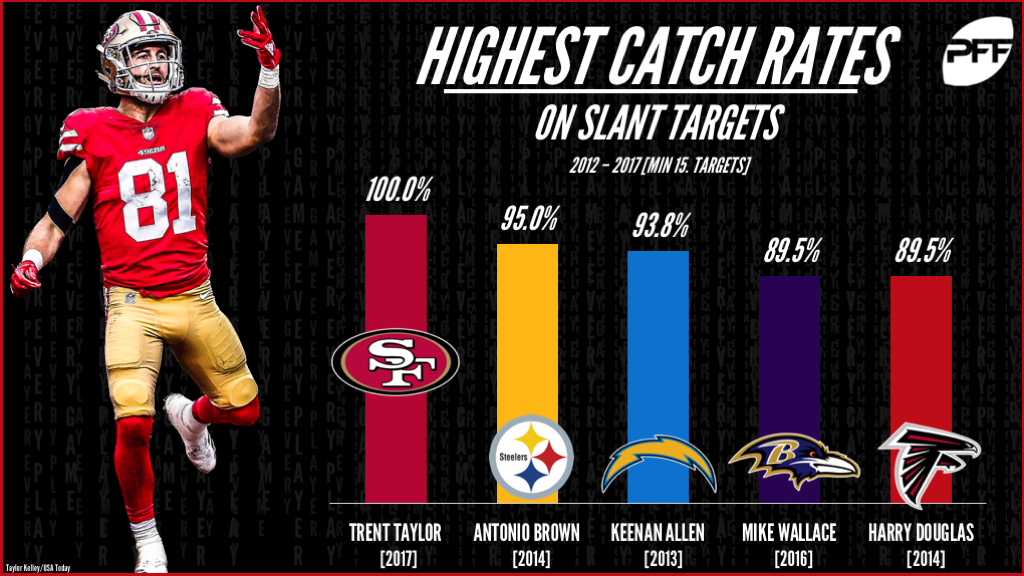 5. Antonio Brown, Pittsburgh Steelers – 112.7 WR Rating
Arguably the best receiver in the game, Brown's 2017 performance took him one step closer to securing that title. The slant route accounted for 20 of Brown's 155 regular season targets and he caught 16 of them for 161 yards and two touchdowns. His catch rate of 80.0 percent was good for fifth among receivers with at least 10 slant targets and 65.0 percent of his slant targets were positively graded, which was the league's seventh-best mark.