As summer heats up and the countdown to football ticks down, we continue our look at the league's top receivers on each specific branch of the route tree. Taking a step aside from our never-controversial preseason offensive line rankings, today's route study is on the aptly named crossing pattern.
[Editor's note: Routes in this study are bucketed onto the common PFF route tree featured below, for comparison, attached with their NFL average passer rating when targeting each specific route. For more information on our route trees and signature statistics like WR Rating – passer rating when targeted – check out our Signature Stats Glossary.]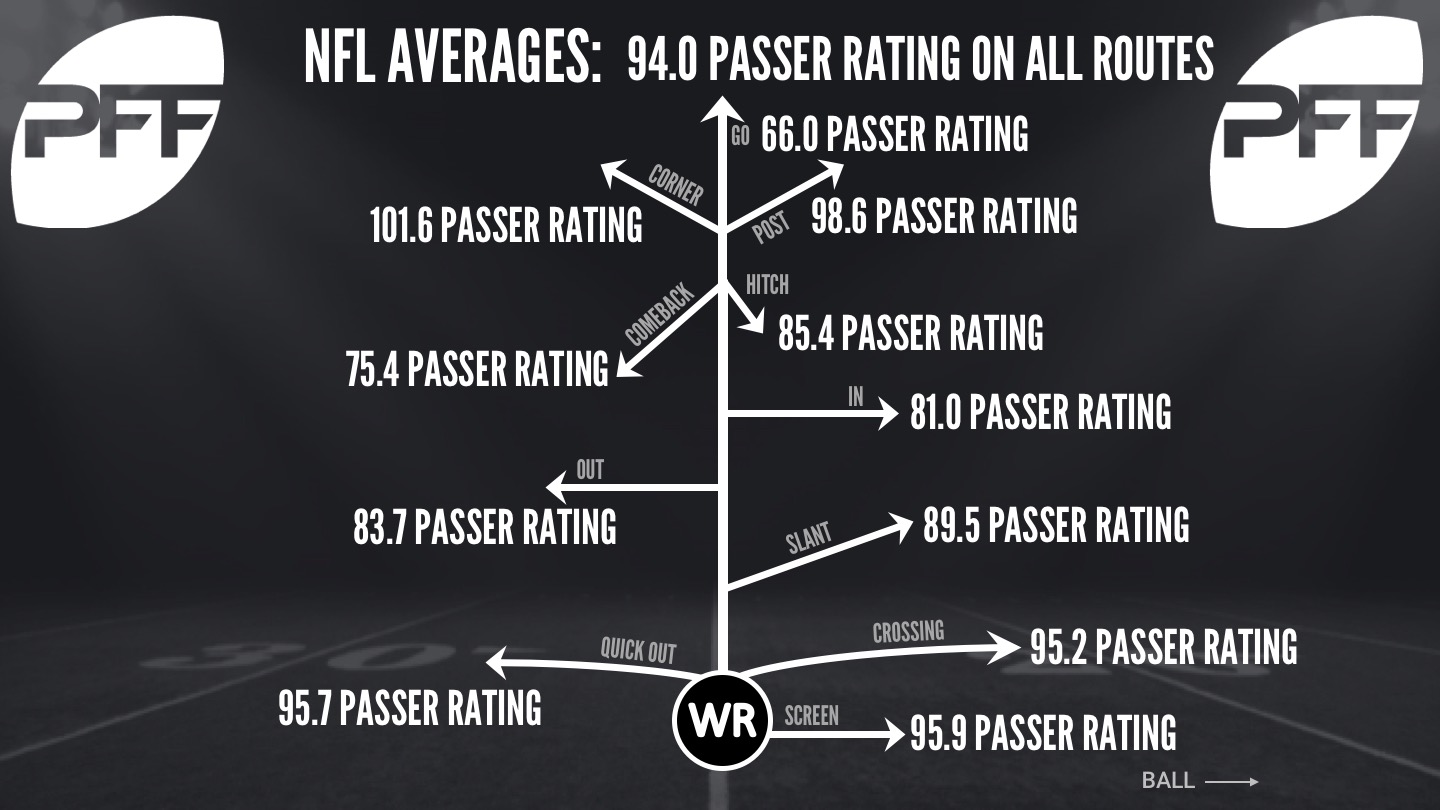 Over the course of the next month, we'll take a look at the top five receivers from the 2017 season on each individual route, by their passer rating when targeted – their WR Rating – on each specific branch of the route tree. We've already looked at routes targeted at or behind the line of scrimmage and on slants, and today continue that trek past the line of scrimmage.
With that, here are the top five receivers on crossing patterns from 2017: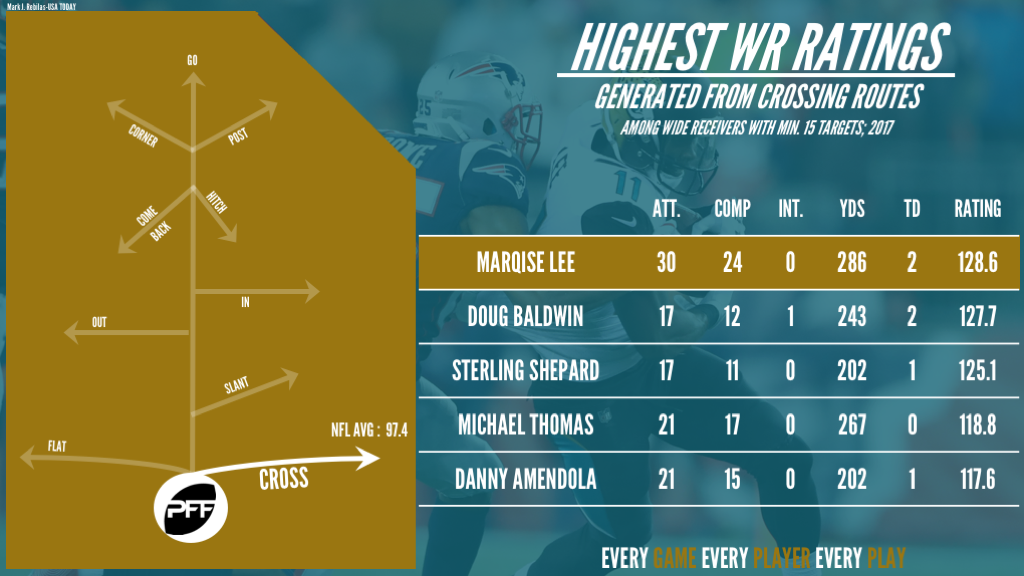 The fourth-year wide receiver became Jaguars QB Blake Bortles favorite target last season and saw 91 targets throughout the campaign – 18 more than the next closest receiver. Thirty of those passes came via the crossing route, where he amassed 24 catches for 286 yards and two touchdowns, all good for a league-leading WR Rating of 128.6. Lee also tallied 15 first down conversions from his crossing routes, which is was second to only Julio Jones last year and his 21 positively-graded targets not only paced the league, but were the second-most ever recorded by a player on crossing routes.
Since entering the league in 2011, no player has been more productive on crossing routes than the Seahawks No. 1 receiver, who has accumulated the most touchdowns (seven), the second-most receiving yards (970) and the highest catch rate (76.6 percent) among all wide receivers with at least 30 crossing pattern targets since we started tracking individual route data. Baldwin's 2017 campaign was just business as usual, as he ended the season with 12 catches from 17 targets for 243 yards and two touchdowns on crossers. He also racked up an average of 20.3 yards per reception on those targets, the second-best mark ever recorded, and he was one of just six receivers to see at least 15 targets without dropping a single pass.
The Giants offense may have endured a relatively disappointing season, but Shepard's promising performance was definitely a bright spot for the team. With Odell Beckham Jr. and Brandon Marshall forced to miss significant time through injury, Shepard stepped up as the team's impromptu No. 1 and saw 83 targets throughout the year, the most among Giants receivers. 17 of those targets came via the crossing route, where he tallied 11 catches for 202 yards and a touchdown – all good for a WR rating of 125.1. More impressively, however, is the fact that Shepard averaged a whopping 11.5 yards after the catch per reception on those targets, which was not only the best mark recorded in 2017, but the best mark ever recorded by a wide receiver in the PFF era.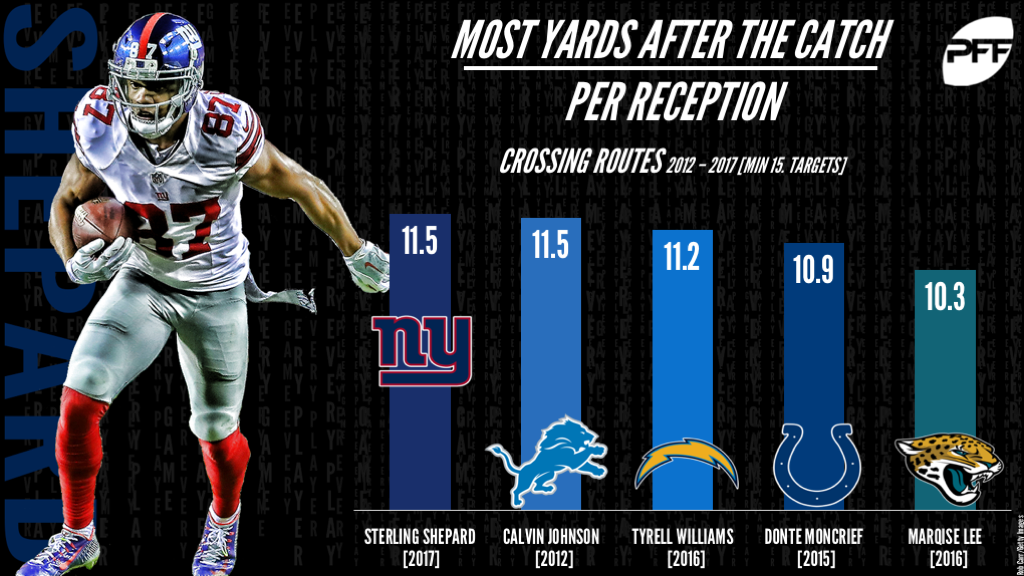 The second-highest graded receiver in the league last year, Thomas excelled on multiple routes of the route tree, so this isn't the first time we've seen him and it certainly won't be the last time we see his name in this series. In 2017, the crossing route accounted for 21 of his 139 targets and he ended the season with 17 catches for 267 receiving yards, resulting in a WR Rating of 118.8. An impressive 14 of those catches resulted in a first down and a whopping 66.7 percent of his targets were positively graded, which was the league's second-best mark.
For many years, Amendola was quarterback Tom Brady's most reliable target and often came to the rescue in clutch situations. In 2017, Amendola was targeted on crossing routes more than any other route and he ended the campaign with 15 catches from 21 targets for 202 yards and one touchdown. All told, a staggering 86.7 percent of his receptions resulted in either a first down or a touchdown, which was the second-best mark among receivers with at least 15 targets.