Turning our attention away from the NFL's best young players entering the 2019 season, we at PFF took the time to put together a list of the league's 10 best players aged 35 and older.
To keep from having quarterbacks and primary special teams players (kickers, punters, long snappers) dominate the list, we've removed the two positions from consideration.
[Editor's Note: All of PFF's advanced stats and grades are made available to our ELITE subscribers in Premium Stats 2.0. Sign up today to gain access!]
In Wake's 10-year stint with the Miami Dolphins, he recorded single-season pass-rush grades below 90.0 just three times, two of which came in 2017 and 2018. The 37-year-old's best play may be behind him, but the player he's become late in his career is still impressive.
Wake still recorded 62 and 54 total pressures in 2017 and 2018, respectively, while earning 81.0 pass-rush grades in each of the two seasons. He's a regressing pass-rush specialist but still very much a pass-rush specialist.
Davis turned in three consecutive seasons with 88.8 coverage grades in the prime of his career (2013-15), and though the now 36-year-old veteran hasn't earned a single-season coverage grade above 75.0 since, he's still a capable starter with much-needed skills in today's NFL. He may have lost a step or two since his hay day, but his play recognition and above-average athleticism should still pay dividends, specifically in coverage, for the 2005 first-rounder with the Bolts in 2019.
Injuries have cost Peters late in his NFL career, but his play when healthy is still among the best in the league. He earned career-low marks in overall grade (69.5) and run-blocking grade (62.3) across 970 offensive snaps in 2018, but all signs point to him bouncing back this upcoming season. He earned 90.0-plus pass-blocking grades and 70.0-plus run-blocking grades in 2016 and 2017, and he earned 90.0-plus overall grades in three of the four seasons before that.
Gore's consistency across his now 14-year career is absurd. He has played more than 300 offensive snaps in every season since 2006 and earned a career-high 79.3 rushing grade at 35 years old with the Miami Dolphins a year ago. It's unlikely he leads Buffalo to a Super Bowl in 2019, but doubting Gore at any stage of his career has proven to be a fool's errand.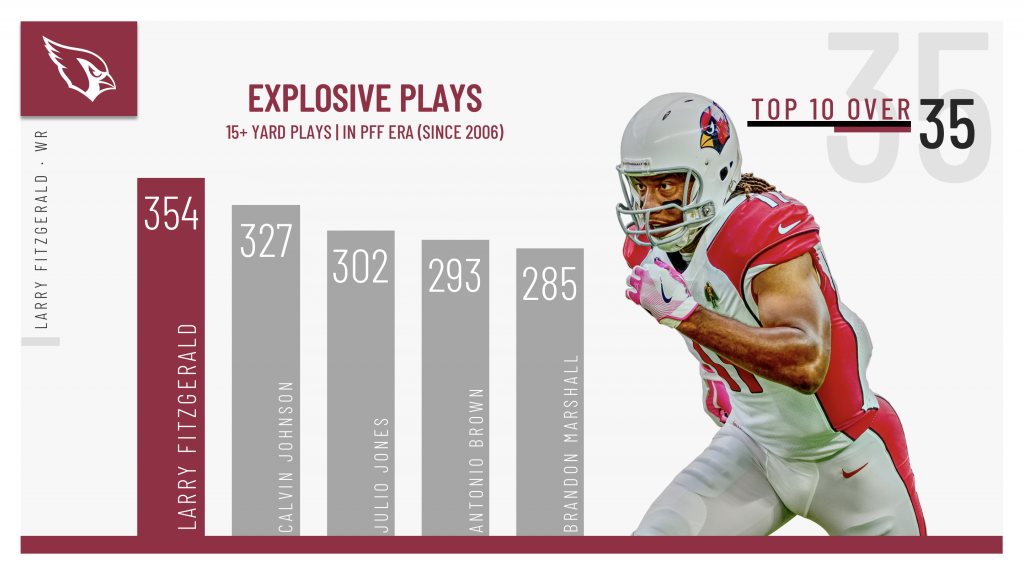 Truly an ageless wonder, Fitzgerald is a first-ballot Hall of Famer still churning out quality production for his Cardinals now 15 years into his career. He has graded out as a top-20 wide receiver in nine seasons, including four seasons where he ranked inside the top 10. In his move to the slot this past season, the 35-year-old phenom earned an impressive 72.3 receiving grade and should put out similar if not better production with rookie Kyler Murray and new coach Kliff Kingsbury pulling the strings.
Suggs has returned home to Arizona to play out the tail end of his career after suiting up for the Baltimore Ravens for 16 consecutive seasons. And while he isn't the premier pass-rusher he once was, Suggs still brings high-floor run defense and worthwhile consistency to the table even at the ripe age of 36.
Turning 35 years old in late August, Staley will retire as one of the best tackles to ever play in the NFL. He's been the epitome of consistency for the offensive tackle position, earning 81.0-plus overall grades in each of the past seven seasons. He's also avoided significant injury over the seven-year stretch, playing 840 or more offensive snaps in each season. All signs point to Staley and second-year offensive tackle Mike McGlinchey being one of the NFL's top tackle duos for however many more years Staley takes the field.
Alexander, an NFL journeyman with positional versatility, earned a career-high 85.7 overall grade playing a mix of edge defender and off-ball linebacker with the Bills a year ago. He's now recorded 30 or more pressures in three consecutive seasons, and his grades against the run and in coverage in 2018 were both above 79.0. The soon-to-be 36-year-old is a bit of a Swiss army knife now more than 12 years removed from going undrafted in 2005.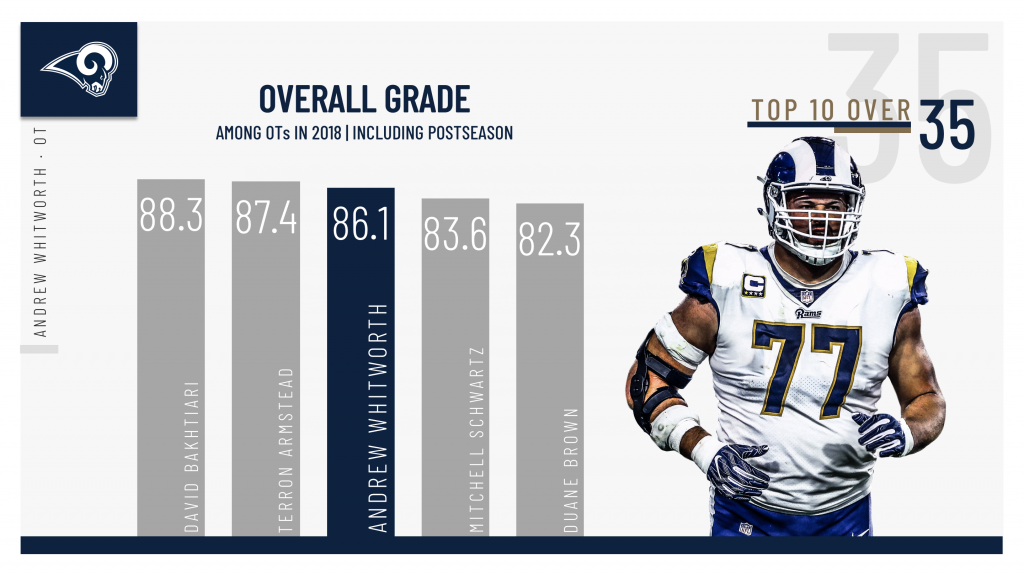 The gift that just keeps on giving, Whitworth earned a 78.4 run-blocking grade and an 88.5 pass-blocking grade with Los Angeles in 2018, recording an impressive 86.1 overall grade in the process. He's been nothing but outstanding all throughout his career, earning 70.8 or higher overall grades in all but one season in the PFF era (2006-18).
Joseph has been a high-floor producer in the Texans' secondary for the past eight seasons, earning 70.0-plus coverage grades in all but his 2016 campaign. In 2018, Joseph earned the second-best single-season overall grade (80.8) and third-best coverage grade (81.1) of his career.