Charting every throw at the NFL level since 2006, we at PFF have labeled all passes with an intended receiver as either catchable or uncatchable. Below is a list of the top-10 active wide receivers with the highest catchable target percentage in the regular season of the PFF Era (2006-19).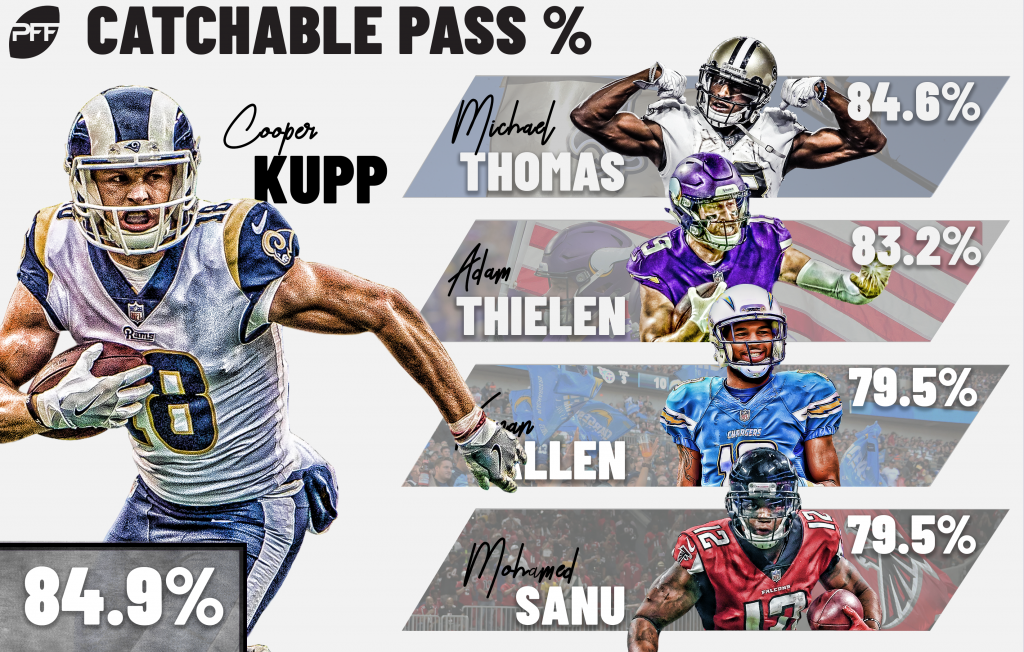 78.1% Catchable Target Percentage
Wilson and Lockett both recently made appearances on PFF's list of the most underrated players at each position. And rightfully so, as Lockett has been one of the most productive pass-catchers on a per-route basis in the entire NFL (2.10 yards per route). He is also the only receiver that we have ever seen maintain a perfect WR rating (158.3) throughout a whole season. '
Of course, this feat would be unattainable if Wilson wasn't putting the ball on the money, per se. Wilson has thrown 203 catchable balls Lockett's way, 78.1% of which have been caught, 19 of which were caught for touchdowns.
 78.4% Catchable Target Percentage
The "active tandem" threshold has constricted Brady in this study, as his 2019 receiving corps once again sustained a tremendous turnover rate. But the Edelman connection remains as consistent as ever as he is the only player on this list to surpass 600 catchable targets in the PFF era.
Edelman, the epitome of consistency, has seen 52.1% of his targets be short of the sticks as opposed to 42.0% past the sticks, but that has greatly benefitted his catchable target percentage as his 78.4% rate ranks him ninth among qualifying duos. Edelman's 30 touchdown total on catchable passes, 22 of which occurred in the red area, tops this list and is a result of having maintained a 106.9 WR rating while securing 90.4% of catchable passes when targeted in said part of the field.
79.0% Catchable Target Percentage
Tyler Boyd, sometimes overshadowed by his talented Bengals counterpart A.J. Green, is one of the most underrated receivers in the league. Boyd earned an 11th-ranked 85.8 grade a season ago – hardly surpassing Green. 
While Cincinnati's offensive weapons continue to improve, Boyd has remained an efficient receiver in their pass-catching corps when given the opportunity. Dalton tossed a catchable target to Boyd on 79.0% of his 186 attempts which, as a result, has helped Boyd's fantasy stock rise and earn the label of a 'breakout player' in PFF Fantasy Director Jeff Ratcliffe's fantasy wide receiver tiers.
79.1% Catchable Target Percentage
Goff, the only quarterback to be listed with two separate receivers on this list, targeted Cooks 110 times, 87 of which were catchable balls (79.1%). Although the sample size is small relative to this group, the duo still managed to gain 1,204 yards on catchable passes, good enough for an average of 10.9 yards per attempt which exceeds all other duos on this list.
79.5% Catchable Target Percentage 
Save for the Indianapolis Colts, Pittsburgh threw on downs with a distance of five yards or less more than any other team in 2018 (158). The key reason for this? Roethlisberger's catchable pass percentage, or more specifically, his catchable pass rate when targeting Smith-Schuster.
In just two seasons with the Steelers, the USC alumnus has become the number-one pass-catching option on one of the most pass-happy teams in the NFL and has done so by securing 70.5% of balls deemed catchable that come his way. 
79.5% Catchable Target Percentage
It's no surprise to see Sanu on this list considering how often opposing secondaries focus their efforts on Julio Jones. Throughout Sanu's tenure with Matty Ice, he's seen 263 catchable balls, which he has converted into 13 touchdowns, 2,194 yards and a 111.0 passer rating when targeted on these passes.
79.5% Catchable Target Percentage
Allen is one of 10 receivers that we project to surpass the 1,000-yard mark in 2019, and he will do so at the hand of Philip Rivers. Even with the second-most catchable targets (572) among this group of duos, Rivers achieved a 79.5% catchable target rate when targeting Allen.
In light of recent Melvin Gordon III news, Allen could potentially retain even more targets this upcoming season.
83.2% Catchable Target Percentage
Cousins has been under the gun as NFL media has been criticizing the Vikings' quarterback for his not so consistent play, but PFF data suggests that there may be more than meets the eye. PFF data ALSO suggests that Cousins should continue to target Thielen as the pair possesses the third-highest catchable target percentage in the PFF era (83.2%).
84.6% Catchable Target Percentage 
New Orleans' coveted offensive duo will likely be a component of any PFF list concerning top quarterback to wide receiver tandems for the foreseeable future. A whopping 84.6% of Drew Brees' passes targeting Thomas have been deemed catchable – a metric that only improves from a clean pocket (86.8%).
Though Brees accurately targets Thomas more than almost any other tandem in the league, Thomas has demonstrated that if the ball is catchable, he will likely come down with it. The Ohio State-alumnus has caught 79.5% of catchable passes which towers over the other nine duos on this list. Impressively, Thomas also earned the highest WR rating versus press coverage (136.9) tallying an 80% completion rate on these plays. 
84.9% Catchable Target Percentage 
Since Kupp entered the league in 2017, he has done nothing but be the go-to slot receiver for Los Angeles as the Rams' quarterback has had a 127.0 passer rating, 11 touchdowns and just two interceptions when targeting the young receiver with catchable passes. Although, they're not the longest-tenured couple – Kupp's 84.9 catchable pass percentage leads all qualifying duos 
Kupp saw 50 targets in just eight games last year as a consequence of his season being cut short due to an ACL injury. The excitement is mounting for the Rams receiver's return, and his name has even been circulating in Comeback Player of the Year discussions as we approach NFL Training Camp. Undoubtedly a challenge, although, that award may not be out of reach for Kupp. In one-and-a-half seasons Goff has targeted Kupp 139 times resulting in 118 catchable passes. If the L.A. duo continues at this rate, they could be one of the most in-sync duos in the entire league.