The Detroit Lions spent the 10th overall pick of the 2014 NFL Draft on tight end Eric Ebron in an effort to help take Matthew Stafford's career to the next level.
Instead, both Ebron's play and usage did not meet expectations throughout his four years in Detroit, resulting in his release before the 2018 season. Despite this, PFF's grades underline incremental improvement each year of his career, with that trend continuing into 2018, as he is on pace to record the highest overall grade of his career.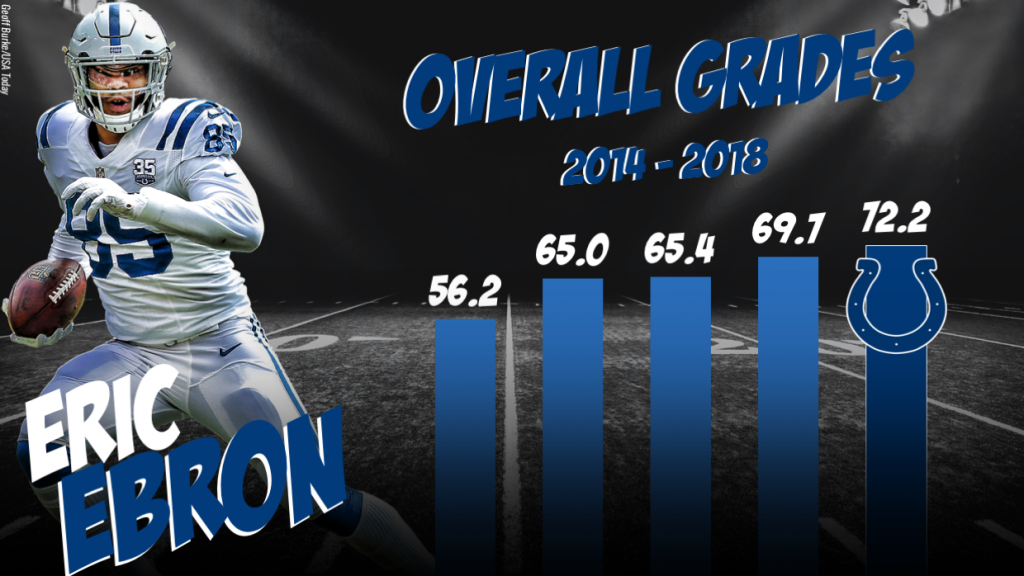 While Ebron will never be known for his blocking prowess, his receiving production in 2018 has been a revelation. He currently sits atop the entire league in touchdown receptions (11) alongside household names Antonio Brown and Tyreek Hill, two of the most explosive playmakers in the NFL. This is despite having to share the field with the frequently rotated tight end group, a rotation that has limited him to only 55.8% of the Colts' snaps.
How the Colts have been utilizing him during those snaps has made a huge difference for his production and can be partially attributed to new Head Coach and play-caller, Frank Reich, one of PFF's top playcallers in 2018.
In terms of alignment, for the first time in his career, Ebron has lined up in the slot or out wide on 63% share of snaps, which has comfortably beat his previous high of 45%. From the slot, where he has been a mismatch for overwhelmed linebackers and safeties, Ebron has produced the fourth-most yards (287), the 10th-most yards per route run (1.54) and the most touchdowns (6) amongst tight ends. 

He has shown great chemistry with Andrew Luck, who has displayed trust in his pass attempts by leading the league in contested passes (88) by a significant margin. This season, Luck has also been the beneficiary of the best pass blocking he's had in his career.
Ebron's ability to come down with contested passes has been especially prevalent in the red zone this year. He has been Luck's favorite target in scoring territory this season, where his usage has skyrocketed from years past. Luck, and by extension, Reich lead the league in targeting tight ends when in the red zone, which is another excellent use of Ebron's size and athleticism. Through 12 weeks, Ebron's red-zone receiving grade of 84.2 is the second-best mark among tight ends. He's caught 10-of-17 red-zone targets for 112 yards and nine scores, which has generated a passer rating of 118.1 – the third-best mark among tight ends – which is an impressive feat when you consider the fact that just under a third of those passes have been contested at the catch point.
Ebron's continued upward trajectory throughout his career combined with the Colts strategic usage of the former first rounder has been a perfect storm which has resulted in a career year for Ebron, who has helped propel the Colts offense in ways the Lions were unable to utilize in years past.