The 2017 NFL Draft is behind us now, but draft coverage wouldn't be complete without an all-too-early look at the favorites for rookie of the year now we know the situation each rookie has landed in.
Offensive Rookie of the Year:
1. Deshaun Watson, QB, Houston Texans
Any quarterback that performs well has the inside track to Rookie of the Year, and at least on paper, Watson is the only one of the top four that figures to start early. Watson also has a lot to like about his game, and you need look no further than the national title game against Alabama for a look at what he can do. Three touchdowns, no picks, 72 rushing yards, and another score behind an offensive line that was overmatched and overwhelmed much of the game shows elite potential. In that game, his NFL passer rating when pressured was 80.4, and he still completed 50 percent of his passes. If he can eliminate or limit his mistakes, he could have early success for Houston.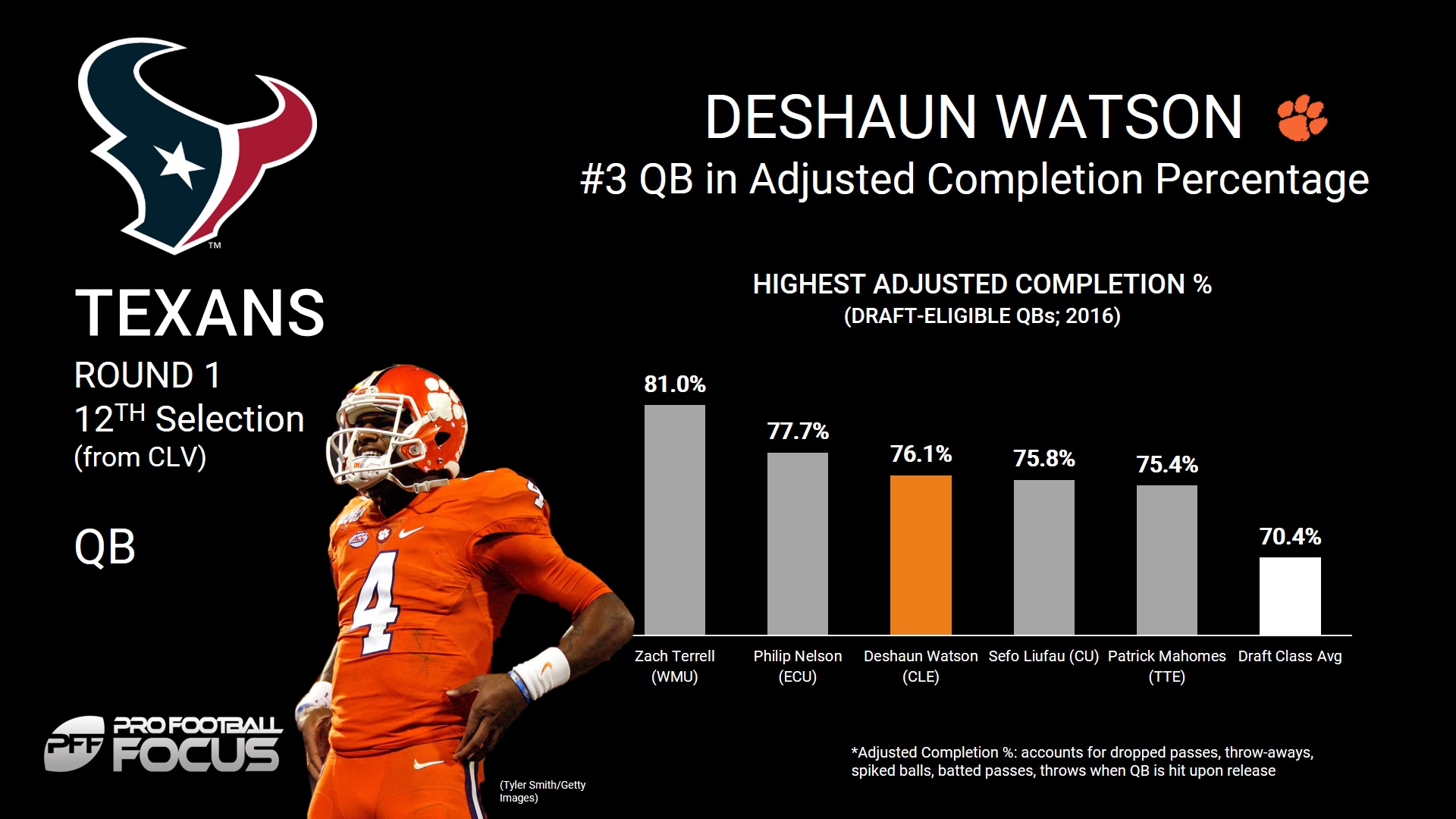 2. Dalvin Cook, RB, Minnesota Vikings
The Minnesota Vikings brought over Latavius Murray in free agency, but Cook's slip in the draft changed everything, and gave them an outstanding talent to vault to the top of the depth chart. Cook broke 92 tackles in college last season, 16 more than any other back in the FBS, and gained almost 1,800 yards behind some blocking that was far from stellar. Cook has phenomenal potential and brings a skill set that can keep him on the field for all three downs, something I question about Leonard Fournette, who would otherwise have a good case for this spot.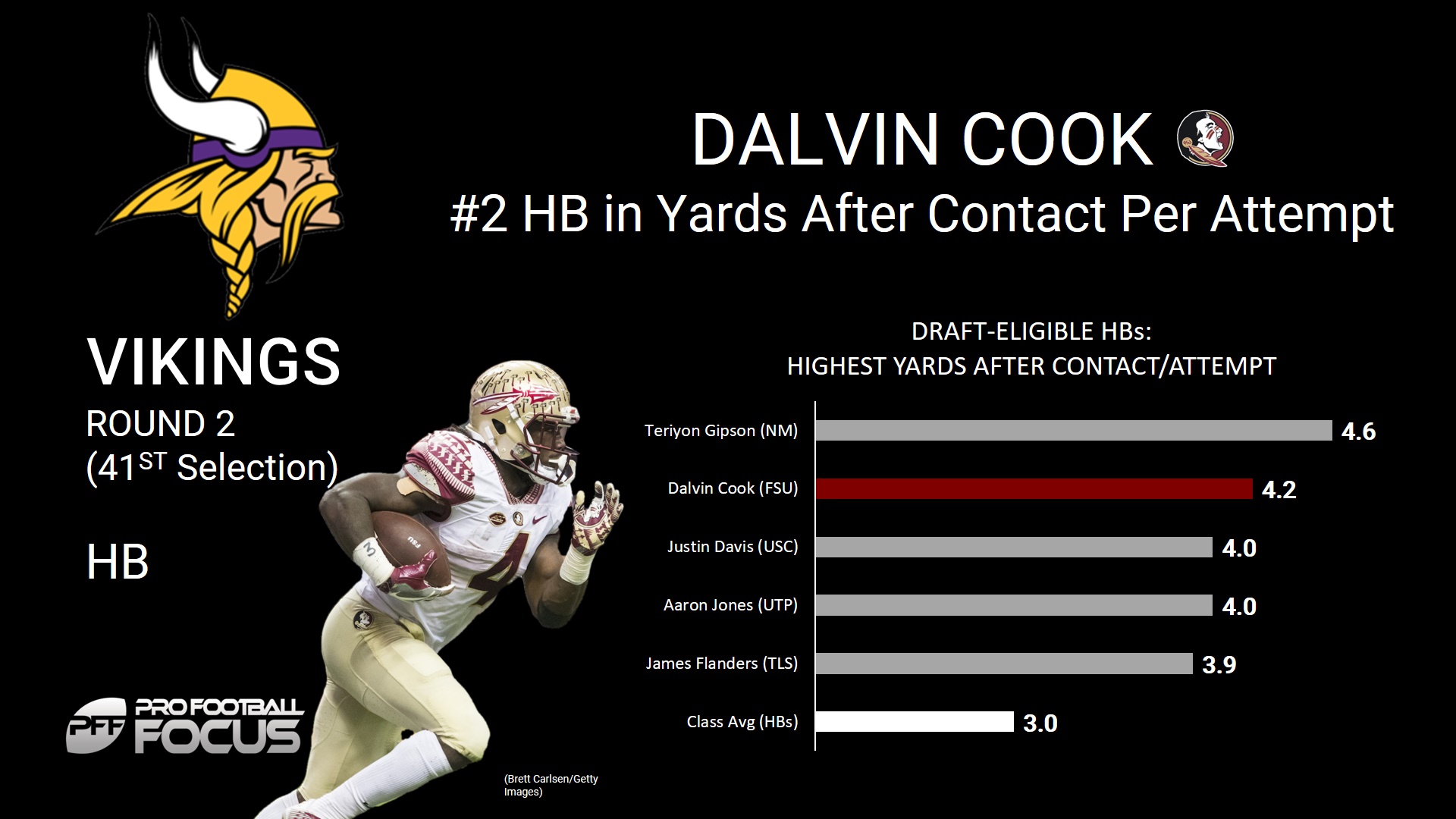 3. Corey Davis, WR, Tennessee Titans
Any of the top three receivers from this draft could easily push for this spot, but I love the fit of Davis in Tennessee, because that team has been crying out for an impact receiver and has been prepared to start and lean on rookies to try and find one. Last year, Tajae Sharpe – a fifth-round rookie – saw 77 targets, and if Davis gets that volume of chances he's going to have a huge impact. Over the past three seasons in college he averaged more than eight yards per reception after the catch, so he can make a lot happen on his own once he gets the ball in his hands.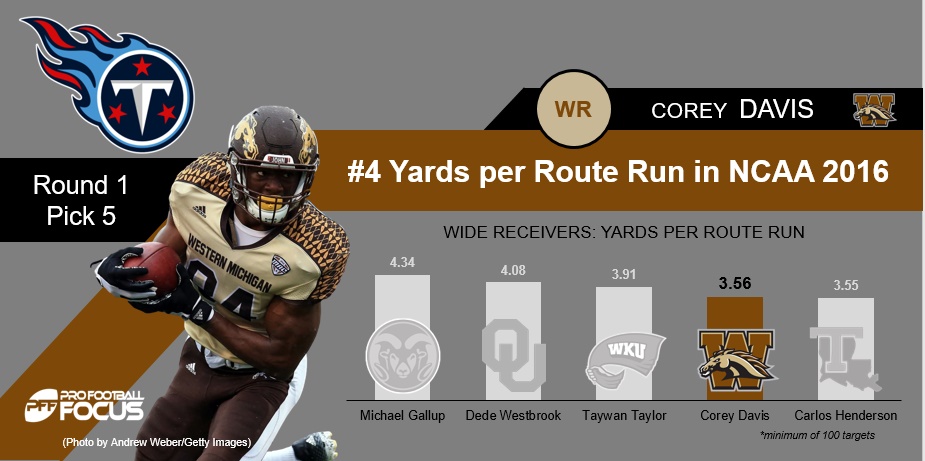 Defensive Rookie of the Year:
1. Malik Hooker, S, Indianapolis Colts
Interceptions earn you notoriety in the secondary and though they may not always correlate to elite play, they get you noticed come awards time. Hooker has the best ball skills of any safety to come along in years, and has the ability to make an Earl Thomas-style of impact in the Indianapolis secondary. Hooker has a highlight-reel tape of some of the most astonishing interceptions in college football last season and his biggest problem (missed tackles – 13 of them in 2016) is something that tends to get swept under the carpet a little when evaluating play.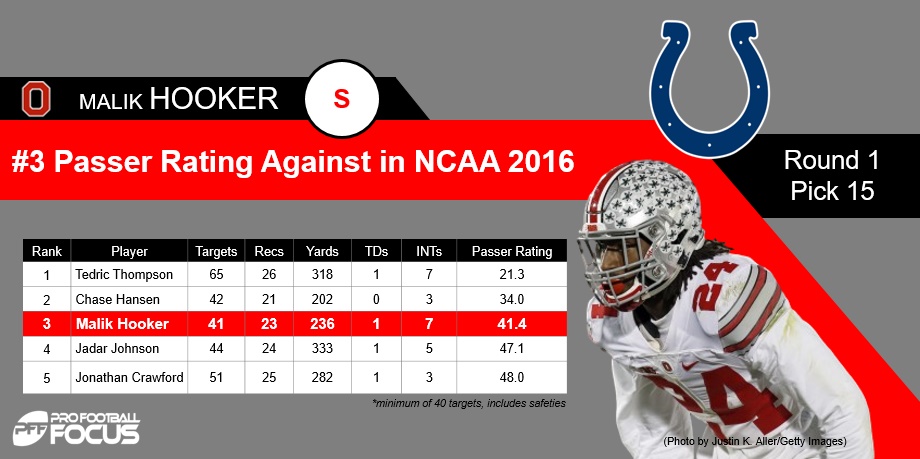 2. Reuben Foster, LB, San Francisco 49ers
I'm trusting the San Francisco 49ers medical staff here, but if Foster is healthy, he can make a monster impact in year one for that defense. Foster has no holes in his game, and flows to the football like Luke Kuechly does, and he could rack up a monster number of tackles, defensive stops, pressures and plays in the backfield if he stays out there for a whole season. Foster could be the perfect marriage of highlight-reel play, box-score stats and PFF play-by-play grading.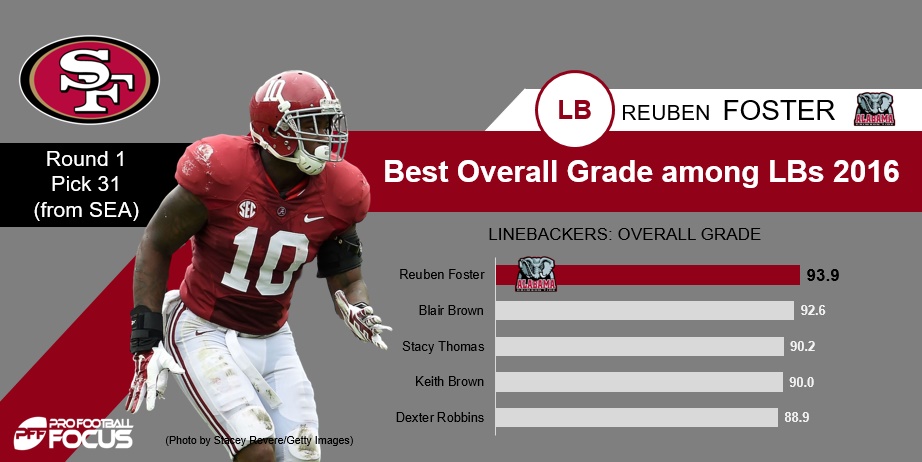 3. Derek Barnett, Edge, Philadelphia Eagles
Myles Garrett is the obvious call here, but I like Barnett's landing spot a little better with the Philadelphia Eagles. Barnett should be able to be unleashed as a situational pass-rusher on a good defense, and could rack up a big number of sacks early on, not to mention consistent pressure. Barnett not only broke Reggie White's sack record at Tennessee, but notched 187 total pressures over the past three seasons, averaging 62 a season, and if he can translate that consistent pressure to the NFL level, he has a good chance to put up the kind of sack numbers that gets award consideration.