In order to prepare for the 2016 season and test our new data acquisition tool, which allows us to grade games live, we have been analyzing the 2006 NFL season. It isn't complete yet, but we've seen more than enough games to be reminded just how much things have changed in the last 10 years.
These are all things we've seen from grading games from 2006:
True fullbacks playing up to 80 percent of their team's offensive snaps (as Lorenzo Neal did for San Diego at Oakland in Week 1)
Tight ends who can block (how we miss you Jimmy Kleinsasser)
"Base" (four defensive backs) still being the predominant defensive package
Far fewer featured wide receivers than there are today.
It's the last item on that list we'd like to focus on today, specifically the emergence of a new position the last several years that is only now getting the attention it deserves: the slot receiver.
At PFF, we view it as a different position from a traditional outside wide receiver, and I believe it will continue to differentiate itself as time goes on. Here's why: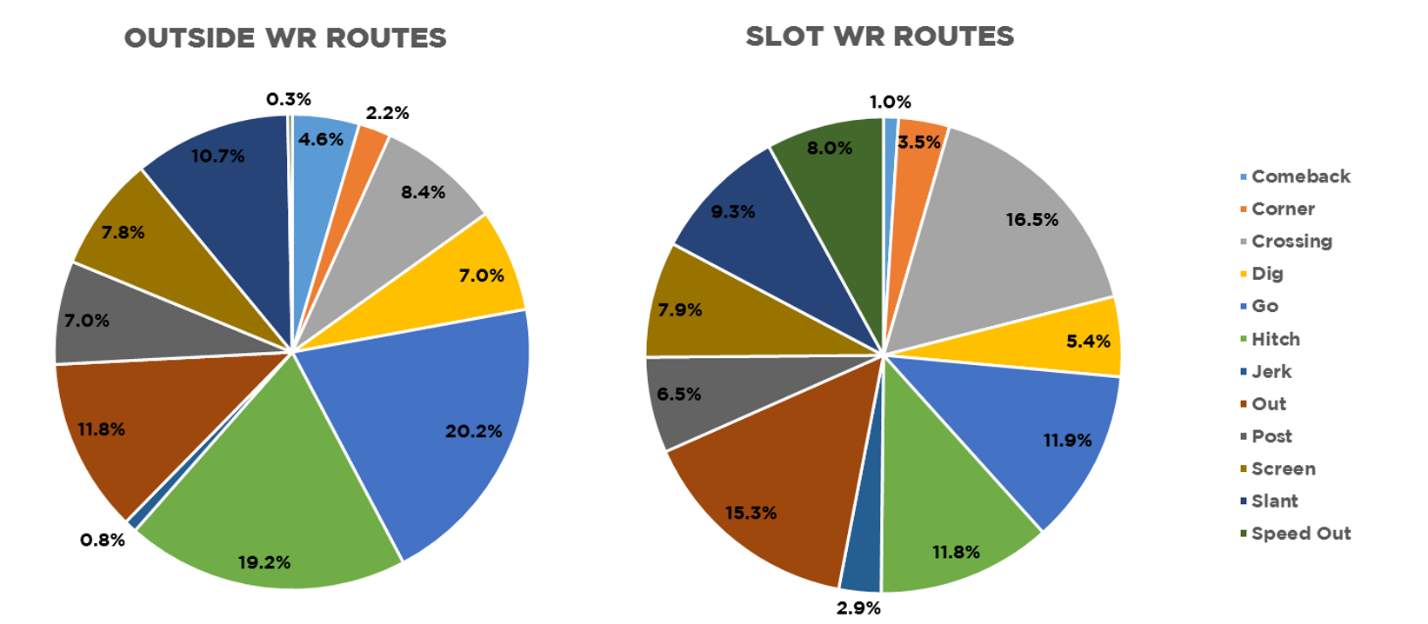 The routes they run are very different, as the above diagram shows. The huge discrepancy in "go" routes, among others, leads to an average depth of target that is 3.4 yards lower (13.2 for outside receivers versus 9.8 from the slot). But that number might obscure what is becoming one of the most difficult jobs in football – defending the two-way go route out of the slot. With no sideline to use to his advantage, the slot corner is vulnerable to a route on either side of where the receiver is lining up.
An upward progression
As passing becomes more and more the tool of choice among NFL offensive coordinators, the growth in both no-huddle offenses and three receiver sets has led to a significant growth in both overall routes run and slot routes.
In 2009, there were 48,003 WR routes run in the NFL, while last year that number had risen to 54,335. The percentage of routes run from the slot is increasing as well, from less than 33 percent in 2009 to nearly 37 percent in 2015.
The slot leaders
Since we began tracking things in 2007, here are the wide receivers who have run the most routes from the slot: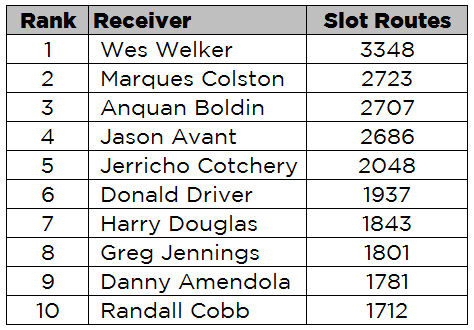 It's perhaps instructive of the rise that Randall Cobb, despite only being drafted in 2011 and not playing over 1,000 snaps in a season until 2014, is already in 10th position. He plays nearly all of his snaps in the slot — of those with over 300 slot routes, he has the fifth-highest percentage with 85.0.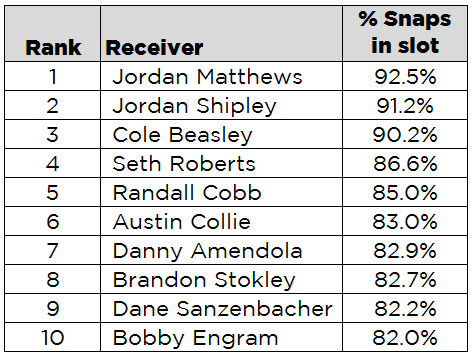 But who has been the most effective? Here are the top 10 in terms of yards per route run (again, among those with over 300 routes run from the slot).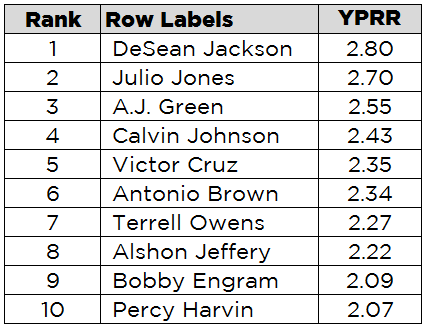 This is interesting, because of these players only Victor Cruz and Bobby Engram would be considered true slot receivers. Moreover, these YPRR averages are high, given that they are career numbers and that only 14 players recorded 2.0 overall yards per route run or higher last season.
Perhaps it is a precursor to more top-flight outside receivers getting slot snaps. Moving to the slot helped prolong the careers of both Reggie Wayne and Larry Fitzgerald with far better years than they had previously been enjoying. Just like moving corners to safeties later in their careers (as with Rod Woodson, Troy Vincent and Charles Woodson) maybe the slot will become the final home for many exceptional wide-outs.
Either way, don't be surprised to see this position continue to take on increased importance in today's pass-happy NFL.